Welcome to my ultimate guide to backpacking Europe on a budget- in this post I have pulled together my 85 best tips to save money while travelling in Europe. The post is a summary of my best posts and tips till date on the BudgetTraveller- all my 14 years of travelling across Europe, distilled into one simple blog post. There are still so many cool new tips and budget hacks that I am still discovering so if I missed out anything , I'd welcome your tips and feedback in the comments below. With that out of the way, on to the list.
Planning your trip to Europe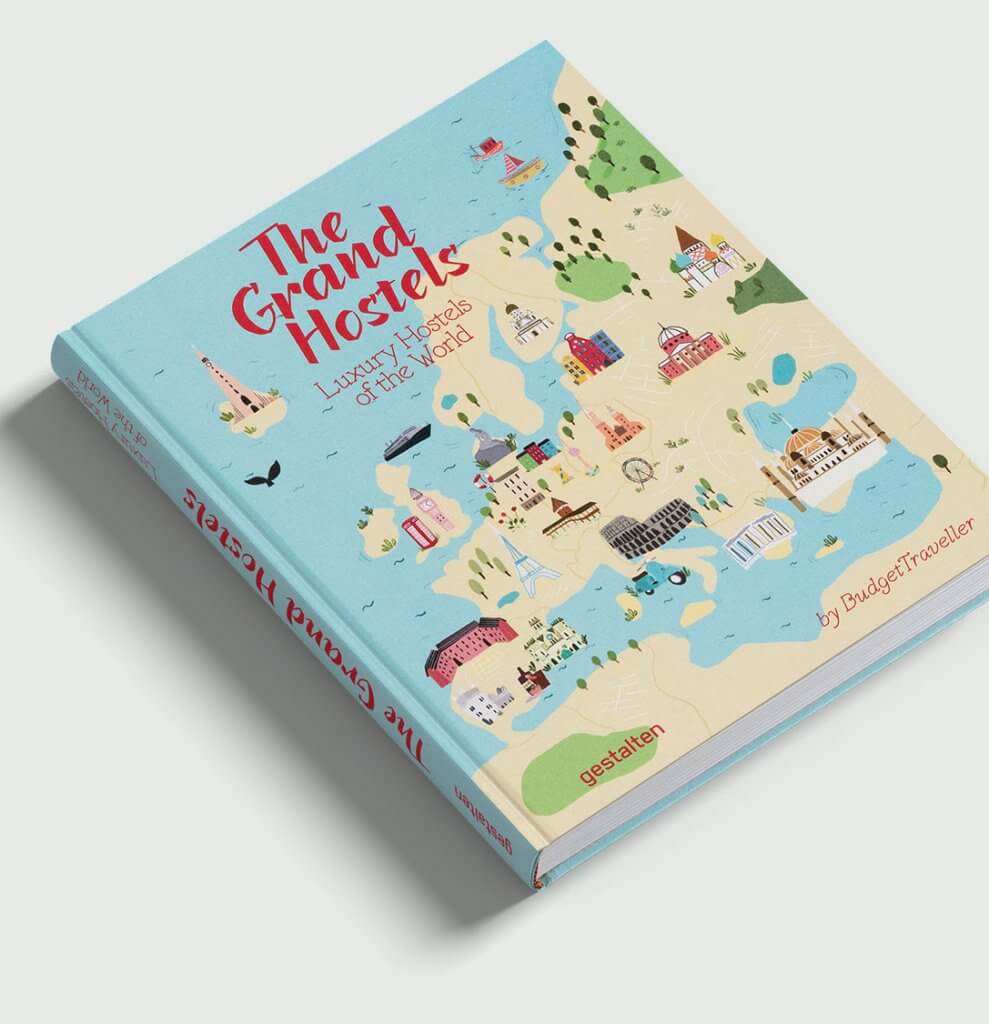 1. How to find the best hostels in Europe
To find the best hostels in Europe for your trip, my first port of call for searching hostels is always Hostelworld. They have the most comprehensive selection of hostels in Europe and my go to people when booking and finding the cheapest hostels in Europe.
For further research, if you a hostel lover, I also would highly recommend you having a look and buying my new guide to designer 'luxury hostels.' : The Grand Hostels Luxury Hostels of the World. These are what I would call premium hostels- a mix between a hotel and a hostel. You can book yourself a private room in these hostels and still enjoy the social aspects of a hostel: common room, bars, kitchen and an extensive list of social events. These new breed of designer hostels focus on creating an experience for guests. What can you expect in a luxury hostel? Besides ensuite rooms or custom built pod beds in dorms you can find amazing facilities in these hostels like a swimming pool, sauna, a cinema , or a gym and swimming pool or dine with fellow guests and enjoy a 3 course meal prepared by inhouse hostel chef with bottle of port wine for as little as €10. This book is also the story of 116 unique hostels and the amazing people who run them.The people who run these hostels were travellers like you who went travelling around the world and fell in love with the drug of meeting and connecting with people from all over the world. When they couldn't afford to keep travelling, they started a hostel of their own so that they could keep alive that magical sensation of meeting with people and connecting. These hostels, are in many ways, their dream come true. In this day and age, when we live in a world ruled by idiots, despots and plagued by misunderstanding, hatred and indifference, these hostels are a beacon of light, bringing people together from all divides and making the world a better place. So when you buy this book and visit these hostels you are really supporting an ideal, a dream and in the process adding something new and beautiful to you life. These hostels changed the way I travel, maybe they will change yours?
More details of the book , click here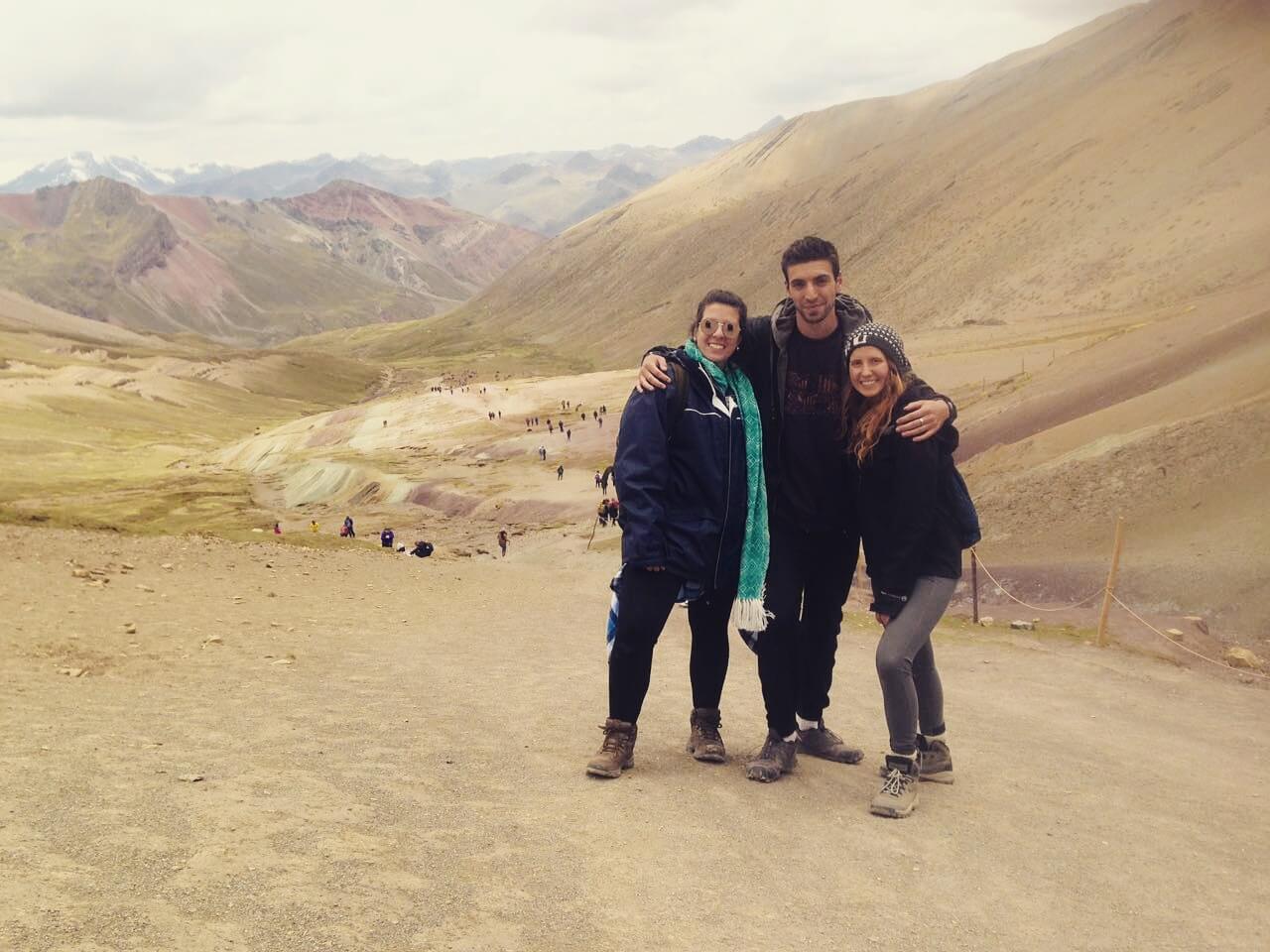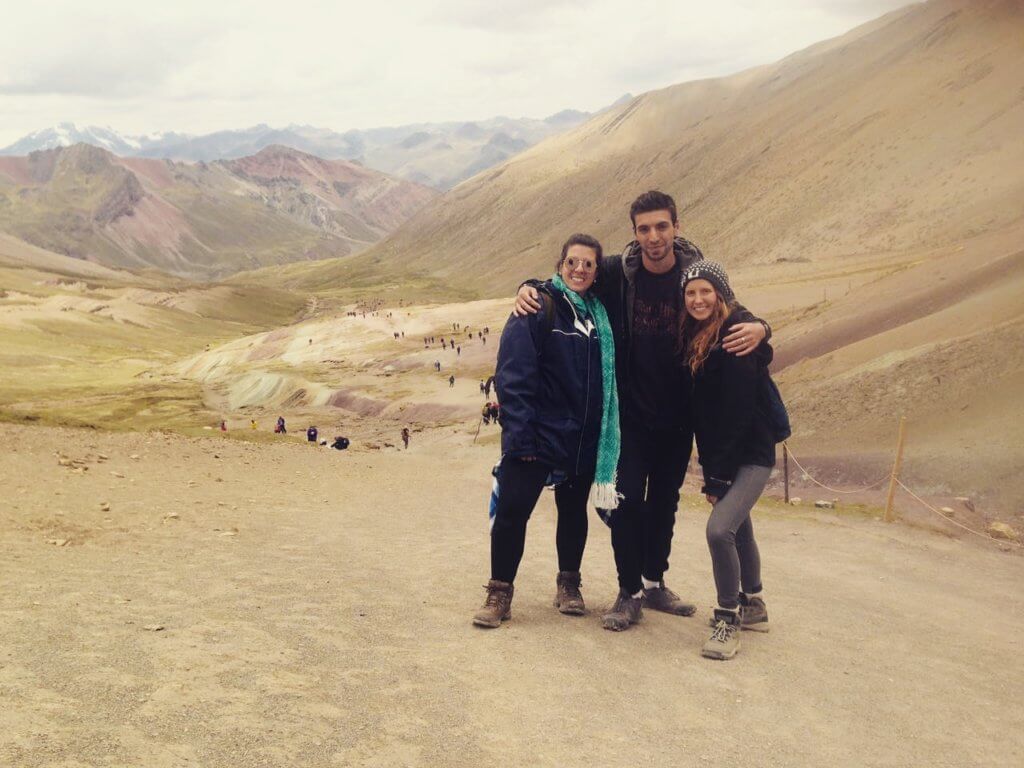 2. Use Worldpackers
If you want to make your Eurotrip memorable, consider a more unique and immersive travel experience with volunteering and work-exchange platforms such as Worldpackers. In exchange for a few hours of help, you're not only going to save 100% on accommodation but will also connect with locals and loads of world travelers. In addition to Hostels, you'll find farms, homestays, ecolodges, NGOs, and schools among the 4.000+ volunteering opportunities available. A platform like Worldpackers provides you with safe and peer-reviewed experiences, in addition to a comprehensive support team and insurance. From 1-week up to 3-month long opportunities, you can fit a purposeful travel experience within your schedule. To make it even more budget-friendly, join Worldpackers here and earn a US$10 discount to become a Member.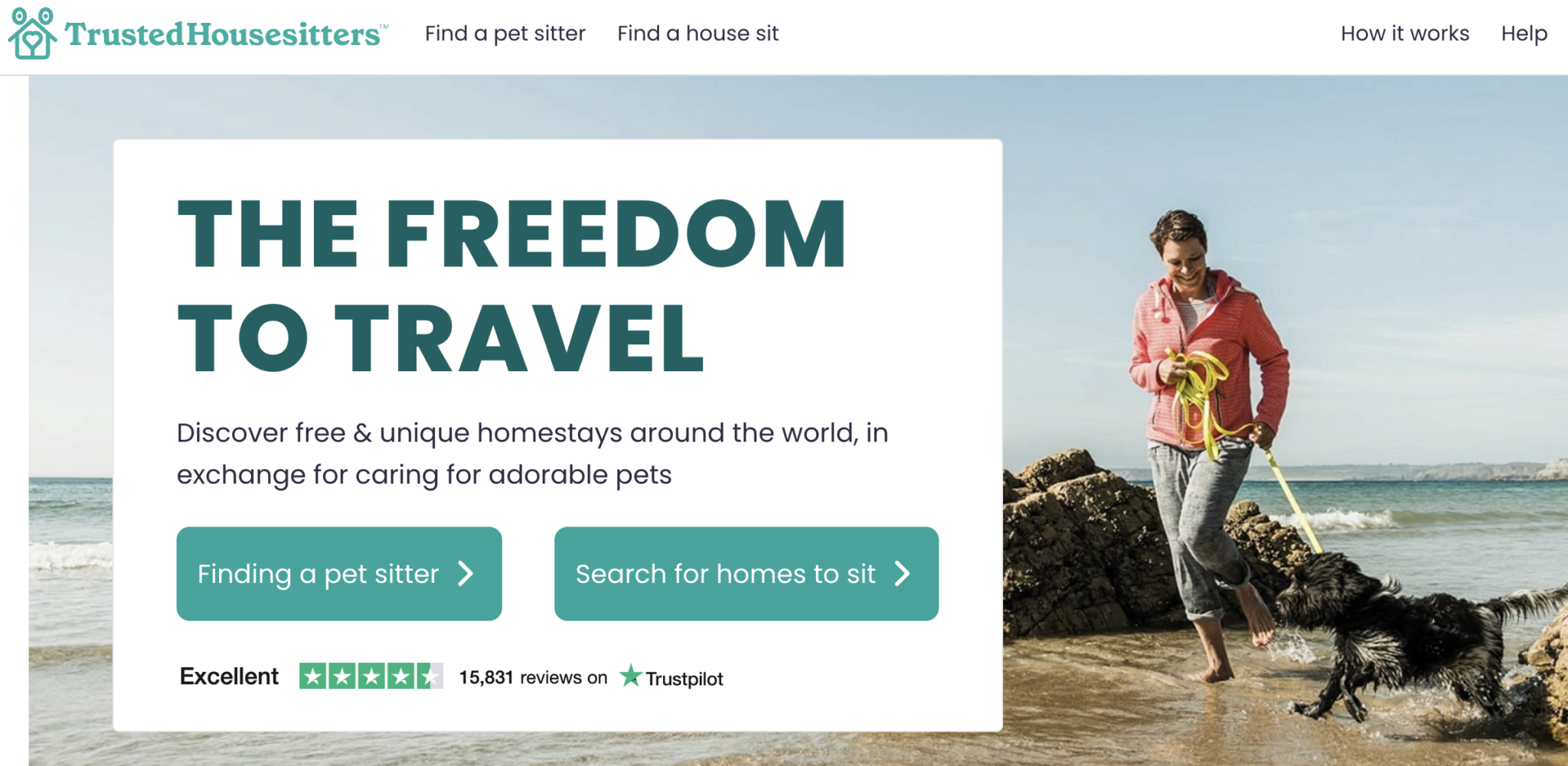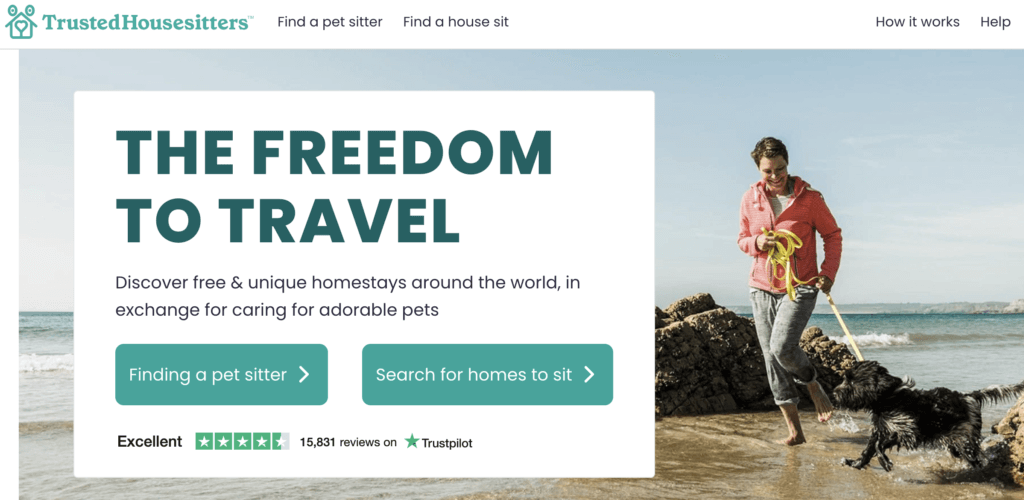 ….or try Housesitting
Another way to travel around the world almost for free is try Housesitting where you can stay for free at unique homestays around the world, in exchange for caring for people' s pets. I recommend Trusted Housesitters.
You can find out more about Housesitting works in this guide.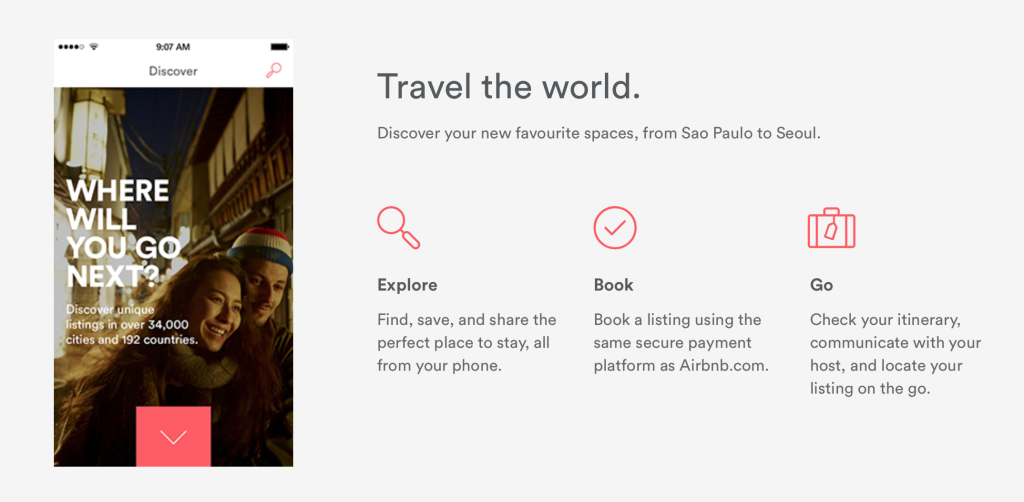 3. Consider Airbnb when visiting Europe
I am a huge fan of Airbnb when travelling across Europe. They have a fantastic range of places to stay and always offer great value. As much as I love staying in hostels, I love sometimes to have the comfort and privacy of a flat, especially if I am travelling for a few weeks on the road. You can extremely good value for Airbnb in expensive cities like London, Paris for example so do have a look at their site.
Tip: If you are new to Airbnb , signup using this link to get £25 off your first booking.
4. Checkout my city guides to finding the best cheap hostels and hotels
I've done the research and keep these guides updated on a regular basis to add new favourites- if you planning a trip to any of these cities, do take the time to checkout my following city guides
51 free things to do in London
26 free and fun things to do in Berlin
20 best things to do in Rome on a budget
23 free and fun things to do in Lisbon on a budget
24 best things to do in Prague on a budget
Plus, here are my guide to my favourite budget places to stay in London, Amsterdam, Lisbon, Copenhagen, Berlin, Edinburgh , Venice , Prague , Oslo and Paris
5. Get off the beaten path
Main cities of Europe are overcrowded and also overpriced so if you are looking for good value when travelling in Europe, seek out some of the lesser known destinations.
For example, instead of Amsterdam consider Haarlem and staying at the boutique hostel Hello I'm Local , instead of Helsinki take a look at Tampere or head to Finnish Lapland, instead of Berlin consider Leipzig or maybe Dortmund, instead of Paris try Bordeaux, instead of Rome try Bologna, instead of Prague try Brno or Ostrava.
Other articles to checkout
Also do checkout the following europe hostel guides: these are perfect if you are a foodie traveller, or someone who is travelling with your family or someone who is looking for a quiet nights sleep and not interested in party hostels
What is the cheapest way to travel in Europe
6. How to find cheap flights when visiting Europe- Use a VPN
You can save a few euros or dollars when playing with the location from where you book your flight. For example, I've often booked flights in the past and found discounts when booking from a Dutch website and also from Expedia Australia's website. The fare difference can be often 10-15 euros so we are not talking about a huge saving here but still it is significant, especially if you are looking for flights for you+ loved ones.
I recommend Express VPN
Play around with the location ( Express VPN allows you to set your location to 94 different countries )
VPN also is handy when travelling and helps hide your IP address, browsing activity, and preventsusers stealing your data, like usernames, passwords, credit card numbers, browser cookies, and other identifying information.
Using this link, you can get your first 3 months for free from your Express VPN or alternatively, this link will give you a 30 day free trial- choice is yours.
7. Download the Skyscanner App for cheap flights
Skyscanner are my go to app for booking flights and now you can also book trains in the UK. Just plug in your dates and Skyscanner will find the best possible flight deals. My favourite feature of the Skyscanner app is when you can search flights to all around the world on any date or even for a whole month from a city. If you are flexible with your travel dates and destination, it is possible to find the cheapest possible destination on any given month.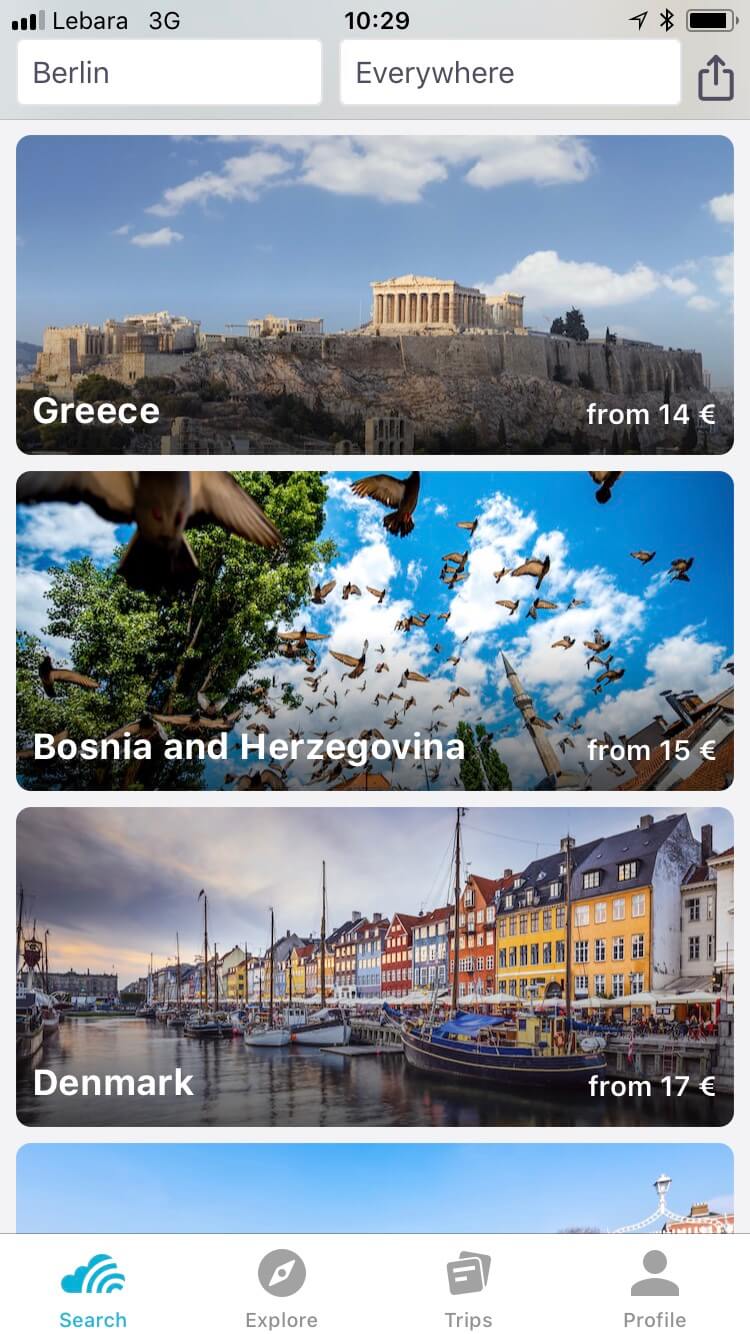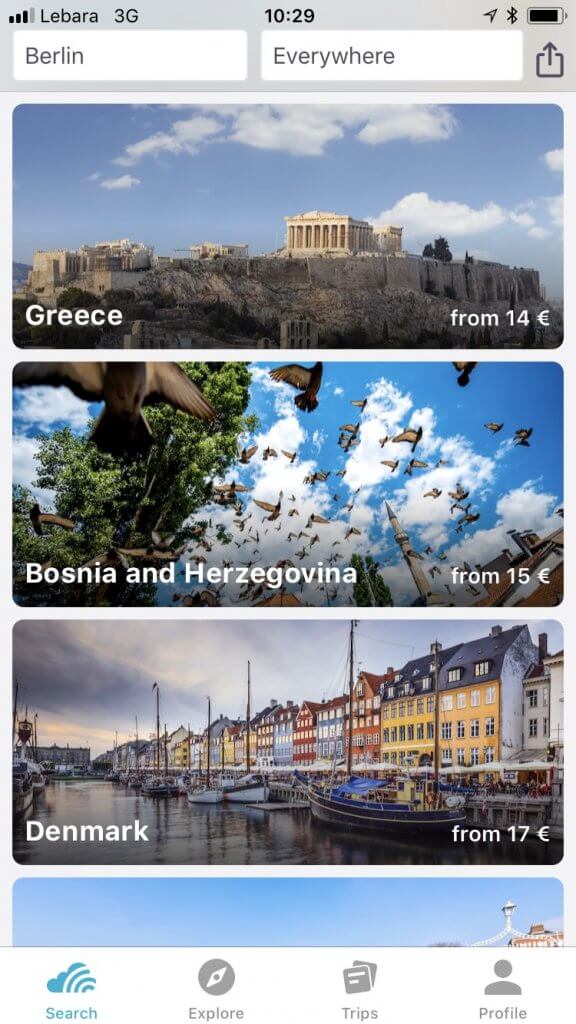 8. The ultimate guide to low-cost airlines in Europe
This guide is a comprehensive low down of all the low-cost budget airlines in Europe
Not much of a secret but travelling by coach is the cheapest way to travel across Europe. ( Click on the link to take you to my guide to the 10 best budget bus companies in Europe )
9. How to travel across Europe for 1 month under £182/$250?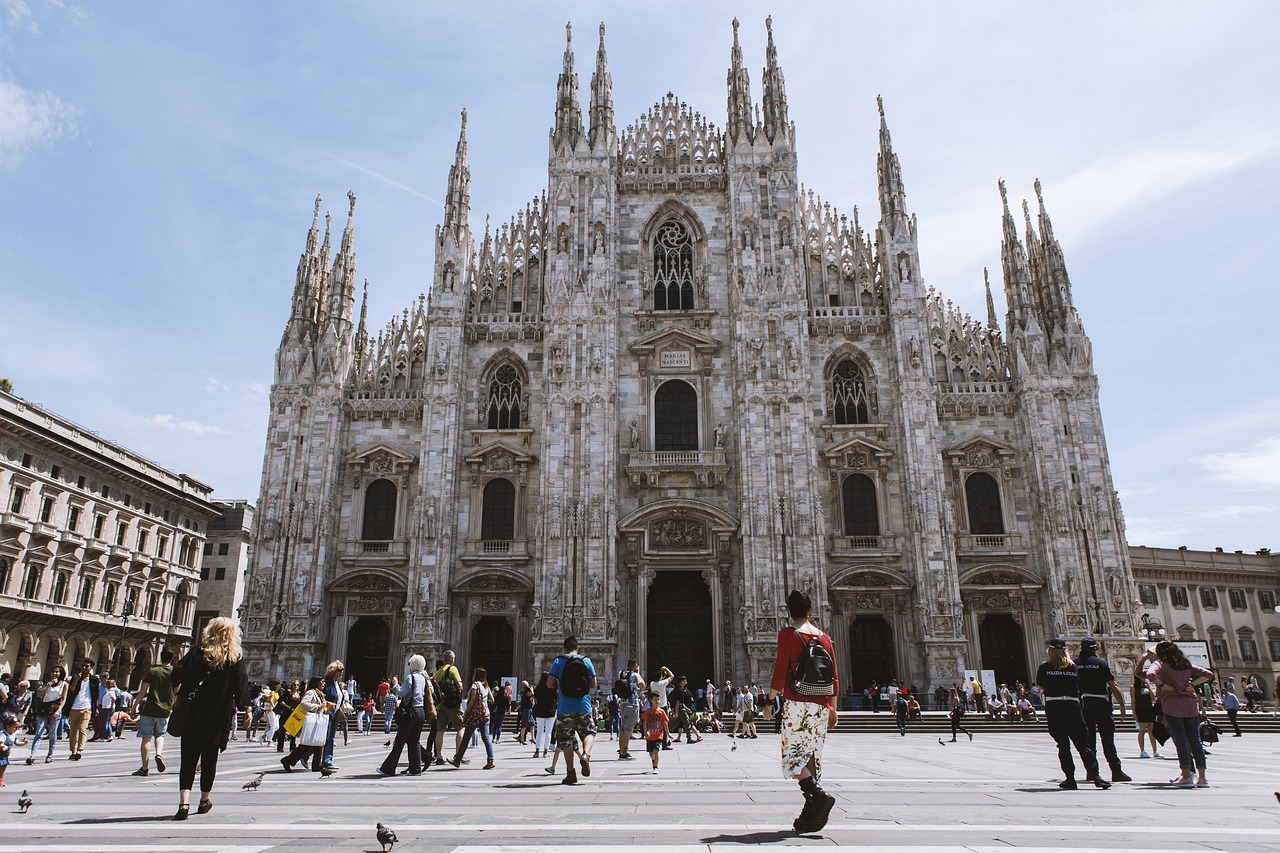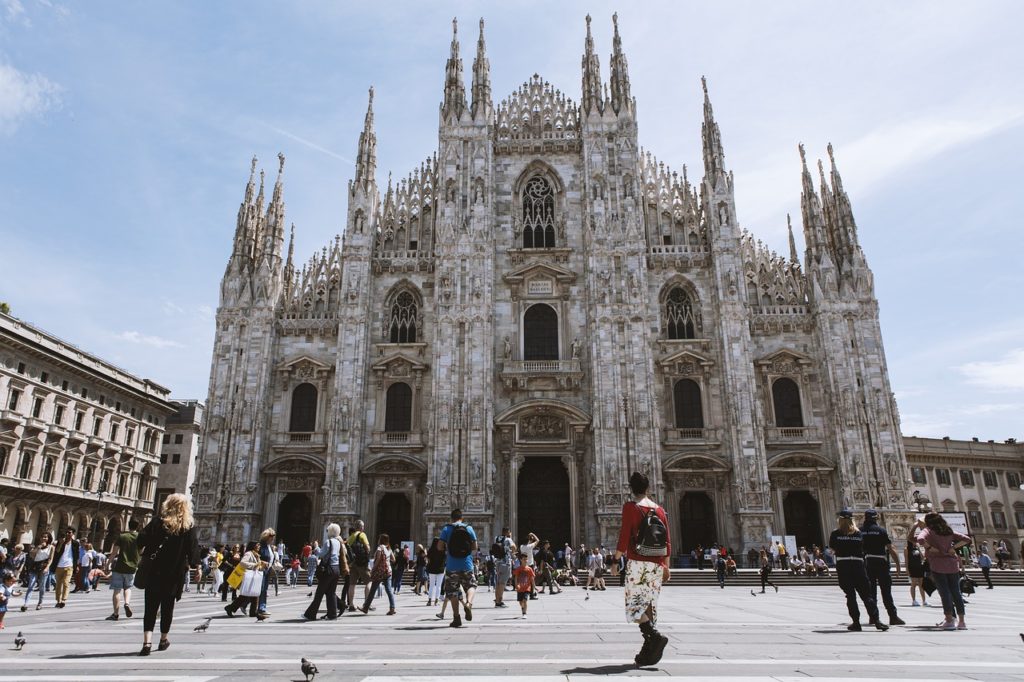 One of my most popular posts to recent date is my 1 month itinerary to backpacking Europe on a budget for under £182/$250/€220.
This post is a comprehensive guide of which cities to visit in Europe, things to do in each city, how to travel across Europe using a smart combination of bus, train and low budget flights. This guide is really a must read so please download it now and bookmark this for planning your trip to Europe.
10. Best value train journeys in Europe?
Checkout my brand new guide to the top 10 best value train journeys across Europe.
11. How to save time queuing for major European attractions? Book your tours and activities in advance
You have a few options when it comes to planning tours and activities in each city. You have free walking tours in most cities across Europe. Sandeman's is the market leader and I've heard good things about the tours. Tours are comprehensive and you can tip the guide if you enjoyed the tour. If you are looking for more specific experiences , I recommend taking a look and booking your tours via Get Your Guide. By booking in advance you can save time and hassle of queuing and skip the line for the Eiffel Tower in Paris or skip the queues for the London Eye. Bit of planning can go a long way!
When is the best time to travel to Europe?
12. Don't travel to Europe in the summer if you can avoid it.
This is actually the worst time to visit Europe. Prices are at their highest, everything is booked up, the cities are uncomfortably crowded and all of the locals are on holidays. Travel off-season instead for a more local experience. In winter, hotels can be discounted by upto 40% so you can get a great deal.
13. Cheapest trip to Europe: A Virtual trip to Europe 🙂
Here is a list of movies that have hugely inspired my travels in Europe-maybe they will inspire you too.
14. Saving up for the big Europe trip?
Here are some key tips to spend less travel more for your big trip in 2017
I also recommend you check out Adventurous Kate's cracking post on how she saved $13,000 in just 7 months.
When you arrive in Europe
15. Visit the Tourist Information point
When first arriving in a new city make sure to stop by the tourism bureau for discounts, free maps and cost-free events.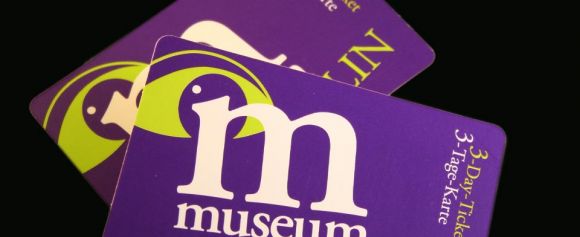 16. Try to find if the city offers an all inclusive pass that gets you access to museums plus also public transportation
If you are planning to pack in a number of visitor attractions, in the end , you save a lot of money when using these kind of passes. For example I saved a lot of money with the Oslo Welcome Card when visiting Oslo. Other great welcome cards is the Berlin Welcome Card which includes free public transportation and lots of discounts to sights, tours, restaurants, museums and more.
17. Walk or use local transport
Walk as much as you can, but if you can't then use public transport over taxis; buy 24-hour, 3-day or even weekly public transport passes, which work out cheaper than single tickets.
18. Do as the locals do
Join local workers at pubs for happy hours; check out local sports matches which are often free or cheap; and if you see a local fair or festival advertised, get along to it. All of these things can provide a terrific insight into how people lead their lives and be just as rewarding as visiting a major visitor attraction.
Check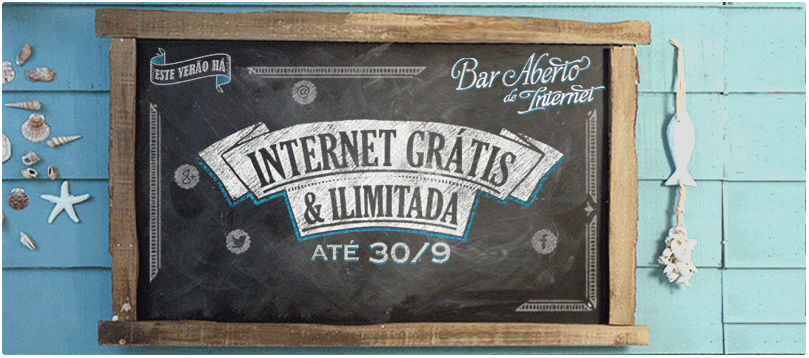 19. Mobile internet- how to avoid a costly bill at the end of the trip
Roaming charges and accessing internet abroad is still ridiculously expensive so my tip here is to go local and get yourself a local internet data only simcard. If you can unlock your phone, brilliant. If your phone is locked then I suggest buying a mobile wifi (mifi) device which costs around €50. I've written a guide to how to get the best deal on prepaid mobile internet in Portugal, mobile internet in Germany and Italy. In terms of making free phone calls to friends and family- you've got FaceTime (if you both own an Apple phone) or try the Viber app ( free to download) or Skype. Skype offers fantastic rates so I highly recommend them. The other app that I find very useful in terms of free messaging is Whatsapp which is free to download.
How to travel on a budget across Europe
20. Take the train
When booked in advance, you can get huge savings on train travel in Europe. I've shared in the post below all my best hacks and tips for getting cheap train tickets in Europe.
Plus also checkout my tips for cheap train travel in France.
21. Taking the train? Consider going point to point
If you can plan your Euro trip well in advance, there are some great savings to be made from booking train fares in advance.
Plan your schedules using the German D Bahn website and also check out the excellent Voyages SNCF. For example you have can go from Paris to Milan for €29 currently, Frankfurt to Amsterdam or Paris in less than 4 hours from just €39 or from Copenhagen to Hamburg in 4.5 hours starting at only €29. ( An epic 45 minute ferry ride included. Here's my account of the trip )
Consider making longer connections by overnight train
22. Take the night train?
A great way to save time and money when travelling across Europe is by taking the night train.There are lots of sleeper trains between major cities in Europe and they are comfortable and convenient. For example you can take advantage of Deutsche Bahn's excellent SparNight promo fares where you can go from Amsterdam to Copenhagen for around €29-€49 range.
23. Go slow and cheap
Use bikes or try trains, especially regional and local trains, which can be very cheap in countries like Poland and Hungary.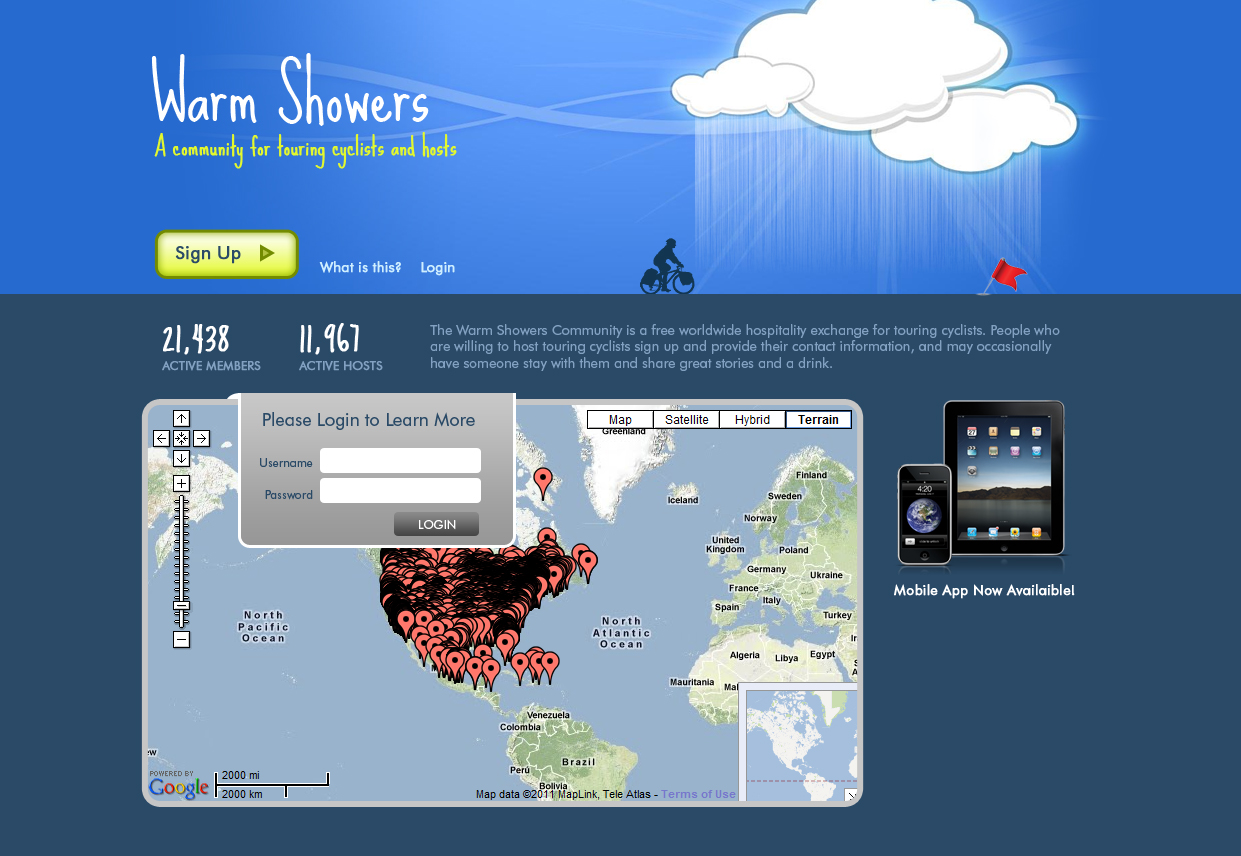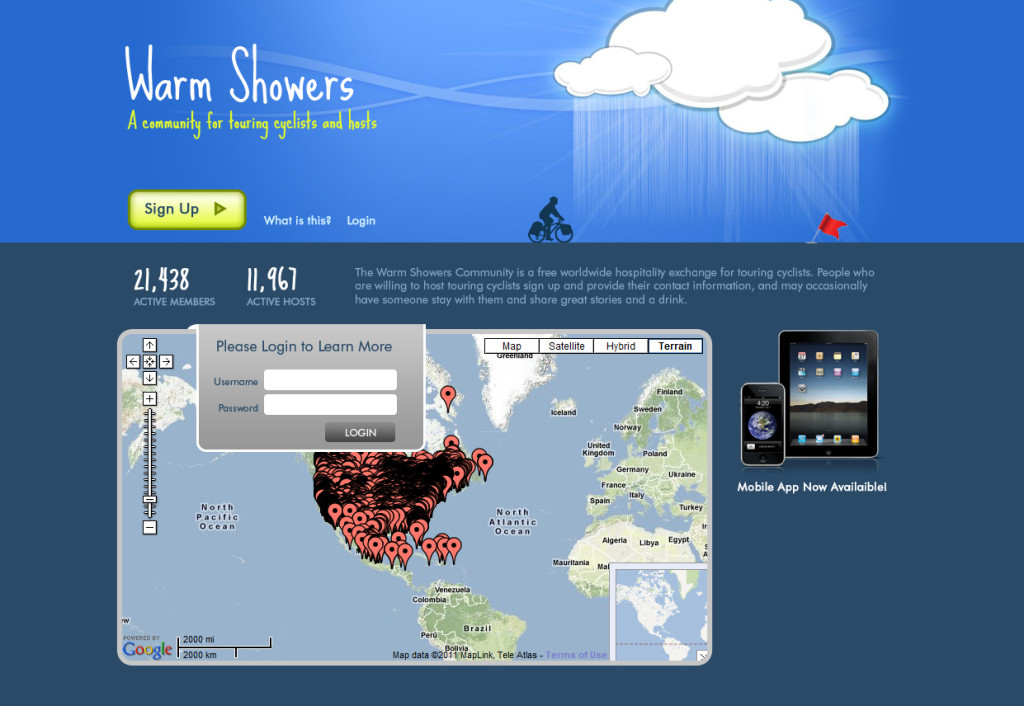 24. By bike?
If you can, travel by bike. Travelling by bike not only saves you money, it's great for your health,probably the safest form of travel during Covid-19, plus you can sign upto the Warmshowers website. Warmshowers is like couchsurfing but for cycle tourists. The website and community matches hungry, shelterless cyclists with lovely locals who are willing to accommodate them. The emphasis is on an exchange of experiences and cultures rather than an exchange of money.
25. Travel with a friend or partner?
Travelling in Europe is still not as solo travel friendly as you might think it should be in the 21st century. Lots of hotels charge supplements for single travellers which is unfair. Plus single rooms tend to be quite basic and stripped down. The cost of a double is almost the same as a single so if you can travel with a friend or partner, great. Otherwise, I'd recommend choosing a luxury hostel. Plus do check out the crowdsourced fantastic free guide that the Solotraveler has launched which gives a lowdown of all the best solo friendly places to stay across Europe and the world.
26. Fly with a low-cost airline?
Thanks to the low-cost airline revolution that was inspired by easyJet and Ryanair, travelling across Europe is a lot cheaper. Even with hidden extras like paying for checking in your luggage, their prices are pretty good, especially over longer distances. To get the best fares, book and plan you trip far in advance as possible plus also travel carry-on to save money. Here's my guide to best Ryanair easyJet carry on luggage
27. Hate travelling by Bus?
Maybe it's time to reconsider this. There is a new revolution of low-cost luxury bus travel sweeping across Europe.
28 . On a non existent budget- How about hitchhiking?
Hitchhiking expert Amy Woodyatt shares some tips on how to hitchhike across the UK and also the do's and don't of hitchhiking
29. Consider ride-sharing
Long-distance ride-sharing is becoming popular in Europe, with millions of people now hitching rides with complete strangers on a monthly basis. Companies to check out include BlaBlaCar and Carpooling.com
PS: Again, with the onset of Covid-19, you may want to consider the safety of ridesharing and also hitchiking.
Moneywise
30. Don't withdraw money abroad from an ATM.
You are likely to get a very poor exchange rate from your bank and be also charged a fee for every withdrawal.
31. Don't buy you travel currency at the airport
Don't leave buying your travel currency till reaching the airport-you will get ripped off. Use something like the Börsen App to compare best local exchange rates and get a better deal.
Where to sleep in Europe on a budget
32. Travelling with family? Try a hostel
Apartments are excellent but if you are looking for cheaper alternatives, you should also consider hostels. There is a new breed of family friendly hostels popping up across Europe.
33. Try Worldpackers


Worldpackers is a global community of conscientious travelers and welcoming hosts. Since 2014 they have fostered thousands of connections and unique experiences, focusing on developing and transforming the world into a more social and environmentally sustainable place.'
34. Rome in August?
In August, take advantage of cheaper rates in cities like Rome where the locals have 'gone to the coast'
35. Stay at a budget hotel chain
Stay at one of the budget hotel chains like a Travelodge or an Ibis on your next trip to Europe. If you are just looking for a cheap, comfortable sleep- these hotels are a great option.
36. Considered staying at a cool budget boutique hotel?
There is a new breed of budget boutique hotels popping up across the world. Examples you can check out include Yotel in London Gatwick, The Student Hotel in Amsterdam, Tune Hotels in London or Bazar in Rotterdam
37. Stay away from the city centre.
In almost every major European city you can get significantly cheaper prices if you are willing to stay away from the city centre.
38. Stay in a family room or a quad
You pay little more and get more better value. If you choose to stay with a budget chain brand like Travelodge in the UK , the family room costs the same as a double room.
39. Couchsurfing
Couchsurfing.org is a great way to meet new friends & to explore a country
40. Try Housesitting
Another cool option for finding free accommodation in Europe is trying out Housesitting. For the unintiated, James Cave did an excellent guide to Housesitting on the BudgetTraveller recently.
41. Sleep cheap, spend your money on something cool
Stay somewhere really cheap but live it up by having a drink at the grandest hotel you can find — and take lots of Instagrams
42. Finding decent affordable and nice accommodation in London , Paris or Edinburgh?
London, Paris and Edinburgh can be a bummer for finding good value, decent budget accomodation. So I created a guide earlier to my favourite budget places to stay in London , Paris and Edinburgh
43. University rooms?
I was visiting London in the summer last year and struggling to find anything had decent below £100 a night until I discovered University Rooms.
I can't think of a better deal for central London. For example searching in the 1st week of September, I can find a single room with breakfast in Bankside House, Southbank ( as central as you can get in London) for as little as £45 per person, per night including breakfast. The rooms are no frills but comfortable for the night. They have bed and breakfast or self-catering budget accommodations scattered across 120 cities worldwide so do checkout their site.
Where to go in Europe
44. Visit Portugal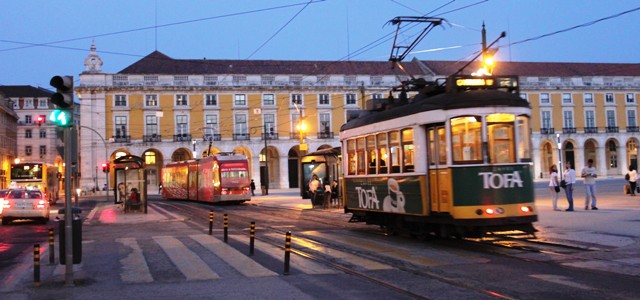 Portugal remains the best value for money destination in Western Europe. I love the country for its old world European charm, the medieval towns and the most amazing pastries in the world like Pasteis de Nata The seafood here is out of this world and very cheap. Enjoy a plate of grilled limpets with a squeeze of lemon juice for as little as €5 in the beautiful island of Madeira or tuck into charcoal grilled sardines or the excellent sopa de peixe, fish soup (€3 ) with a glass of Vinho verde ( €2) at one of Lisbon's century old kiosks in Lisbon
Visit Porto , one of the most underrated cities in Europe. It has a beautiful location by the winding Douro river, stunning architecture, amazing gastronomy and a cracking nightlife. Here is little glimpse into what life in Porto is like and also the lowdown on what might be the world's best hostel.
45. Go to Czech Republic
Czech Republic remains one of the best value for money destinations in Europe. There's fairytale castle, lovely locals, the best beer in the world, fantastic wine too plus great culture- Czech Republic has it all.
Checkout my guides to Prague, Brno , Olomouc and Cesky Krumlov
46. Sarajevo
Sarajevo has to be one the hottest travel destinations this summer for the budget traveller! There is so much to see, do and eat, and you complete the Bosnian experience by staying with a local family – request a home-stay.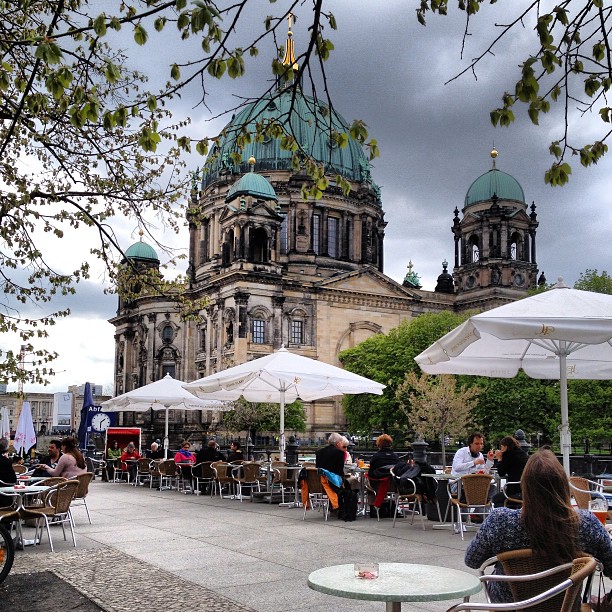 47. Visit Berlin
Berlin. Besides Lisbon, Berlin is probably hands down the best value destination to visit in Western Europe. You have a wide range of excellent value budget accomodation-from apartments to luxury hostels. In terms of free things to do, from visiting the East Side Gallery to free lunchtime concerts at Berlin Philharmonic to visiting the Reichstag or simply strolling down the historic Unter den Linden- there is so much you can do in Berlin without spending a penny. Plus in terms of street food, Berlin is the king. You can sample the best kebabs in the world at Mustafa's in Kreuzberg (Mehringdamm 32 ) or try currywurst at places like Curry 61 ( currywurst with fries- €3.20) I recommend you have a peek at my guide to the best outdoor activities in Berlin, a guide to the best things do in Potsdam– perfect day out of Berlin and my free self guided walking tours of Berlin Mitte and the upcoming Berlin Wedding
For more about Berlin, I highly recommend Uncornered Market's excellently researched and comprehensive Berlin resource guide.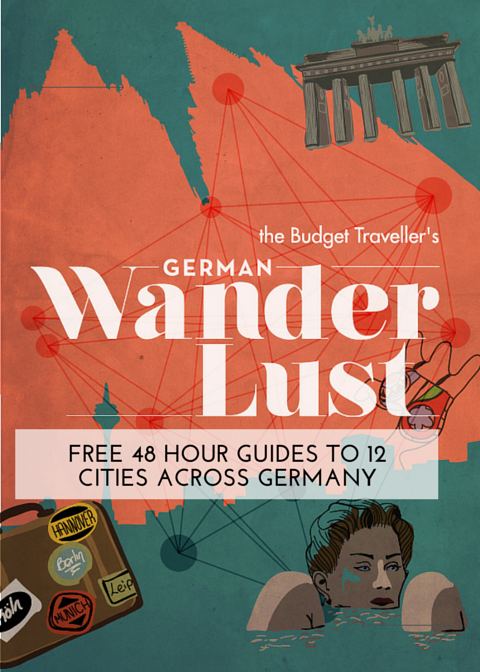 48. Visit Germany
I've had the pleasure of living and exploring Germany over the last 10 years.
Have a look at my Germany travel guides, to help you plan your trip.
49. Visit Malta & Gozo
I recently visited Malta and Gozo and contrary to popular belief, the island is very budget friendly and definitely worth including if you are backpacking away around Europe. For example you can get one-way fares for as little as €40 in April 2015 from Italy to Malta with Ryanair. For more details have a look at my 21 things to do in Malta & Gozo piece.
How to eat on a budget in Europe
50. Restrict restaurant meals
Limit eating out to once a day and if you're a foodie go to a gourmet restaurant for lunch rather than dinner when many restaurants offer great value set menus and business lunches.
51. Cook in
An advantage of holiday rentals and most hostels is that you can cook in a kitchen and cooking can be great fun if you're travelling with friends, a couple, or family or for bonding with new people who are staying at the hostel.
52. Shop locally
Buy your groceries at local markets; look for farmer's markets and watch what the locals are buying to get the best deals. Ask the hostel/apartment owner or receptionist where they shop, as they'll know where the bargains are.
53. Picnic in the park
Public parks and gardens can be a great source of entertainment; take a picnic lunch and take in the action and just delight in how differently people live their lives in other places.
54. Menu del Dia
In Spain the cheapest way to eat out is by ordering the Menu del Dia-a fixed price menu which is offered to guests at lunchtime. The menu consists of a first course, second course followed by a dessert and coffee.
55. Aperitivo
In northern Italy, the cheapest way to eat out is in the evening when you can go out for an 'aperitivo.' The hours are generally between 7 and 9pm. You order an 'aperitif' –glass of wine or martini ( around €6- Beer/Wine. €8 cocktails ) and you get access to a buffet or some tasty snacks are delivered to your table. The general rule of thumb is to have one plate of food from the buffet with one drink. I always go in for seconds though…..
56. Cicchetti -Tradition of Venetian tapas
In Venice, they have the tradition of eating 'Cicchetti' –a Venetian style of tapas served typically in a 'bacari'-small, traditional local bars where alongside some spritz, you can order some 'cicchetti' –these are bite sized snacks that consist of cheese or fresh fish or meat and price ranges from €1 to a few euros. Here's a guide to where to find the best Cicchetti bars in Venice

57. Check out my cheap eat guides.
Love your cheap eats? Highly recommend you check out my cheap eats section where you will find guides to over 20 cities including Malta, London ( Part 1 , Part 2 ) Seville , Barcelona, Paris, Amsterdam, Munich, Cardiff, Bari, Rome, Krakow, Tenerife + Florence Oslo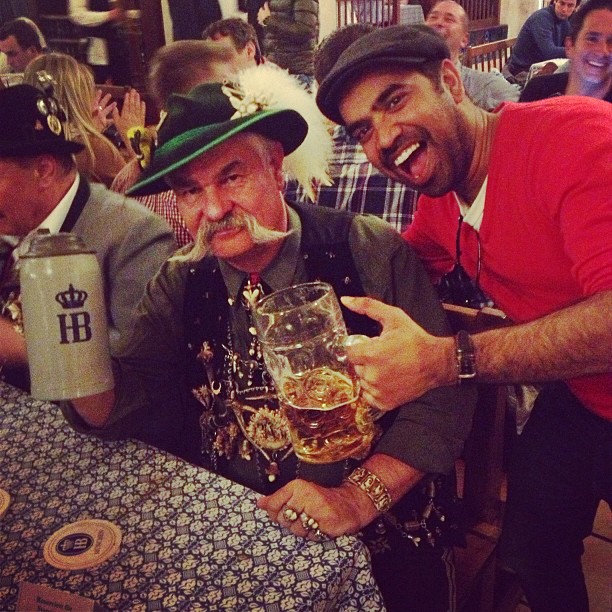 58. Cheapest beer in Europe?
Do you decide which city to visit in Europe based on how cheap the beer is? Then you should definitely check out my Europe cheap beer index which gives you a lowdown of what beer prices to expect across Europe and where you can find the cheapest pint.
59. Cheap eats in Spain and Portugal- Empandas
A panadería (bakery) in Spain or Padaria ( Portugal) will often have fresh hot pasties aka empanadas( ESP) / rissois (PT) , making a light lunch for around €3.
60. Head for the caffeteria in Italy.
It may not sound so attractive, but in Rome and other Italian cities, the tavola calda (caffeteria) offers cheap homemade food at lunchtime for locals on a budget.
61. When in Italy…eat at the bakery.
Bakeries in Italy prepare products that are economical, fresh, and support the local economy (unlike most supermarkets).
62. Free tapas in Spain?
A tradition that is dying out in many parts of Spain, search hard and you can still find traditional bars serving tapas (small dishes) with every caña (small beer, €1-2 ) Your best cities for enjoying free tapas are Granada ( All along c/Elvira ) Leon (Barrio Humedo area) and Salamanca ( c/ Van Dyck).
63 Athens cheap eats ?
At the €3.50 mark: Savvas & O Thanasis are two of the best gyros & souvlaki joints in Athens, on Monastiraki Square, right across from the Metro station.
64 The best menu del dia in Madrid?
The no-nonsense €10 menu del dia at La Sanabresa (www.restaurantelasanabresa.com), just off Plaza Santa Ana is one of the best deals in the town.
Music
65. Go to a free concert in the Vondelpark.
There are all sorts of free concerts from June-August, Thursdays till Sundays.
66. Free music concerts across Europe?
Here are some more tips on finding free music concerts in Amsterdam, London, Paris or Berlin.
Visiting Museums
I love visiting museums when travelling in Europe and discovering the cultural and historical heritage of cities. Here are some cool budget friendly tips for visiting museums in Europe
67 Best Free London Museums?
Here is a great list from Laura Porter who is also the authority for all the best free stuff to do in London http://bit.ly/cDlTHq
68. Remember that entry to state run museums in the UK is free of charge for people of all ages.
69. In Italy, families can take their kids under 18 for free to state run museums like the Uffizi.
70. When visiting museums and other notable sites, always ask if they are special rates are available for students, seniors, or small groups. Some discounts aren't clearly visible and can be overlooked
71. In Paris, plan your trip around the first Sunday of the month when all the main museums are free.
72. The Museum of Contemporary Art, the Hamburger Bahnhof in Berlin is free for the last 4 hours on Thursday. ( 4-8pm )
73. In Berlin you can also visit these following museums for free:
Deutscher Dom, The Berlin Wall Memorial
Information centre of the Holocaust Memorial Berlin, Allied Museum
Memorial and Museum Sachsenhausen, German-Russian Museum Berlin
Kunstraum Kreuzberg/ Bethanien,
Mies van der Rohe- Haus
Museum of Oddities
Sugar-Museum
74. Following Berlin museums for free on certain days or hours
1. Deutsche Guggenheim Berlin
Admission free every Monday .10am to 8pm
2. Märkisches Museum
Admission free every first Wednesday of the month
3. Academy of Arts, Pariser Platz
Admission free every first Sunday of the month 11am – 8pm
4. Academy of Arts, Hanseatenweg
-Admission free every first Sunday of the month 11am – 8pm
5. Bauhaus Archive Museum of Design
-Free guided tour every Sunday 2pm. (Admission to the museum 4 – 7 euros)
6. Domäne Dahlem – unique open-air museum of agrarian history
-Admission free Wednesdays from 10am to 6pm
75. Free art in Madrid!
Contemporary Art Museum Espacio Conde Duque has 3 art galleries with quality exhibitions, plus special events (these sometimes cost)
Other ideas and general money saving tips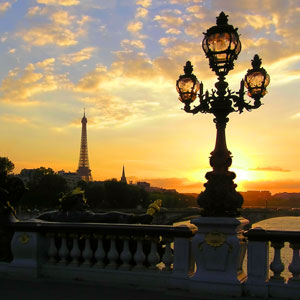 76. How about 2 days in Paris with just €100 ?
78. Here is a bunch of 20 essential money saving travel apps to download if you are visiting UK on your trip to Europe
79. Save money and keep cool in Rome and Venice's heat by refilling your water bottle with fresh spring water running freely from their fountains.
78. Drink coffee at the bar in Italy
If you're only planning a quick coffee in Italy, walk to the bar, order it and stand there to drink. Sitting down can treble the price.
80. Mother of all free festivals- Free Fringe
There are free festivals and then there is the Free Fringe in Edinburgh, the rebellious, lesser known cousin of the Edinburgh Fringe Festival that takes place in August. Last year visitors enjoyed over 4000 performances from 365 different shows. There were 40 *5 star* and 140 *4 star* shows to give you an idea of the quality of the festival.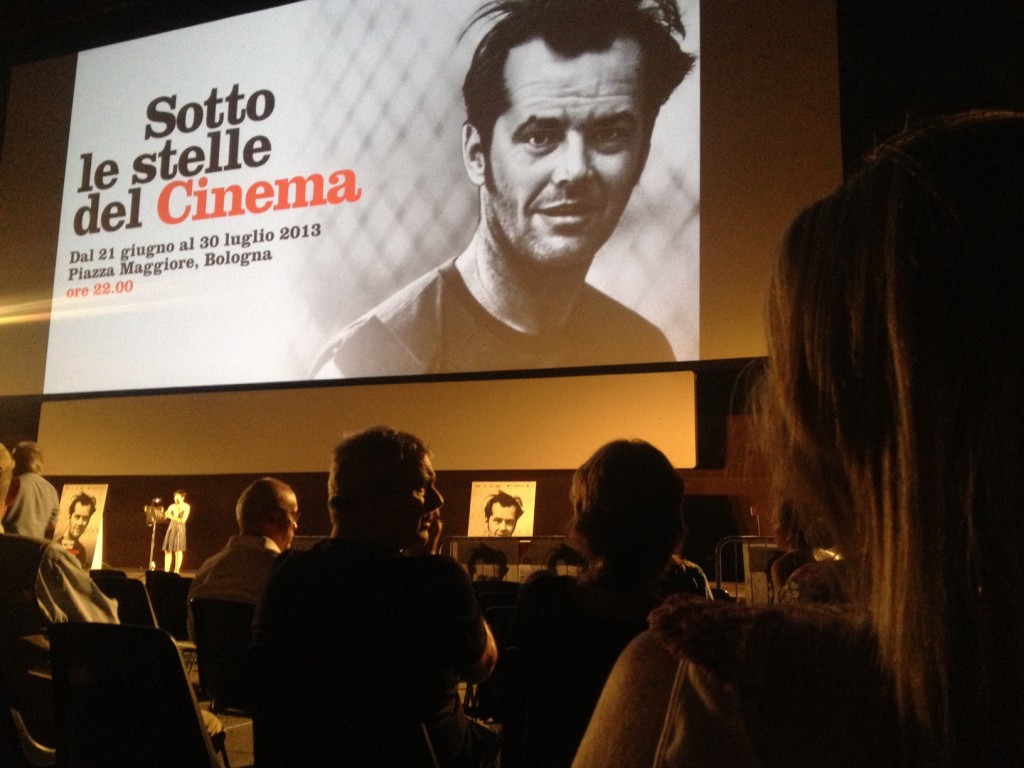 81. Check out a free open air film festival?
In many cities across Europe you can find free open air film festivals. For example in Amsterdam you can attend Pluk de nacht: One of the best free open air festivals, with national & international films and documentaries.
Visit Bologna from end of June till end of July for their annual open air film festival, the Sotto le Stelle del Cinema, held in Piazza Maggiore. For more about this festival and what to do in Bologna check out my 48 Hours in Bologna.
82. Cheap alternative to Greek Island hopping?
Take Athens metro down to Piraeus then hop on a ferry for a day-trip to one of the Saronic Gilf Islands: Hydra, Poros, Aegina.
83. Try a free walking tour
While I am not the biggest fan of guided walking tours I know many travellers swear by and love free walking tours so it is something I recommend you check out for yourself. Sandeman's New Europe operate free walking tours on a tips only basis across all major cities in Europe. For a 1-2 hour free walking tour you could tip anything from €5 upwards.
84. When in London…
Always use an Oystercard for London transport
85. Visit Latvia and of course Riga
Latvia for me remains one of the best value destinations in Europe-With a great concentration of hip bars, affordable and excellent range of dining options for travellers of all tastes, a bunch of cool and very affordable hostels to sleep in, a lively and vibrant nightlife plus you have easy access to the Baltic coastline, acres of forests and greenery just a short bus hop away. Checkout my Latvia travel guides that includes my guide to the best places to eat, drink and sleep in Riga