As a followup to my popular 7 of the best budget places to stay in London, I thought I'd turn the spotlight on Paris after receiving a number of requests for tips of the best budget places to stay in Paris. As one of the most expensive cities in the world, finding a cheap hotel room in Paris may appear to be out of reach to many but the city does boast an array of budget places to choose from, from hostels to cheaper hotels costing as little as €23 per night. Also have a peek at my Paris section for further inspiration like my guide to 50 free things to do in Paris. Here are my best budget hostels in Paris and best budget hotels in Paris: agree or disagree? Please leave your comments below
1. Generator Paris
Address: 9-11 Pl. du Colonel Fabien, 75010 Paris, Franc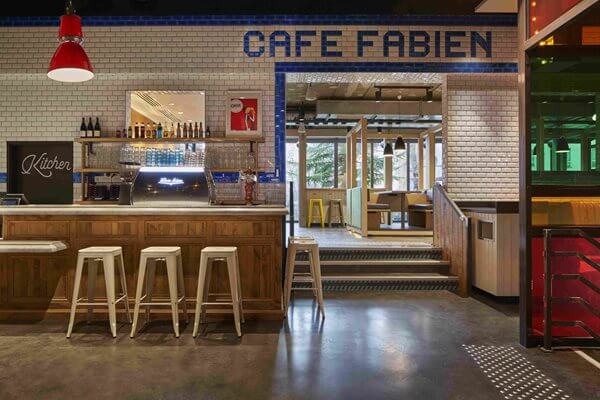 is probably my favourite hostel in Paris at the moment along with The People – Paris Belleville (see below )
Generator Paris is probably my favourite hostel in Paris at the moment along with Les Piaules (see below ) Located in the emerging district of the 10th Arrondissement, a one-time derelict office block is currently being transformed into a chic array of private terrace wielding private rooms and stylish rooms to share. The hostel is just a 15-minute walk from Gare Du Nord. Guests will be able to take a stroll through Buttes-Chaumont Park and mix with the locals, wander from art galleries to vintage shops or relax in a café by Canal St-Martin. Star features includes a stunning rooftop terrace with Eiffel Tower views , Moroccan themed 'Cafe Fabien' and their underground Metro Bar.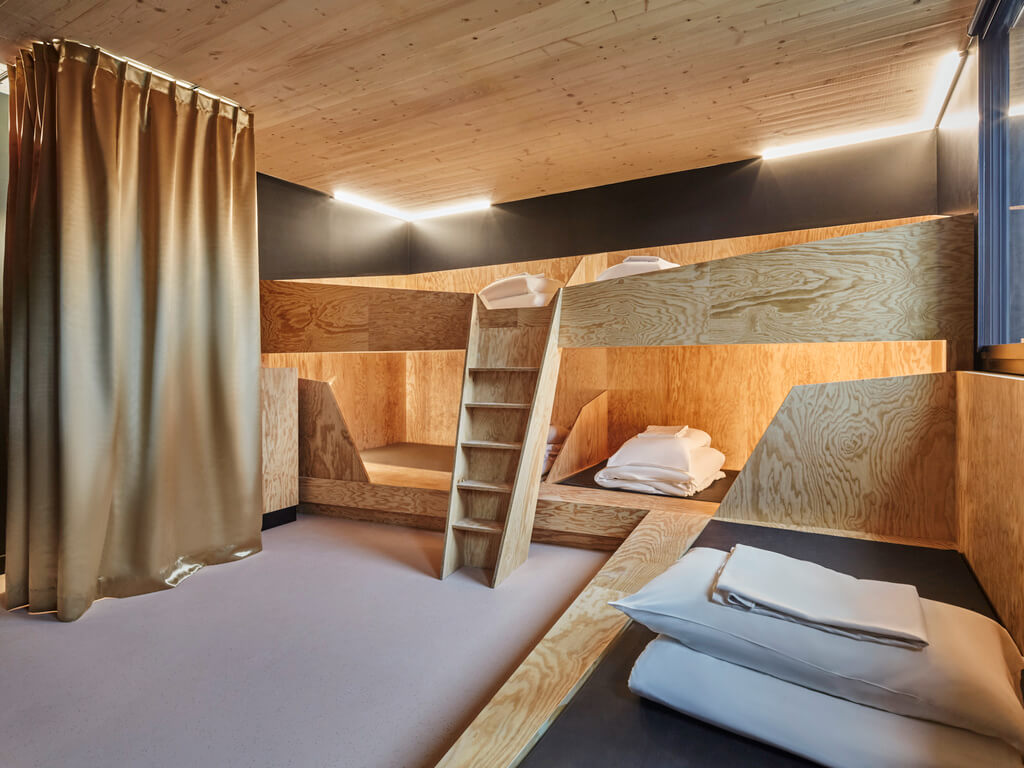 2. JO & JOE Paris Gentilly
Address: 89-93 Av. Paul Vaillant Couturier, 94250 Gentilly, France
Room prices start from €25 for a bed in a 12 bed dorm, €28 for a 8 bed dorm , Standard Single Private with Shared Bathroom for €33 or a private ensuite for €99 booked via Hostelworld.com
JO&JOE Paris Gentilly is located in south of Paris, outside Paris city centre and between Porte d'Orléans and Porte de Gentilly. The hostel is close to the city center and connects directly with Roissy and Orly airports via the RER train network plus there is a direct line from Gare du Nord to Gentilly too. It also close to Parc Montsouris, Paris biggest park and the Butte aux Cailles district , one of Paris's lesser known neighbourhoods which is retains a local, village like feel in the very modern 13th arrondissement. It is not the best location but perfect if you're looking to get a little off the beaten path.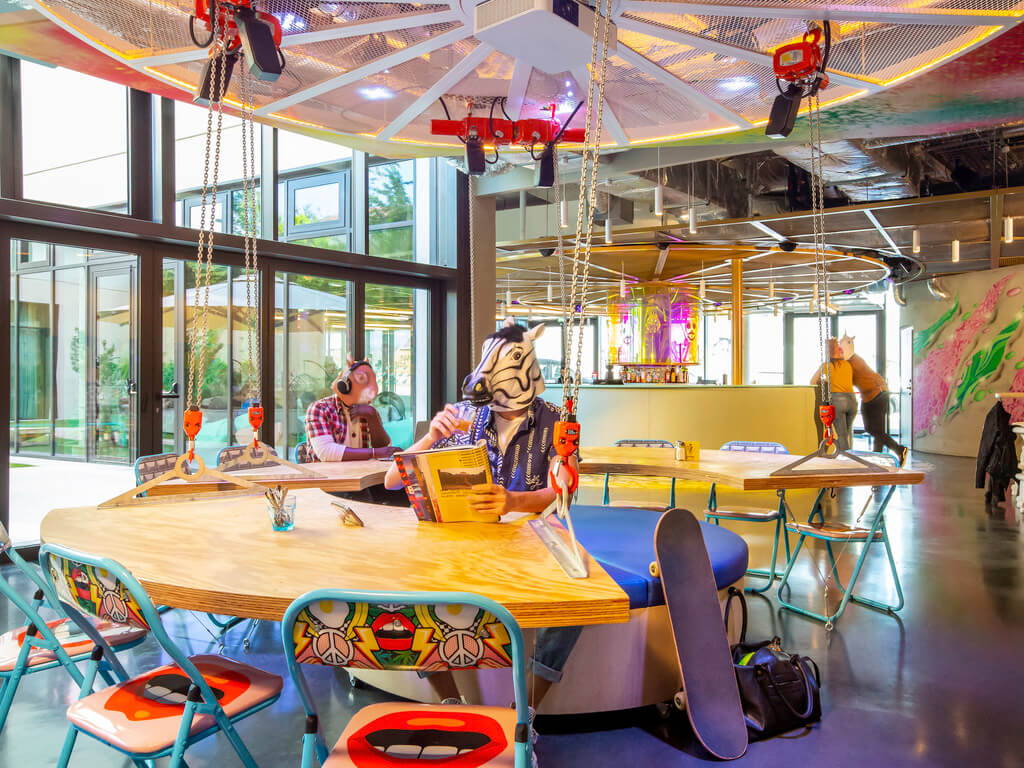 Similar to their counterpart in Vienna, the hostel offers a mix of stylish dorms and private rooms. Dorms beds come equipped with USB charging ports and reading lamp. There's a bar onsite offering decently priced drinks -this is Paris after all. ( €5 for a big beer, €5 for a glass of wine/€15 for the bottle) There is happy hour -check with the hostel to findout the latest deals. Also, there is the classic self service beer taps here. Load money onto a prepaid card and drink as you please. There is also a restaurant offering a simple fare of comfort food, ranging from burgers and salads from €12 to pasta dishes. There's also a huge 200 square meter garden terrace to relax in. Perfect, especially in the summer. As with JO&JOE Vienna, the hostel has extensive events programme where local artists perform- check with the hostel ahead to find out what's on and also keep an eye on their Instagram page for announcement.
3. Hotel Joke Astotel
Address: 69 Rue Blanche, 75009 Paris, France
Room prices start around €80 mark via Booking.com
In terms of comfort and location, plus price (under the €100 mark) Hotel Joke Astotel is one of the best cheap hotels in Paris. The location is the star here- you are close to all the main attractions like the Moulin Rouge and just a 3 minute walk from Blanche metro stop and just a wee stroll away from the beautiful village of Montmartre.

Rooms here are bright and full of light. Very spacious. One of the highlights for many guests is the free minibar with complimentary soft drinks plus there is a kettle with free tea, coffee sachets. In the afternoon, they have an open bar in the lobby with free snacks and non-alcoholic drinks. Wifi is fast and excellent. Breakfast is filling too.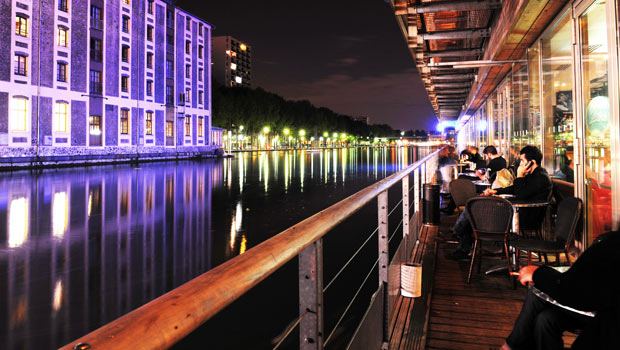 4. St Christopher's Inn Canal Hostel
Address: 159 Rue de Crimée, 75019 Paris, France
From the popular European hostel group is a custom built hostel in a great location with nice clean dorms and private rooms plus the Belushi's Bar and Nightclub in the basement.
St Christopher's Canal is in a peaceful location overlooking the Bassin de la Villette – the city's largest artificial lake where scenes of the movie Amelie were filmed. A short metro trip taking you to the main sights of the City of Lights.
The hostel site was formerly a warehouse back in the 19th Century having been rebuilt in 2008 , holds onto its history whilst offering a modern take with cool furnishings such as the pod beds.
Starting at prices of just €28 per night via you have the option to choose from female only dorms and private rooms and take advantage of a bunch of cool facilities such as free Wi-Fi, breakfast, 24 hour access and a free walking tour of Paris.
St Christopher's Inn have opened a brand new hostel which is a short walk away from the Gare du Nord station.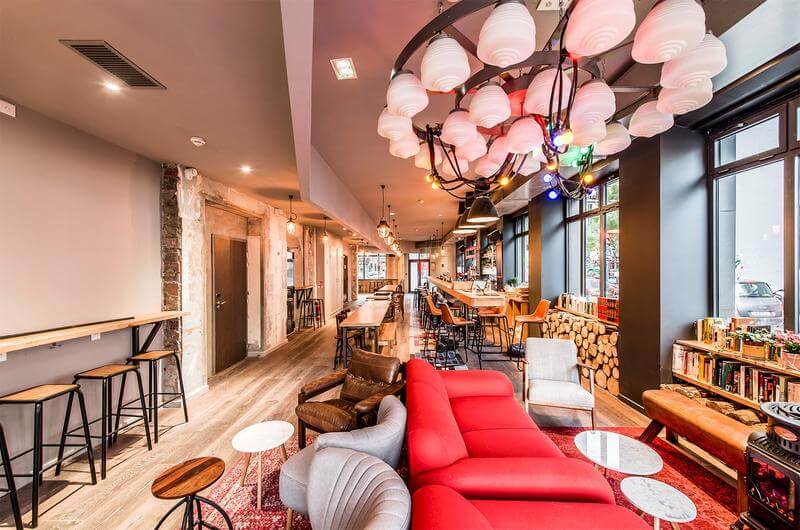 5. The People – Paris Belleville
Address: 59 Bd de Belleville, 75011 Paris, France
Situated in a 1930's renovated 'Art Deco' building in the upcoming district of Belleville, is a fab new design hostel with a very cool bar, custom made bunk beds and a rooftop terrace that offers you great views of the Paris skyline. The hostel is located on the boulevard of Belleville, which is packed with great bars, coffee shops and some great eateries. The owners travelled for more than a year across the best and worst hostels and used that experience to design some really cool rooms. On the rooftop they have 4 rooms overlooking the Sacré Coeur and the Eiffel Tower. The hostel has the coolest bar in town with a carefully curated selection of local beer, coffee and French specialty drinks. Guests can choose from a range of breakfasts (£2.50 to £8) to kickstart your day – hand roasted coffee sourced from the Belleville Brûlerie (500m down the road), croissants, eggs and bacon, creamy 24 month-aged Comté, French cheeses from local producers, or muesli and organic yoghurt. Hostels in Paris are pretty average so The People – Paris Belleville is a welcome addition to the hostelling scene in Europe.
Booking via doubles start at €90 room, Dorm beds from €25 per person. Note that breakfast is excluded.
59 Boulevard de Belleville, 75011 Paris, France.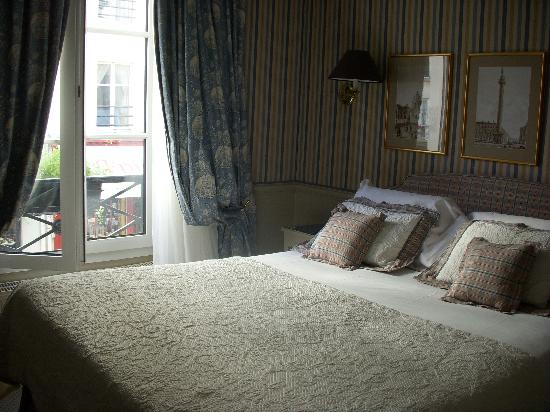 6. Hotel du Champ Mars
Address: 7 Rue du Champ de Mars, 75007 Paris, France
The Hotel du Champ Mars is the typical traditional boutique style accommodation that you would expect from Paris.
The surprise lies in the cost, starting at just €100 per night, especially when you consider the location and close proximity to the heart of Paris.
It is difficult to beat the Hotel du Champ Mars location, only 1km away from the Eiffel Tower with some rooms benefitting from views of the tower.
Other benefits of the location include the Rue Cler, a famous street hosting a market which is a must visit if you want to see the authentic side of Paris with speciality services and products such as cheese and chocolate available, and of course being in walking distance from museums and sights such as Musee du Quai Branly.
Continental breakfast at Hotel du Champ Mars is available at an additional €5 and Wi-Fi or computer access both available free of charge!
With only 25 rooms you can expect a quiet stay and personal service but rooms do book well in advance so make sure you book early.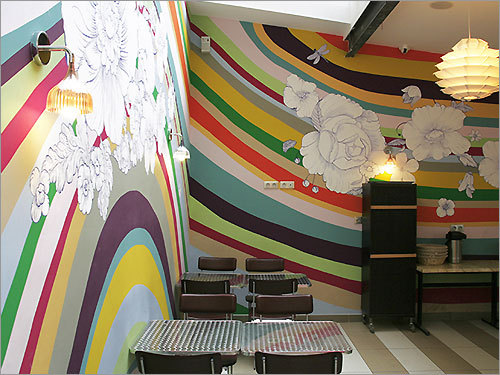 7. Oops! Hostel
Address: 50 Av. des Gobelins, 75013 Paris, France
Bold and design centric aptly sums up the , the first of its kind in the city when it opened in 2007. Each of the rooms and communal areas all have vastly different innovative interiors combining bold colours and prints which have led Oops! to be featured in the likes of 'Real Design' magazine. Free Wi-Fi is available, as is a continental breakfast of cereal, a croissant and bread roll and if you're staying on Wednesday, Friday or Saturday you even get free crepes.
Beyond the design and facilities, Oops! also benefits from the pretty amazing location in the Latin Quarter which consists of a myriad of streets with buildings, statues, live entertainment and artwork which will take you back to true bohemian Paris whilst still providing lots of opportunities for fun and things to do.
You can choose from a bed in the shared dorms, prices start at €23 per night via or a private room from €60, the added bonus of en-suite bathrooms in each of the rooms makes these rates exceptionally great value.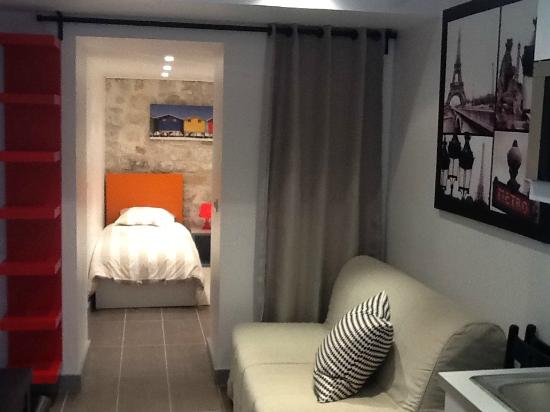 8. Hotel de la Mare
Address: 20 Rue de la Mare, 75020 Paris, France
This traditional Parisian guest house which has recently been refurbished and now offers a variety of accommodation options starting from €100 per night. Rooms are relatively spacious, sleeping between 1 and 2 all of which have a kitchen though some do share a bathroom so if you want your own private bathroom check this when you book.The kitchenette particularly appeals to backpackers and will help you stick to your budget. Instead of eating out you can prepare your own meals from the authentic French food shops.
If you do want to head out for dinner popular areas such as La Bellevilloise are just a short walk away.
The Hotel de la Mare's recent refurbishment has resulted in a monochrome base with bright accents which will appeal to everyone and all the rooms have all the modern facilities ( including flat-screen tv, private bathrooms ) which you would expect from a small hotel.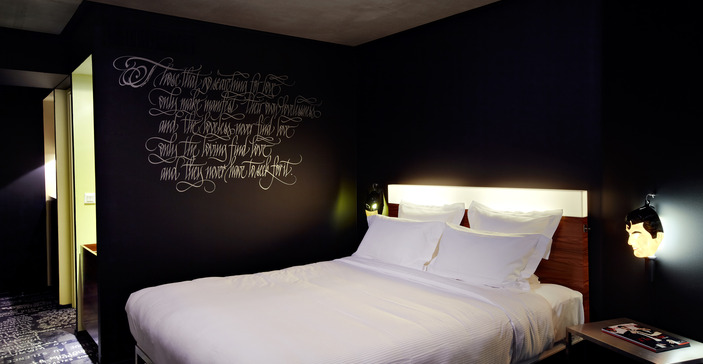 9. Mama's Shelter Paris
Address: 109 Rue de Bagnolet, 75020 Paris, France
12. Airbnb Room in the trendy Canal St Martin

Airbnb should be part of every Budgettraveller's arsenal with some of the most affordable places to stay in Paris featured on their site. In addition to the budget friendly accommodation you get the opportunity to stay with a local Parisian host which can often be the best way to find out about the must visit spots off the beaten path. You may find yourself spoiled for choice with hundreds of properties to choose from but check out property reviews to make it easier for you to narrow down the options.
Johanna's property (in picture ) for instance offers a whole apartment with access to kitchen and living area facilities such as Wi-Fi and television for just €69 per night is great value for Paris.
TIP: If you are new to Airbnb , signup using this link to get €22 off your first booking.
Further Paris Guides and Resources
1. How to plan a weekend road trip to Paris
2. Best day trips from Paris: Lile
3. Best day trips from Paris: Rouen
4. 5 things to do in Paris this Fall
6. Open-air Paris: 48 hour guide