Edinburgh is a great year-round destination with a host of amazing things to do….. ranging from climbing extinct volcano's to lazing in Princes Street gardens while drinking in the beautiful vista of the Castle above your head or just going for a seafood supper in Leith, then a lazy stroll up the magical water of Leith.
There are so many unique experiences that this city can offer to a tourist.
If you haven't yet checked out my free self guided walking tour of Edinburgh, have a look.
So. Coming onto the subject of this post. After numerous requests from readers, I've finally pulled out my finger and pulled together a list ( in no order) of my 12 best cheap places to stay in Edinburgh.   It's interesting how your perspective changes when you don't visit the city as a tourist.
My perspective is quite unique. I lived in Edinburgh for almost 8 years and left 4 years ago.
Revisiting the city for me is like meeting an old very dear friend. Revisiting the old pubs I used to frequent with friends. Hanging out in the very same Starbucks café on the Canongate that used to be my 'office.' Coffee still sucks but the view is great of the Christmas shop and the Canongate Kirk across the road
I hope you find it useful for your next visit to this beautiful city. If you do find the article useful, please feel free to share this piece with your friends. Importantly, if you have any tips of cool budget hotels or hostels in Edinburgh, please leave your tips in the comments section. I'd love to hear from you. Thank you!
1. CoDE Pod Hostels – THE LoFT
The capsule hotel concept has finally crossed the great length of Asia and Europe and arrived in Edinburgh.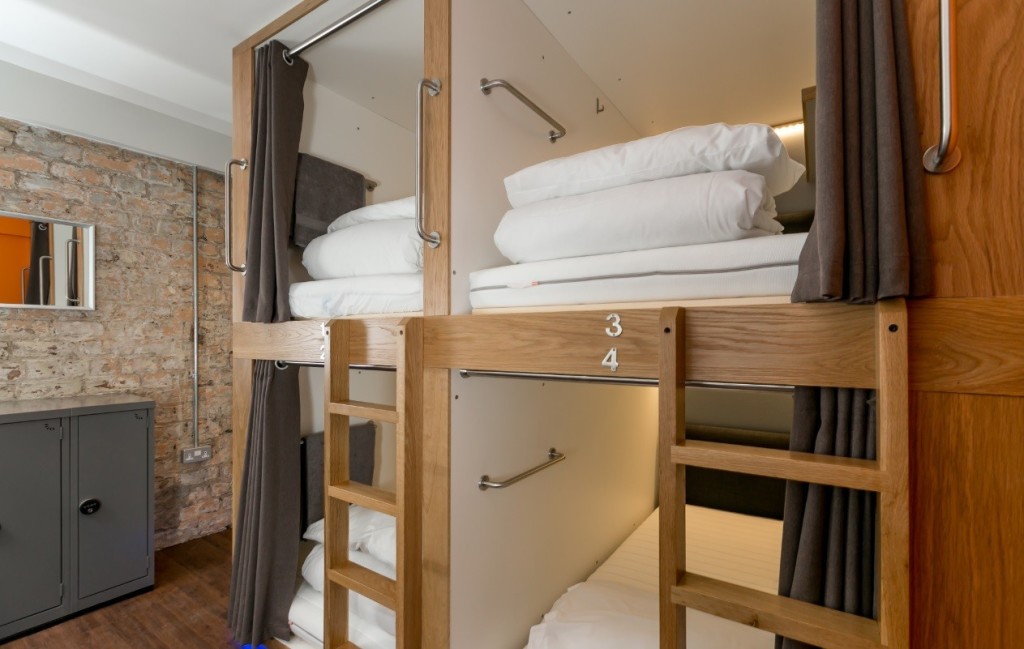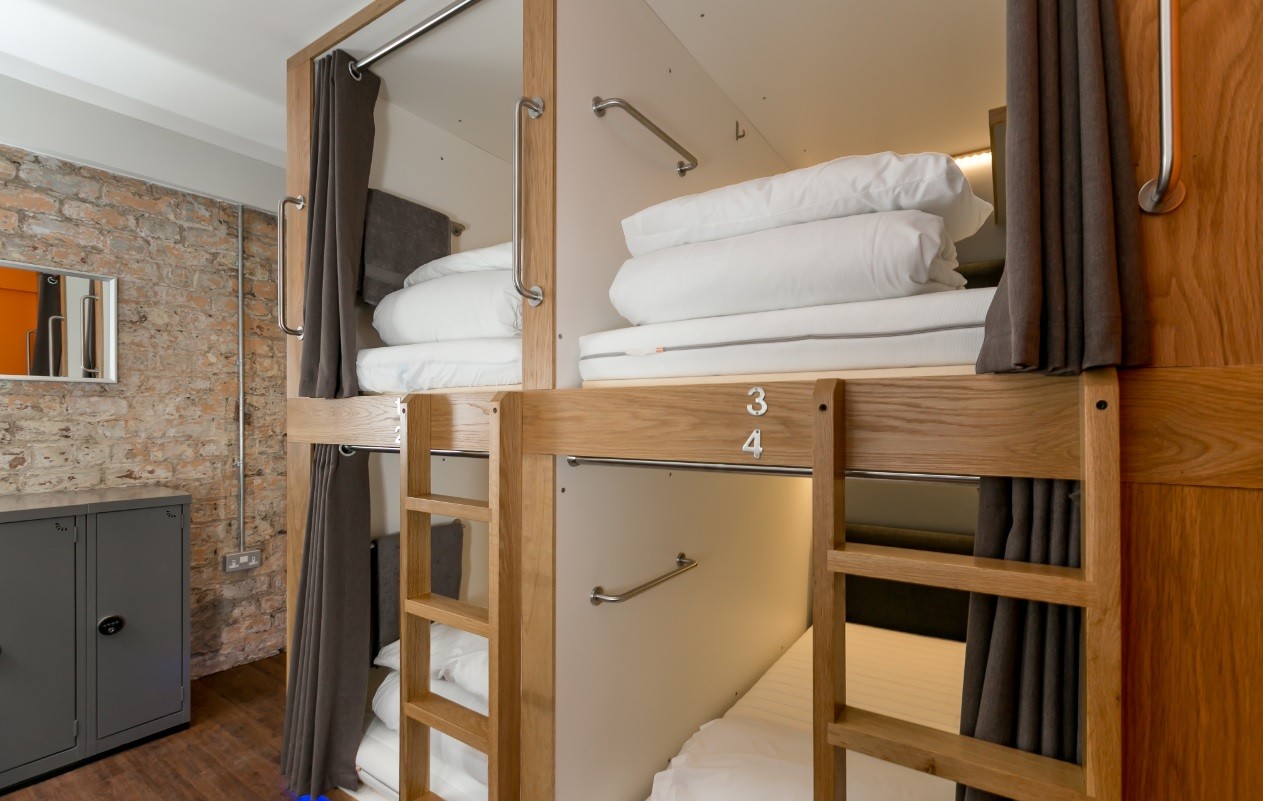 CoDE Pod Hostels – THE LoFT
Full Disclosure: I earn a commission if you click this link and make a purchase, at no additional cost to you. Really makes a difference. Thank you supporting the blog.
I've long advocated the idea of pods replacing bunk beds having seen them first at the Fort York Hostel in York and in Japan last year at the 9 Hours Hotel at Narita Airport.
The pod style of beds means you have complete privacy when you are sleeping in the dorm.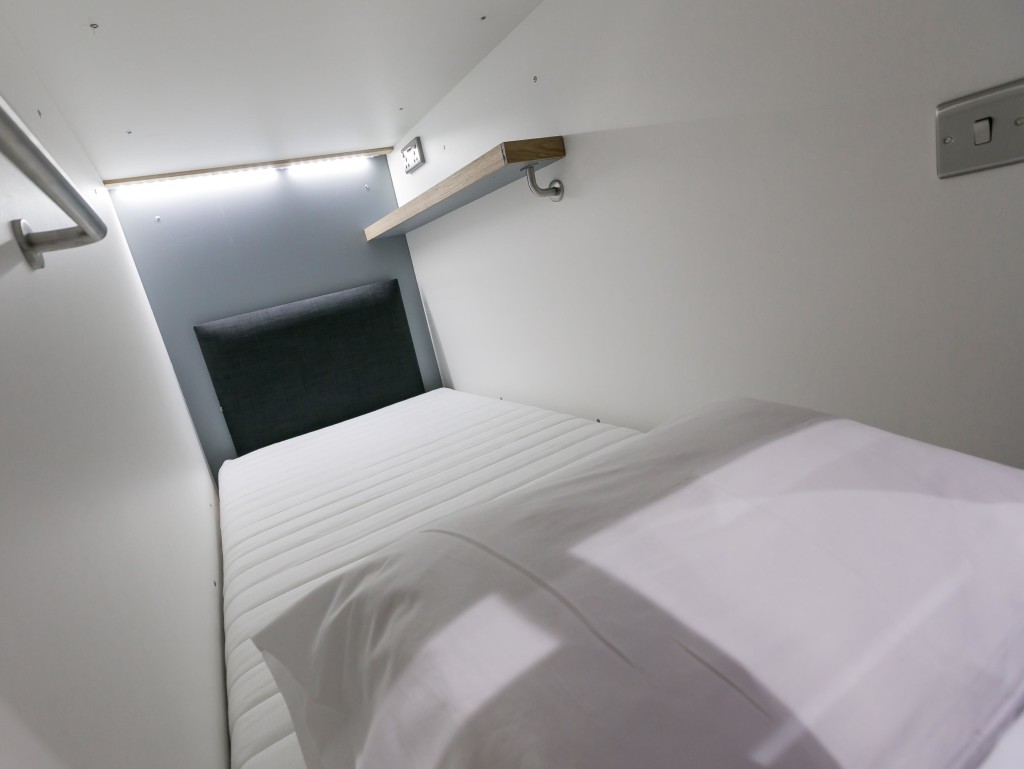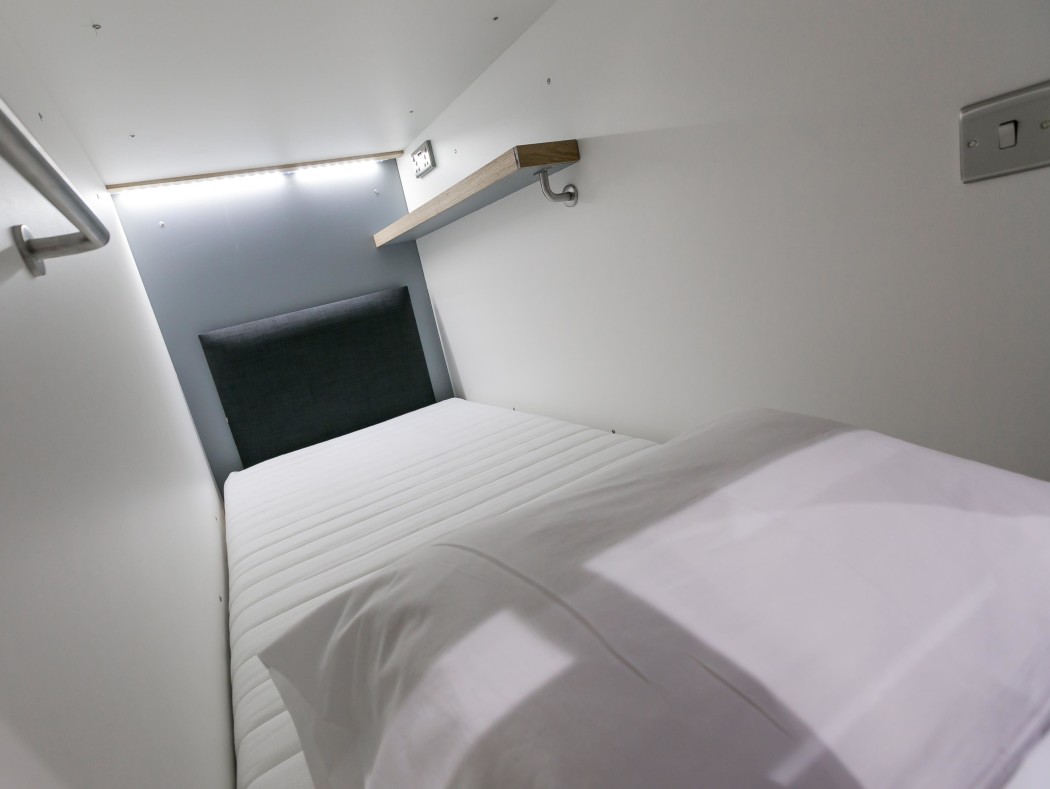 Each pod as you can see in the picture is equipped with a privacy curtain which means even if someone ambles in at a late hour and switches the light on ( I need to blog about hostel etiquette soon) you won't be disturbed. Plus each 'pod' is equipped with a reading light and a socket for charging all your gadgets. Pod bed in a 6 bed dorm currently starts at around the £18 mark.
The hostel Full Disclosure: I earn a commission if you click this link and make a purchase, at no additional cost to you. Really makes a difference. Thank you supporting the blog. has a rooftop luxury penthouse suite with a private garden. I had the luxury of staying in this for one night and I loved it. With prices starting from just £50 currently ( Prices will vary according to season. Always book in advance to get the best possible rates) this has to be one of the best bargains in Edinburgh.
The communal showers are clean and showers are excellent. The hostel has a small communal area with a full equipped kitchen. Free tea and coffee is available all day. The staff – Ben, Rafy are wonderful hosts and really take wonderful care of their guests. They organise whisky tasting, pub crawls and celidih dancing ( Scottish traditional dancing- fun and not too difficult to learn. They plan to organise a variety of social events in the summer. Stay tuned to their Facebook page for details of what's happening.
2. Safestay Hostel Edinburgh
As with Safestay Elephant & Castle Full Disclosure: I earn a commission if you click this link and make a purchase, at no additional cost to you. Really makes a difference. Thank you supporting the blog.  , Safestay Edinburgh Full Disclosure: I earn a commission if you click this link and make a purchase, at no additional cost to you. Really makes a difference. Thank you supporting the blog. has a funky style and want to bring luxury to hostels. The hostel enjoys a great location just off the middle of The Royal Mile. You can walk to all the main sights and there's shopping and nightlife on your doorstep as well. It's just ten minutes walk from Edinburgh Waverley railway station (be prepared for the slope up to The Royal Mile and down the other side to the hostel), and the airport bus stop is just around the corner. Or it's 10-15 minutes walk from Edinburgh bus/coach station.
There are 49 rooms and 272 beds with a choice of dorm size (4-12 beds), plus private rooms too. And all have an ensuite bathroom so there's no corridor queuing in the morning.I was testing out the 'family-friendly' factor so we stayed in a Twin Bunk Private Room. We had four beds so our room had four cupboards (big enough for a rucksack or suitcase), a separate toilet and shower, and a small table and chair. Each bed has a reading light but – here's where we ran into problems – there wasn't plug sockets by each bed. Only one of the four beds had a double socket so it took some creative charging leads to reach two beds.  I slept in one of their new bunkbeds (plenty of head height on the bottom and top bunk) with the purple branded bed linen. Mattresses were still old and not that comfy. The room overlooked the courtyard area for Bar 50 which meant we could hear the bar in the evening (and some extra revellers popping in during the early hours). The hostel Full Disclosure: I earn a commission if you click this link and make a purchase, at no additional cost to you. Really makes a difference. Thank you supporting the blog.  has small lockers for your valuables on the ground floor (small fee) and two left luggage rooms (free). Check-in is from 3pm and check-out by 10am and you can store your bags before or after your stay.
Bar 50 is the breakfast room and general bar for the day and evening. You can play pool, order bar meals or use the guest kitchen and dine here too. Free wifi is available for all guests and in the public areas. It got a bit patchy at times but was generally OK. You can use the wifi in Bar 50 which is handy as the phone signal drops out on one side of the room. You can make your own breakfast in the guest kitchen or choose the £5.95 breakfast (six items from the cooked breakfast and cereal area) plus unlimited tea/coffee and toast. Tea and coffee is ready brewed in urns, and there's no juice (it's squash or water). As with other large hostels (and hotels) no-one knew how to work the industrial toaster and lots of guests burnt toast each morning. Another drawback of having breakfast in the bar is that you can smell beer while eating your Cornflakes. And I stayed during one of the busiest times for Edinburgh so, of course, there was some city centre noise.
Even so, Safestay Edinburgh's central location was really appreciated for being able to stop off between attractions. And while I've been critical I would definitely stay here again. I'm quite a fan of the Safestay purple and pink decor (honestly, it makes such a refreshing change from clinical white walls and white bed linen in many hostels), and the staff here made us feel so welcome.
Book via Hostelworld Full Disclosure: I earn a commission if you click this link and make a purchase, at no additional cost to you. Really makes a difference. Thank you supporting the blog.
Private rooms start from £39.00 to £125.00 per room and a bed in a dorm ranges from £11.00 to £36.00 per bed
 3. Ibis Centre South Bridge Hotel
Main reason to stay in the Ibis Centre South Bridge Hotel is the fantastic location. I lived in Edinburgh for several years and South Bridge would be a street I would often pass through. You've got a clutch of interesting shops, pubs and restaurants in your radius.
There is a Costa Coffee and a Sainsbury Supermarket next door which is handy plus a Blackwells Bookstore down the road. If you here for the festival, all the action is around you. The Royal Mile is just down the road. There are a few bus stops on the doorstep of the hotel so it is relatively easy to reach any part of Edinburgh. Plus from some of the rooms on 9th floor you can get beautiful views of Arthurs Seat in the distance.
The hotel itself is very comfortable. Staff are friendly and helpful.
At the reception they have a Nespresso coffee machine which is free for guests so that's your caffeine addiction sorted. The rooms are large and spacious. They are tea and coffee making facilities in each room. The star feature of Ibis hotels are their innovative 'sweet beds' which are guaranteed to give you the best nights sleep. Having tested them for the last 2 nights I can safely say that they are good. Not a fan of their big puffy pillows but great mattress. I had a sound peaceful sleep.
Served in their in house restaurant, Fogg's, a breakfast buffet is served, available for an extra fee and one I would recommend. It's a very generous spread with a mix of everything-from cereals, fresh juices, yoghurts, fruit to freshly baked croissants, coffee and hot food like haggis, scrambled eggs, bacon and sausages. The restaurant does food 24/7 which is handy if you want to skip the local takeaways at 3am and crave something different.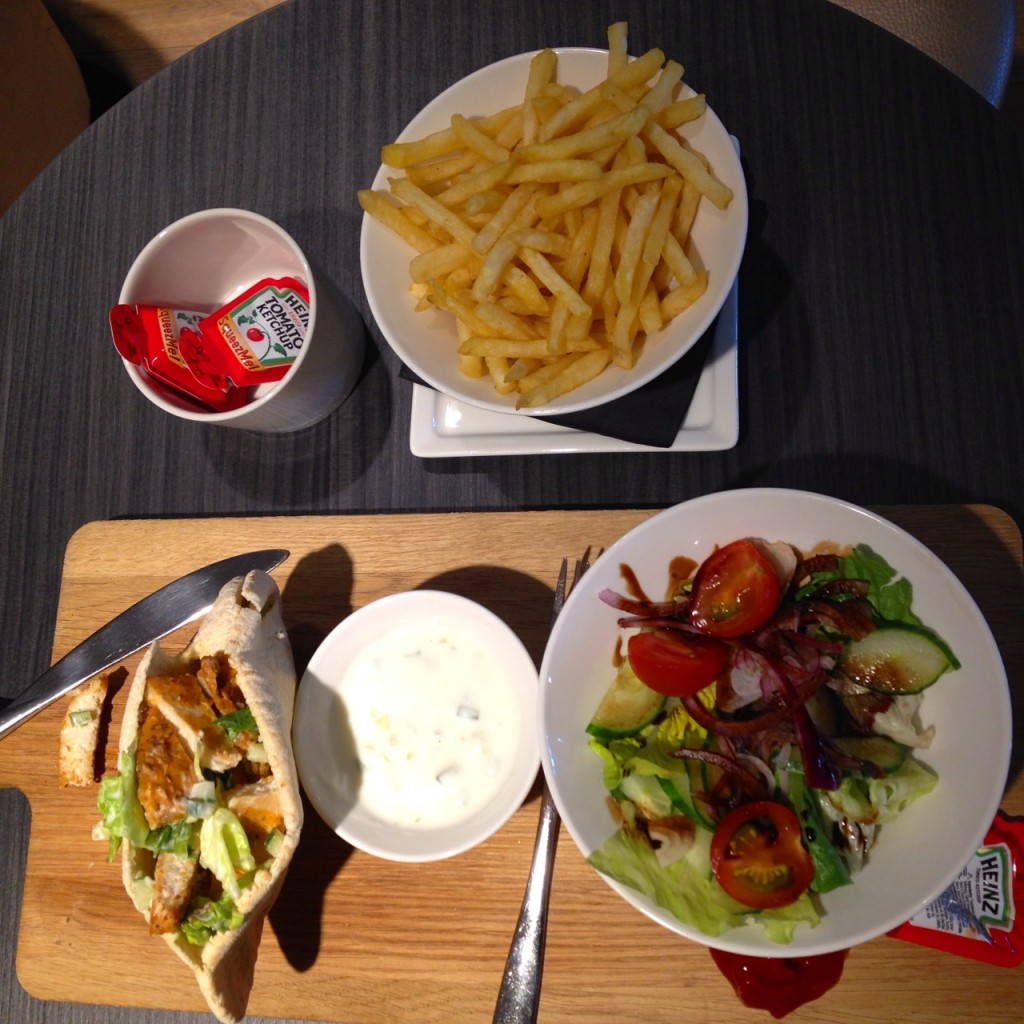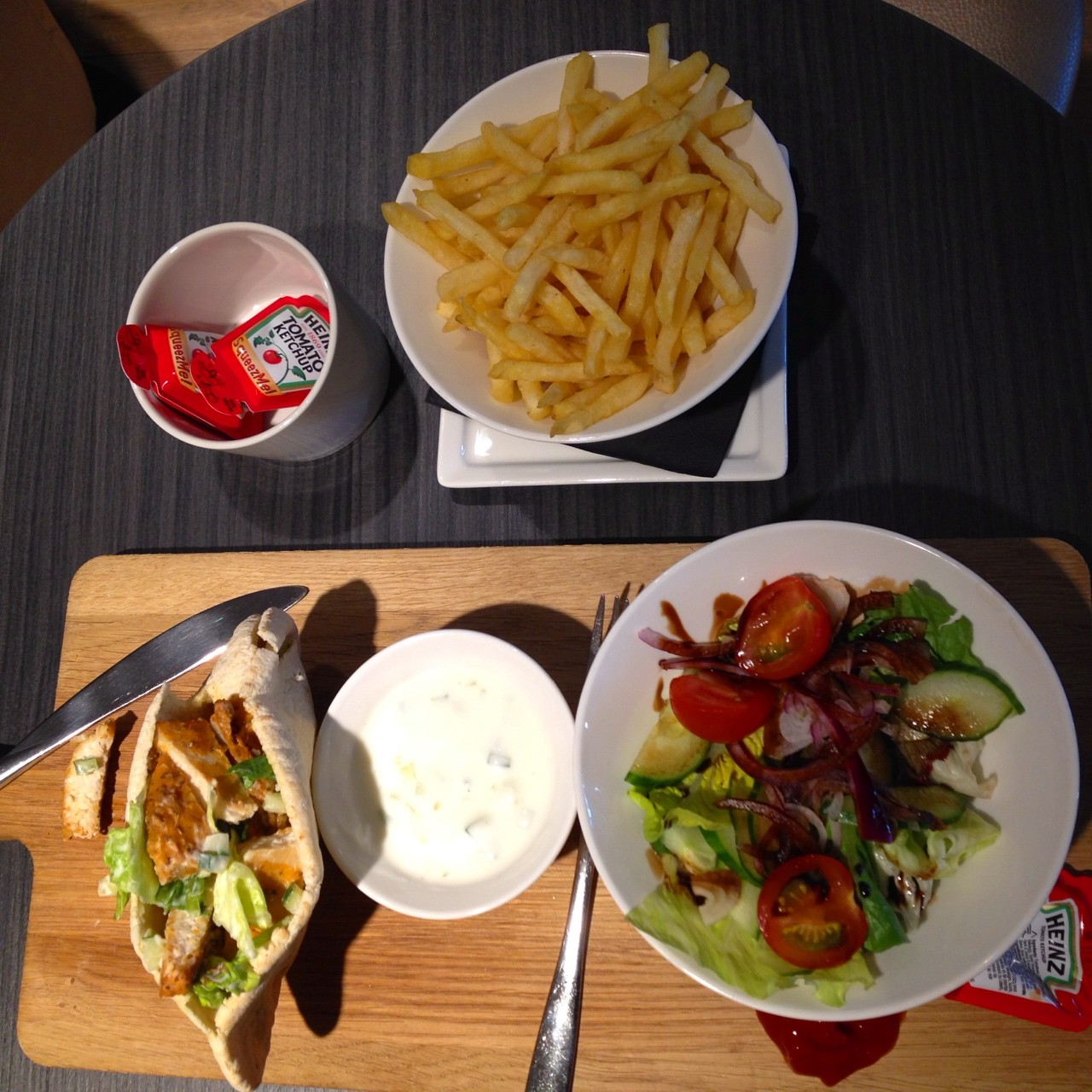 Plus they a daily special menu which draws heavily on the hotel's Scottish roots so definitely worth checking out on your next visit to this hotel.
Essentials
Prices for Ibis Centre South Bridge Hotel start from £60 mark going upto £180 in the high season.
4. Cityroomz Edinburgh
Another relative newcomer to the budget hotel scene in Edinburgh, Cityroomz Edinburgh offers both a great location as well as comfort and convenience.
The hotel is on the west end of Princes Street just off Shandwick Place so you are in a great location here. The local neighbourhood is a mix of shops, bars and offices so it's busy but not too overwhelming. There is a bunch of supermarkets next to the hotel plus the airline bus stop is right beside the hotel. Haymarket railway station is just a 10 minute walk up the road.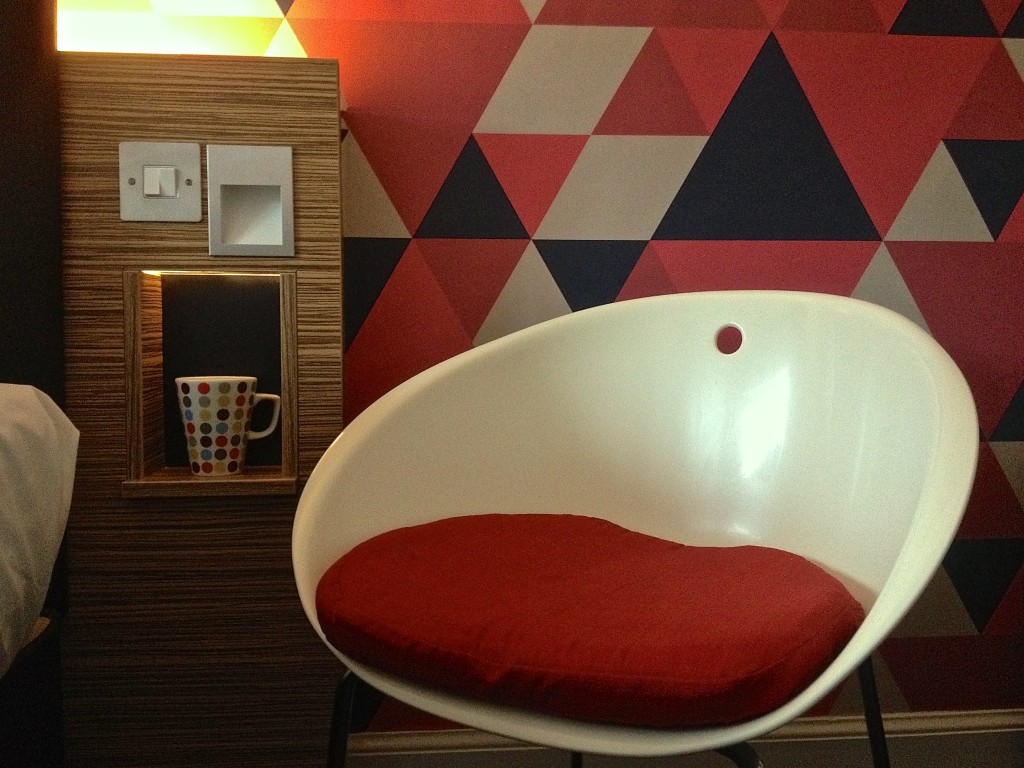 The rooms itself are modern, comfortable and compact. They have a choice of singles, doubles and also family friendly rooms which feature unique custom made bunk beds plus king sized double beds.
I stayed in one of their doubles- expect quirky psychedelic wallpaper, comfortable double bed ( nice mattress ) and a large ensuite bathroom. There is a TV with decent range of channels and tea/coffee making facilites.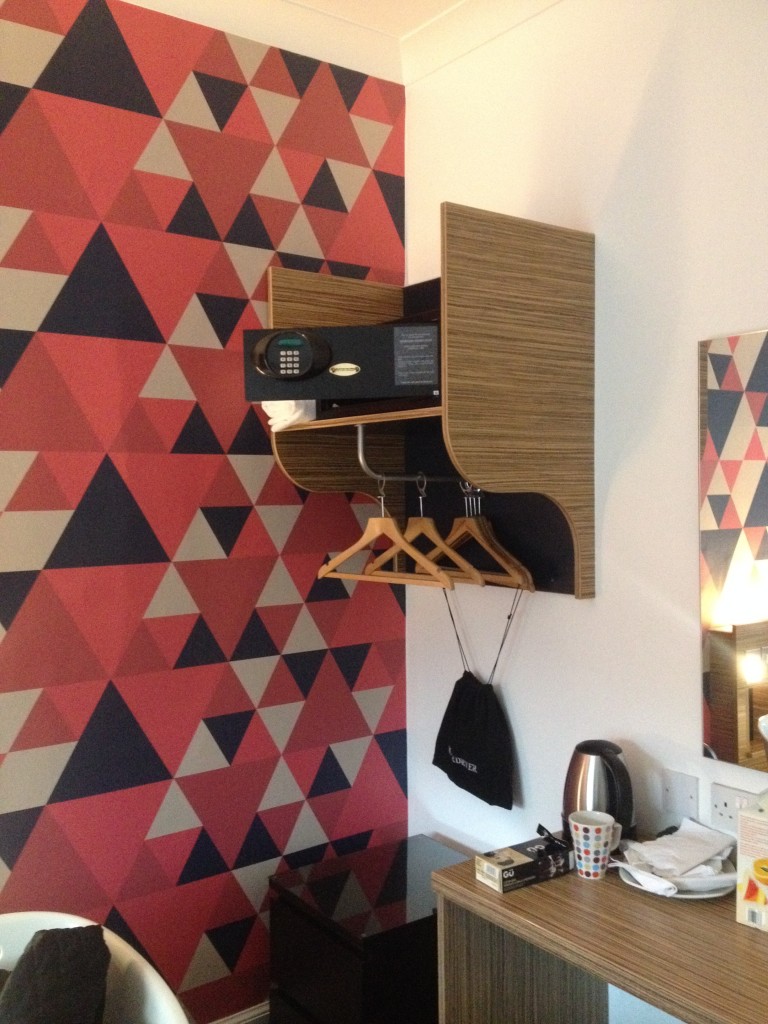 Plus the room comes with a hair dryer, iron and ironing board. The hotel also offers free wifi. A generous continental buffet breakfast is available at the extra cost of £4.95. It offers fresh fruit, multiple juice choices, pastries, choice of yoghurts, cold meats, cheeses, breads plus coffee- definitely worth the extra cost.
Overall, Cityroomz is an excellent budget friendly option to choose when staying in Edinburgh.
Essentials
Room prices for doubles vary from £49 to over £150 in high season. Family rooms ( sleeping 2 adults and 2 children) start at £65 mark. Book it here.
5. Haymarket Hub Hotel
Haymarket Hub Edinburgh is a welcome addition to the budget hotel sector in Edinburgh. It has all the key things you can expect in a no frills but comfortable budget hotel : a very comfortable bed which in terms of comfort is on par with what you would find in any 3-4 star hotel. The location of the hotels is topnotch. Haymarket Hub is slap bang opposite the Haymarket railway station plus also just a stone's throw away from the Airport Bus stop. There are excellent transport links to the rest of the city and Princes Street is just a 10 minute walk away. There are a few convenience stories up the road including a Tesco and Sainsbury's plus a bunch of excellent restaurants ( including the excellent Ramsay recommended Chinese diner, Chop Chop around the corner ) to choose from so you're really spoilt for choice. Plus the Cineworld cinemas is just a 10 minute walk away. Other key features are their excellent power shower-great way to start your day. Electronic keycard access to rooms and also to the main lobby after midnight means the hotel is very secure. The reception staff are excellent and extremely helpful.
Essentials
Room prices start from £60 mark. Book it here.
7 Clifton Terrace, Edinburgh, EH12 5DR, Scotland, Haymarket EH12 5DR, United Kingdom
6.) Travelodge. V

arious locations across Edinburgh

Travelodge may not be everyone's cup of tea but if you are looking for a comfortable nights sleep in a great location, then these hotels deliver. In Edinburgh, Travelodge travellers have 11 hotels to choose from. My favourites in Edinburgh are the centrally located duo of Edinburgh Queen Street ( very peaceful, tranquil looking onto the leafy green Queen Street )and Edinburgh Waterloo Place ( east end of Princes St) where you are guaranteed a great nights sleep. They've recently launched a hotel on Princes Street itself where the rooms come equipped with the King sized Dreamer bed, dubbed by them as the 'Rolls Royce' of beds. Will have to personally check them out before I can personally recommend them but overall, you can't go wrong staying at these set of hotels in Edinburgh if you are on a tight budget.

Essentials: Room prices start at £19.
7.) Motel One Edinburgh Royal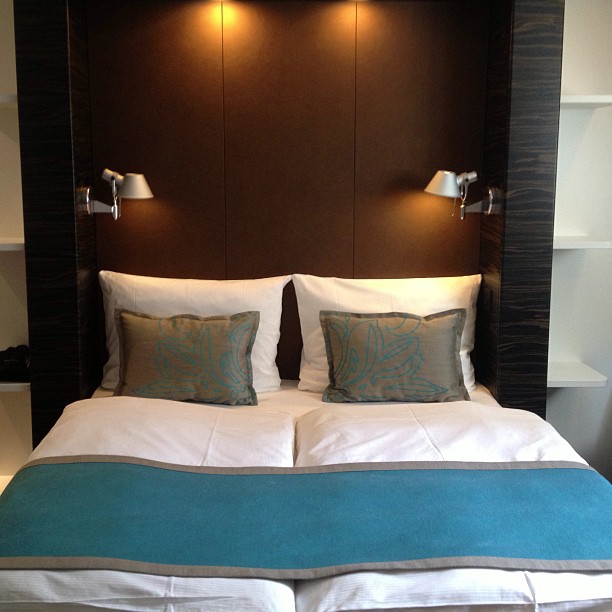 Motel One is a chain of stylish budget hotels from Germany and they recently entered the UK market with their first hotel in Edinburgh. This hotel has a cracking location, situated on the Market Street exit of Waverley bridge. You can't get anymore central in Edinburgh than this hotel. The hotel itself is beautifully designed. The lobby/lounge has their trademark features  such as the turquoise egg chair by Arne Jacobsen and the ARCO lamp by Achille Castiglioni. There is an excellent bar if you like to have a quiet drink. In the morning , guests can treat themselves to the excellent, if albeit expensive (£7.50) breakfast buffet. Rooms are luxurious , comfortable with a mood pleasing palette of cream, chocolate and turquoise. Modcons you can expect in your room include a flat screen TV, mobile desks, queen size beds or twin beds, ensuite bathroom with ace power shower plus free wireless Internet which worked excellently during my stay.  If I was to make any quibbles about my stay, I would say that the staff were polite, helpful but quite wooden, retaining the uncomfortable formality that I hate about hotel staff. Otherwise, an enjoyable stay.
Essentials
The price point starts at £79 so it's pricey but for the location alone and excellent rooms, Motel One Edinburgh is an excellent option to look into on your next visit to the city. Book it here.
Address
18 Market St, Edinburgh, City of Edinburgh EH1 1BL, United Kingdom
Phone:+44 844 693 1077
 8.) Dene Guest House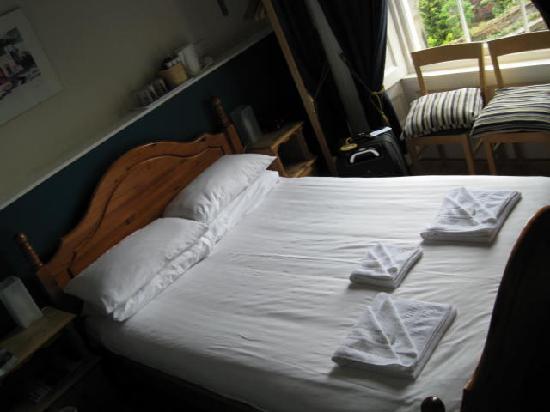 There's a beautiful grandeur about the Dene Guest House.  Situated in a lovely 3 storey Georgian townhouse, the rooms here have tons of character and great light. The owners-Hamish and Ilio are well travelled people, very friendly and great hosts. Via Booking.com, I bagged an excellent last-minute deal of just £30 ( going upto £42-£50 in peak season) for 1 night in a single room with shared bathroom facilities back in February during the low-season- great deal for a great location. After a wonderful sleep, I enjoyed an excellent cooked breakfast. Was a brief but very enjoyable stay. I wish I could have stayed longer. Highly recommend.
Address
7 Eyre Pl, Edinburgh, Midlothian EH3 5ES, United Kingdom
Phone +44 131 556 2700
Book it here.
 9.) Haggis Hostels, Edinburgh
I love the Code but Haggis Hostels Full Disclosure: I earn a commission if you click this link and make a purchase, at no additional cost to you. Really makes a difference. Thank you supporting the blog.  remains my personal favourite hostel in Edinburgh. Set in a renovated 18th century Georgian building this has an unbeatable location just off the east end of Princes Street. Facilities are fantastic here. The wireless internet is great, there is a 24/7 reception presence in case you need help plus rooms are well heated and bedding comfortable (nice thick mattresses) .Rooms come with extra large lockers. Shared shower facilities are plentiful and very clean. They have a nice wee lounge with a library of travel guidebooks and magazines. The self-catering kitchen is large with lots of pots and pans so if you're on a tight budget this is a another big advantage of staying here. ( Sainsburys supermarket just around the corner)  Guests can help themselves to free coffee/tea and toasts all day. They have excellent washing facilities plus tumble dryer.
The biggest advantage of staying here is the hospitality of owners -they are proud, passionate locals and have a bunch of great tips to share with guests. A bed in the dorm starts at just £18-this place is a great bargain.
Address
5/3 West Register Street Edinburgh EH2 2AA
Phone:+44 131 557 0036
Book it here Full Disclosure: I earn a commission if you click this link and make a purchase, at no additional cost to you. Really makes a difference. Thank you supporting the blog. .
10.) Flipkey apartment. Blackfriars Street, Royal Mile.
If I wanted to stay somewhere central in Edinburgh the perfect location would be the Royal Mile.
Touristy? Yes. It's not too bad, especially in Autumn and winter. An apartment would be perfect. Somewhere I could stay for a week and have my own personal space. Do my own work. Cook. When you spend 8 months on the road a year, it's always great to have a place with a kitchen where you can cook your own food,
So after checking out a few sites, via FlipKey  I found a 2 bedroom apartment on Blackfriars Street just off the Royal Mile.( Roughly in the middle of the mile
The flat is just a few doors away from one of my favourite bar/restaurants in town-Blackfriars , where you can sample delicious ribeye, chips with a proper bearnaise sauce. Plus a few hundred yards down the Mile, I could pop into my favourite chippy- Bene's ( in picture, where you can also sample that unique Scottish speciality- the deep fried mars bar )
Plus there's a Tesco convenience store down the road in Holyrood and another one on South Bridge: all within a 5 minute walking radius, so you're in a great location.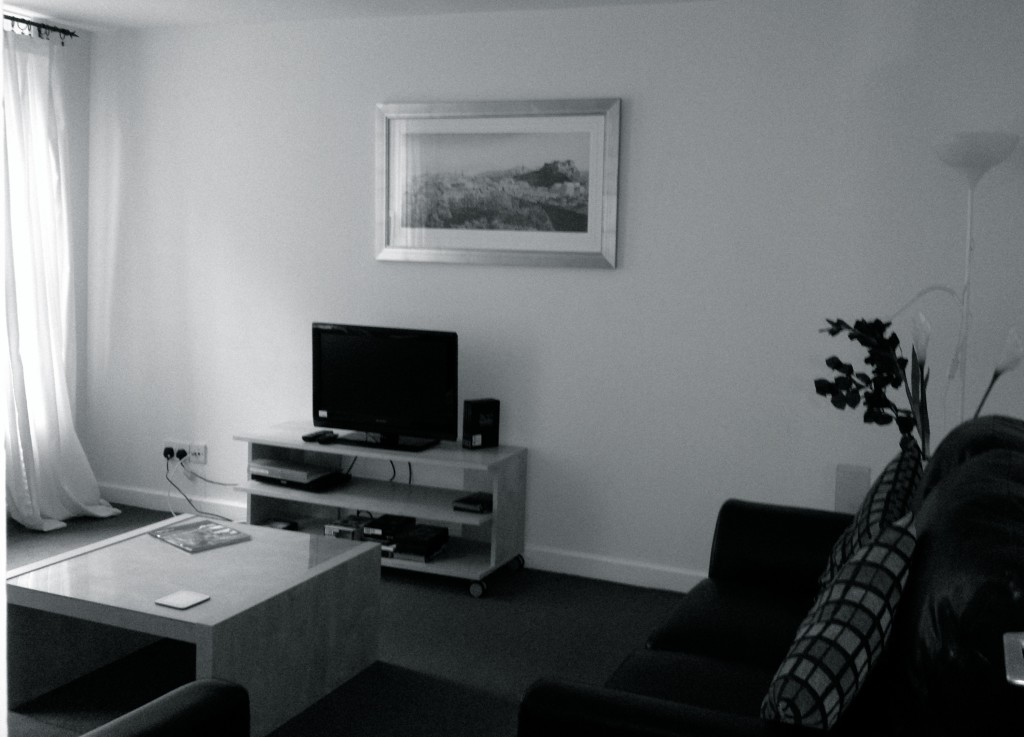 The flat inside was perfect.  At the scheduled time of arrival I was greeted by the owner, Lolanda who gave me a quick orientation of the flat and its facilities. Perfect. Flat was warm and cosy, fully carpeted. Rooms had large double glazing windows which let in a lot of light so even on the odd dreich  day, the place did not feel depressing. Kitchen was fantastic and a nice size with all the modcons you would have in your own home kitchen- fridge, freezer, electric cooker, oven, microwave and kettle. There was a nice large table in the centre that could be extended to seat 6 people. Lolanda was very thoughtful and left some essentials in the cupboard –salt, sugar, pepper, tea, some rice, spices, pasta and some cereal packets. This attention to detail makes such a big difference to your stay especially if you landed at the flat after a long day of travel. Fresh towels were provided for both rooms which is another nice bonus. Toiletries and soap were provided in the bathroom which had a pretty decent shower. The flat has two bedrooms. First bedroom has two single beds. Lots of light. Very comfortable. Second and main bedroom overlooking the street had a double bed in which I slept in. There was a light and a table beside each bed. Plus a plug point to recharge your phone and gadgets. Both bedrooms had a large cupboard with lots of hangers to hang up your clothes. The living room has a very comfortable sofa which I would sink into. It has a nice sized plasma screen TV with all the Freeview channels. There is also a DVD player and a nice selection of DVD's for guests to watch a movie. Other things I liked about this apartment was the excellent wireless internet connection. Superfast and signal was strong in all parts of the flat. They also have a separate room with a washing machine , place to dry your clothes plus an iron and ironing board.
Overall, I couldn't really pick fault with this flat. It was clean. Comfortable. Great location. Nicely equipped. Plus extremely great value for money.
Essentials
Electricity, gas bills were included in the price. The total rent for the 6 days was £300 which comes out to be just £50 per night, based on 2 people staying. (Note that these prices were off-season. Cost can be significantly higher in peak season)  Based on 4 people staying, the price goes up by just another £50. So it's a terrific deal for the location and the space.
11.) Destiny Scotland apartments. Rose Street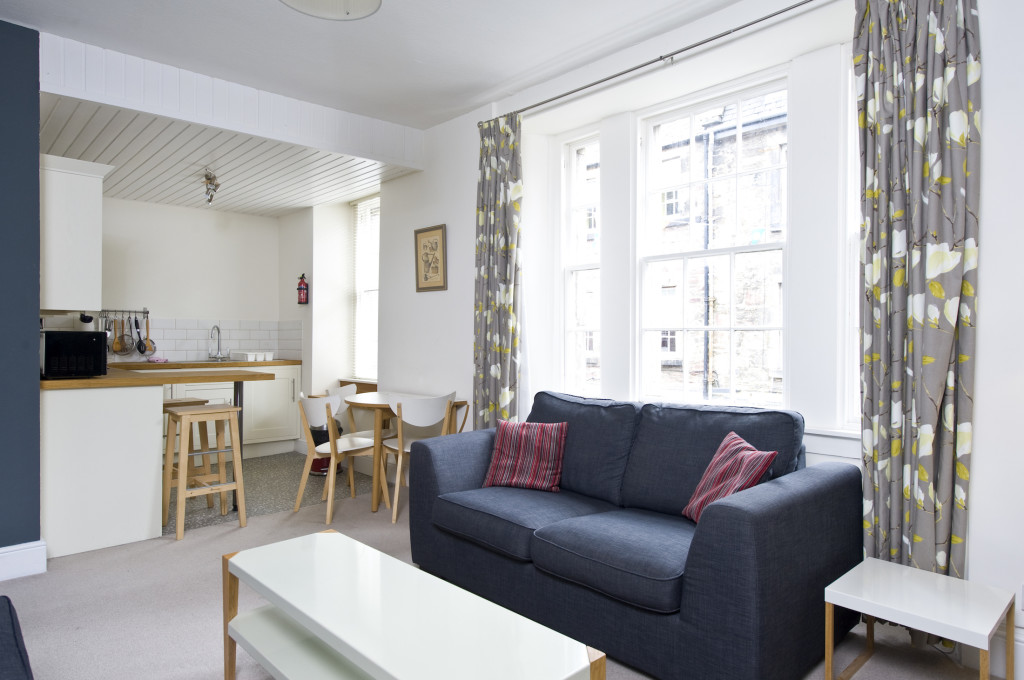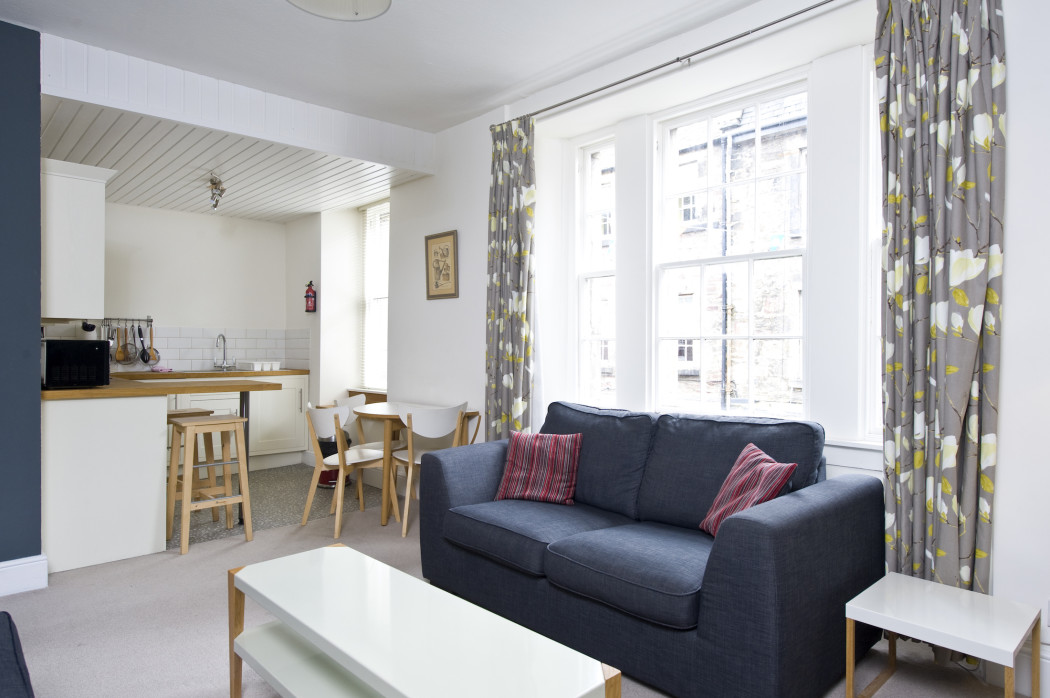 In terms of location the Destiny Scotland apartment on Rose Street is amazing. I lived in Edinburgh for 12 years and alongside the Flipkey apartment I mentioned, I can't think of a better location to live in Edinburgh. It is just a short walking distance from Princes Street and Waverley Train station. (where the airport bus terminates so perfect if you are coming from abroad)
The apartment I stayed in on Rose street was really spacious. Beautifully decorated with a big living room,  flat screen TV and a huge comfy sofa. The kitchen was huge, well equipped with all the key modcons: microwave, oven and washing machine that you would hope for in a furnished apartment.  Star feature of the kitchen is the Nespresso coffee machine. They also have a walk in powerful rain shower with heated bathroom floors: perfect for those cold winter nights in Edinburgh.
Bedroom was fabulous. Great mattress. I just sank into it and had an amazing sleep. That maybe also due to the copious amounts of whisky consumed but nevertheless, very comfortable nights sleep.
The flat is located in a very lively part of New Town. There is a very cool bar called Element just below the flat and right across the road there is a Greggs Bakery. For those of you not familiar with Greggs, it is a chain of bakeries where you can enjoy a classic bacon or egg muffin roll with a coffee or sample the great British Sandwich Lunch. Plus it is very affordable. There is a whole bunch of shops around the apartment, Jamie's Italian down the road and on George Street, parallel to Rose Street you have some of the coolest, swankiest bars in town.
Essentials
Rates in April 2016 ( 18-20th April 2016) are €221/£170 for 2 nights for 2 adults sharing which is pretty good value considering the location and quality of the apartment. Book it here.
Looking to book a tour for your stay in Edinburgh? I recommend Get Your Guide