Even for a non-techie, the world of mobile apps can be a genuinely exciting one.
Constantly developing, expanding and responding to a demanding, connected public, apps are good for so much more than just Tinder. So which are the best free travel apps for travelling around the UK? BudgetTraveller reveals the top 20 travel apps.
1. Skyscanner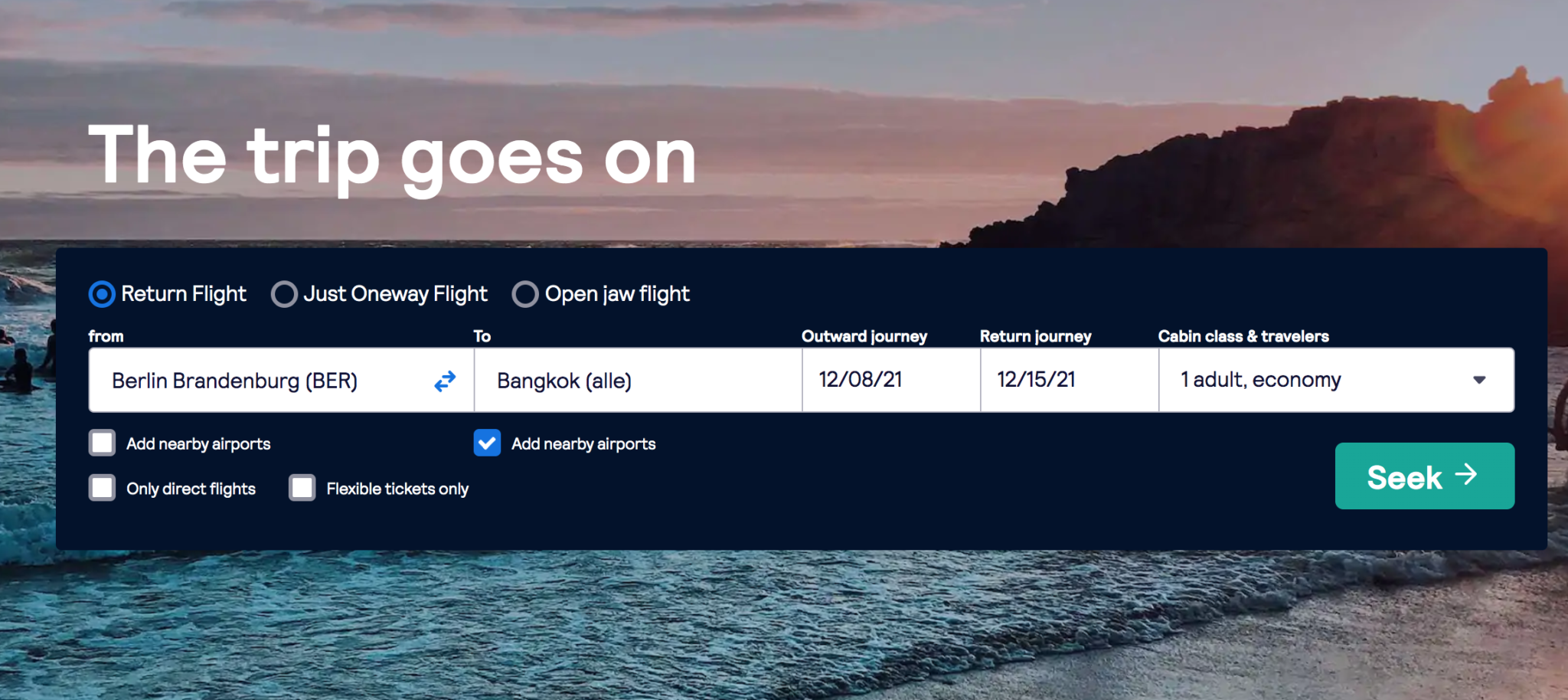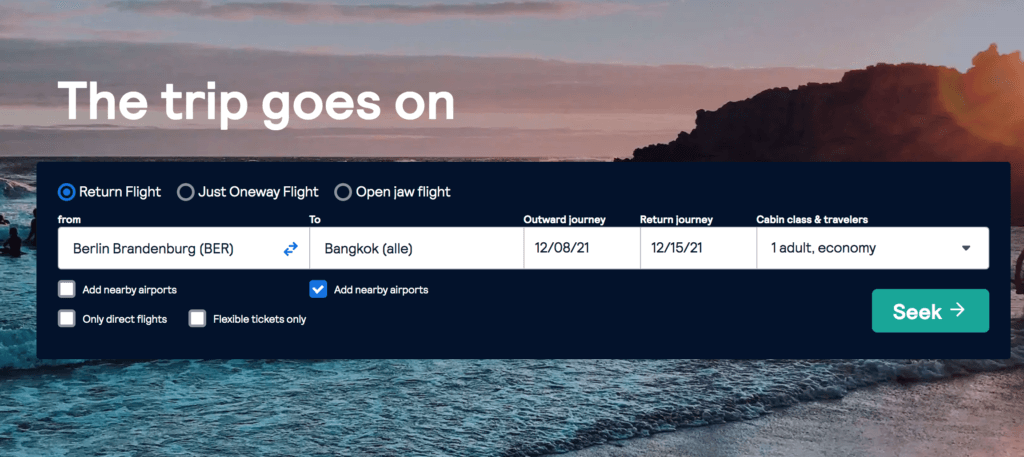 The Skyscanner app helps to compare flight, hotel and car hire prices across all your favourite travel booking sites. With the calendar view you can check on the best dates to save on travel and filter search results to find the right flight. Track flights with price alerts options to book at the right time. Alternatively search for travel deals, anywhere, at any time. With the help of the interactive map, compare hotel prices across the grid and find the best value car hire in the city of your choice . Rest assured that you will be booking with travel partners trusted by Skyscanner.
2. Airbnb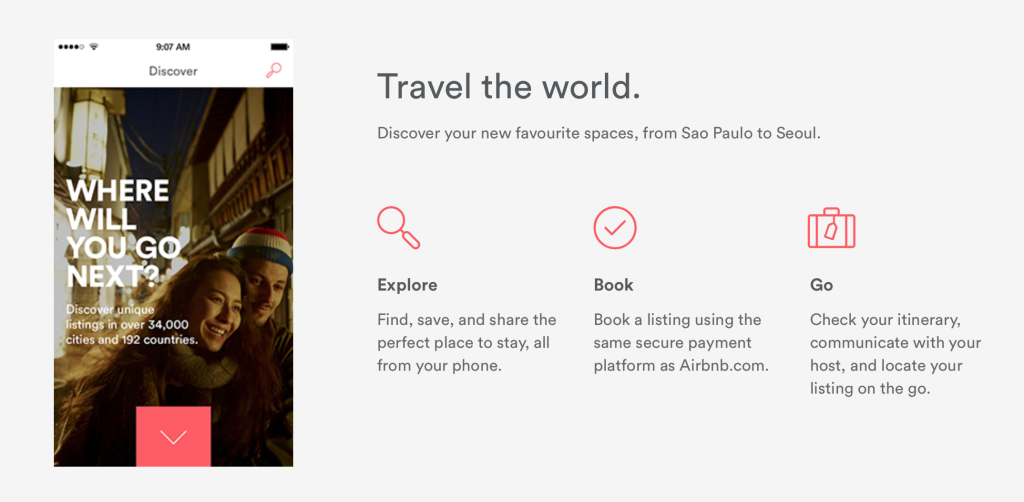 Not a UK focussed app per se but Airbnb is a nice way to find great value accommodation and also very quirky local experiences across the UK. I've use them a few times recently and had a great experience every time. If you are new to Airbnb , signup using this link to get £25 off your first booking.
Why do you need it?
With over 600,000 listings across 30,000 cities, AirBnB not only offers a great alternative to hotels but also caters to a potentially unique experience at your favorite destinations.
Stand-out feature:
Thanks to the map search, even if you have a vague idea about the area, you could easily search the neighborhood of your choice and check out the rooms that fit your budget.
3. Kabbee
Visiting London? Need an economic cab? Avoid the expensive Black Cabs and book a minicab. The only problem is that these cabs cannot be hailed from the street. Enter Kabbee , a cracking app that gives you an instant quote from 60 competing minicab firms in London, along with user reviews and ratings. You can then pick your choice ( save as a favourite for later) and choose to pay by cash, credit card or via their prepaid account facility.
Why you need it?
It offers surprisingly cheap rides no matter if you need an airport transfer or you're just travelling around the town. It selects the right cab for you from over 70 London fleets.
Stand out feature:
For airport rides, Kabbee is nearly 25% cheaper than Uber and 35% economical than Addison Lee.
4. Around Me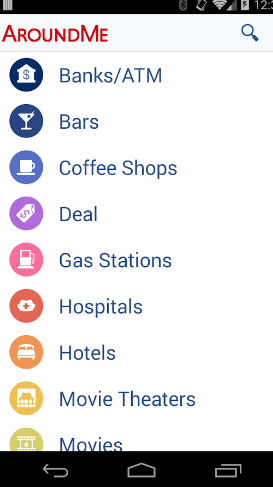 Want to find the nearest ATM machine or petrol station? AroundMe identifies your GPS position and will help you discover the nearest bank, bar, petrol station station, hospital, hotel, movie theatre, restaurant, supermarket, theatre and taxi.
Why need this app?
Fast, easy and accurate, Around me is your day to day companion to quickly find out information about your surroundings.
Stand out feature:
For every desired information or listing, you could view its location on a Map, route from where you are, and even email the information to a friend in need.
5.UK Bus Checker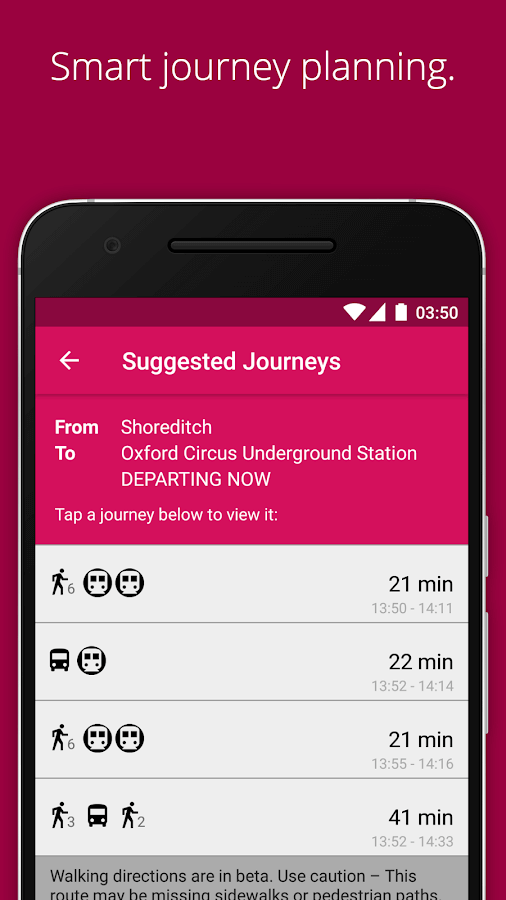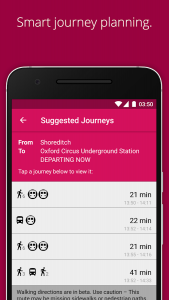 With the UK Bus Checker you can travel from A to B in UK with ease. The app brings you smart journey planning, live transit times, and detailed route maps for all of Great Britain.
With the advanced support for train, bus, tram, ferry, underground, and much more, this has got your journey covered. It only requires you to pinpoint your location and unveil the magic: You can locate the nearest bus stop, routes or the scheduled time of the bus.
Why you need it?
With the real-time information available for more than 40 towns and cities across the UK, It helps to track a bus near you within a flash of a second.
Stand out feature:
Live and scheduled departure times for all 300,000+ stops and stations in Britain.
6. Met Office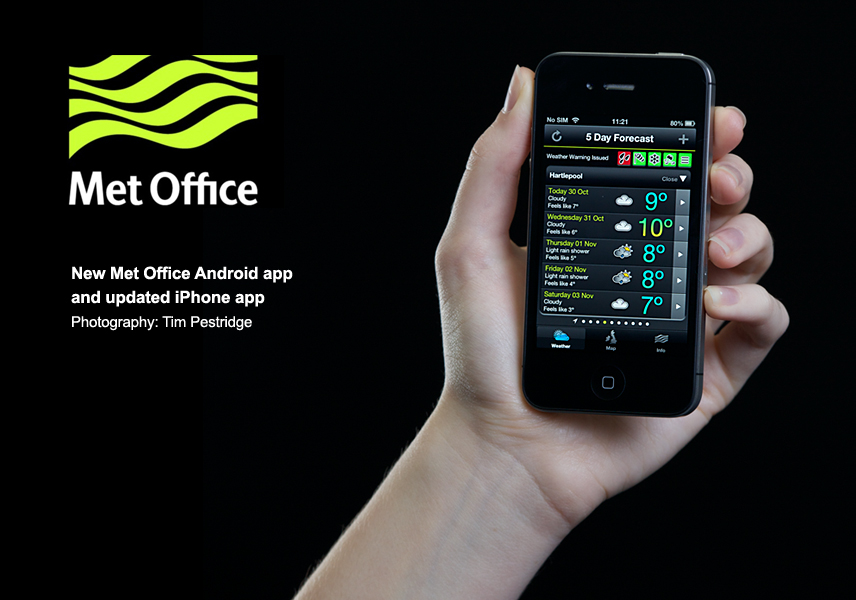 Need the weather forecast? The Met Office's forecasts can be a hit and miss affair but nevertheless their official weather app is still a handy app for those visiting the UK.
The app gives you updated forecasts, 5 day forecasts plus weather maps and satellite images. It uses 10 million weather observations to verify its forecast. So, now you can easily decide whether you'll be visiting the museum or having that picnic in the park.
Why you need it?
The Met Office is an indispensible tool that helps you plan your vacation with its world-leading weather forecasts from 1 hour to 7 days ahead.
Stand out feature:
Check out the real time Weather Warnings with the interactive warnings map for all the locations across the UK.
7. Tripadvisor Offline City Guides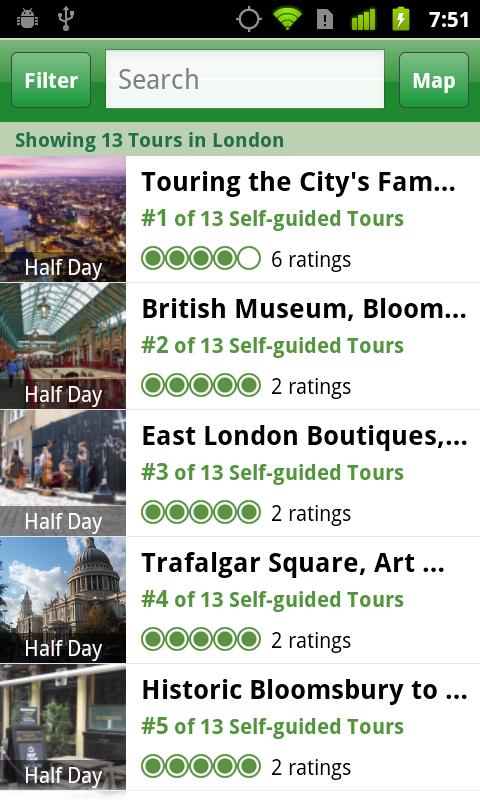 For comprehensive information and practical guides, Tripadvisor's city apps are hard to beat. Each free app contains a wealth of information, including detailed, interactive maps, which you can select to show different things, such as restaurants or tourist attractions. There are also self-guided city tours, which provide practical and cultural information, meaning you can see the sights without forking out for a guided tour. You can search for places or activities within a particular budget, and best of all, you can use the app offline, avoiding hefty roaming charges.
Why you need it?
With millions of traveller reviews, photos, and maps, this app helps you know better and get better of the airfare, hotels, restaurants, and fun activities wherever you go. What's more? Hotels, flights and restaurant bookings are just a tap away.
Stand out feature:
Optimized to be used offline this app also conserves battery power and only uses GPS where necessary.
8. ViaMichelin GPS navigation and traffic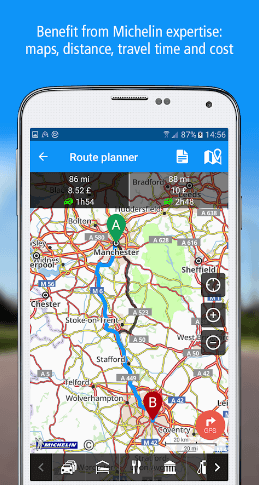 No matter if you are planning for a weekend trip or a long vacation in the UK, ViaMichelin and its user-friendly app offers you the luxury of optimizing your route based on traffic conditions.
This app is a great option if you want to wander around the streets, free spirited. It helps you keep track of the real time traffic and assists you in reaching your destination at the right time. All you've got to do is: Establish your position with the help of Geo-location on the interactive, fluid and clear maps and unveil the all new 3D navigation that guides you home. Even if you are behind the wheel, the app helps you calculate your car and bike routers quickly and accurately from your current position.
Why you need it?
Loaded with the goodness of a GPS navigation system, this app guides you through traffic with a voice guidance integrated with 3D Michelin mapping.
Stand out feature:
Alerts that warn you of the Hazardous zones (over 30,000 in Europe) and real-time information about the traffic jams, slow-downs and much more.
9. Uber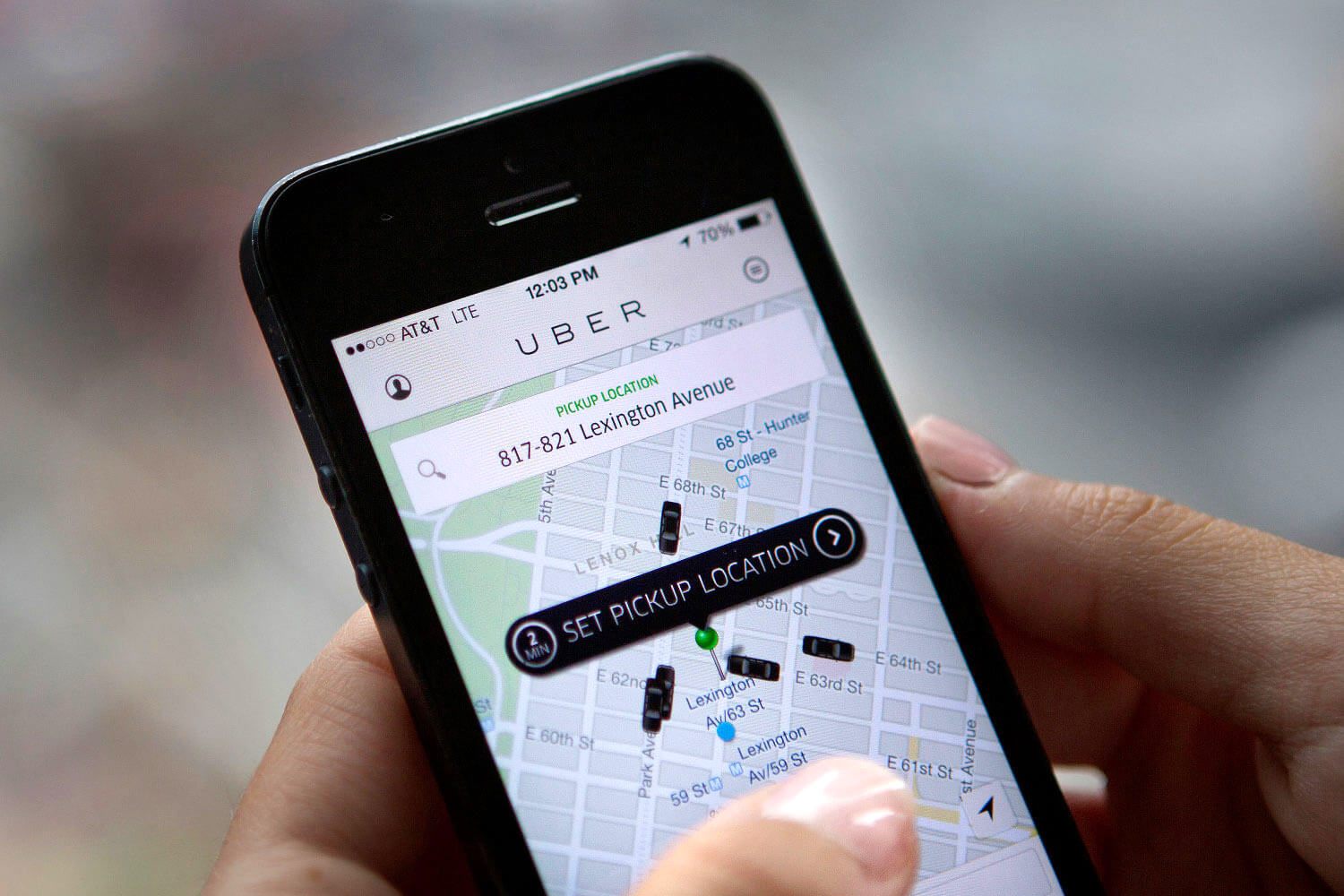 Imagine a ride-sharing app that provides you with the luxury of fast and reliable cabs in the major cities of UK. One of the easiest ways to hail a licensed cab in London, Uber gives you the flexibility to pay with both credit as well as cash, with receipts mailed to your inbox.
With Uber on your phone, there's no need to park or wait for a taxi or a bus anymore. Just request a ride and your driver will be at your doorsteps in just a few minutes. What's more? You could track the progress of your cab on a live map.
Why you need it?
Because cabs are expensive, walking all day long is tiring and figuring out an unfamiliar public transport network could be really difficult.
Stand-out feature:
You can track your ride on the map, watching your driver roll towards you. Moreover, the in-app fare-splitting makes it a value for money.
Exclusive Offer:
The Budgettraveller presents to you an exclusive Uber Code for your free first ride or a discount up to £15:
Offer code: BUDGETGB
Offer value: £15
Valid until **7.4.18**
Redemption instruction: Simply download the app, enter the promo code BUDGETGB while availing your first ride.
Note: Valid for new Uber customers only
10. Heathrow airport guide app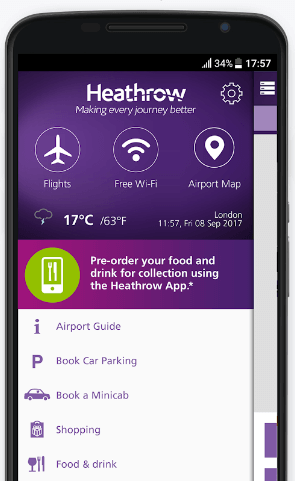 Even though you hardly ever fly from Heathrow in your life, the Heathrow Airport Guide app makes an ideal travel-buddy by bringing you everything you need just when you need it.
From live flight updates to reserving a parking slot to keeping you updated on the latest offers in nearby shops and restaurants, this app makes your journey easier with travel notifications and prompts, no matter where in the world you happen to be.
Why you need it?
Fast, easy and accurate, the app keeps you updated with every bit of your flight information no matter if you're on the way to, from or through the airport.
Stand out feature:
Simply scan your boarding pass and check your flight status even quicker.
11. HitList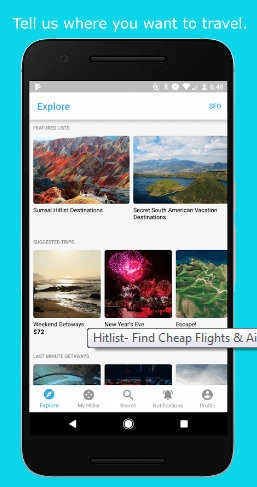 The traveling world is so enormous and the options so many that it could be a daunting task to organize your "must visit" list. Don't worry! Here's an app that offers the much needed help. Hitlist not only helps you manage your ever-expanding to-do-list and destinations but also allows you to share your favourite picks with your family and friends. It constantly scans airfares to give you an idea when ticket prices to your dream destination drops and have you saying in ecstasy, "I can definitely go at this price."
Why you need it?
A must-have app for the frequent travelers, adventurous people and digital nomads, Hitlist automatically notifies you of cheap flight deals and helps you plan an itinerary to your dream destination.
Stand out features:
The Travel discovery tool helps you unveil new destinations based on your interests.
12. Wiffinity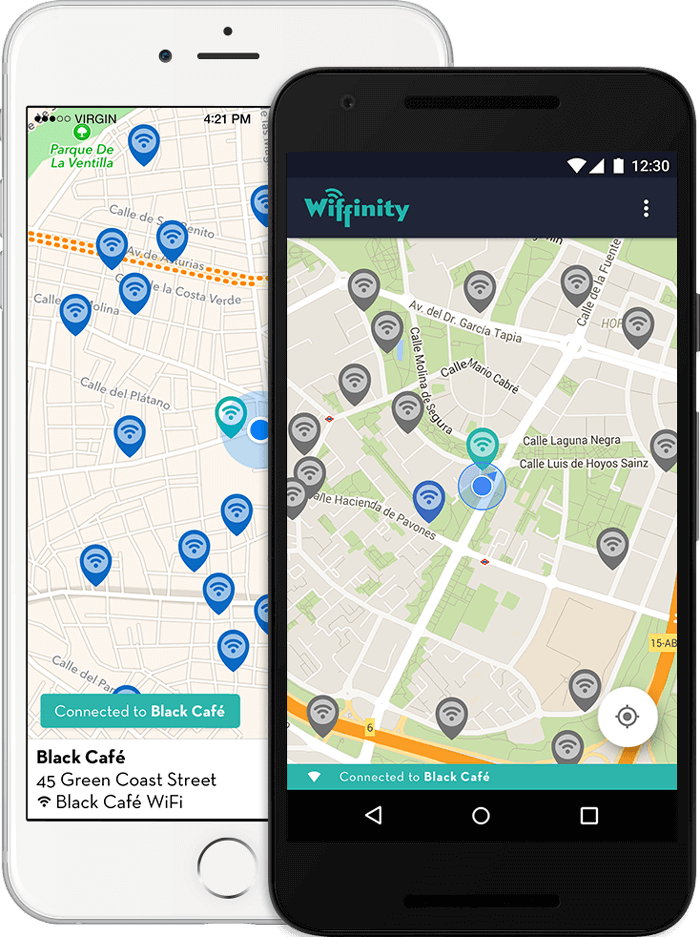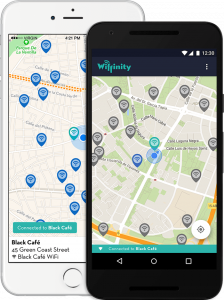 Today, roaming fee is so expensive that you could expect the CEO's of telecom companies to buy a new cruiser every time you travel abroad. How about a freebie Wi-Fi locator? That's where Wiffinity comes in. An app that enables you to access Wi Fi while traveling worldwide, it helps you forget about the lavish roaming charges. Enriched with the goodness of a WIFI map, this app helps you stay connected to the internet thanks to the 600,000 hotspots across the world.
Why do you need it?
Easy to use and free of roaming charges, Wiffinity helps you navigate the WIFI hotspots offline using the WIFI map.
Stand out features:
The app could be used offline and lets you download maps without an internet connectivity.
13. PackPoint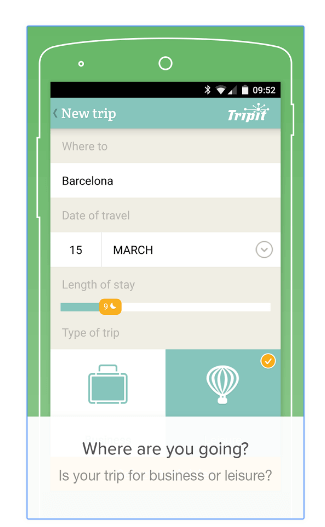 There is only one word for this app, wow. Packpoint is your customized packing assistant that helps organizing and planning your trip through a list of packing essentials. It suggests what you need to pack in your luggage according to the weather at your destination, length of your travel, and activities (if any) scheduled during the trip.
All you need to do is feed the destination you're heading towards, and it will build and organize your packing list on its own. What's more? It also lets you share your packing list with your friends and family in case they also need help with packing.
Why you need it?
In the excitement to visit a much-awaited destination, one might forget to pick up a few things. PackPoint will organize a packing list and luggage checklist for your luggage that depending upon the destination you are visiting.
Stand out feature:
Customized checklist prepared exclusively according to your destination.
14. Prey Anti-Theft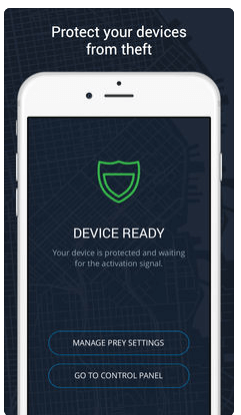 Apparently, the world is not a perfect place, and thefts and burglary could take place even in some of the most picturesque destinations. A crook could just as easily sweep away your goods in Piccadilly Square as in a jam-packed restaurant. So, the question is how do you protect your precious belongings while traveling?
Prey Anti Theft is an app that keeps a close vigil on your digital accessories, helping you find your phone, tablet and laptop even after they're gone. Your personal watchdog, Prey anti-theft works wonders to retrieve lost data completely and prevents any future loss by instantly locking the devices.
Why you need it?
Prey Anti-Theft is a tried and tested phone tracker that helps finding, locating and protecting your lost phone, tablet and laptop.
Stand out feature:
Enriched with the goodness of GPS Coordinates, this app gives an active pointer to the police to track your phone or other device.
Eat
15. Tablepouncer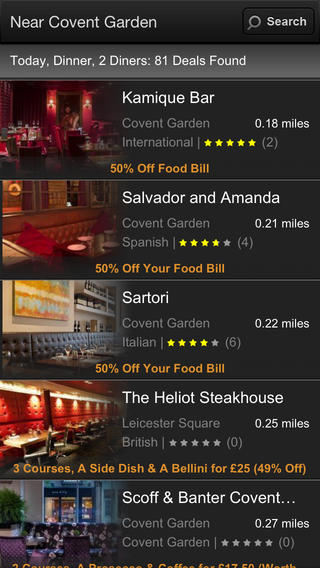 Tablepouncer is a relatively new app (pictured above ) which is going live city by city across the UK. Available for both iPhone and Android, it's perfect for last-minute dining, offering big discounts at restaurants on the same day or following day, allowing you to dine on haute cuisine at budget prices if you are spontaneous enough with your restaurant choices. Having started in Bournemouth, it now also covers London, Bristol, Bath and Southampton. Manchester and Liverpool are next on the cards.
Why you need it?
It lets you book last-minute tables at the top-rated restaurants in UK with huge savings of up to 65%.
Stand out feature:
Easy booking across 500 top restaurants, Refine your search with GPS filters.
16. Vouchercloud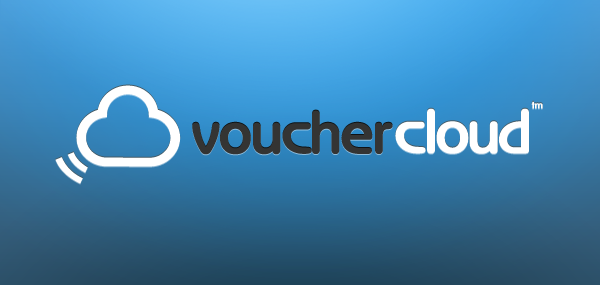 Another personal favourite app I use a lot when I am in the UK is Vouchercloud.
You can get some great deals on restaurants, takeaways, pubs and bars cinema, retail, days out, leisure and entertainment venues across the UK . All you have to do is download, register and then the app based on your location, will give you a bunch of local offers. The offers often consist of 2-4-1 lunch deals in popular but decent chain restaurants like La Tasca ( Spanish tapas restaurant) or Slug and Lettuce. Once you've clicked on the offer you like, you get a Voucher Cloud offer code which you the show to the waiter and boom, sorted.
Why you need it?
Avail a number of deals, offers and coupons with the app's huge selection across hundreds of restaurants, retailers etc.
Stand out feature:
GPS-optimized search to explore the best offers near you.
17. Hungryhouse | Order takeaway online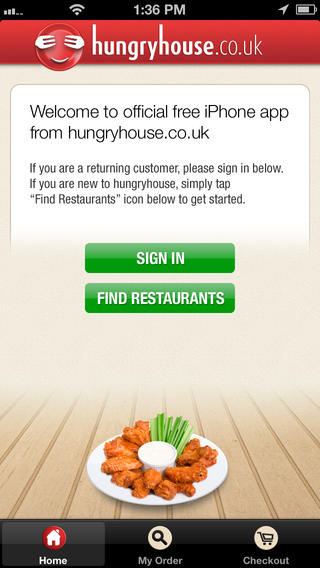 UK is THE takeaway nation with the average Brit spending £1320 a year on takeaways. It is an essential UK dining experience plus a great way to save money on eating out.
HungryHouse app is brilliant for ordering a takeaway. They have a strong presence in all the key UK cities. You can choose from 7000 interactive menus. Menus are saved as you browse, available in offline mode in the event you need to have a look when not connected to the internet.
Why you need it?
Hunger could strike anytime and anywhere. With over 7,000 menus to choose from, this app is a one-stop solution to satisfy your taste-buds.
Stand out feature:
Choose your favorite delivery time as per you convenience with a One-tap order.
18. Foursquare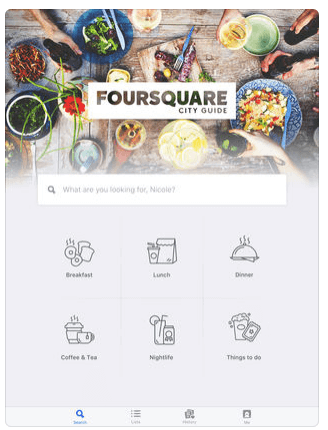 Often neglected, the much improved Foursquare app which started out as a check-in game where users compete against friends to earn points for their check-ins has now turned into a far more useful, practical moneysaving app. Using the 'explore nearby' function and then checking 'best nearby' tab, you can find the best restaurants, shops within your current location based on your GPS location.
The 'Specials' tab allows you to find discounts and freebies within your vicinity.
So if you check-in at a location you can often get 10% discount on your meal or purchase while if you become the Mayor of that location, in certain locations the Mayor gets some cool freebies like a free drink or coffee.
Why you need it?
With the app's wholesome city guides and positive tips, you could lead to your perfect spot anywhere in the world. What's more? Keep track of where you you've been and where you want to go, all in one place
Stand out feature?
The 'Join a community' feature lets you find people who love to explore just like you and seek out hidden gems with them.
19. Travelzoo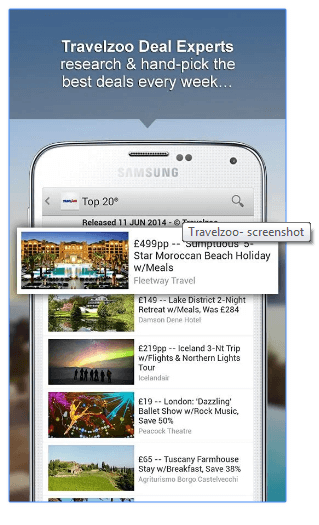 Another cool moneysaving app to check is Travelzoo's app where you can find excellent local deals across the UK on restaurants, hotels across the UK. Catering to nearly 5 million global users, Travelzoo has been featured as "app of the week" in The Guardian, The Sun, Sunday Mirror and The Sunday Times.
Why you need it?
Find the best travel, entertainment, restaurant and spa deals.
Stand out feature:
Frequent alerts on the best deals and Offers in your area.
20. Expensify + Trail Wallet ( £1.99 )
It's all too easy to overspend while travelling: estimating exchange rates as you shop, eating out several nights in a row, picking up the tab for friends. There are a range of apps to deal with exactly this problem and which allow you to record your expenses.
I've used the Expensify app previously and this handy, especially for business travellers, or for someone that likes to keep close tabs on what they are spending while they travel. With Expensify you can scan receipts, add hours you have worked, add expenses manually, add mileage and create invoices and expense reports. Drawback- If you have a lot of expenses to record, it can be time consuming to use this app and it takes a few seconds to record each item.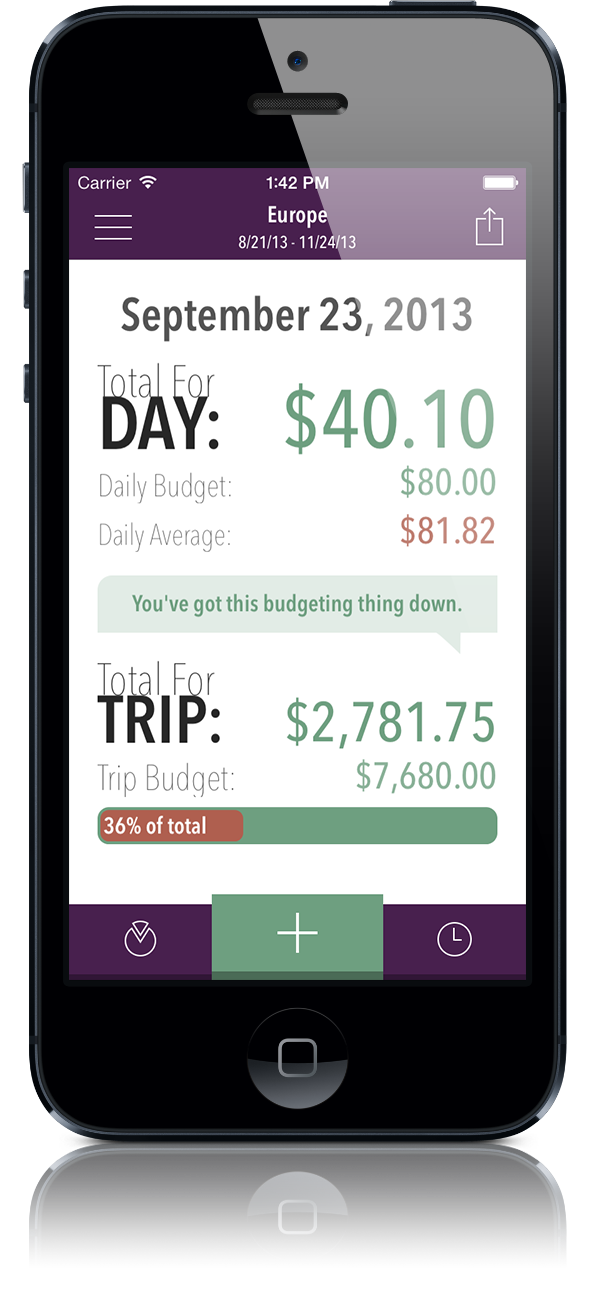 One of the best apps for tracking your daily expenditure and sticking to your budget while travelling is Trail Wallet. (Pictured above)
It's simple and has an intuitive user-friendly interface. The app allows you to set a daily budget and then tracks your spending toward that. Trail Wallet has all has all the practicalities covered: supplies the current exchange rate ( 218 local currencies listed. Dependent on internet connection) , organises your spending by category, expenses tracking plus you can export your expenses via .csv file. The app also creates colorful pie charts to help visualise your spending.
Trail Wallet is one of the best expense tracking apps for the budget, rather than the business traveller. It is the only app here which isn't free, but at £1.99, it's well worth it.
Why you need it?
To manage your travel budget effectively.
Stand out feature:
It features report management, receipt tracking in addition to mileage and time tracking. Moreover, you can snap a photo through SmartScan and it would be redirected to Expensify itself.
21. The National Trust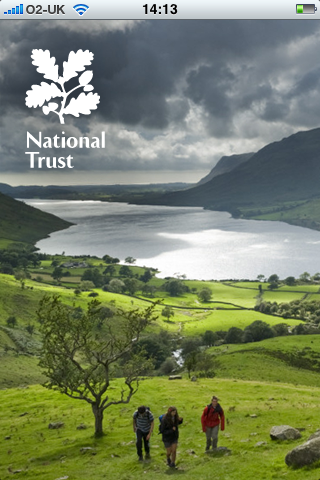 Last but not least, I definitely recommend downloading the National Trust App. It allows you to discover the beauty of Britain's countryside from the comfort of your phone highlighting 585 of the must-see places in England, Wales, and Northern Ireland, fom coastlines to countryside and everything in-between. You can search by postcode or location and browse the interactive "favourites" list with hi-res images.
Why do we need it?
Your guide to the amazing day outs at historic houses and buildings protected by the National Trust throughout England, Wales and Northern Ireland.
Stand out feature:
Regular alerts about the range of events hosted by the National trust throughout the year.
Agree or disagree with my top 20 travel apps for visiting the UK? Please leave your feedback and tips below for your favourite apps when travelling across Britain. Thank you.