Even for a non-techie, the world of mobile apps can be a genuinely exciting one.
Constantly developing, expanding and responding to a demanding, connected public, apps are good for so much more than just Tinder. So which are the best free travel apps for travelling around the UK? BudgetTraveller  reveals the top 20 travel apps.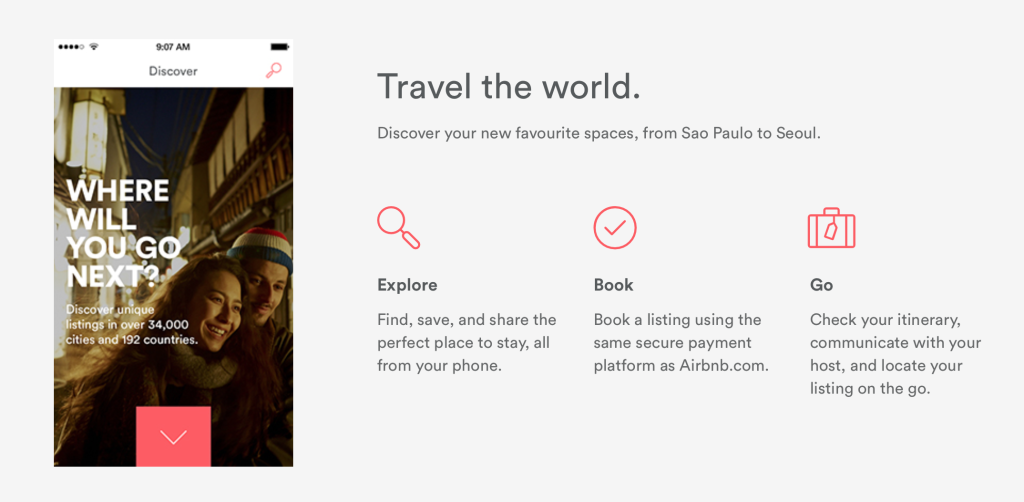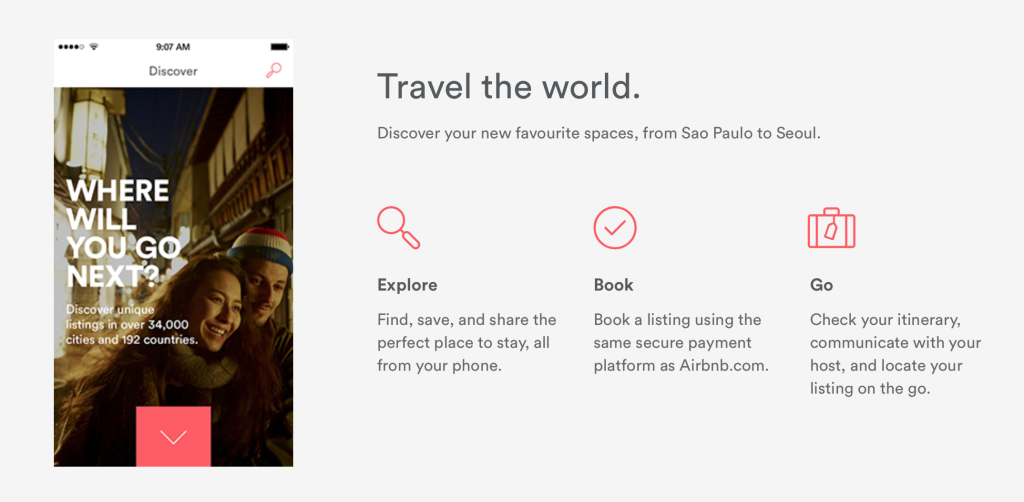 1. Airbnb
Not a UK focussed app per se but Airbnb is a nice way to find great value accommodation and also very quirky local experiences across the UK. I've use them a few times recently and had a great experience every time. If you are new to Airbnb , signup using this link to get £25 off your first booking.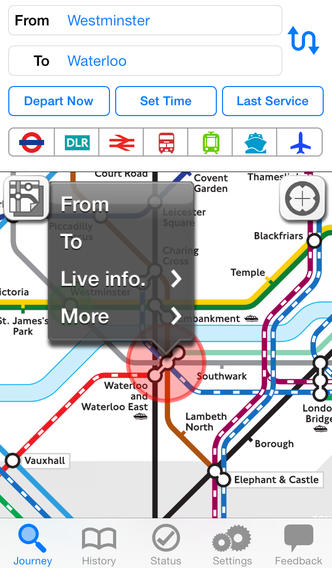 2. Journey Pro
You could load up your phone with 10 different apps for transport options across the country, but that makes planning a journey frustrating and time-consuming.
Journey Pro is a great free app which has everything you need to plan a journey anywhere in the country. It is particularly good for navigating the London Underground, providing up-to-the-minute journey options, with a status centre showing the service status of each line. It'll even tell you which carriage to get on to speed your journey. It also provides maps and journey planning across the entire national rail system, as well as allowing searches by bus route, or giving you the quickest option postcode-to-postcode. It's the kind of app, that, once you have it, you'll wonder what you did without it.
3. National Rail
Planning to tour UK by rail? National Rail app is an excellent route planner for touring UK by rail,with timings and live updates.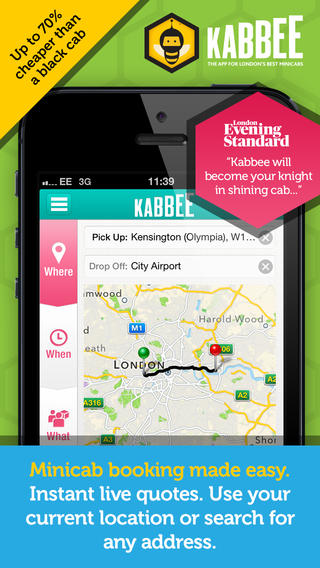 4. Kabbee
Visiting London? Need a cab? Avoid the expensive Black Cabs and book a minicab. The only problem is that these cabs cannot be hailed from the street. Enter Kabbee , a cracking app that gives you an instant quote from 60 competing minicab firms in London, along with user reviews and ratings. You can then pick your choice ( save as a favourite for later) and choose to pay by cash, credit card or via their prepaid account facility.
5. Around Me.
Want to find the nearest ATM machine or petrol station? AroundMe identifies your GPS position and will help you discover the nearest bank, bar, petrol station station, hospital, hotel, movie theatre, restaurant, supermarket, theatre and taxi.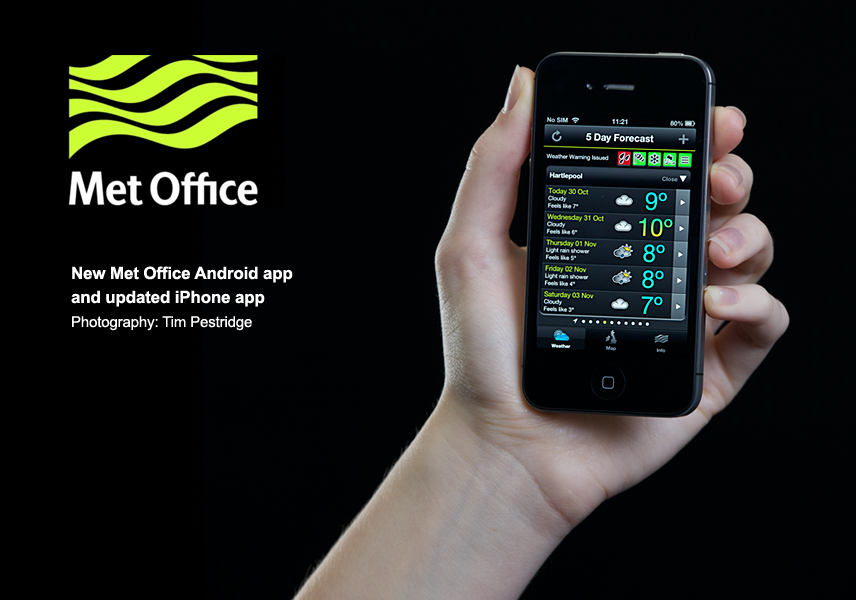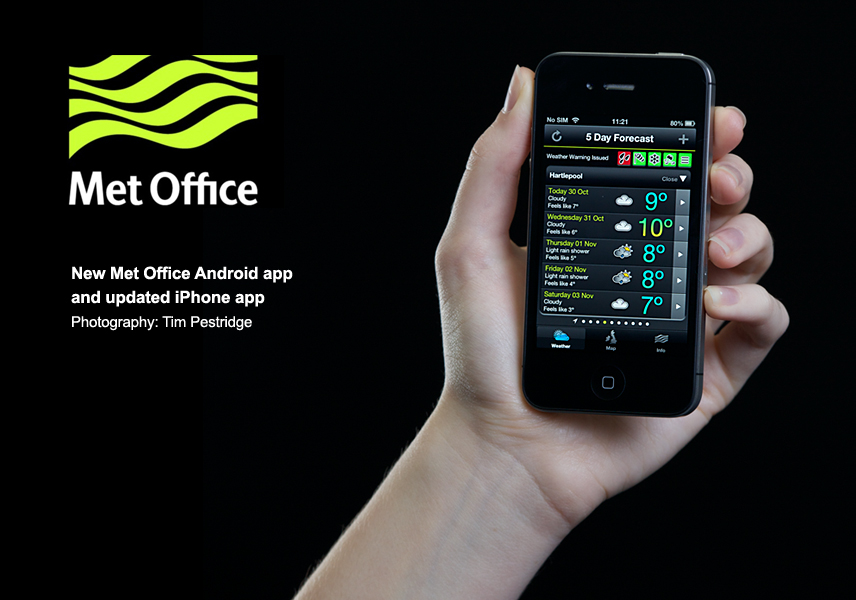 7. Met Office
Need the weather forecast?
The Met Office's forecasts can be a hit and miss affair but nevertheless their official weather app  is still a handy app for those visiting the UK.
The app gives you updated forecasts, 5 day forecasts plus weather maps and satellite images. So you can then decide whether you'll be visiting the museum or having that picnic in the park.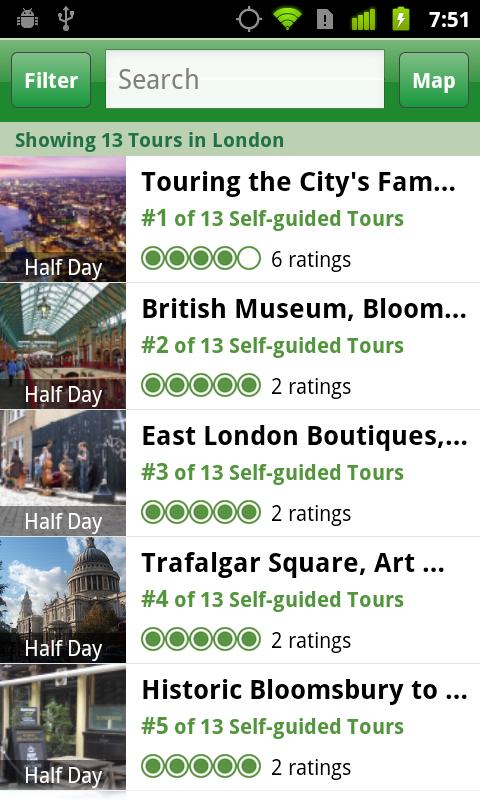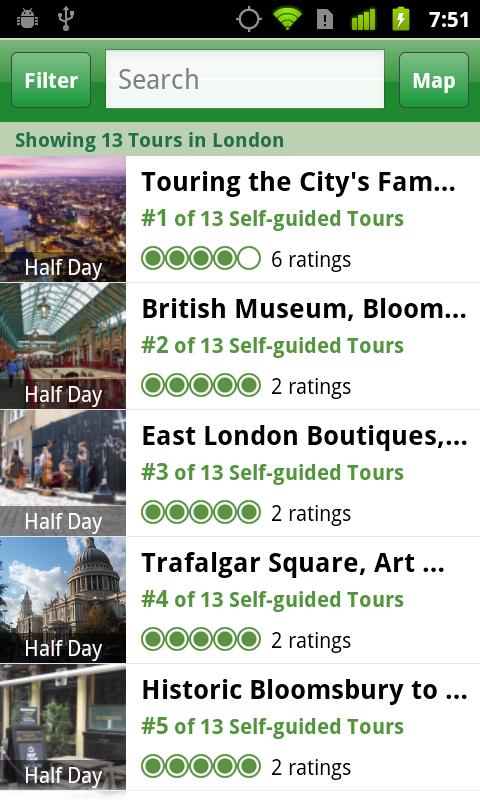 9. Tripadvisor Offline City Guides
For comprehensive information and practical guides, Tripadvisor's city apps are hard to beat. Each free app contains a wealth of information, including detailed, interactive maps, which you can select to show different things, such as restaurants or tourist attractions. There are also self-guided city tours, which provide practical and cultural information, meaning you can see the sights without forking out for a guided tour. You can search for places or activities within a particular  budget, and best of all, you can use the app offline, avoiding hefty roaming charges.
Visiting Scotland?
Here are 4 essential apps to download.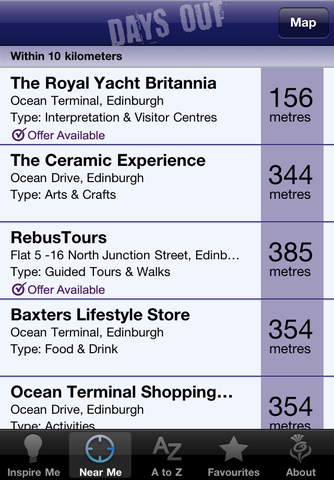 10. Visit Scotland Days Out
Check out the handy 'Visit Scotland Days Out' app which lists 2,000 attractions, activities, places to eat and drink and offers so you can enjoy great days out across Scotland.
11. Welcome to Scotland
Also download the free, excellent and comprehensive 'Welcome to Scotland' app which is packed with information on accommodation, things to do, restaurants, details of events plus many special offers.
12. Museum Explorer
If you're visiting Edinburgh with the kids, definitely recommend a visit to the National Museum of Scotland in Edinburgh and download their fun 'Museum Explorer' app  The app sets you a challenge to track down 9 mystery objects within the museum. Great, fun way of exploring the museum.
13.  View from the Train
One great way of exploring Scotland is by the train and thanks to the new 'View from the Train' app , tourists, from the comfort of their train window can learn more about the scenery and landmarks they pass by the train, turning the view through the window into an interactive learning experience. Brilliant.
Eat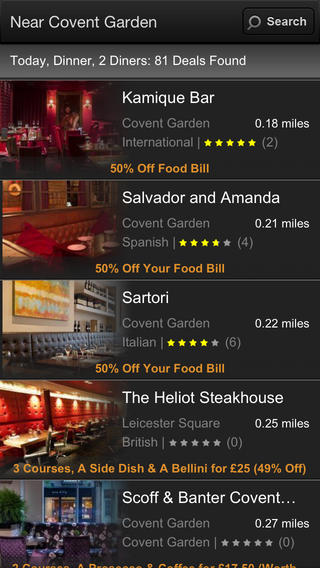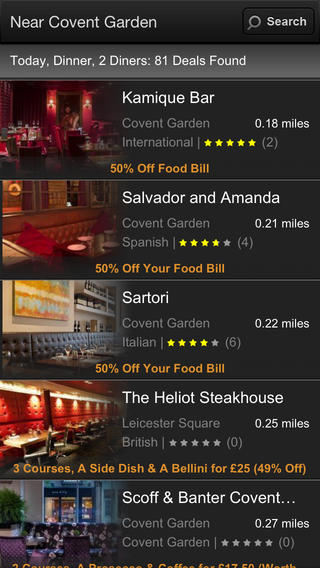 14. Tablepouncer
Tablepouncer is a relatively new app (pictured above ) which is going live city by city across the UK. Available for both iPhone and Android, it's perfect for last-minute dining, offering big discounts at restaurants on the same day or following day, allowing you to dine on haute cuisine at budget prices if you are spontaneous enough with your restaurant choices. Having started in Bournemouth, it now also covers London, Bristol, Bath and Southampton. Manchester and Liverpool are next on the cards.
15.  Vouchercloud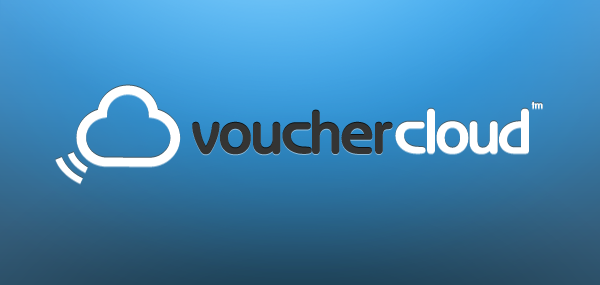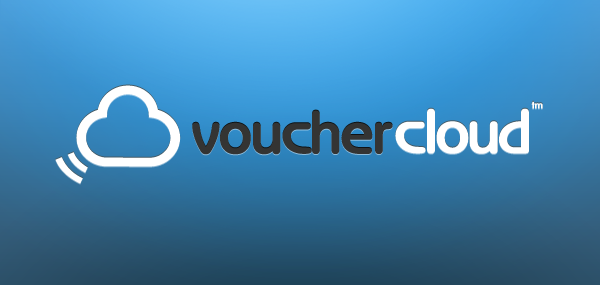 Another personal favourite app I use a lot when I am in the UK is Vouchercloud
You can get some great  deals on restaurants, takeaways, pubs and bars, cinema, retail, days out, leisure and entertainment venues across the UK . All you have to do is download, register and then the app based on your location, will give you a bunch of local offers. The offers often consist of 2-4-1 lunch deals in popular but decent chain restaurants like La Tasca ( Spanish tapas restaurant) or Slug and Lettuce. Once you've clicked on the offer you like, you get a Voucher Cloud offer code which you the show to the waiter and boom, sorted.
16. hungryhouse | Order takeaway online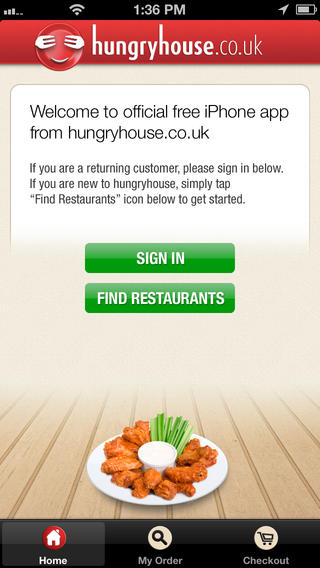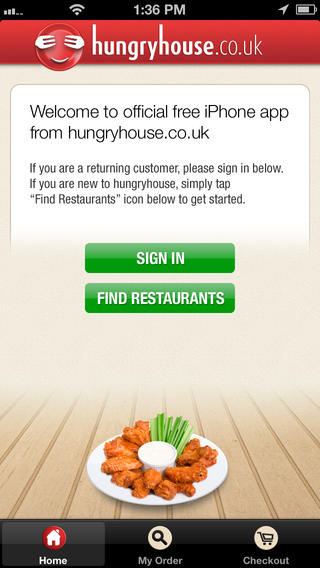 UK is THE takeaway nation with the average Brit spending £1320 a year on takeaways. It is an essential UK dining experience plus a great way to save money on eating out.
HungryHouse app is brilliant for ordering a takeaway. They have a strong presence in all the key UK cities. You can choose from 7000 interactive menus. Menus are saved as you browse, available in offline mode in the event you need to have a look when not connected to the internet.
Note: At the time of writing this article they are some issues with the new ios7 update so you may want to try booking via their website
17. foursquare
Often neglected, the much improved Foursquare app which started out as a check-in game where users compete against friends to earn points for their check-ins has now turned into a far more useful, practical moneysaving app. Using the 'explore nearby' function and then checking 'best nearby' tab, you can find the best restaurants, shops within your current location based on your GPS location.
The 'Specials' tab allows you to find discounts and freebies within your vicinity.
So if you check-in at a location you can often get 10% discount on your meal or purchase while if you become the Mayor of that location, in certain locations the Mayor gets some cool freebies like a free drink or coffee.
18. Travelzoo
Other cool moneysaving apps to check out include Travelzoo's app where you can find excellent local deals across the UK on restaurants, hotels across the UK.
19.  Expensify + Trail Wallet ( £1.99 )
It's all too easy to overspend while travelling: estimating exchange rates as you shop, eating out several nights in a row, picking up the tab for friends. There are a range of apps to deal with exactly this problem and which allow you to record your expenses.
I've used the Expensify app previously and this handy, especially for business travellers, or for someone that likes to keep close tabs on what they are spending while they travel. With Expensify you can scan receipts, add hours you have worked, add expenses manually, add mileage and create invoices and expense reports. Drawback- If you have a lot of expenses to record, it can be time consuming to use this app and it takes a few seconds to record each item.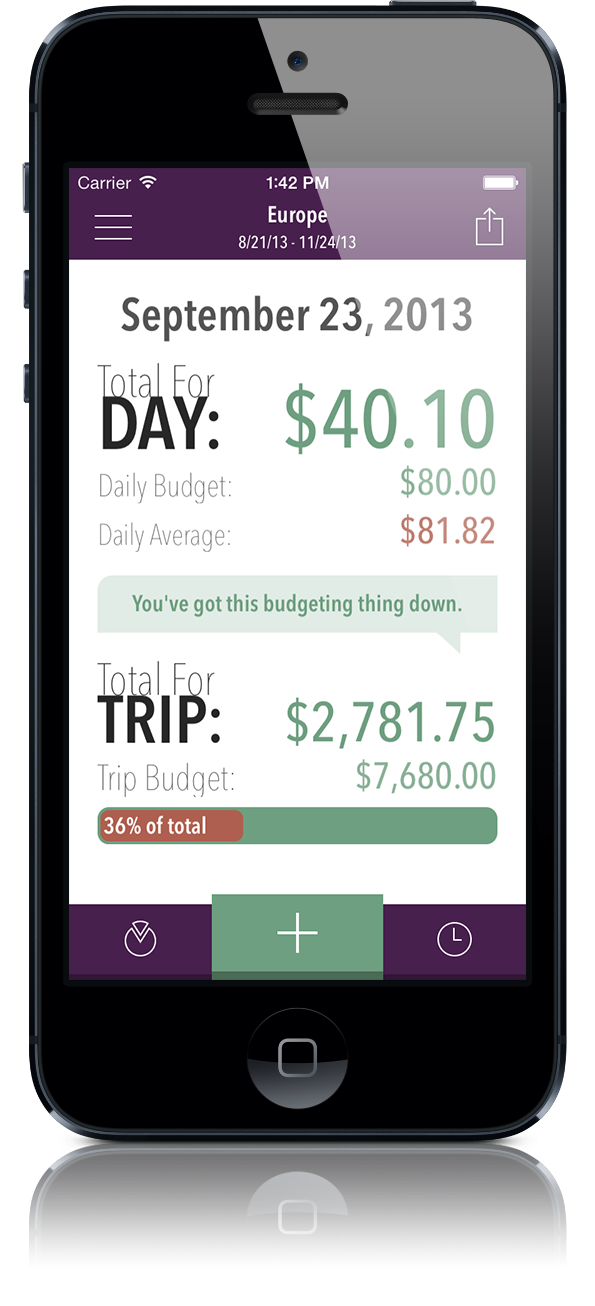 One of the best apps for tracking your daily expenditure and sticking to your budget while travelling is Trail Wallet. (Pictured above)
It's simple and has an intuitive user-friendly interface. The app allows you to set a daily budget and then tracks your spending toward that. Trail Wallet has all has all the practicalities covered: supplies the current exchange rate ( 218 local currencies listed. Dependent on internet connection) , organises your spending by category, expenses tracking plus you can export your expenses via .csv file. The app also creates colorful pie charts to help visualise your spending.
Trail Wallet is one of the best expense tracking apps for the budget, rather than the business traveller. It is the only app here which isn't free, but at £1.99, it's well worth it.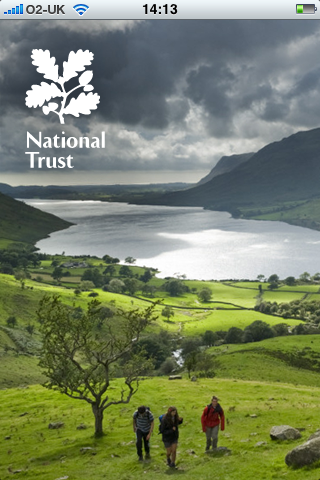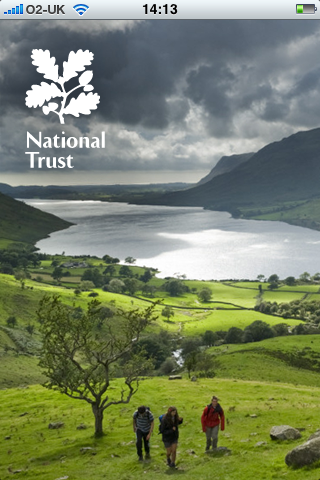 20. The National Trust
Last but not least, I definitely recommend downloading the National Trust App. It allows you to discover the beauty of Britain's countryside from the comfort of your phone highlighting many of the must-see places in England, Wales, and Northern Ireland, fom coastlines to countryside and everything in-between. You can search by postcode or location and browse the interactive "favourites" list with hi-res images.
Agree or disagree with my top 20 travel apps for visiting the UK? Please leave your feedback and tips below for your favourite apps when travelling across Britain. Thank you.