"Venice, it's temples and palaces did seem like fabrics of enchantment piled to heaven."
― Shelley.
When you visit Venice, be it for a short vacation, or a more extended sojourn you will most likely be searching for your own definition of a Venetian palace. Finding a cheap budget place to stay in Venice may seem a daunting task especially with the multitude of bewildering options. It can be an expensive city, but with the right recommendations you may just find the perfect budget palace. Consider one of the following Venetian Budget Hotel/Hostel/B&B options: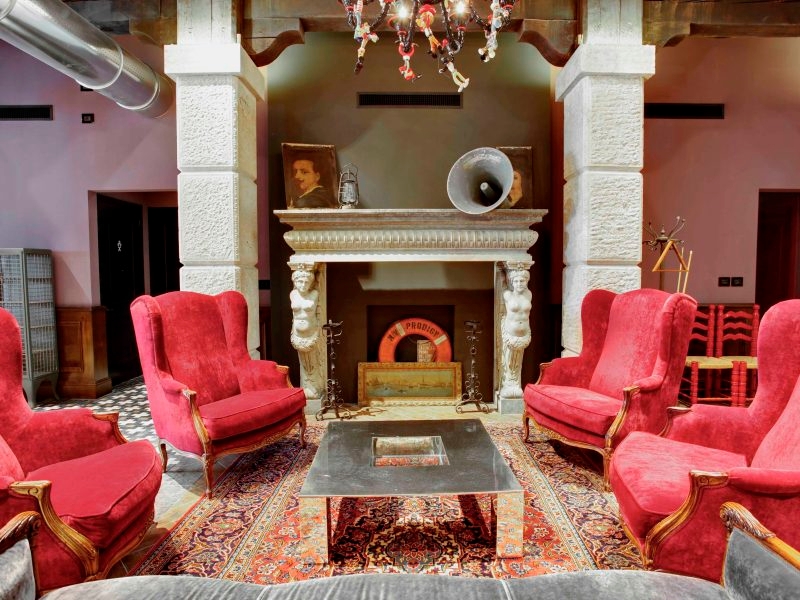 1)  Generator Venice
Sadly devoid of numerous quality hostels and budget places to stay, this floating city can, however, boast of one fabulous hostel with a great location. Enjoy views of some of some of the main sights from the comfort of .
The location
This is one of Generator's best (and most expensive) hostels with an unbeatable location in the heart of Venice. The exact location of is on the waterfront of the island of Giudecca. From the hostel, it is a short, single stop on the Vaparetto to the famous Piazza San Marco.
Rooms and bathrooms
The hostel building is a historic converted granary. The hostel retains all the Venetian charm but has a modern design twist to it. Highlights of the design include mosaic flooring, Rubelli textile curtains and glass chandeliers from Murano. In addition there is a huge fireplace reminiscent of Palladian craftsmanship. You can choose between private and shared rooms, some of which have views of the sea.
Visitors to the can expect a lot of choices when it comes to room options at this hostel. There are nine different accommodation options ranging from private rooms and suites to shared dormitory rooms and double or twin rooms.
Perks that come with the dorm rooms include bunks with privacy boards, power sockets (EU only), reading lights and a lock-up storage while the perks of a private suite extend to complimentary toiletries, plush towels and an en-suite bathroom to name a few.
Facilities
Some of the facilities that come with the hostel include free Wi-Fi, an on-site bar and restaurant, 24 hour reception, chill out areas, laundry and a café to enjoy that perfect cup of coffee.
What makes Generator Venice a luxury hostel is the location and the history associated with the building. Each of the rooms has highly covetable view. Look out upon the Lido, the gardens, the Grande Canal or San Marco.
An economical option to reach the hostel is the bus followed by the ferry. Take the ATVO to Venice Piazzale Roma.
If you're travelling by bus then ferry, take the ATVO to Venice Piazzale Roma. If arriving by air it takes 20 minutes to arrive from Marco Polo Airport or alternatively 40 minutes from Treviso Airport. From the Piazzale Roma catch the Vaparetto. The number 2 or 4.1 will take you to Giudecca Island. Alight at the Zitelle. The hostel is 100 metres away on your right hand side.
If arriving by train the Vaparetto can be availed right outside Venezia Santa Lucia Station.
Verdict
Given the scarcity of hostel options in this floating city,  have come up with a gem of a hostel with an unbeatable location. Book early due to high demand. It can get very crowded during the summer.
Cost of rooms
The Sky Suite that sleeps 1-2 people starts from €40 Per Room, shared rooms start from €16 per bed.
Address
Fondamenta Zitelle 86, Venezia.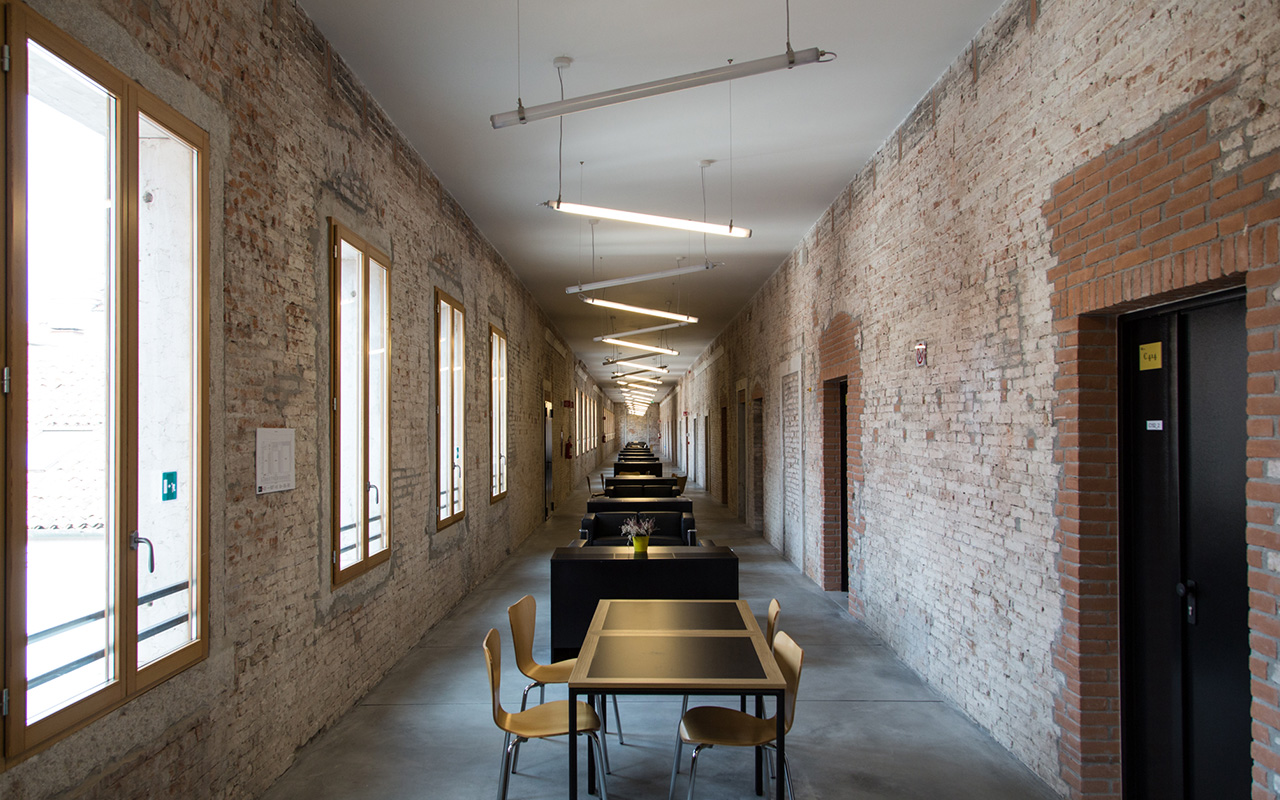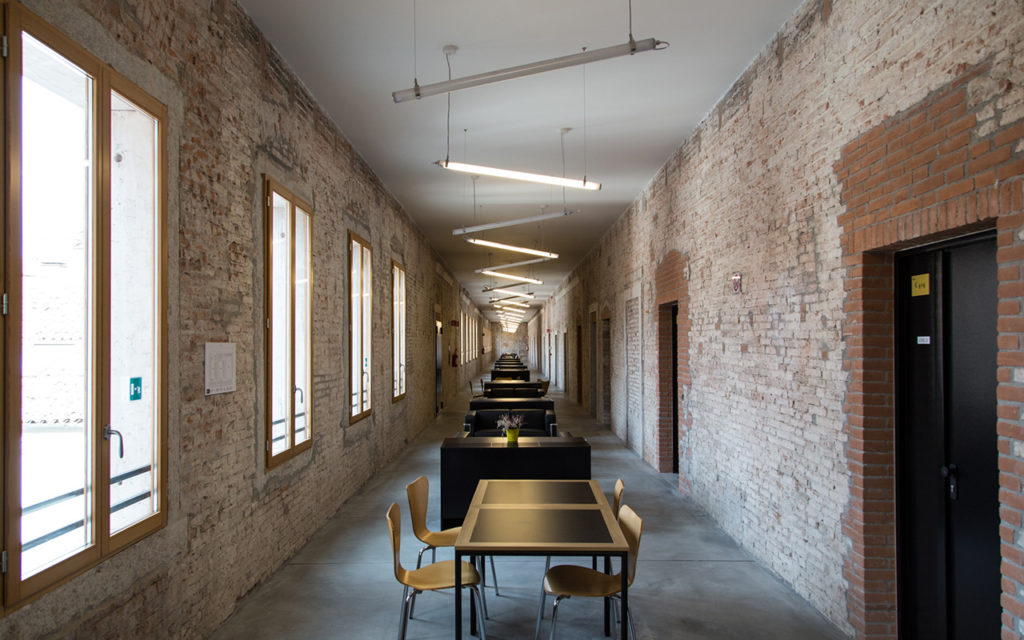 January 2018 update
Venice now boasts of another beautiful hostel called We Crocifieri
Built inside a renovated 12th century monastery,  features stunning functional design in the Cannaregio district of Venice. You can enjoy a drink in the spacious courtyard, in the hostel's gorgeous bar, or venture out from the water taxi station located just two minutes away.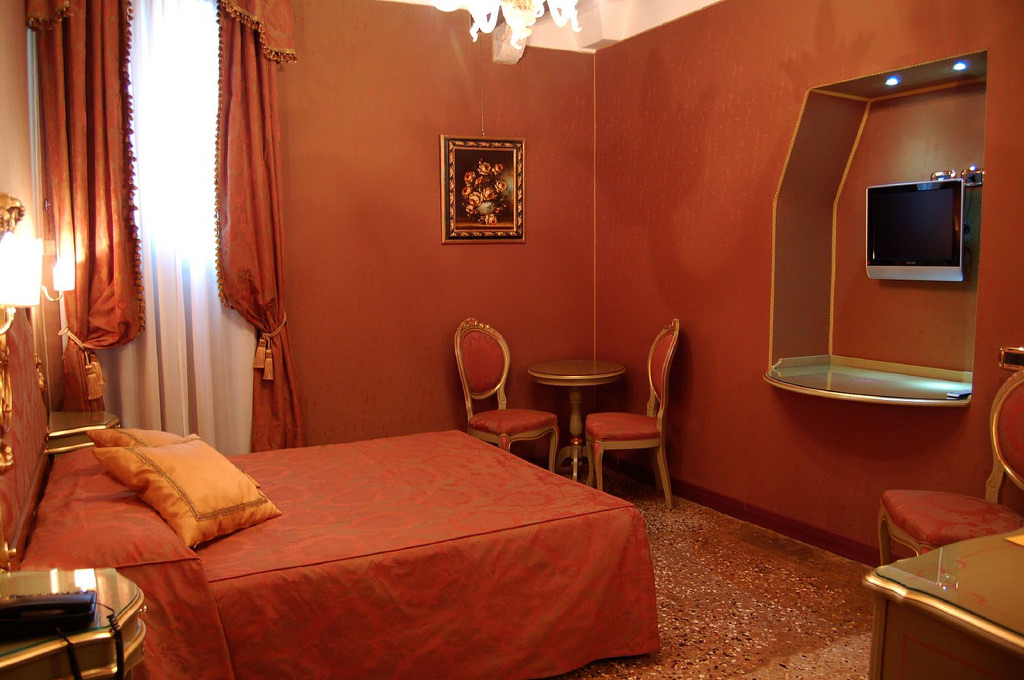 2) Al Ponte Mocenigo
This stylish, traditional hotel with a centre courtyard, flaunting period details yet surprisingly contemporary is the perfect budget hotel for your Venetian sojourn.
Location
The hotel area is free of thronging crowds but a little far from the main sightseeing highlights (Rialto bridge: ten minutes on foot). Given that the train station is nearby and the San Stae vaporetto stop is around the corner, this is by no means an impediment to touring Venice. Spend the day, drinking in the glorious ambience of Venice and get away from it all in relative peace, here at night.
Rooms and Facilities
The original rooms are clustered around the beautiful central courtyard. If the weather is fine, you will be treated to the free breakfast in the courtyard. Otherwise drink your morning coffee, eat your pastries and fruit in the ground floor breakfast hall while plotting your day's itinerary.
The rooms are lofty and light-filled, graced by antique furniture pieces with vintage charm. The décor is tinged with shades of red, green and gold. The main hotel with the courtyard, small bar, Turkish bath and cluster of rooms has an adjacent annexe next door, which sleeps more people.
Though the hotel does not have an eatery on the premises there is a small bar open even during the daytime and the ideal spot to enjoy your evening aperitivo.
There is free Wi-Fi throughout the premises and the all-important air-conditioning in the rooms for those hot months. All rooms are ensuite, which is convenient.
Cost of rooms
Prices start at the £80 mark via Booking.com per night for a twin or double room. Prices will rise in peak season though.
Address
S Croce, 2063, 30135 Venezia.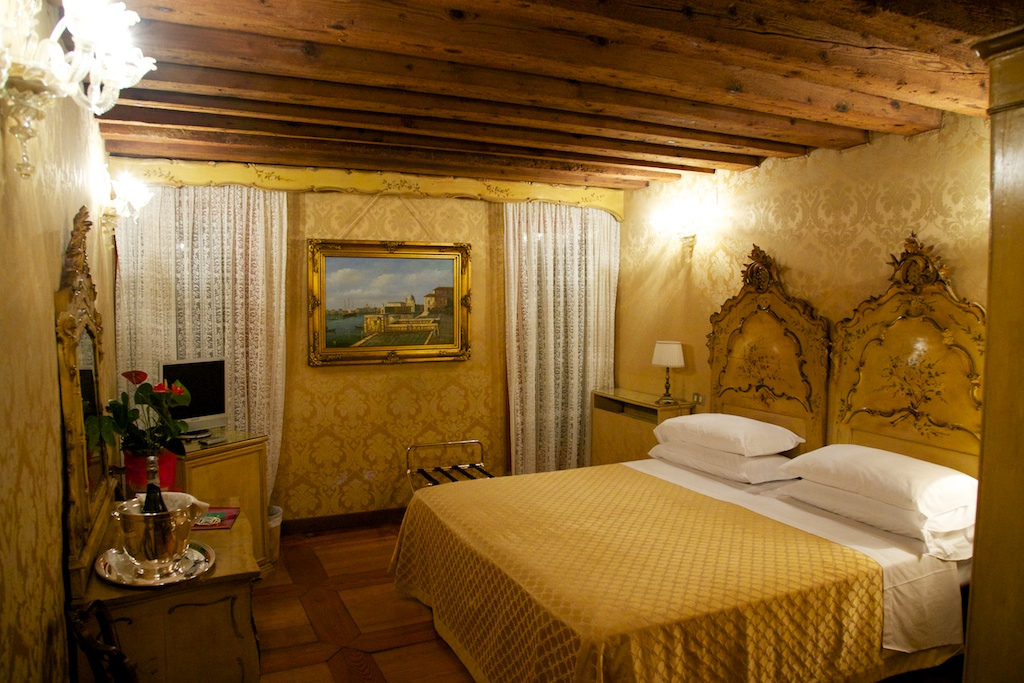 3) Palazzo Abadessa
This ornate hotel with vintage details, antique furniture, Murano glass chandeliers is packed with Venetian charm.
Location
Situated in the quieter Canareggio district, north of Venice, this area is popular with tourists. Though distant from the main highlights of Venice, it is well connected with the historic centre and blessed with many restaurants.
Rooms and Facilities
The hotel feels very much like stepping into a small palace of a Venetian household. Everywhere you look there are small details to take in. The salon is beautifully decorated with paintings from the followers of Tintoretto so you are in for a treat. The opulent frescoed ceilings are another delightful detail.
The garden is a lovely quiet spot where you can enjoy an evening aperitivo or enjoy breakfast. The breakfast room is a nice place to enjoy a morning repast on those unseasonable days.
The hostel owners and employees are very well informed and helpful.
Cost of rooms
Though this property can be pricey in high season, watch out for those budget deals in quieter times. Prices start at the £95 mark per night.
Address
Cannaregio – Calle Priuli 4011, Venezia.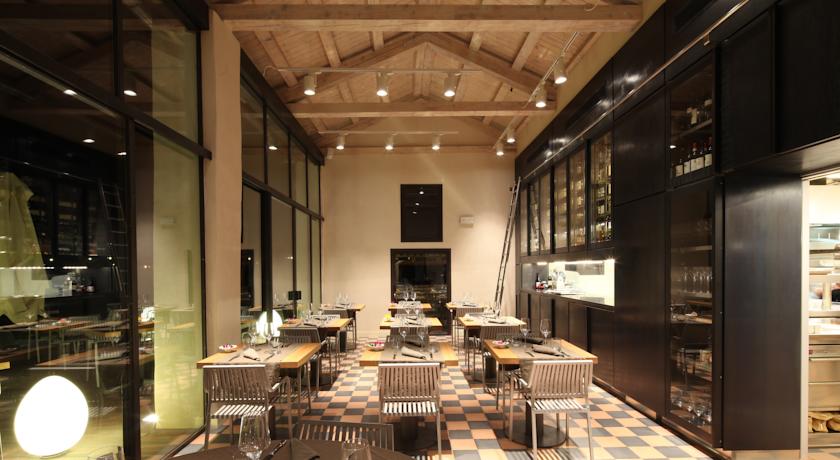 4) Venissa
If you are up for something a little quirky and a little alternative then look no further than this hotel. Enjoy your budget Venetian holiday from the seclusion of an island retreat and be treated to a gourmet restaurant on the premises in 'Venissa'.
Location
Venissa is located on the outlying Venetian island of Mazzorbo. It is unusual in that the hotel is a converted farmhouse with two kinds of accommodation: a very budget friendly one with shared bathrooms and the minimum requirements like bedding or the more luxe option of private room and bath.
Rooms and Facilities
The island is located on a vaporetto stop and is the penultimate stop before reaching Burano.
The hotel is an oasis of calm, a world away from the hustle and bustle of central Venice and affords an alternate vision to Venetian island life. The rooms are light and bright, spacious with a contemporary feel, Spartan cleanliness but antique furniture touches.
Venissa,  home to a Michelin star gourmet restaurant has an eclectic menu, sourcing delicious ingredients supra locally, i.e. from the property's vegetable garden and the waters of the lagoon itself.
Wi-Fi is included in the cost of the room although breakfast must be purchased separately.
Rates
Rooms are available from £90 per night.
Address
Fondamenta Santa Caterina 3, Isola di Mazzorbo.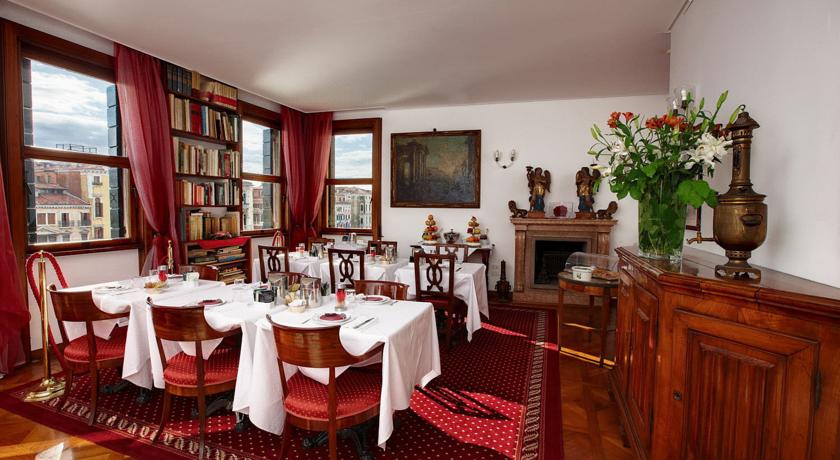 5) Ca' Angeli
You want to be in the midst of the hubbub of Venice you say but want to stay on budget? Do not fret. The canalside palazzo of Ca' Angeli may be the answer to your quandary.
Location
This hotel overlooks the Grand Canal and is short distances from San Marco Square and the Rialto Bridge. The S Silvestro vaporetto stop is a few minutes walk away.
Rooms and Facilities
Rooms are aesthetically pleasing decorated in the classic style with period details. However, rather than being heavy and too ornate they are light and airy and very clean. Expect beamed ceilings, antique carpets and Murano glass chandeliers. Rooms may have balconies overlooking the Grand Canal. They are air-conditioned and supplied with Wi-Fi service.
The free breakfast is plentiful, of very good quality (certain organic food items used wherever possible) and is served in an elegant waterfront dining room. The staff are very helpful and will supply you with a host of useful tips and tricks. You can store left luggage securely upon requesting the hotel staff who are happy to oblige.
Rates
Rooms are available from around £87 per night.
Address
Calle del Tragheto della Madoneta, 1434, San Polo, Venezia.
Further Venice guides
For ideas on budget places to eat in Venice check out this handy Cheap Eats Guide to Venice
Plus here's a photoessay of Venice and a Spotify playlist to accompany it
Plus a story about Venice, about loneliness, love lost and renewed
 Creative Commons License Attribution
"Hotel Al Ponte Mocenigo" photo was licensed under Creative Commons License courtesy of Anne Jacko; Palazzo Abadessa photo was licensed under Creative Commons License courtesy of George Grinsted.