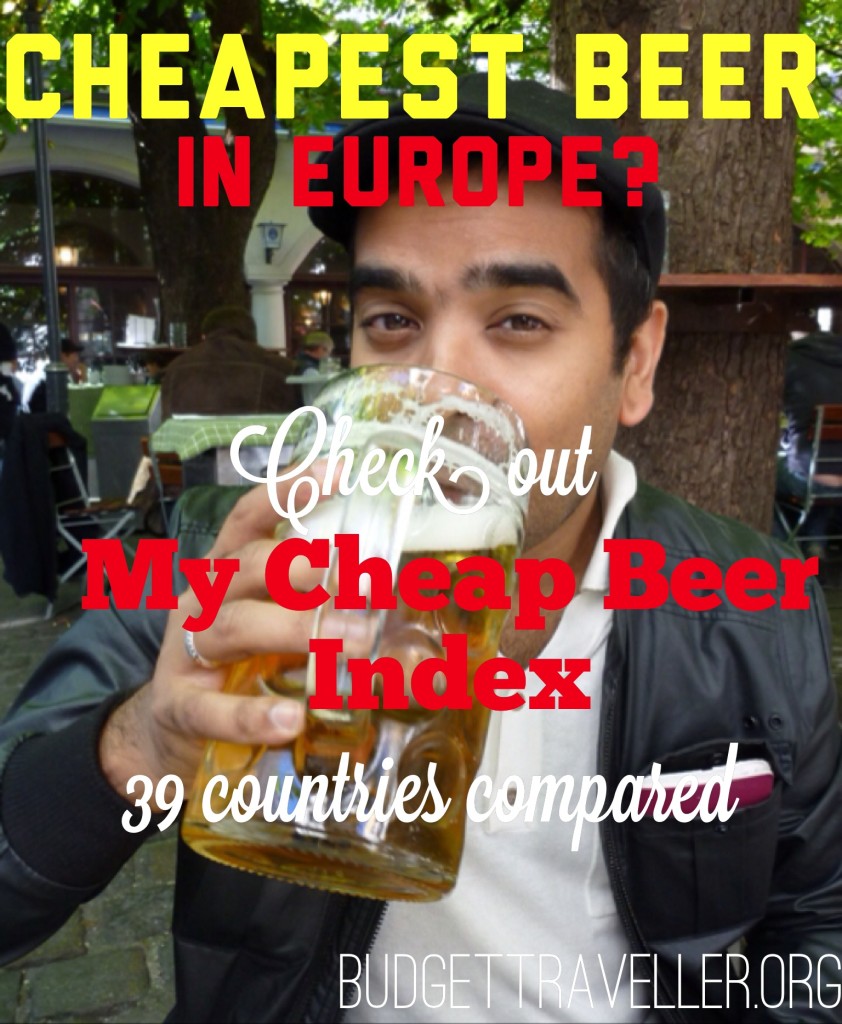 Cheapest beer in Europe? Check out my Cheap Beer Index http://t.co/pZTBp4eo0w #lp #beer #TTOT

— Kash Bhattacharya (@BudgetTraveller) April 3, 2013
When I started travelling I used to refer to the Big Mac Index  to get an idea of how cheap or expensive the city might be.
Recently, I've found in my maturing years, the cost of beer in a city is now a popular point of reference when looking at the costs of travelling to a city.
With this in mind I thought it would be a fun research exercise to find out where I could find the cheapest beer in Europe.
I looked at 35 countries in total.
(apologies if I left anyone out but it's hard to define Europe nowadays )
In my research I stumbled upon a handy website called Pintprice.com where visitors submit the cost of beer in their own city.
So the price you see there is an average of beer price across the cities in one country.
So while this is not the precise indicator of what the cost of beer might be, still offers a rough idea of what prices you can expect.
Based on Pintprice.com , the winner for the cheapest beer in Europe  is Ukraine where the average cost of beer is just 49 pence or 58 cents.
Great news for football fans who will be heading to Ukraine for this summer's Euro 2012! ( Recipe for anarchy!)
So the top eleven most affordable countries in Europe to buy a pint are
Ukraine  £0.49
Czech Republic  £0.71
Belarus  £ 0.75
Bulgaria  £ 0.78
Slovakia  £0.79
BosniaHerzegovina  £ 0.82
Serbia   £0.85
Hungary  £1.00
Poland   £ 1.25
Lithuania   £1.26
Belgium  £1.27
Below I have the league table of beer prices.
Do you think costs are roughly indicative or inaccurate in your experience?
Great to hear your comments and thoughts about my Europe Cheap Beer Index!
Cheers! Happy Beer Travels for 2012 !
COUNTRY

Average Pint Price ( in Euro)

Average Pint Price

( in Pound)

Bulgaria

€0.91

£0.78

Belarus

€0.87

£0.75

Hungary

€1.18

£1

BosniaHerzegovina

€0.97

£0.82

Serbia

€1.00

£0.85

Ukraine( The winner!)

€0.58

£0.49

CzechRepublic

€0.84

£0.71

Lithuania

€1.49

£1.26

Portugal

€1.92

£1.63

Slovakia

€0.93

£0.79

Romania

€1.11

£0.94

Croatia

€1.95

£1.65

Latvia

€2.6

£2.20

Estonia

€1.98

£1.68

Poland

€1.47

£1.25

Wales

€2.90

£2.50

Slovenia

€1.99

£1.69

Austria

€3.2

£2.71

Scotland

€3.13

£2.70

N.Ireland

€3.48

£3.00

England

€3.48

£3.00

Switzerland

€5.03

£4.26

Germany

€2.5

£2.12

Ireland

€4.5

£3.81

Belgium

€1.50

£1.27

Spain

€1.99

£1.69

Greece

€3.00

£2.54

TheNetherlands

€1.99

£1.69

France

€5.9

£5

Finland

€4.85

£4.11

Sweden

€5.9

£5

Italy

€4.5

£3.81

Denmark

€5.5

£4.70

Norway

€7.08

£6.00

Turkey

€2.10

£1.78