If you're coming to Berlin, chance is that you will only be visiting for a weekend or a few days at the most. Most of your time will probably be taken up exploring all the key historical highlights and exploring the neighbourhoods like Mitte or Kreuzberg or Neukolln where all the cool kids are. Rarely, will tourists head up to Wedding.
You'll find Wedding district in the north western half of Berlin, adjacent to Mitte and the green lung of the city-Tiergarten. The neighbourhood didn't experience the boom in popularity and gentrification that swept across other working class neighbourhoods of the city like Prenzlauer Berg, Kreuzberg and Mitte.
The upside to this is that the area remains free of the hype and has been perfectly preserved. Low rents have seen a handful of bohemian cafés, restaurants and clubs being established and also some really cool independent art-galleries plus recently an urban gardening project. It is an area still developing and rough around the edge so keep that in mind when you come here.
To get a better idea of the district and to write this guide, I recently dedicated a day to exploring Wedding. Here's my self guided free walking tour to Berlin Wedding. Lets start walking…
1. Victor Ash's 'Tree Children'
Moment you emerge from the U-Bahn Wedding station you come across a pretty cool mural on the building beside the gas station.  This work is by Victor Ash and is called "Tree Children." You will know Victor's work in Berlin from his famous mural – "The Astronaut."
2. Leopoldplatz
The next stop is Leopoldplatz: They have a small daily market featuring local produce that ranges from fresh local produce, meats, cheesemonger , good coffee ( The Coffee Man) plus you can try snacks from Mimi's African Fast Food ( specialises in delicious Cameroonian food )
3. Exploring Wedding's Afrikanisches Viertel
Wedding is one of Berlin's most ethnically diverse localities and home to a significant afrodeutsch community. (One of the most famous residents of Wedding is a certain Kevin Prince Boateng- Ghanian who also plays for Barcelona ) The area where they have settled is called the Afrikanisches Viertel, or African Quarter.
You'll see some of the street names in the quarter named after their residents: Kamruner (Cameroon) Strasse and Togostrasse ( Togo)
To understand more about the history of the black and African-diaspora in Berlin and Germany popinto Each One Teach One, (Togostraße 76 ) a lovely community based project for education and the empowerment of Black people in Berlin. With over 6000 books written by authors from the African continent and the Diaspora, the library is open to locals and tourists.
For those of you planning a trip to Berlin In June, they have a African Literary Festival with authors from the African diaspora. The event is free for anyone to attend and will feature readings, panel discussion and performances from writers across the world.
Also keep an eye on the Facebook page of nearby AfricAvenir ( Kameruner Strasse 1) , a non-governmental and non-profit organisation that is engaging in political and cultural education from an African perspective- they run a regular monthly programme of workshops and cultural events 
4. Lunch Part 1: Salone Market
As regular readers of the blog will know, I love exploring places through my stomach and even though I had lunch planned soon after somewhere else, I couldn't pass up the opportunity to checkout Salone Market (Genter Str. 66 )- probably Wedding's best african restaurant. Run by the affable Denis who is originally from Sierra Leone, the restaurant focuses on West African cuisine. You can sample here dishes like Tilapia Fish, Cassava leaf stew and also their excellent Black Eyed Bean with grounded peanut butter sauce. I had the latter with rice and Denis also served some 'scharf' hot sauce on the side. Prices are extremely reasonable and portion sizes are huge ( I had the food to takeaway ) -good for sharing.. You can also purchase exotic delicacies such a spicy plantain chips plus even buy Tusker lager here.
5. Lunch Part 2: Welcome to Mars and Silent Green
Next stop was probably my highlight of the day- a visit to Silent Green (Gerichtstraße 35), an independent arts project in the weird and wonderful location of a former crematorium situated beside a cemetery. The cultural centre was realised with the help of two prominent local film makers- Jörg Heitmann and his partner Bettina Ellerkamp. The centre hosts a regular programme of cultural events with a big focus on music. ( 2-3 events a week)
An interesting extension of the centre is their  in-house restaurant, Mars. Open Monday to Saturday, Mars is a la carte brunch/lunch joint with a limited but seasonal menu where all the ingredients are sourced from the locals area. I enjoyed their asparagus tagliatelle ( buttery, delicious topped with crunchy garlic bits and parmesan cheese) and washed it down with their homemade lavender infused lemonade.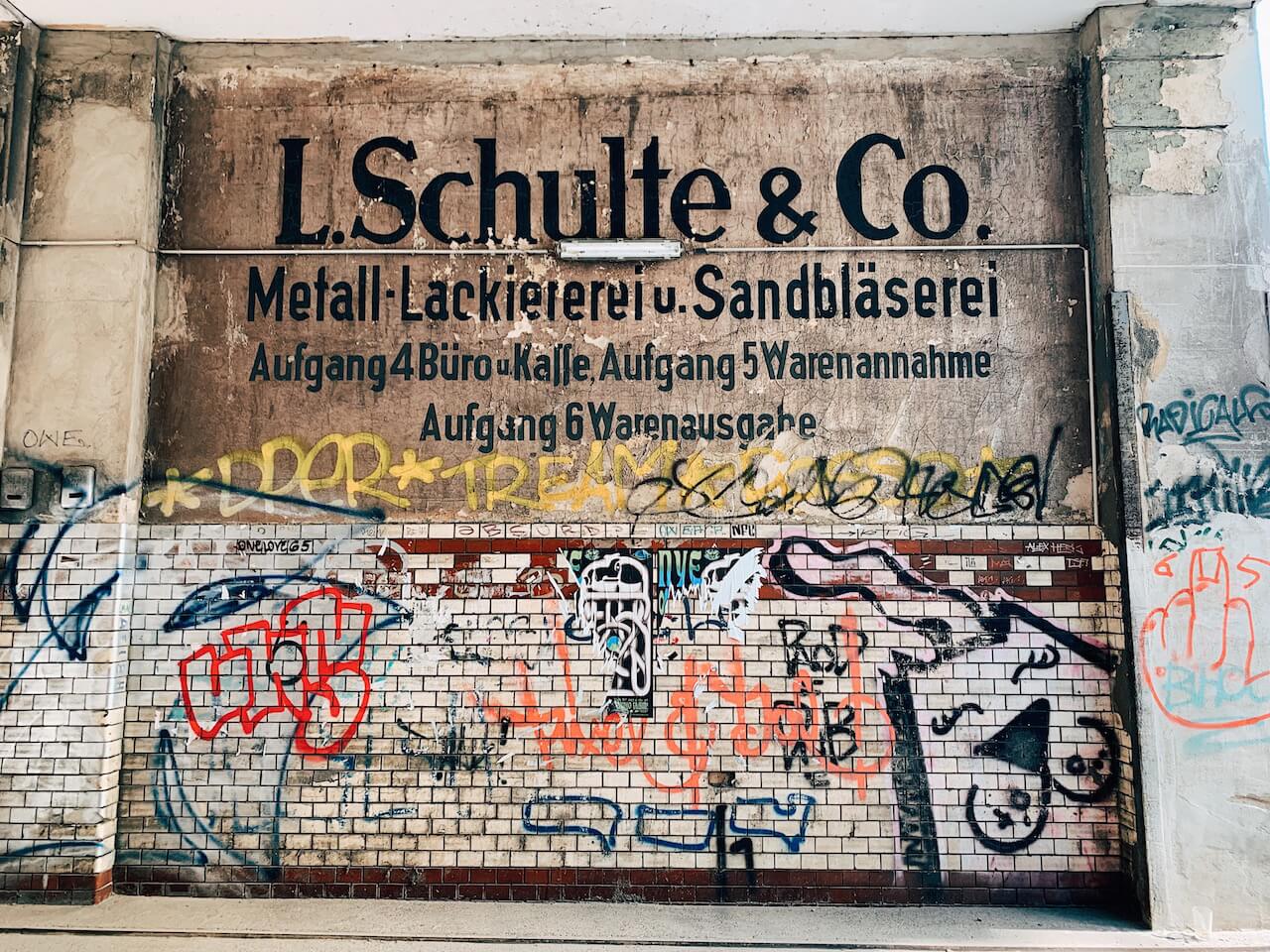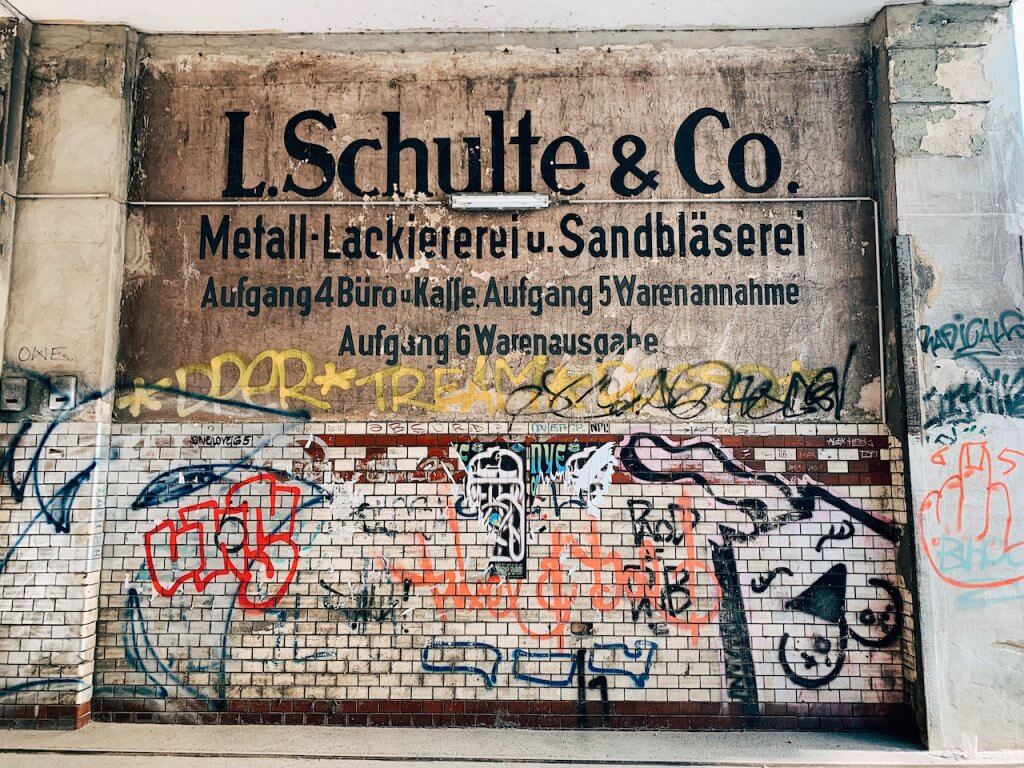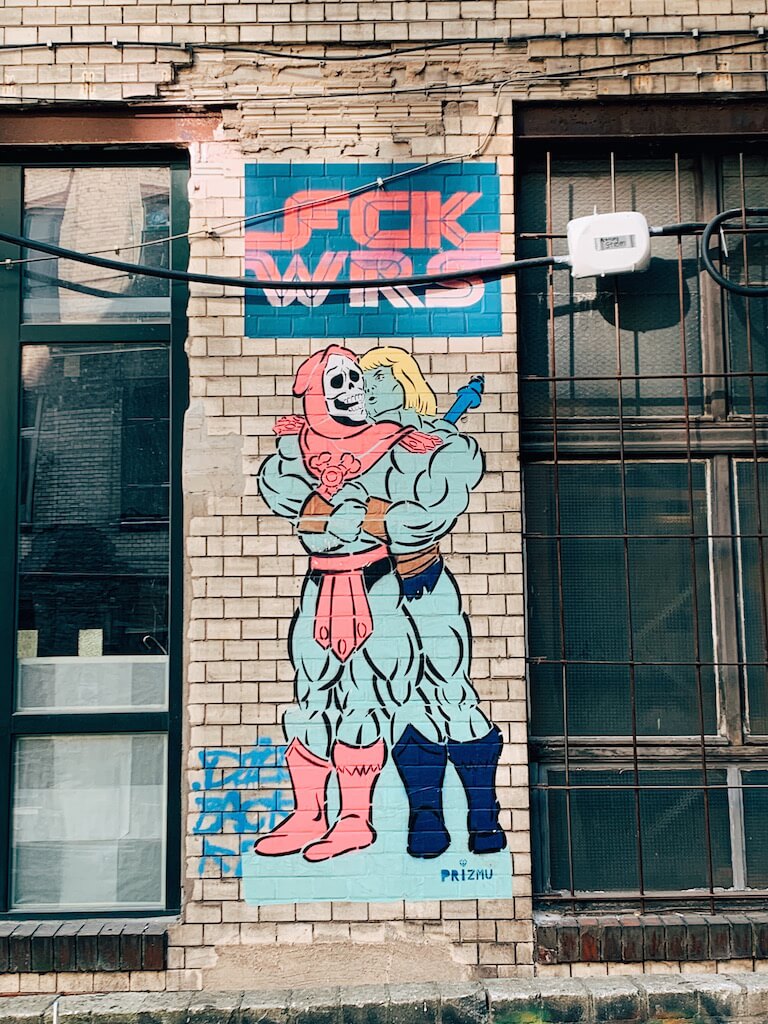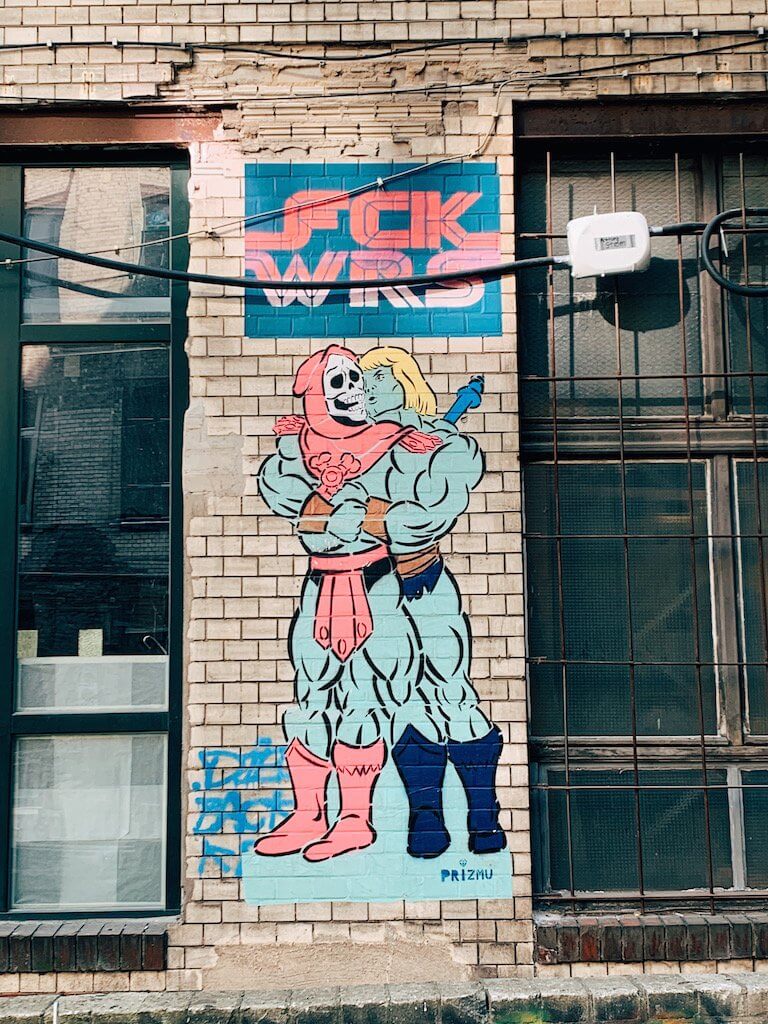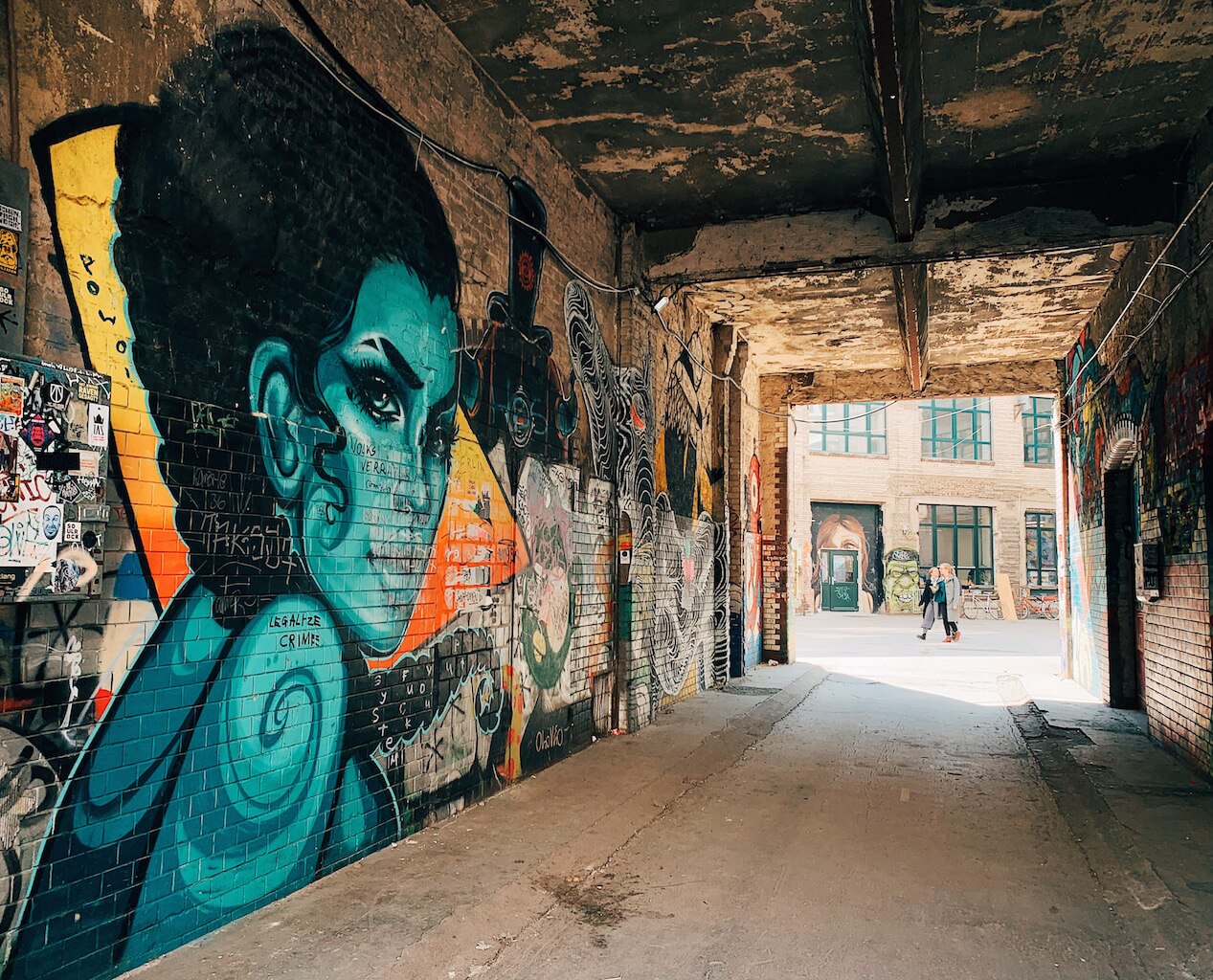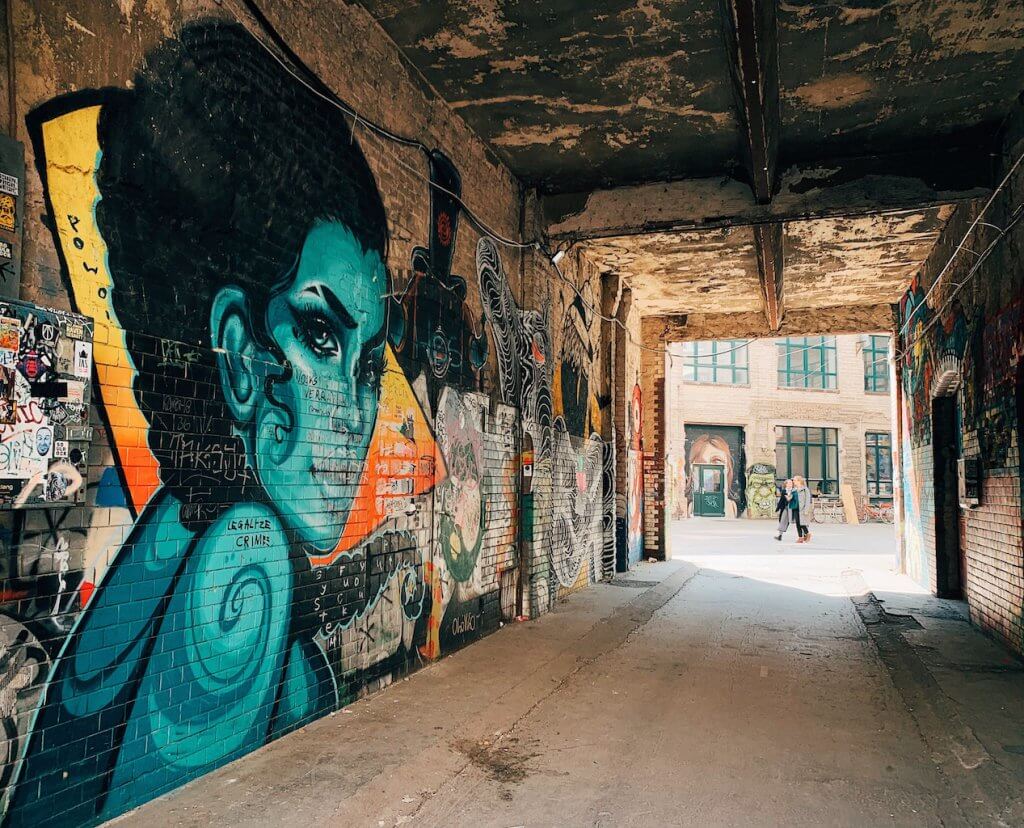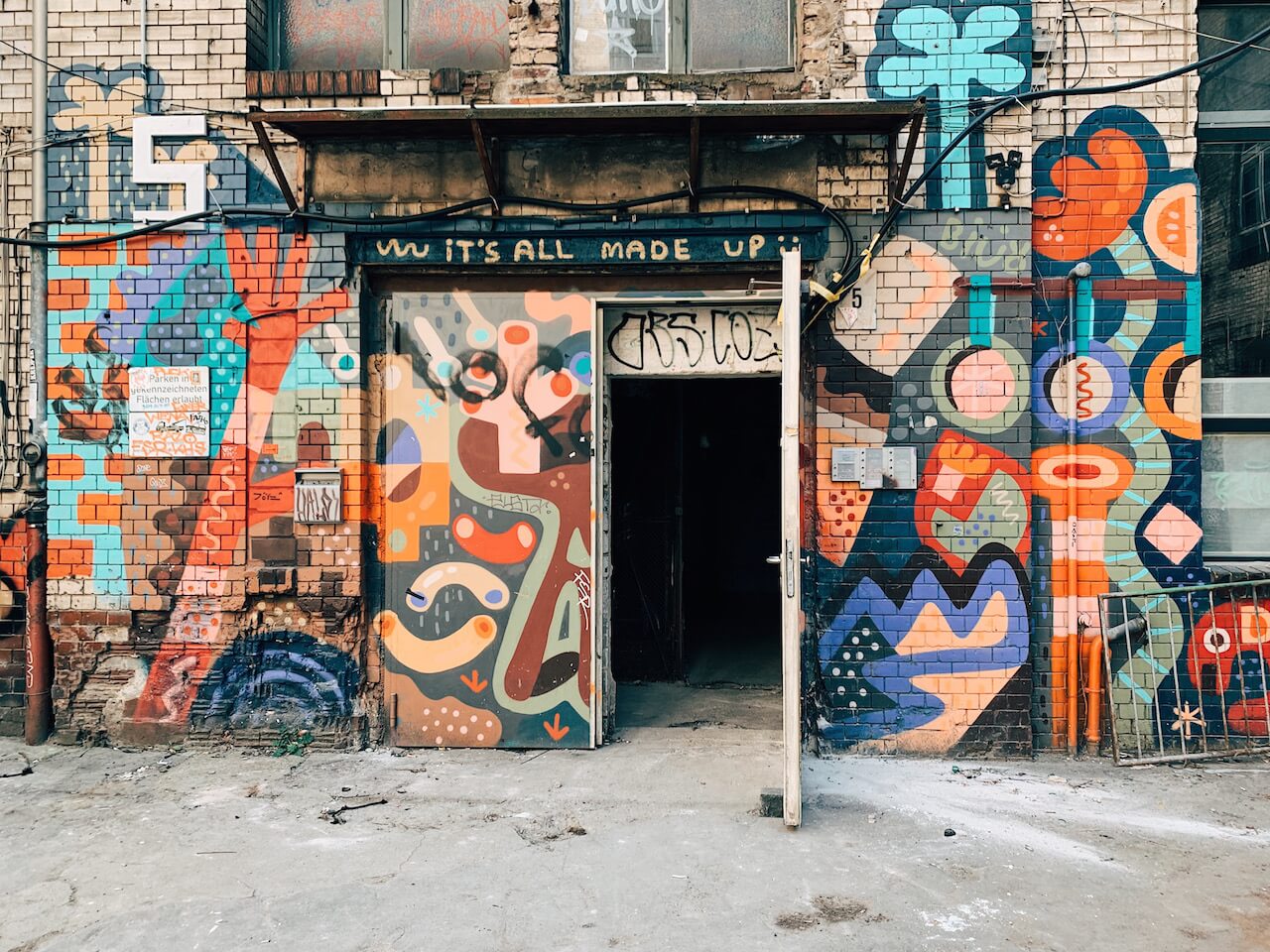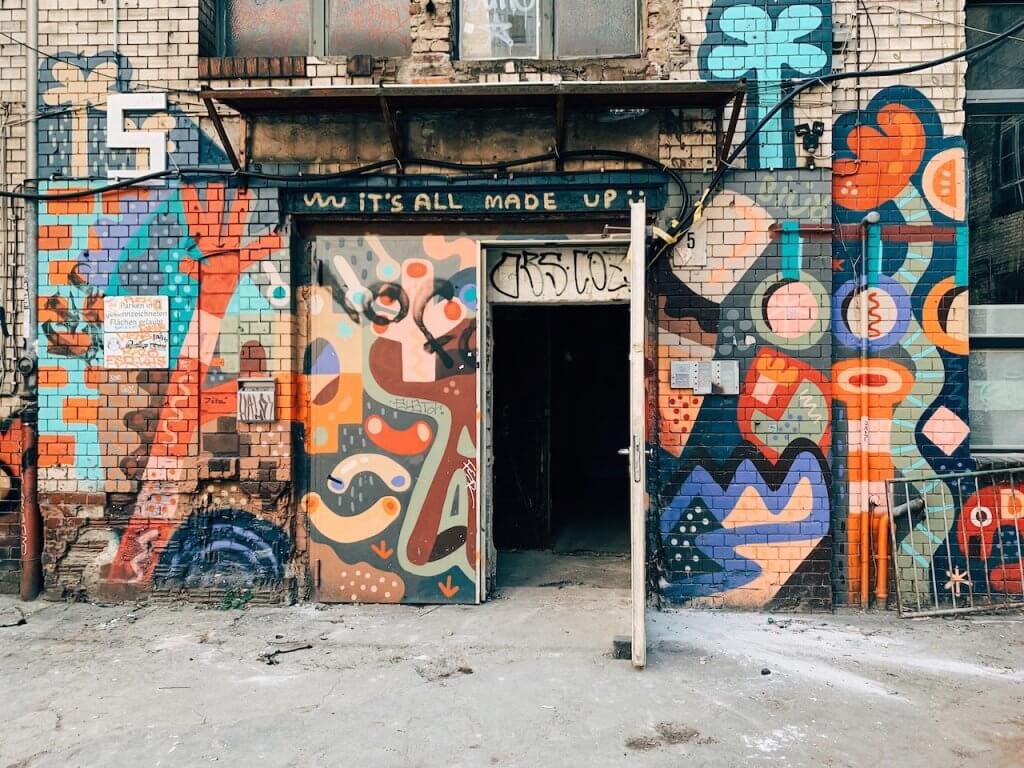 6. More Street Art at the quirky and hip Gerichtshöfe
If you're interested in street art I also encourage you to visit Gerichtshöfe complex on Gerichstrasse 23. The area is a labyrinth of industrial courtyards that mainly consist of artists studios. With over 70 studios, the Kunstquartier is in fact one of the largest in Germany. With multiple cool murals, stencils, paste-ups and stickers it has a very cool grungy vibe. In many ways it reminded me a lot of the Tapentenwerk in Leipzig.
7. Shake off the post lunch coma at the fantastic Café Pförtner
Walk off your post lunch coma with a stroll up the lovely local river , the Panke and head towards the hip and quirky Café Pförtner (Uferstraße 8-11). Located in a former bus repair station , if you are hungry or thirsty, you can enjoy a range of tasty delights ranging from curries to salads and soups, nice cakes and really good coffee. The star of the show is the repurposed bus which is a very cool setting for beers or coffee with friends or loved ones.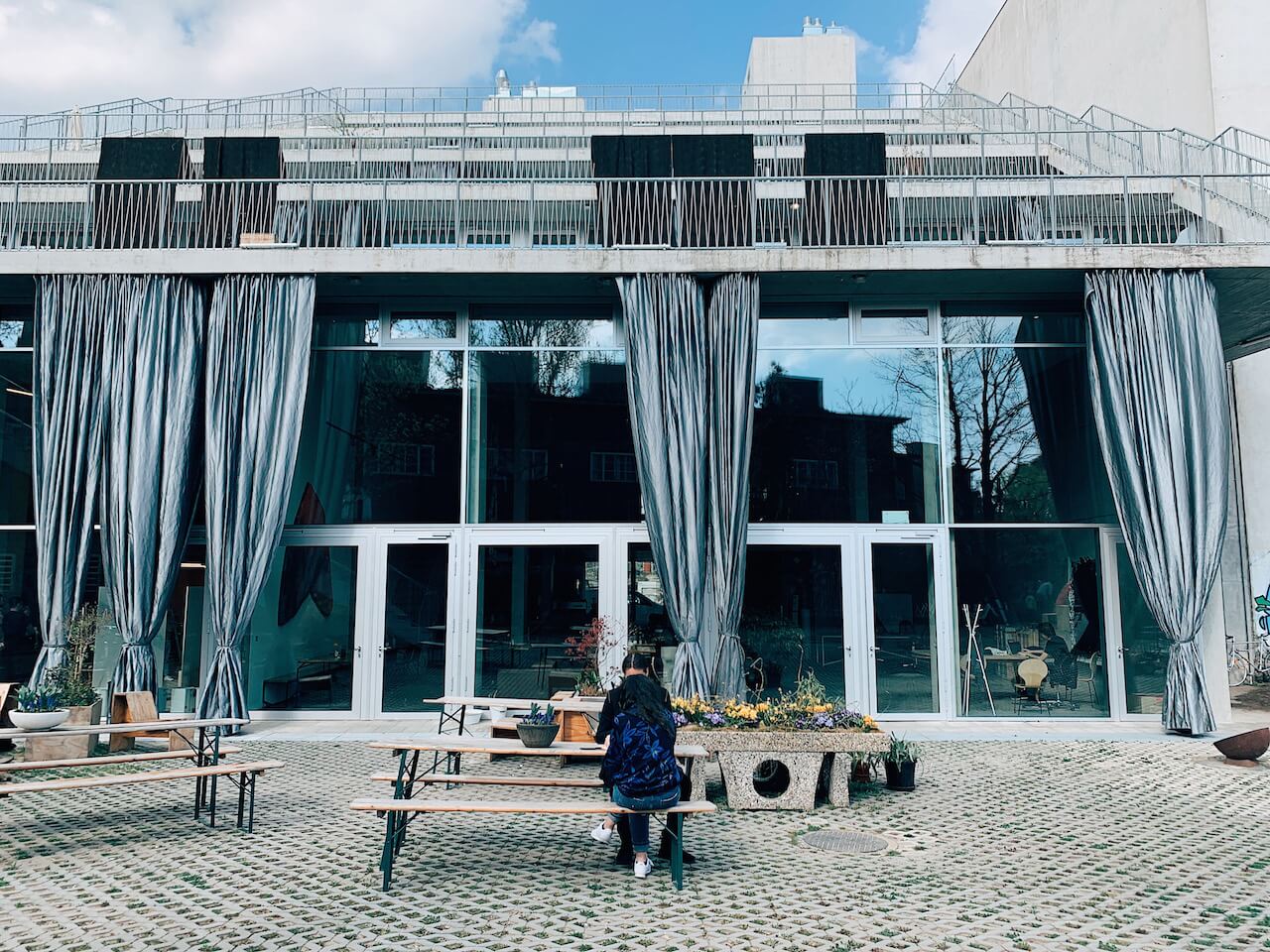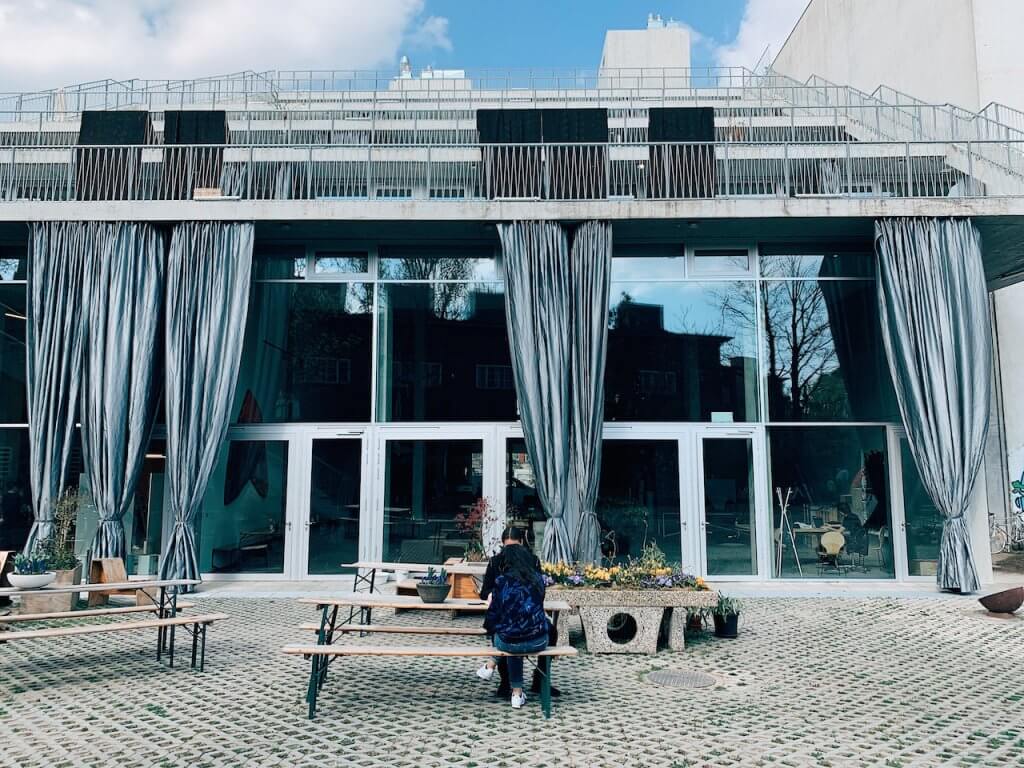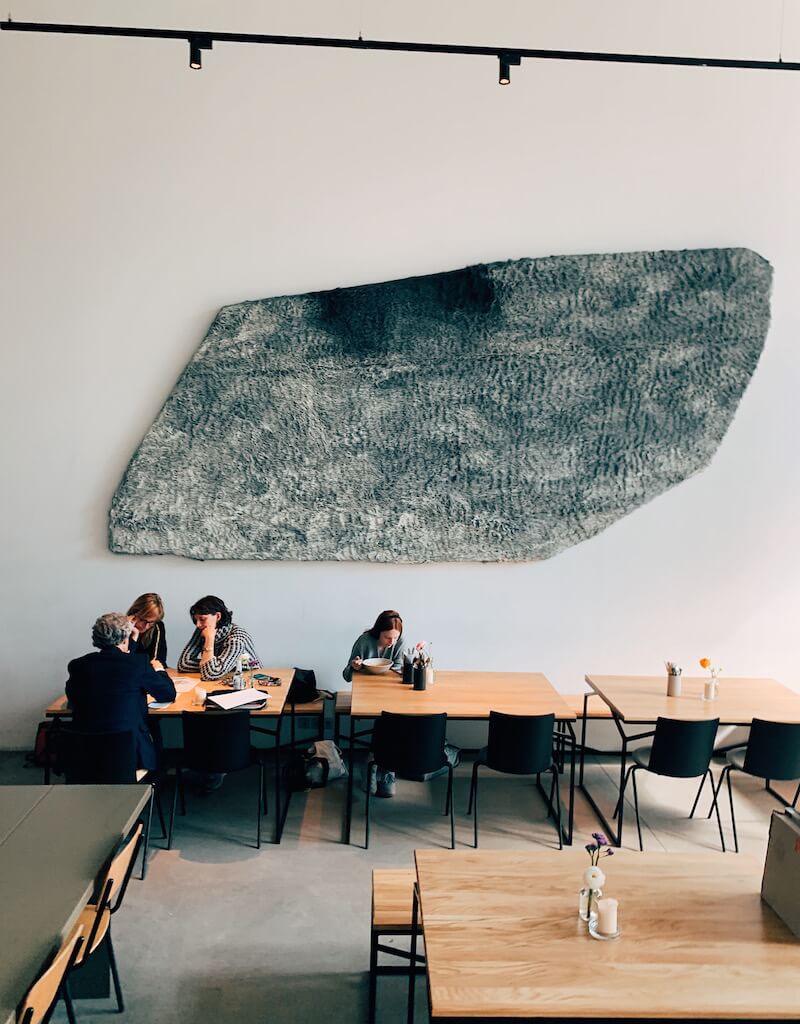 8. Lobe Block: 'a brutalistic hanging garden of Babylon'
Next stop was Arno Brandlhuber's mixed-use Lobe Block ( about a 15 minute walk from Cafe Pförtner ) which has been described as "brutalistic hanging garden of Babylon". Situated on the edge of Wedding in Humboldthain area, the concrete building is home to ateliers, studios and the Baldon restaurant and cafe. I didn't eat here ( stuffed still from all that food and coffee) but it looked like a nice place to enjoy a coffee and read a book.
On the way to Lobe Block you'll spot the Flak Tower in Humboldthain Park– the remains of a World War 2 fortress. I didn't have the time but if your schedule permits, recommend visiting the place on a Berliner Unterwelten tour. They take you down into the interiors of the tower. Tours only run from April to October.
9. Preussiche Spirituosen Manufaktur Schroff und Stahl.
My last stop was a visit to the Preussiche Spirituosen Manufaktur Schroff und Stahl. ( Seestraße 13. Hop on Tram 50 or M13 in direction of Virchow-Klinikum )
Tucked away out of sight in a row of red brick houses just off Seestraße , Preussiche Spirituosen Manufaktur Schroff und Stahl started life as an Institute for Fermentation in 1874. Later it became a distillery that produced ( also the first gin brand in Germany) herbal liqueurs and fruit brandies with illustrated customers like Kaiser Wilhelm I.
They do a guided tour on request but even then, popping by for a look. I met Henning, the owner and he was kind enough to show me the place briefly. Later we popped into their shop where you can buy some of their fine liqueurs or gin or vodka. I sampled Henning's favourite liqueur-the Ginger liqueur and it was sublime stuff. Highly recommend.
That was it-my day tour of Wedding. I missed out on a few places-Wedding is home to not one but two craft breweries so if time permits, pop into Brewery Eschenbrau ( Triftstraße 67- they have a beer garden so if the weather is good…) and also Brewery Vagabund Brauerei ( Antwerpener Str. 3 ) for a drink.
In terms of food, my local friends recommended Baba Sultan Kofteci (Luxemburger Str. 34 ) for their shish kebabs , Shikgoo ( Tegeler Strasse 25) for Korean food, Dan Thai Food (Reinickendorfer Str. 96 ) for affordable tasty Thai food and Cafe Dujardin for brunch.
Unpretentious, artistic and definitely cool-Loved Wedding and it almost felt like I went to a different place, city for a few hours.
Any feedback, questions about my guide to Wedding or Berlin in general-shoot me an email kash AT budgettraveller.org now! Danke schon.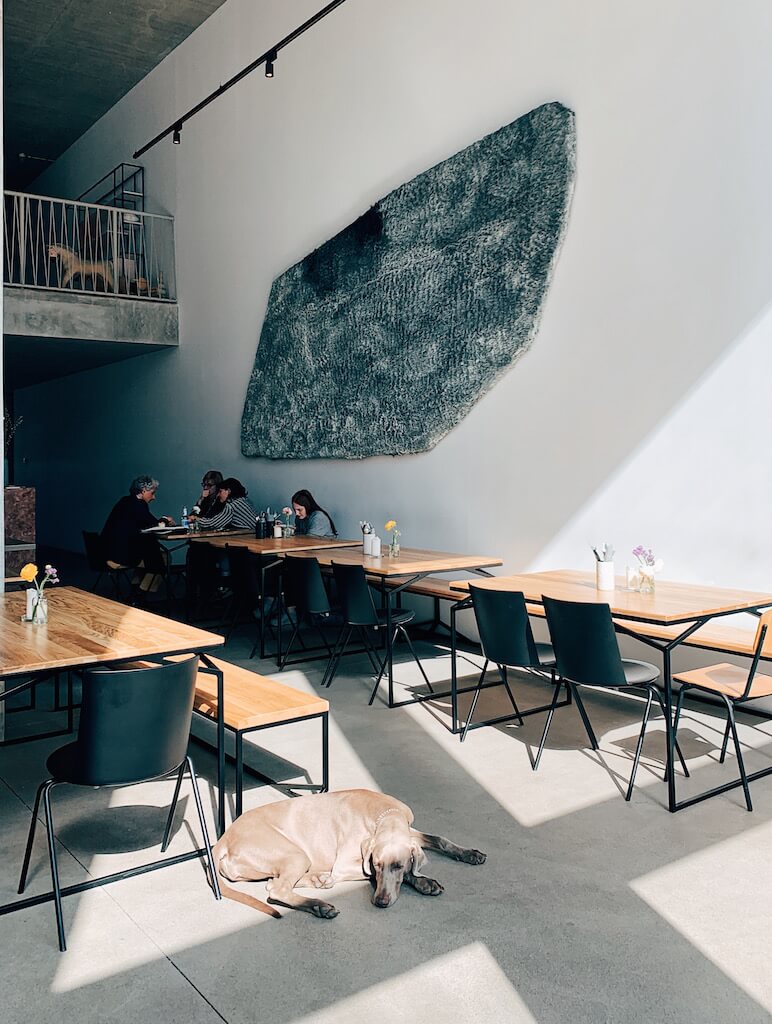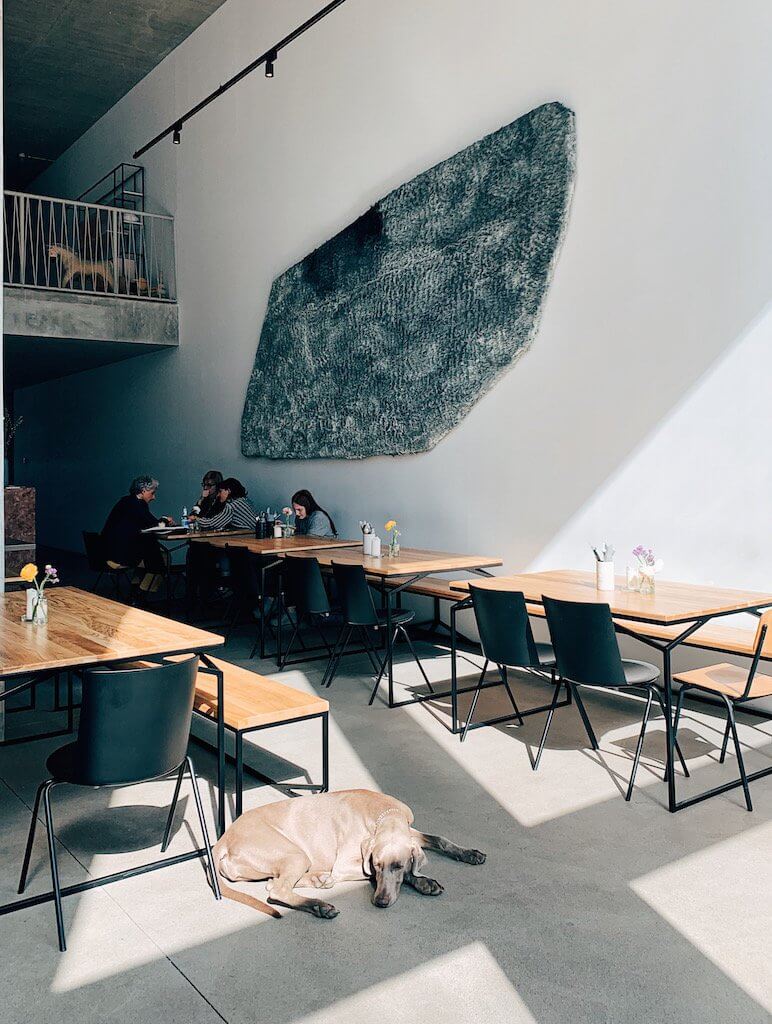 More reading
If you are keen on exploring more hidden and lesser known areas of Berlin, download the app Going Local
If you are interested in discovering Berlin through unique stories from its past, present and future , checkout the new app About Berlin 
Also checkout my other excellent guides on free things to do in Berlin , my guide to things to do in Berlin on a budget, my guide to the best budget places to stay in Berlin, how to hack the Berlin public transport system & you're also the kind of person who explores places through movies, checkout my earlier guide to movies set in Berlin.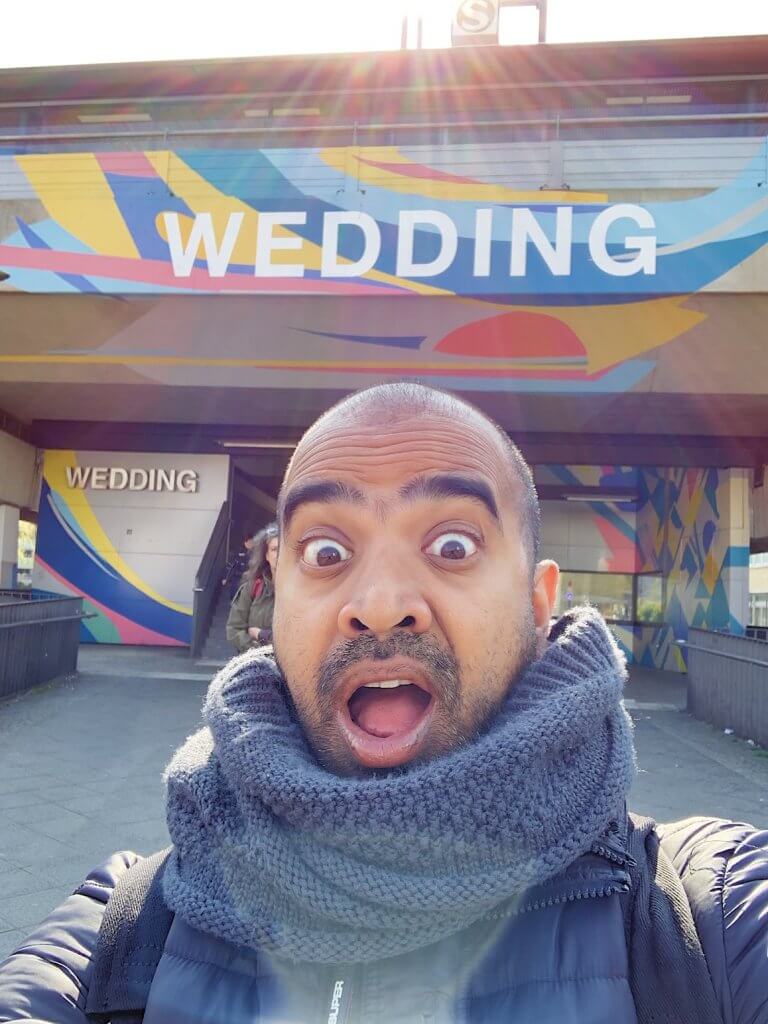 Disclaimer
This guide was made possible by the lovely people at Visit Berlin but the views, opinions are all my own. Huge thanks to Jordana and the team Visit Berlin for letting me be a tourist in my own backyard