Excited to be finally be able to share with you 8 of my favourite budget places to stay in Prague. There's a nice mix of budget hotels and hostels to choose from, depending on your budget. Look forward to your feedback and if you are visiting Prague, do checkout my recently updated guide to the 24 best things to do in Prague plus my tips on the best things to do on a budget in Prague's Old Town. Before we jump into my recommendations, I'll answer a few key questions that will help you decide which hostel in Prague is best for you.
Where is the best area to stay in Prague
Most of the hostels featured here are in the Old Town. If you are first time visitor to the city and here for a short break then the Staré Město aka Old Town is the best choice. Even though it has become a tourist hotspot , especially in the summer month the relative distance to all the key landmarks Astronomical Clock, Old Town Square and the Church of Our Lady before Týn, make the Old Town a good choice. My personal favourite neighbourhoods is Zizkov which borders Stare Mesto and the Hradcarny ( Castle ) area. The main train station (Hlavni Nadrazi) is a just a few hops on the tram plus Zizkov has the unique distinction of having the highest density of bars per square km, more than anywhere in Europe. You can drink some fabulous Pilsner Urquell on draft for as little as €2.50/€3 a pint. My other favourite neighbourhood is the industrial district called Holesovice ( where Sir Toby's is located ) aka Prague 7 where you have access to some great places to eat and drink plus the fabulous Cross Country Club, the best alternative club in Prague is here and…. the Letna Beer Garden ( with the best view of Prague ) is a hop, skip and jump away.
Are hostels in Prague safe?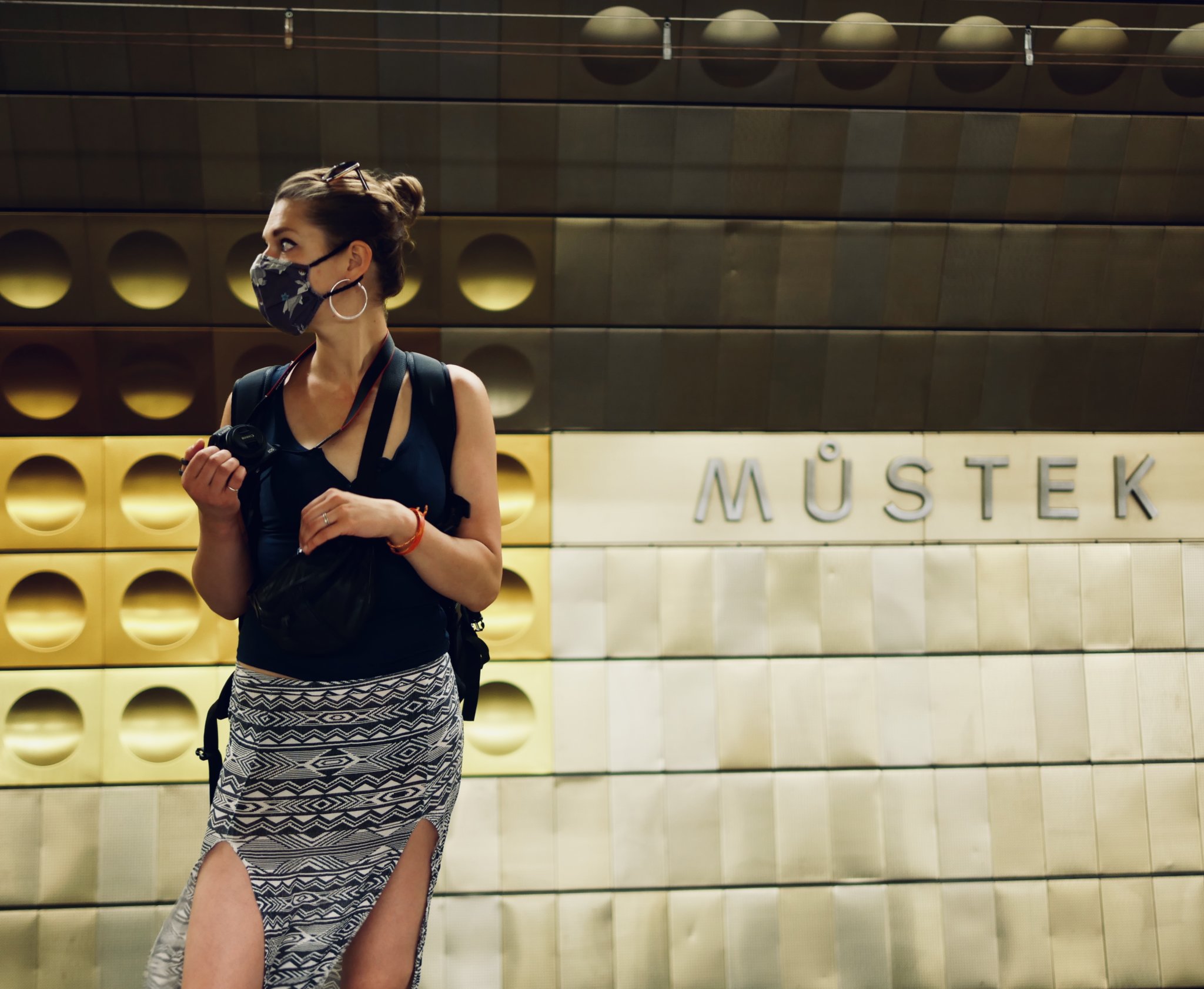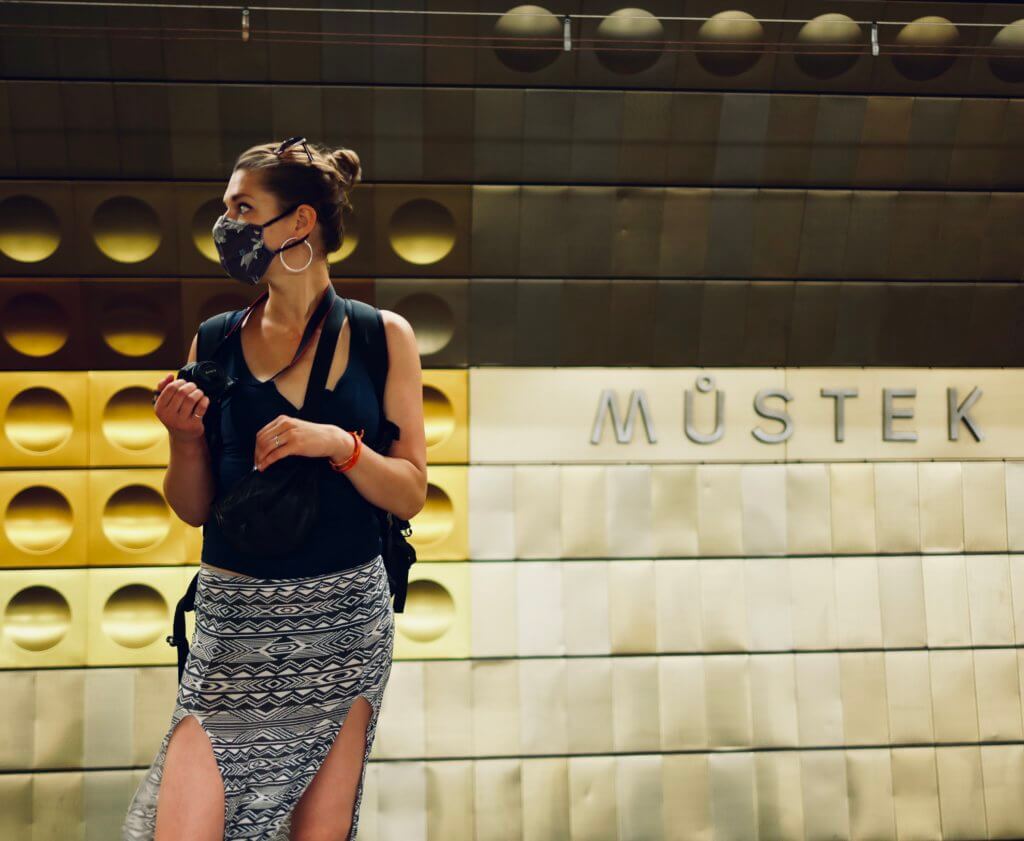 If you are questioning whether to stay in a hostel or hotel in Prague, I would emphatically recommend hostels because Prague has some of the best hostels in Europe in terms of design, in terms of character plus they are well run by great team of experienced staff and are extremely safe. All the hostels offer lockers. They will have a member of staff working 24 hours and will have security cameras installed. In terms of general tips, always travel with a padlock , don't leave your valuables lying around and always have a comprehensive travel insurance.
So without further, adieu, I present to you the 8 best budget places to stay in Prague.
1) Czech Inn Prague
Address: Francouzska 76, Praha 101 00.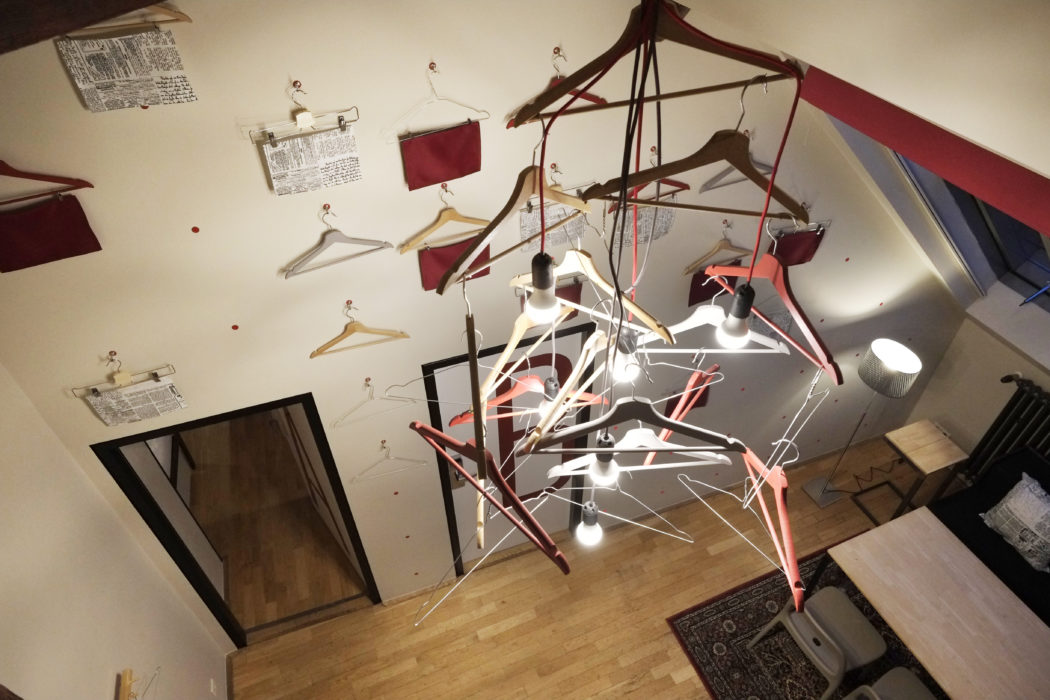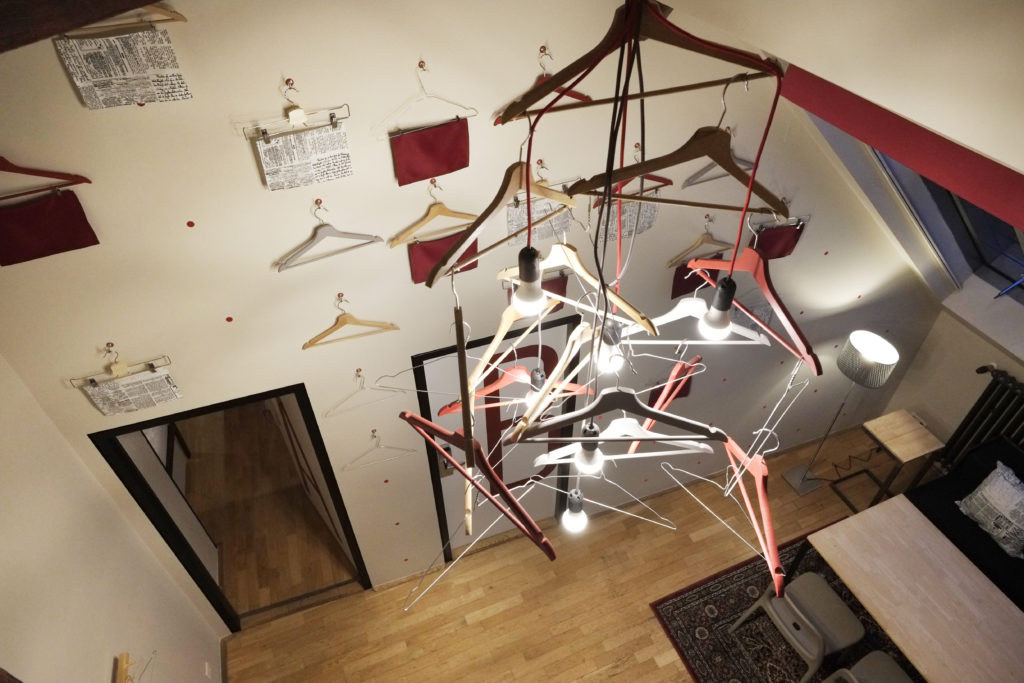 If you want to escape the hustle and bustle of the touristy city-centre of Prague, we recommend a stay at the Czech Inn, in Prague's upbeat Vrsovice Neighbourhood.
This part of town, previously a working class area, has been recently revived into a hipster/artsy neighbourhood. The hostel is accessible (Krymska stop) via the 10, 16, 22 trams or the 135 Bus from Florenc bus station.
The Czech Inn provides the option of private rooms or beds in hostel dorms. You can choose from 4-36 bed dorms. Some of these are all-male or all-female.
The private rooms are fitted out with all sorts of creature comforts, but the premium dorms are pretty fancy too. These dorms consist of 2 bedrooms with a common kitchen and living room area, more than one bathroom and no bunk beds. The standard dorms are more basic but are due an upgrade.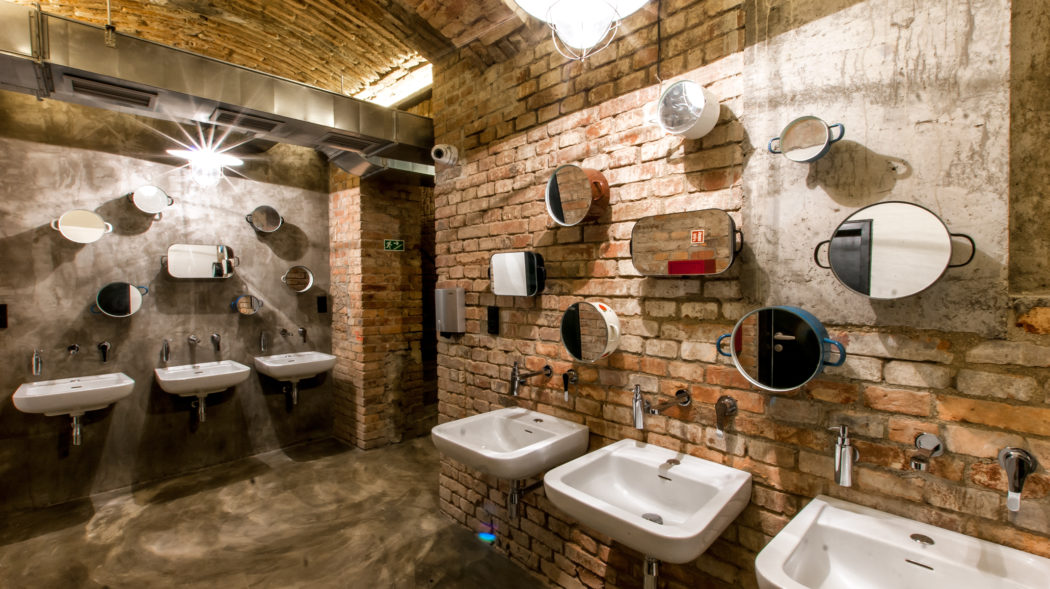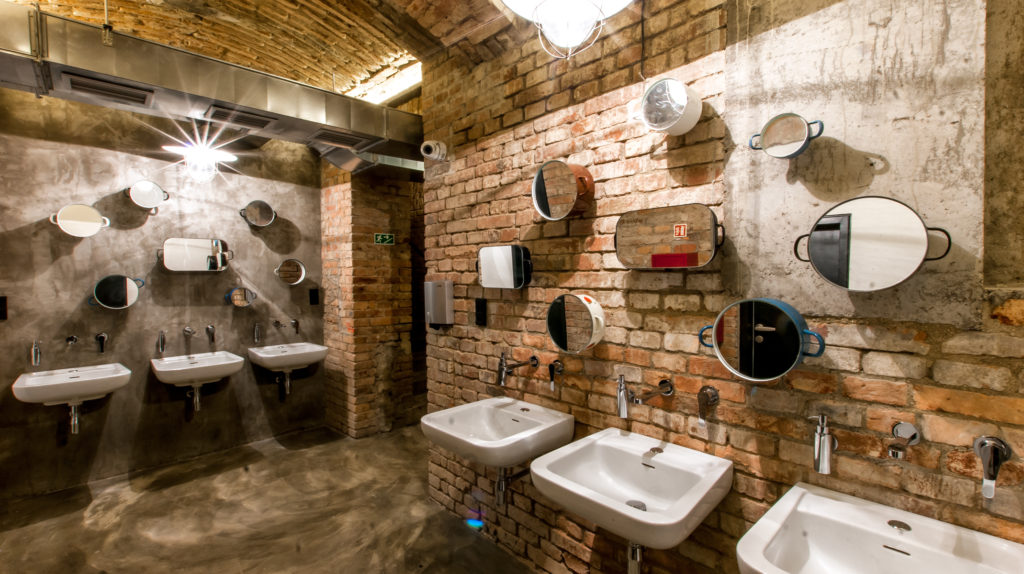 Czech Inn has the option of breakfast for €6. Other great amenities include free linen and Wi-Fi, free local maps sharing points of interest, towels for rent, borrowing of alarm clocks, hairdryers and adapters.
An on site bar in the basement with microbrew bar and scheduled entertainment, make this a lively spot at night.
The beautiful and unique decor make this one of the most visually interesting hostels I have ever visited.
Rates: Booking via Hostelworld.com , dorm beds start from €12, premium dorm beds €19, private double rooms €60 (all low season).
2) The MadHouse Prague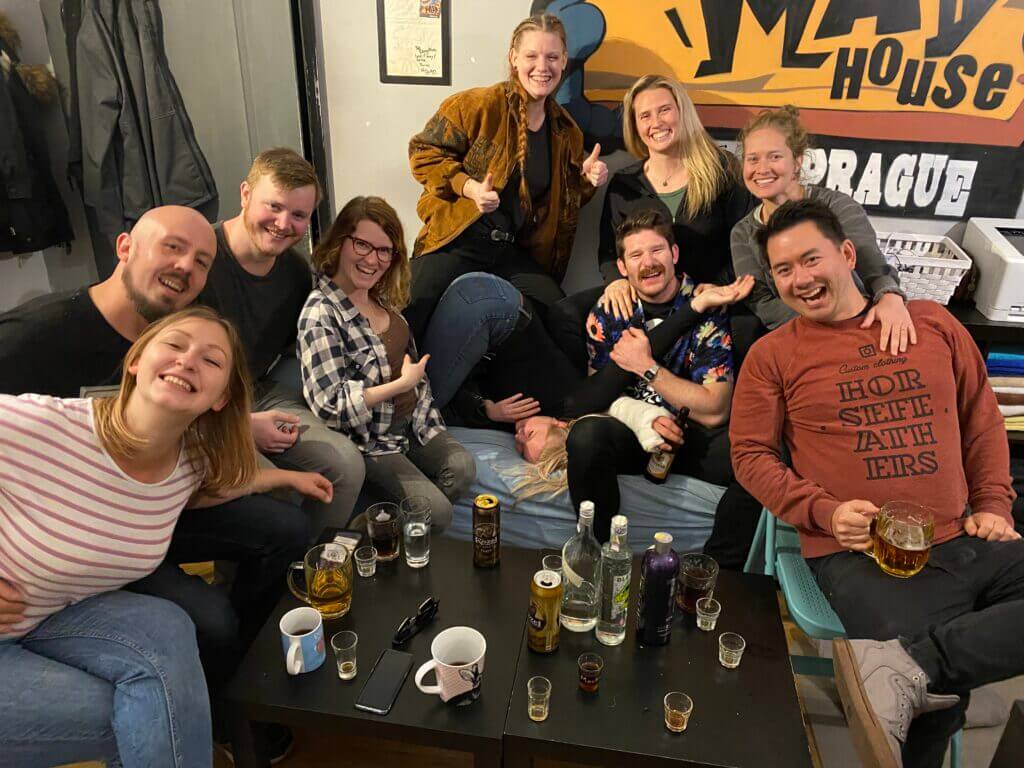 The MadHouse Prague is one of the few party hostels which strikes the perfect balance between being a social space where you can connect with other travellers but also allowing you to have your own space and switch off if needed- a rare thing. The nice mix of international staff members are definitely the stars here and do everything to create a social environment where guests feel a sense of home and belonging. There is an extensive programme of daily activities that guests can look forward that include trips to the local beer gardens , pub crawls plus they also organise very cheap daily family dinners which is a great way to meet other fellow travellers. There is also a spacious well equipped kitchen which is where the family dinners take place and where you can enjoy a coffee Other star highlights include the comfy TV lounge full of bean bags and sofas where you can unwind with a book or catchup on your emails or Instagram feed. The dorms here are spacious and are en-suite with a further two bathrooms available on the first floor. Plus, they rate very highly for cleanliness so all in all this is a great hostel, brilliant location in the heart of Prague's Old Town, metro + tram stop across the street and a short walk to all the key sights.
Note: There is a 18-45 Years Old age limit so keep that in mind.
Rates: Booking via Hostelworld.com, dorm beds start from €21 for a bed in a 12 bed mixed dorm and €24 for a bed in a 8 bed mixed dorms.
If you are looking for something more chill and less party, a quiet social hostel , then I highly recommend their sister hostel, RoadHouse Prague.
3) Sophie's Hostel
Address: Melounová 2, 120 00, Czech Republic.
The location of Sophie's Hostel has the best of both worlds- a short tram ride or metro stop into the city centre but located in a relatively quiet corner of New Town. The hostel can be found in a pretty locale, on the edge of the Vinohrady area.
The nearest metro stop is IP Pavlova stop on the Red C line tram; IP Pavlova on the 10,11,16 or 22 trams.
If you are interested in finding out how the locals live, then the area surrounding the hostel has a number of bars, restaurants and markets and also Namesti Miru- the location of the Christmas Market.
Facilities provided by the hostel include complimentary Wi-Fi, linens and local maps. Towels need to be rented though. Sophie's also hosts events like beer tasting, pancake nights or 10K riverside runs.
Guests can choose between an all-you-can-eat buffet (served from 7-12) including breads, ham and cheese selection, jams, granola, fruits, veggies yoghurt, juice, tea and coffee or their brunch (served 8-12), including the buffet and this includes freshly cooked eggs, pancakes, waffles, bacon and more.
There are all sorts of rooms at Sophie's Hostel: apartments, dorms and private's. Dorms (option of female only also available) have comfy bunkbeds with individual lockers, a shelf, personal light and a plug point. The rain-showers in the bathroom are notable too!
Rates: Booking via Hostelworld.com prices start from €14 for a dorm bed, twin/double room €66 (all in low season).
4) Sir Toby's
Address: Delnická 24, Praha 7, Czech Republic.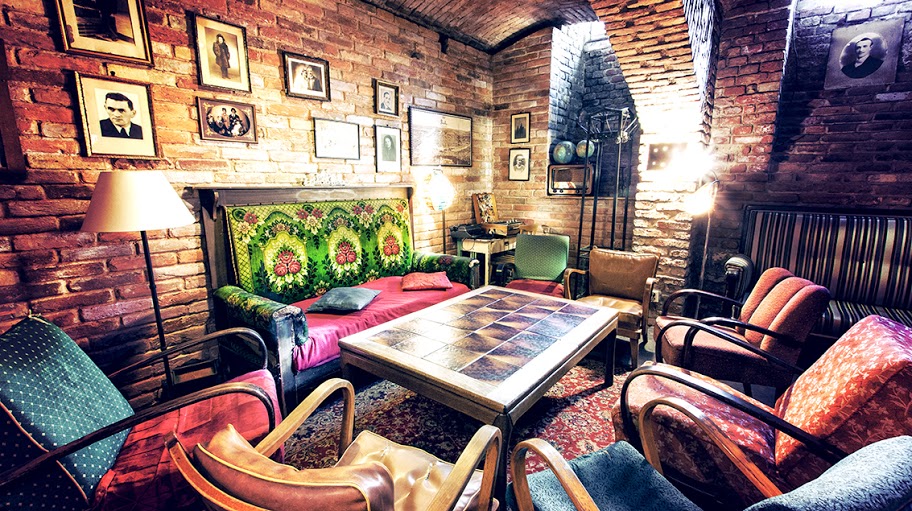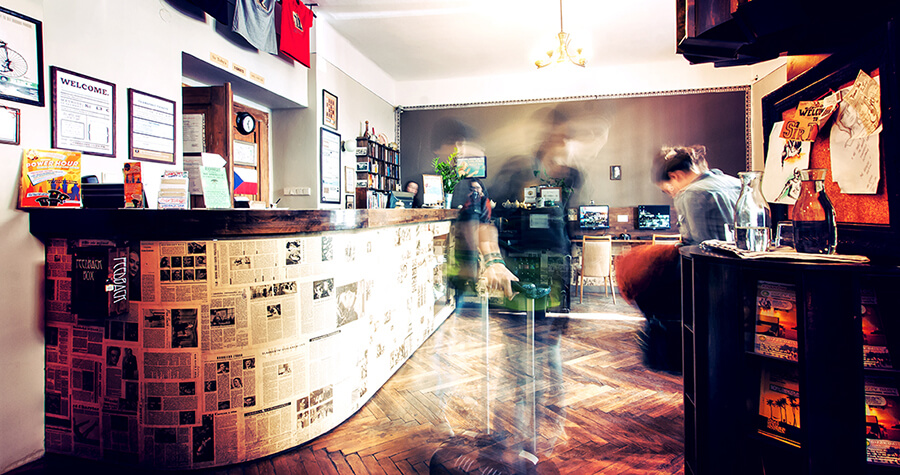 If you are not fussed about being in an upscale or central location in Prague, then Sir Toby's is the hostel for you. You will find it in Northern Prague, in a previously industrial district called Holesovice.
The hostel more than makes up for neighbourhood ambience with the beautiful antiquated interiors. It's a mix of several styles the antique, Art Deco- ornate yet still very affordable.
To get to the historic centre of town, avail of the 1,12,14 or 25 trams. The nearest stop to the hostel is the Delnická stop.
Regarding rooms, choose from 5 to 12 person dorm rooms that also include male or female dorms, artistically designed private rooms with wooden floors, interesting wallpaper and vintage features.
As regards perks, Sir Toby's offers free barbecues in their pub. The friendly staff, social atmosphere and beautiful vintage design elements, make this an outstanding hostel.
Rates: Booking via Hostelworld.com dorm beds start from €11 in low season and €54 in double rooms.
5) Plus Hostels Prague
Address: Prívozní 1562/1, 170 00 Praha 7, Czechia.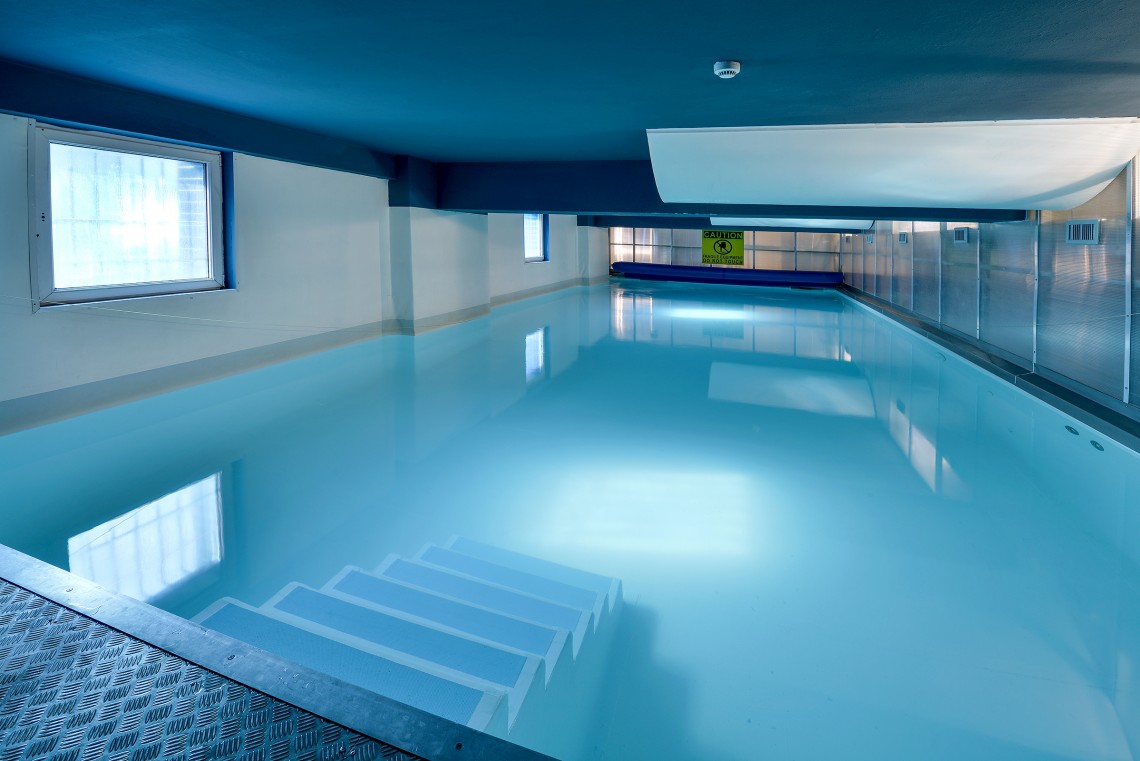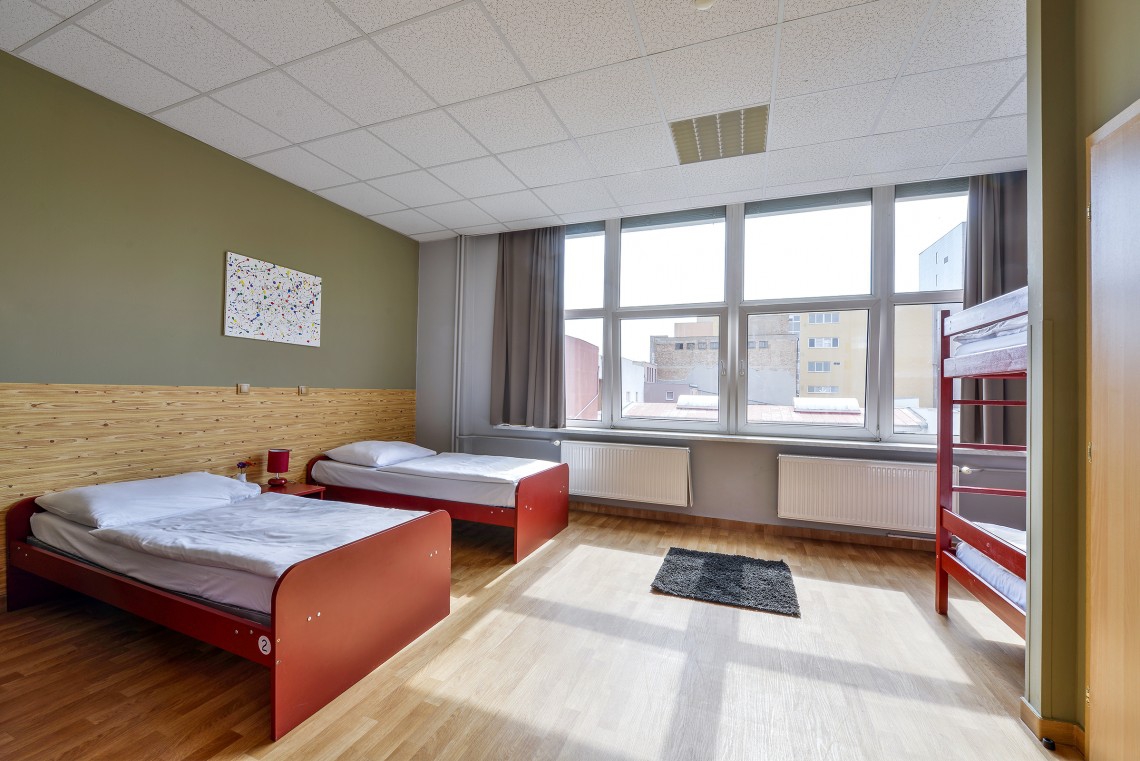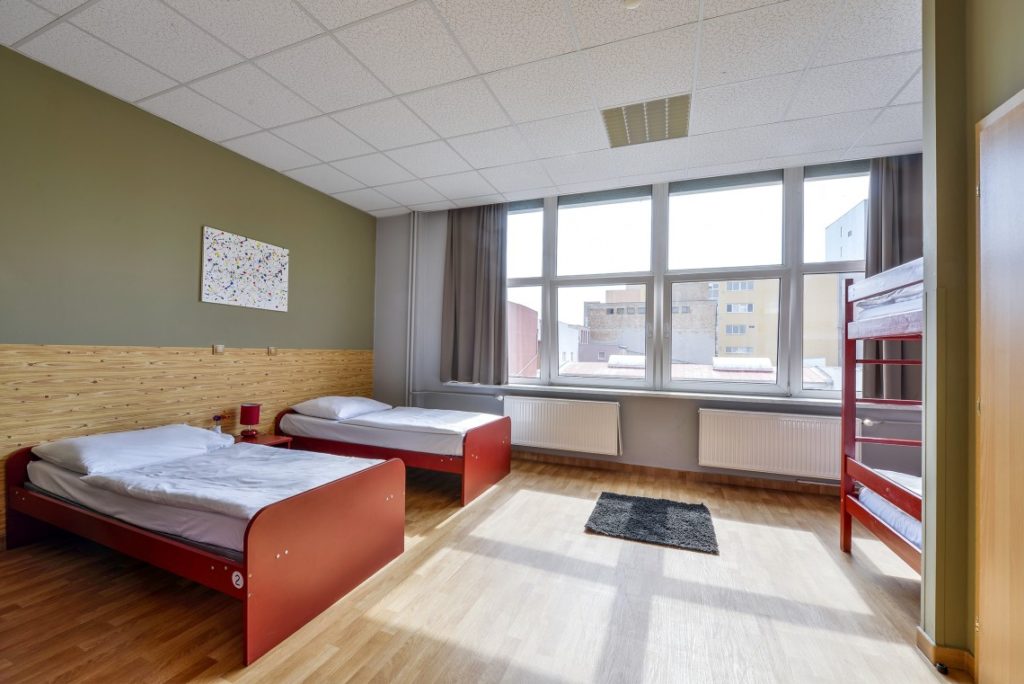 Plus Hostels Prague is located in Praha 7, which might seem to be in an off-central location but the immediate neighborhood is quiet and just opposite a tram stop. The tram will drop you conveniently into Mala Strana in just 15 minutes and the Holesevice train station is very close by.
The hostel has a number of cool facilities to offer- an indoor salt-water swimming pool, sauna, private gym, beach volleyball court and onsite bar and restaurant that doubles up into a night time entertainment spot.
Dorm rooms and privates are quite spacious and comfortable. The 8-bed dorms and private rooms are all ensuite and are great value for money. All the beds come with free linens, a duvet and pillow. The female only dorms have a free welcome pack. Choose from double standard ensuite, twin private ensuite, triple standard ensuite, quadruple standard ensuite, 4,6 or 8 bed dorms or female dorms.
With luxurious facilities like a swimming pool and sauna and the lower price point, you can't really complain with this hostel.
Rates: Booking via Hostelworld.com for a bed in an 8-bed dorm €10, for a private room sleeping two people, €36.
6) NYX Hotel Prague
Address: Panska 9, 110 00 Prague 1-Czech Republic.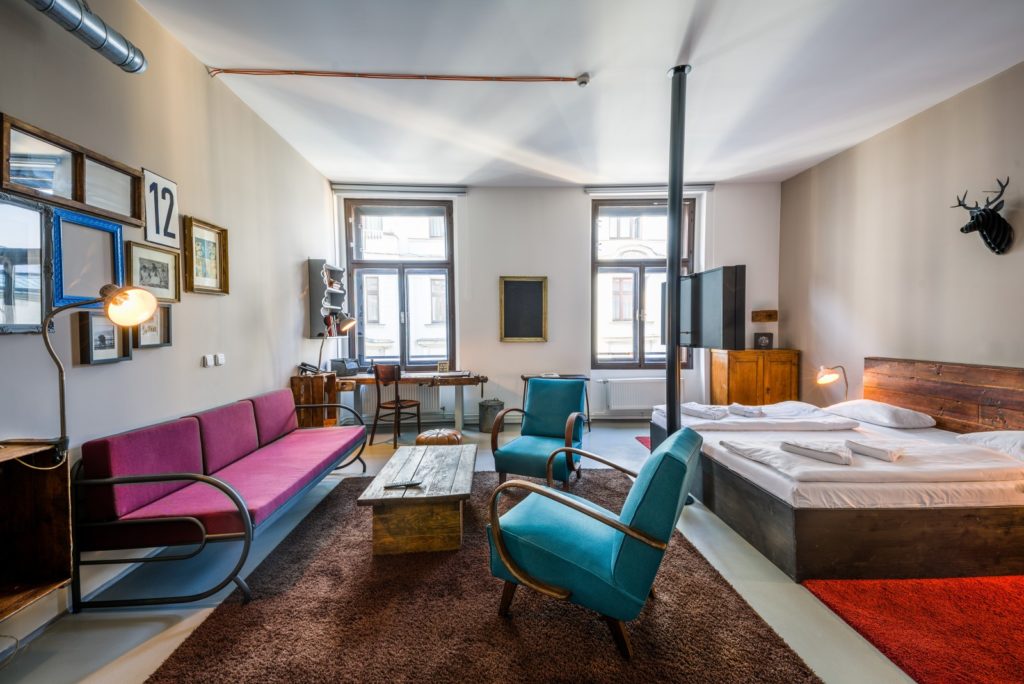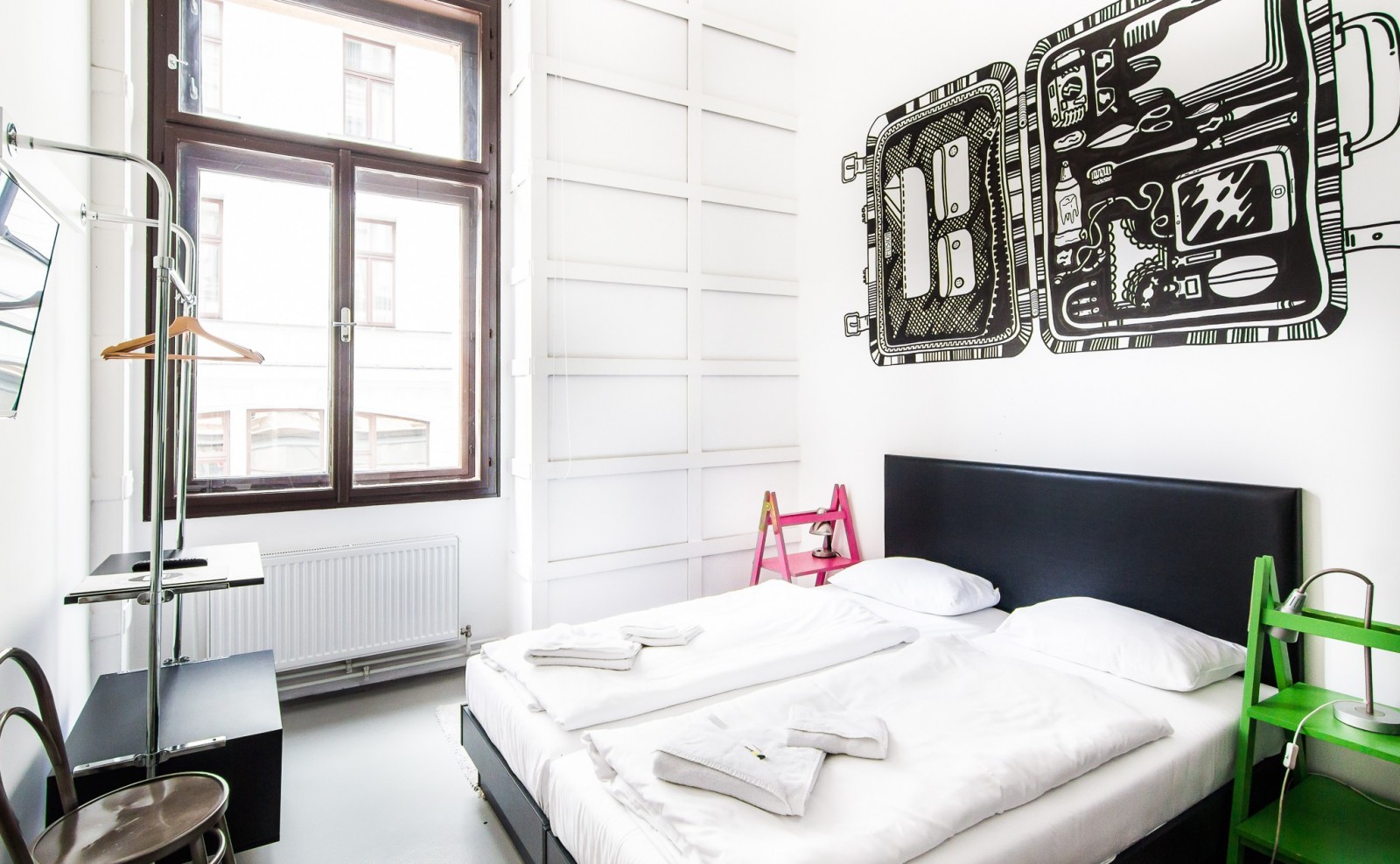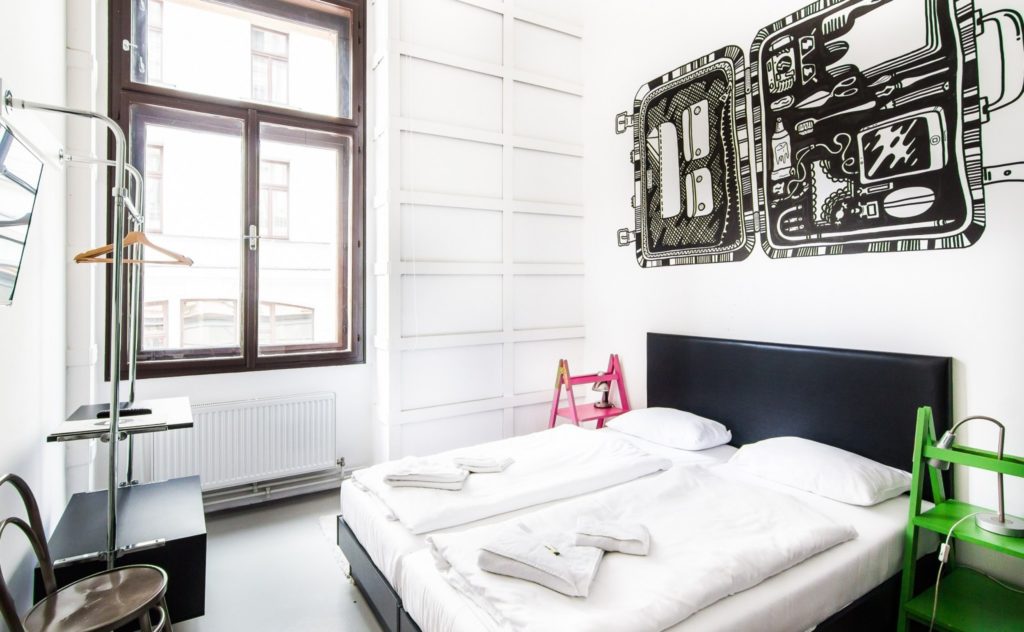 This is a hotel whose philosophy centres around fusing the budget accommodation brand, with style that's not bland or boring. The hotel aims to cater to a wide range of people with different ideas and expectations.
Facilities provided by this cool hotel include free Wi-Fi in all areas, a Skype box for calls, live music, a shisha lounge, a playroom with interactive electronic games and much more.
The rooms range from doubles, triples, quadruples, family rooms (two adults two children) and the 'Xtensive Room' sleeping 2-6 people in the 'largest bed in Central Europe'.
The location is unparalleled- close to all the sites, 50m from historic Wenceslaw Square. The Mustek metro line A,B is 50m away.
Rates: Rooms start rom €62 per night.
7) Miss Sophie's Hotel
Address: Melounová 3, 120 00 Prague, Czech Republic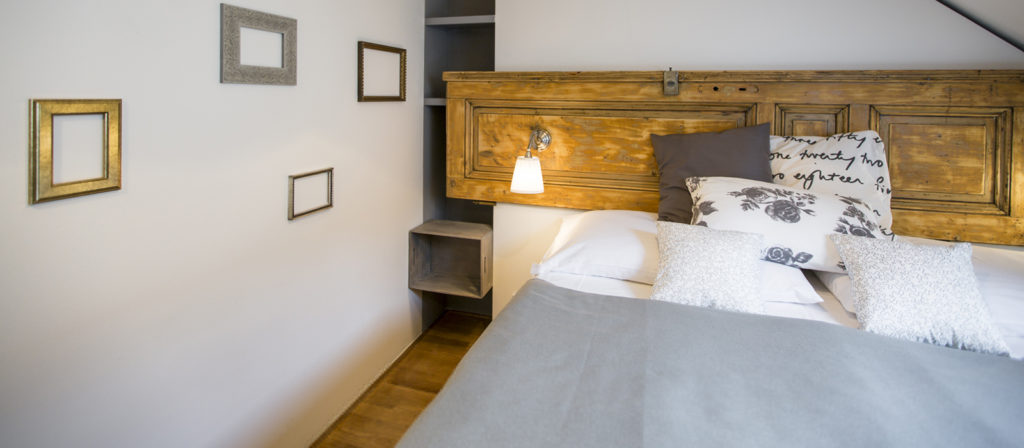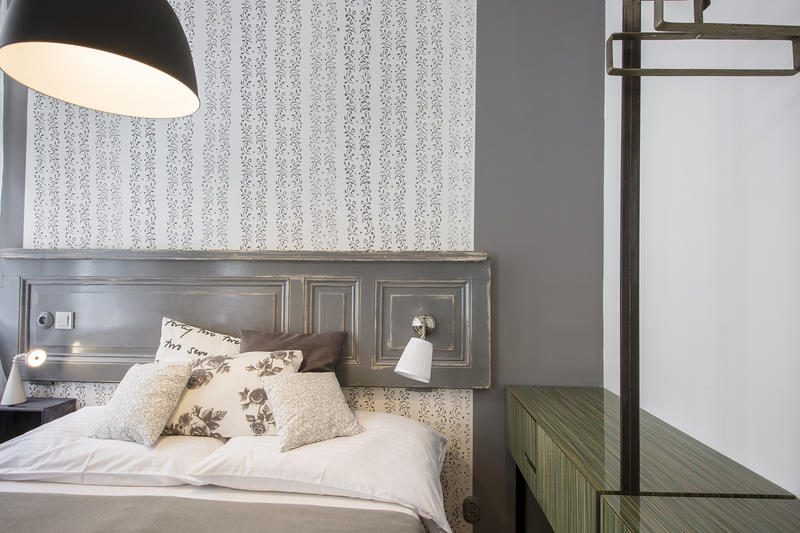 This recently renovated Hotel is right next to its sister hostel, Sophie's Hostel. The design is chic and has great aesthetic appeal. The ambience in calm and relaxing. Pop next door for breakfast at Sophie's Hostel.
The hotel is well located- just a 5 minute walk away from Wenceslaw Square. It will take you 30 minutes to walk into the Old Town Square.
This hotel definitely fits the budget boutique category. Though there might be a lack of things to do at the hotel itself, you can benefit from all the standard facilities: free Wi-Fi, free local area maps, advice from friendly staff about places to eat and visit, luggage storage facilities etc.
There are 16 rooms in total: of which 6 are triples. The hotel is housed in an old Art Nouveau building but the interior is very modern in design. The bathrooms are clean and adequate. They are installed with rain showers. The triple rooms are good for couples travelling with one child.
Rates: Rooms start from €43 per night.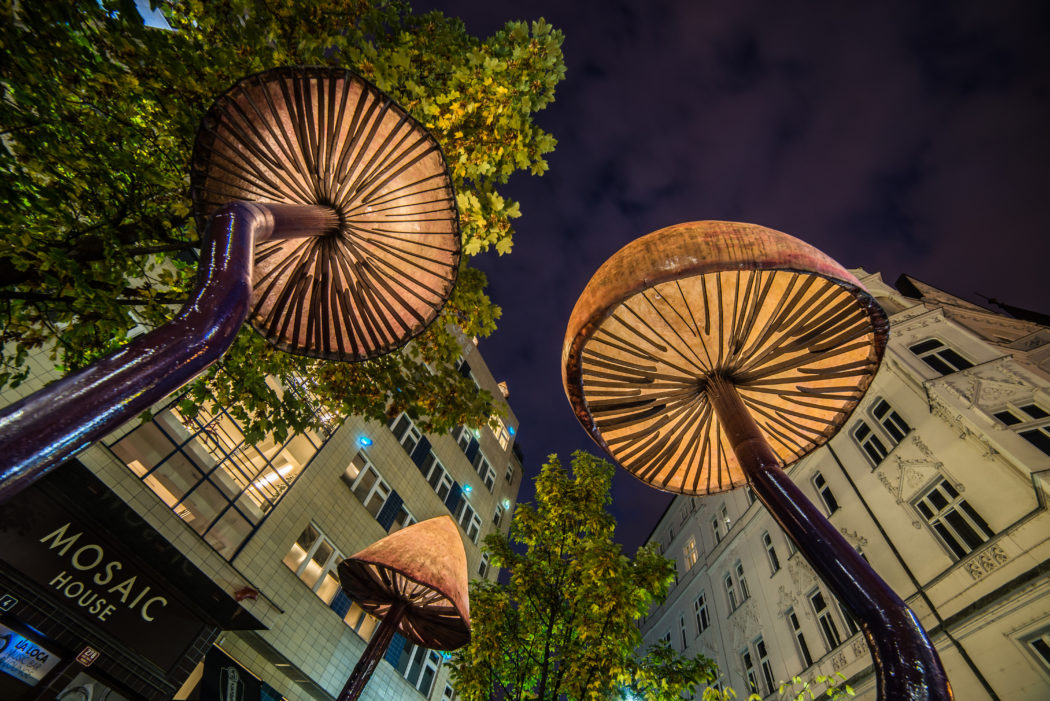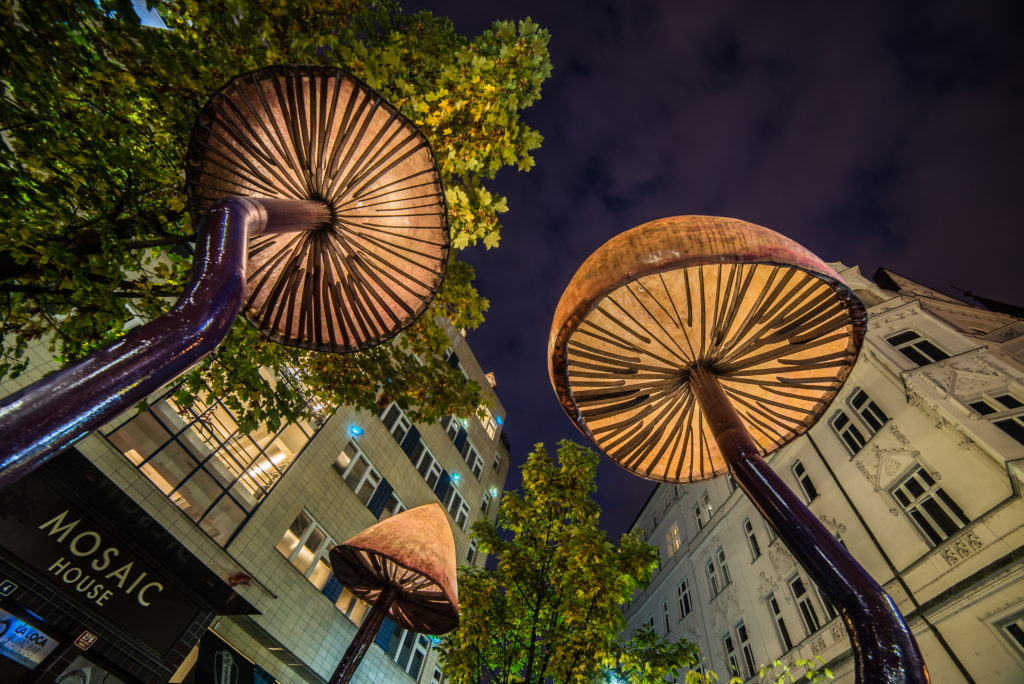 8) Mosaic House Hotel
Address: Odboru 278/4, 120 00, Praha 2, Czechia.
Located in the heart of Prague, the Mosaic House Hotel is the perfect starting place to explore the sights of the city. As regards transportation, the nearest metro is just a 5-minute walk away (Karlovo namesti).
The most outstanding feature of the Mosaic House Hotel is its focus on maintaining a green, eco-conscious environment in the hostel. It uses a water recycling system and generates 100% renewable energy. The other cool feature of the hotel is their in-house music bar and lounge where they host a mix of international and local bands.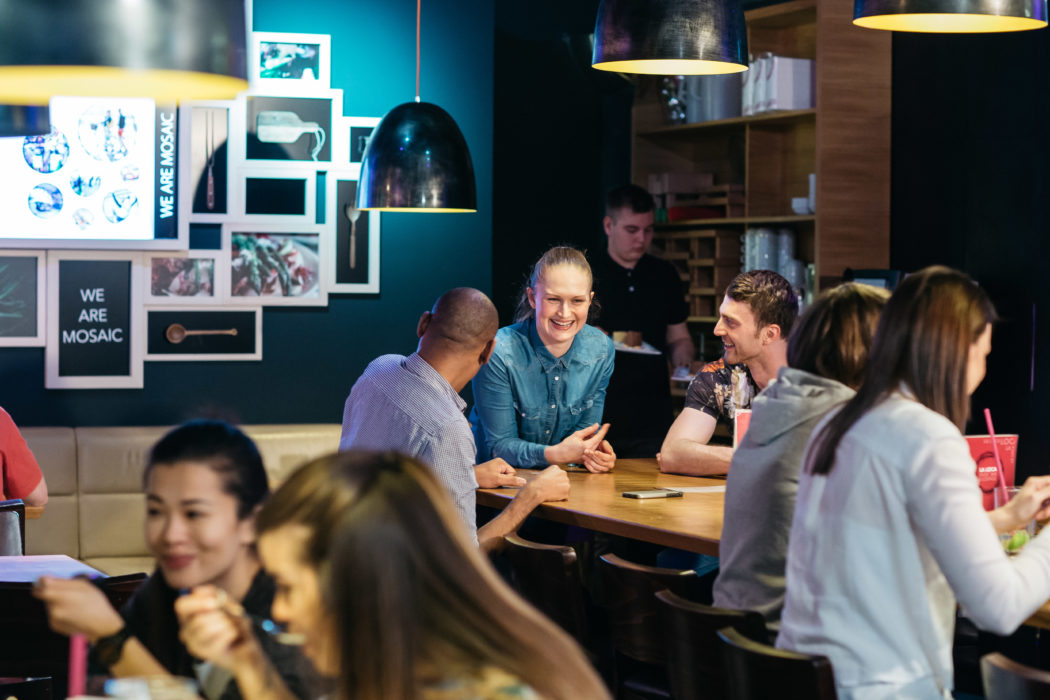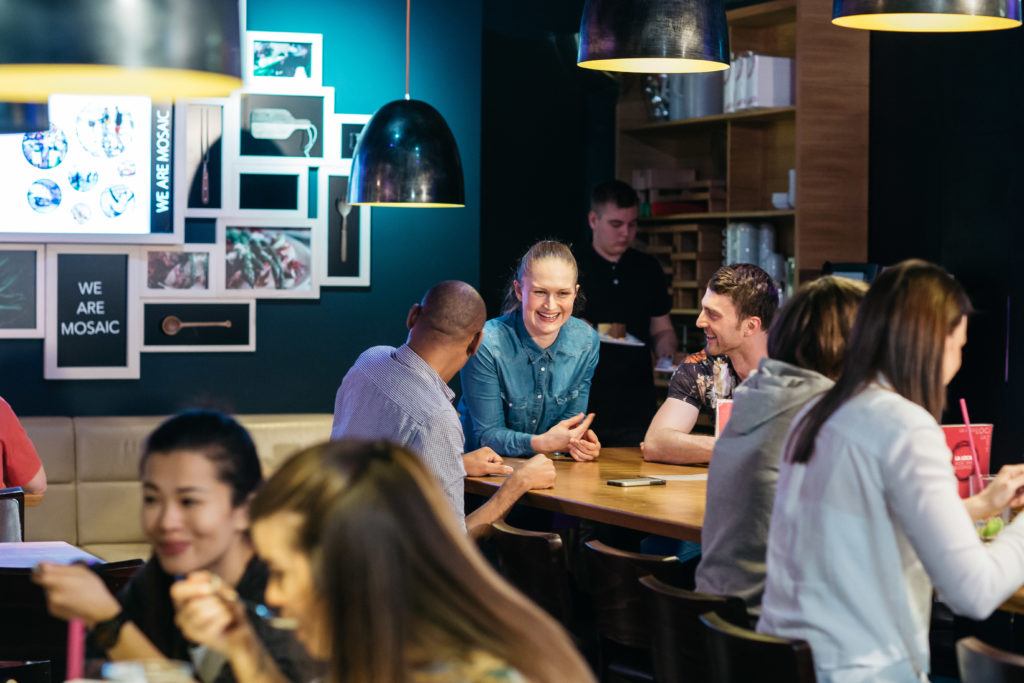 Rates: Private rooms start from €65 via Booking.com