Maybe its the romantic in me or maybe a sign of my age. There is something to be said about old fishing harbours and just sitting there, watching the world go by. Vociferous seagulls sail past brightly painted fishing boats while century old red brick buildings sulk in the background. I stand for an eternity looking at this scene and it makes me so happy. The smug happiness you have when fate unexpectedly brings you to a beautiful place you've never heard of.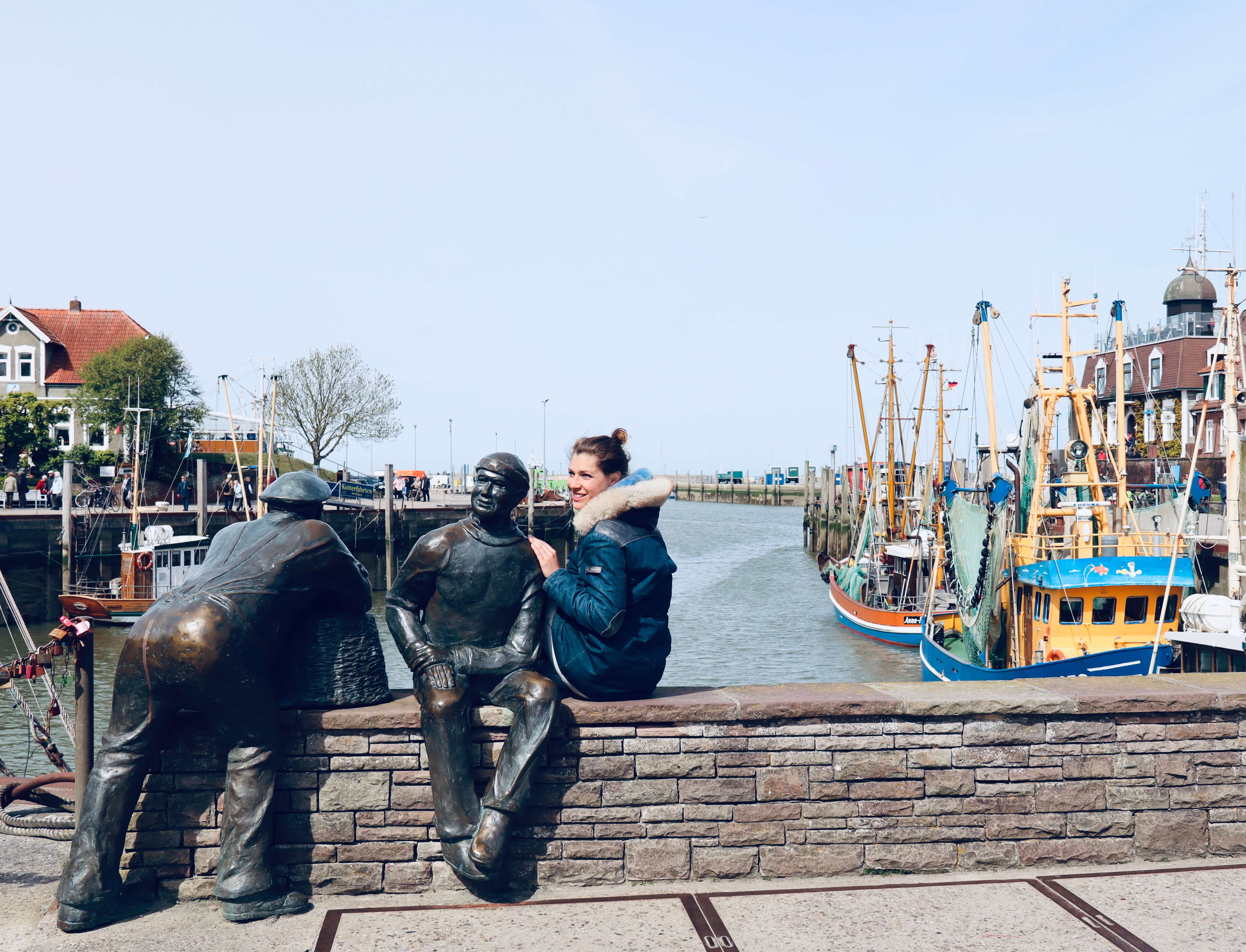 This is Neuharlingersiel, a small fishing village on Germany's North Sea coast. While not a destination in its own right, it is a popular jumping off point for anyone wanting to visit the East Frisian Island of Spiekeroog which is just a 45 minute journey away. Harlesiel, from where we had boarded our ferry earlier to Wangerooge ( if you missed it, here's the story behind that trip ) is a 25 minute ride away.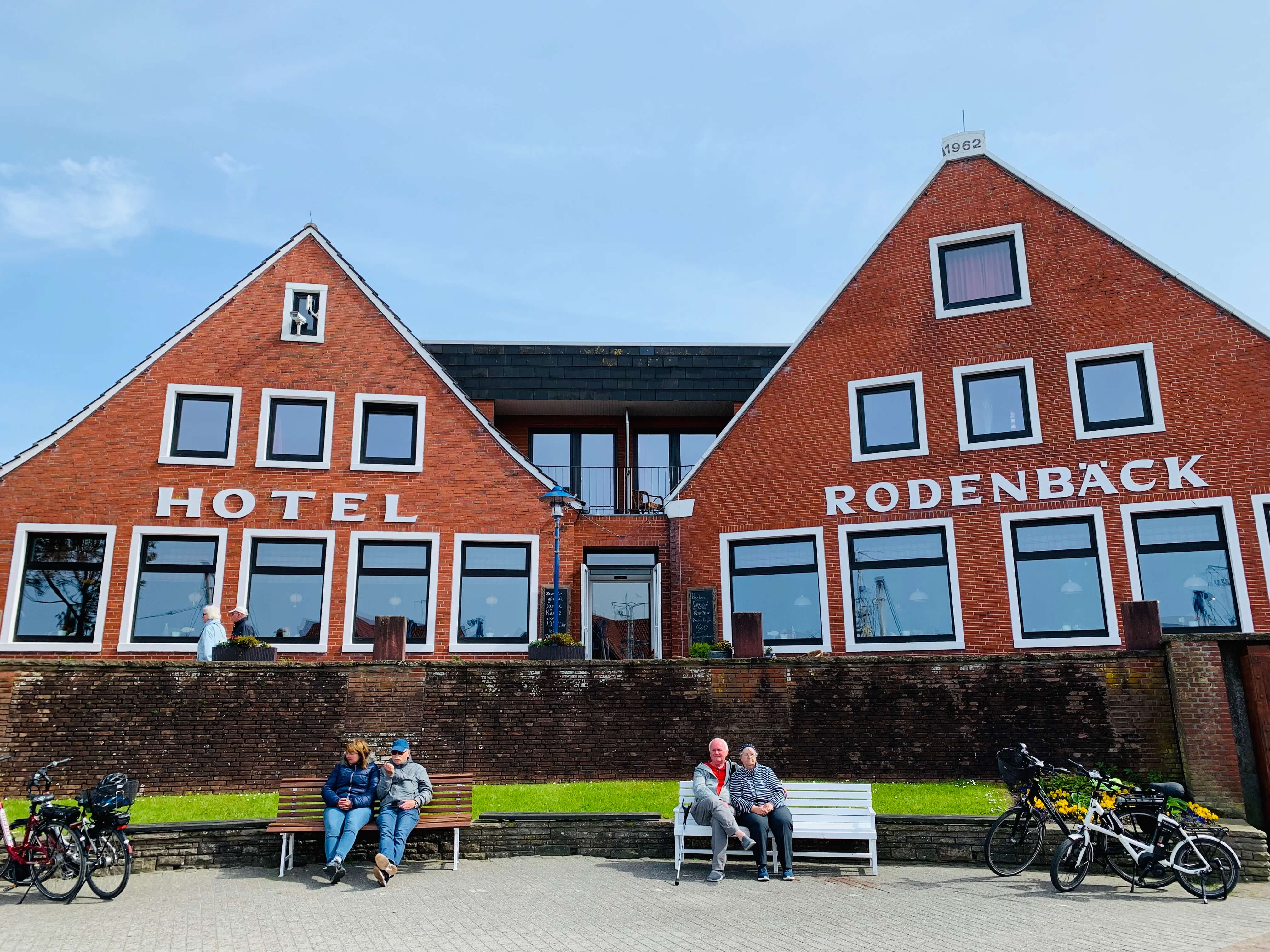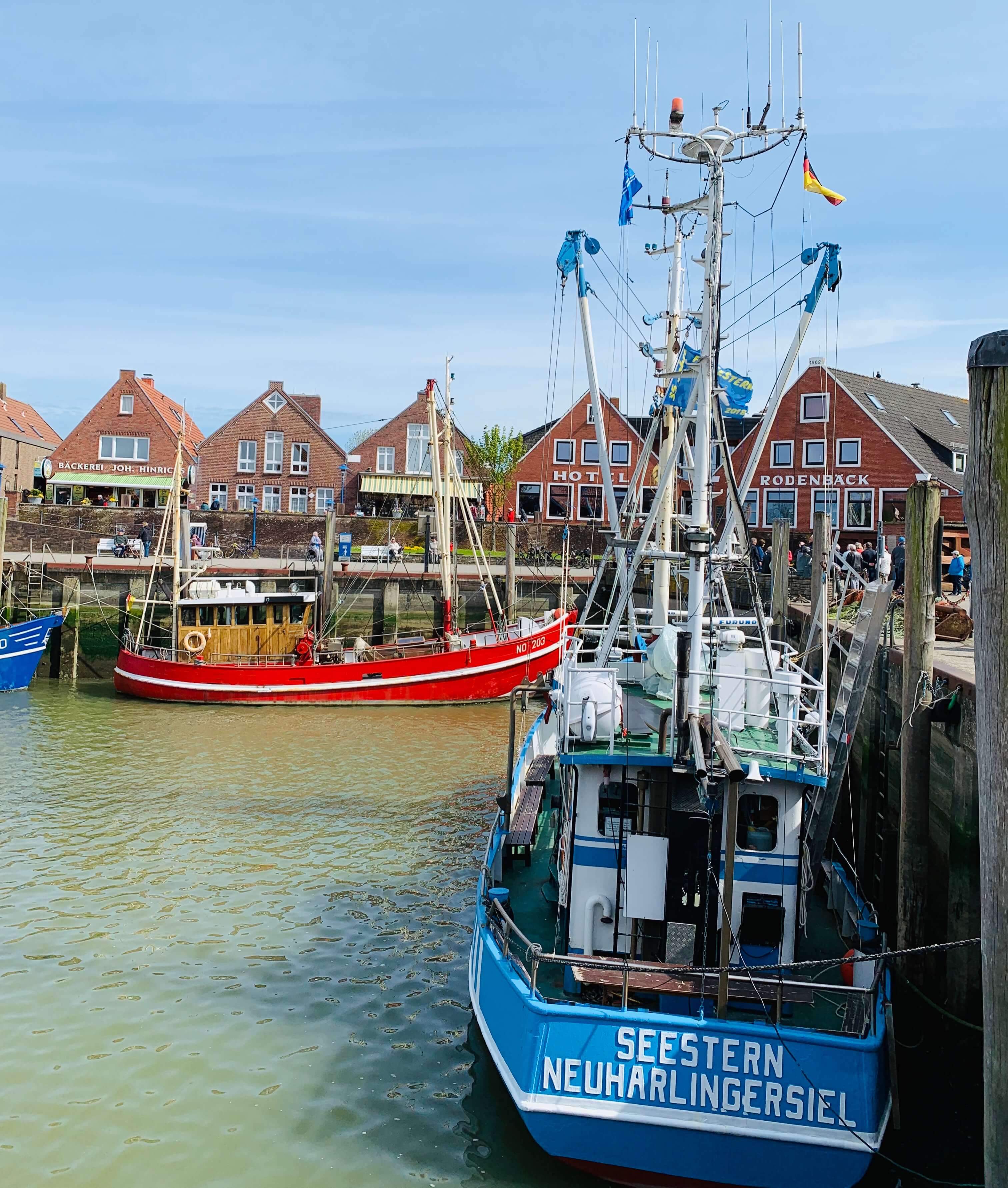 The joy of coming to Neuharlingersiel lies in its simplicity. Scenes like this – a bucolic fishing village where you see clusters of grubby fishermen sitting propped against their boats mending their nets, while cats prowl the deck for forgotten scraps of fish. It feels like a scene from a 18th century dutch watercolour painting. For a moment standing there, you've been transported to a different era.
There's a fair gaggle of elderly locals keeping a close eye on proceedings. As I pop out my camera and start snapping , they look beadily at me from the string of benches lining the harbour. There are 2 or 3 excellent cafes along the harbour that are a popular draw for the locals and tourists alike. My pick of the harbour cafes is the ivy draped Cafe Störmhuus. If its a nice day perch yourself on the sunny upper rooftop deck or if its more on the chilly side, choose the cosy tearoom downstairs which offers a unique atmosphere with its fireplace and wood panelling. Choose their Ostfriesentorte , a true classic among the East Frisian desserts with delicious biscuit layer, lot of cream and brandy raisins to raise your spirits. If you're in the mood for something more active, you can try your hand at windsurfing or kitesurfing at the Strandbar. Or just grab a beer from their bar and soak up the sun in the comfort of their extensive selection of iconic Strandkorb– colourful wicker basket chairs that are typical from this part of the world.
DJH Neuharlingersiel Resort
We're staying a 10 minute walk up the road from the harbour at the nearby DJH Neuharlingersiel Resort as part of our #DJHExtraordinary tour. I've been invited to find out more about the resort which has been billed as 'The world's first youth club hostel.' I don't have any kids so in some ways it feels like 30 years too late for me personally but still, I love the concept of an all-inclusive resort where both adults and kids can indulge in a range of activities. For kids there is a whole bunch of organised activities to choose from- from quiz to disco to film nights in the evenings to archery lessons or the option of hiring canoes or going standup paddle boarding.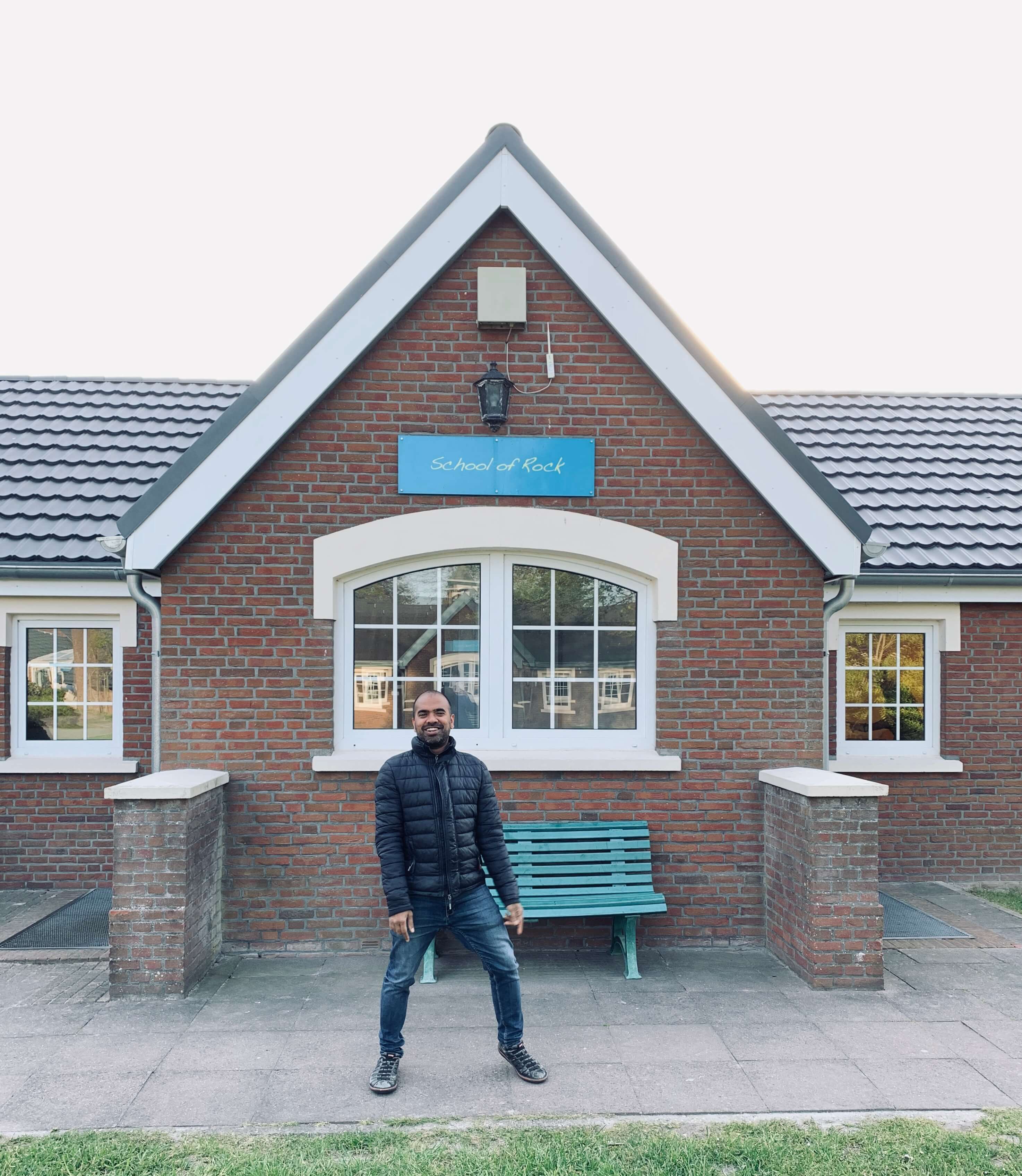 My pick of the facilities in the resort is their 'School of Rock' where you have fully equipped recording studio with drums, keyboards, guitars- you're all set to record your own album. There's also plenty for the big kids to indulge in too- the resort has a well stocked onsite bar with Sky Sports TV to catch all the latest sport plus an onsite sauna with sauna, jacuzzi, steam room available to use for as little as €9.50 a day.
If you're looking to stay in shape , the resort also has a small but adequate onsite gym open around the clock. The resort like many of the DJH hostels offers the option of staying on a Bed and Breakfast or Full Board basis. The food is simple but hearty food.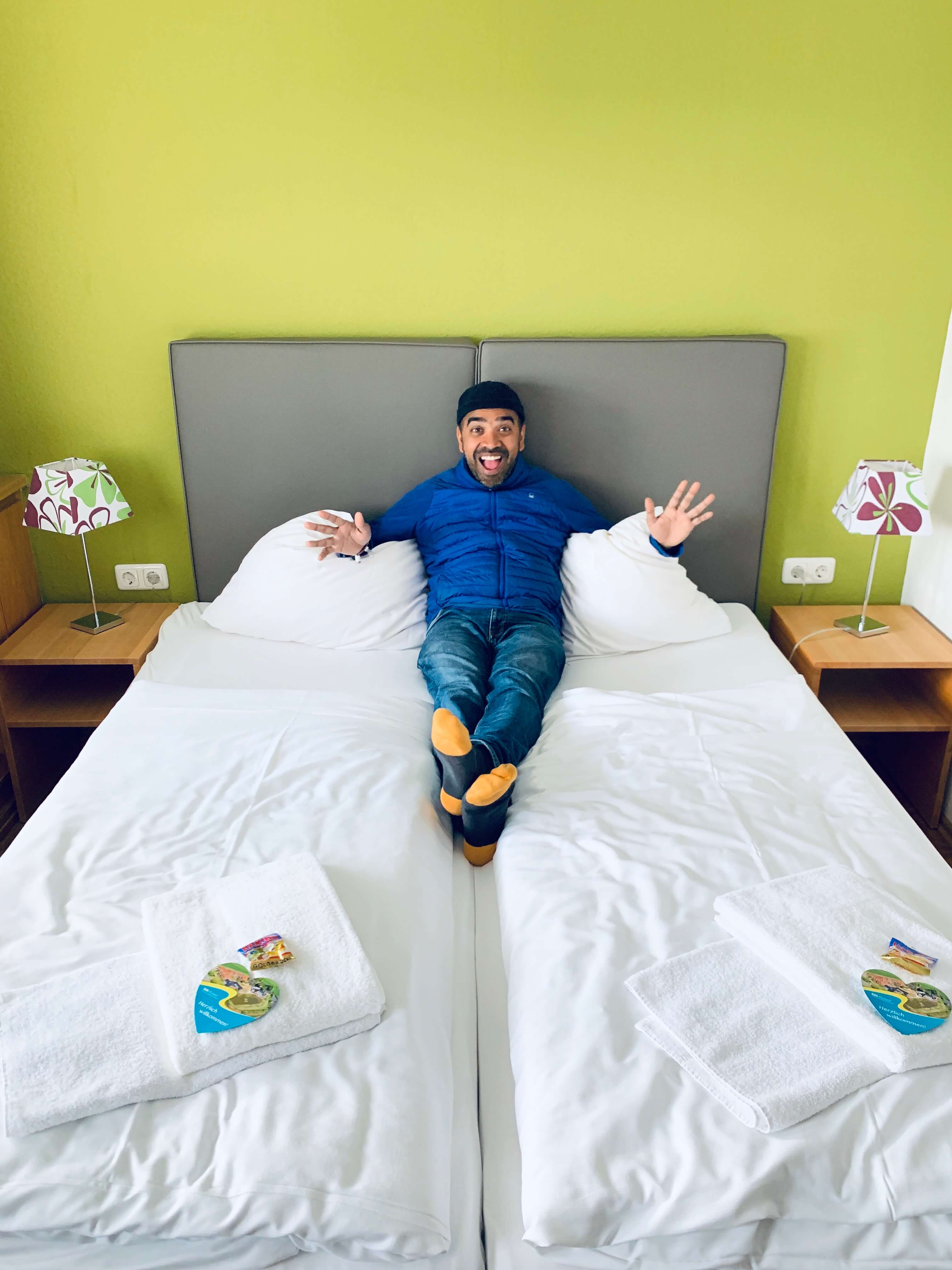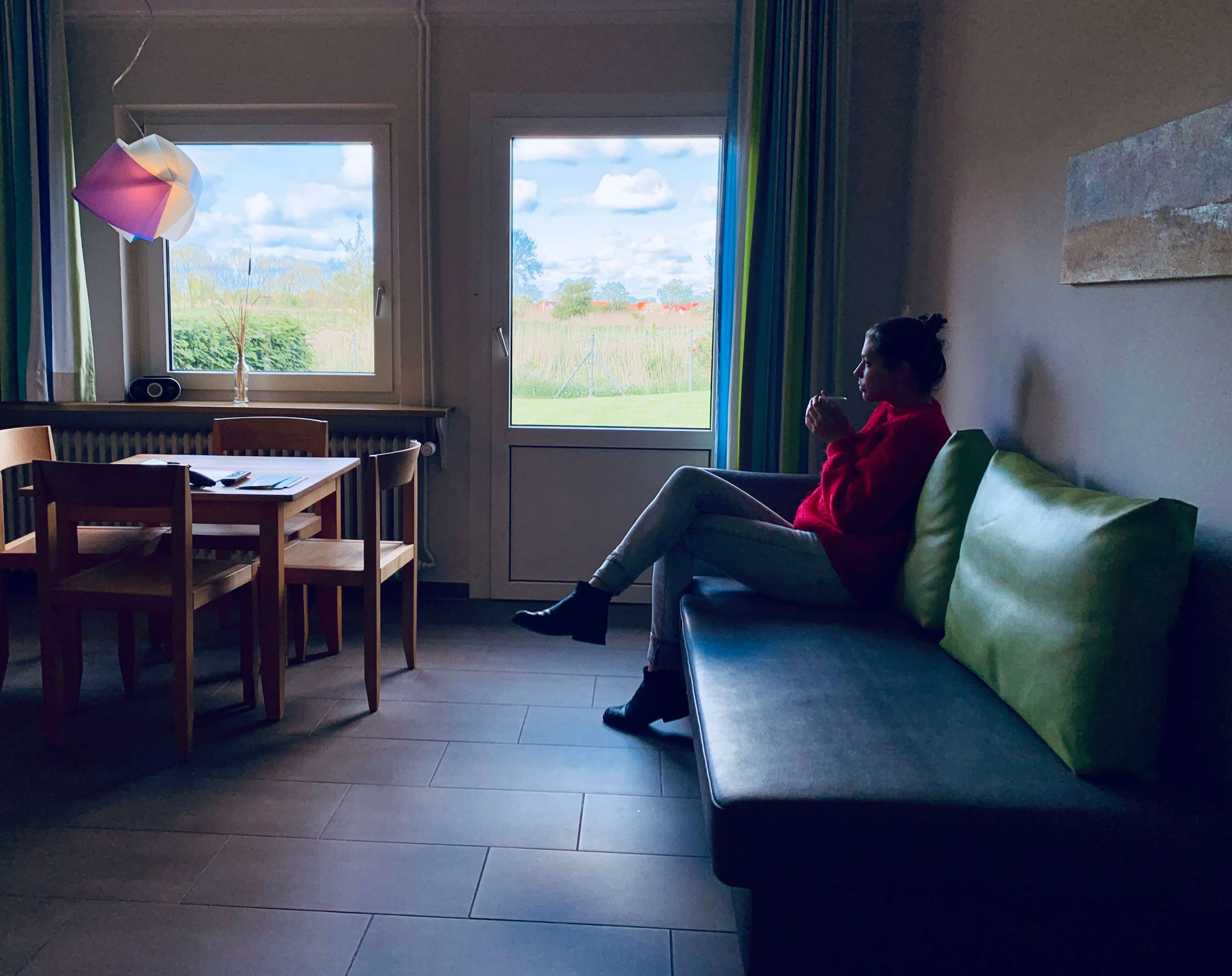 Accommodation options are varied-ranging from 2 bedroom family rooms with a balcony to the more the luxurious deluxe apartments that have their own lounge cum dining area, fireplace plus a huge back garden complete with swing and slide. I spent a good half of the morning soaking in the sun in that back garden. This is the future maybe for hostels-something for everyone for every kind of budget. Or do you think this is too much?
I wish I actually had places like this to visit when I was a kid. There's a pang of jealousy when I saunter past a gleeful group of schoolkids who are gathered around one of these ridiculous rope swings that look like out of a Tarzan movie set. Some places stay timeless which is a relief and on the flipside, hostels are changing massively for everyone and that is definitely for the better.
Essential Facts
You can book a double room at the DJH Neuharlingersiel Resort on all inclusive basis for 2 people for 2 nights from €178.
For a family of 4 , you can book one of their apartments for the weekend on an all inclusive basis for €280.
For more details click here
You can reach Neuharlingersiel either by flying into Bremen airport and then taking the train from there ( 2 hour 30 minutes €25) or from Hamburg ( 3 hours 45 minutes, €40 ) Both journey require 3 to 4 changes of train so it can be tricky getting there so if you can drive ( unlike me), then hiring a car would definitely be the better option for making the most of your time to explore the North Sea coast.
Disclaimer
Please note that my stay was covered by the Jugendherberge aka German Youth Hostel Association as part of a storytelling project I am working on called #DJHExtraordinary where we were seeking to discover some of Germany's most unusual hostels. There are three more articles & videos coming up in this series, so stay tuned. Plus you can see more pictures and short videos from the trip on Instagram or Twitter- search for the #DJHExtraordinary. Plus if you are looking for more hostel inspiration from Germany, do checkout our last year's guide to Castle Hostels across Germany.