In the past there's been a variety of ways of how people have measured the cost of visiting a city.
Economist you may remember, came up with the Big Mac Index to give you an idea of your purchasing power across different countries. The Post Office in the UK has a Worldwide Holiday Costs Barometer where they monitor the price of 8 typical items that tourists buy when they visit a destination. Some of the stuff they've asked the price for I think is useless data: Price of coke, bottled water, sunscreen and cigarettes? Is this important for you to know these costs when visiting a city? Comments please below.
I wanted to come up with an alternative guide to the cost of visiting a city. A barometer that reflects more the things that travellers are looking for information about.
Thanks to tips and suggestions from fellow bloggers , I've narrowed it down to these 8 items.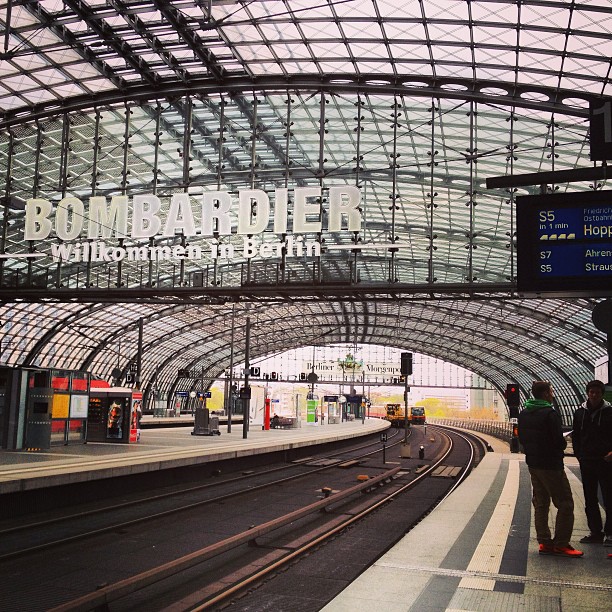 First up in this new series is Berlin. ( PS, If you like to contribute and be part of this column, drop me a line via the contact form below )
I've asked local resident, Kristin Addis to help with this guide. Kristin is a former investment banker who sold all of her belongings and bid California goodbye in favor of traveling the world solo while searching for off-the-beaten-path adventures. There's almost nothing she won't try and almost nowhere she won't explore. You can find more of her musings at Be My Travel Muse or on Instagram and Facebook.
1.  Cost of a decent ensuite double room in a hotel or local guesthouse.
A private ensuite room in a hostel will start at around €50 per night at the stylish Plus Hostel, Berlin and €52 at the uber cool Generator Hostel in Mitte. This is one city where an AirBnB rental isn't necessarily a better value than a private hostel room or hotel.
2.   A decent cup of coffee.
Cappuccino can be found at any späti, which is the German word for a corner store. I personally like a more traditional cafe in Kreuzkölln called Schaumschläger. Theirs is €2 but worth it, plus they have free WiFi.
3.   Your favourite visitor attraction in the city.
Here's the good news! All of my favorite things to do are free. Berlin has fantastic street art at places like Yaam beach, Raw Tempel and generally all around Kreuzberg. The parliament building with a glass dome at the top that gives a panoramic view of the city is also free though you do need to wait in line to secure tickets.
4.   Best and cheapest way from the airport to the city.
There are two airports and for both you'll need a bus and UBahn combo. Tickets run at €2.70 for a one-way fare.
5.   Best value lunch in the city.
If we're talking value rather than cheap I'd suggest Rosa Caleta in Kreuzberg . It's not the cheapest food in the city but the value is phenomenal when you consider that the chef is coming up with one of a kind inventive Jamaican fusion eats on an ever-changing menu and the owner flies to London bimonthly just to get authentic ingredients. Appetizers start at €3.50 and mains start at €13. You can't have a bad meal there!
6.   Best streetfood snack in town
There's seriously stiff competition for that. Turkish kebab is the most famous for around €3.50 and can be found anywhere in the city. You can get a haloumi wrap for as cheap as €1.50 at Al Andalos, or half a chicken for €7 at Huhnerhaus 36, and both are delicious. Currywurst is also famous here but honestly, try the other foods first, they're better!
6.   Pint of beer
Beer's also nice and cheap at €2-4 depending on the bar. Cheapest beer is also at any späti. During the summer you can buy a bottle and sit outside at the tables they provide and drink it. Some even have bathrooms. They pretty much replace any bar if you're super strapped for cash.
7.   A day travel pass
€6.50 within the city center.
8.   Cost of local simcard with at least 1GB of data
Local SIM – I use Vodacom. Easy to recharge. €15/month prepaid.  [ Here is an earlier article I wrote on cheap mobile internet access in Germany ]
| BERLIN: HOW MUCH DOES IT COST | |
| --- | --- |
| | |
| 1.Cost of a double room | 50 |
| 2.Decent cup of coffee | 2 |
| 3. Your favourite visitor attraction in the city | 0 |
| 4. Best and cheapest way from the airport to the city. | 2.7 |
| 5. Best value lunch in the city | 16.5 |
| 6. Best streetfood snack in town | 1.5 |
| 7. Pint of beer | 2 |
| 8. A day travel pass | 6.5 |
| 9. Cost of local simcard with at least 1GB of data | 15 |
| | |
| TOTAL | 96.2 |