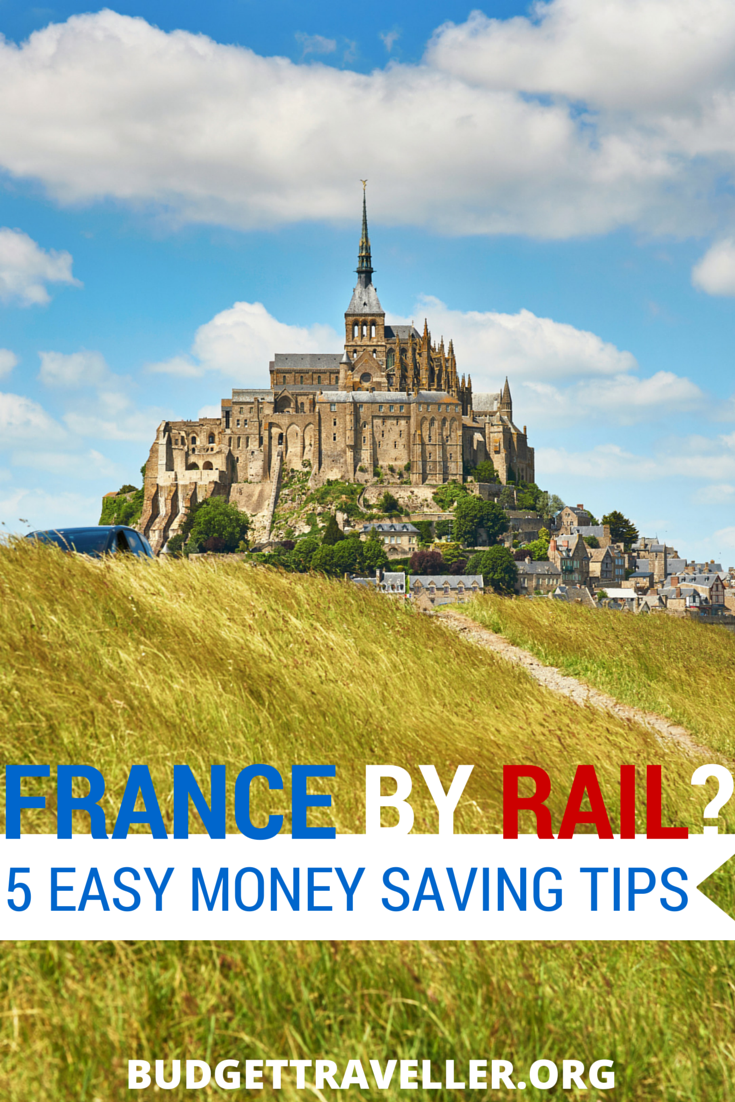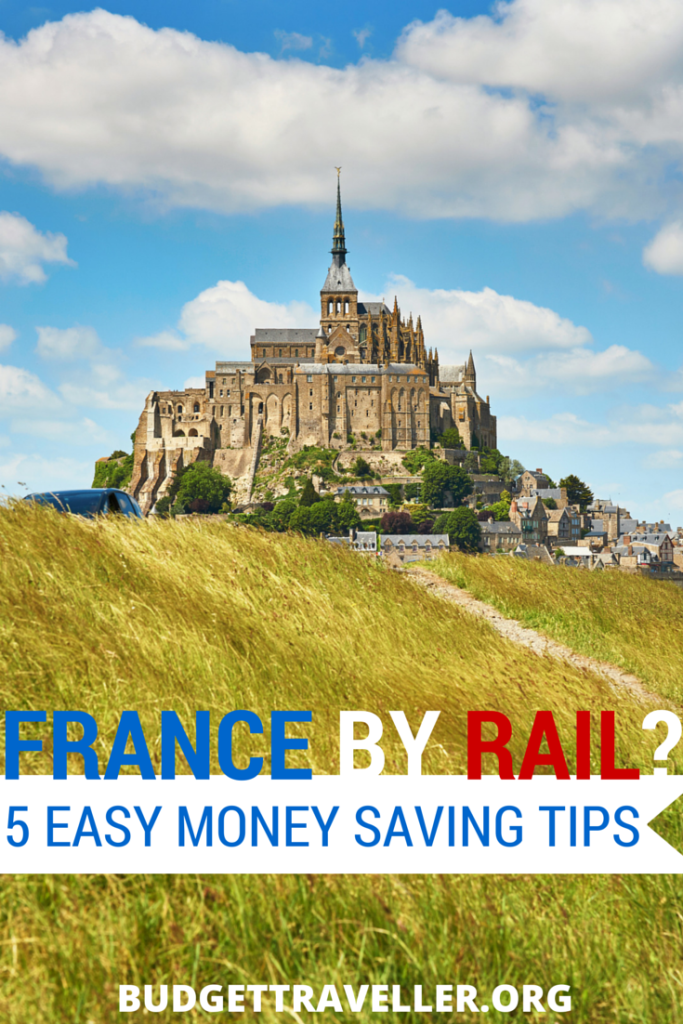 Visiting France soon? Thinking of using the train?
Here are 5 , really easy to follow money saving tips that should save you money and a lot of a hassle.
1. Be flexible with your itinerary
If you are prepared to be flexible with your rail itinerary then you can find some really good deals.
The Voyages SNCF website has a cool Price Calendar feature which allows you to compare ticket prices across 200 of the most popular rail journeys in Europe over a 3 month period.
For example I was looking at trains from Rotterdam to Paris on 20th July for me and my girlfriend. Lowest fare revealed by the calendar is €94 for both of us.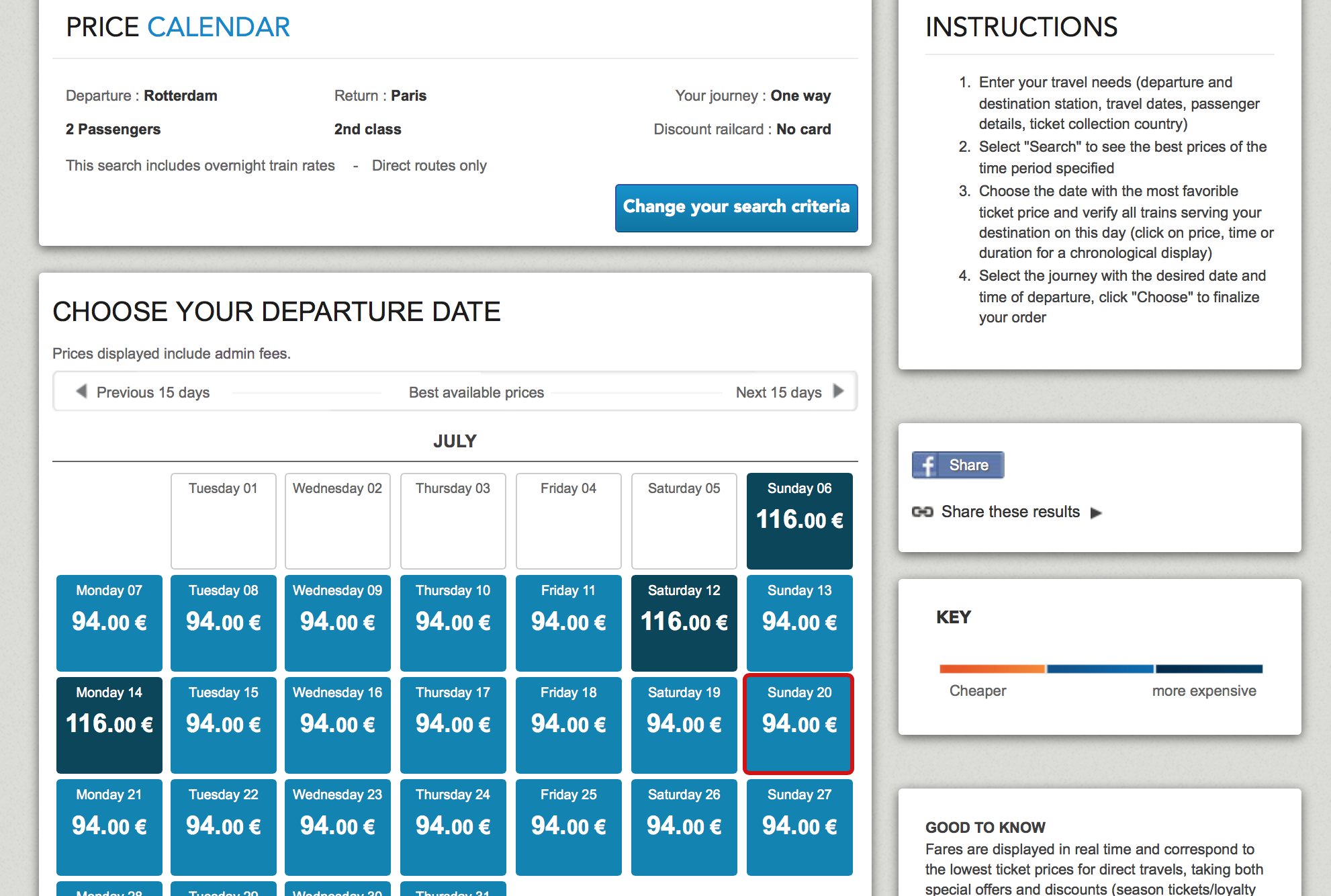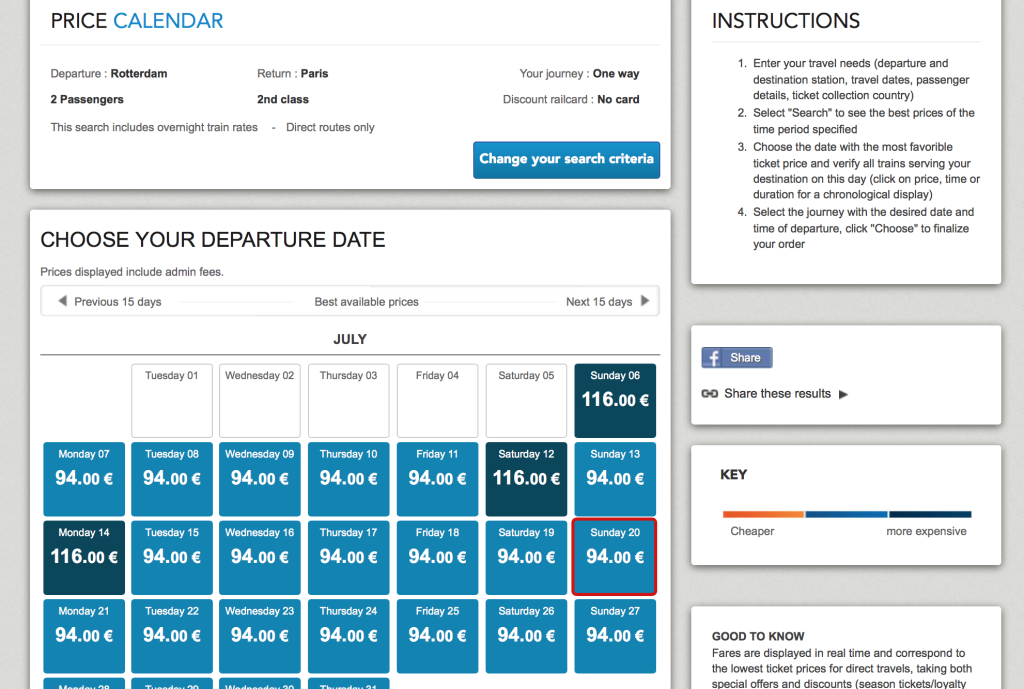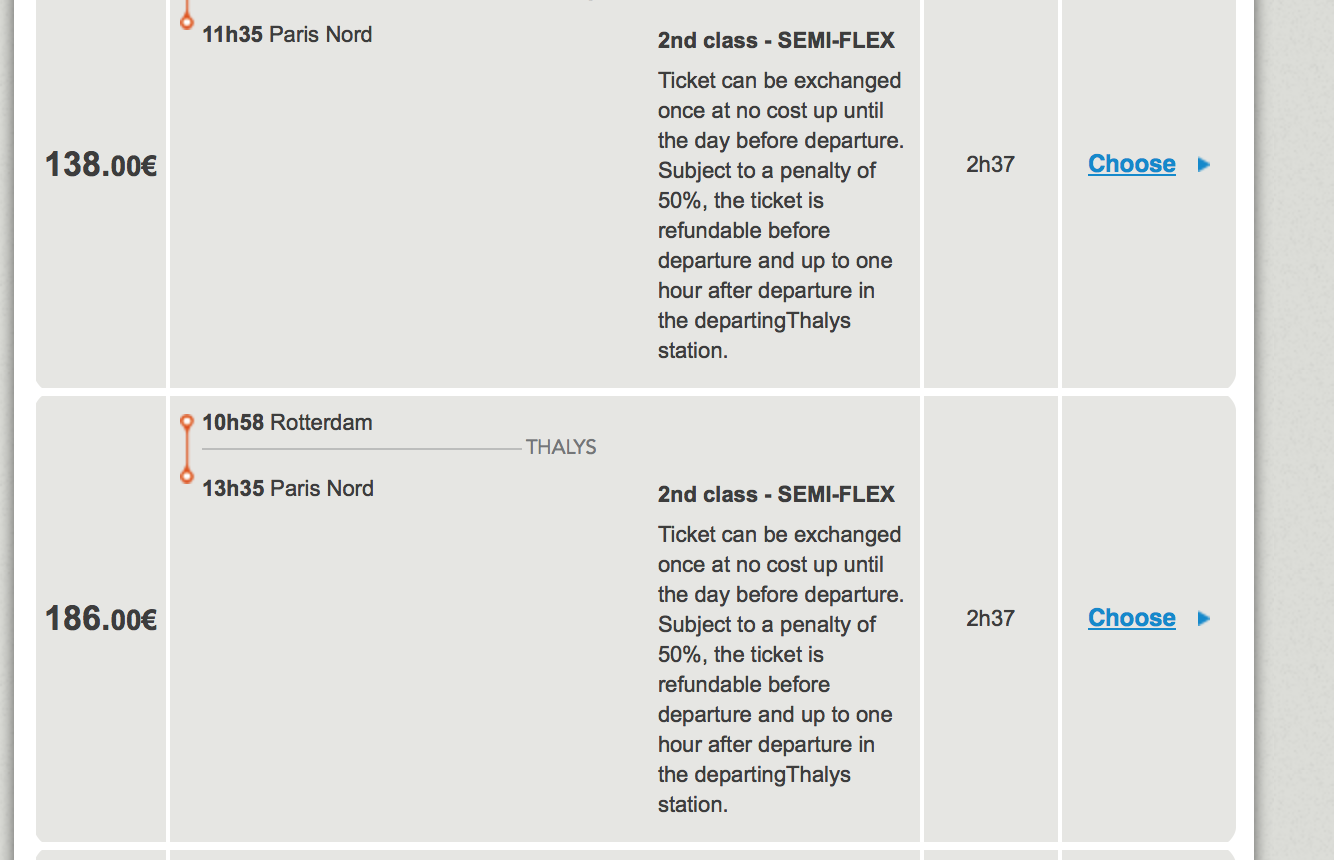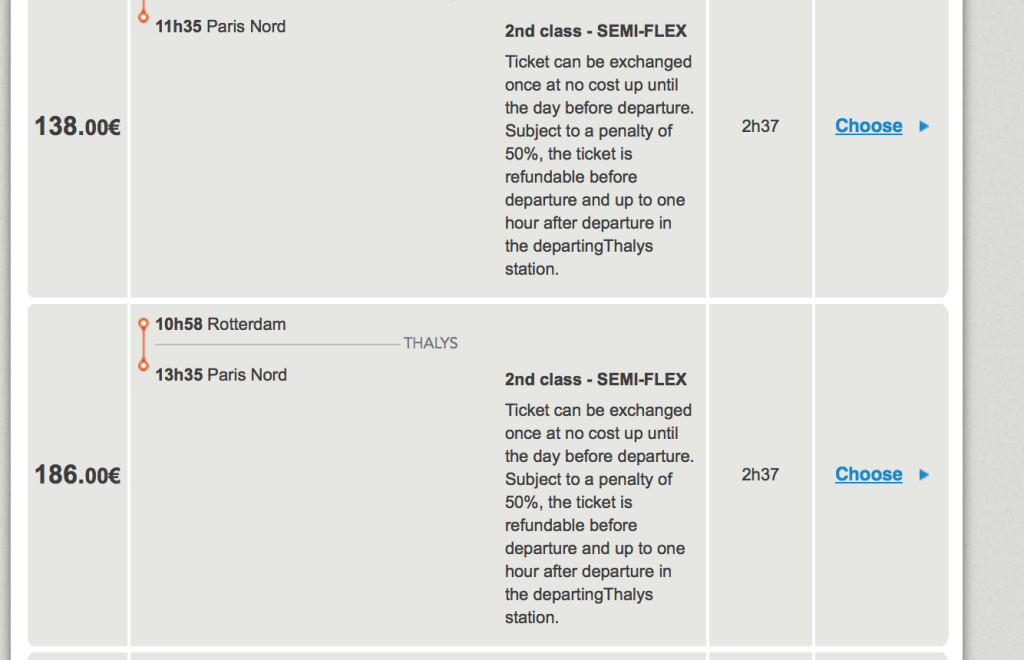 The morning trains would have been perfect but cost €138-€186….
While the afternoon 2.58pm off-peak train offered us the best value option of €94. So if you can be flexible with dates, departure time-you can save a lot of money.
2. Have you heard of France's new low cost train service-Ouigo?
Voyages SNCF has launched a low-cost train service called Ouigo which offers fares as cheap as €10 between Paris Marné la Vallée and Lyon or Southern France. However these super cheap fares open 9 months in advance so be prepared to book early to get these fares.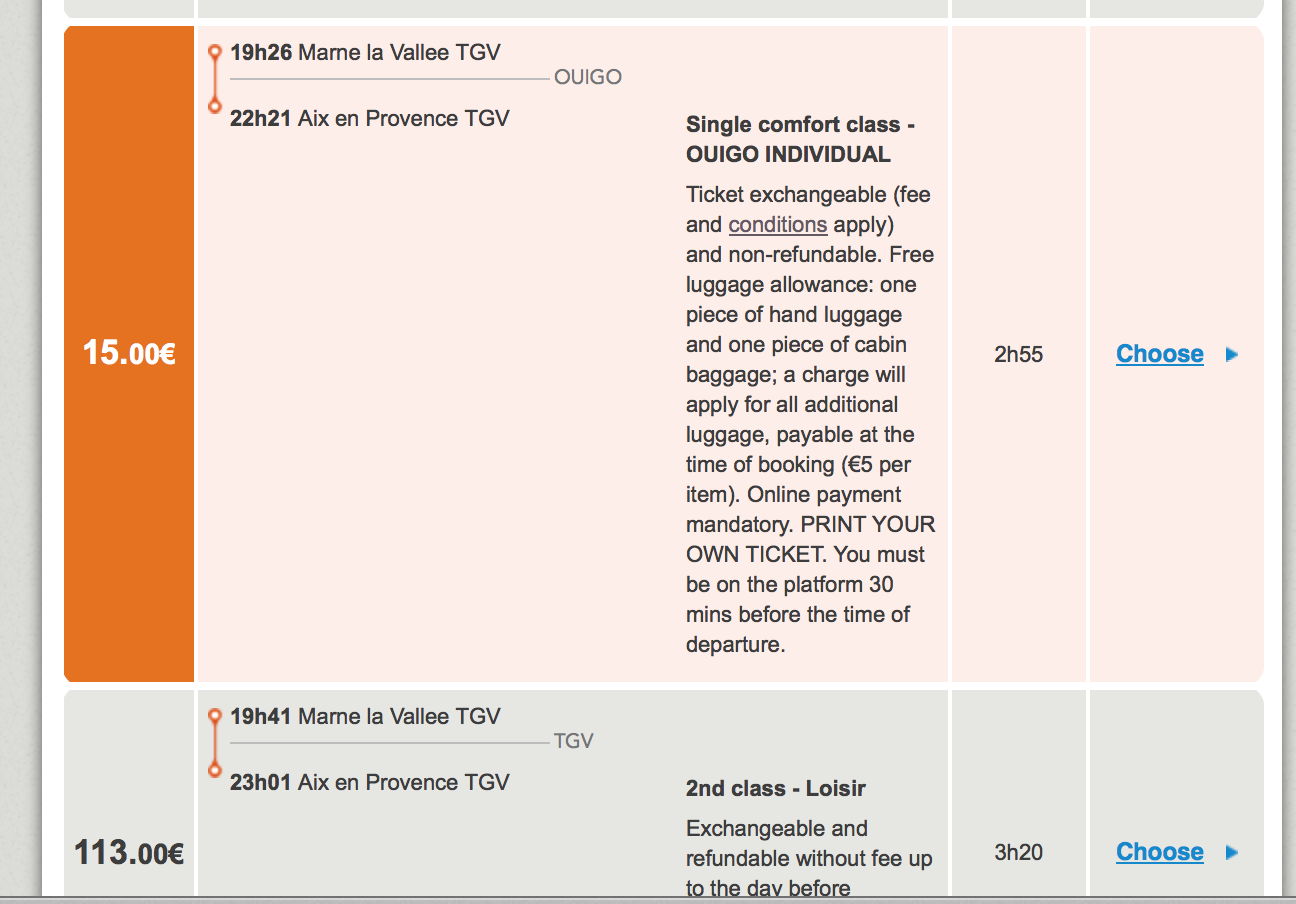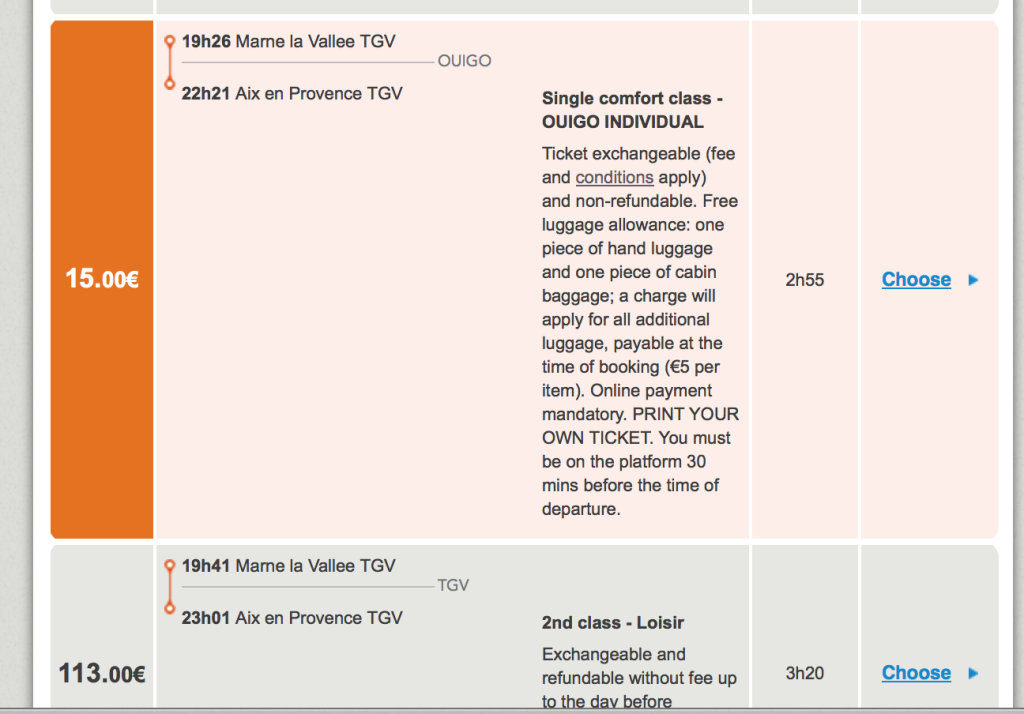 However if you are travelling on short notice, don't despair. Looking at website today ( 27th May, 2014) I could find fares as cheap as €15 from Paris to Aix En Provence on 11th June, again using the handy price calendar feature.
Note:  Be aware that low cost service only departs from Marné la Vallée which is the TGV outpost for Disneyland Paris and is a 12 minute , €15 ride from Paris CDG airport. Or you can take the underground to Châtelet-Les-Halles from where you take the RER-line A to Marne-la-Vallée. Journey time is 35 minutes and costs €7.50.
3. Paris to Milan by train for just €29 ?
Some of you maybe looking at flying from Paris to Milan. Given the distance, flying is an option.


Looking at Skyscanner for example on Tuesday 26th August, I can see a really cheap flight with Ryanair for just €20 from Paris to Milan. However, some caution. Ryanair flies from Paris Beauvais which is 1 hour and 15 minute bus ride from Paris and costs €17. Ryanair also flies to Bergamo not Milan Linate. Bergamo is a 50 minute journey from airport to Milan and costs €5. That's €42 in the end but you have the hassle of travelling to and fro so in the end it's not as fast as you would hope.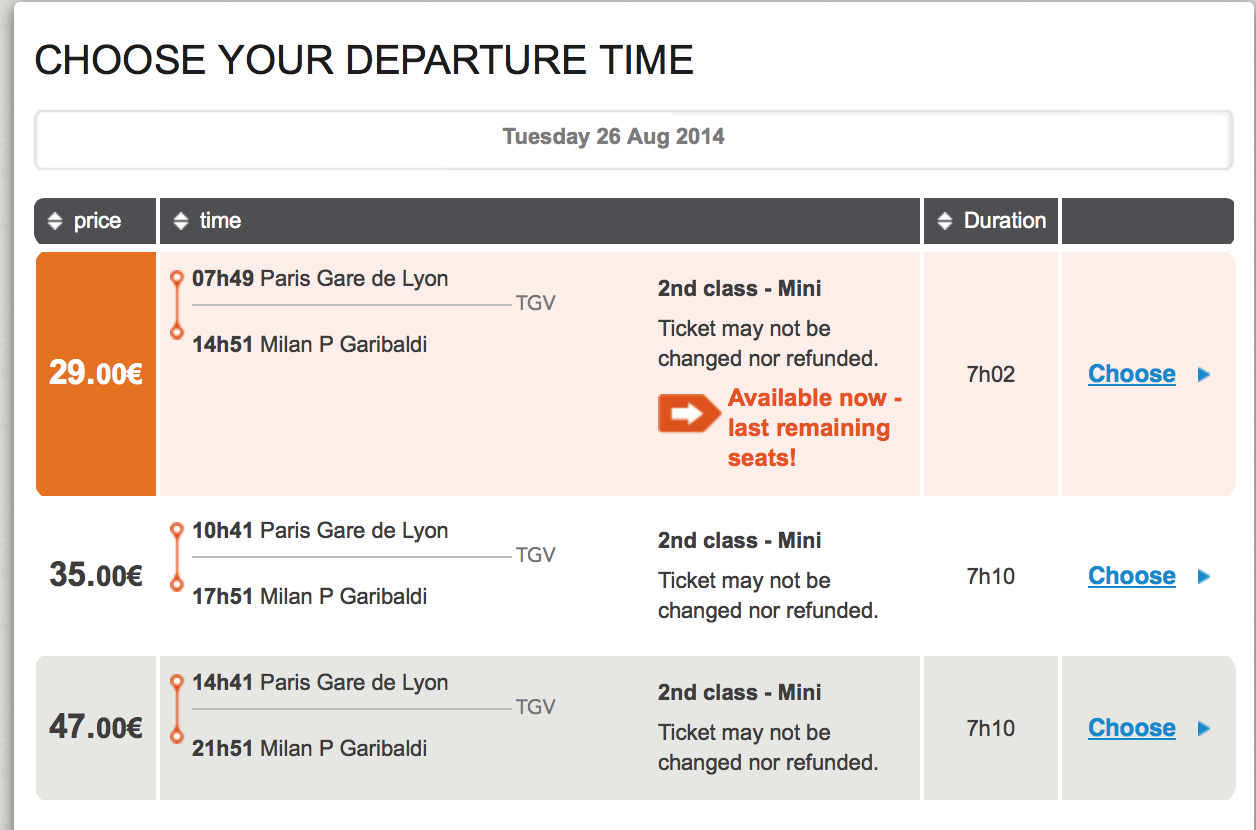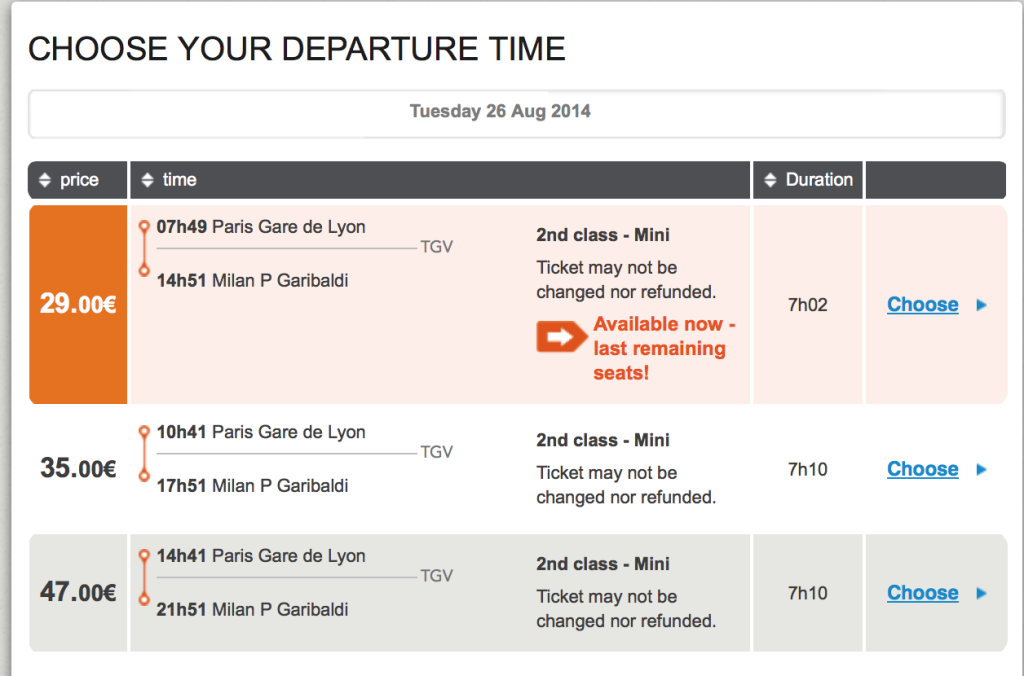 On the other hand there are three TGV high-speed trains that link Paris with Milan. It is a beautiful, relaxed train ride from city centre to city centre through the French Alps. Looking at Voyages SNCF site on 26th August I can see a train leaving Paris Gare du Lyon at 7:49am. It is a 7 hour train ride to Milan but probably one of the most scenic train rides you can imagine. Fare also comes in at €29 which is superb value. So you save money, lose a few hours but you travel in style and enjoy the journey-what's not to like about taking the train
Other sample SNCF fares from Paris in the summer include Paris to Amsterdam from just €35, Paris to Barcelona from €59, Paris to Geneva from just €29
4. Breaking your rail journey in Paris, Lyon, Bordeaux, Marseille or Nice? Used the left luggage facility
While hopping around France ( or indeed in many major cities of Europe ), if you plan to break your rail journey ( Most tickets do now allow this. My suggestion would be to buy two separate tickets or buy an Interrail pass ) choose the option of using a left luggage facility, especially if you are visiting Paris, Lyon, Bordeaux, Marseille or Nice
In Paris Gare du Nord for example you can use the left luggage facilities in the station. A medium sized locker costs €7.50 and can take upto 2 medium backpacks for upto 48 hours. No keys are needed. You shut your locker, pay the money and then a receipt is printed showing the code for opening the locker. Simple as that.
5. Consider the Intercities Night Train network
If you are looking to save time and spending money on accommodation , you definitely should consider the Intercities Night Train network. These overnight trains are perfect if you're travelling from Paris and then deep into France.
You can sleep your way to Cannes, Monaco or Perpignan in a comfy couchette or a 2nd class reclining seat.
Fares can be as little €35 (£30) each way booked at uk.voyages-sncf.com
For example, travelling on 19th August. If you take the 9:23pm train from Paris Gare d' Austerlitz you can be in Nice at 8:46am the following morning.
To give you an idea of cost, the reclining seat is £37. Which looks like this..


A bed in the six berth couchette is £42 which looks like this.


….while a bed in the four berth couchette comes in at £51.50 and looks like this.


Other key tips to remember….
Validate your ticket or face a fine
Before boarding, you must punch your ticket in one of the orange (sometimes yellow ) machines at the entrance to the platforms, or else you face a fine. This is not necessary for travel on Thalys or if you have an Eurail pass. If you printed your tickets at home you do not validate them.
Off-peak fares
Unlike most countries, France discounts point-to-point train ticket prices in non-peak times known as période bleue (blue period) A leaflet showing the blue and white periods is available at SNCF stations.
Under 26 or senior (above 60) ?
You can get a 25% discount on regular fares for any trip on any non TGV train beginning in an off-peak period.
When transferring between trains allow
    30-45 minutes – to change trains within the same station.
    60-90 minutes – to change trains between two stations.
Travelling with kids?
Check the age rules for each train. Under 4s go free in Europe.
Change via Lille when coming from London
If you're heading for southern France from London, don't forget, you can often route via Lille so you don't have to change stations in Paris
Don't have enough time to receive your tickets by post?
Choose to collect them at the station or print them off at home.
---
Hope you find my tips useful. If there are any tips I have missed, please comment below. This post will be updated from time to time so will add your tips to this post. Merci! Also if you are visiting Europe, don't forget to check out my recent post where I've shared my 75 tips to save money when travelling in Europe 
Plus if you haven't seen it already…here is the very cool video that Voyages SNCF have created to show how people can travel the easyway.
Disclaimer: This guide is brought to you as part of a campaign created and managed by iambassador and Voyages-sncf. As always all opinions are my own.