Travelers visiting Oslo will love its striking scenery, historical buildings, and state-of-the-art architecture. While it may not be the cheapest city to travel to; you could still enjoy a good night's sleep with the affordable accommodations that won't break your bank. We at the BudgetTraveller, searched the best hostels in Oslo, so you don't have to and found these accommodations all at impressively a-fjord-able prices!
PS If you're planning a trip to Oslo checkout our earlier post about our 13 budget tips for Oslo and also our cheap eats guide to Oslo
1. Stay for free in Oslo? Go camping for free on the island of Langøyene
If you can bring your own tent to Oslo, coming for a short break and you're open to the idea of camping, you can actually pitch it for free in the forest or on the island of Langøyene. It is the only island amongst the innermost Oslo Fjords where you are allowed to camp. There are a few things to remember:- you are allowed to camp on the island for a maximum for 2 days. There are specific camping areas on the northern side of the island so keep that in mind. It is important that you keep the camp tidy and take care of your rubbish. The camp has a quiet period between 11pm and 7am so if you are coming to party-book a hostel or hotel.
For more about Langøyene checkout the Visit Oslo website.
2. Oslo Hostel Rønningen
If you are interested in hiking and outdoor activities around Oslo, then this youth hostel, near Nordmarka forest in northern Oslo, is perfect. The hostel is only open in the summer and is located within the campus buildings of Rønningen Folk High School. It offers a variety of room types, ranging from single rooms to dormitories. The hostel includes breakfast as part of the accommodation package and there is a common rooms available for guests plus free wireless internet ensures that guests can stay connected during their stay. Rønningen is only 25 minutes away from the city center of Oslo by tram. #
Note: This hostel is open only in the summer
3. Anker Hostel
A decent budget hostel in Oslo, The Anker Hostel is located in a quiet neighborhood with lots of amenities nearby. Rooms are clean, spacious and well-heated.
The hostel also features a small food dispensing facility at the nonstop reception which is managed by friendly and helpful staff round the clock. There is a restaurant and bar in the hostel. The atmosphere in the hostel is nothing to write home about but if you're looking for something central and convenient, this hostel should be a decent option.
What's more? It's only a 10-minute walk to go downtown.
Pro Tip "Please pack bed linen and a towel if possible to keep the price low. Many hostels in Scandinavia charge a hefty price for linen and towels so if you are planning to visit this part of the world, definitely recommend making space in the luggage for these items."
Price Starts from €50/per bed, per night booking via Hostelworld.com
4. Best hostel in Oslo? Oslo Hostel Haraldsheim

Haraldsheim Youth Hostel, Oslo provides perfect accommodation to anyone on a budget who still expects high standards of service and quality of a room. Located on a beautiful hillock, it is a great place to stay with your family and children, thanks to the lovely gardens and lawns that bolster its communal vibe.
The hostel offers a good quality dormitory accommodation in addition to the single and double rooms that are clean, bright and comfortable enough to exceed the standard of an average youth hostel with their bathroom, TV and modern interiors.
Catering to a wide variety of breakfast, the hostel also features a well-equipped kitchen where you can cook your food. Moreover, a small supermarket nearby means you can avoid blowing all your money on the high cost of Norwegian food.
Pro Tip "Choose a room in the separate wing when you're traveling with less than four people.:
Price Start from €60/per bed, per night booking via Hostelworld.com
5. Cochs Pensjonat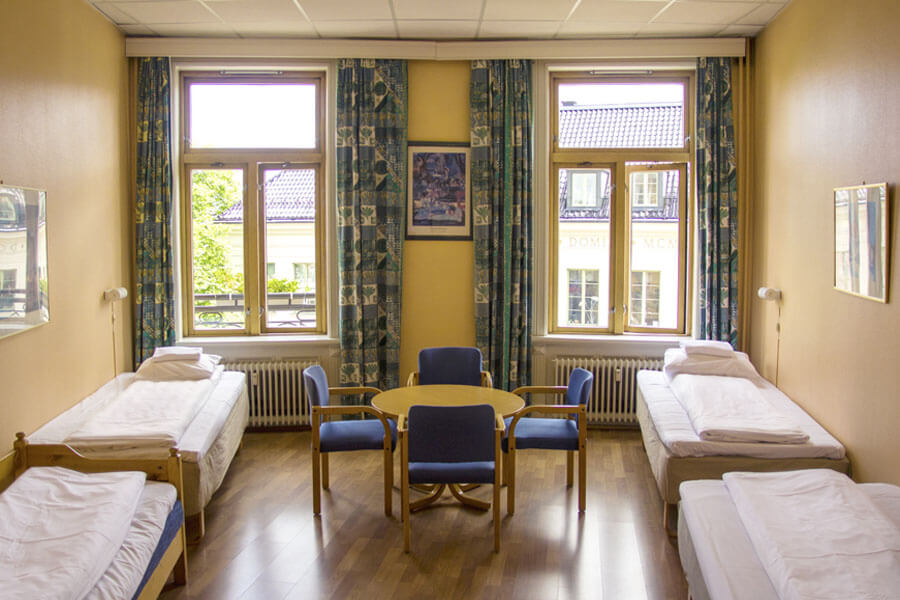 Cheap, central and bohemian, Cochs Pensjonat is a popular pension that offers a friendly atmosphere with its clean, bright and comfortable rooms. The hotel is well located and within walking distance of the main train station.
Situated behind the Royal Palace, this quaint and historical accommodation offers nearly 100 rooms in three different categories: Best, Standard and Value. While the value rooms have shared washrooms and no cooking facilities, the Best and Standard rooms not only feature an exclusive kitchen area but also provide the luxury of an ensuite private shower room.
Pro Tip "Even though breakfast is not included, you can buy breakfast packages at a special price at Kaffebrenneriet on the ground floor."
Price Start from €65/per bed, per night booking via Hostelworld.com
6. Saga Hotel Oslo Central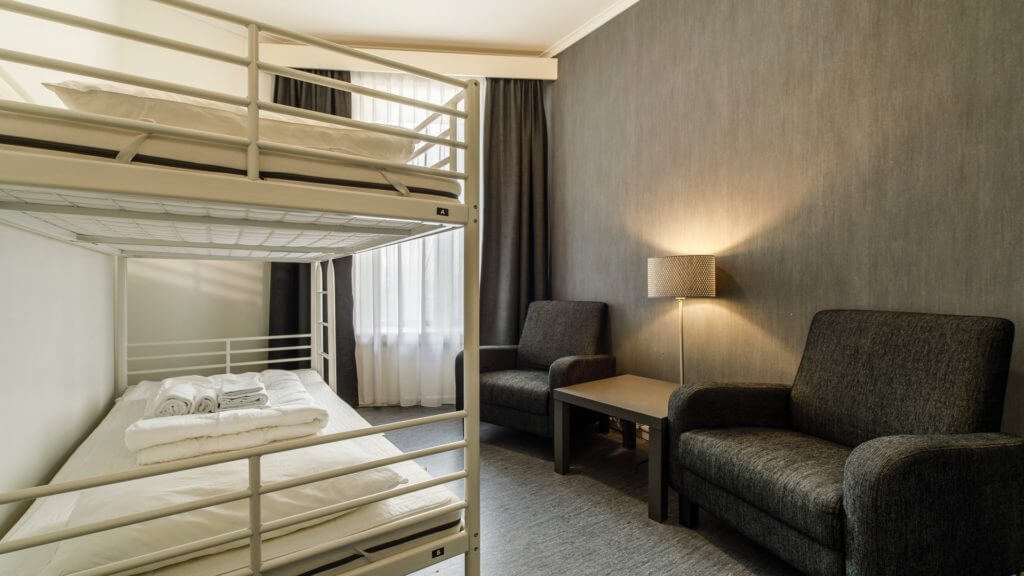 Aimed to attract all types of travelers and jet-setters, Saga Poshtel Oslo Central offers ten different room types ranging from standard doubles to a dorm with twelve beds. Hostel features free wireless internet throughout the building. The standard doubles in the 'hotel section' all feature large flatscreen TVs.
Situated in downtown Oslo, the hostel is a 10-minute walk to the train, tram & bus station as well as various museums and tourist attractions. Guests love their generous free breakfast buffet where you can help yourself to toast, ham & cheese, cereals, salad, boiled eggs, juice, coffee and fresh fruits.
Pro Tip "When staying in a dorm room, you should bring your padlocks for the lockers."
Price Start from €65/per bed, per night booking via Hostelworld.com
7. Comfort Hotel Express, Youngstorget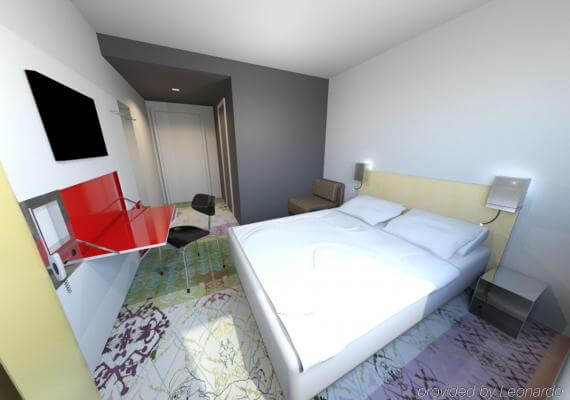 An immaculate and budget accommodation, Comfort Hotel Express makes another great choice in our "value hotels" list. The hotel embarks upon not only the idea of saving money but also the planet, thanks to its vibrant green theme that endorses affordable vegan food and overall caring about the earth.
The hotel showcases state-of-the-art amenities such as the magnificent rooftop terrace, a chill-out bar in the basement, a fitness center to keep you active, and heated floors in the bathroom for a quick shower after a cold day in Oslo.
Just a stone's throw from nearby clubs and bars, this 3-star hotel also allows guests to explore what the local nightlife has to offer easily. So, if you are traveling on a not-so-low budget and like to Do It Yourself, then Comfort Hotel Xpress Youngstorget is definitely for you!
Pro Tip "Smile and be friendly, no matter how jet lagged you might be and then ask for a room with a view!"
Price Start from €70/per bed, per night booking via Booking.com
8. First Hotel Millennium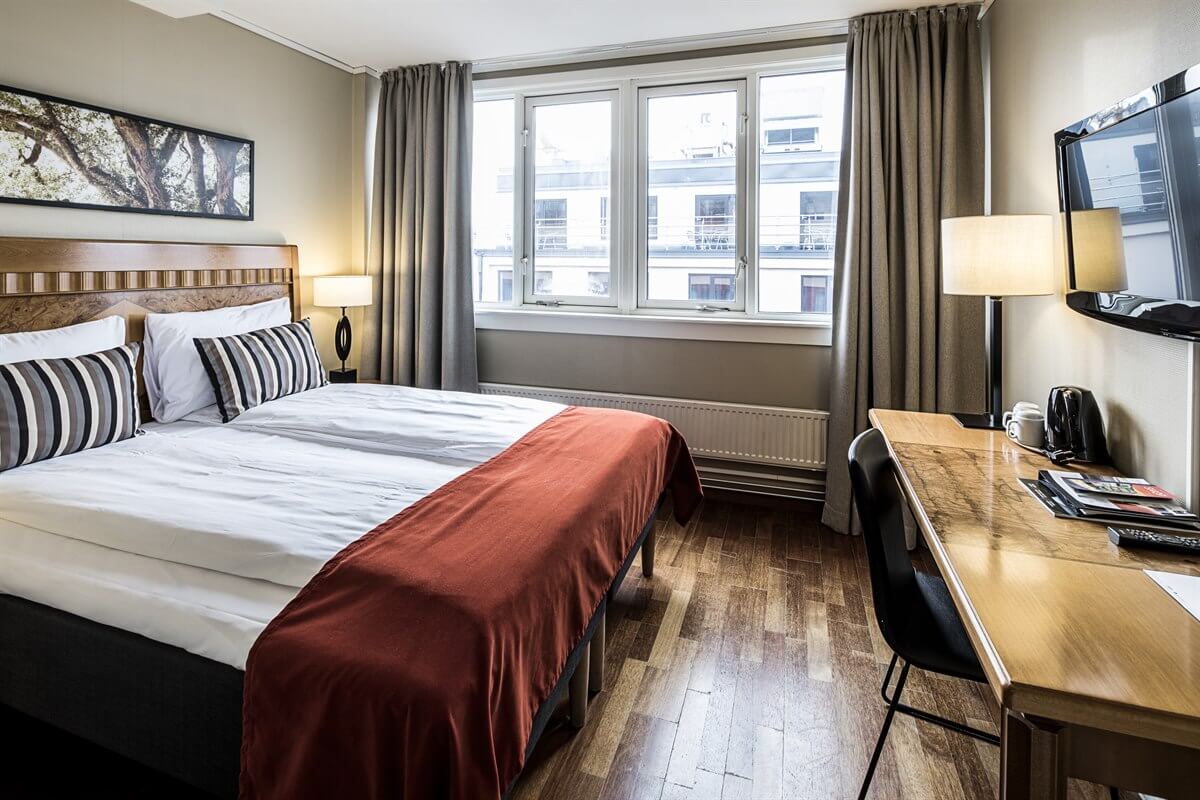 The Millennium is another comfortable, central and excellent budget hotel in Oslo. Some of the wood panelled rooms feel a little tired but overall the beds are comfortable, bathrooms are clean and some of the suites have balcony rooms which offer great views of the city.
Located in close proximity to the main train and bus station, the hotel also serves a excellent complimentary breakfast buffet.
Pro Tip "You're in the middle of a busy city; avoid rooms facing the street!"
Price Start from €70/per bed, per night booking via Booking.com
9. Scandic Karl Johan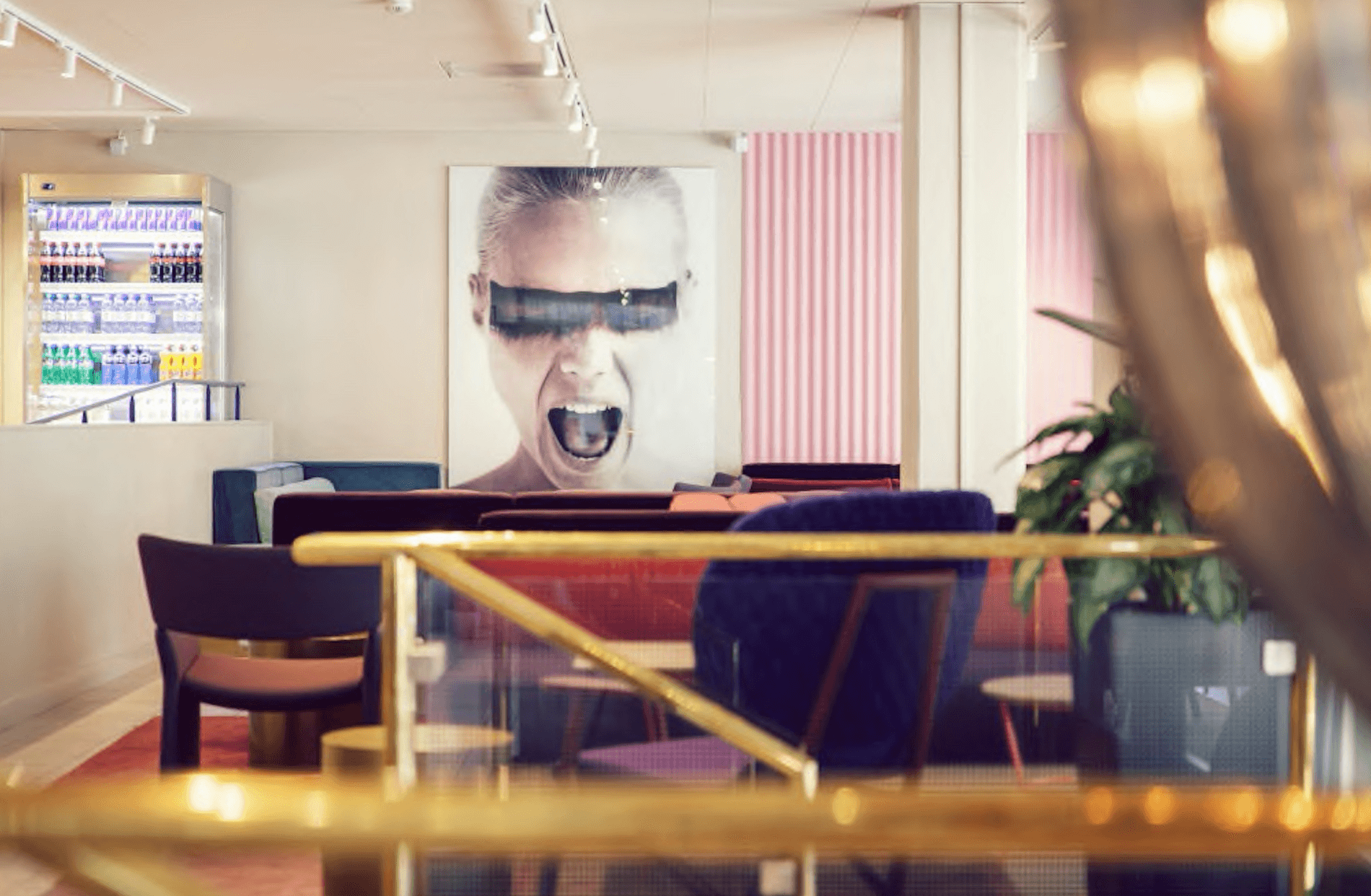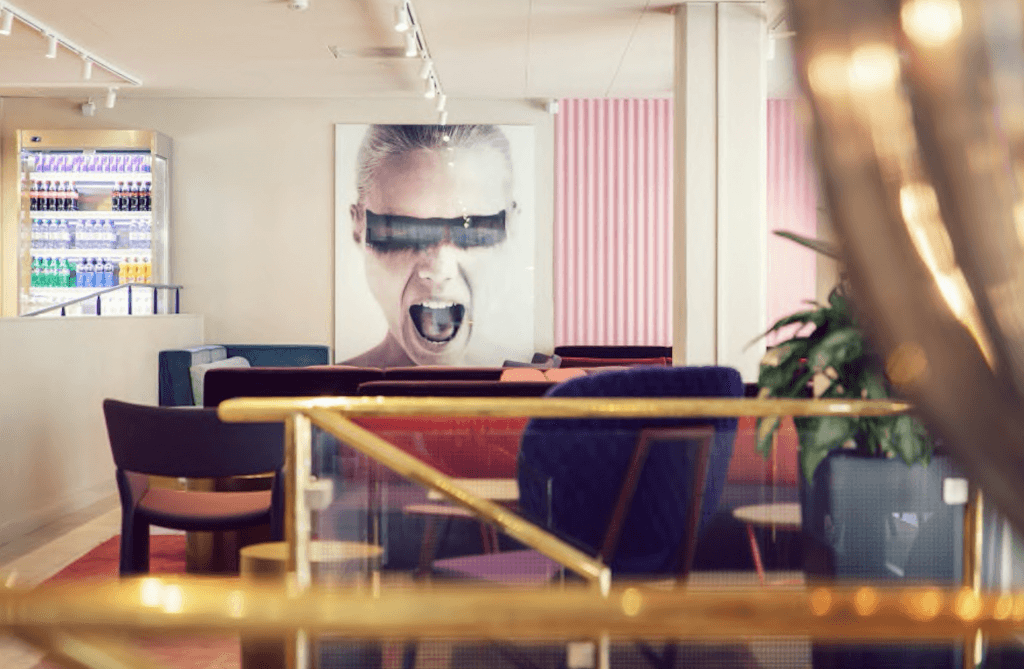 This hotel offers a great location, a fully licensed bar on premises plus neat, clean and spacious rooms in addition to a comfortable lobby with a range of seating.
Wake up to the luxury of delightful breakfast served in the dining room. From freshly baked croissants to oatmeal porridge to the creamy ham and cheese, this hotel caters to everything you could want for breakfast in a breakfast buffet.
Pro Tip: "If you need a table to work in your room, then you should request it in advance while reserving the hotel."
Price Start from €80/per bed, per night booking via Booking.com
10. CityBox
Citybox combines simplicity with both comfort and affordability. Located right in the center of the town, the hotel offers an automated check-in and check-out via kiosks which makes it pretty convenient. While the rooms are small, they are surprisingly cozy and minimalist in décor. Guests praise the comfort of their high quality mattress and also their free wifi connection which is present throughout the building. Clean, comfortable and cheaper than most other hotels in Central Oslo, Citybox is a convenient value for money option when visiting Oslo.
Pro Tip Even though the hotel doesn't offer breakfast, one could grab 10% off on meals at the cafe Rent Mel which is in the same building.
Price Start from €60/per bed, per night booking via Booking.com
11. Smart Hotel Oslo
If you are in Oslo for just a day, then Smart Hotel Oslo makes a great stay as you could use it as a quick base to return to change, take a shower, etc. The hotel features small rooms (As small as it's possible for a hotel room to get) with a double bed fixed into an alcove. But the rooms compensate well with great space-saving devices.
The hotel also houses a large breakfast room, a conference room and a "Smart bar" area which is mostly a smart shop that is equipped to quench your thirst and fill your stomach.
Pro Tip: The hotel makes an ideal place for a solo-stay but if there are two of you – it is recommended to upgrade to a bigger room for a small additional fee.
Price Start from €68/per bed, per night booking via Booking.com
12. The Apartments Company – Parkveien
The last tip in our roundup is an Aparthotel : Apartments Company Parkveien is great value for money alternative to the hotels in Oslo. The aparthotel is located in a quiet street, just a few minutes walk from the Royal Palace Park. The beds are clean, comfortable and the bathrooms are nice. The self catering facilities ( great for saving money on eating out) include a fully equipped kitchen, microwave and dishwasher. There is also a comfortable seating area and cable TV. Wifi is free and works well.
Price Start from €90/per bed, per night booking via Booking.com