A few years back I happened upon a list of the best chocolatiers in Paris, compiled by the excellent Paris-based food blogger David Lebovitz. It took about 5 minutes to decide I was going and compare a few holiday sites, and three weeks later I found myself standing at Charles de Gaulle armed with nothing but a rucksack, a map with the chocolatiers circled, and only two basic phrases of French…
Je me suis perdue  (I'm lost)

&

J'aime le chocolat (I love chocolate).
It sounds like a luxurious trip, but individual bonbons are not expensive and I spent about €5 at each chocolatier (although it would be easy to spend much more!).
I stayed at a dirt-cheap hostel, ate crummy café soup for every meal, and used my quest as an excuse to explore the city and discover not just the best chocolate I have ever had (and trust me, I know my way around a cocoa bean), but wonderful, tucked-away corners of the city that I would have not otherwise seen.
Here are five of my tips from those amazing three days:
1.              John-Charles Rochoux
This tiny chocolate shop blends in with the surroundings, but step inside and you'll be greeted by a fanciful arrangement of chocolate sculptures ranging from animals to babies to shoes.
These are not the main attraction though: head straight for the dark chocolate bars with caramelised hazelnut, and – I learned this lesson through hard experience – buy more than one. When you bite into the bar, the smooth bittersweet chocolate gives way to perfectly crispy roasted hazelnuts, which have been coated in a thin layer of crackly praline. Words won't do this taste justice.
Cost: Bonbons are about €1.50-2 each, and if you're feeling flush, pick up a bag of Marcona almonds decadently covered in caramel, gianduja and cocoa. You won't regret it.
16 rue d'Assas.
2. Berthillon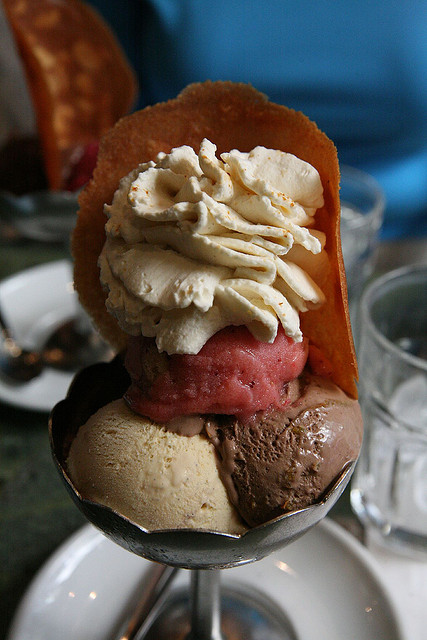 This famous ice cream shop near the Notre Dame is well deserving of its fame.
On hot summer days the queue runs out the door, but one look at their long list of flavours and you'll understand what the fuss is about – flavours range from a shocking dark chocolate to salted butter caramel and earl grey tea, with unusual sorbet flavours including mint leaf, litchee and fig. If it's too chilly for ice cream, step into the glossy wood-panelled dining room for a decadent, fluffy mug of hot chocolate. That's right – fluffy. It's like they folded clouds into my dreams and put it in a mug.
Cost: Expect to spend €2-6, depending on how much self-control you have.
31 rue St. Louis-en-Î'le.
3.Angelina's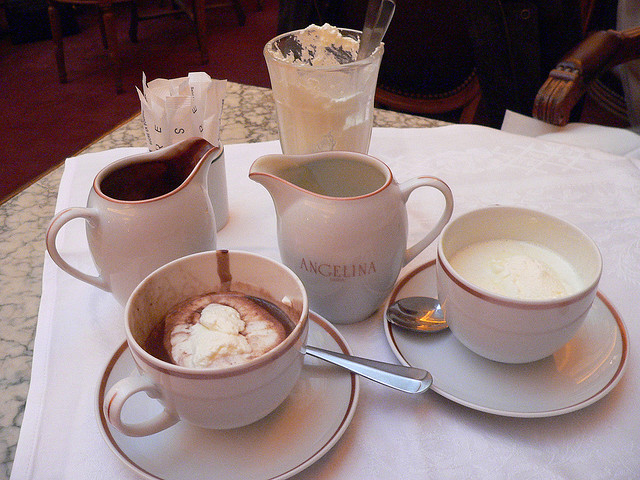 Image: Doug Joubert on Flickr
When most people think of hot chocolate, they expect the consistency of hot milk. Think again – Angelina's chocolat chaud l'Africain is pure melted chocolate, thick and viscous, served with a side bowl of whipped cream so you can adjust the strength to taste (like you would with coffee or tea). This stuff will not just knock your socks off but probably make you forget your name as well.
Cost: The food is very expensive, so concentrate your cash on the star of the show; a taste of liquid heaven in the decadent gilt tearoom will cost about €7, which isn't that cheap, but if you eat cut-price baguettes and apples for the rest of the day it evens out (I have my priorities straight…).
Best of all, you can pick up some hot chocolate granules to devour at home (or as presents for people that you really, really like)
226 rue de Rivoli.
4. Breizh Café
Image: portmanteaus on Flickr
This cozy creperie in the stylish Marais district is not strictly a chocolatier, but their not-too-sweet dessert crepes with dark chocolate sauce and caramelised apples are to die for. If your companions are beginning to tire of chocolate (although surely, no such thing is possible), they'll enjoy Breizh's hearty and organic buckwheat galettes with savoury fillings like ham, gruyere and egg. Wash it all down with a small earthenware bowl of dry sparkling cider from Brittany.
Cost: Prices start at €6 (not bad for this town), and they also offer fantastic gluten-free crepes.
109 rue Vieille du Temple.
5. Ladurée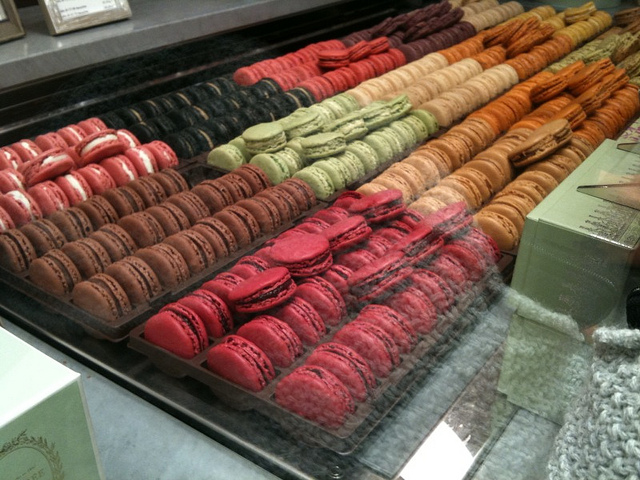 Image: chocobos on Flickr
If you've ever doubted the existence of heaven, this divine tearoom will change your mind. They are world-famous for their delicate, colourful macarons (soft meringue and ganache cookies) which come in drool-worthy flavours like chocolate raspberry, white chocolate, and chocolate with salted caramel, as well as non-chocolate flavours like violet, pistachio and strawberry. If you are feeling the budgetary pinch I recommend you steer clear of the tearoom itself (although pop your head in for a look at the stunning art nouveau decor) and stick to the beautiful, gleaming takeaway counter.
Cost: Macarons are very sweet, so just a few at €1.50 a pop will be enough to keep your inner chocolate fiend happy. 21 rue Bonaparte.
My top tip: If you fancy following in my blissful footsteps, check out David Lebovitz's great blog and books for recommendations, recipes, chocolate tours, and a great sense of humour about his expat life in Paris.
Also do check out my guide to the best budget places to stay in Paris