Paris is the place where a young Hemingway came to seek writing inspiration with his first wife. Paris was the melting pot of artistic talents in philosophy, painting, sculpture and writing. Corner cafés were buzzing with the latest ideas. Literary giants were rubbing shoulders with artists on the cusp of each new wave of experimentalism. Paris was also the seat of the nobility from centuries past. A nobility who had built beautiful palaces and designed wonderful ornate gardens. Today, Paris is one of the most picturesque cities in the world. With every turn of the eye there is beauty. Each embellishment, each intricate detail in architecture is to be seen and appreciated. Paris is also a city for you and me. So come along, and let's discover things to appreciate and experiences that money can't buy. Here is my list of the best free things to do in Paris ( If you are on a budget and planning a trip to London, checkout my recent guide to the top 50 free things to do in London )
Free museums of Paris
1. Musée Carnavalet
This museum traces the history of the city of Paris, from the time when it was the humble village of Lutèce inhabited by the Parisii tribe, right up to the present.
Highlights of the museum consist of a reconstructed of a room where Proust wrote Recherche du Temps Perdu, Napoleon and Marie Antoinette's personal effects, scale models of Paris the medieval city, paintings of famous figures who moulded Paris' history, a gold chronometer belonging to Émile Zola and so much more. If you are interested in history, consider laying aside several hours towards the inspection of all the treasures in this museum.
Address: 23 Rue de Sévigné, 75003 Paris, France
2. Musée d'Art de Moderne de la Ville de Paris
Visit Musée d'Art Moderne de la Ville de Paris in the 16th arrondissement for artwork with a bit more edge. Feast your eyes on the museum's permanent collection of 10,000 works, including paintings by Pablo Picasso, Georges Braque, Henri Matisse, Man Ray and Max Ernst among others.
Address: 11 Avenue du Président Wilson, 75116 Paris, France.
3. Musée de la vie Romantique
A square cream coloured building with leaf green shutters, the Musée de la vie Romantique is one of three literary museums that Paris can boast of. Conveniently located at the base of Montmartre near several Metro stations, this small museum was once home to the Dutch painter Ary Scheffer and was built in 1830. Friday evenings, this house would be the scene of innumerable cultural soirées hosting eminent figures like George Sand, Franz Liszt, Chopin, the painters Ingres and Eugéne Delacroix, and even literary notable Charles Dickens.
Today the museum showcases permanent exhibits like the paintings of Scheffer and his contemporaries, sculptures and various artifacts relating to the personal effects of romantic literary figure George Sand. The museum is free to enter but closed on Monday.
Address: 16 Rue Chaptal, 75009 Paris, France.
4. Maison de Balzac
This is a small unassuming house surrounded by a small garden located in the Passy residential district of Paris. It is one of the many residences that Balzac took up and today houses his personal possessions, manuscripts and photographs celebrating his life as a writer. It is here that he penned La Cousine Bette, La Rabouilleuse and Une Ténébreuse Affaire. His writing desk and chair and turquoise cane are particular points of interest.
Address: 47 Rue Raynouard, 75016 Paris, France.
5. Maison de Victor Hugo
The 280 square meter apartment in the Hôtel de Rohan- Guéménée is the place where Victor Hugo spent sixteen years of his adult life. He moved there one year after the success of his acclaimed novel 'The Hunchback of Notre Dame'. This is the place where the author penned several major works including 'Les Misérables'. The museum consists of three main rooms: the bedroom where the writer died, an ornate Chinese styled living room and a dining room. Visit to discover the writer's personal memorabilia, drawings and portraits.
Address: 6 Place des Vosges, 75004 Paris, France.
6. Musée Curie
This scientific museum is dedicated to the life and works of Marie Curie, the French-Polish physicist and chemist and dual recipient of the Nobel Prize- for Physics in 1903 and Chemistry in 1911. The museum was established in 1934, the year of Curie's death and is devoted to the subject of radiological research and its application in the medical sciences.
Prior to its establishment as a museum it was the laboratory of Marie Curie on the ground floor of the Institut du Radium. Several pieces of scientific equipment used in research are on permanent display here and hence make this museum a must see for any science buff.
Address: 1 Rue Pierre et Marie Curie, 75005 Paris, France.
7. Musée du Parfum ( Haussmann-Fragonard)
This museum is dedicated to the history of perfume, from ancient times down to the very present. In the past, the beautiful townhouse that houses the museum was a theatre and velodrome. The museum runs both independent and guided tours for free and the tours are available in ten languages. You can view artefacts related to perfume making, watch videos on modern day perfume manufacture and also see archives.
Address: 5 Square de l'Opéra-Louis Jouvet, 75009 Paris, France.
8. Petit Palais Musée des Beaux-Arts de la Ville de Paris
This museum probably tops my list of one favourite free things to do in Paris. The name of this museum is a mouthful, I know. It basically translates to the small palace housing the City of Paris Museum of Fine Arts. However, there is nothing quite small scale about this beautiful building. Built originally in 1900 for the Exposition Universalle, the architecture with its domed central porch and triple arcade is of the Beaux-Arts style. The interior is no less imposing. The lofty galleries, skylit to display the paintings to maximum advantage, are a joy to behold. The museum is a repository of paintings of my favourite European painters like Poussin, Fragonard, Rubens, Rembrandt, Ingres, Monet, Pissarro, Cézanne and more. Do not miss.
Address: Avenue Winston Churchill, 75008 Paris, France.
9. Musée des Arts et Métiers
This is a Parisian museum with a difference. It is dedicated to the history of scientific and technological innovation. The museum has 2400 inventions on display spread over seven different departments. These consist of Materials, Energy, Mechanics, Construction, Communication, Transport and Scientific Instruments. This is a good place to visit if you are a science geek or for an educational visit for the family.
Address: 60 Rue Réaumur, 75003 Paris, France.
10. Hôtel de Ville
The Hôtel de Ville or City Hall has been the municipal headquarters of Paris since the fourteenth century. It is a beautiful building, built in the Renaissance Revival style and the sculptures and artistic details of the building can be best appreciated via a guided tour. Although the once-weekly tours are free (twice a week in summer), prior reservation is required. Here are just some of the things you can expect to see. The doors underneath the clock are guarded by sculptures – the allegorical figures of Art and Science. The building façade contains the sculptures of 338 individual figures- all of them notable Parisians. One of the notable sculptors who has contributed to the wealth of art in the Hôtel de Ville is Auguste Rodin. The figure of the mathematician Jean le Rond d'Alembert is by him. Murals by painters like Raphaël Collin, Jean-Paul Laurens, Aimé Morot and others are also accessible. Additionally, free temporary exhibitions are accessible at the city hall and they always centre around the theme of Paris.
Address: Place de l'Hôtel de Ville, 75004 Paris, France.
11. Musée Zadkine
Located near the Luxembourg Gardens is a museum dedicated to the life and works of sculptor Ossip Zadkine. Zadkine's wife bestowed the studio and the personal collection of the sculptor to the city of Paris. The treasure trove of art relics consist of 300 sculptures, drawings, photographs and needlework. The museum also hosts about 5 contemporary art exhibits every year.
Address: 100bis Rue d'Assas, 75006 Paris, France.
12. Musée Bourdelle
The entrance of the Musée Bourdelle is guarded by the imposing sculpture of a black horse and was in fact, sculptor Bourdelle's studio until he converted it into a museum himself. More than 500 artworks grace Bourdelle's personal collection- featuring works by Ingres, Rodin, Delacroix among others.
Address: 18 Rue Antoine Bourdelle, 75015 Paris, France.
13. Atelier Brancusi
A wonderful place to visit if you enjoy interior design, thus reproduction of the studio of the artist Brancusi is a work of art in itself. Brancusi was a Romanian born modern sculptor who lived in France for half a century. He left his entire studio to the state of France upon his death. The stunning collection consists of 137 sculptures, drawings, paintings and photos taken by the artist himself.
Address: Place Georges Pompidou – 75004 Paris.
N.B. All museums first Sunday of the month have free entry. Louvre, Musée D'Orsay, Centre Pompidou are some that run this offer. A trip to the Musée D'Orsay (1 Rue de la Légion d'Honneur, 75007 Paris) means you will be treated to some of the world's best impressionist paintings. Alternatively, if you've landed in Paris via the Eurostar, then you can avail of 2 for 1 tickets to the museum with your Eurostar ticket.
Churches and Cemeteries of Paris
14. Notre-Dame de Paris
This cathedral is not only a medieval Catholic cathedral and one of the finest examples of French-Gothic architecture, it has also inspired popular imagination due to it's being featured in Victor Hugo's unforgettable 'Hunchback of Notre Dame'. The stained glass windows (notably the Rose Window), the use of architectural details like flying buttresses and sculptures make this a must-see Paris experience. For the best photo opportunities from the Cathedral climb the bell towers for a birds-eye view of Paris. For a view of the Cathedral itself, Square Jean XXIII provides a good vantage point to take a rear view of the beautiful monument.
Address: 6 Parvis Notre-Dame-Pl. Jean-Paul II, 75004 Paris, France.
15. Père Lachaise Cemetery
There's something to always appreciate in the sombre ambience of cemeteries and don't miss the opportunity to pay homage to some famous names in world history. A visit to Pere Lachaise Cemetery (16 Rue du Repos, 75020 Paris) to visit the graves of Jim Morrison and the renowned French writer Colette are recommended.
Address: 16 Rue du Repos, 75020 Paris, France.
16. Basilique de Sacré-Coeur
Sacré-Coeur is another Roman Catholic Church built at the top of the protuberance of Montmartre. Incidentally, it is also the highest point in the city so the views are to be reckoned with. The architecture is a curious mix so that you may be confounded for some time trying to figure out its details. It could be described as Romano-Byzantine. Built of beautiful, creamy white travertine stone, this monument containing a remarkable mosaic, Merson's 'Christ in Majesty', is a place that dominates the Parisian skyline.
Address: 35 Rue du Chevalier de la Barre, 75018 Paris, France.
17. La Madeleine
Situated at the confluence of the Place de la Concorde, the Place Vendôme and Saint-Augustin, this Neo-Classical church was built to resemble a Roman temple. The towering colonnades, the nave with Jules-Claude Ziegler's fresco 'The History of Christianity' featuring Napoleon, the striking cupolas with central skylights resembling eyes, the pediment featuring an exquisite sculpture of the 'Last Judgement' along with the bronze doors with bas-relief from Biblical scenes, make this a church that must be visited on your Paris trip.
Address: Place de la Madeleine, 75008, Paris, France.
18. The Panthéon
This beautiful building was originally built as a place of worship but nowadays has been converted to a mausoleum, holding the remains of several notable Parisians. The Neo-classical architecture is reminiscent of the Panthéon in Rome. Being buried in the Panthéon is considered one of the highest honors bestowed on a citizen. The inscription on the wall at the entrance to the burial place bears testament to this sentiment- 'To great men, the grateful homeland'. Notable French people whose remains have been interred here include Madame Curie, Dumas, Voltaire, Rousseau, Victor Hugo and Émile Zola among others.
Address: Place du Panthéon, 75005 Paris, France.
19. Saint-Chapelle
Saint-Chapelle is a very old Gothic chapel in the Rayonnant style of architecture. It is situated in the Palais de la Cité on Île de la Cité. The palace was the seat of the royal dynasty till the fourteenth century. It is a very lofty church, emblazoned with a vivid blue ceiling and spectacular, tall stained glass windows. The chapel was originally built to house Louis IX's collection of Christ's relics including the Crown of Thorns and the image of Edessa. This has got to be one of the most beautiful places of worship in Paris, alongside Notre Dame.
Address: 8 Boulevard du Palais, 75001 Paris, France.
20. Saint Eustache Church
Considered a masterpiece of Gothic architecture, Saint Eustache Church is found just opposite the entrance to the ancient market of Les Halles. Saint Eustache Church hosts free organ concerts every Sunday evening at 5.30 pm and they are a pleasure to listen to whilst admiring the beauty of the stained glass windows and the vividly painted panels in the Chapel of the Virgin.
Address: 2 Impasse Saint-Eustache, 75001 Paris, France.
21. Saint-Etienne-du-Mont
This is a Roman Catholic Church located in the fifth arrondissement of Paris and an example of the French Gothic style of architecture. It's been popularly featured in Woody Allen's film 'Midnight in Paris' and also gets a mention in Hemingway's 'A Moveable Feast'. Dating from the sixth century the first chapel was formed from the crypt of St Geneviève Abbey and is of great historical importance as well. The shrine of St. Geneviève, the sculpted typanum, the nave, and embellished ceiling are all notable details.
Address: Place Sainte-Geneviève, 75005 Paris, France.
Best free Parks/ Outdoors/ Walks in Paris
22. Canal Saint-Martin
Also close to topping my list of cool free things to do in Paris, walking the length of Canal St Martin remains one of my favourite walks in this city. A man-made waterway the canal is about 4.5 km long, connecting Canal de l'Ourcq to the Seine. Originally built in 1802 by Napolean I as an out-thrust of the Ourcq River, aiming to bring potable drinking water to Parisians riddled with potential diseases like cholera and dysentery. Every fifteen years or so the canal is dredged to clean it but in recent times the area itself surrounding the canal has undergone revitalisation. Find a hive of pubs and bars spread along the canal. This area is also a popular hang-out of the student population. In popular culture the canal area was featured in the cinema 'Amelie' as a place to skip stones.
Address: accessible from the following Métro stations: Stalingrad, République, Goncourt, Jaurès, Oberkampf, Richard-Lenoir, Bastille, and Quai de la Rapée.
23. Parc du Champ de Mars
Parc du Champ de Mars is a verdant space sprawled at the feet of the Eiffel Tower. The name literally translates to 'Field of Mars' as a nod to 'Mars Field' in Rome and the Roman God for warfare (fields were former used for military drill). This is a great place to plan a picnic. Don't forget to miss seeing Clara Halter's 'Wall for Peace Memorial' made of etched glass.
Address: 2 Allée Adrienne Lecouvreur, 75007, Paris, France.
24. Parc des Buttes-Chaumont
This is a beautiful urban park located in northeastern Paris. Features of this green park consist of an artificial lake with placidly swimming ducks, a rocky island central to the lake called Île de la Belvédère, Temple de la Sibylle (in memory of the ancient Roman Temple of Vesta in Tivoli) perched fifty metres above the lake, bridges connecting the island to the rest of the park, a central promenade to walk, and sprawling green lawns.
Address: 1 Rue Botzaris, 75019 Paris, France.
25. Jardin des Tuileries
Jardin des Tuileries is a large public garden spanning the space between the Louvre and the Place de la Concorde. Built in 1564 by Catherine de Medici, the area was originally occupied by several workshops (hence the name 'tuileries') that were dedicated to making roof tiles. Now this Italianate style Renaissance garden with perfect symmetry and long perspectives is the perfect place for a stroll, a picnic or a time for silent repose. While there, don't miss out on the opportunity to get a picture in front of the iconic pyramid at the neighbouring Louvre.
Address: 113 Rue de Rivoli, 75001 Paris, France.
26. Jardin des Plantes
Jardin des Plantes or 'Garden of Plants' is dedicated to all things botanical. It was opened as a medicinal herb garden for Louis XIII but nowadays is a botanical garden and the site of three other branches of the Natural History Museum. Entry into the grounds is free but the museums charge extra for entry. An Alpine Garden, Rose Garden and greenhouses dedicated to the propagation of regional plants are special features.
Address: 57 Rue Cuvier, 75005 Paris, France.
27. Montmartre
Montmartre is a Parisian locale, featuring a high prominence jutting out of the city's skyline with a Romano-Byzantine church, Sacré-Coeur on top. In the grand hey-day of the Belle Époque, Montmartre was a hive for the bustling talent of artists such as Claude Monet, Henri de Toulouse-Lautrec, Camille Pissarro, Vincent van Gogh and many more.
Though no longer a place of such heights of talented bohemian activity, nevertheless Montmartre is a lovely place to while away a few hours and imbibe its historic charm. You can navigate to the top of the Montmartre butte via funicular railway, bus or via the steps of the Rue Foyatier, that runs parallel to the funicular.
Below Montmartre is the 'Pigalle' or red-light district famous for the Moulin Rouge.
Address: 18th arrondissement, Paris, France.
28. La Petite Ceinture
This is an old abandoned circular railway that functioned as a connector between the main railway stations of Paris but went into decline with the rise of the Métro. Certain strips of the fourteen mile rail track have grown into nature trails. This is a nice place to discover unexpected urban wildlife.
Address: 36 Boulevard de Beauséjour 75016 Paris, France.
29. Arc de Triomphe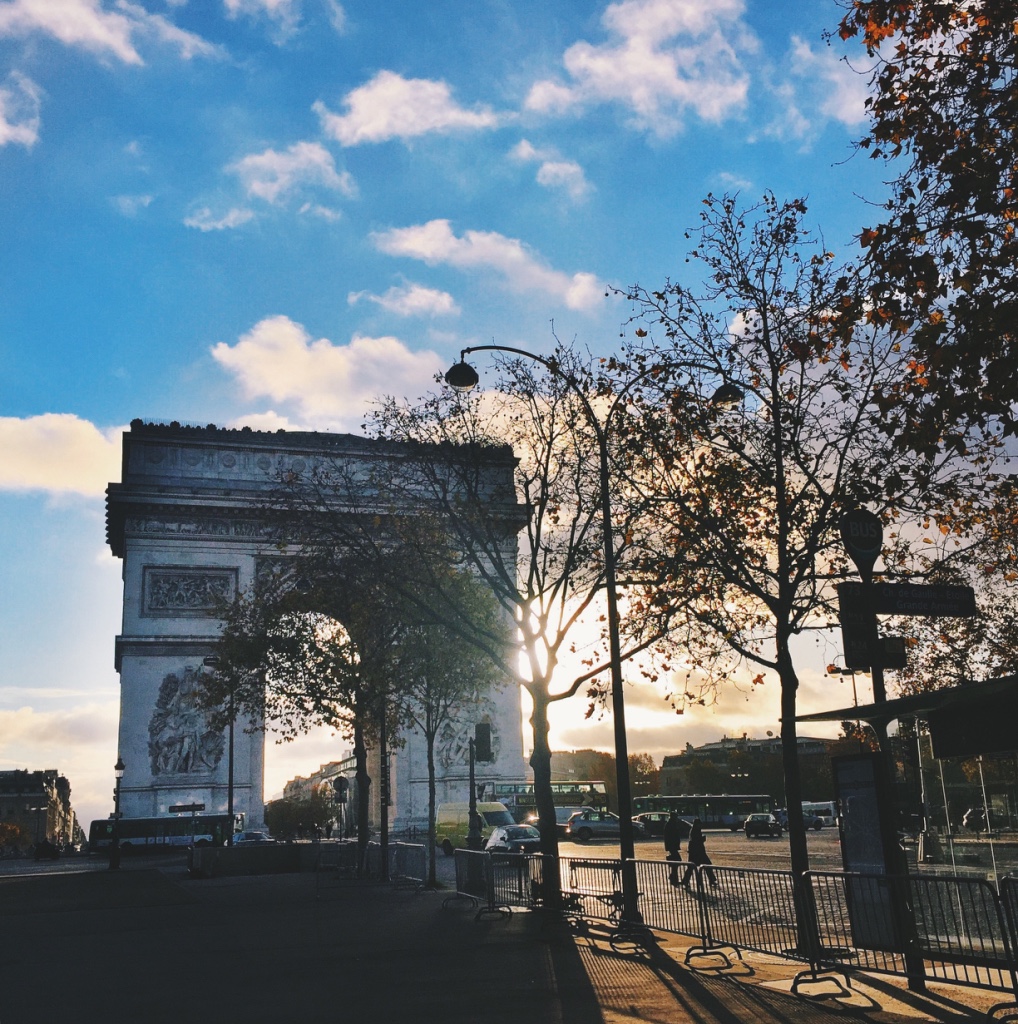 The Arc de Triomphe is another one of the most iconic features of the city's architecture. A Triumphal Arch, inspired by the Roman Arch of Titus, this monument commemorates the lives of French nationalists who fought in the French Revolutionary War and the Napoleonic Wars. Beneath the Arc lies the Tomb of the Unknown Soldier of the Great War and is marked by an eternal flame that has been burning since Armistice Day in 1921. There are six very important reliefs that decorate the facades-each depicting key moments of the Revolutionary and Napoleonic War. They include General Marceau's burial, the Battles of Austerlitz, Arcole, Jemappes and Aboukir, and the Fall of Alexandria.
Gaining access to the viewing platform and seeing the Arc up close does cost money but a view or snapshot of this imposing monument from the Champs-Elysees or a circulating bus or car are absolutely free.
Address: Place Charles de Gaulle, 75008 Paris, France.
30. Promenade des Berges de la Seine
This is a promenade and a series of floating gardens that are to be found on the left bank near the Musée D'Orsay. The innovative floating gardens are to be found on top of barges, stationed on the river. Apart from the promenade there are cafés, playgrounds and classroom space.
Address: Quai D'Orsay, 75000 Paris, France.
31. Ile aux Cygnes
This is another artificial island, but this time it is positioned plump, in the middle of the Seine. It translates in the English to the 'Island of the Swans'. The best thing about the island is a long walkway that spans its length- about 850 metres. A quarter scale replica of the Statue of Liberty is the sole inhabitant of the island, situated near to the climbing wall under the Pont de Grenelle. Three bridges span the island: the previously mentioned Pont de Grenelle, Pont Rouelle, and Pont de Bir-Hakeim. A birds-eye view of the entire island can be had from the top of the Eiffel Tower.
Address: 15th arrondissement, Paris, France.
32. Ile Saint Germain
This is a spot of natural beauty to be found on the periphery of Paris. It is a park on an island in the Seine in the region of Issy-les-Moulineaux. To get there will afford you 30 minutes of bike riding from the centre of Paris but once there, you will revel in the oasis of calm and tranquility the place exudes particularly in the midst of Parisian heatwaves. Pack a picnic, paint or read a book under the willow trees.
Address: Issy-les-Moulineaux, Paris, France.
33. Promenade Plantée
This elevated tree-lined walkway, constructed on top of a disused railway viaduct was the inspiration for New York City's 'Highline'. The green course runs for approximately 5 kilometres, in the space of which you will be treated to expansive views, pass a number of shops, and modern buildings.
Address: 1 Coulée verte René-Dumont, 75012 Paris, France.
34. Place de la Concorde
One of the largest squares in Paris, the Place de la Concorde is a wonderful place to people watch, catch a breath, and enjoy the varieties of street entertainers and artists tart inundate the square. It's also a great place to take pictures of the Eiffel Tower, so remember to bring your camera.
Address: Place de la Concorde, 75008 Paris, France.
35. Parc de la Villette
This is the third largest park in Paris and hosts several important cultural venues within its grounds. On its periphery is the 'City of Science and Industry', the largest science museum in Europe. There is a grand hall that hosts cultural events and fairs, La Zenith is a concert arena and L'Argonaute is a decommissioned submarine. The Philharmonie de Paris has an eye catching silvery symphony hall with a unique modern design. The park attracts thousands of visitors of all ages who want to engage in one type of cultural activity or the other.
Address: 211 Avenue Jean Jaurès, 75019 Paris, France.
36. Domaine National de Saint-Cloud
Domaine National de Saint-Cloud is a park that is built on the erstwhile site of the Chateau de Saint-Cloud- a place of royal residence since the sixteenth century. The site has rather a sad history- being razed to the ground in shell fire during the Franco-Prussian War. What remains is one of the most beautiful, ornate gardens in Europe. From the park, a panoramic view of Paris can be obtained.
Address: 1 Avenue de la Grille d'Honneur, 92210 Saint-Cloud, France.
37. Parc Monceau
This is a public park that was originally acquired by the Duke of Chartres, the cousin of King Louis XVI. The park was designed to resemble an English Garden by Louis Carmontelle. There are many striking architectural features that grace the garden. They include the a small rotunda at the main park gate, a miniature ancient Egyptian pyramid, a Roman colonnade, a Chinese fort, a Dutch windmill and other curiosities from around the world. Visiting the park is like visiting the cultural wonders of the world- all in miniature.
Address: 35 Boulevard de Courcelles, 75008 Paris, France.
Free Cultural/Shopping/Activities in Paris
38. La Canopée des Halles
Described vividly in Émile Zola's 'Belly of Paris' Les Halles is the site of an old food market used since medieval times, bursting to the brim with produce, and described vividly in Émile Zola's 'Belly of Paris'. The site was converted to a neglected mall and then has been given a new avatar in the form of La Canopée des Halles.
Address: Allée Jules Supervielle, 75001, Paris, France.
39. Shakespeare and Company
This is a duo of independent bookshops – one founded by Sylvia Beach in 1919 and the other by George Whitman in 1951. The stores were renamed to 'Shakespeare and Company' in 1964 on the 400th birth anniversary of the renowned English bard. The bookstores have new and used book departments, an antiquarian section and a free reading library to enjoy reading a book on a cloudy day. The quote "Be Not Inhospitable to Strangers Lest They Be Angels in Disguise" is emblazoned on the wall of the reading room and is a sweet reminder of the bookshop's ethos. Every book purchased from the shop is provided with a special Shakespeare and Co. stamp- the perfect Parisian memento.
Address: 37 Rue de la Bûcherie, 75005, Paris, France.
40. Free Fashion Shows at Galeries la Fayette
If you are eager to find about what's new and happening in the style capital of the world then don't miss an opportunity to attend one of the free fashion shows held at the Galeries la Fayette, every Friday at 3pm. Make sure you make your reservation online, in advance to ensure availability on the required date.
Address: 40 Boulevard Haussmann, 75009 Paris, France.
41. Birds-eye View of Paris from the Top of the Galeries la Fayette
Another excellent free activity if you are at the Galeries la Fayette is to visit the roof top terrace for one of the best views of Paris. Do some window shopping afterwards in the shopping arcade itself, if you have extra time.
Address: 40 Boulevard Haussmann, 75009 Paris, France.
42. Arènes de Lutèce
This Roman amphitheater was uncovered during excavation for a tramway and is found in the fifth arrondissement. It would have housed 15,000 spectators in its time to showcase gladiator shows, or theatrical productions. It is remarkably well preserved and could make a wonderful place for a picnic or a place to play with children.
Address: 49 Rue Monge, 75005 Paris, France.
43. Visit a Flea-Market at Clignancourt
Visiting a flea market, regardless of whether you buy anything or not can be a wonderful way of delving into the city's past and talking to some locals in the process. Sifting through bric-a-brac may enable you to unearth a lost treasure. Two famous flea markets are Clignancourt and Porte de Vanves.
Address: Clignancourt – Porte de Clignancourt, 93400 Saint-Ouen, France.
44. Listen to a Free Concert at the American Church in Paris
The Atelier Concert series, held at the American Church in Paris has been a regular event on Parisian cultural scene since the 1930s. Each concert is a new offering and is held every Sunday at 5pm. It is absolutely free to attend although a free-will donation is encouraged. The events are held September to November and January to June.
Address: 65 Quai D'Orsay, 75007 Paris, France.
45. Open Air Cinema at the Parc de la Villette
Enjoy open-air cinema during the months of July and August (Thursday to Sunday) in one of the city's largest parks. The showings vary from classic cinema to more contemporary movies. The movies are aired in their original language with French subtitles. Book a deck chair and be prepared for some cinematic delight as soon as it gets dark.
Address: 211 Avenue Jean Jaurès, 75019 Paris, France.
46. Visit the Rue Mouffetard Market on Saturdays
Ernest Hemingway described the market street in his epic novel of Paris called 'A Moveabke Feast'. This street contains many shops selling produce but also many market stalls selling the most fresh wares imaginable. On weekend mornings the market comes alive when locals and tourists mingle and sample many culinary delights like charcuterie, seafood, pâtisserie, cheeses and so on.
Address: Rue Mouffetard, 75005 Paris, France.
47. Watch the Free Light Show at the Eiffel Tower
At dark, every hour on the hour for five minutes the Eiffel Tower sparkles and provides a light show for all spectators. The Place du Trocadéro will give you the best seat for the show in town.
Address: Champ de Mars, 5 Avenue Anatole France, 75007 Paris, France.
48. Conservatoire National Supérieur de Musique et de Danse
Consider attending a free concert at the Paris Conservatoire. Although it is free to attend, the concerts do require tickets. Check the full calendar of events to get know-how on upcoming recitals.
Address: 209 Avenue Jean-Jaurès 75019 Paris.
49. Marche d'Aligré
This is a partially covered market wedged in between Place de la Bastille and the Place de la Nation. It's open six days a week. In the covered part of the market find a number of food stalls- cheeses, coffee, herbs and meat. The uncovered section of the market is choc-a-bloc full of produce, antiques, books and all manners of loveliness. Closed on Monday.
Address: Place d' Aligre, 75012 Paris, France.
50. Attend a Free Lecture in Paris
Perhaps not everyone's idea of how to spend a holiday but the geek in you might want to attend a free lecture at the Collège de France. The topics range from a number of well curated subjects not limited to Mathematics, Philosophy, Archaeology and Sociology. Many of the lectures are held in English.
Address: 11 Place Marcelin Berthelot, 75231 Paris, France.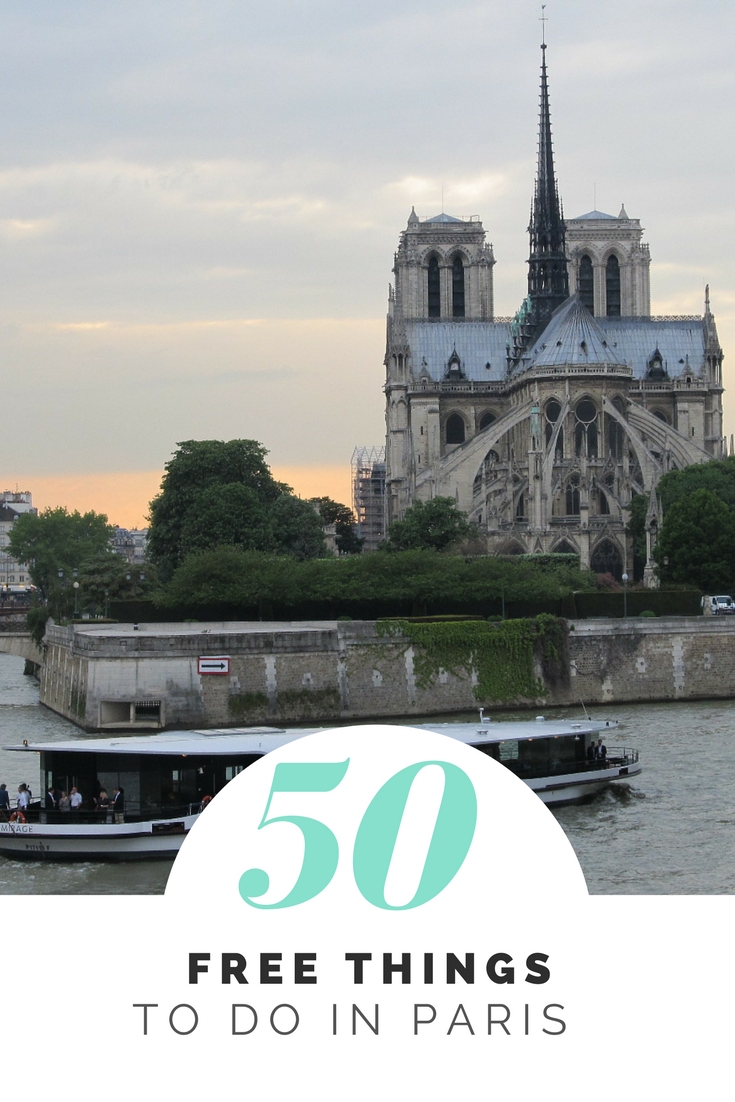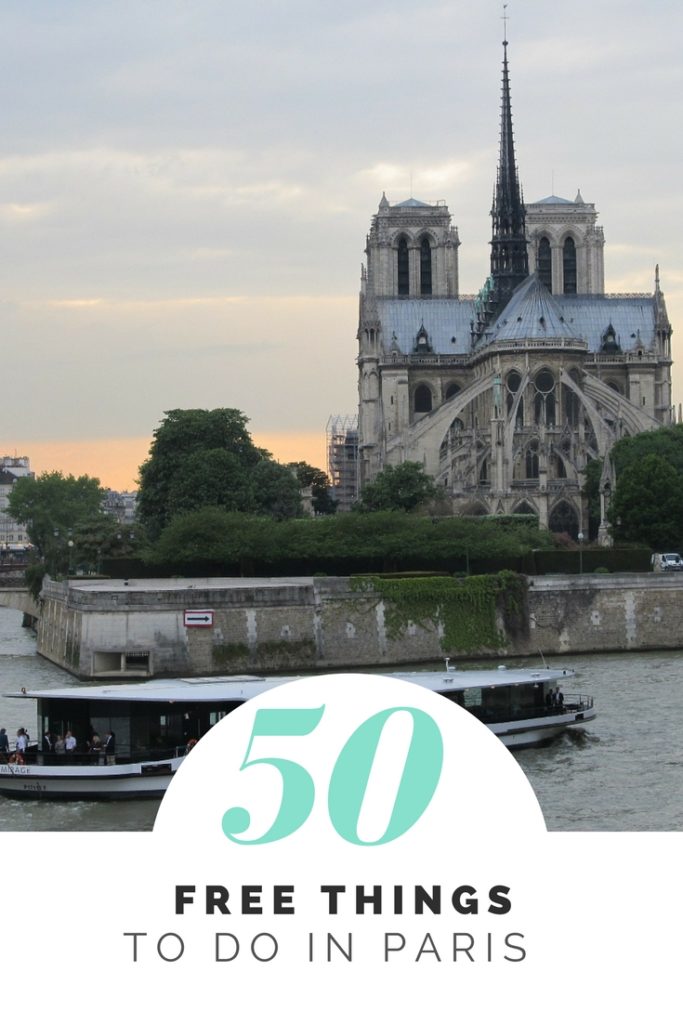 If you enjoyed this post read
Autumn in Paris is Good for the Soul
Best Free Apps for Discovering Paris
Welcome to Paris' hippest hostel
Paris, in 40 photos & 20 songs
Best cheap places to stay in Paris,
Where to Stay in Paris
Welcome to Paris' hippest hostel
Avoid Ryanair & Airbnb? 5 tips for first-time visitors to Paris