The best and cheapest way to see Europe ? How about travelling by train across Europe. While it is not as cheap as coach travel, trains in Europe, if booked in advance, can offer some incredible deals. It beats flying anyway and also is the most sustainable and one of the cheapest ways to travel across Europe. While for peace of mind and ease of travel, an Eurail pass is incredible, if you do have a rough itinerary in mind and prepared to book the long distance routes 90 days in advance ( or 9 months for trains in France) , there are some incredible cheap train tickets for Europe. Following my revised guide to the best budget bus companies to see Europe, I've compiled a list of the 11 best tips and hacks to find cheap trains in Europe.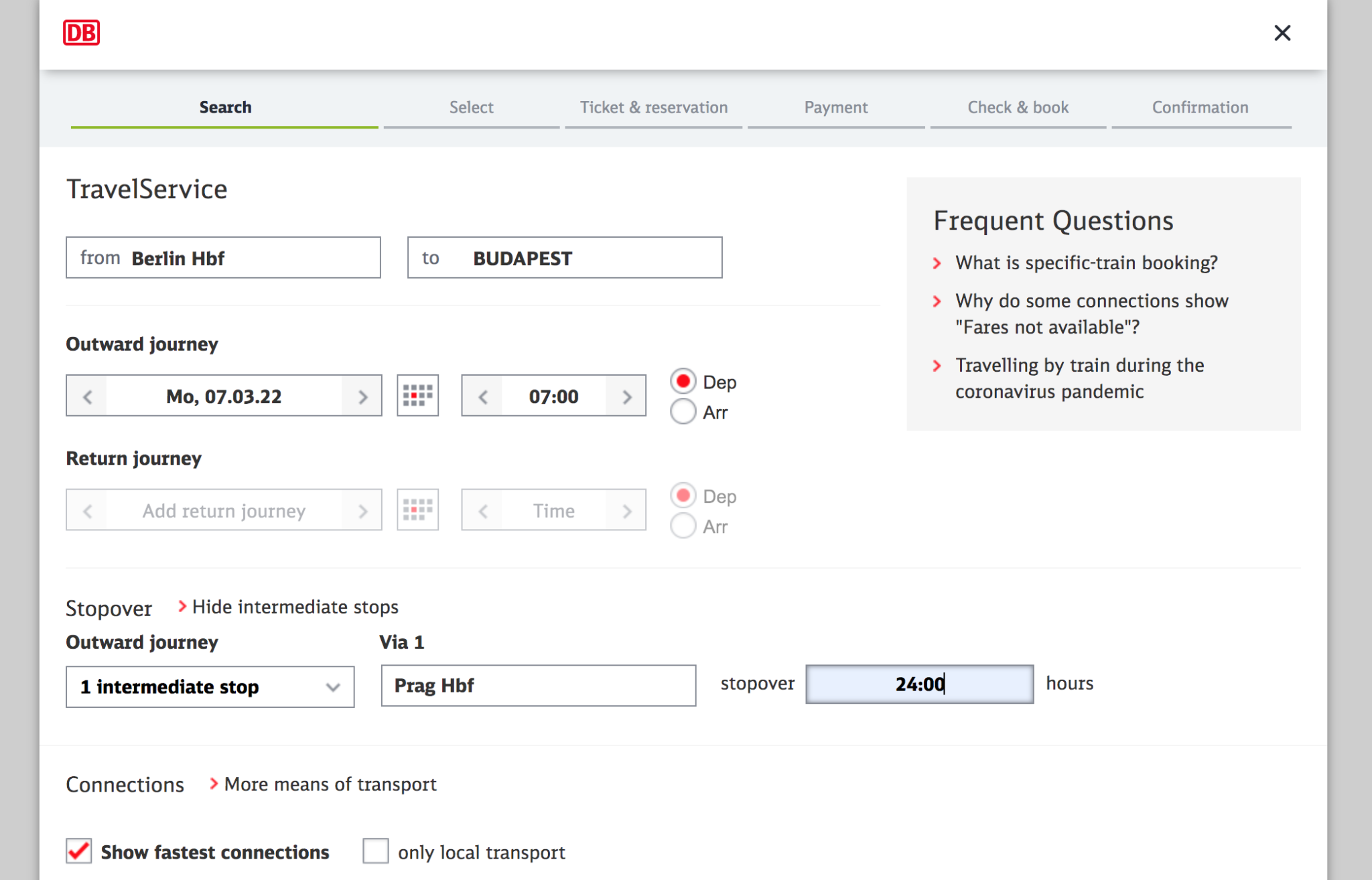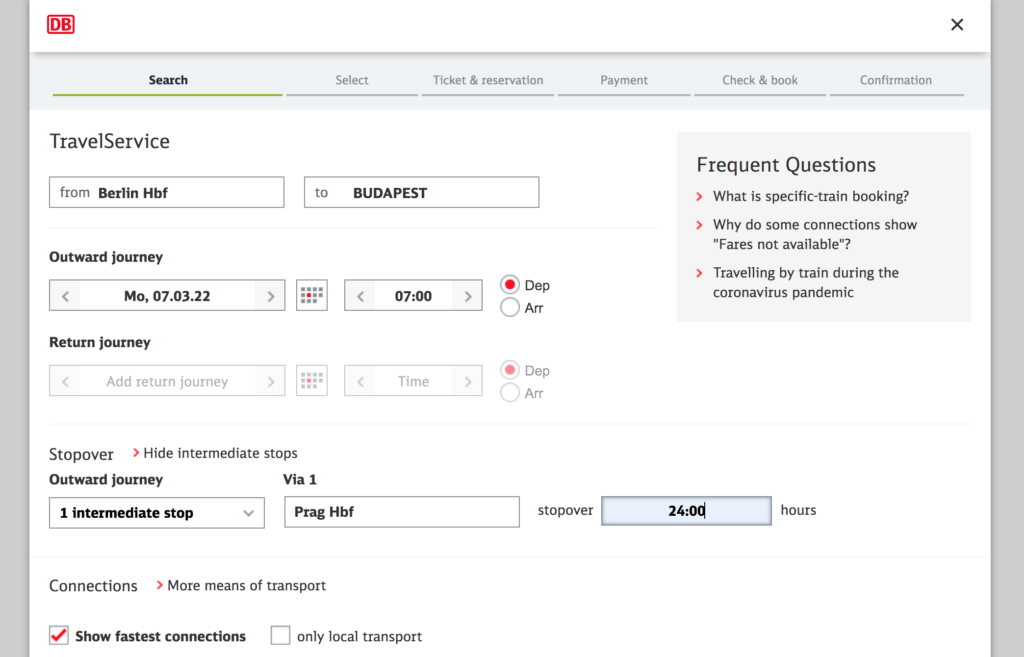 1. Use the stopover feature on Deutsche Bahn's international tickets to travel from Berlin to Prague with stopover in Dresden for €18.90
Plan a stopover at no extra cost thanks to this incredible feature from Deutsche Bahn!
If you are visiting Berlin for example with plans to continue to Prague, via the Deutsche Bahn website, you can add a 24 hour stopover in Dresden at no extra price.
For example, searching in March 2022, you can buy a ticket from Berlin to Prague for as little as €18.90 with a 24 hour stopover in Dresden.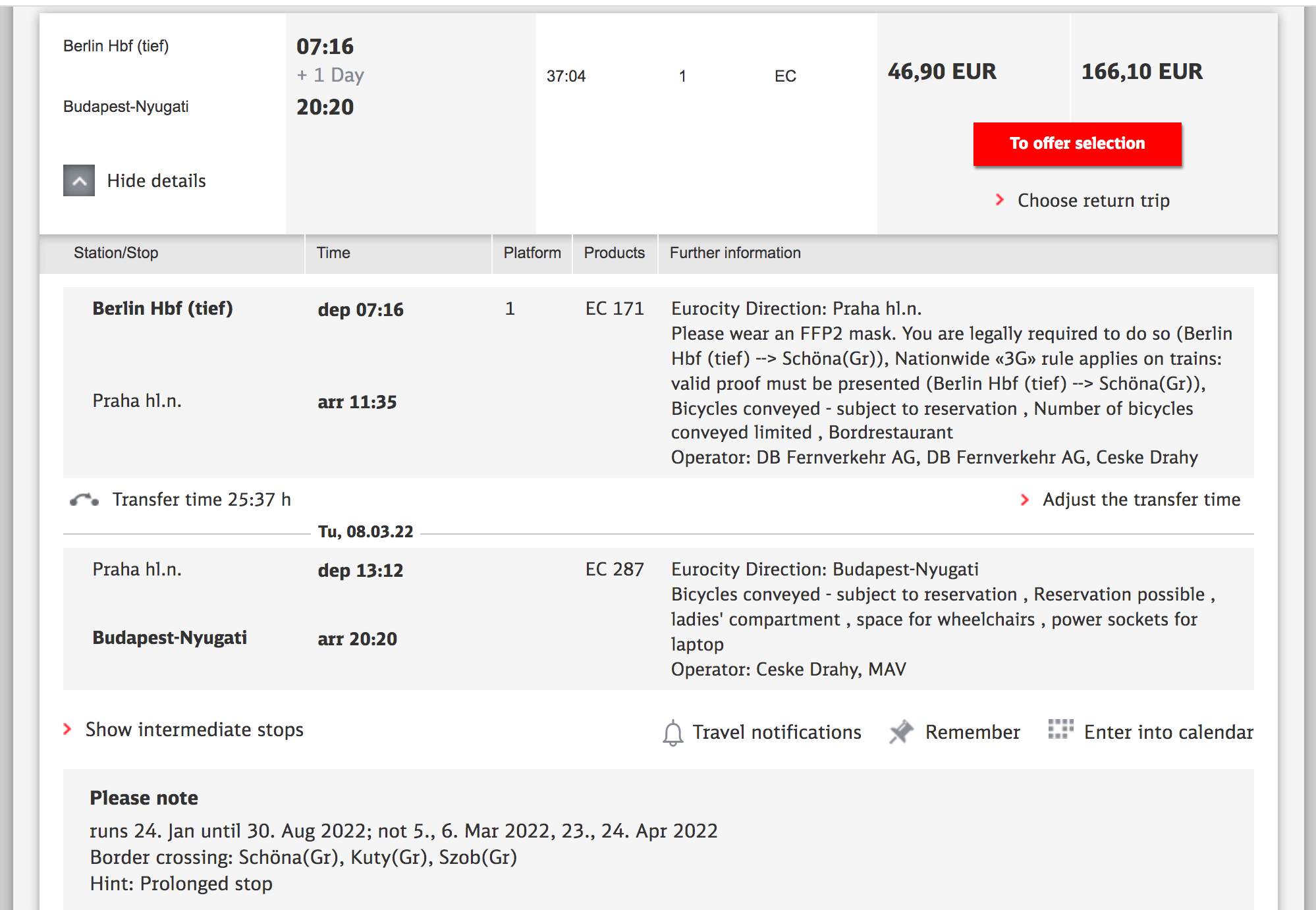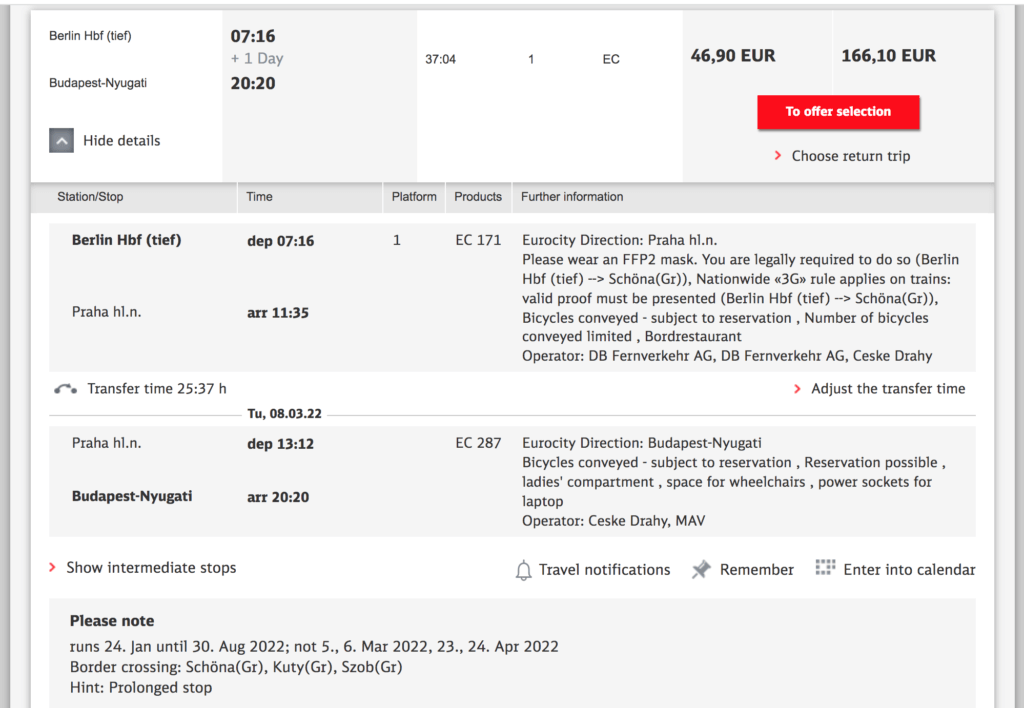 Or if you are planning to visit Budapest, you can book a ticket from Berlin to Budapest for €46.90 with a 24 hour stopover in Prague.
PS: If you are planning a trip to Prague, checkout my guide to the best budget places to stay in Prague, Prague on a budget and also my guide to the best things to do in Prague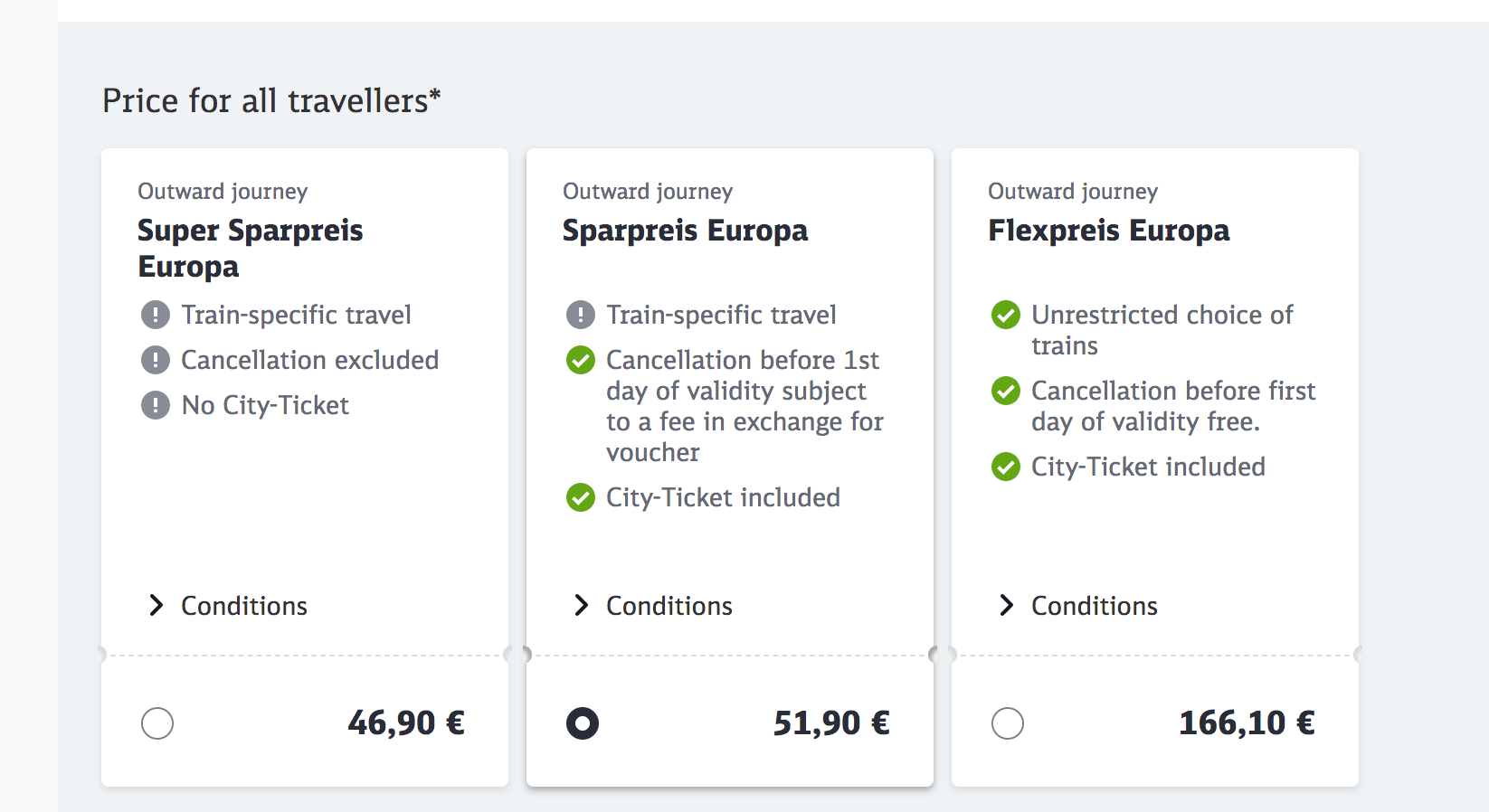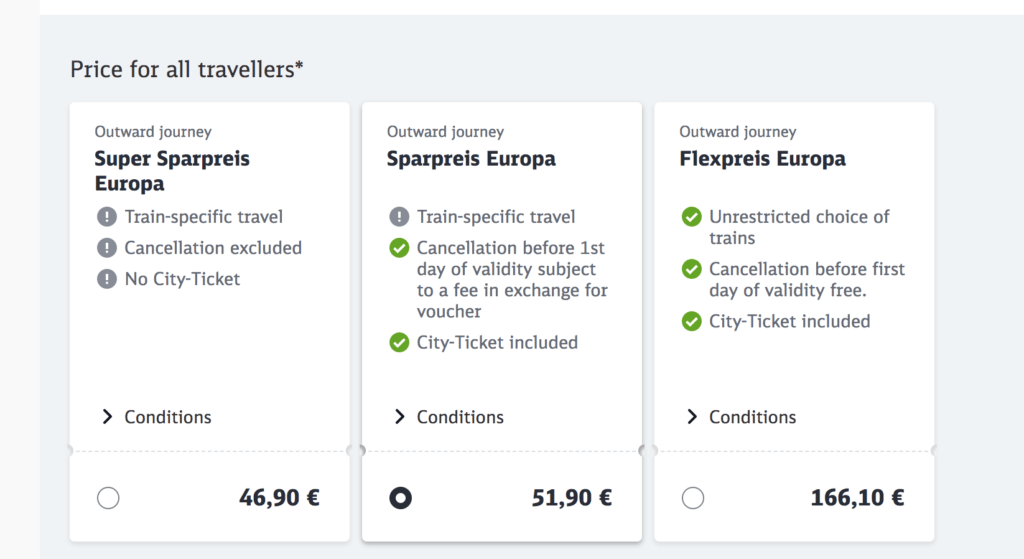 These are Deutsche Bahn's Sparpreis advance-purchase cheap fares.


For an extra €19.90 you can also upgrade your ticket to 1st class where you'll get a slightly better seat and legspace but honestly in my opinion, there is not really a big difference between travelling 1st and 2nd class on these trains.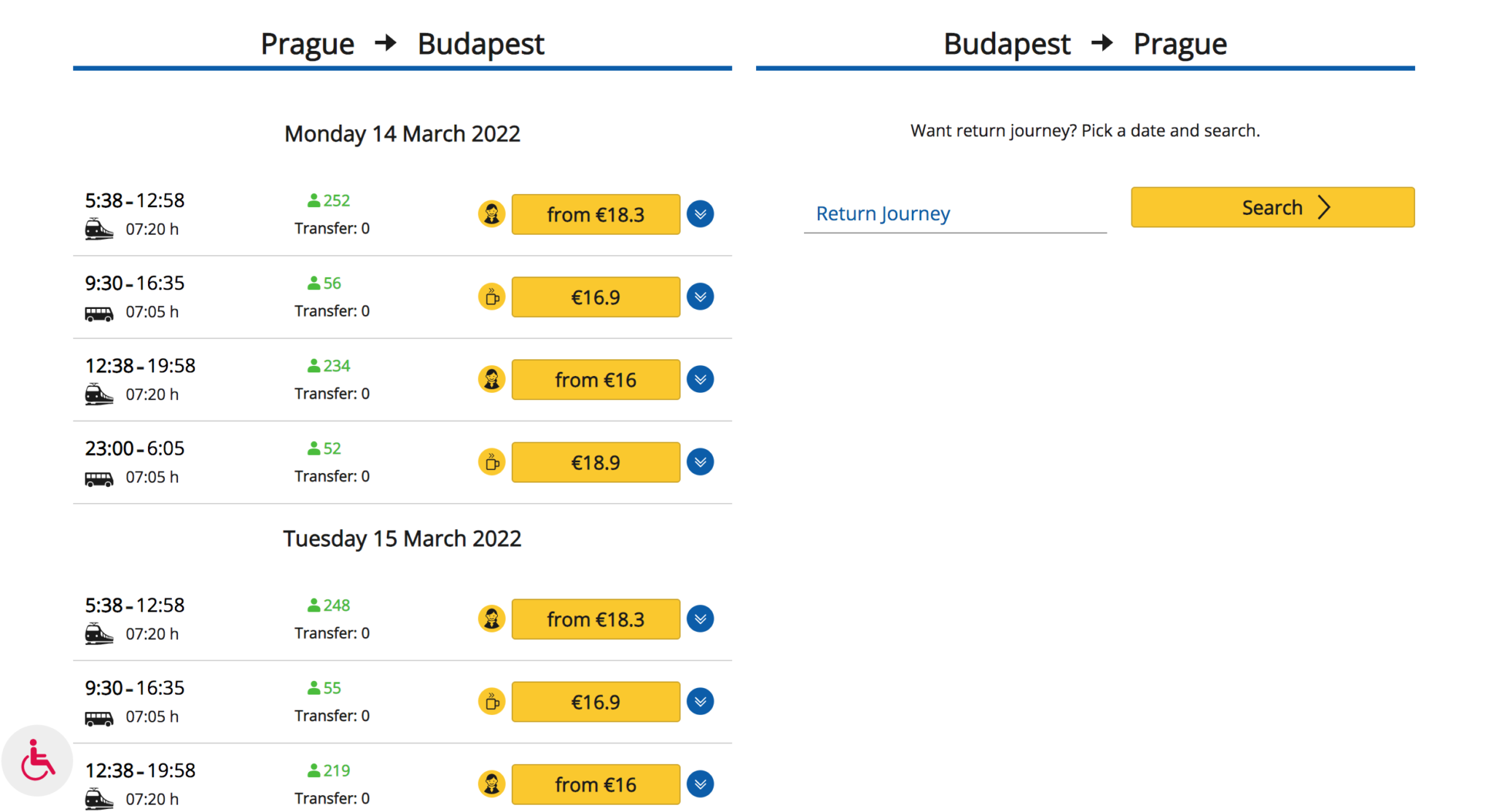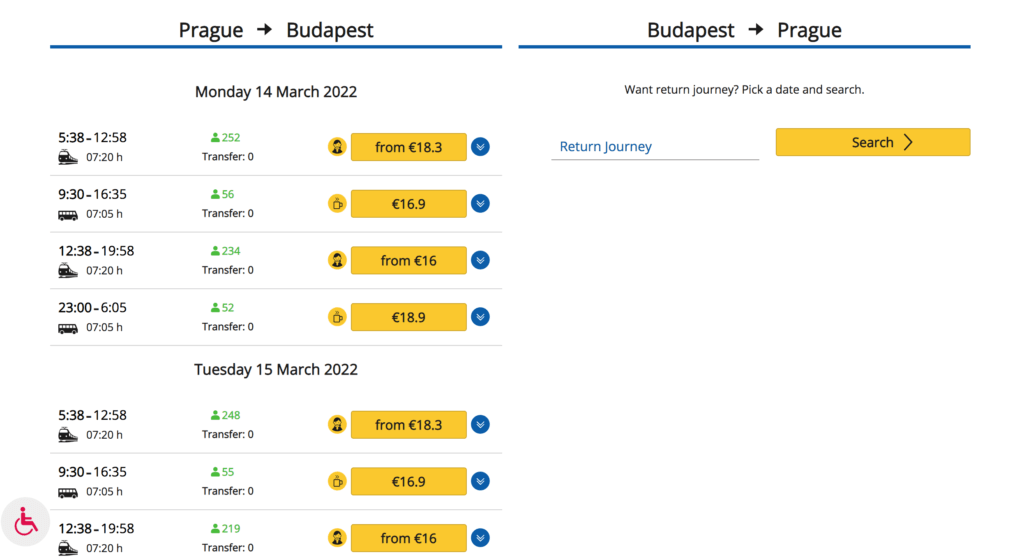 2. Prague to Budapest- €16 and Vienna to Budapest- €9 with Regiojet
One of the best value cheap train Europe deals- tick off three classic Europe destinations with one incredible fare
Formerly the Student Travel Agency which started out offering low-cost luxury bus services within Czech Republic, the agency has now rebranded as Regiojet offering incredible value low-cost train services within Czech Republic and beyond.
The best value deal of the lot, was launched last summer when Regiojet started a new train service that linked up three key European capitals that are a staple of every Eurotrip- Prague, Vienna and Budapest. Currently there are 2 trains servicing the route daily. Tickets start from as little as €16 between Prague and Budapest and just €9 from Vienna to Budapest.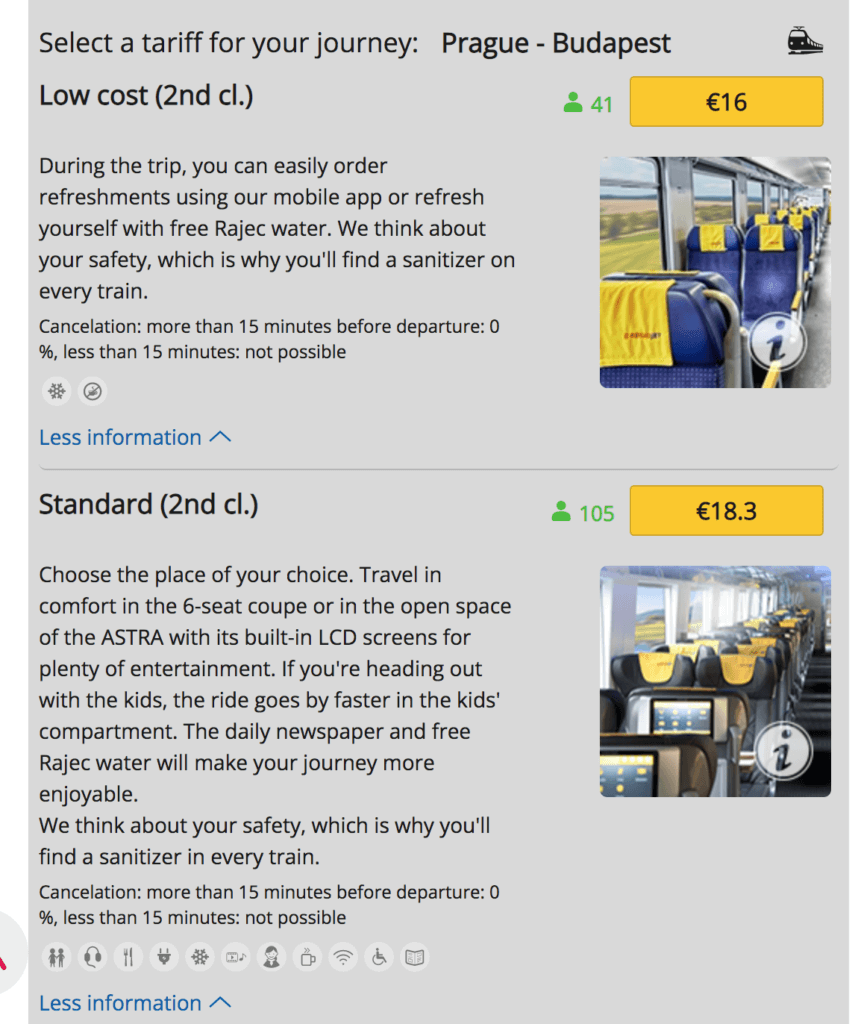 A quick search pulled up a few of the €16 Prague and Budapest fares in March 2022. The basic fare includes seat reservations and WiFi. For an extra €2.30 you get a better seat, free newspaper water and access to their built-in LCD screens.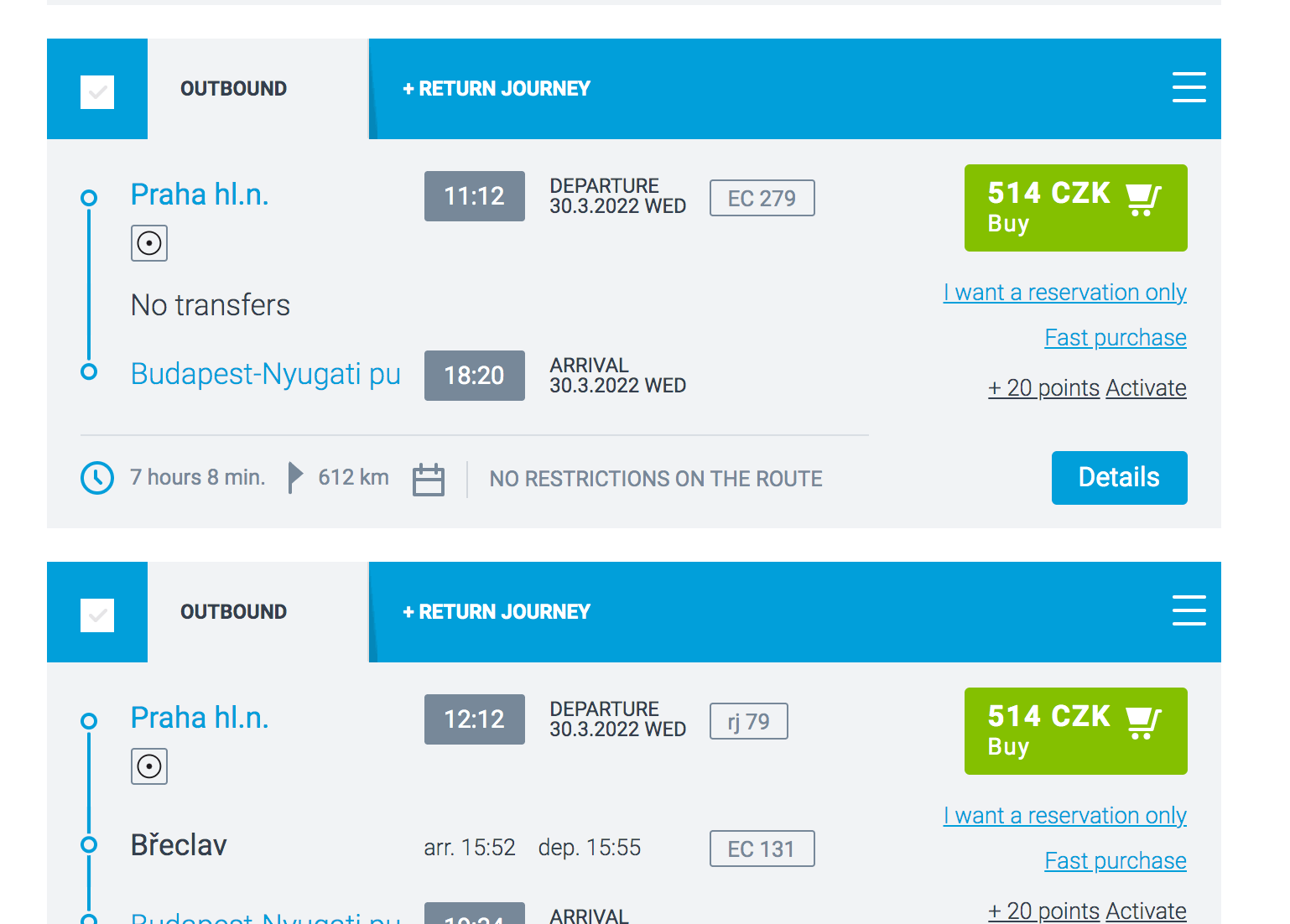 3. Prague to Budapest with Czech Railways for €21 in advance
Another slightly more expensive and alternative option is to book Eurocity train from Prague to Budapest for as little as €21 or 514 CZK. You can only book this ticket in advance only via the
Czech Railways website.
4. Prague to Munich for €15 via Czech Railways
Czech Railways, portal for Czech trains can sometimes offer some great deals on train travel….
If you are travelling from Czech Republic to Germany, I would also strongly urge you to look up fares on Czech Railways website where they can be often a third cheaper than when booking via Deutsche Bahn website.
For example on 30th March, travelling from Prague to Munich on the direct train, ( 11.38am ) the fare shows up as €42 one way via bahn.de website but if you look at the Czech Railways website, same train and fare shows up as 360 CZK which is €14.76 which is a massive saving.
5. Paris to Nice €19 with the French low cost train service Ouigo
A low-cost, high-speed train service operated by SNCF
Visiting France soon? While many are familiar with their amazing TGV trains, Voyages SNCF also has a low-cost train service called Ouigo which offers fares as cheap as €10 between Paris Marné la Vallée and Lyon or Bordeaux & €19 from Paris to Nice. These super cheap fares open 9 months in advance so you should book early to get these fares.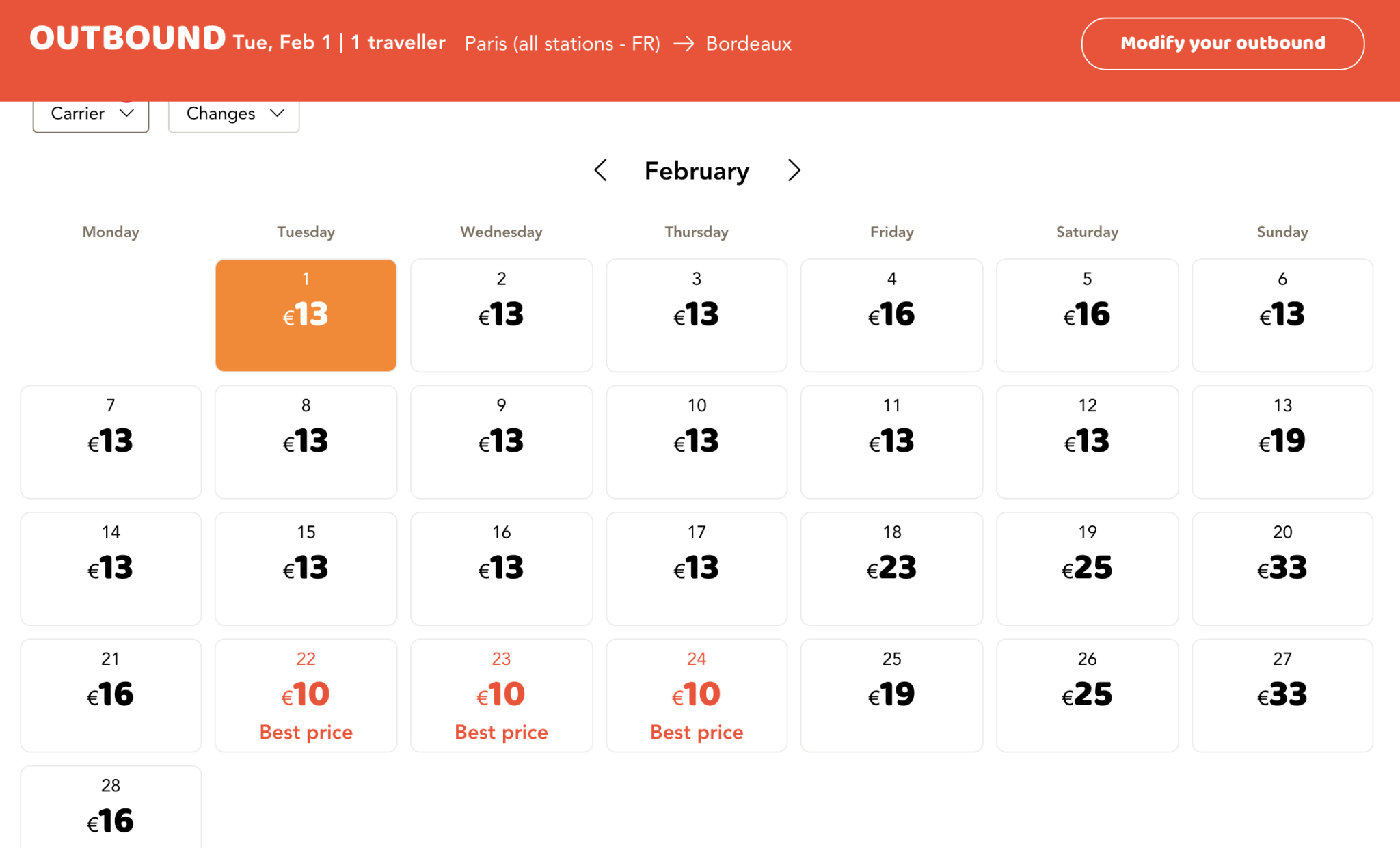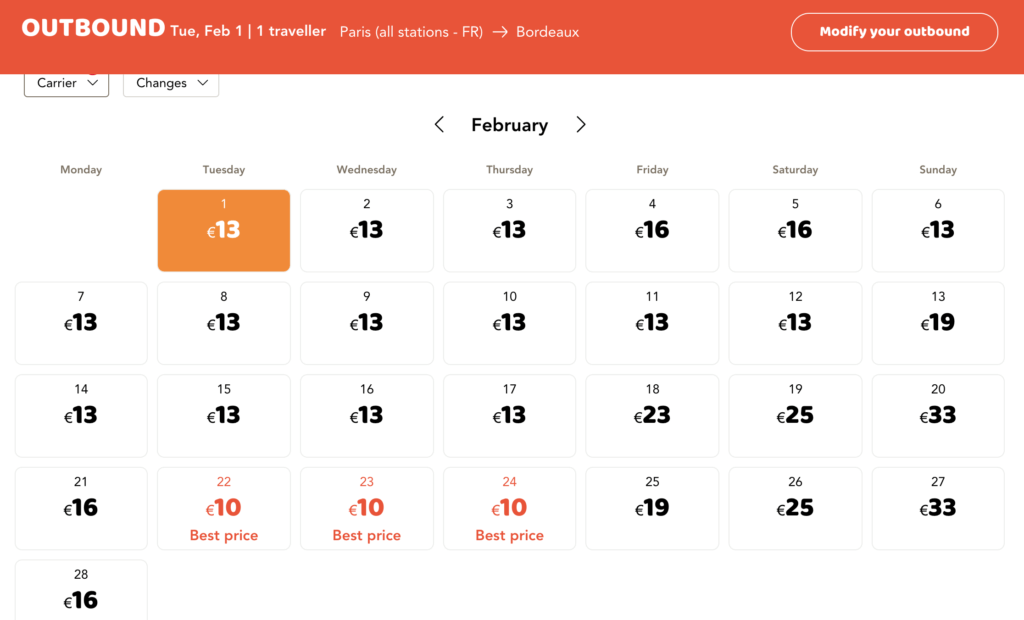 For example, a quick search on en.oui.sncf, I can see a bunch of fares for €10 from Paris to Bordeaux in June 2022. It is worth noting that this fare is valid from Marné la Vallée which is the TGV outpost for Disneyland Paris and is a 12 minute , €15 ride from Paris CDG airport. Or you can take the underground to Châtelet-Les-Halles from where you take the RER-line A to Marne-la-Vallée. Journey time is 35 minutes and costs €7.50.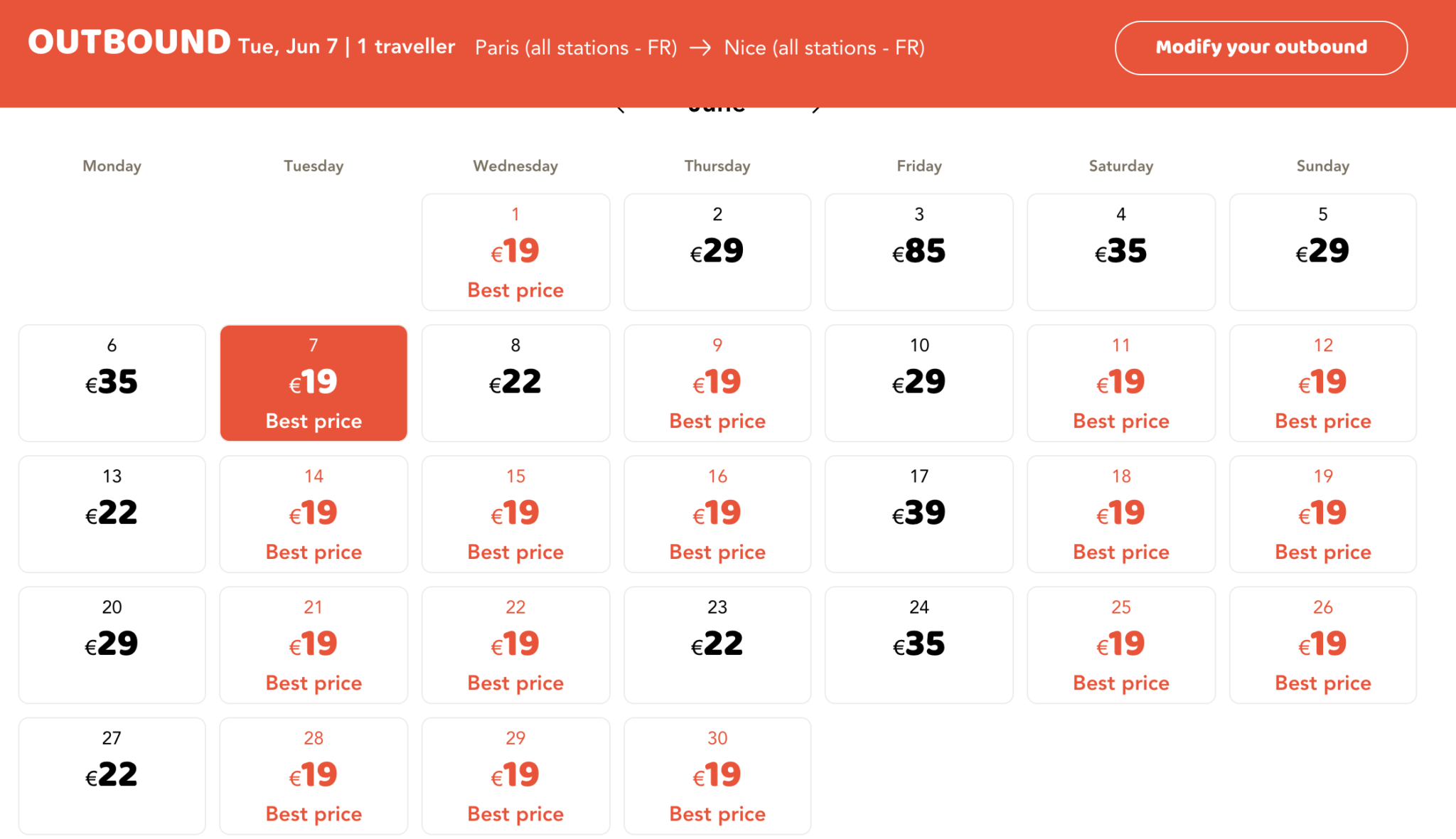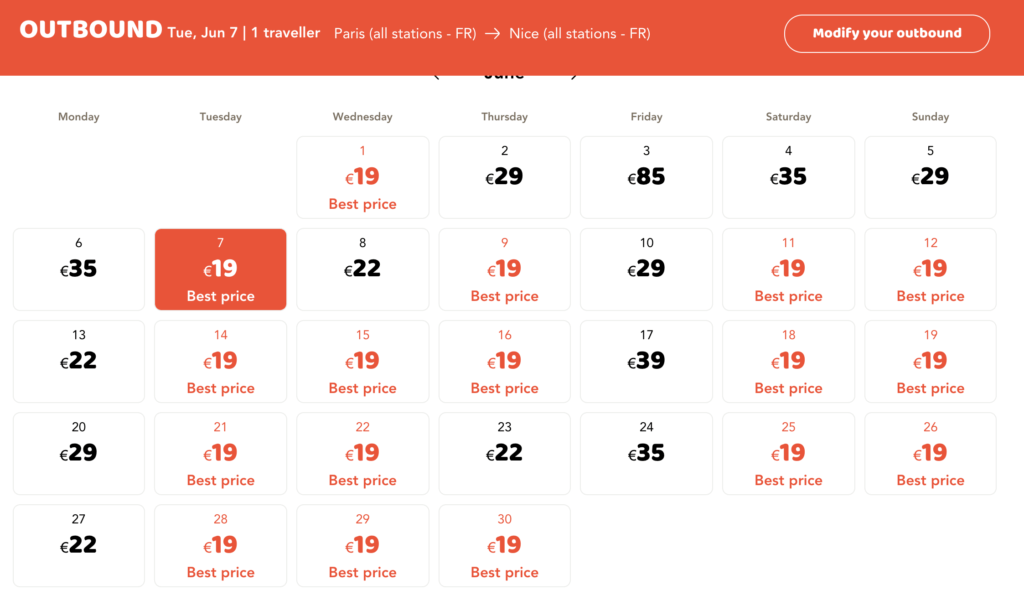 If you are planning to travel to Paris and Nice, Ouigo also operate a low-cost service on this popular route. In June 2022, I can see fares for as little as €19. Trains leave from the more central Gare de Lyon to Nice.
Ouigo also has a few extras to keep in mind. If you want a seat with electric sockets for an extra €2 and if you want to be in the quiet carriage, there is an extra €5 fee.
PS: Another brilliant value train deal to also keep in mind is the Milan to Paris route. Being offseason, there is a bunch of their cheap €29 fares on sale now on the route ( Trainline's excellent low fare calendar is a very handy tool ) Journey time is 7 hours. Extra €10 snags you a seat on 1st class.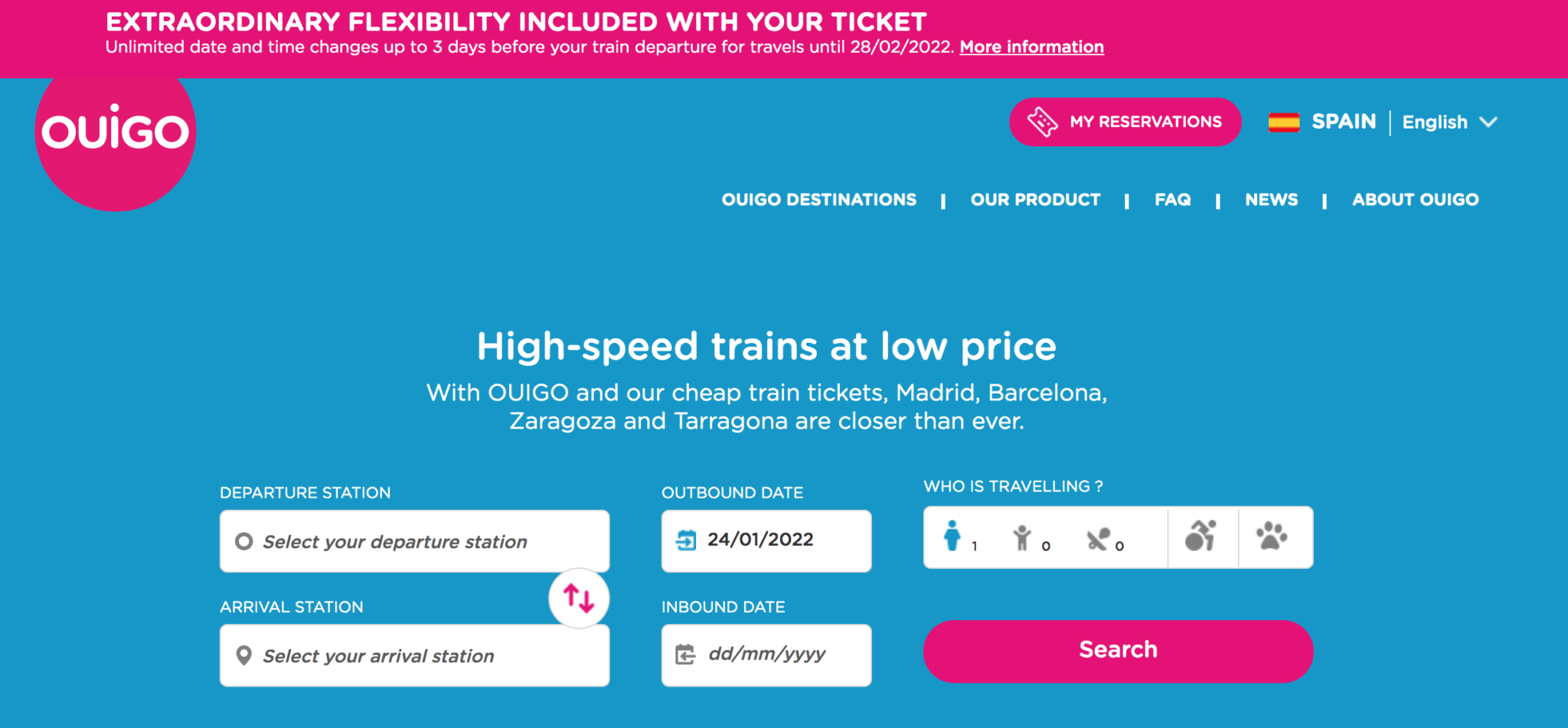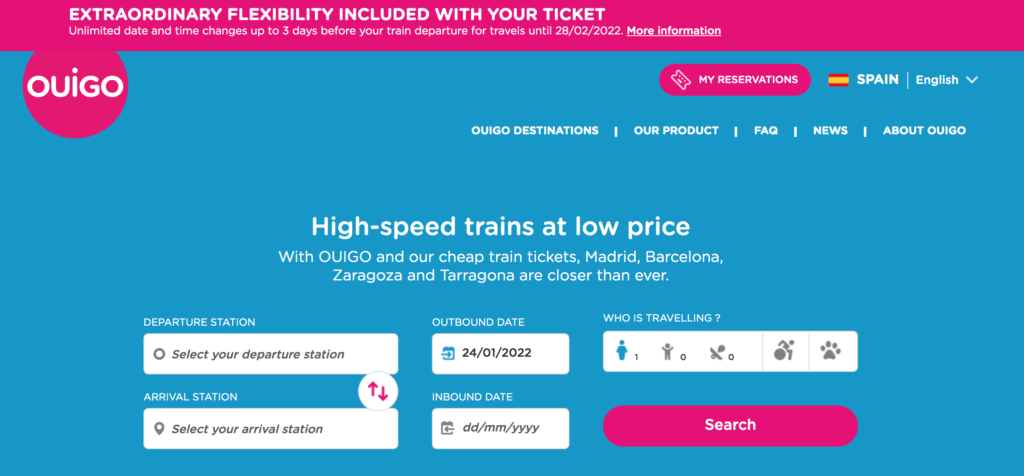 6. Barcelona to Madrid by €9 with Ouigo Spain
Low-cost, high speed rail service revolution comes to Spain
Last summer ( 2021) Ouigo brought their unique low-cost train services to Spain. From May 2021, Ouigo started offering a 5 times a day, daily return service between Barcelona and Madrid. The service also serves the cities of Zaragoza and Tarragona.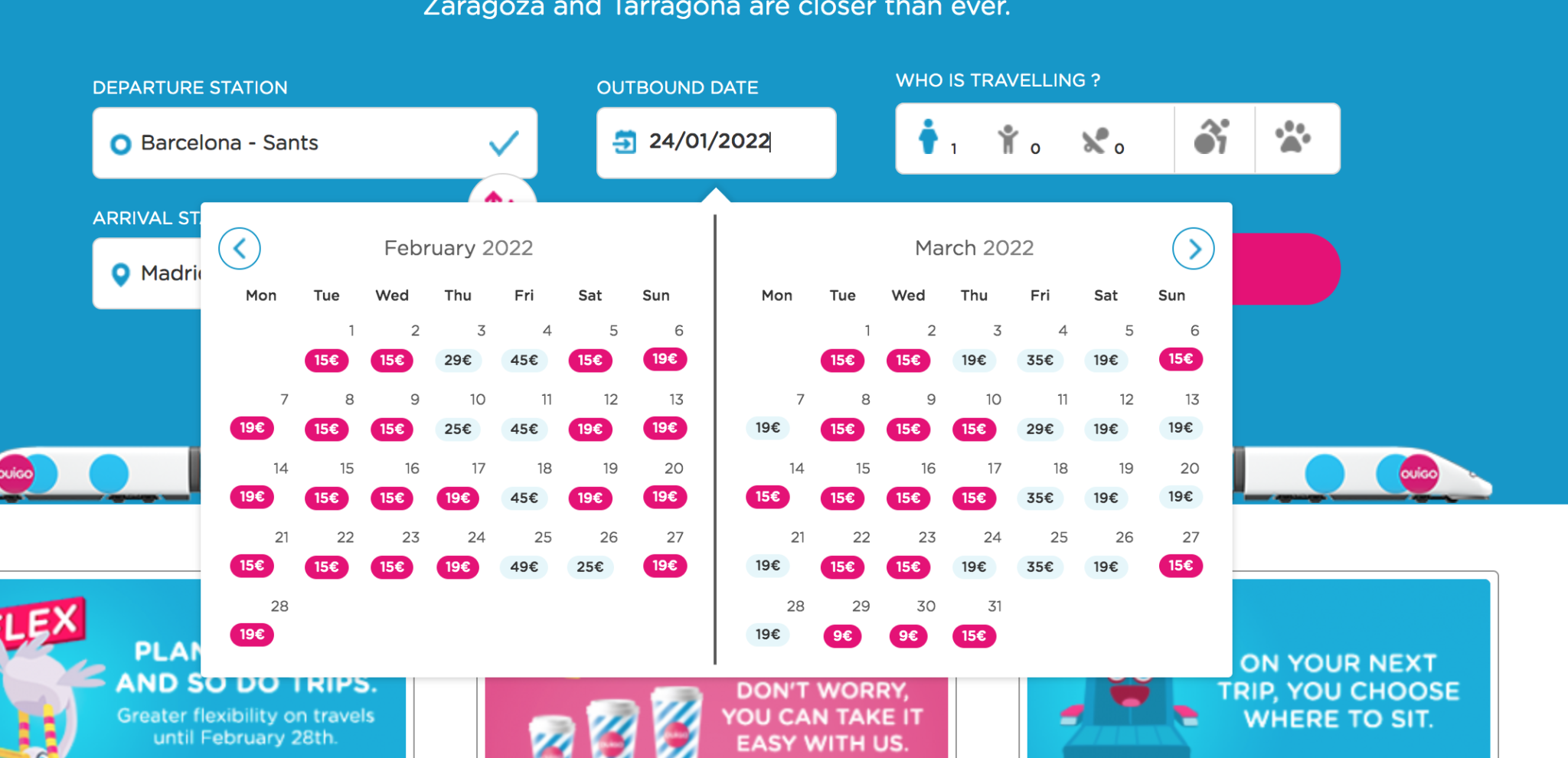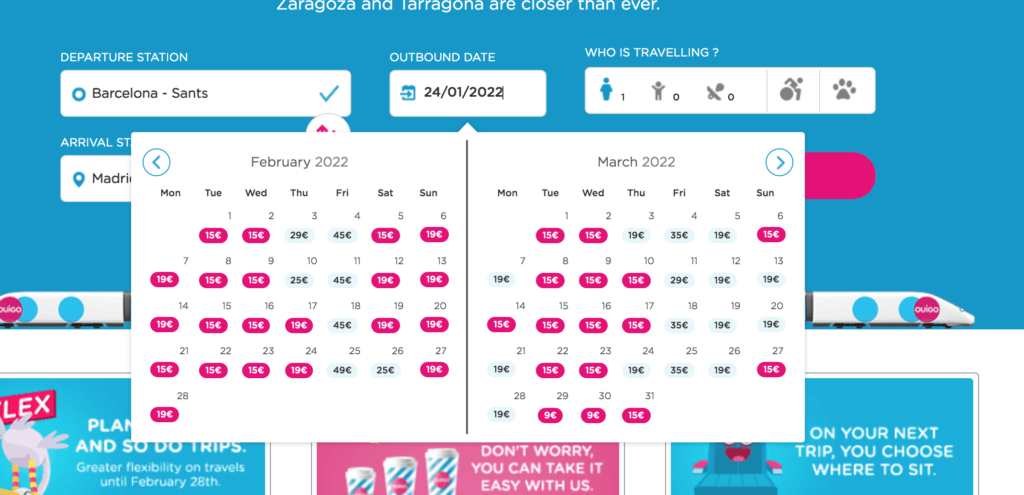 Simple search on Ouigo website, reveals a bunch of the bargain €9 fares on the Barcelona to Madrid route for dates in June and July 2021. Ouigo applies low cost airline dynamic pricing so the sooner you book, the better the fares so keep that in mind.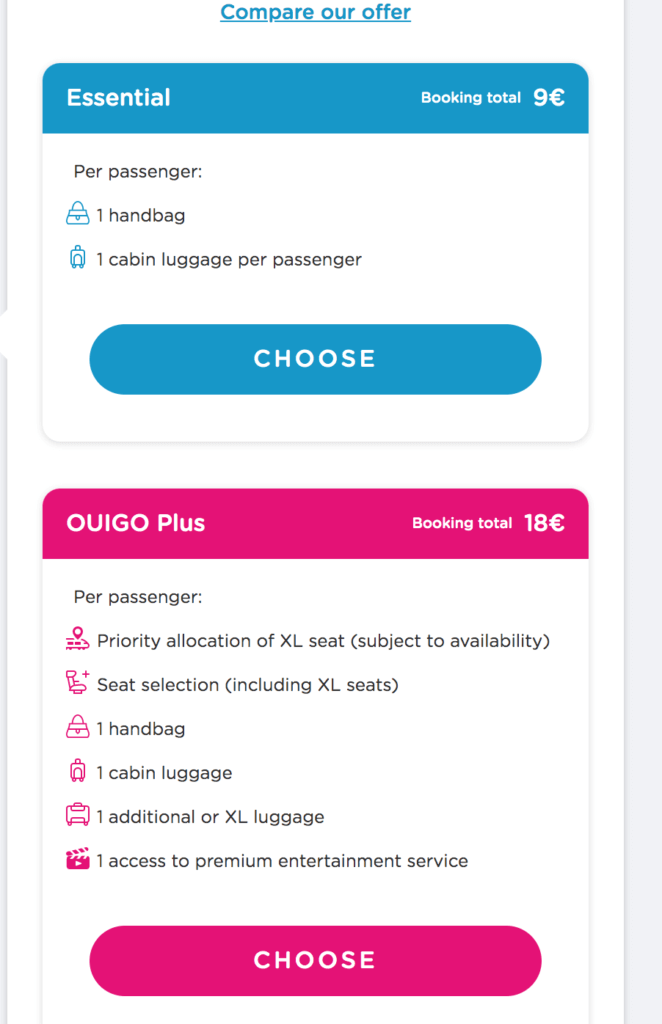 Worth noting that for the basic €9 fare, passengers can bring a small bag/ handbag and a carry on cabin sized luggage. If you have a rucksack or suitcase, there is an extra €5 fee.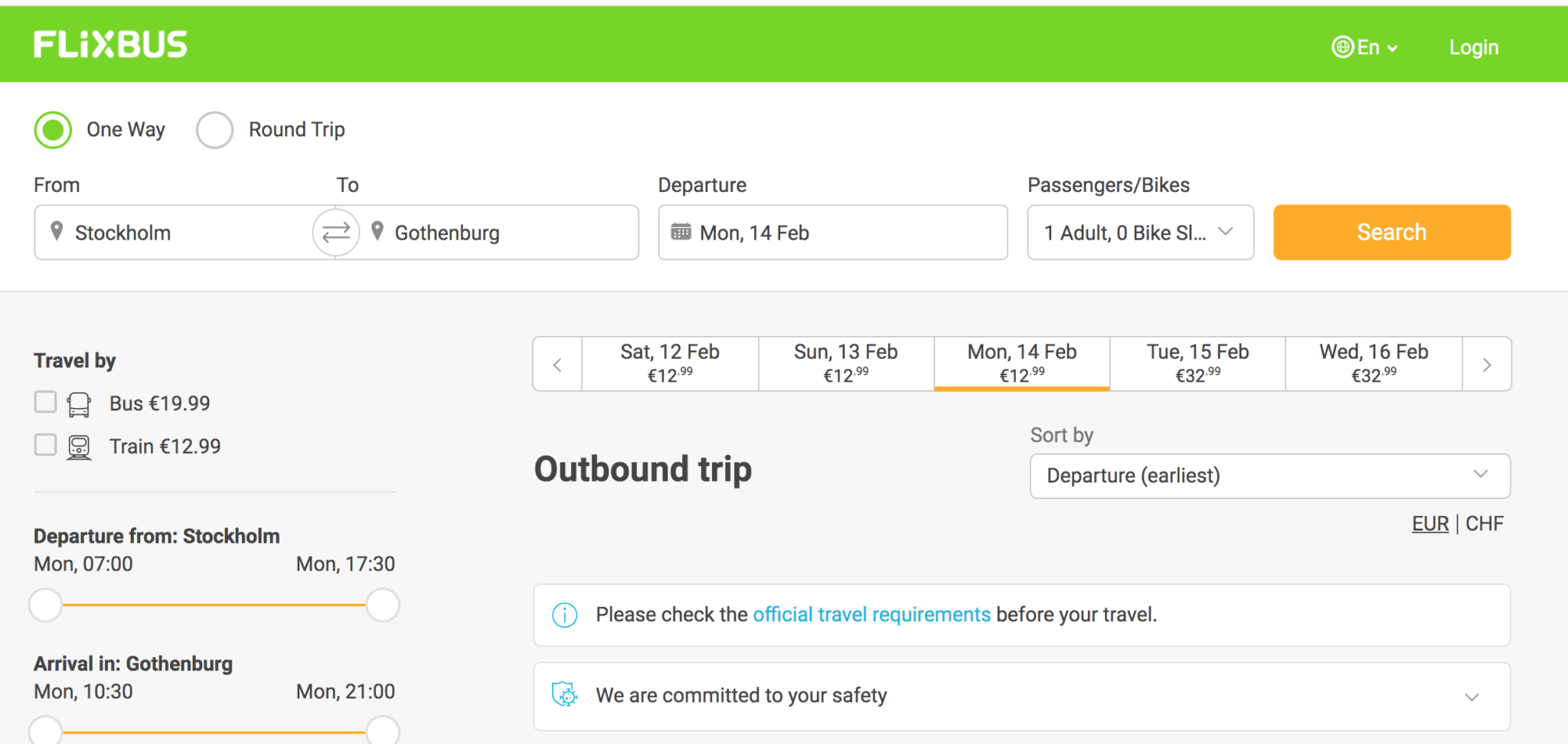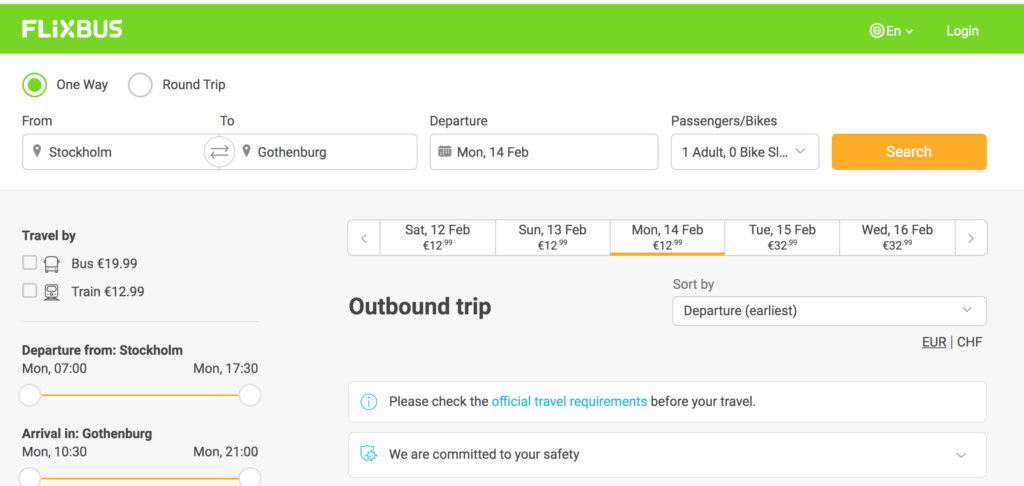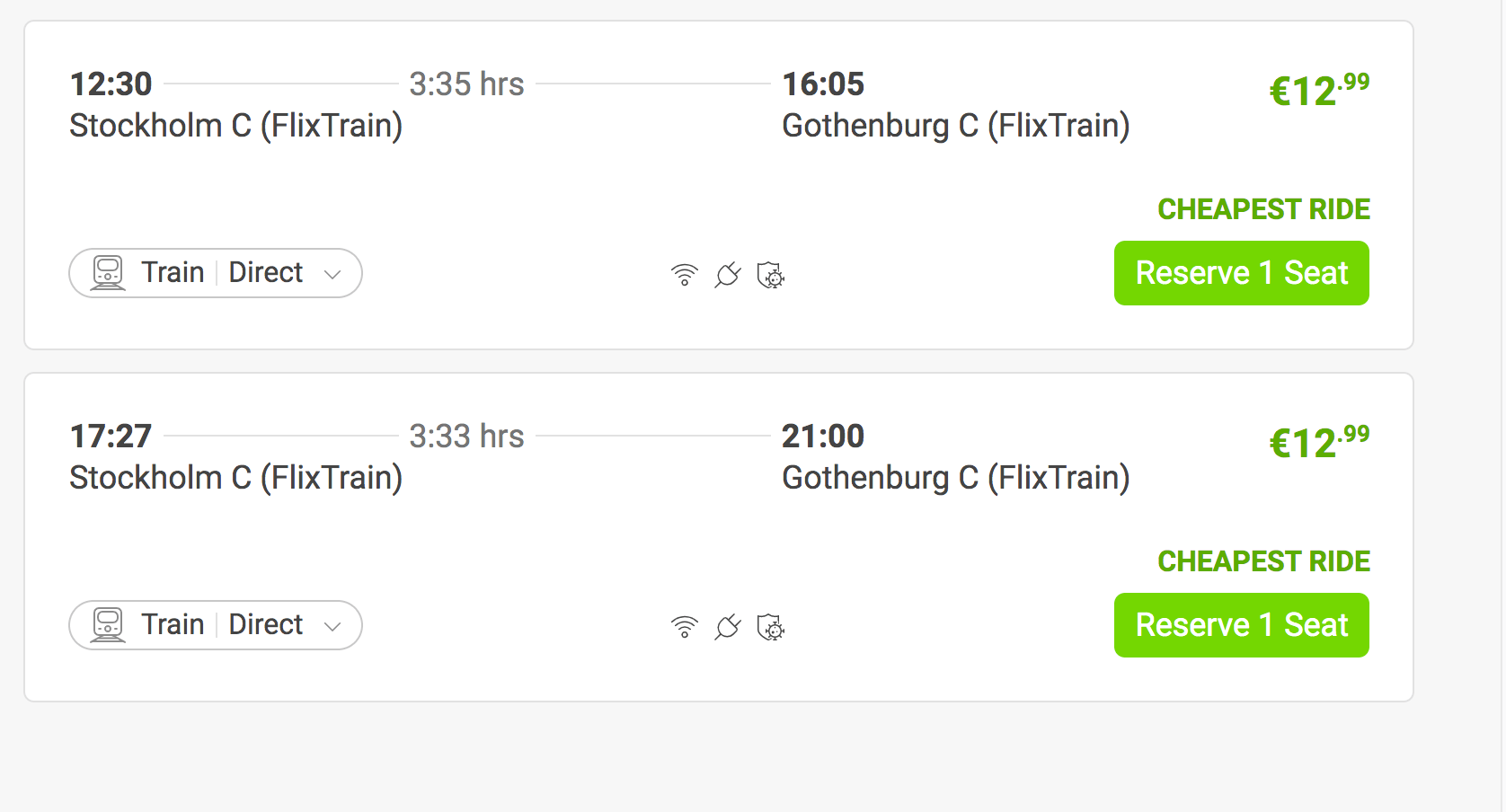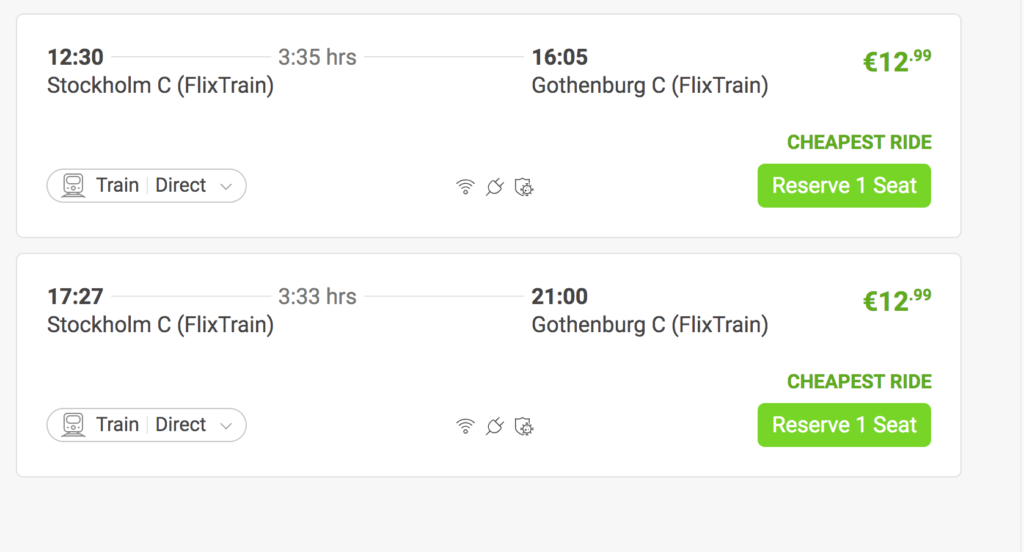 7. Stockholm to Gothenburg with Flixtrain for €12.99
If Sweden is on your itinerary and you are planning to travel between the two main cities, Stockholm and Gothenburg, have a look at Flixtrain who offer fares for as little as €12.99/135 kronor between Stockholm and Gothenburg. To give you a comparison, main operator in Sweden SJ offer fares of 194 kronor/ €18.60 so you make a big saving.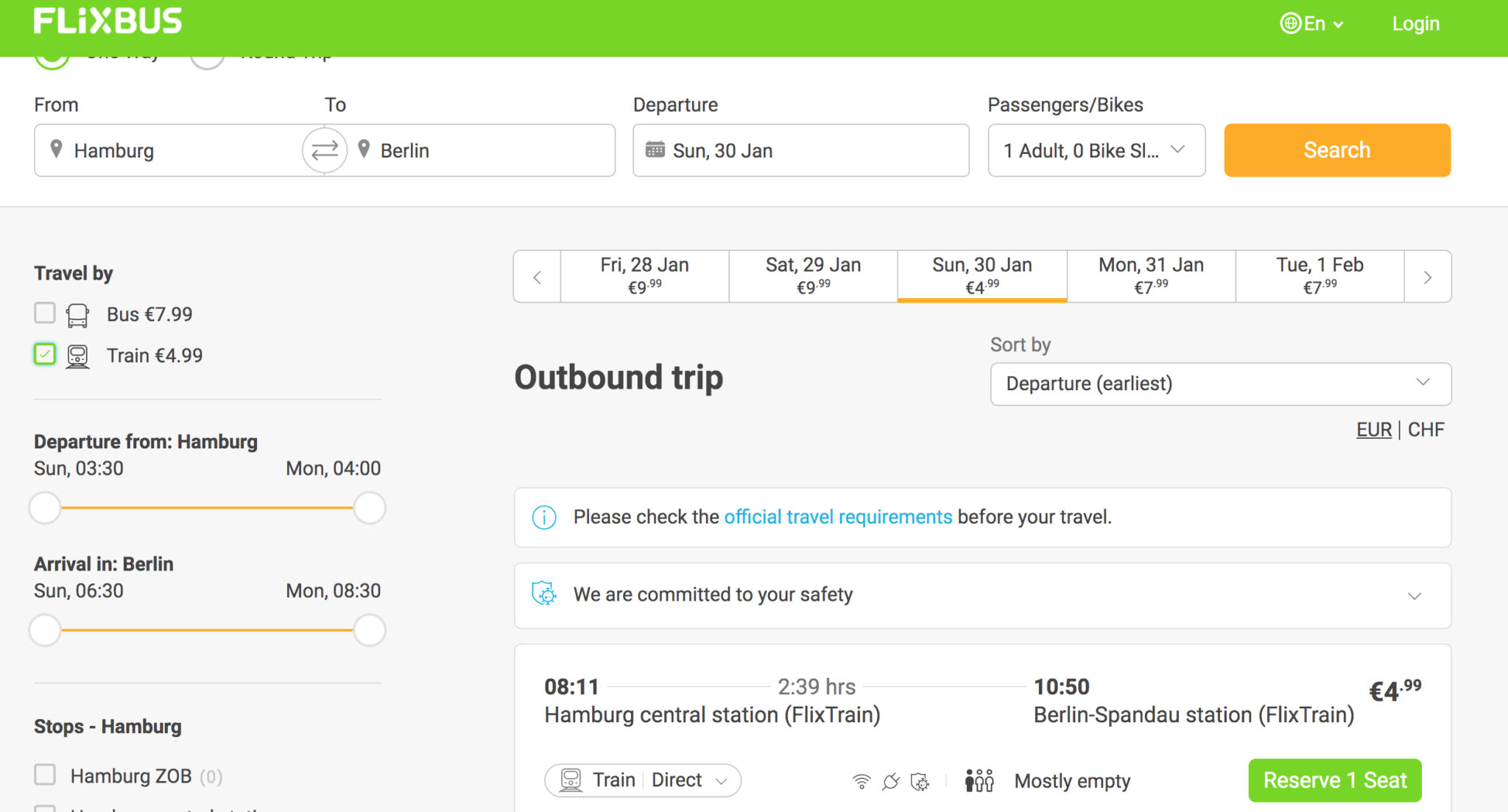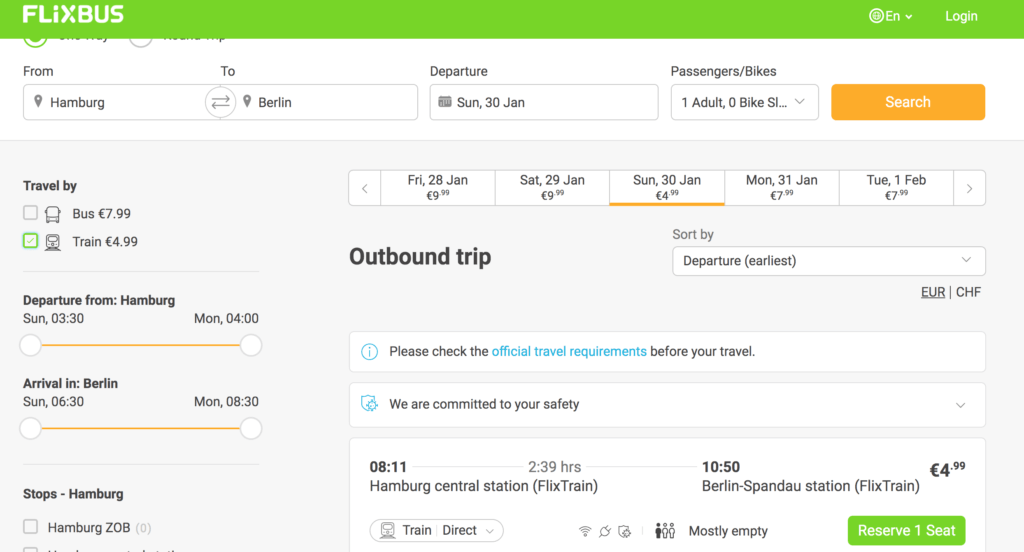 8. Berlin to Frankfurt for €9.99 with Flixtrain Germany
Flixtrain also operates on a number of routes in Germany and is the main competitor to Deutsche Bahn. Frequency is less and they operate on a handful of routes but their fares are much cheaper.
To give you an idea, fares with Flixtrain cost as little as €4.99 from Hamburg to Berlin ( Journey time 2 hours 39 minutes ) €9.99 Berlin to Stuttgart ( Journey time 5.56 hours ) and €9.99-Berlin to Frankfurt ( 4.09 hours )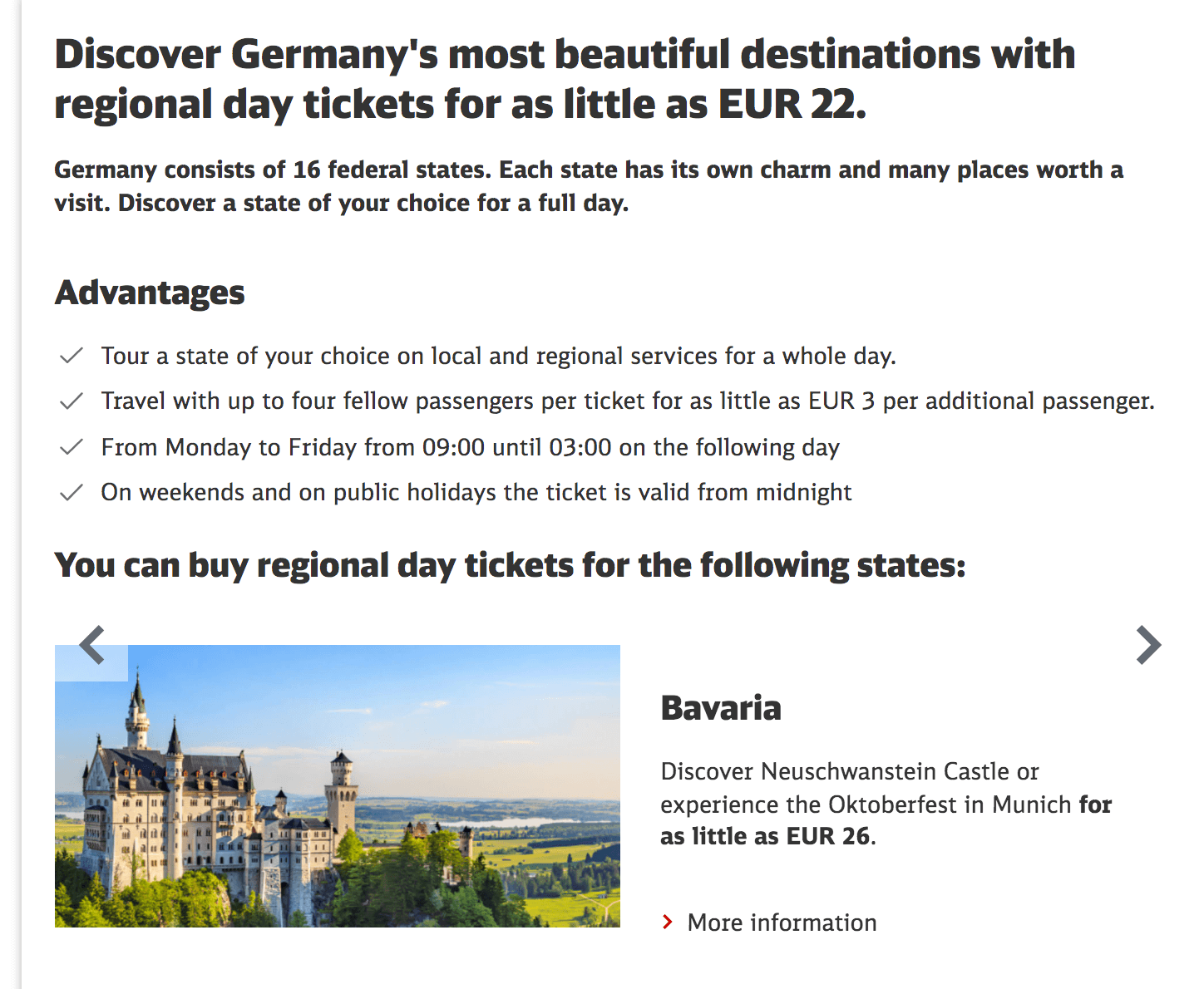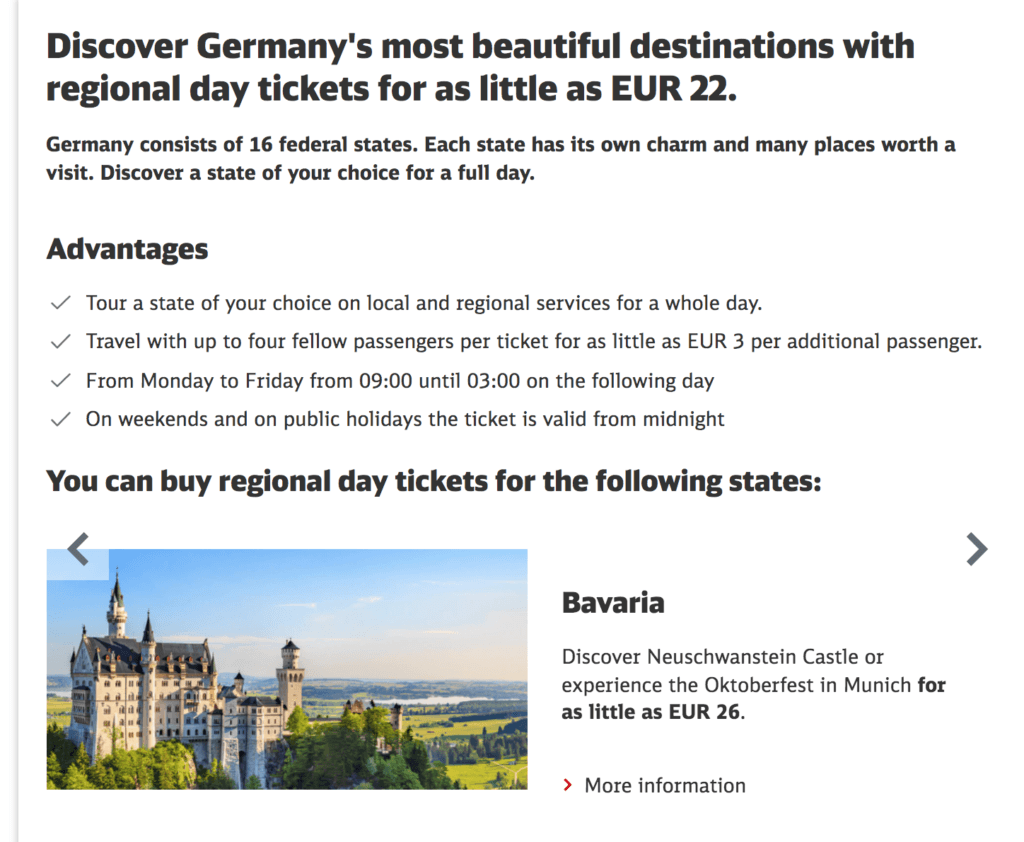 9. Deutsche Bahn Länder ticket/ Regional day tickets
Unlimited train travel across any of Germany's 16 federal states for as little as €22
If you are visiting Germany, especially with your partner or a group of friends, another brilliant deal is the Lander regional tickets which offer you unlimited travel within the state for as little as €22. This ticket is valid only on local and regional trains and excludes the faster ICE/IC trains. You can travel with up to four fellow passengers per ticket for as little as EUR 3 per additional passenger.
The tickets are valid from Monday to Friday from 09:00 until 03:00 on the following day.
We used this ticket when visiting Munich last year for a day trip to Zugspitze, beautiful Lake Eibsee and Garmisch Partenkirchen.
The other great thing worth remembering is that you can buy these tickets on the day from any Deutsche Bahn ticket machine in the train station.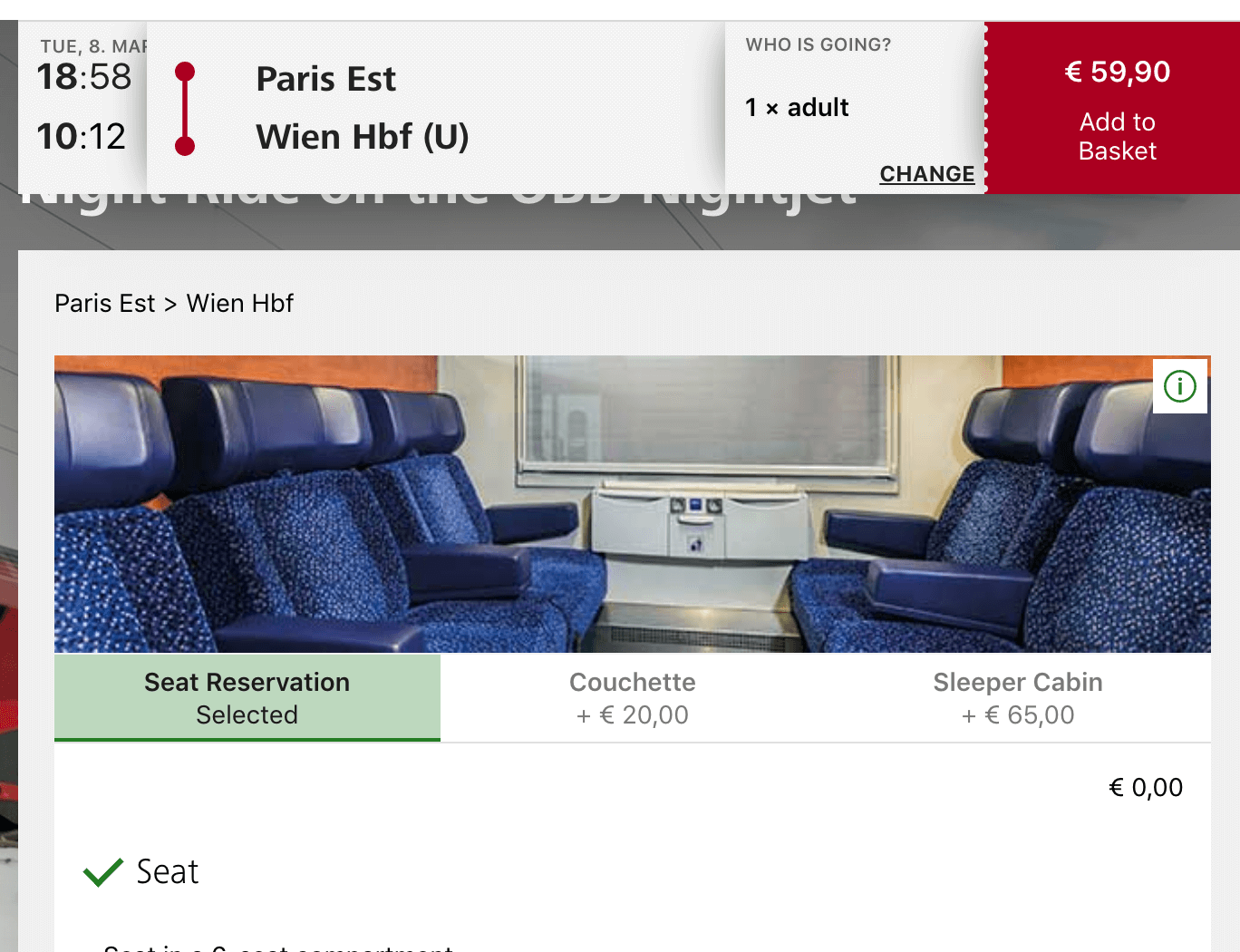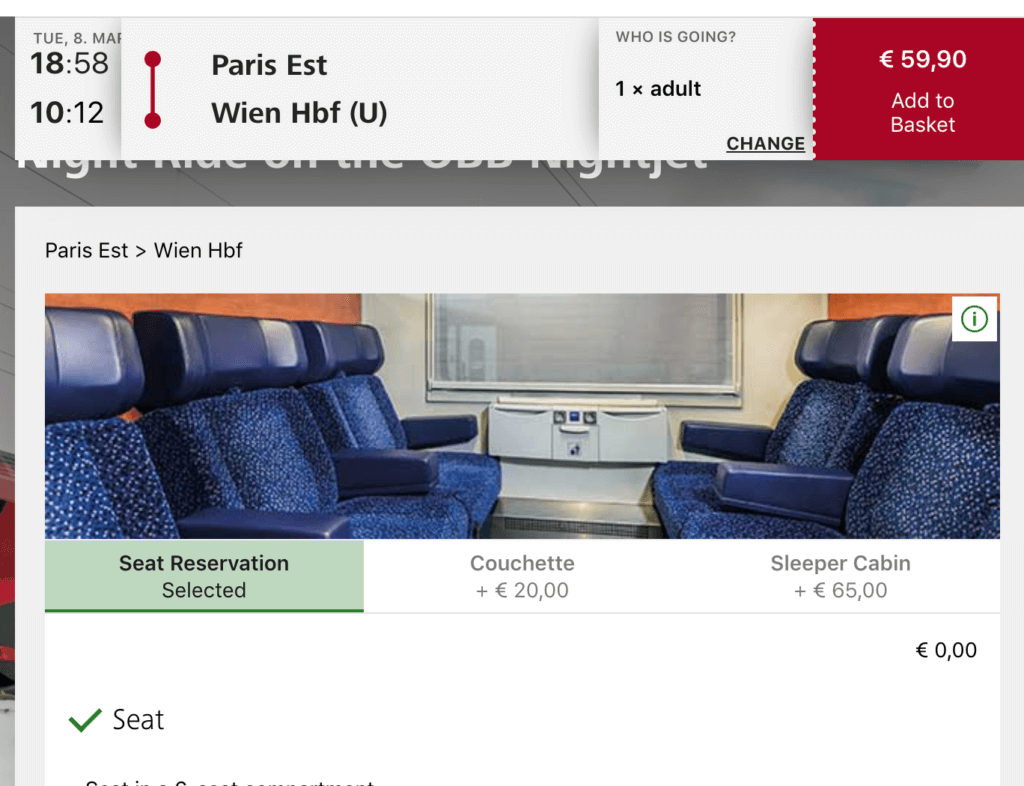 10. Paris to Vienna for €60 with Nightjet train service
Night trains in Europe a great way to save money on accommodation plus time if you are on tight itinerary
If you are on a tight budget and travelling between countries, I would highly recommend looking into booking an overnight sleeper train to help you save money on 1 nights accommodation and also you are not wasting the whole day in a train.
For example you can travel from Paris to Vienna on the Nightjet service. It leaves Gare de l'Est at 6.58pm and reaches Vienna at 10.12am in the morning.
The basic fare for a seat in a 6 seat compartment carriage is €60. From the picture above, as you can see, not the most comfortable seat to be cooped up and try and sleep.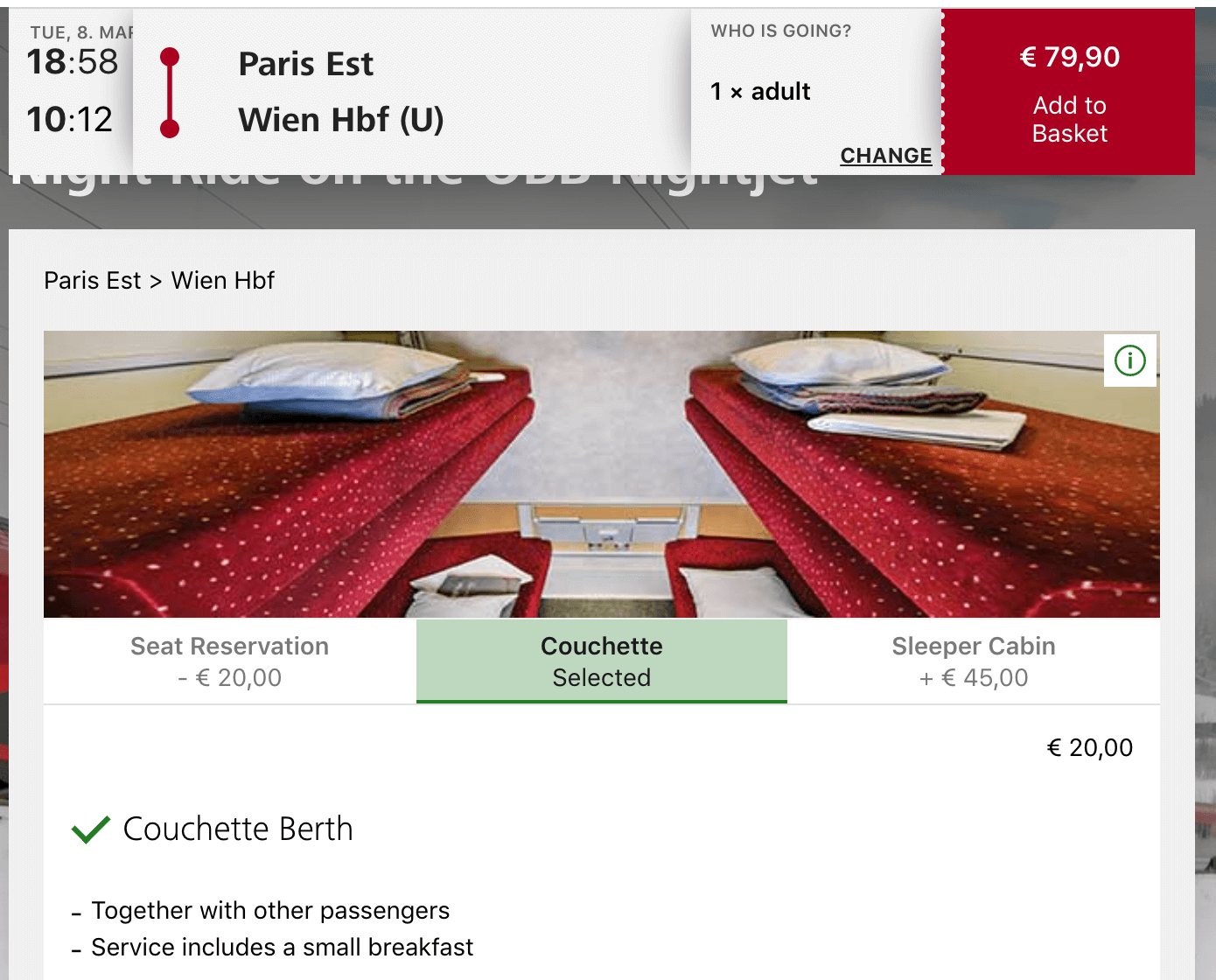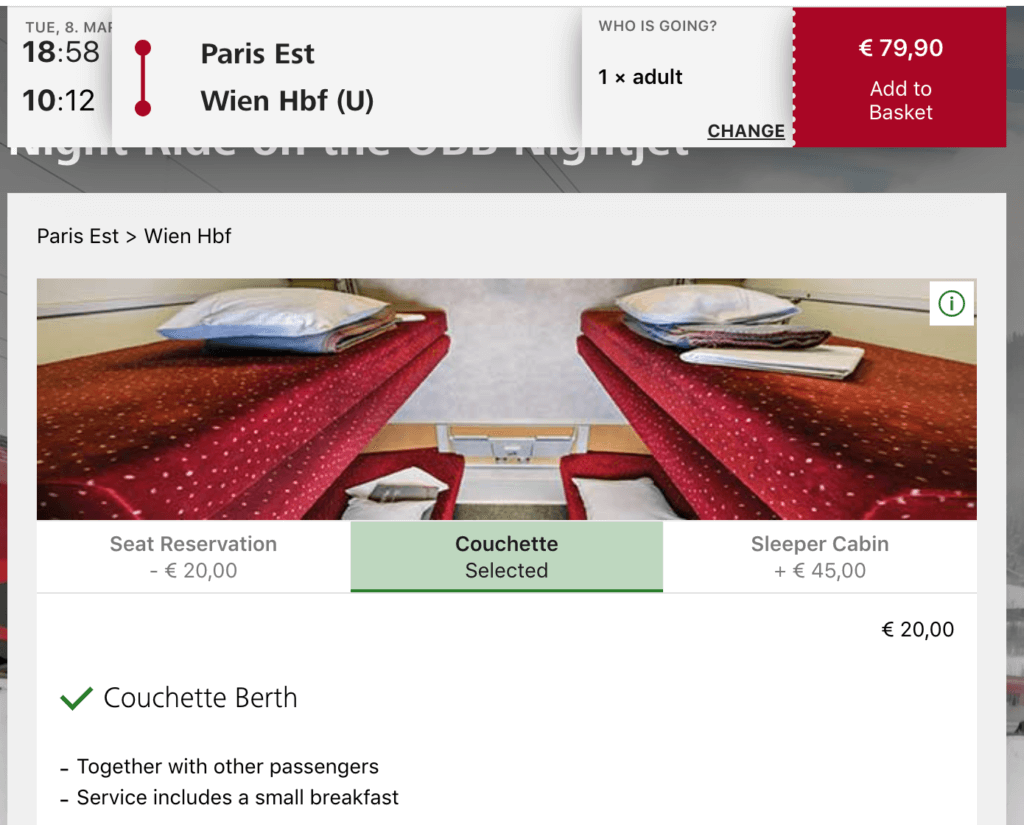 If you are on a tight budget, it will get you from A to B. If you splurge on a couchette , you pay an extra €20 which might be worth the investment if it means getting a decent night sleep.
I've taken the Caledonian Sleeper from London to Edinburgh and also the Helsinki to Kolari ( Prices start from €49 for private cabin and with shower, €69 ) overnight train on my way to the 7 Fells Hostel in Finnish Lapland- ( Read more about my trip to Finnish Lapland here ) great way to travel and the journey itself is an experience that will remember.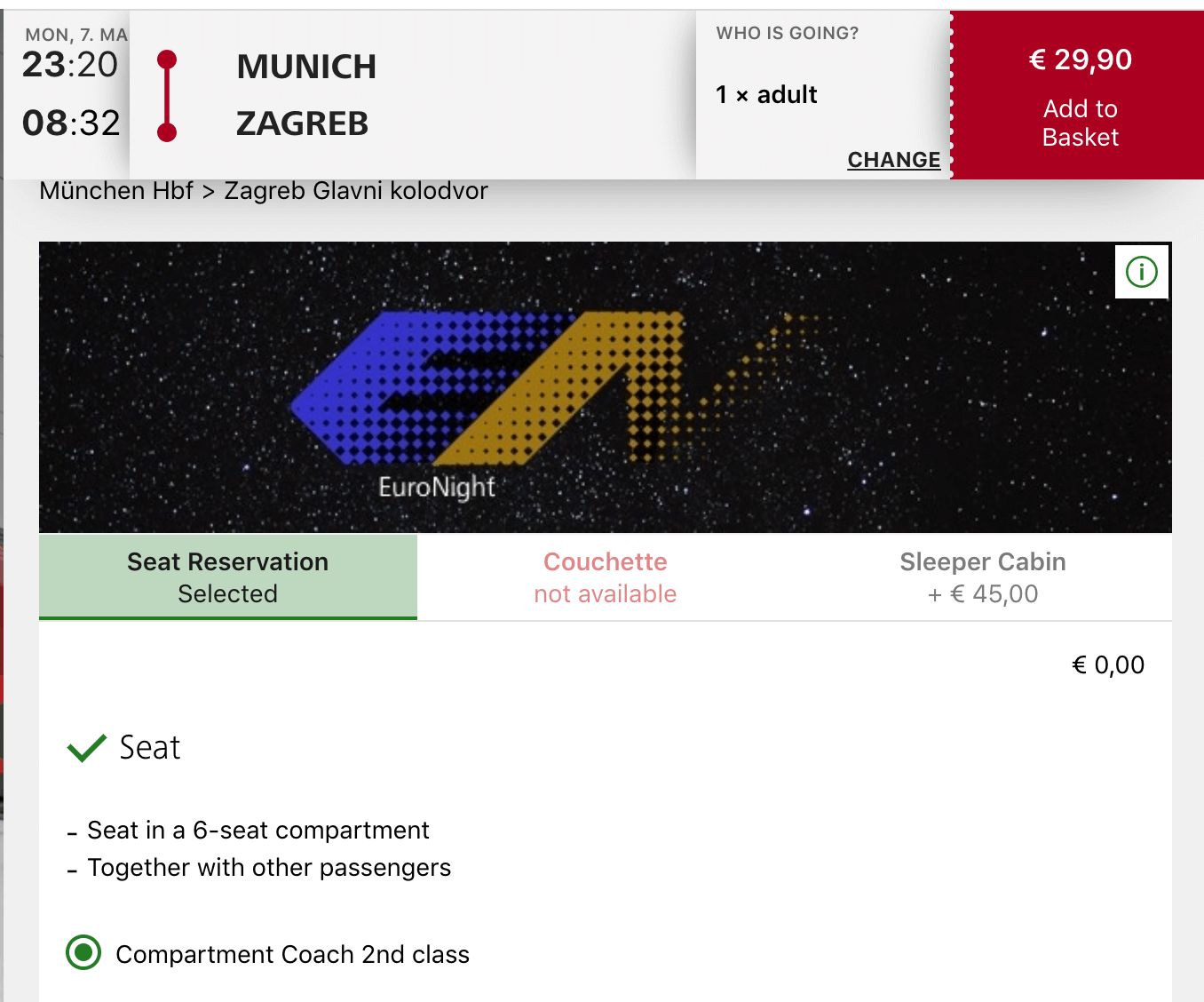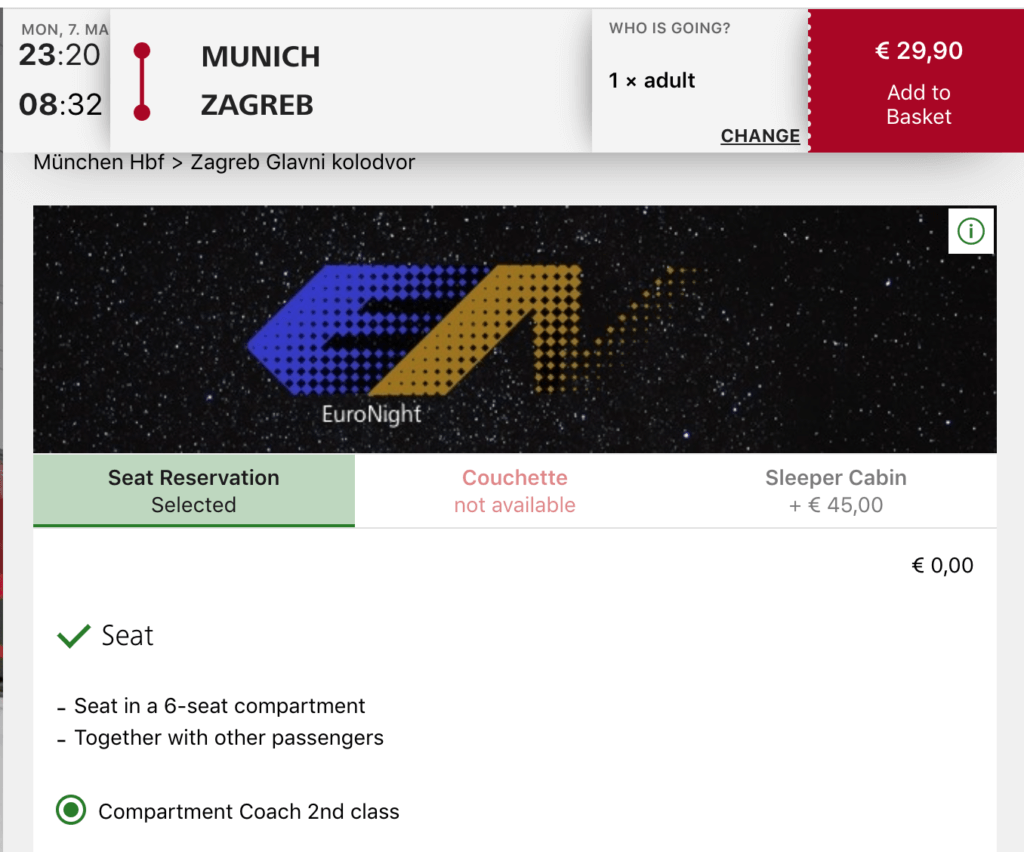 Other great services on Nightjet train worth keeping an eye include the Munich to Zagreb service ( leaves Munich at 23.20pm and reaches Zagreb at 8.32am) -booking in advance, you get a seat in the compartment for as little as €29.90 or for an extra €45 on top, you can get a sleeper bed.
11. Buy a Eurail pass
Flying this summer , with all the hidden charges from low cost carriers has made the Eurail pass one of the best value travel deals of the summer.
I travelled with a 7 day,
1 month Eurail pass
for $298 which is €275 for the month of June. On any travel day, you can travel in any direction for as long as you want. These unlimited travel passes work out to be just €35 per day for adults or €26 for young people under the age of 28 which is great value. Plus, worth remembering that children under 12 get a free pass when accompanied by an adult pass holder. The Eurail pass offers great flexibility when choosing trains compared to cheaper non refundable tickets. I found it very handy, especially when you consider the amount of rail disruption we had in Germany with Deutsche Bahn this summer. Plus, there is no extra fees for luggage so that is a big plus for any form of rail travel. One thing you have to be aware of is that many trains nowadays need a reservation which is an extra cost and hassle to organise but necessary, especially for trains in France, Italy and Spain.