My brand new post is list of 24 alternative, best things to in Prague. After visiting Prague a few times, I've begun to realise that the city is basically a intricate patchwork of villages just like my former home, Edinburgh. If you walk in any direction for 30 minutes, you'll find yourself somewhere completely different. The problem is that most visitors when they come to Prague, end up wandering the historic core of the city and in the process miss out on the real Prague. Prague's inner historic centre is beautiful to walk through at the moment, especially with the lack of tourists. However post Covid, as the slow trickle of tourists return to Prague, I fear people will miss out on the spots where the locals go, neighbourhoods, each with their own gritty character and edge.
While this is by no means a definitive guide to the coolest things to do in Prague, I hope by reading this, you will find some secret spots and discover a new, much more interesting side to this beautiful city.
Best Things to do in Prague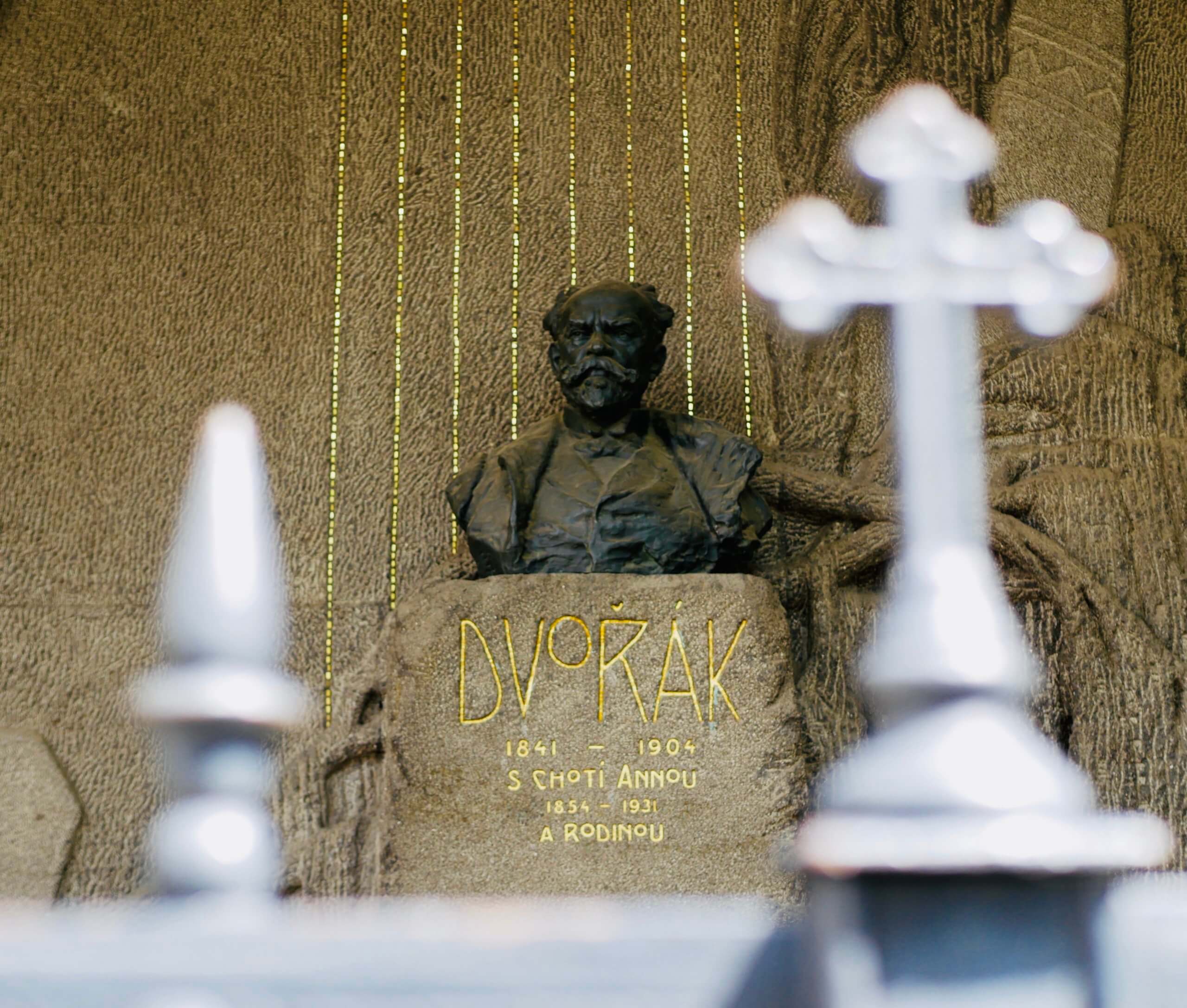 1.Hop over to Vysehrad
We start the day with a trip to the fortress of Vysehrad, still a secret spot in Prague where locals love to go for long walks to enjoy the beautiful views of the city and roam its beautifully manicured gardens. One of Czech Republic's finest forts, the Romanesque rotunda and area surrounding Vysehrad fort constitute one of Prague's prettiest little corners. Perched up on an elevated rockface, Vysehrad offers generous views overlooking the Vltava River.
Some history and context – Vysehrad stepped into the spotlight in the eleventh century, from a humble trading post, when the first King of Bohemia built a castle here and made it his seat of power. In the fourteenth century the King of Bohemia and the Holy Roman Emperor brought the fort back to its former glory with a pilgrimage to Vysehrad as part of the elaborate coronation process of Czech royalty.
The complex consists of The Cemetery, the beautiful Baroque Leopold's Gate, St Martin's Rotunda – the oldest in Prague and the surrounding orchards and park. The Vysehrad National Cultural Monument is a nice place to explore the history of Prague.
My personal highlight of visiting the fort is the Basilica of St. Peter and St. Paul, with the atmospheric adjoining Vyšehrad Cemetery, which contains the remains of some of the most celebrated people in Czech history, including some of my favourite classical music composers Antonín Dvořák of New World Symphony fame, Bedřich Smetana and painter Alphonse Mucha.
2. Head to Naplavka
After the fortress, I recommend you wind your way down to Naplavka, a stretch of pavement next to the banks of the Vltava. When the suns out, this is a popular meeting point for locals. You'll find cyclists, walkers, people chilling with a beer, the odd food vendor, lots of impromptu live music concerts drowning out the vicious cackling of seagulls, swans and ducks that come to gorge on any scrap or morsel of food left behind by the humans. Even though it is in the heart of Prague, it's very much an authentic slice of local life. On Saturday there is a Farmers' market, when it gets a bit too busy for my liking – so my advice would be to come here on the weekdays when it is much quieter nowadays.
Next stop – for lunch we head to Manifesto Market in Smichov.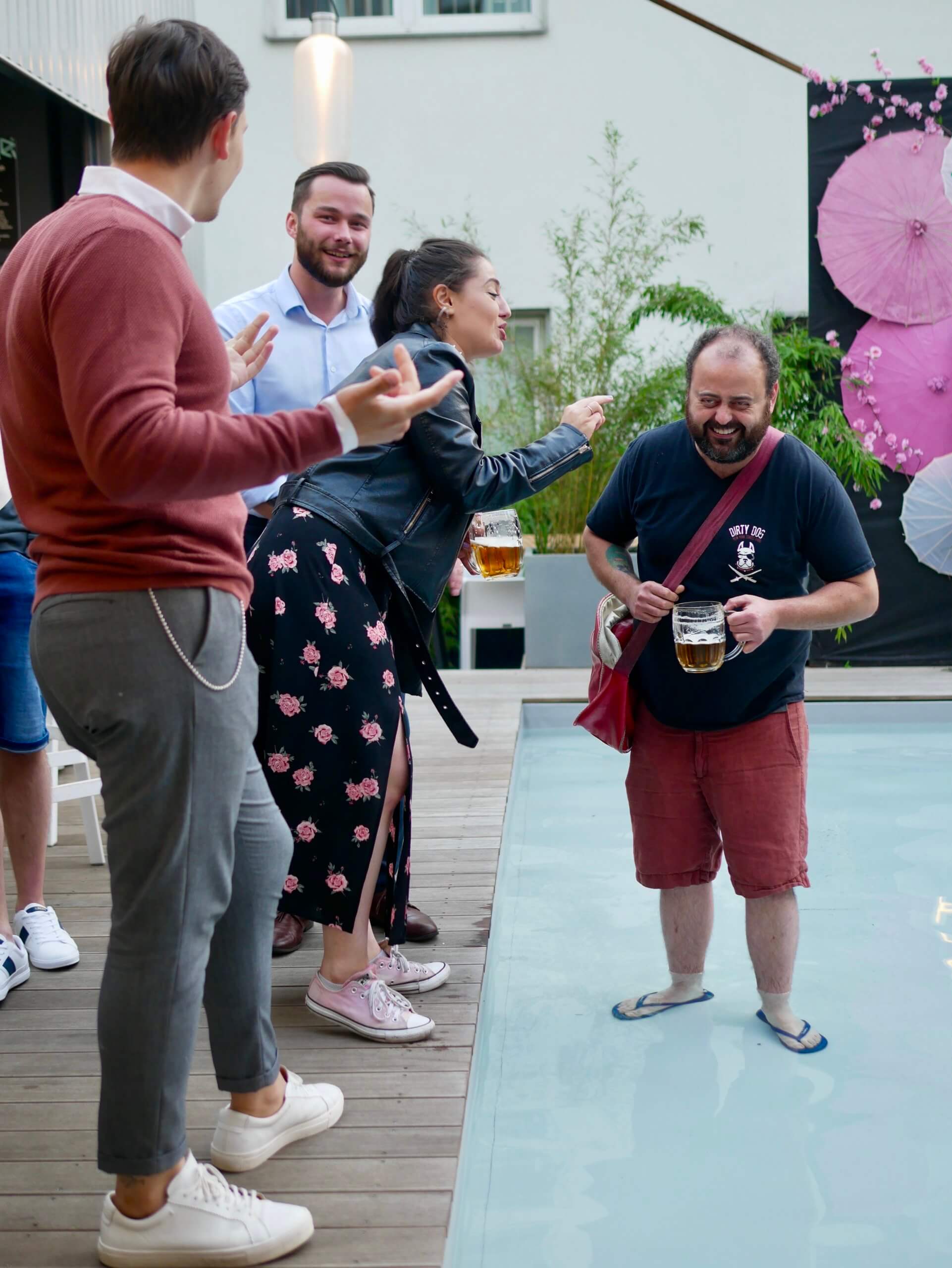 3. Manifesto Market Smichov
A cultural and gastro market in the heart of Prague, Manifesto Market is Prague's best known street food market. Come anyday of the week in Prague, the market has the bubbly, fun filled atmosphere where you can expect a wide variety of great food from upcoming budding chefs – everything from tasty tacos to hummus to craft burgers to fresh seafood. Plus, there's cocktails and fresh frothy Pilsner Urquell from the tank. Prices are above average so prepare to splurge here a little. Located in a former parking lot wedged between the 20th-century National House of Smichov and a former market hall, the design and layout of the market is eye-catching with the food stations housed in a cluster of corrugated metal-covered units surrounding a shallow pool.
4. Letna
Afterwards, we head from Smichov to Letna for a beer in probably Prague's best beer garden. Letna district of Prague is invariably dominated by its namesake park. Letna Park is a green leafy elevated playground, with views over the river, with its beautifully proportioned spanning bridges. The park offers some of the best views of Prague with the beer garden of the same name providing foaming Pilsners as a bonus.
The name 'Letna' originated from 'Leten' or summer camp or a place to sunbathe. The place gained importance in the Middle Ages due to their strategic location and use as military stomping grounds. Green vineyards originally overlooked the river at this location. At different times different people and monuments have shared the spotlight at Letna, including a statue of Stalin that has now been destroyed and the Metronome. The park has also been a site for demonstrations against the Communist government, the venue for a Micheal Jackson concert and a place for demonstrations and recreational sports.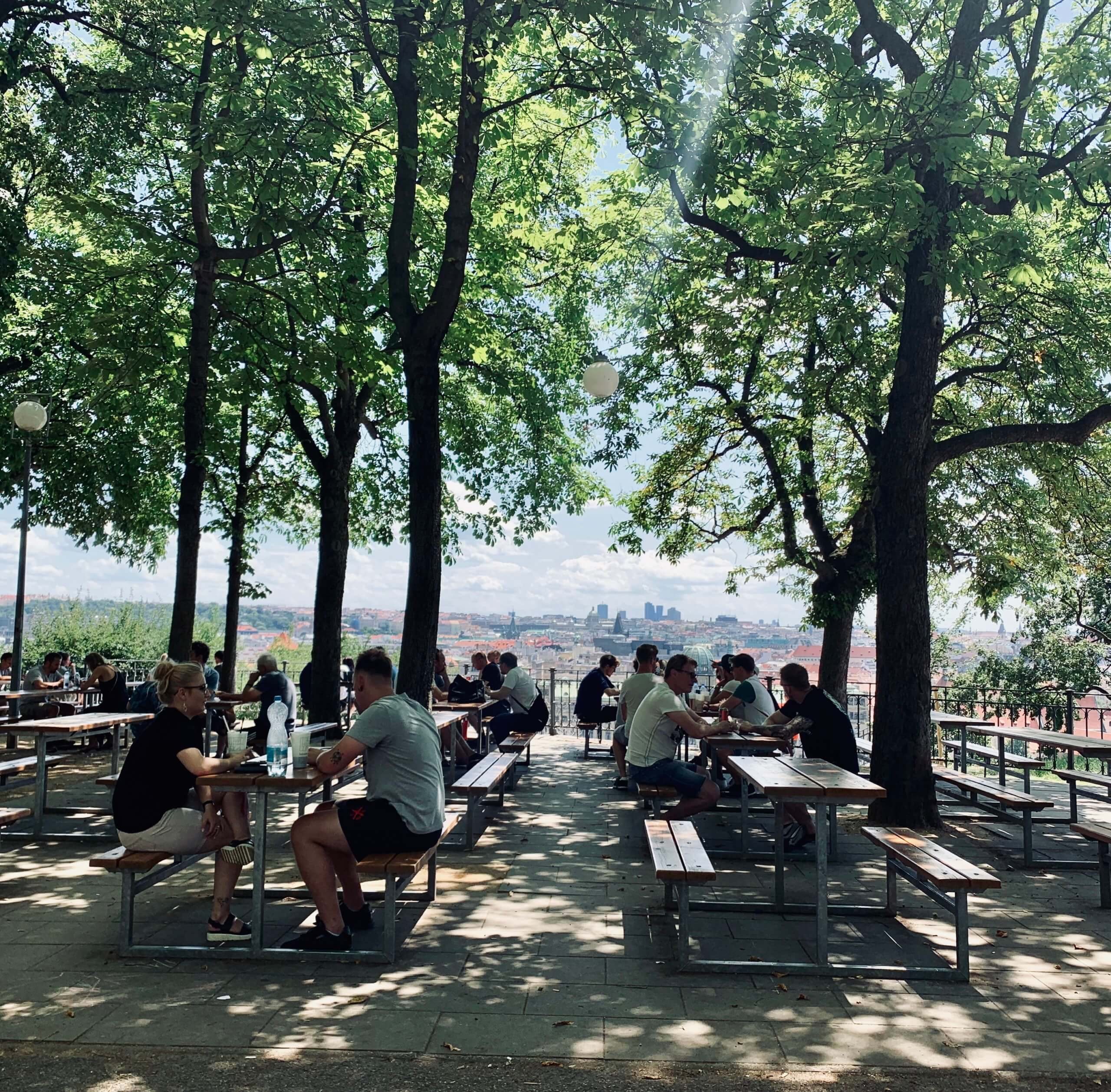 5. Letna Beer Garden
Serving frothy ice-cold Pilsner Urquell and also the equally decent Gambrinus at dirt cheap prices, Letna Beer Garden is the perfect place to chill with friends under the shade of the towering chestnut trees on a warm day. Plus the views of the city from here are wonderful.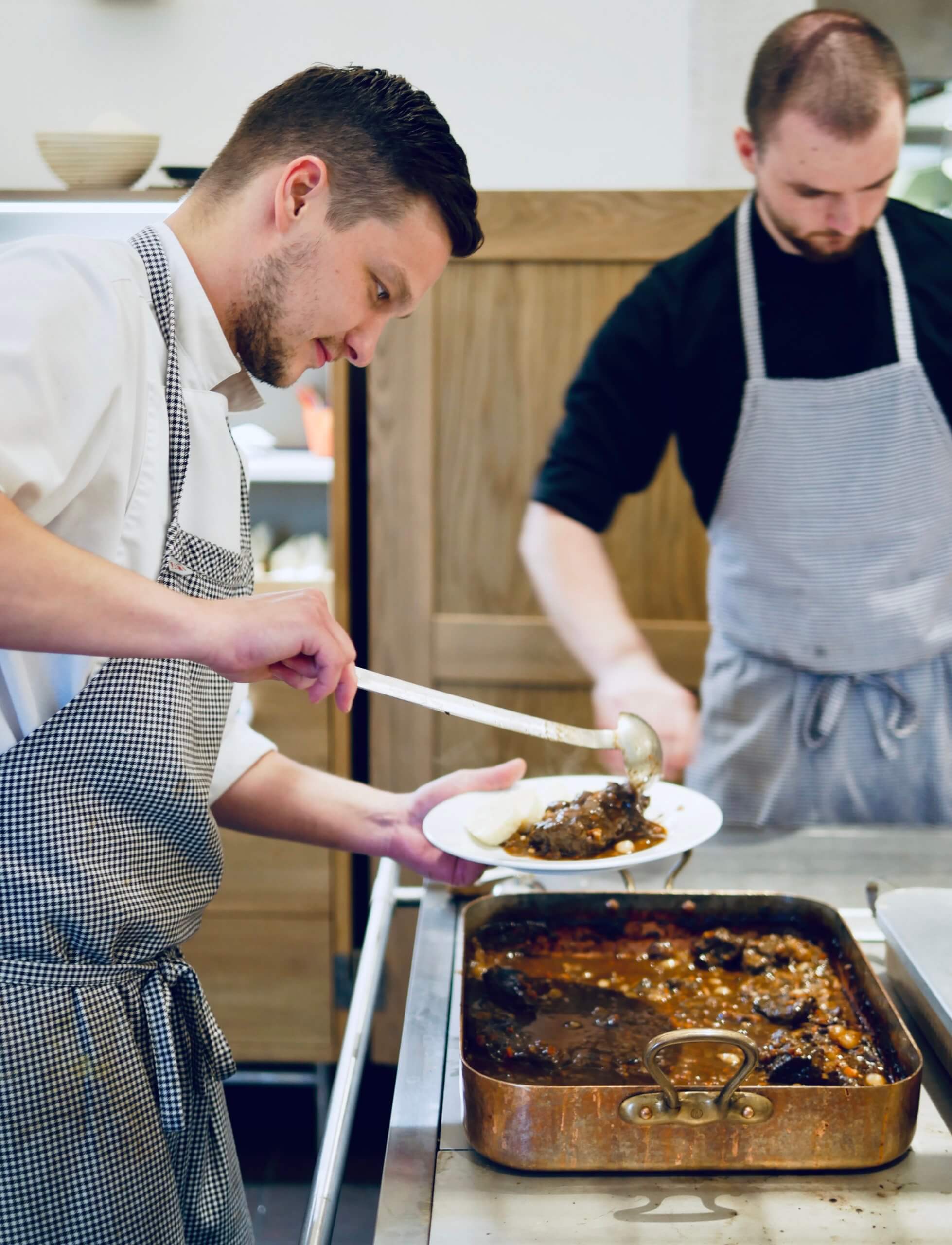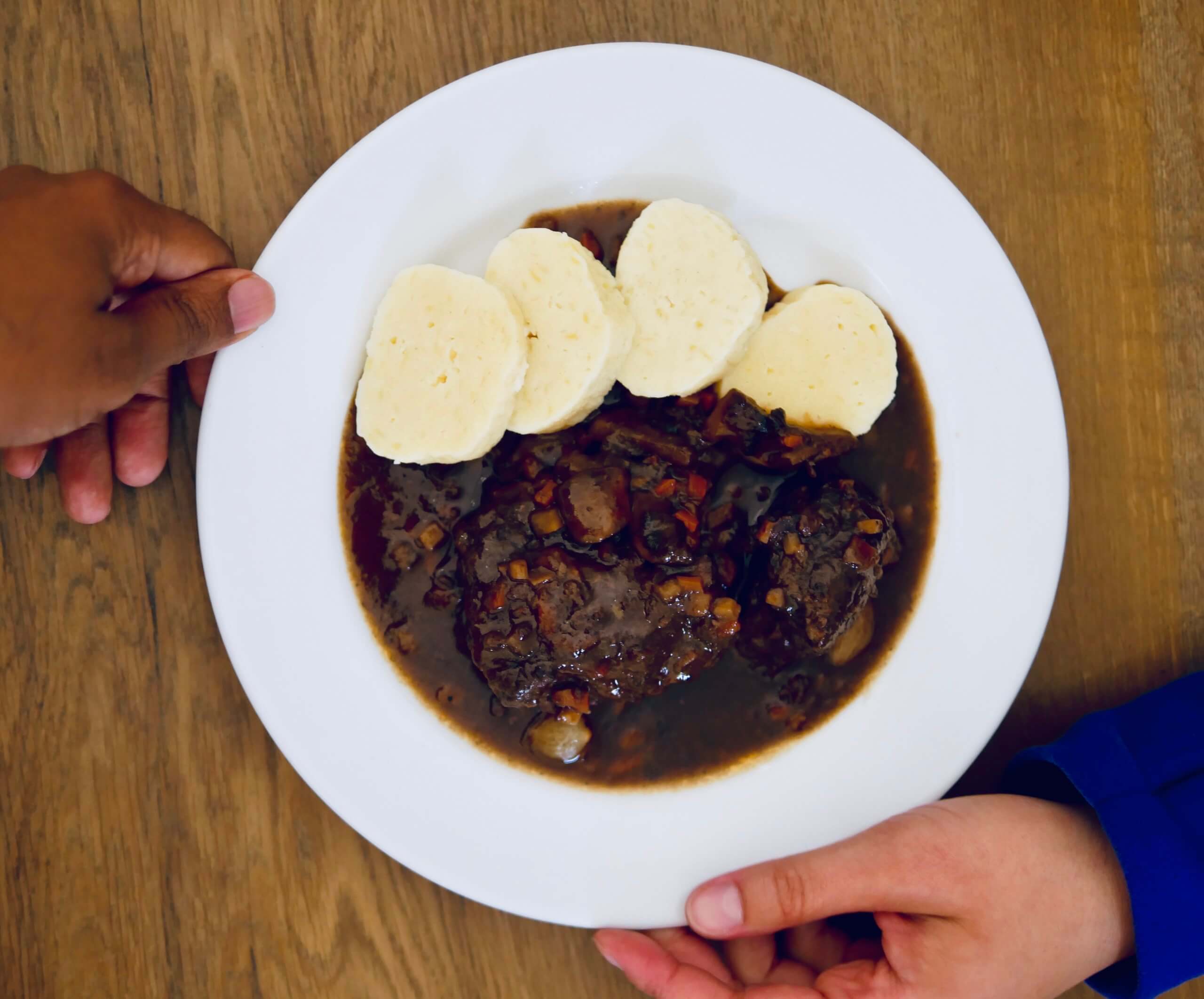 6. Dinner- Kuchyň
This guide has focussed mainly on the lesser known areas of Prague and steered clear of the more popular touristy parts of the city like Prague Castle. However, if you were looking for a reason to go to Prague Castle, then do make a reservation at the wonderful Kuchyň, which is situated in Salmovský Palace in the National Gallery at Prague Castle.
First, you should come here for one of the best views of Prague. It is incredible. Even better with their cold Pilsner Urquell. Secondly, the food served from the Kuchyň kitchen is a cut above your hearty Czech fare, based on recipes used in the kitchens of aristocracy from the 16th century.
We started with chicken liver pate with plum puree (125 CZK) and vienna frankfurters with mustard and horseradish (95 CZK) – delicious. Not a huge pate fan here but this was very tasty. Mains, we chose the beef hanger in red wine with potato dumplings (245 CZK) – this was sensational. The signature dill sauce with eggs and potatoes (168 CZK) was nice too. We're both not huge fans of dill but still enjoyed the dish. After all the beer and wonderful food, the refreshing strawberries with cream and nuts (95 CZK) dessert is the perfect ending to a great meal.
7. Head to Žižkov
We start Day 2 in Žižkov
Žižkov has rather the reputation of being the bad boy of Prague with an edgy, alternative history. Žižkov takes is name from Jan Žižka, a fifteenth century one-eyed warrior who never lost a battle in his fighting history. A national monument in his name plays tribute to the man in Žižkov itself.
Žižkov was originally the lay of the working class Prague resident. From the architecture of the district it is evident that the layout of the land had been designed with extreme economy in mind. Aimed to pack the most number of people in a small space, here the streets are long and narrow and reach out to to the sky in lofty tenement style houses. Even though the neighbourhood is close and cramped, from a distance the chocolate box style houses with multicoloured pointed roofs look rather charming. Sticking out like a sore thumb from the rooftops, however, is the Žižkov TV Tower like an ode to an alien space film.
8. Breakfast- Antonínovo Pekařství
If you still haven't had breakfast or are looking for a snack in between meals or a good cup of coffee, this local bakery makes a great stop in Žižkov (they have outlets in Holešovice, Karlin and Vršovice too). The first thing that hits when you walk in here is the wonderful aroma of baked bread – think you can choose from 5-6 different types of bread, all freshly baked in the premises. You can enjoy their delicious bread with their soup of the day or their amazing open faced sandwiches. Sabrina loved her egg spread sandwich while I had a topping of beetroot and cream cheese – so filling, good and cheap (Two sandwiches came to 75 kr which is less than €3). They also have a range of local sweet baked goods and good ice-cream too.
9. Checkout the farmers market at Jiřího z Poděbrad Square
An excellent start for a walk through Žižkov is the the Jiřího z Poděbrad Square. Built in 1896, the square was named after the famous Hussite King Jiří z Poděbrad (George of Podebrady) from the 15th century.
It is a popular meeting point for locals anytime of the week but it is definitely a good idea to visit when they have their biweekly farmers market, where you can discover everything from a wide selection of seasonal vegetables, herbs or local cheese to freshly baked traditional items such as kolacky or babovka.
Also the other thing to note – when you enter the square, you will spot the beautiful Church of the Most Sacred Heart of Our Lord (Kostel Nejsvětějšího Srdce Páně) from 1928-1932, a work of the renowned architect of Slovenian origin Josip Plečnik.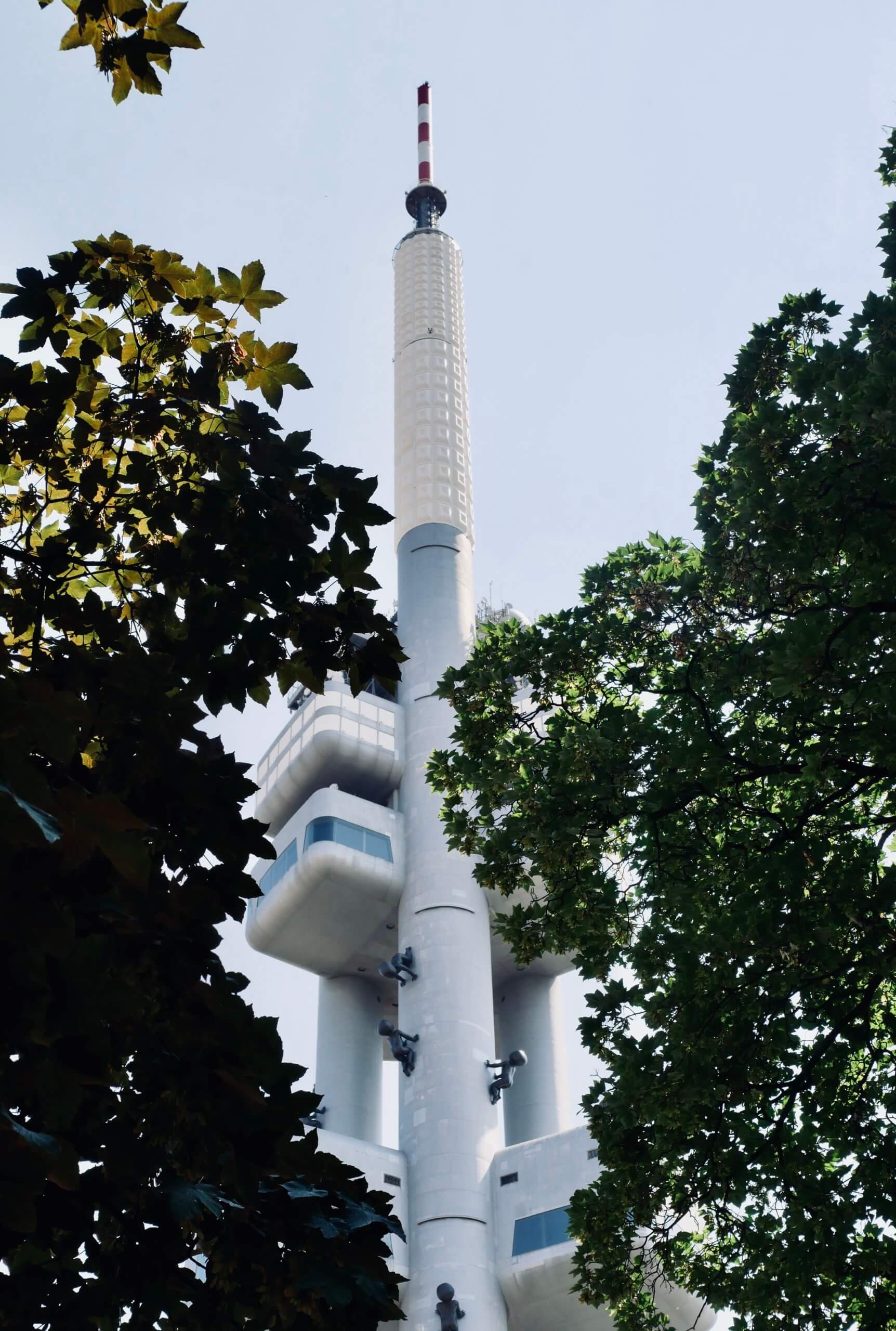 10. Žižkov Television Tower
Standing at a height of 216 metres and a defining monument in the Prague cityscape, the unquestionable defining landmark of Žižkov is its unworldly TV tower. Built between the years of 1985 and 1992, the Tower was designed by the architect Václav Aulický and structural engineer Jiří Kozák. The tower became famous after Czech sculptor and artist David Černý attached 10 of his giant metallic babies crawling onto the different sides of the tower. Opinions differ on the structure but the alien mothership definitely adds a layer of mystique to the neighbourhood. There is a 360 degree viewing tower plus restaurant, bar and super expensive hotel if your budgets permit.

11. Palac Akropolis
The nerve centre of Žižkov's alternative nightlife scene is the grand Palac Akropolis. Build in the art deco style palace by Rudolf Svoboda in 1927, the symmetrical building with its bright colours looks like something straight out of a Wes Anderson movie. The theatre and club was sadly closed because of Covid but from October 2020 onwards, there are plans to reopen with an extensive list of local and international acts. During the day there's a nice onsite cafe and restaurant to relax in.
Holešovice
We now head to Holešovice, Prague's former meatpacking district, which was recently voted by the Guardian as Europe's coolest district. Home to some of Europe's best contemporary art galleries, trendy designer shops, fab restaurants and some very futuristic clubs, Holešovice is another amazing part of Prague that is a great base to stay and explore a different side to the city.
12. Have lunch at Garuda Restaurant
As a newcomer to Indonesian cuisine, I have no authority on how authentic the food was but overall in terms of taste and cost, this was a decent lunch option in Prague 7. The daily lunch menu changes but we enjoyed traditional dishes like Nasi goreng and Sapi Rendang. They serve a small bowl of soup with any of your lunch dishes for free, so overall for 145 kr (€6.5) it is pretty good value.

13. Kuráž: A platform for the best Czech and Slovakian artists
Staying in Letna, pay a visit to Kuráž, (which translates to courage) the brainchild of Michala Butková who had the dream to create an outlet where she could provide a platform to some of the best Czech and Slovakian artists and designers. Representing almost 60 brands and designers, you can find a wide range of products on sale including clothing & accessories, jewelry of all sorts, notebooks, books, shoes, bags, etc. With Michala keeping an eye out for new, upcoming designers, you can also find something new and the perfect souvenir for friends here.
14. Get your late afternoon caffeine fix at Cafe Letna
Framed by large mirrors, plastered walls and crystal chandeliers, Cafe Letna feels like a throwback to a different era. If you're looking for a relaxed chill vibe, nice pastries and excellent coffee (beans sourced from the Five Elephant Roastery in Berlin)this is a perfect stopover for your mid afternoon caffeine fix.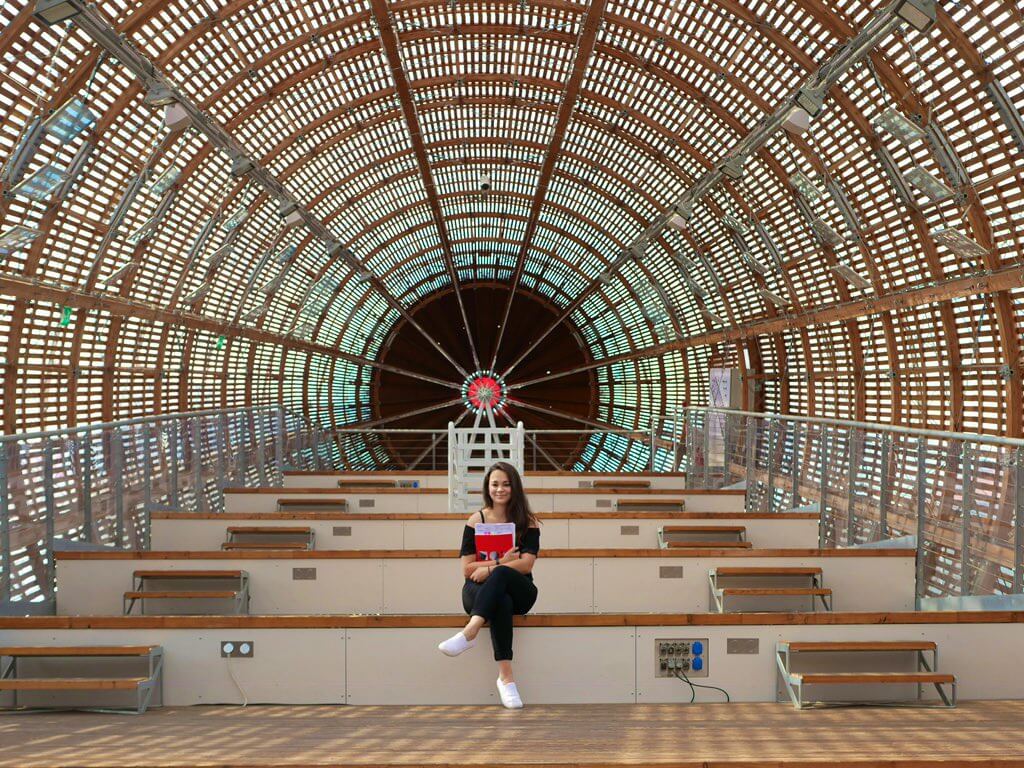 15. Dox Centre for Contemporary Art
Established in 2008 in a former metal factory, Dox put Prague 7 on the map for Contemporary Art and also marked the beginning of Holešovice's transformation into the hub of all things cultural and alternative in Prague. The name DOX is derived from the Greek word doxa, which among other things means a way of perceiving things, an opinion, a conviction. Acting as a bridge between the local Czech and international art scene, guests visiting can expect large contemporary art installations, including its popular permanent one, the unworldly Airship.
16. Vnitroblock
Another disused factory turned multifunctional events and arts space, Vnitroblock is a mix of various institutions – the Signature Store and Cafe, the Sector dance studio plus an underground theatre/ movie centre. It's a great space to work from during the day or swing by for a bite or beer in their outdoor courtyard.
17. Cross Club
Finish the day at the Cross Club, a Prague nightlife institution with its futuristic steampunk interior decor that looks straight out of some sci-fi movie set. From live bands to electronic beats, it is definitely one of Prague's best clubs. The club also plays host to local and international acts ranging from dubstep to hardcore. Currently the club is working under restrictions but still hosting live music night and also operating as an open-air cinema in the summer. Checkout out their website for the latest info of what's on (https://www.crossclub.cz/en/contact/?secured=1 )
18. Karlín
We dedicate day 3 to exploring at leisure the district of Karlín. Karlín owes its name to the fourth wife of Emperor Francis I of Austria, Caroline Augusta of Bavaria (1792-1873). Karlín became incorporated into the city proper after the demolition of the city walls.
Karlín has rather a tricky history. It was originally rather a grim district with many industrial buildings. In an unassuming side street stands the 'U Zabranskych' pub – the birthplace of the Czech Communist Party and a latter day stomping ground of Neo- Nazis in the 1980s and 1990s. A flood decimated Karlín in 2002 so it is safe to say that the area has had its share of trials and tribulations. Karlín has undergone a facelift since then and now projects an attractive face to the world.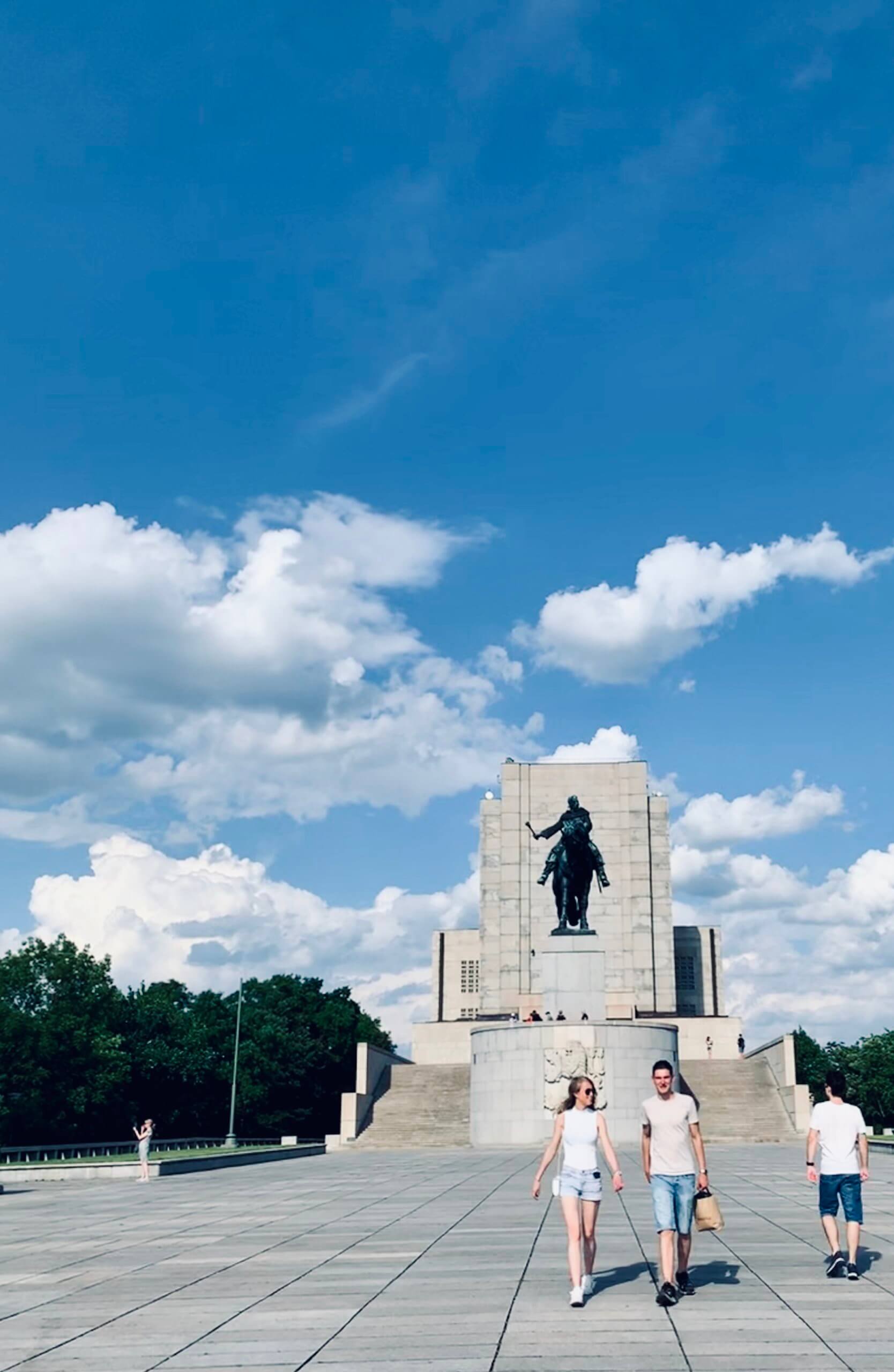 19. National Memorial on Vitkov Hill
Start your day with a view – Prague is a city of many hills and parks, all with great views of the city but one of my favourite views of the city is from the Vitkov memorial, looking onto the unworldly Zizkov tower and also of Petrin Hill in the other direction. Site of the famous Hussite battle, the site is dominated by the giant statue of Jan Žižka on horseback, reputed to be the 3rd largest bronze equestrian statue in the world. The site was converted into a mausoleum for the remains of Klement Gottwald and other Communist leaders and is now a National Memorial related to the Czechoslovak history of the 20th century.
20. Lyckovo Namesti
We then head to what might be quite possibly the most beautiful square in Prague, surrounded by a beautiful garden and idyllic wooden benches, you will discover the imposing Art Nouveau edifice of the grandest elementary school you will ever see. Built in 1906 in the art nouveau style by local architect Josef Sakař, you will quickly see why the school was once recognized as the most beautiful school in the Austro-Hungarian Empire.
Few good lunch options in Karlín – here are two of my favourites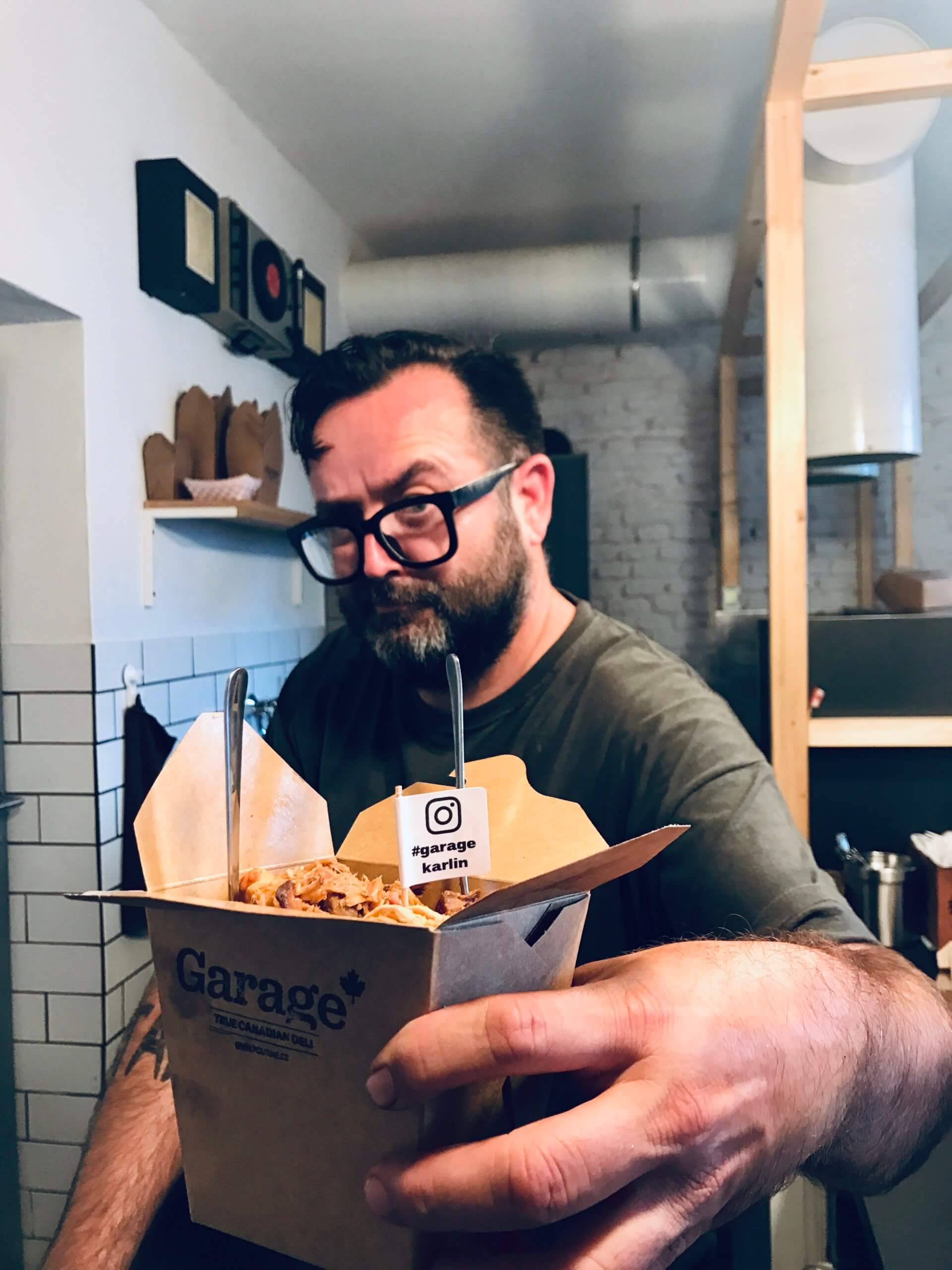 21. Garage Karlín
There's a strange novelty value of finding Canada's beloved fast food and national dish, Poutine in Prague but it's really good, especially after a few cold Pilsener Urquells in Lokal. French Fries, delicious cheese curds and then drizzled in gravy – this is one place I love coming back to when I'm in Prague. You can top up with pulled pork, shredded beef or bacon.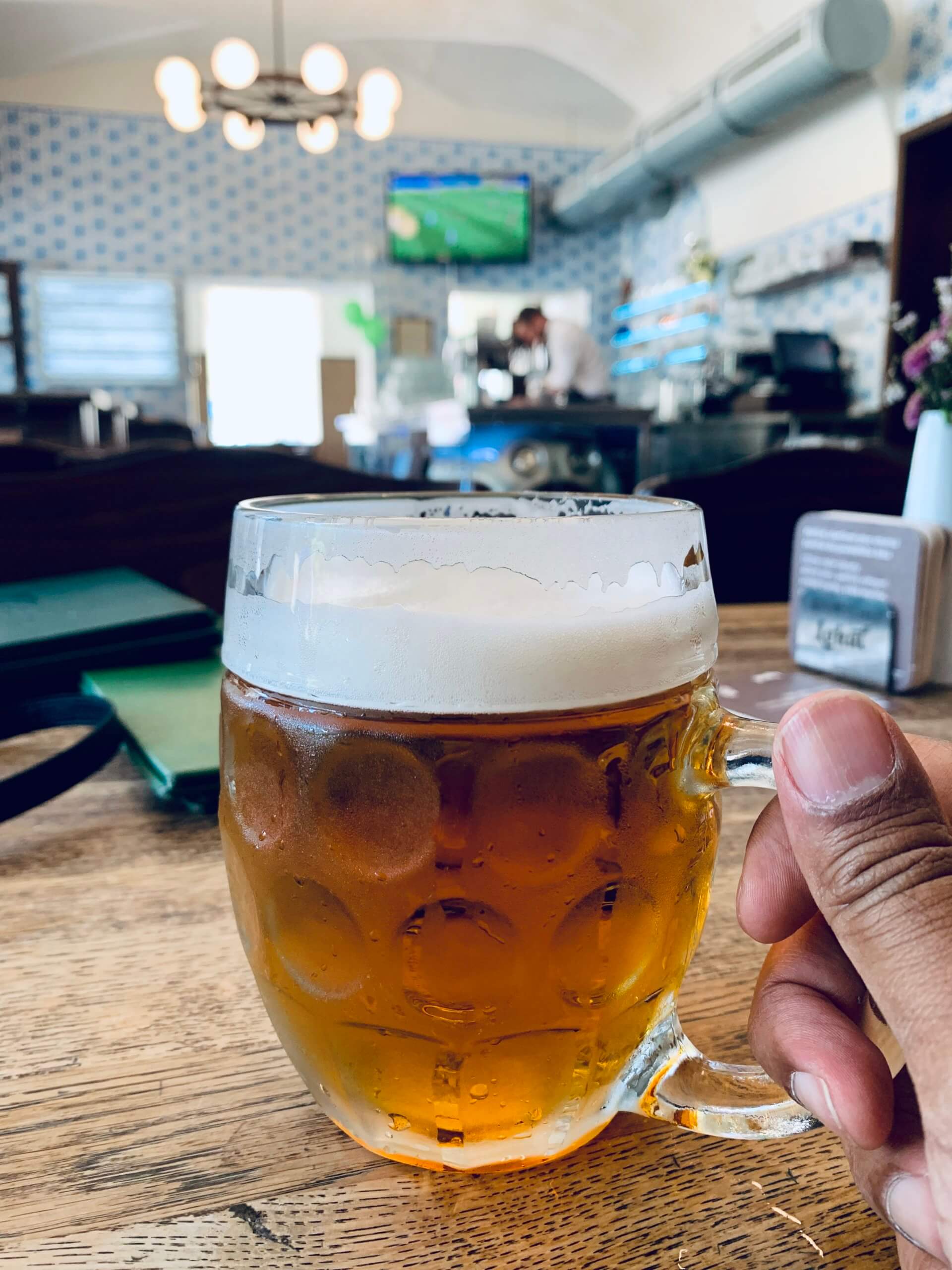 22. Lokal Hamburk
Ever since I've been coming to Prague, I've always had a soft spot for the Lokal chain of pubs which offer a modern twist on classic Czech staple dishes at very affordable prices and compliment it with delicious cold Pilsner Urquell from the tank. I love their branch in Malastrana, which is slightly less raucous than the other and this outpost in Karlín square. I love the building – it used to function as a former customs office, processing goods shipped by river boats coming from Hamburg, hence the name. Sample generous delicious starters like their sausages braised in dark beer (115 CZK), Liver Pate with cranberries (95 CZK) to main dishes like Pork Neck Steak (200g) with pepper sauce (225 CZK) Finish off with their excellent apple strudel with whipped cream (55 CZK).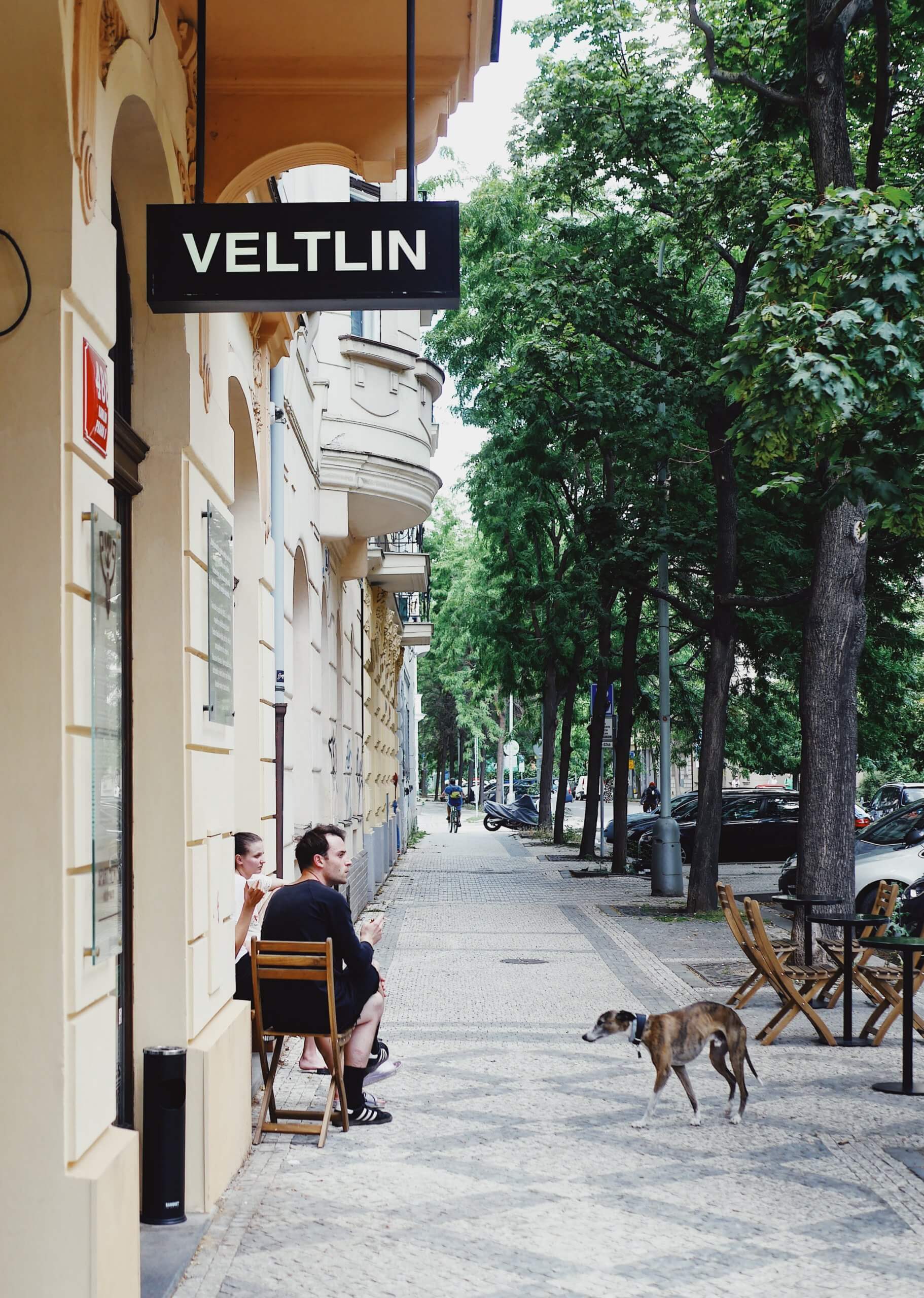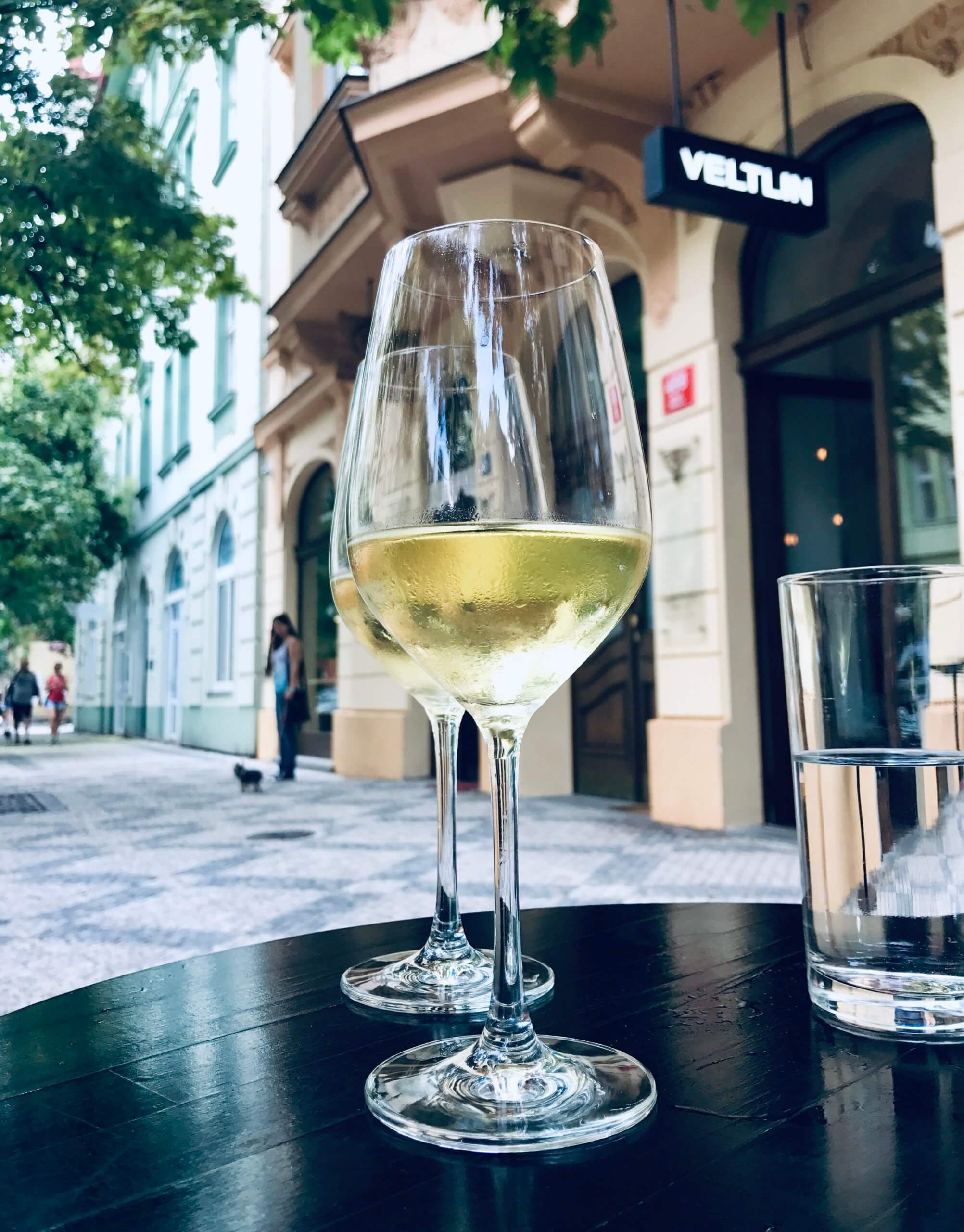 23. Veltlin
Perfect way to spend our last afternoon in Prague is at another Karlín staple that we love returning to. Veltlin is a cute wine bar where the concept is focussed on sampling natural wines from the Austro-Hungarian Empire, which in modern day would be Hungary and Austria, Slovakia, Italy and the Czech Republic. There is no menu to flick through. The wine sommelier will ask you what type of wine you prefer and based on your preference will give you three wines to taste. Once you've picked your favourite, you are served that wine. If you have no fixed agenda and plenty of time to spare, a few glasses of wine here is time and money well spent. The prices are pretty reasonable too. I wish there were more wine bars like this.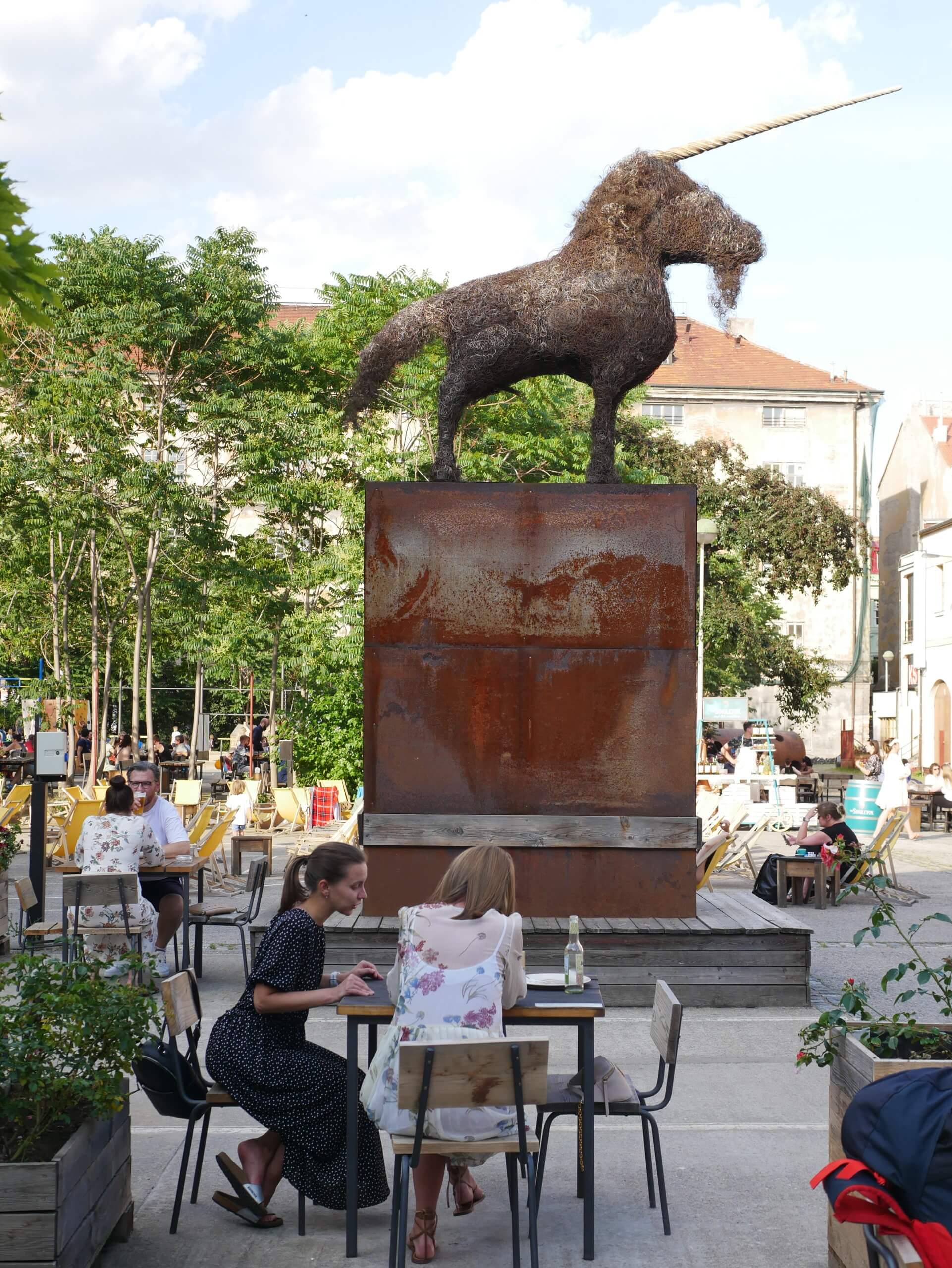 24. Kasarna Karlín
Another multi purpose arts space in what used to be the Karlin Barracks that housed the Austro Hungarian army in the 1840's, Kasarna Karlín is another shining example of Prague's urban revival in recent years.
There's a popular outdoor cinema and stage, café, multiple bars, indoor galleries, club, a random sculpture/art garden and even a playground for kids. Pop in for a coffee or beer at the Kavárna Bazén aka Swimming Pool Café, where you have the novelty of enjoying your beer in the former army barracks swimming pool, which is now converted into a space where exhibitions, lectures, debates and author readings take place regularly.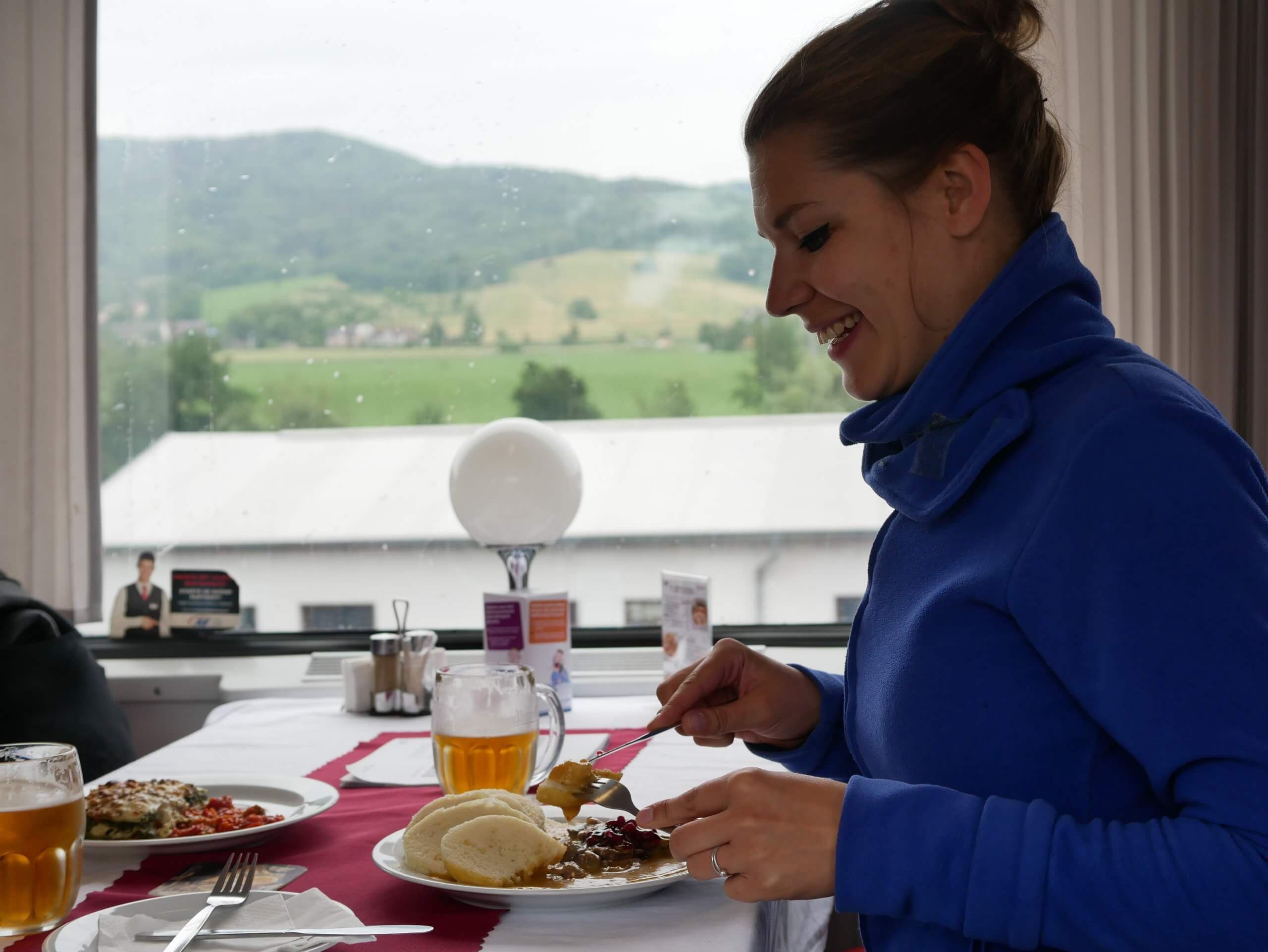 Getting to Prague- take the train
Being based in Berlin, I took the train to Prague. Covering a distance of 281 kms and in a journey time of just above 4 hours, it is one of the most scenic train journeys in the world, especially the stretch just after leaving Dresden. Here, the train winds its way past the Elbe, through a succession of picture postcard riverside towns with the stunning backdrop of Saxon Switzerland. Booked in advance, price of a one way ticket costs as little as €15.70 via Czech Railways website.
I would strongly suggest treating yourself to a meal and a drink at the excellent dining car. We sampled the sirloin in cream sauce with pastry dumplings and cranberries [(262 CZK/€10.90 or 159 CZK/€6.60) during the happy hour. Check with the train manager when you board for the happy hour period] and the Spinach lasagna with ricotta (262 CZK, 149 CZK during the Happy hour). Beer is great value for around €3 and also the views from the wide bay windows of the dining car are fantastic too.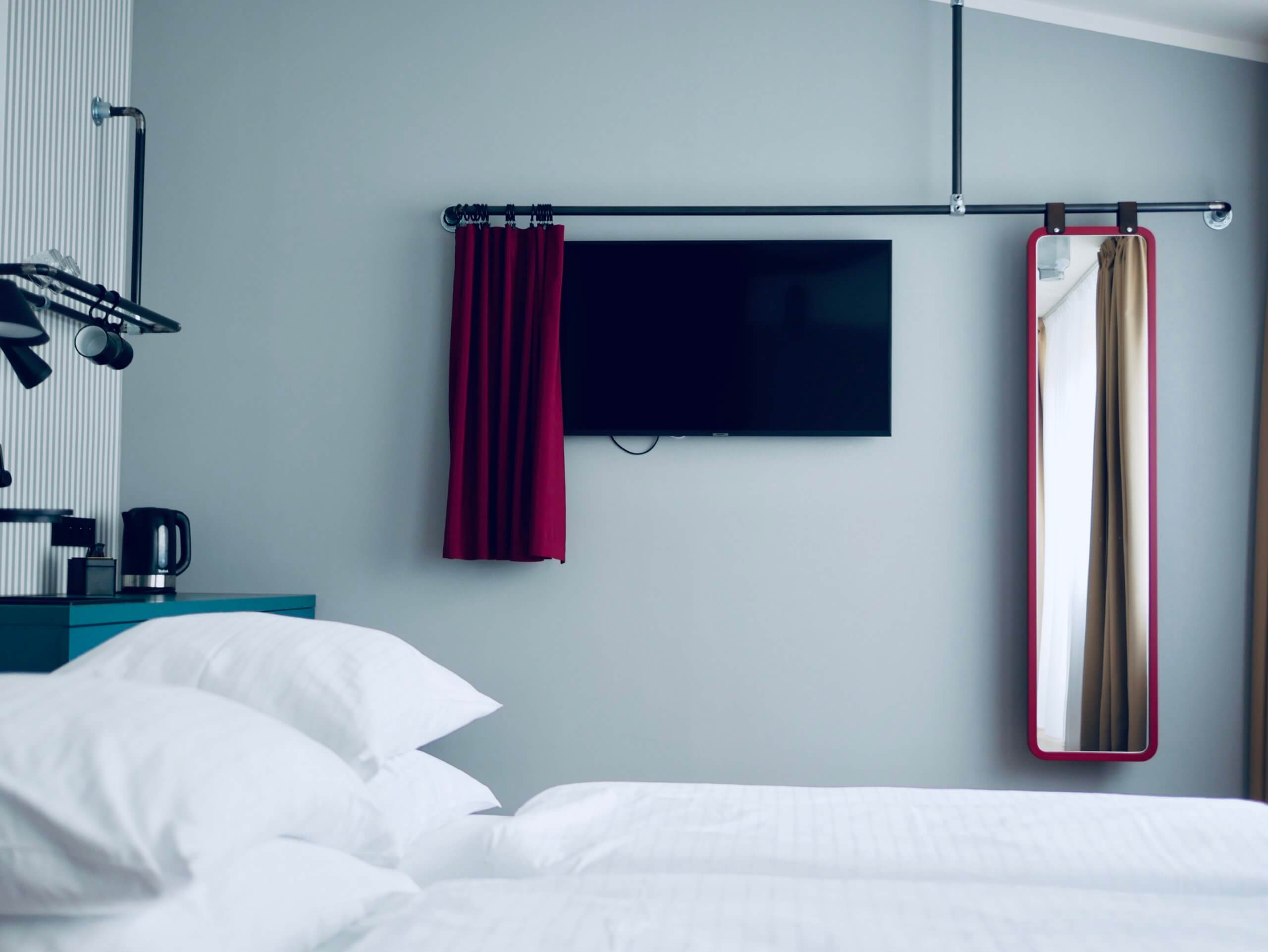 Where to stay in Prague: Miss Sophie's Downtown
Centrally located, next to the main train station, the big plus for this brand new hotel is its fantastic location. We stayed on the 5th floor in one of their double rooms with a nice sized sized balcony. The double was extremely spacious and the bed was comfy. As with all other Miss Sophie properties , the interior design is minimalistic and pleasing on the eye. Another huge plus are the room amenities-free coffee and tea plus extras like complimentary bottles of water on arrival, shower gel and body lotion, cotton pads, plus hair dryer were also supplied. Last but not least there staff here were friendly and v.helpful.
Room rates are incredible value for the location and quality- currently for August, you can book my double room with balcony for as little as €50 via Booking.com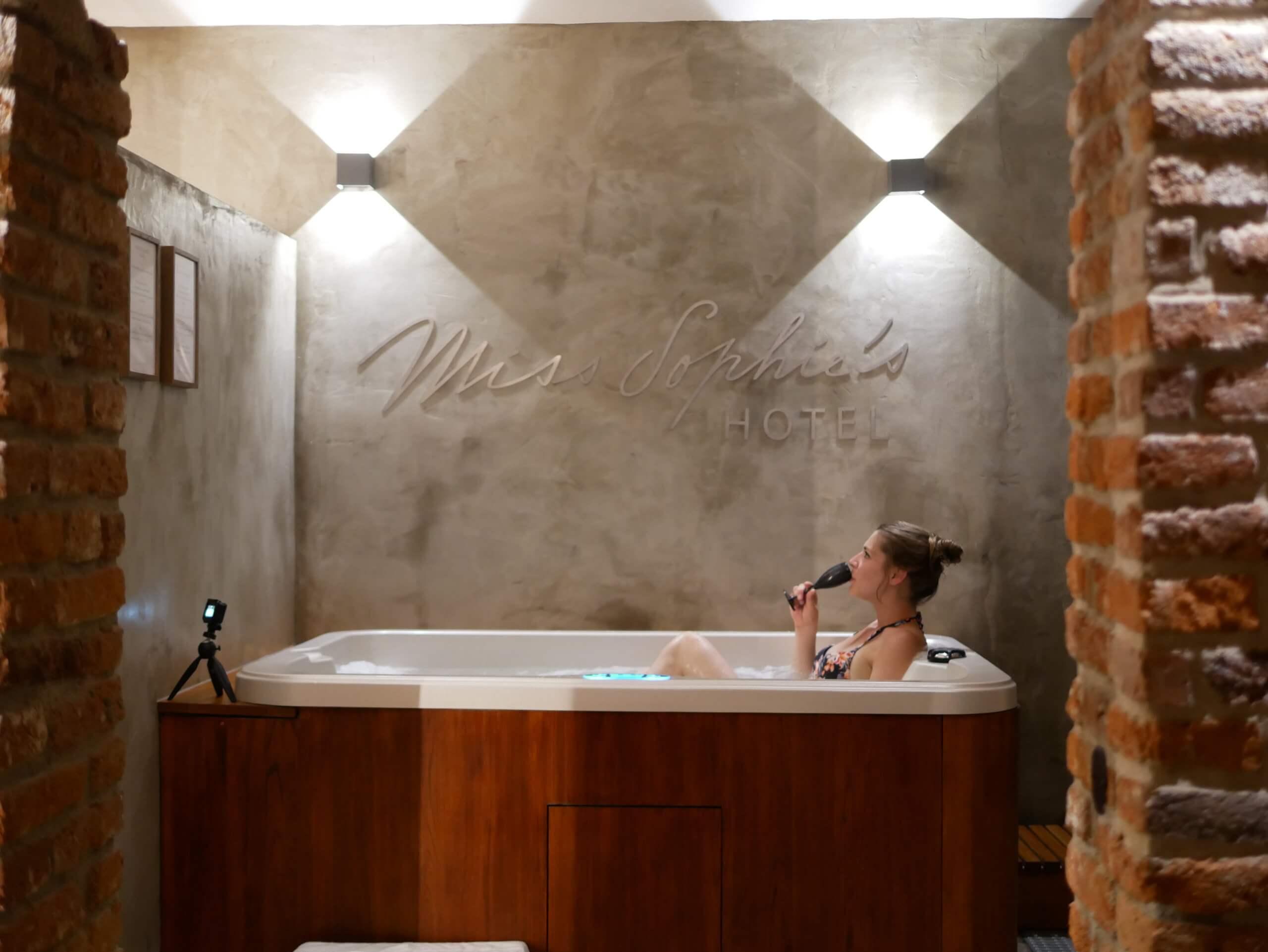 Tip: Looking for wellness and relaxation. Checkout the Miss Sophie's Spa
After a long day of exploring Prague, we had the chance to book a private 90 minute session in the spa in the sister Miss Sophie's Hotel in the New Town. The spa has its own hot tub, infrared sauna for you to relax. There's some meditative, chilled music to relax you plus there's a big station with nuts, dried fruits, tea , water and juice to rehydrate. There is even a small fridge with beers and sparkling wine which can be purchased at a very affordable price.
The spa can be booked for upto, 90 minutes of relaxation, 3 people at a time for 1500 CZK.
However if you are visiting soon, there is a great discount of 50% for direct bookers. You get your 90 minutes of relaxation for only 750 CZK only when booked in advance online via the Miss Sophie's website.
Further reading
An oldie but a goldie, checkout my earlier guide to 11 cool things to do in Prague on a budget , Rebecca Gade Sawicki's excellent vegan guide to Prague and my roundup of the best budget places to stay in Prague.
Disclaimer
Our trip to Prague was possible thanks to a kind invitation from Czech Tourism's Germany office. However, all the views represented here are entirely my own. Huge thank you to Marketa and Barbora from Czech Tourism for making this trip possible. Thanks to Czech Railways for taking care of our travel arrangements. Also thanks to Chris, Babeta and the rest of the team from Miss Sophie's for being such amazing hosts.