Malta
I have gravely misunderstood you. Growing up in the UK, my image of you ( Thanks to Thomas Cook and a Place in the Sun ) has always been that of a package holiday destination. An island crammed with Brits looking for the holy trinity of sun, cheap beer and a sandy beach. Till this summer, I had never thought that you could really cater to independent backpacker tourists. Other preconceived misconceptions? Being nestled in the middle of the Mediterranean , I also had this idea of you  being expensive and difficult to reach.
I am glad to report that this all so far from from the truth. Malta is very accessible, budget friendly and caters well to both independent travellers as well as those who still prefer their holidays to be all inclusive. Based on my recent trip to the island I've created in typical BudgetTraveller style, a miniguide packed with 21 essential tips of how you can backpack in style across Malta and Gozo.
1.

When is it best to visit Malta and Gozo?

It is best to visit Malta and Gozo in April/May or September/October

However, as I blog about this, even in late November, temperatures are 22c which is almost spring like ( summer in Scotland!) temperatures . So my personal suggestion is to visit more in the off season when the island is less crowded plus you are likely to get a better deal on flights and hotels. Which nicely leads me onto my next 2 points.
2.

How to get there

Flying from London you can hop on Ryanair , Thomson Airways or easyJet  to Malta. To give you an idea of sample fares in the off season, you can fly out from London Luton to Malta for £60 return, going out on the 5th December and returning on the 9th December, 2015.. This is without taking into account additional luggage charges plus flying from Luton. Nevertheless, it still remains very budget friendly.

If you are backpacking your way around Europe, Malta is a short hop from Italy. Currently flying from Bari, Bologna and Pisa I can see flights as cheap as £40 one way in April 2015 with Ryanair. Or if you're hopping to Sicily, you can take the virtuferries.com service which is €59 oneway or €100 return.
3

. Where to stay

I love hostels and hotels but increasingly I am finding travellers turning towards AirBnB for a more authentic but still budget friendly experience.

For example, have a look a Franco's 1 bedroom apartment right in the heart of Malta's beautiful capital city- Valletta. ( Book via this link to get €20 credit off your first booking ) For as little as €64, you can have a 1 bedroom apartment with a stylish living room cum dining room that also has a sofa bed. So technically it sleeps 4 which is perfect for a small family or a group of friends. Based on 4 sleeping means you are looking at a cost of just €16 per head. On my first trip to Malta, I stayed in Valletta and it remains one of the most picturesque capital cities I have ever visited. Pastizzi in hand, I loved walking the mesmerising grid of historic streets of this city lined with its elegant tall buildings and picture postcard wooden balconies.

If you're looking to get away from it all and unwind, then Gozo is the place to come to. It has a much slower pace than Malta and feels a world away from everything. In terms of accommodation, the best option is to stay in a typical Gozitan farmhouse. My pick in terms of a base would be the quiet village of San Lawrenz which has an excellent restaurant, bar and supermarket within its close vicinity.

Worth checking out this farmhouse from Carolin which has 3 bedrooms sleeping 6 persons, a well equipped kitchen and a charming living area with a wood fireplace and country views. The house is comfortable and cozy, distributed over four floors. The house is ideal for romantic getaways, a relaxing retreat for small groups or for family holidays. At cost of around €155 this still works out at just €25 per person, per night. ( ( First time AirBnber? Book via this link to get €20 credit off your first  )

In terms of other farmhouse properties, I also recommend the Baron Group who have a number of farmhouses throughout Gozo that work out at a pretty competitive price if you are travelling in a group.

If you're looking for a tip for a good hostel, my good friend and frequent visitor to Malta, Kate McCulley recommends staying at the very Bohemian Boho Hostel which is a 15 minute walk from the waterfront in St Julian's. For an in-depth review of Boho Hostel and other excellent tips of things to do in Malta/Gozo, check out her excellent article.
4.

How to get around

Malta and Gozo have a very efficient and excellent bus network courtesy of Arriva. Bus services are regular between the main towns of Malta. Even living in St Lawrenz in Gozo there were 2 buses every day from the village to Mgarr harbour and Rabat, the capital. You can invest in either a day pass ( €2.60) or a 7 day pass ( €12)

There are also local taxi services you can take advantage of – Franks Garage (21556814 / 99497565) in Gozo are very reliable and ferried us back and forth from Victoria to Mgarr harbour. There is a regular ferry service ( every 45 minutes from 6am to 6pm, then every 90 minutes throughout the night) connecting Malta and Gozo. Return fares are €4.65 for adults and €1.15 for kids.

You can also looking into hiring a car if you're spending a few days in Malta and Gozo. It is cheaper in Gozo than Malta to hire a car. To give an example, I could hire a 5 seater manual car with air conditioning for 3 days for €23.50 per day via Mayjo Car Rentals. ( www.mayo.com.pt )
What to do
5.

Follow in the footsteps of Knights of St John

If you are a history buff, then Malta is your city.

You can easily spend a day or two in Valletta  ( Very walkable city. Based on the grid system, Valletta is probably the first modern planned city in Europe ) following in the footsteps of the mythical Knights of St John which at the time were one of the most famous western Christian military orders of the Middle Ages.
Lets go back a few centuries. After arriving in 1529 and setting up base in Malta the Knights of St John rose to fame by famously repelling the advance of the Ottomans in the famous great Siege of Malta. Till date this battle remains one of THE most celebrated military successes in European history.
Picture this. There were an estimated 48000 Ottoman soldiers involved in the siege. In comparison there were just 500 Knights of St John with about 400 Maltese men, women and children and approximately 2,000 footsoldiers. It was the greatest mismatch, a battle of David and Goliath proportions. Against all the odds, the Knights won. It was dismal defeat for the Turks who saw their stranglehold over the Mediterranean weakened. After being ousted by Napoleon in 1798, the Knights of St John returned in 1879 to the island where they still hold office to this day. They have offices in various cities across Europe. While they have no actual territory, they are still recognised as a separate state by 40 or more countries around the world, similar to the recognition of the Vatican.
The legacy of the Knights in Malta is still prominent across Valletta and the island. Everywhere you walk you will notice the eight-pointed Maltese Cross.
6. St John's Cathedral
Built in 1573 as the place of communal worship for the Knights, St John's Co-Cathedral ( Adult €6. Child Free ) is another unmissable sight of Valletta. There are an estimated 365 churches in Malta but for me this one is the most beautiful of them all. Don't be deceived by the plain exterior facade. Walk in and raise you eyes to the jaw dropping beautiful ornate vaulted ceiling that was designed by sicilian artist and knight, Mattia Preti. Other highlights include the marble tombstones of the famous knights themselves like grandmaster Jean Parisot de Valette. My highlight of visiting this cathedral was seeing the painting of the The Beheading of Saint John the Baptist (1608) by Caravaggio. This is apparently the only signed work of the master painter. I am huge fan of Caravaggio since seeing his work in Rome  ( For your free fix of Caravaggio in Rome go to the small church of San Luigi dei Francesi near Piazza Navona. Inside the Contarelli Chapel you can see the master's "Saint Matthew" cycle. The Cerasi Chapel in Santa Maria del Popolo has two more of his greatest works: "Conversion of Saint Paul on the Road to Damascus" and "Crucifixion of Saint Peter." ) His work has a very lifelike quality and he was a master of light with dramatic contrasts of light and dark in his paintings. He was kinda like the James Dean of the baroque era painters.
The Knights rebuilt the town of Valletta on the hill with extensive fortifications and ramparts around the city. You can recreate the journey of centuries past by entering the city through the City Gate. Built by the Knights of Malta in the mid-16th century, the original stone wall fortifications are there for everyone to see but the bridge, gateway and area just inside the gate have all been remodelled by the architect of the London Shard, Renzo Piano.
7. Drink in the views from the scenic Upper Barakka Gardens
Other highlights of the Knights of Malta trail include the scenic Upper Barakka Gardens from where you can get a birds eye view of their complex web of fortifications around the city plus an astounding view of the harbour and fort St Angelo.
You can also see in the distance the gloriously baroque Three Cities of Vittoriosa, Senglea and Cospicua.
8. Water Taxi to Vittoriosa from Valletta
While you can take the bus, hop on a water taxi to Vittoriosa from Valletta. It is a short hop and costs just €5 for 2 people. It is a beautiful crossing and you get some amazing views of Valletta from Vittoriosa, especially just before sunset. I visited here in November last year , just after sunset and it was beautiful. After the hustle and bustle of Valletta, Vittoriosa was so quiet, devoid of tourists. I loved just walking around here. The waterfront is lovely with a huge concentration of yachts in the harbour.
9. Visit the Hypogeum
Malta is littered with historic ruins many of which are UNESCO world heritage sites. If you have time for only one attraction, make a point to visit the subterranean necropolis, the Hypogeum. Dating from around 3500 BC it is the only known prehistoric underground temple in the world and contains the remains of 7000 individuals.
Please note that you must make an advance booking to come here. It is incredibly popular and visitor numbers are limited to just 60 a day because of damage being caused by carbon dioxide exhalation. I am gutted I couldn't visit thanks to my lack of advance planning but next time I will plan my visit well in advance.
It costs €20 ( $26) for a 50 minute tour of the Hypogeum.
10. Enjoy Gozo's beautiful coastline with a Segway tour
Gozo has a beautiful coastline dotted with beautiful hidden sandy beaches and interesting rock formations , a result of years of erosion from the salty mediterranean waves.
The best way to enjoy the coastline is by hopping on a Segway tour. I have to admit, I was terrified of Segways until this trip and had failed miserably on my first try a few years back so I desperately wanting to give it another shot and see if I could overcome my fear.
Luckily I had a great guide and a very patient instructor in Peter from Gozo Segway Tours who made the whole experience fun and enjoyable. They have a bunch of great tours across the island. I hopped on their tour from Marsalforn to Ta' Pinu tour which is about 2 1/2 hours along and costs €35.
After getting to grips with the segway, I glided along the beautiful northern coast of the island, passing by the idyllic Xwejni Bay….
before reaching the Salt Pans…
Beautiful colours. They've been mining salt here for 350 years.
The tour ended at the haunting Ta' Pinu Sanctuary. With its beautiful Italianate Campanile it towers majestically over the Gozitan countryside. Built in 1920, this architectural masterpiece sits in front of the original much older chapel. This small chapel remains intact behind the altar and contains the painting of the Assumption to Heaven of Our Lady – which is said to have miraculously appeared to Karmni Grima in 1883. It has since become a major centre of pilgrimage.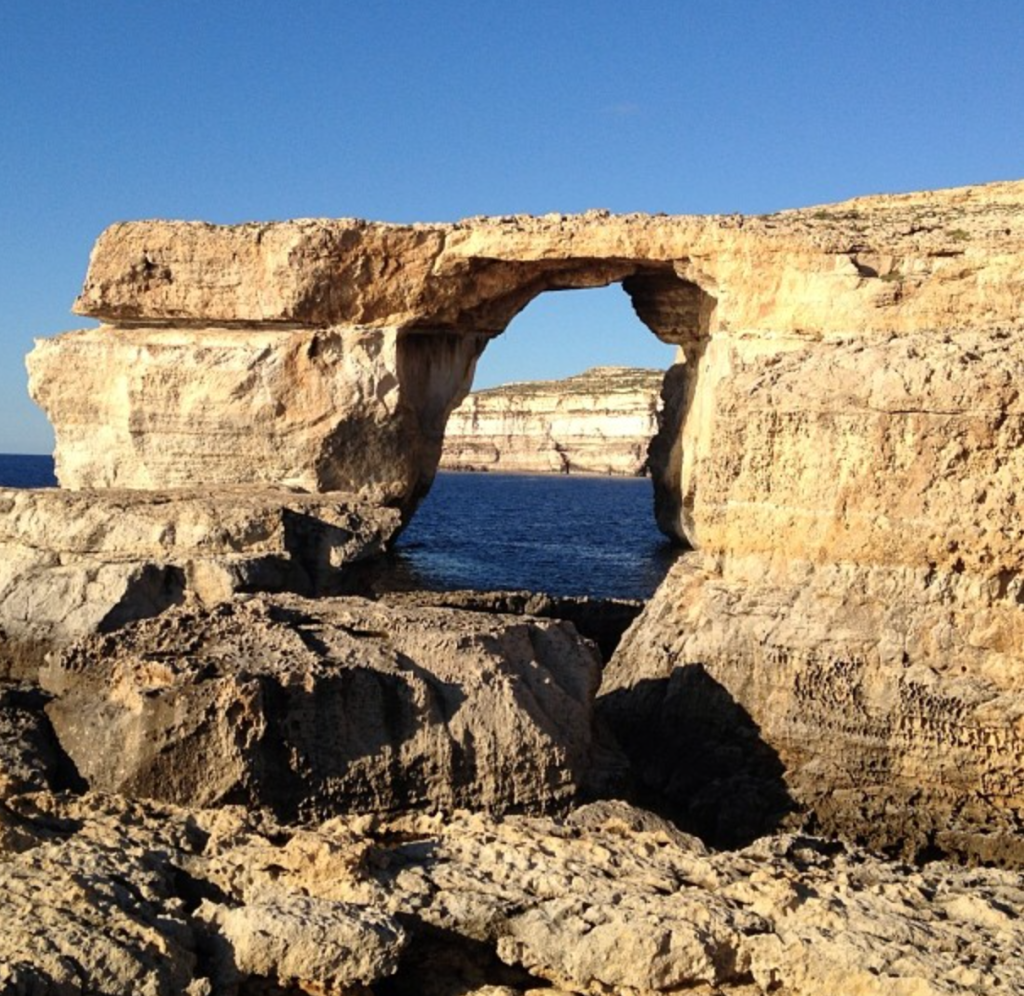 11. Visit the Azure Window
Another stunning geological phenomenon in these islands that is unmissable is the Azure Window. Best thing is that it is FREE to visit. Visit at sunset when the light is beautiful.
Top tip: Buy a ticket on the City Sightseeing Tour Bus when visiting Gozo for a day trip
If you're staying in San Lawrenz, it is just a 30 minute stroll or if you're in Gozo for the day, hop on the City Sightseeing tour bus which has a stop in front of the window. It is a tad pricey at £13 but worth investing in if you don't have a car and want to visit all the key sights like the Ggantija Temples in a day visit.
12. Ggantija Temples
While in Gozo , don't miss out on the Ggantija Temples, one of the ancient wonders of the world. Dating back to 3500 BC , these are the oldest free-standing structures in the world, older than Stonehenge and the Egyptian Pyramids. During the time of my visit there was some renovation work going with scaffolding in place to hold up some of the stones but nevertheless it remains an impressive site with beautiful views across the countryside.
Top tip: Free entry to Ta' Kola windmill
Remember  that your ticket to the Ggantija temples also allows entry to the nearby Ta' Kola windmill. The windmill is under reconstruction as I type but as entry is already paid for, it is definitely worth visiting.
13. Blue Lagoon, Comino
Other unmissable natural wonders when visiting Malta and Gozo is the Blue Lagoon of Comino. The waters here are warm and have all the amazing shades of colours that you are probably accustomed to seeing in travel brochures ( showing my age here): azure, aquamarine…it is a little piece of paradise. You can go diving, snorkelling or simply float. Place is mobbed in the summer but in autumn, winter the crowds thankfully thin out.
14. Walking the streets of Victoria ( Rabat ), Gozo
When in Gozo spend some time in the ancient capital, Rabat, better know as Victoria. I spent a few hours just wondering aimlessly the picturesque historic streets, enjoying scenes of the daily life of locals.
In the mornings, wind your way through the historic side streets that snake from St George's square where you will find lots of interesting food stores selling everything from rose liqueur and maltese nougat to pistachio flavoured helwa tat-tok.
Ultimately you'll find yourself in Piazza Indipendenza where you can find an open market selling everything from fresh fish (many of them I couldn't identify, can you? ) to replica football tops and sunnies.
You'll love the walled Citadel sitting atop a hill. With its narrow alleys and high rampart walls this is a dreamy historic site to just wander around and take in these great panoramic views across the island.
15. Old Prison, Rabat. Gozo
While in the Citadel, checkout the Old Prison, located in Victoria's citadel. Past prisoners have included a few Knights including the grandmaster himself, Jean Parisot de la Valette. As you walk around the prison you can still see the limestone walls covered with graffiti by the past illustrious residents. You'll find etchings of boats by the prisoners. Some of these 'boats' have St Andrews flag etched on top which was typical of Russian ships and indicated their presence on the island. You'll find etchings of hands and prisoners playing games of noughts and crosses. Fascinating stuff. Tickets cost €8 and also include admission to the Gozo Archaeology Museum, Folklore Museum, and Natural History Museum.
What to eat and drink
The Maltese cuisine is a mixture of many flavours and foreign influences thanks to the various nationalities of people that have inhabited the islands over the past few centuries. The result is a cuisine that is very exotic. I've outlined some of my favourite dishes from the trip that you can checkout on your trip.
16. Pastizzi
No trip to Malta is complete without eating a Pastizzi , a delicious savoury pastry which has a filling of either (pastizzi tal-irkotta) ricotta or (pastizzi tal-piżelli ) mushy peas. Great place to savour this snack is Millennium, a kiosk located just outside the City Gate where you can sample this snack for a mere €0.30. Other place to try Pastizzi is one of the cafes in St George's Square in Victoria, Gozo. When living in Gozo, this square would be my go to place for a milky morning coffee ( €0.50) and pastizzi.
Top tip: Best Pastizzi in Malta- Crystal Palace Bar
If you are visiting Mdina, the place which I think serves the best Pastizzi in Malta is the Crystal Palace Bar located on Triq San Pawl (Street Saint Paul).
It's the place where the locals congregate and you're likely to encounter some characters like I did. Pastizzi here is home made- Crystal Palace been family run for over 40 years and the name was to mainly appease English sailors who were frequent visitors to the island.
17. Drink like a local: Kinnie & Cisk
A complement to any meal in Malta could be a glass of the local bittersweet soft drink Kinnie which was developed as natural, healthy alternative to Coca Cola. It is an odd, acquired taste but one that I grew to love over the past 2 trips so give it a shot.
My favourite alcoholic beverage of choice in Malta is the beer Cisk. It is not strong, not too gassy lager and has a refreshing taste. It was once voted as the best beer in the world, which is probably stretching the truth slightly but nevertheless it is the drink of the locals.
18. Sunday market at Marsaslokk
Stop by at the postcard pretty seaside village of Marsaslokk on a Sunday to experience the market. It is a great market where you can buy fish fresh off the boat, shop for trinkets or sample some of the local Qubbajt aka Maltese Nougat. Grab a table at one the bars in the harbour and order a Cisk, then just sit back and admire the beautiful boats , watch the locals furiously haggle with the fishermen.
19. Ftira Biz Zejt! The tastiest sandwich in the world?
This is the ultimate Maltese snack for me and can be found in most beach bars and cafes across the island. Ftira is a disc-shaped semi flat bread , texture of a ciabatta, but round with a hole in the middle. When cut open, crusts flying off in all directions, and locals tend to smother it in tomato paste and olive oil with filling of olives, tomatoes, onions, salad greens, beans, capers, tuna, anchovies, garlic & peppers. It as tasty and amazing as it sounds. Plus super cheap ( around €2) and very filling.
20. Seafood lover? Murella's in Marsalforn
Gozo is for seafood lovers. If you're in Gozo, drop by at Murella's in Marsalforn where they do a mean Neapolitan pizza ( starting from €7) or a delicious Spaghetti ai Frutti di Mare ( €10.50 )with razorclams, mussels, clams and in a tomato, garlic and black olive sauce.
If you are really hungry I recommend their bruschetta for starters ( €2.95 each) where you can choose from delicious toppings like Gorgonzola with walnuts, smoked maltese sausage with sundries tomato paste or aubergine with local goats cheese and tomatoes.
21. Gozo on a plate: Ta Rikardu
Situated inside the walls of the citadel serving delicious a changing selection of fresh food and homegrown wine, Ta Rikardu is a Gozitan experience not to be missed. I sampled the Gozitan platter here which was a mix of 3 different and excellent varieties of local cheese, tomatoes, olives, sundried tomato capers, bread etc. ( €8) washed down with some of the local cisk.
What I missed out on
This article is by no means a comprehensive guide to Malta and Gozo but gives you some cool ideas of things to do for your next trip. I hope you find it useful. If you have any feedback, tips or recommendations-drop me a line. I missed out on a few things like the walk along the waterfront from St. Julians to Sliema , sampling some of the nightlife in Sliema and St Julian's, I didn't visit the Hagar Qim and Mnajdra temples nor did I make it to Ramla Bay in Gozo which is apparently Gozo's best beach. Always good to leave something for next time right?
For more information and planning your trip, you can visit visitmalta.com and visitgozo.com.
Note: I visited Malta as part of the #MaltaIsMore campaign, organised by the Malta Tourism Authority and iAmbassador.  All words and photos represent my personal and honest views and experiences and are completely unbiased. Last but not least , no matter how beautiful a place is, you need good company to enjoy it. So a big thank you to fellow blogger Manu, Ishay and Rosetta ( happy faces below ) for your wonderful company and making it a memorable trip.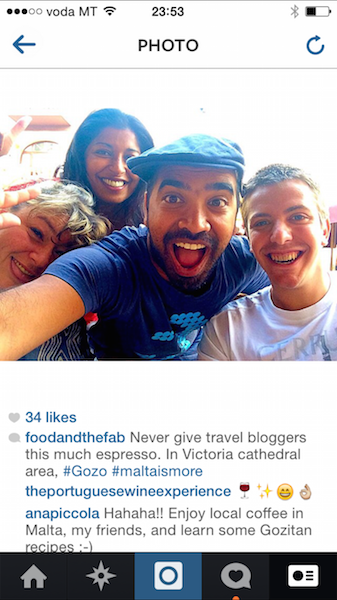 Related articles