67.9222° N, 26.5046° E
Lapland.
Home to the indigenous Sami people. Home to the man who makes all our dreams and wishes come true every year. Santa Claus.
This is the land of the nightless night in the summer. In the winter it plays host to the most magical light show known to mankind. The Aurora Borealis. Also known as the Northern Lights.
Can you visit this land of fantasy …or is it just a travel myth, a wild figment of my imagination? Just like it is hard to separate the myth and the reality of its most famous resident, Lapland is a place whose existence I've often questioned.
Till now.
I dust off the atlas. It is there all right. The northernmost region of Finland. Lapland. A huge, sparsely populated wilderness bordering Sweden, Norway, Russia and the Baltic Sea.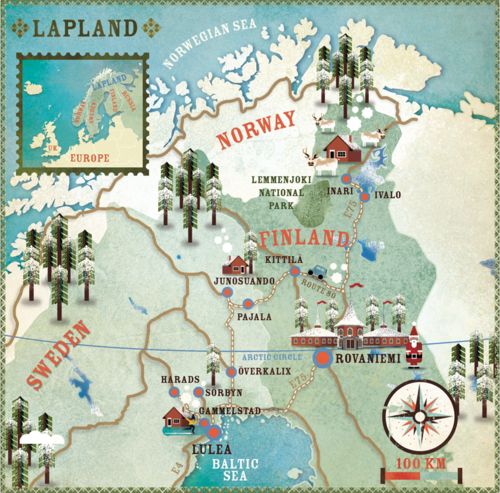 It has been a place I've long wanted to visit. Ever since I heard about the magical phenomenon of the Midnight Sun and the Northern Lights. I was waiting for the right opportunity to present itself. This year I finally found a good excuse to visit.
As I was researching hostels to visit for the 2nd edition of my Luxury Hostels guide, one of the hostels that stood out for me was this beautiful hostel called the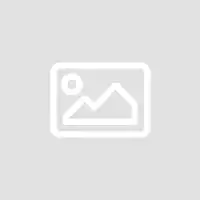 7 Fells Hostel
Buy Now
We earn a commission if you click this link and make a purchase at no additional cost to you.
. Apparently the northern lights takes place right above the hostel sky. Situated in Äkäslompolo,a village in Yllas this new eco-friendly hostel has finally put Lapland on the map of the backpacking community. The wheels were in motion for my adventure to Lapland after a chance meeting with the owner, Tinja Tamminen at a travel trade fair in Finland called Matka. I would be visiting in July. The Luxury Hostels guidebook was due to be published in September so the Northern Lights would have to wait.
So. One fine summers evening in July, I find myself in Tampere boarding a train that would take me to this mystical land called Lapland.
I had a wonderful few days in Tampere with my camera man Rui Dantas and Ville Virkki who runs the excellent Dream Hostel in Tampere. We picked wild berries in the forest. Ate Mustamakkara, a traditional local breakfast of blood sausage with cold milk. We escaped to the fringes of the city surrounded by forest land and beautiful lakes to the city's best public sauna. We topped it all off with a visit to the highest restaurant of Finland.
So after the adrenaline gut busting ride in Tampere, I needed some chillout time in Lapland.
Chillout time started with that train journey. A very long train journey. 14 hours to be precise. Instead of taking the plane to the capital of Lapland, Rovaniemi, we instead take the overnight train that would take us to Kolari. From there we would hop on a bus and roughly 45 minutes later we would be dropped off at the gate of the hostel.
We were on the older blue sleeping-car which takes close to 14 hours. There is an express service . On the way back, we were on the express. These are brand new double decker sleeper trains with ensuite bathrooms and free Wi-Fi. With a quicker journey time of just 8 hours, the express train is definitely the more luxurious of the two and worth every penny.
So. The older trains are not everyone's cup of tea. However if you are not pressed for time, it is a nice relaxed overnight journey. Plus it saves you one nights accommodation. In a world where instant gratification is the norm, there's something to be said about taking things slowly right? We had a two bed sleeping berth with a washing basin built in. The cabins in the older blue sleeping cars are on the compact side. However, as a place to sleep in, they are quite comfortable. The whole orange brown retro look and feel of the interiors is like stepping into a time capsule to a different era of travel. After our tickets are checked we learn from the conductor that there is free Wi-Fi in the buffet car. Music to the ears of an almost millennial like me. An ice cold beer and Wi-Fi sounded like not a bad evening to both of us so we trudged off to the buffet car. However a pint of beer was not cheap at around 7 euros so we savoured this very slowly. However, given the Wi-Fi signal was hit and miss, we started focussing more on the drinking than our phones. Which was in many ways a godsend. This meant we bought a few more rounds. I remember vaguely lots of happy faces. Maybe some singing. At some point I think all the passengers on the train were crammed in before the bar closed much to the dismay of the passengers. We hadn't had any dinner so back in our cabin we hungrily devoured the bread and cheese we had purchased wisely from the supermarket in Tampere train station before boarding. Then in a happy state of stupor, we passed out in the cabin. I woke up a few times throughout the night. Damn my weak bladder. I was also curious to see if I could observe the unique phenomenon of the midnight sun. I kept peeking out of the window of the toilet. However, given that we were a few hundred kilometres south of the Arctic Circle, we were still too south to see the midnight sun. I fell asleep slightly disappointed but excited for daylight to reveal the landscape around us. Exactly at 7am, I did finally wake up with a slightly sore forehead. I pulled the mini curtain in our cabin aside and pulled down the window. My nostrils were assailed by the sweet fragrant smell of pine. My eyes greeted by this unbroken limitless expanse of forests. I saw mainly pine, birch and fir trees. There is something indescribably beautiful about the soothing green colour of the forest. It is the place where the Finns are at their happiest. With 65% of Finland covered by forest, that's a whole lot of happiness to drink in here.
We finally reached Kolari and then promptly found the coach waiting to take us to Äkäslompolo. It was a beautiful sunny day. The road wound its way through densely forested land just as I had seen from my train window. Just as when everything, dare I say, started feeling a little boring, there was an excited yelp from one of my co passengers as our driver hit the brakes and we shuddered to a sudden stop. I looked straight and there he was.
Rudolf the reindeer. Nose wasn't very shiny. Eyes were startled. Guess he's not too keen on humans during his well earned summer break. The reindeer scampered off, swallowed by the thick forest. Finally we reach our destination.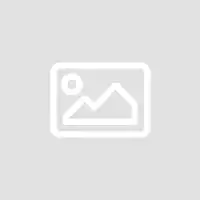 7 Fells Hostel
Buy Now
We earn a commission if you click this link and make a purchase at no additional cost to you.
l.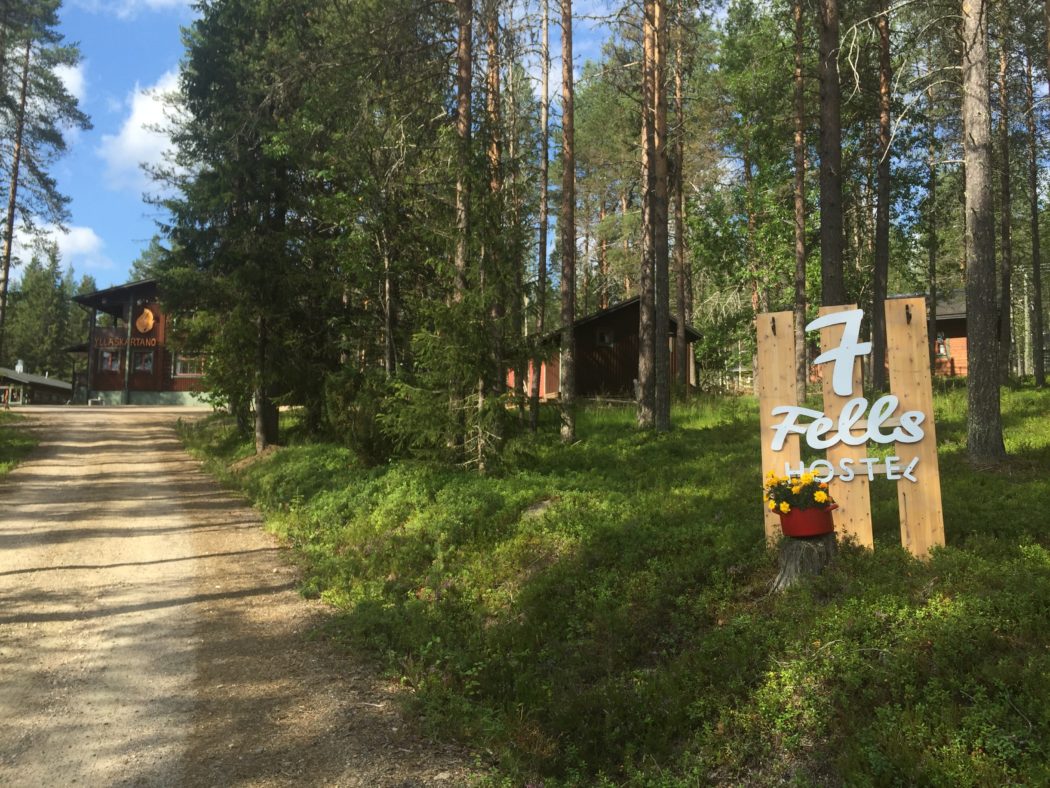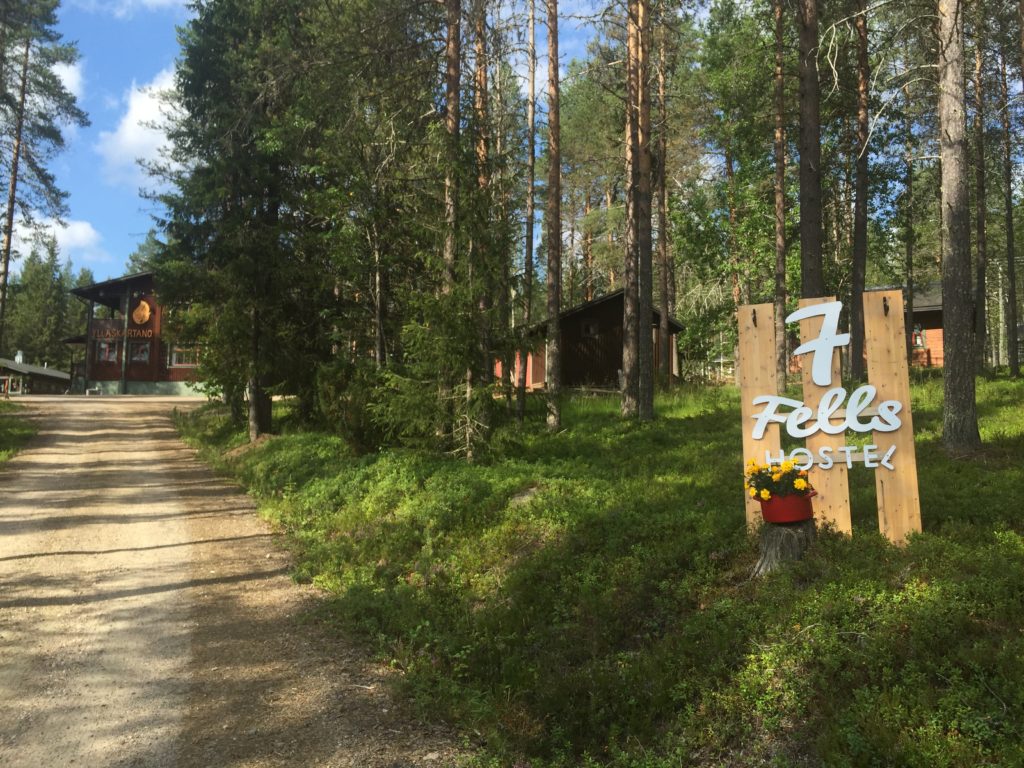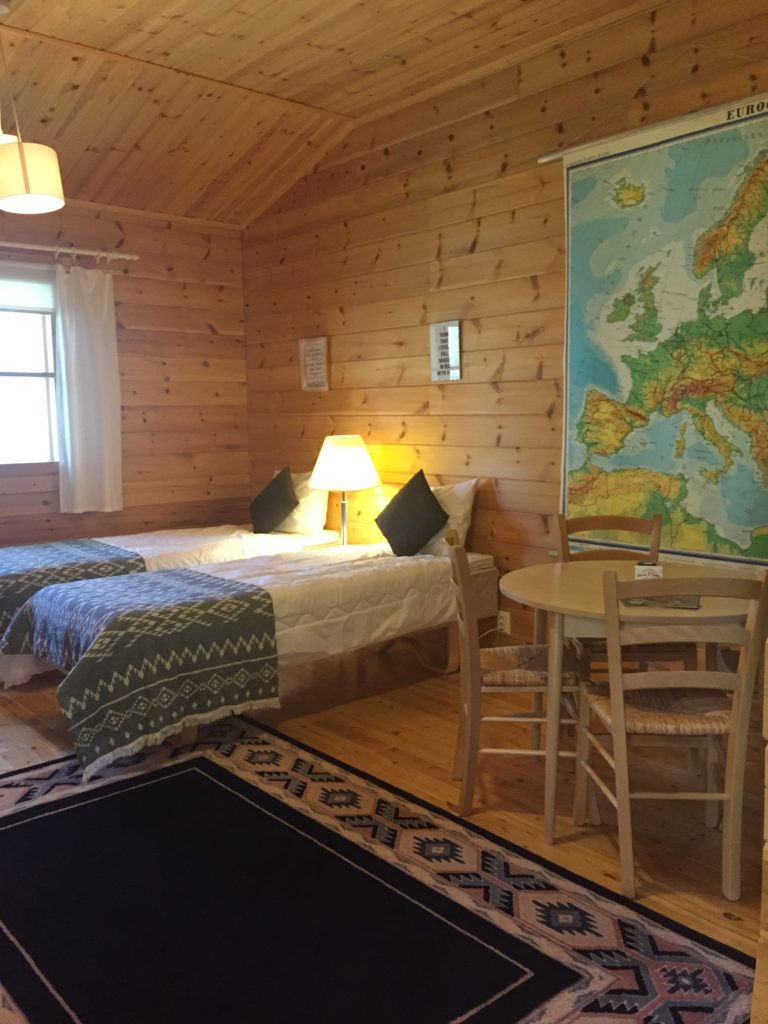 The main hostel reminds me of Alpine bunkhouses. Very sturdy. We walk into the rustic log cabin and it feels very cosy inside. All the furniture in the rooms is second hand, upcycled, which gives the rooms their own personal character.  Nestled in the forest, there is a feeling of being at one with nature staying at the 7 Fells.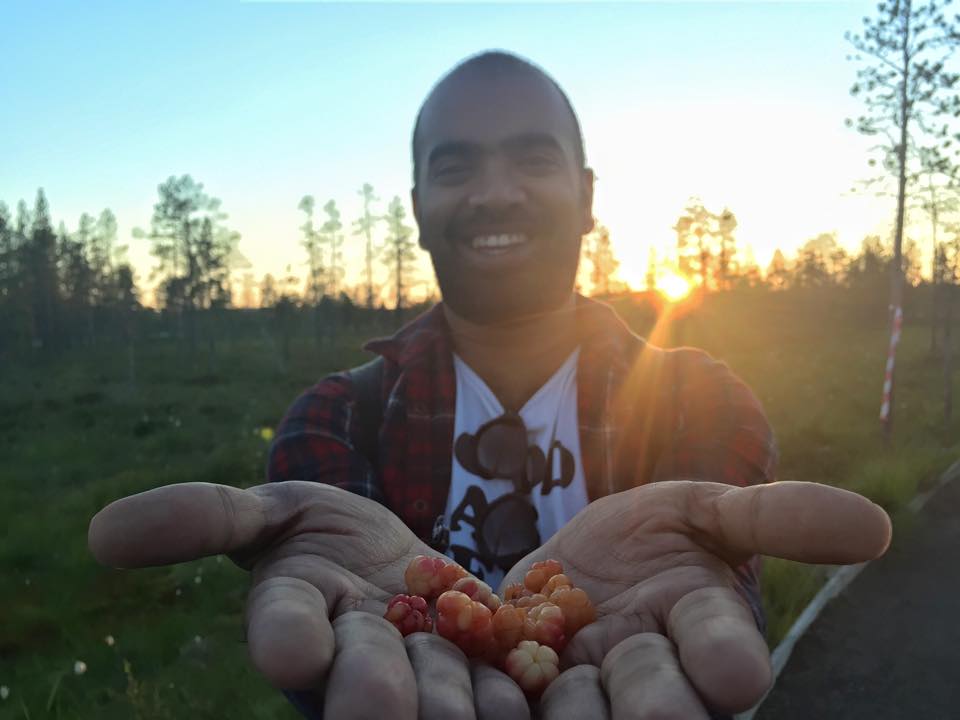 We walked into the grounds and discovered hundreds of juicy blueberries waiting to be plucked. Tinja the owner has a few bikes for us to use (free of charge). So we hop on them and go for a bike ride to a nearby cafe where we drink freshly squeezed blueberry juice. There's hardly a car in sight so bike is the perfect form of transport here. After a long day of cycling, coming back to the hostel common area with its big ass sofas and warm fireplace is the perfect place for reflection and also catching up with the day's news. It is the only place Tinja has Wi-Fi reception in the hostel. Our days are long and relaxed, filled with exploration thanks to Tinja. One day she introduces us to a local herbalist, Eveliina Nina who takes us for a ramble through the forest to pick wildflowers and wild herbs. Later she makes us a delicious wildflower tea. I remember having the deepest most peaceful sleep ever.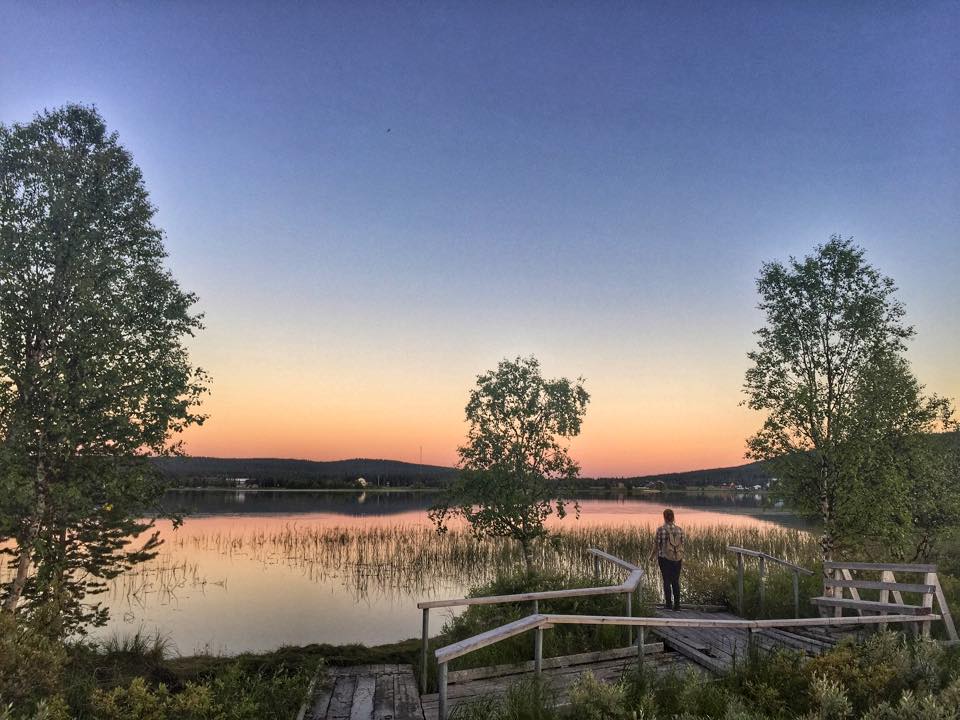 One of the evenings Tinja takes us for a bike ride at midnight around the lake. Its quite magical seeing this huge expanse of water bathed in this pink blue glow. We then pick cloudberries that are growing in an abundance around the lake. There is hardly a soul in sight. It sounds hippy but this was one of those almost perfect moments that you think the universe created just for you. You know what I mean? Or maybe this was the effect of Evelliina's arctic herbal tea? I couldn't tell.
On our last evening we go hiking up the fells. The views are pretty spectacular from the top. Limitless expanse of green trees with the peaks of the fells providing a point of focus in the landscape. After a long hike at 1am, I pop into the hostel's communal sauna that Tinja has fired up for me. Meanwhile, Rui starts up a fire in the grounds and at 2am we're roasting sausages from the excellent nearby supermarket and drinking beers. The light at this time of night is still good: a pale blue with a tinge of yellow.
It was very calming and sitting there. I don't feel like leaving the day after. After what had been one of the most intense and craziest summers of my travelling life, I finally felt here my body and mind at complete peace.
I felt like I was not of this earth coming here. Midnight dreams in blue and yellow,wildflowers in my belly, sweet scent of pine on my skin, I fall asleep in your limitless green silent ocean. And never wake up.
Lapland. Land of nightless night. A wild fantasy where wishes do come true.