There can be many definitions or experiences that describe luxury. One of these might extend to the concept of hospitality. A feeling of being ushered into a home away from home by relative strangers who become familiar faces in a relatively short period of time. Lisbon is home to some of the world's best hostels and there is a reason for it. The Portuguese are masters of perfecting the age-old tradition of hospitality. Their food and drink are comforting and enriching and they exude a general air of warmth and caring. Here, in no particular order are my 8 best budget places to stay in Lisbon. PS: Checkout my guide to the best things to do in Lisbon plus my review of the best sunset cruise in Lisbon.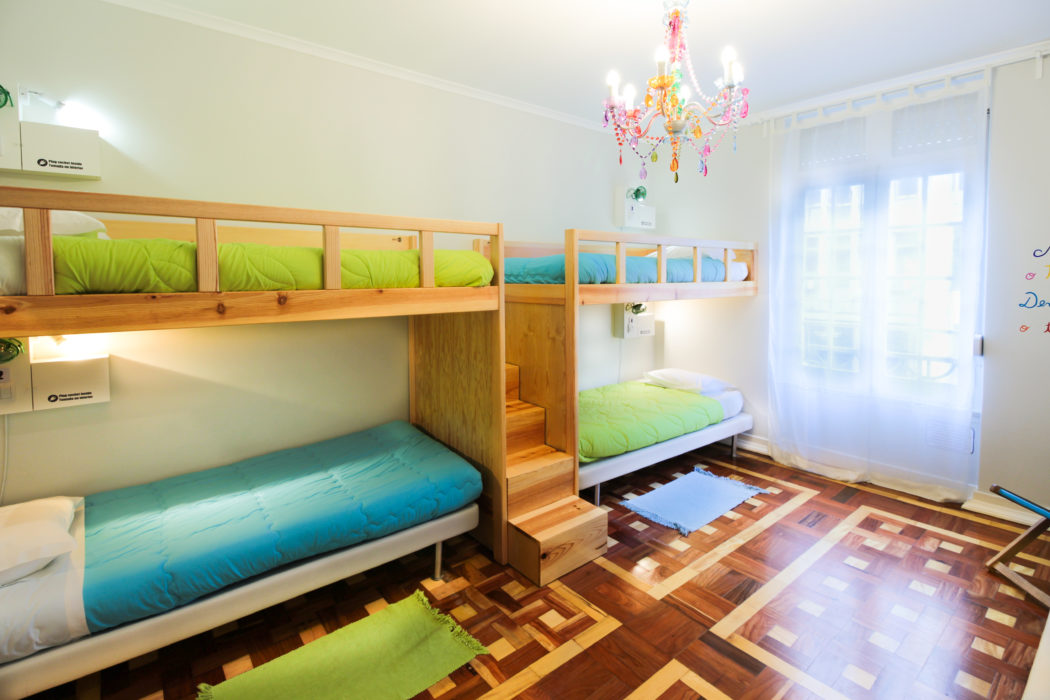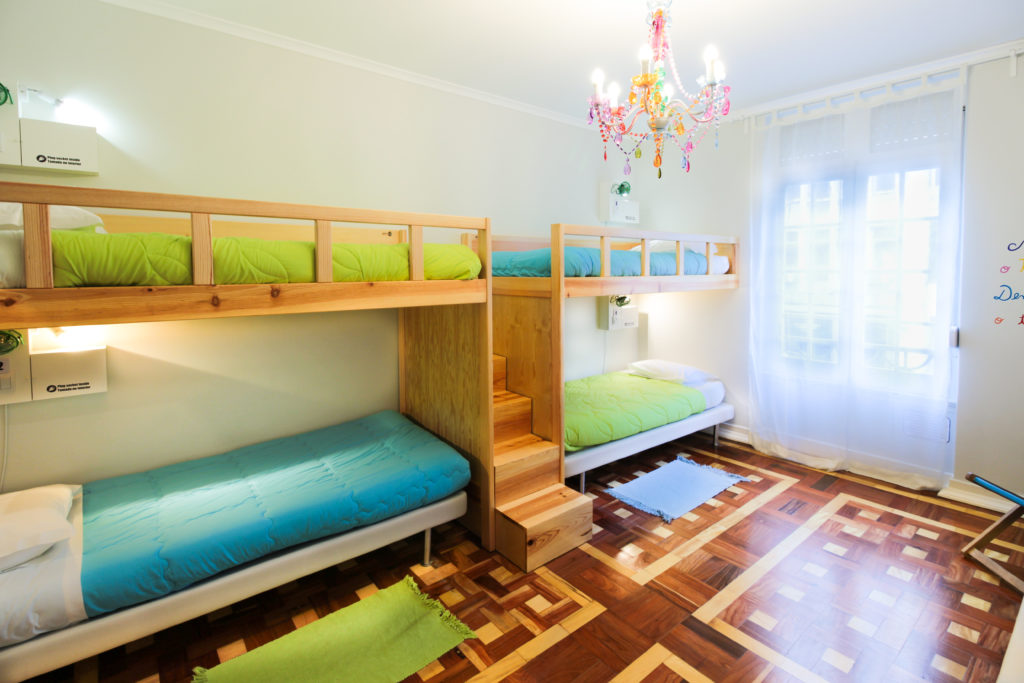 1) Lisbon Central Hostel
Accessibility: True to its name, this hostel has an amazing location in the core of Lisbon's centre. If you are looking for transportation to take you to all the main sightseeing spots, you will find that you are slap bang next to the Marques De Pombal metro station. It is also just across from one of Lisbon's main thoroughfares, Avenida da Liberdade.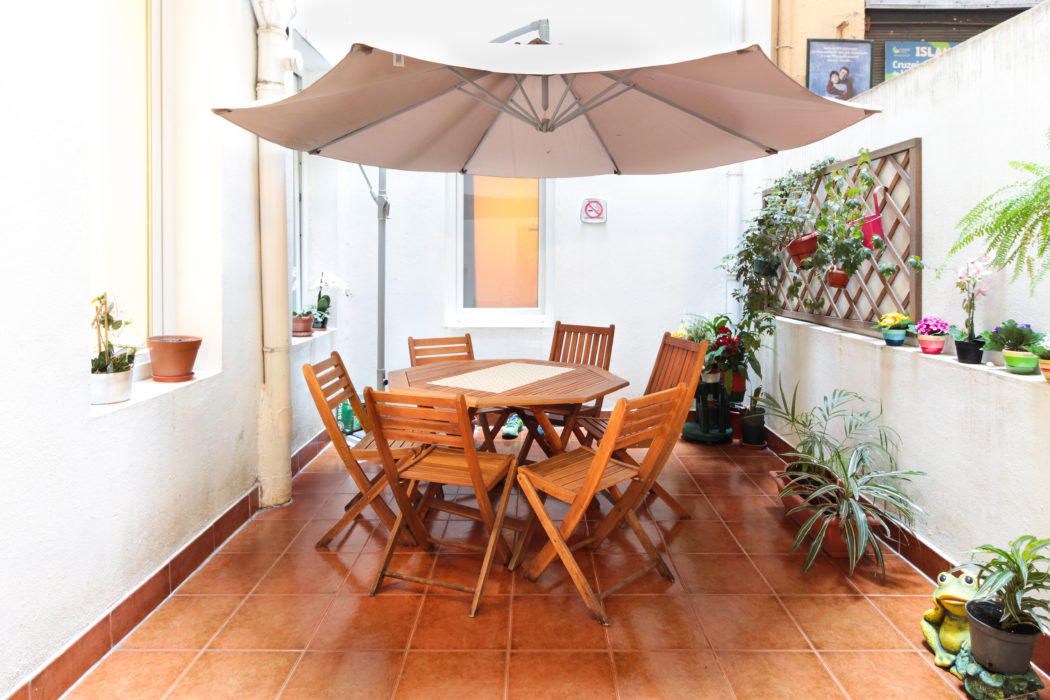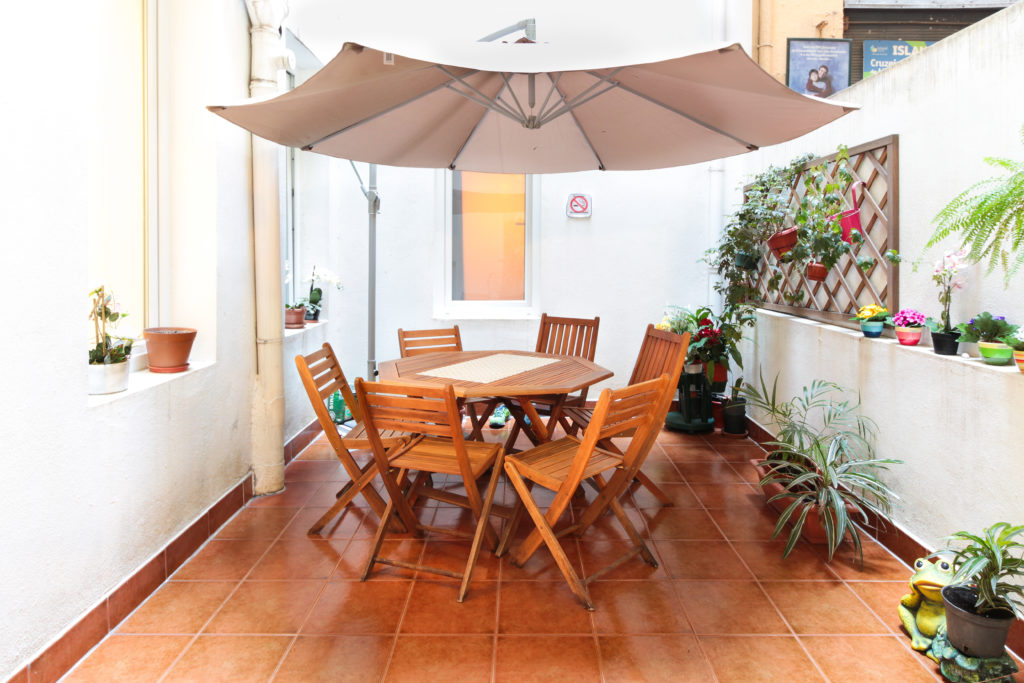 Rooms and Facilities: The hostel has a number of room options. Choose from their private doubles with very comfortable bedding and big wardrobes with small ensuite bathroom or stay in one of their mixed dorm rooms if you wish to economize. If you have a private room enjoy Lisbon from the vantage point of a private balcony or relax and read a book sitting in the hanging basket chair.
If you are sleeping in the mixed dorms the bunk beds are strongly built with individual lockers to store your personal items. The lovely bunks come equipped with a power source, reading light and fan- all for your personal usage.
The hostel has a lively line up of scheduled activities from 'Milkshake Monday' where every guest receives a free milkshake to weekly film nights in the dedicated movie room, fitted up with a projector. There is a daily walking tour that leaves the hostel every day at 10 am and a useful pub-crawl that will get you acquainted with the geography of the local pubs.
It's a pleasure to visit the hostel during the summer months because you can relax in the small, enclosed courtyard and sip on a couple of chilled beers available from the hostel reception area ($1 each). Though by no means a party hostel, Lisbon Central Hostel is a sociable establishment where you can meet and interact with fellow travellers.
Regarding meals: there is an ample self-catering kitchen and a supermarket a few minutes away where you can purchase all manner of sundries.
What Makes This Hostel Special
The care and individual attention paid by the hostel staff is what makes this a standout hostel. The reception staff is warm and welcoming and will endeavour to help you look for that perfect restaurant that you are looking for, enable you to mend the torn pocket in your trousers or even help with the laundry.
This is a hostel that will make you feel at home. If you are lucky, the hostel owner's mother Odete, might treat you to her home made delicious Caldo Verde for dinner for absolutely free.
The free and filling pancake breakfast made by Odette and hostel staff is so very delicious. Choose between pancake stuffing's of apple or banana, sprinkled with a dusting of cinnamon and consider yourself all set for the day! If you think you can recreate the pancakes at home, you might find yourself in trouble, because the recipe is a well-guarded family secret.
This is a fabulous hostel with amazing hospitality that I highly recommended to Lisbon visitors.
Address: Rua Rodrigues Sampaio n0160, Lisbon 1150-282, Portugal.
Rates: You can book a private room from around the €40 mark while a bed in a 10 bed dorm starts at just 12 euros a night.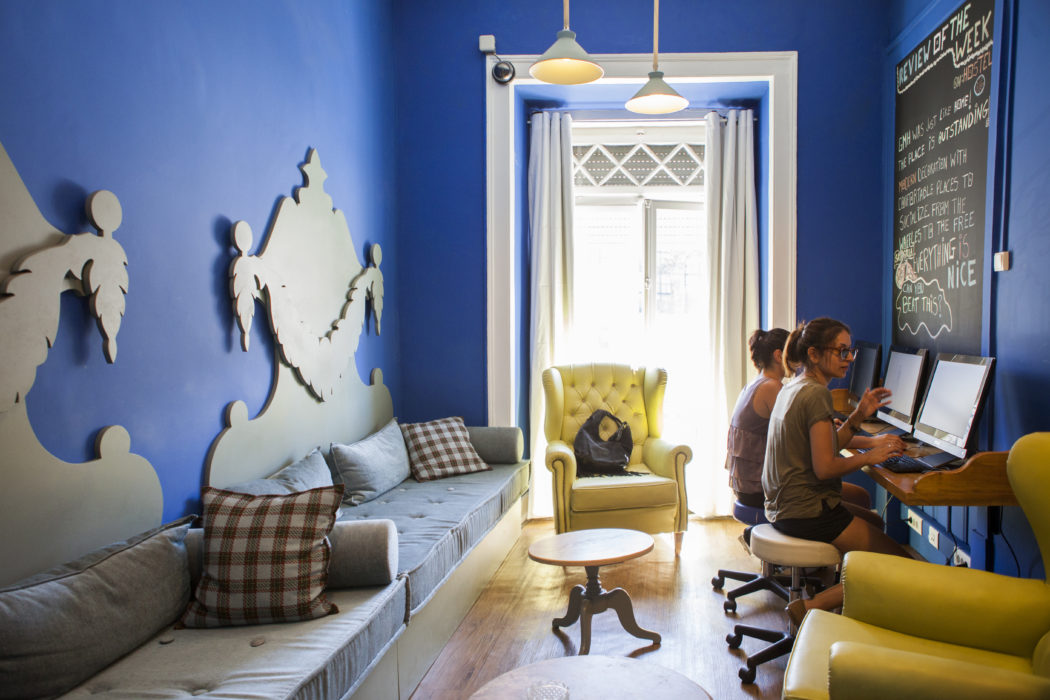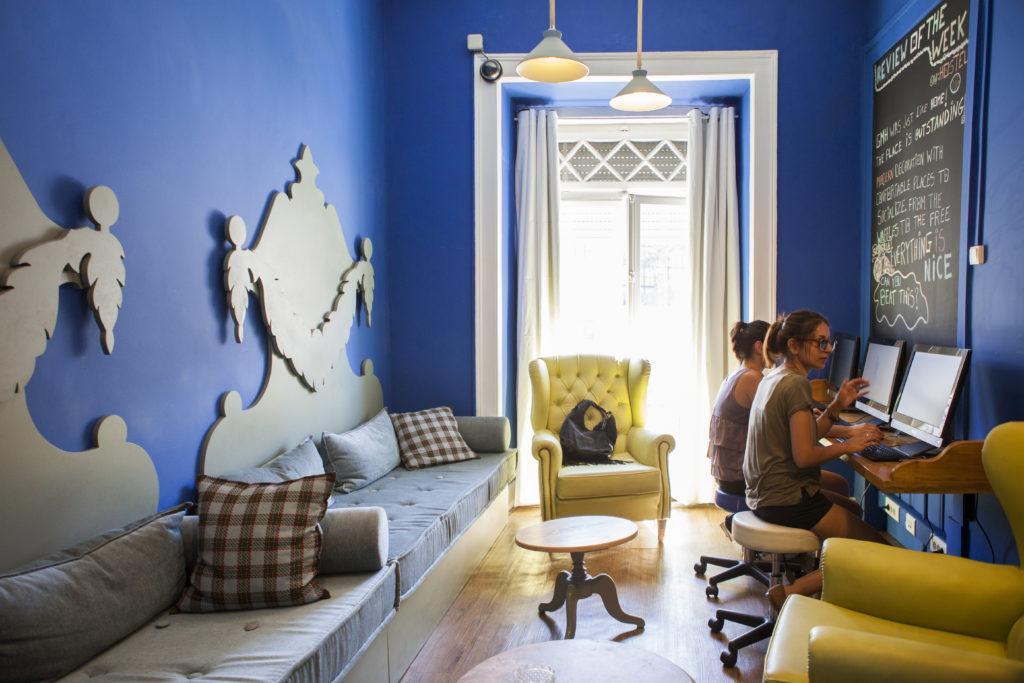 2) Good Morning Solo Traveller Hostel, Lisbon
Accessibility: Good Morning Solo Traveller Hostel is in an unparalleled location right in Praça dos Restauradores. Many modes of public transportation are available from this location.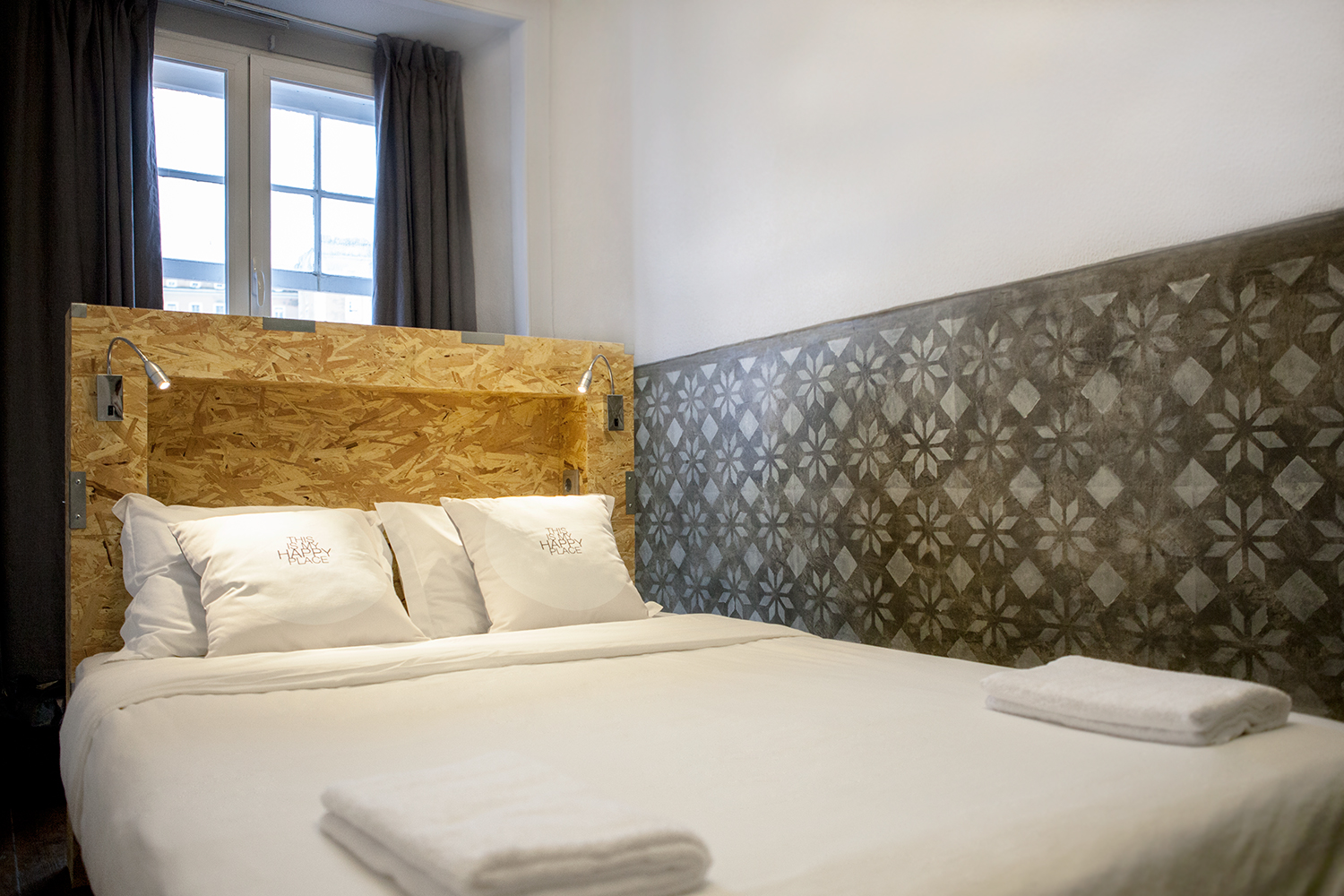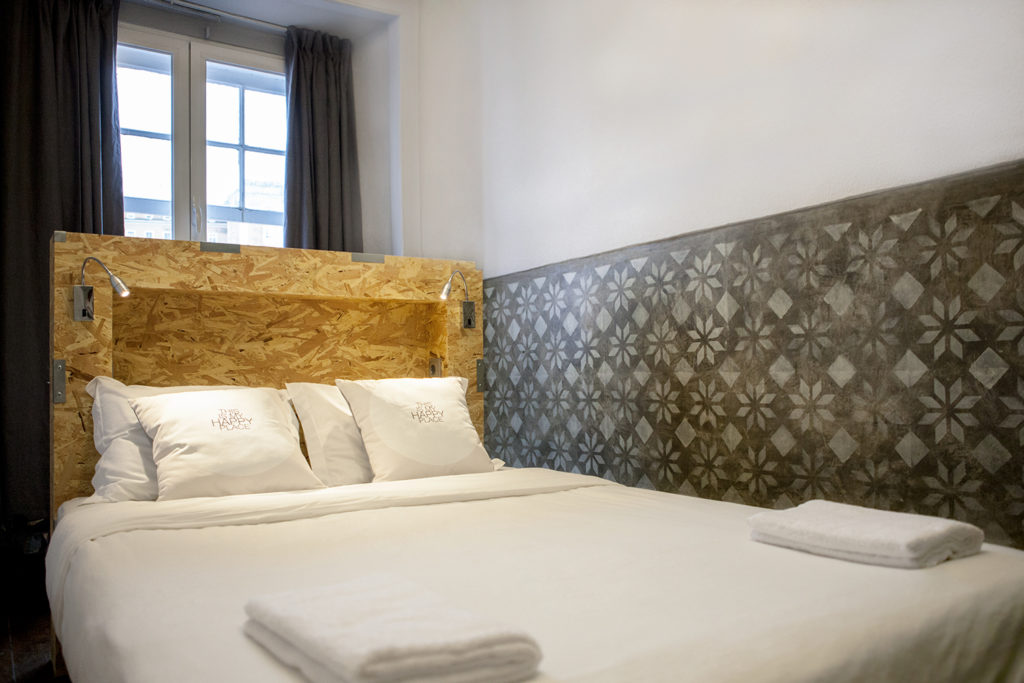 Rooms and Facilities: the décor of this hostel is bright and cheery and fits in with the cool design interiors that we now typically associate with luxury hostels. The wooden floors, bright wallpaper, collection of vintage curios, quirkily designed private rooms and general air of coziness and comfort make this hostel a very welcoming one.
For added privacy opt for the private rooms in this hostel that have are decorated with a quirky flair. All rooms have views due to the personal balconies. This is the ideal place for that romantic break in Lisbon.
Star feature
This is an all inclusive hostel which means not just breakfast, you can looking forward to 3 free meals daily plus you can enjoy FREE beers and sangrias in the evening when they open their bar. The hostel also has a dedicated Internet room, as well as a separate TV room with a large flatscreen TV and DVD player to watch movies. The free Wi-Fi is decent and available throughout the hostel. There is a convenient free left luggage facility too.
What Makes This Hostel Special: Undoubtedly the staff makes this hostel special. Welcoming and warm they pay great attention to making sure that their guest's needs are taken care of. The all inclusive meals, free beer and sangria in the evening, free staff-led walking tour of the city, tours of the dreamy hilltop town of Sintra, biking tours and Portuguese cuisine cooking classes makes this an unforgettable hostel experience.
Rates: Booking via Hostelworld.com ,a bed in a 10-dorm room starts at €24 a night, a bed in a 4-bed dorm starts at €36 per night in the low season and yes that rate includes all your meals and drinks!
Address: Praça do Restauradores, no. 65, 2nd Floor, 1250-188, Lisbon, Portugal.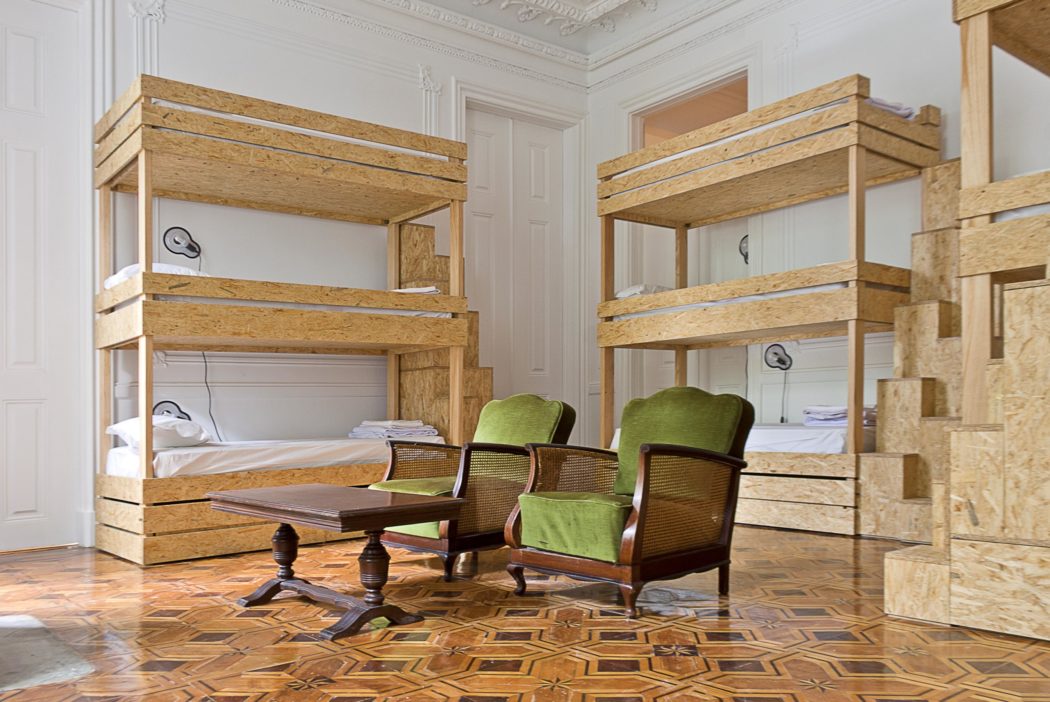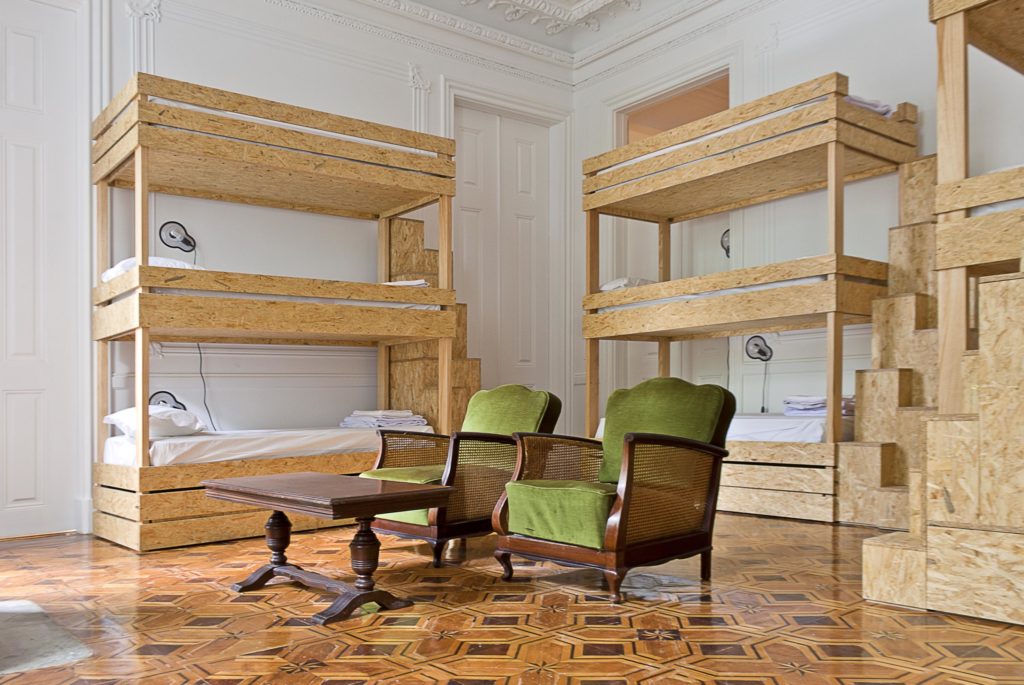 3) The Independente Hostel & Suites, Lisbon
Accessibility: The Independente Hostel is splendidly located at the meeting point of Lisbon's most vibrant, bustling neighbourhoods: Bairro Alto, Principe Real and is close to Chiado. You are just minutes away from the famous Rossio train station.
Rooms and Facilities: This 2011 hostel, the previous residence of the Swiss ambassador, is an art deco inspired jewel. The concept for the hostel was the brainchild of three brothers who wanted to create a meeting point where 'travellers as well as locals can come together'. The design of the hostel is exemplary. It is an eclectic mix of Scandinavian minimalism with ornate architecture. It is hard to envision these opposites coming together, yet the designers at the Independente Hostel and Suites make it work beautifully. The ornate architecture is derived from the original building itself with features like crown moulding and wrought-iron balconies. The high ceilings lend a lofty, airy appeal to the rooms.
The hostel houses 90 beds within 11 spacious dorm rooms tastefully decorated with acquired antiques and family heirlooms. The dorm rooms have sturdy wooden bunk bed frames and are equipped with personal reading lights and power points.
There are four suites, with private balconies overlooking the Tagus River and can happily accommodate couples or families.
What Makes This Hostel Special
One of the outstanding features of the hostel is their popular restaurant, the Decadente. The Decadente dishes up Portuguese cuisine with a modern twist and uses locally sourced ingredients. Indulge in the free breakfast of juices, bread, selection of cold meats, cheese and coffee. There is an outdoor beer garden, which is a lovely place to relax in the evenings, while sipping on a cocktail. It transforms to a live music venue on the weekends.
Rates: Via Hostelworld.com dorms start from €11, suites from €70.
Address: Rua São Pedro de Alacântara 81, 1250-238 Lisbon, Portugal.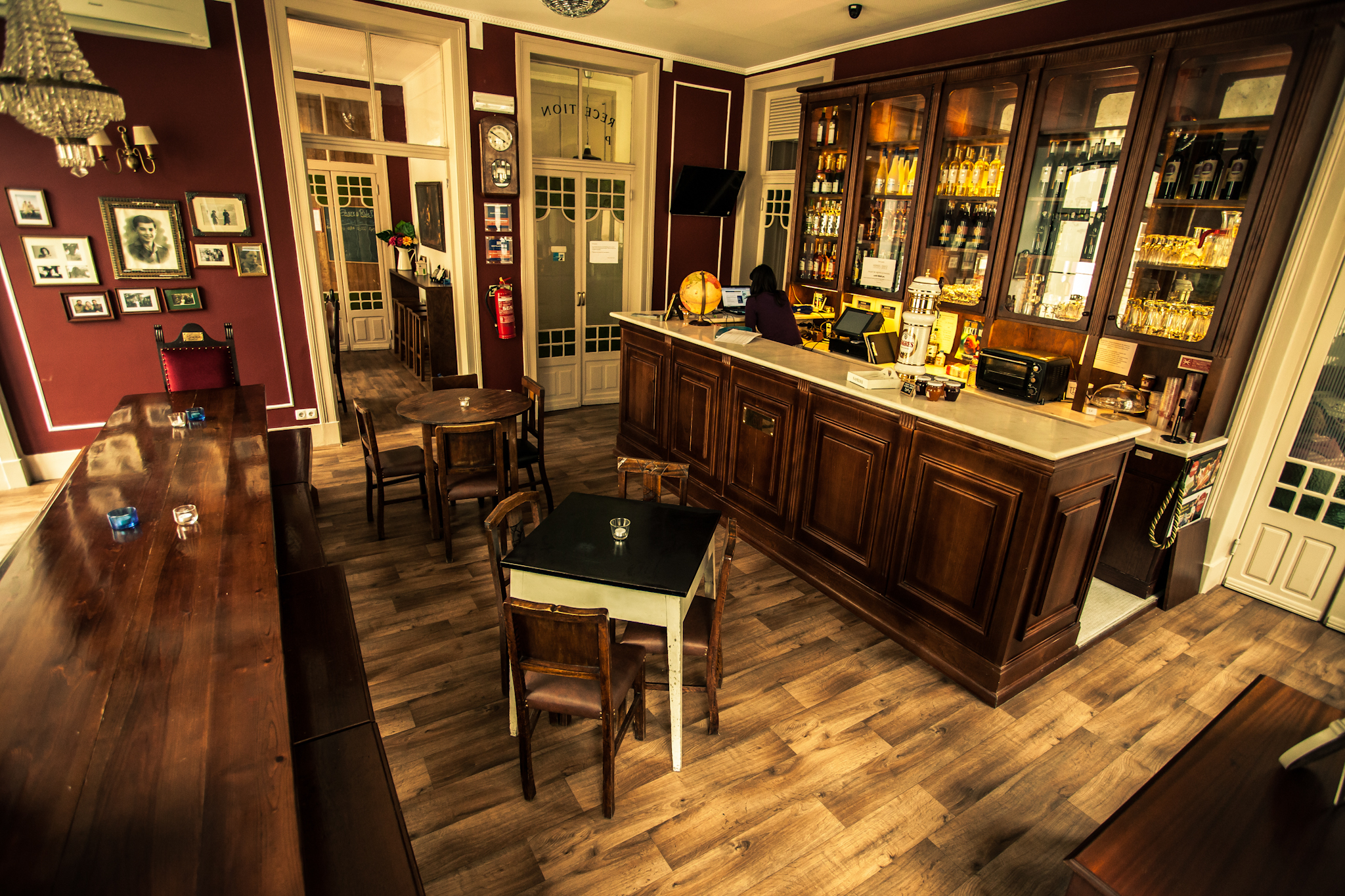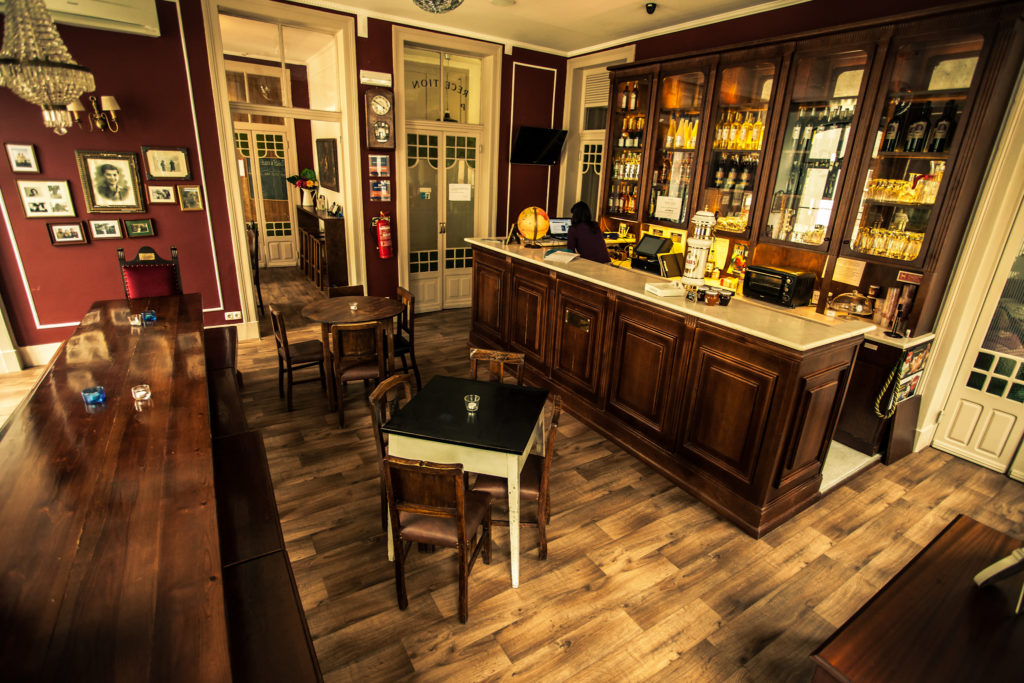 4) Home Hostel Lisbon
Accessibility: the location of this hostel is unbeatable- slap-bang in the middle of the Lisbon's Baixa district. Many key sightseeing attractions are within walking distance. If you are looking to be in the midst of Lisbon's attractions then this is the hostel for you.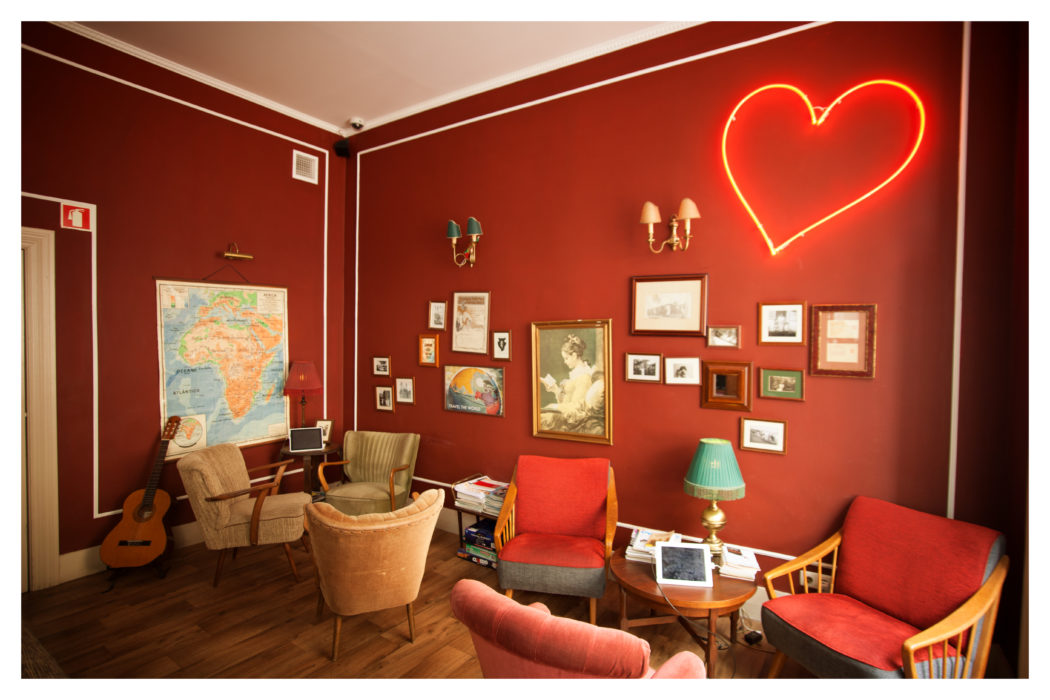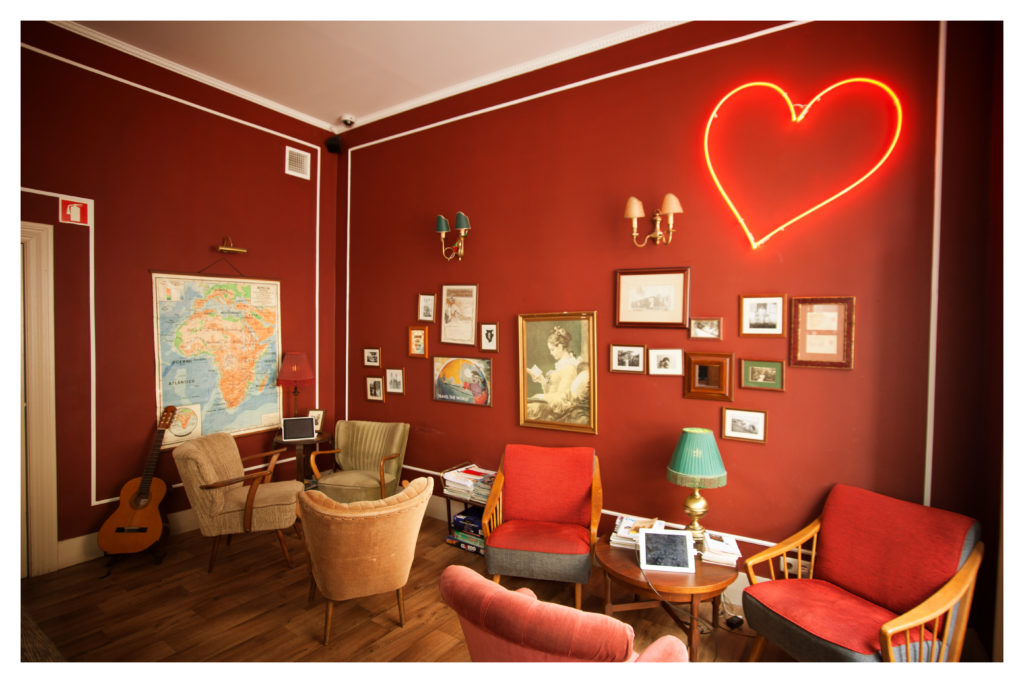 Rooms and Facilities: This is a smaller hostel and does not offer private rooms with ensuite bathrooms. Despite these negatives, it still offers a huge wealth of luxury.
The dorm rooms sleep 4,6 or 8 beds and every person is provided with a personal locker of quite large size. A private curtain provides you with your own personal space. A reading light and power point provide you with the option of staying awake without disturbing your dorm mates.
The staff make this hostel very special. From the minute you step inside you will feel enveloped with warmth and hospitality.
Breakfast is simple but filling consisting of bread, cereal, jam, coffee and nutella. Make sure you sample 'Mamma's homemade pumpkin and nut jam'.
A very comfy common lounge area, replete with plush sofas and excellent free Wi-Fi, a large library of DVDs and a large screen TV make this hostel an excellent option for rainy days or when you want to take a break from sightseeing.
What Makes This Hostel Special
The star feature of this hostel is undoubtably the option of 'Mamma's dinners'. For the small sum of 10 euros you will be served a three course traditional Portuguese meal (with the option of beer, sangria or wine) that will be topped off with a glass of 'ginginha' (the local cherry brandy) or Madeiran port at the very end.
There is no beating the price for the authentic experience you receive. It is like stepping into a local's dining room.
Rates: Room rates start from €10 for a bed in a 8-bed dorm to €14 for the 4-bed dorm.
Address: Rua de Sao Nicolau, 13, 2E, Lisbon, Portugal.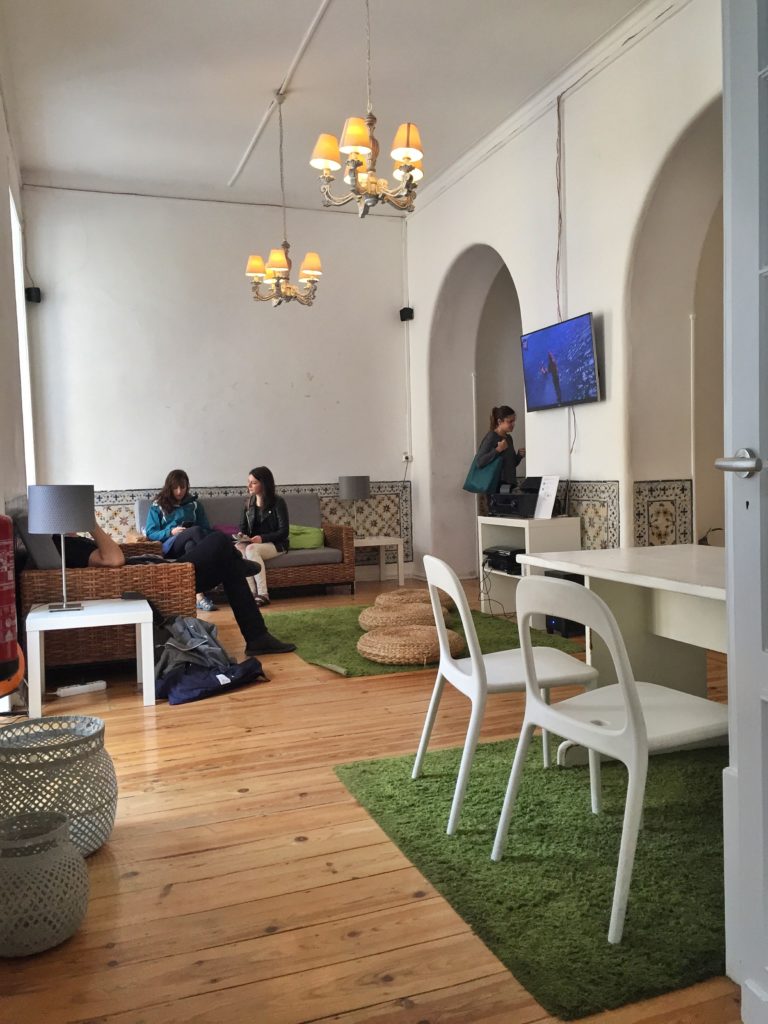 5) Lost Inn Hostel, Lisbon
Accessibility: Located near the highly desirable 'Baixa-Chiado' area, downtown Lisbon is a small hike up a nearby hill. Bairro Alto, the famous party district is also conveniently close. The metro and the train station are also to be found within walkable distances. You will be able to party and sightsee from this hostel to your heart's content.
Rooms and Facilities: There are 4,6, 8 or 10 bed dorms to choose from that are female only or mixed. The bathroom facilities are shared but are well maintained and clean. There are personal lockers for guests, which are operated by individual keycards that you are provided.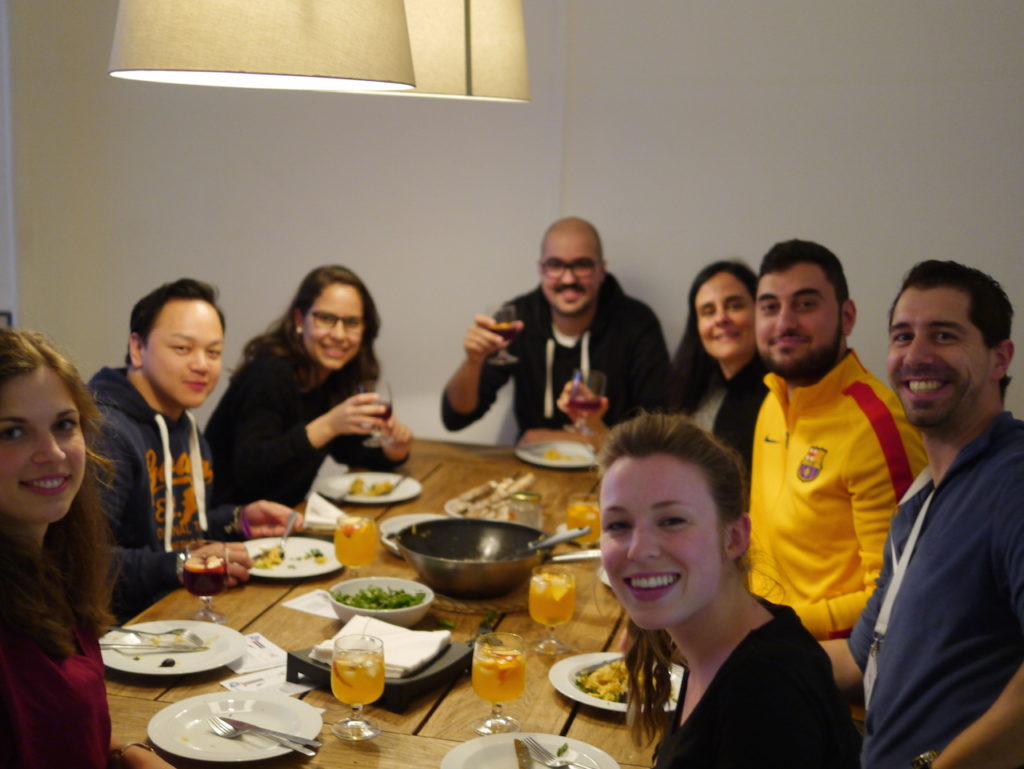 The striking feature of the hostel is the very social atmosphere that is maintained at the hostel. Make sure to be there for the free nightly sangria and chorizo evenings. It is wonderful way to meet fellow hostellers and learn a few tips about seeing the sights of Lisbon.
Free breakfast in the mornings is ample and spread over a wide window of time (7.30am-11am). Eat your way through bread, jam, ham, cheese, vegetables and wash it all down with juice, tea or Portuguese coffee.
The communal area is large and guests mingle frequently. They take advantage of the hostel-wide free Wi-Fi, the large TV and DVD facilities or perhaps even try their hand at the acoustic guitar. Vending machines supply tea and coffee on demand so everything is provided to make your stay at this chic hostel very comfortable.
A big plus is that the hostel staff are extremely friendly and welcoming and host many social events like the free sangria and chorizo evening, cooking classes, pub or beach tours.
Rates: Dorms start at €14 per night. Double rooms start at €56 per night.
Address: Beco dos Apostolos 6, Lisbon, Portugal.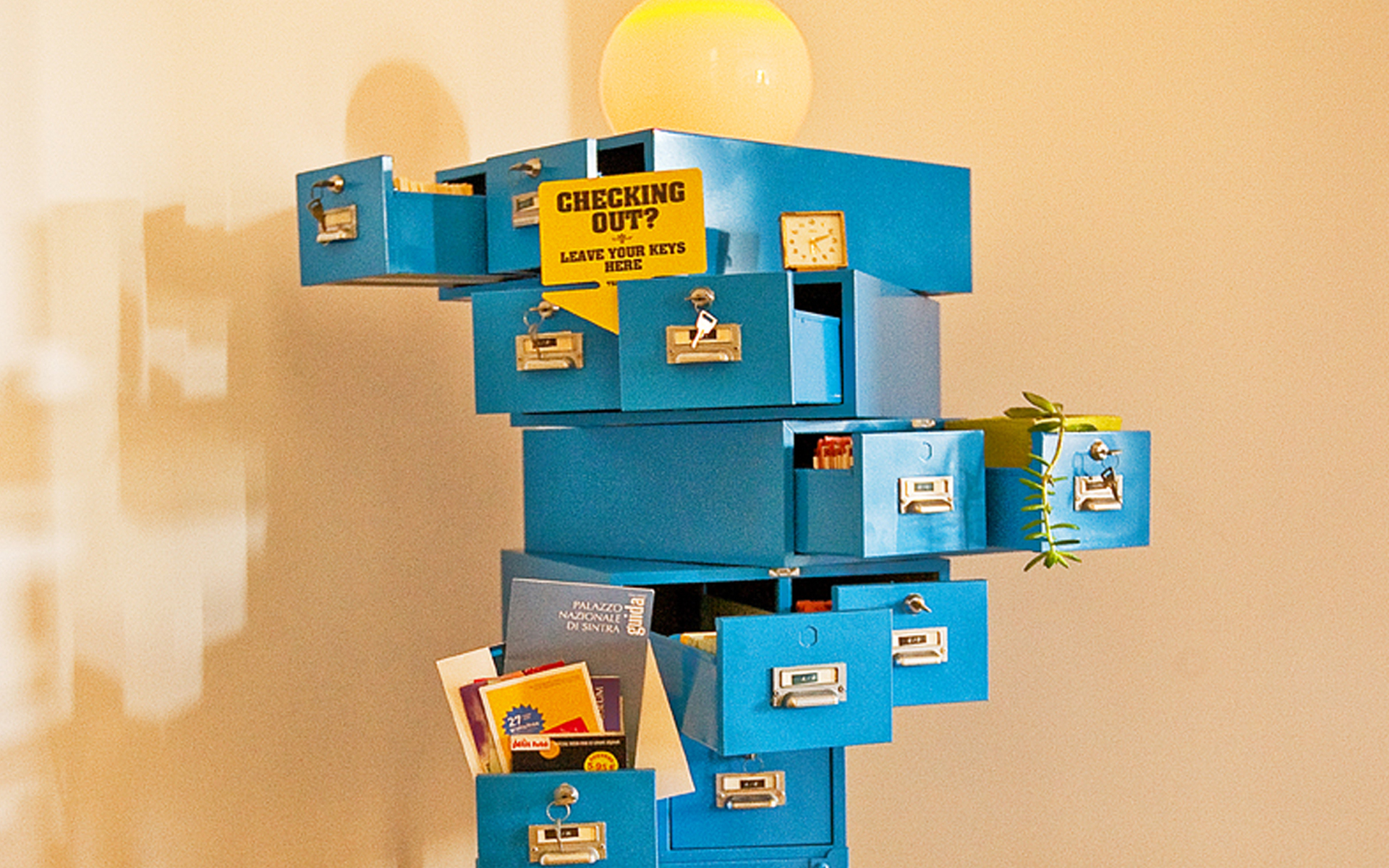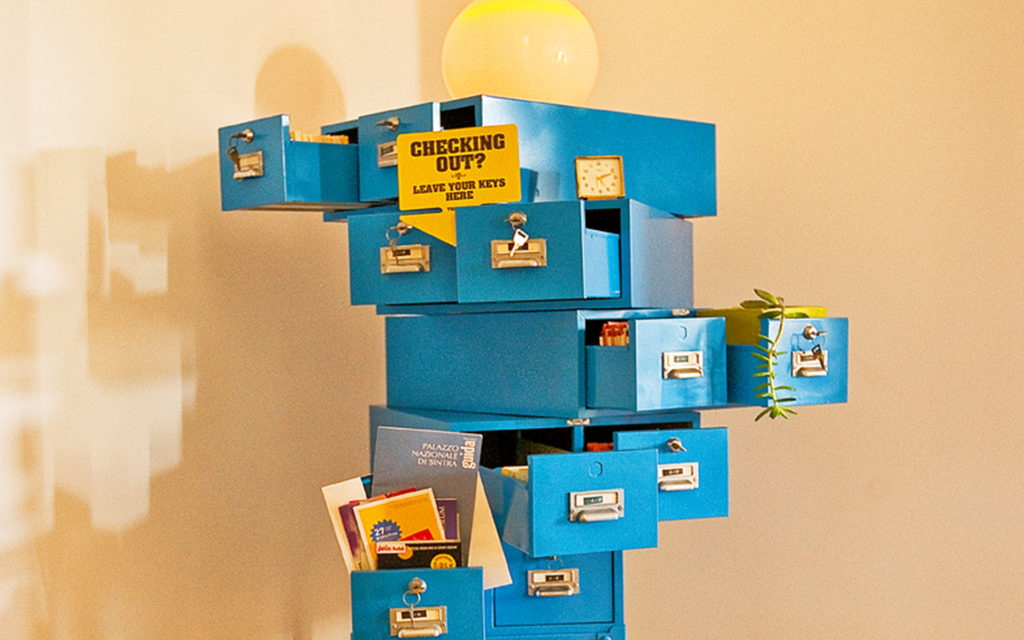 6) Lisbon Calling Hostel
Accessibility: Lisbon Calling Hostel has an enviable location, a few minutes away from the centre of Chiado and the bustling nightlife of Bairro Alto and Cais de Sodré.
Rooms and Facilities: Lisbon Calling Hostel is housed inside a 250-year-old graceful building, packed with quaint period features. The interior design of the hostel is graced with a rustic charm endowed by the stonewalls and hardwood floors.
It is the perfect hostel for a romantic getaway with a loved one. The private rooms of which there are just four, benefit from being annexed in a separate section, adjacent to the main hostel. Each room is individually designed, for example the '1812 room', fitted with vintage pieces, has sweeping views of the beautiful Sao Paulo church and square. Bathroom facilities are shared but are clean and well maintained.
The hostel dorm rooms have 4,6 or 10 beds and are sturdily built of wood. Admire the beautiful ceiling frescoes from the comfort of your bed.
The hostel owners collect vintage furniture and decorative pieces that lend the air of quirky charm to the hostel. You can find a bathtub converted into a table, lots of Rock and Roll memorabilia and various other colourful pieces.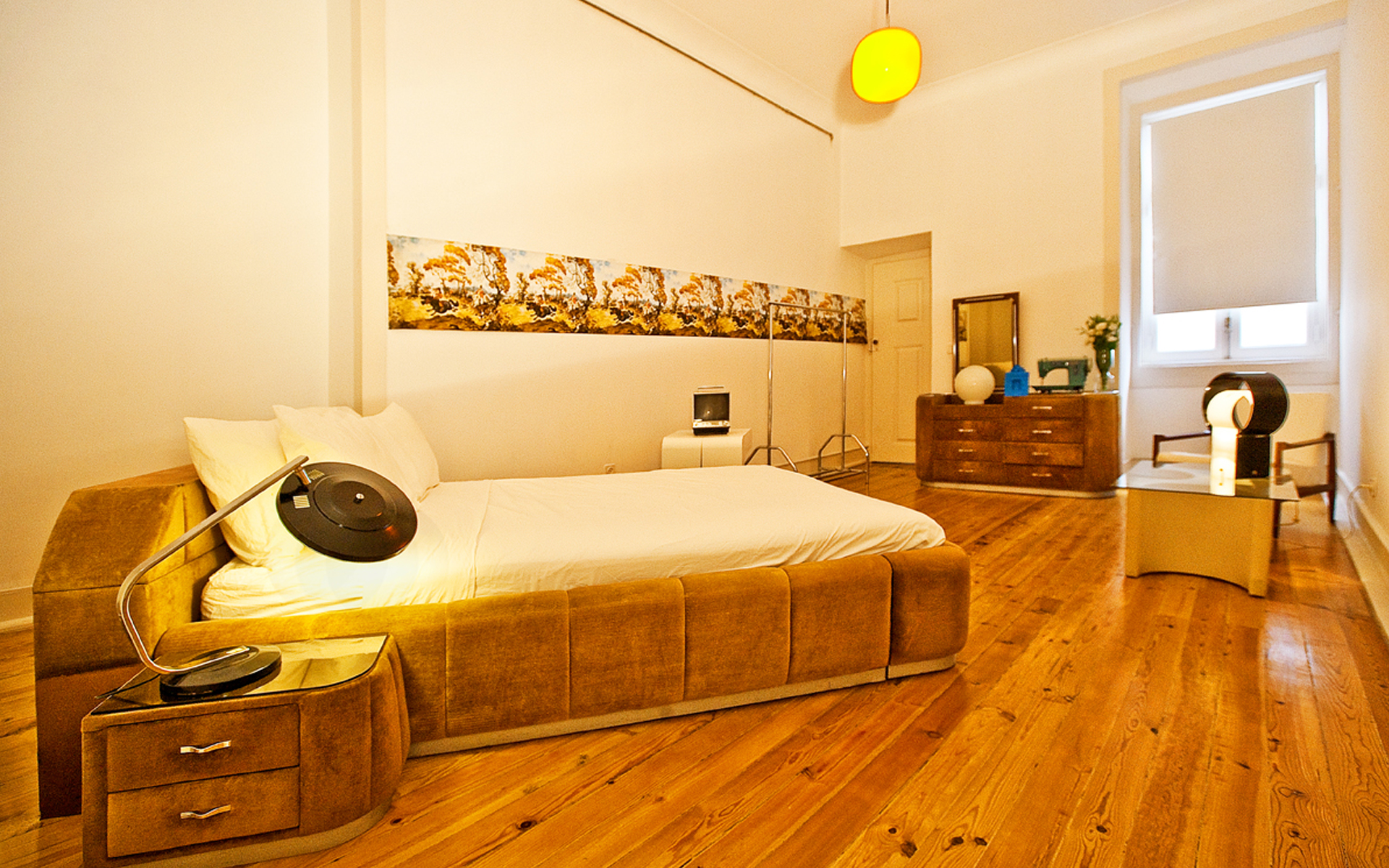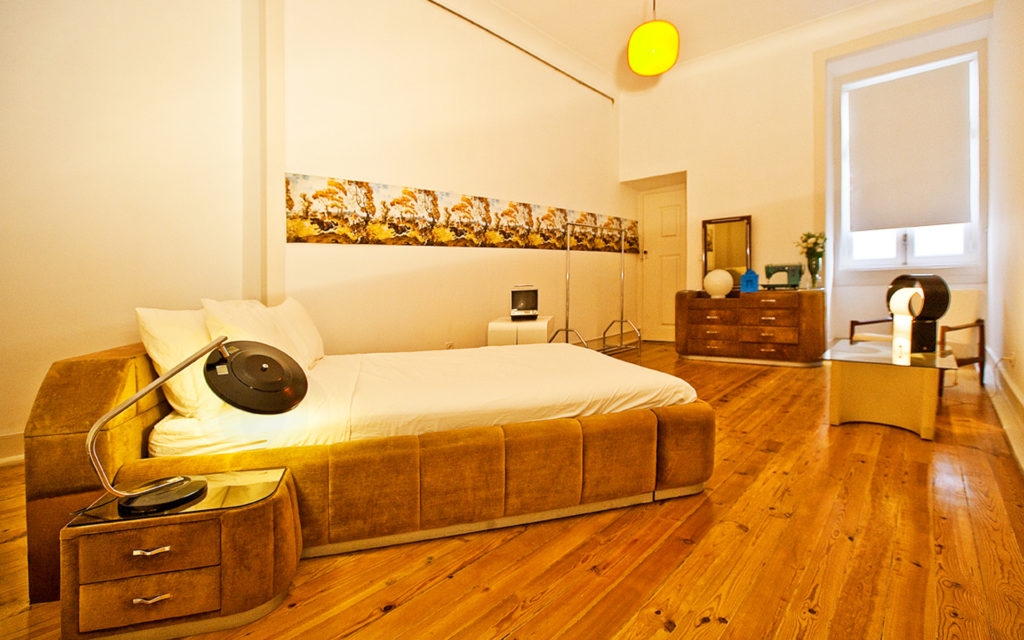 The free Wi-Fi is excellent. Breakfast rolls are provided in beautifully embroidererd cloth bags that are hung each morning on your doorknob. Come breakfast time, you can pop down to the kitchen, get them toasted and help yourself to the ample supply of muesli, juice and coffee.
Personal lockers to secure your personal items, all day make your own tea or coffee and many other extra, hidden add-ons, makes this hostel a wonderful addition to your Lisbon itinerary.
Rates: Low season, shared rooms range from €12 and doubles from €41 while in the high season it starts from €20 shared and from €56 for doubles.
Address: Rua de Sao Paulo, 126 – floor 3D, 1200-429 Lisbon, Portugal.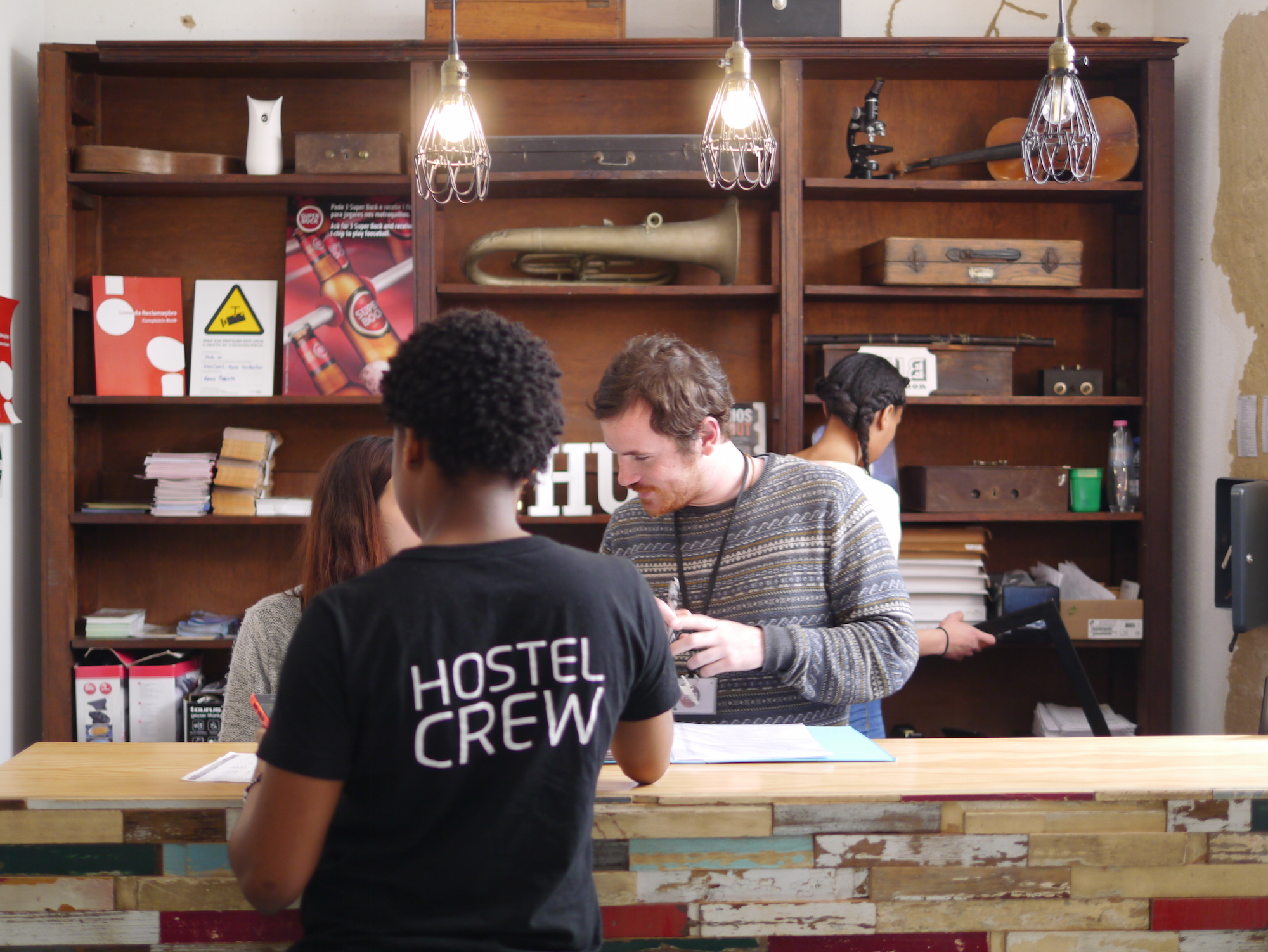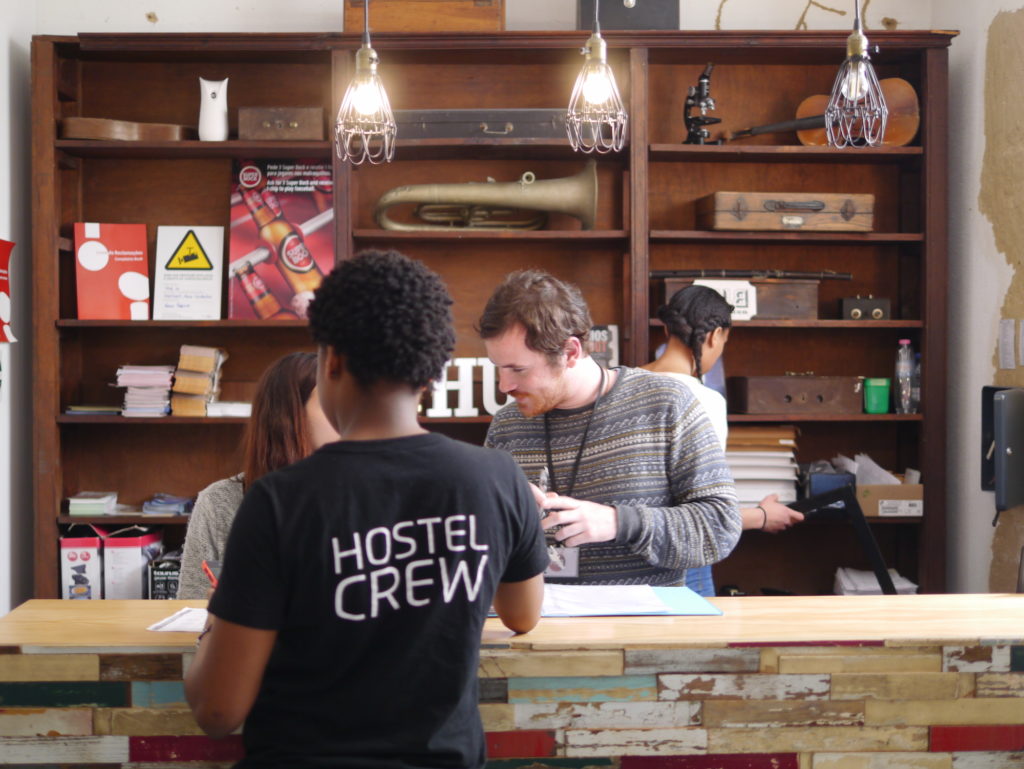 7) Hub New Lisbon Hostel
Accessibility: The Hub New Lisbon Hostel is located on a historic street, the Rua de O Século and is close to the party district of Bairro Alto and Principe Real. Principe Real is home to an eclectic mix of cool restaurants and designer boutiques so there is plenty to explore in the immediate vicinity.
Rooms and Facilities:
This beautiful hostel is housed in a renovated 18th century building. You can choose from a variety of 4,6 or 8 bed dorms that have shared or ensuite facilities. Another interesting feature is the presence of certain themed rooms. The 'Rubix Room' resembles a rubix cube whereas the 'Cross' has black bunk beds that contrast sharply with the azulejo panels. The bunk beds have power sockets, personal reading lights and under the bed lockers.
The hostel offers free Wi-Fi and a sustaining free breakfast in the morning. The bar in the hostel, the BUH bar, is a fantastic place to sample the signature cocktail of the hostel, the 'Pastel de Nata' or opt for something that is more familiar. The communal kitchen is well equipped and the ideal place to meet fellow backpackers while preparing or eating your meals.
The hostel staff are very friendly and eager to share their knowledge of Lisbon resources.
Unleash the inner child in you and indulge in the hostel's very own 'ball-pit'. If you are looking for more sporty activities, play a game of FIFA in the dedicated games room.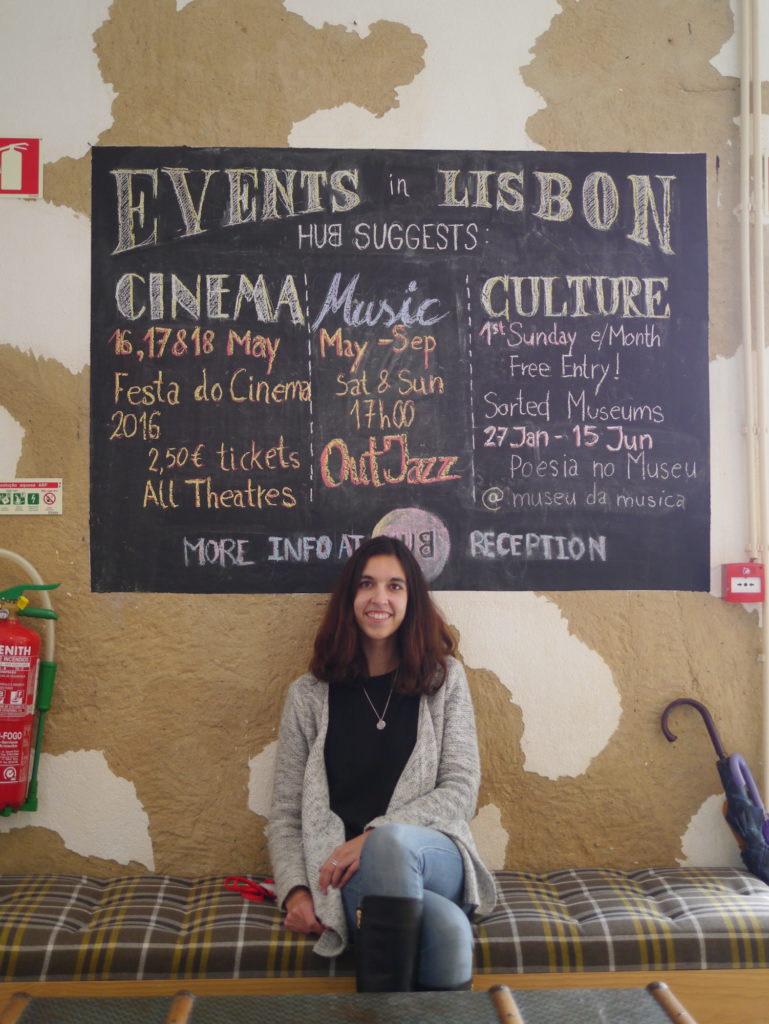 What Makes This Hostel Special:
The private rooms on the fourth floor have stunning views of the Lisbon skyline. That and the hostel's very own 'ball-pit' make this hostel memorable.
Rates: A bed in a standard 12 bed female dorm starts at €14 a night, a bed in a 4 bed mixed dorm costs €19 a night while a deluxe double private (shared bathroom) will set you back €50 in the low season.
Address: Rua de O Século nº 150, Lisbon, Portugal.
(8) Outsite Lisbon Cais do Sodre
Why stay here
The facilities and the location is what makes Outsite Lisbon Cais do Sodre a really nice stay for digital nomads. Located in a charming townhouse with the classic Lisboan blue and white azulejos tiles, you are right in the heart of the former red light district, the vibrant Cais do Sodre. Everything is within a short walking distance from here. The Time Out Market is within eye sight , nearby tram stop that will take you to the LX Factory is on your doorstep plus there are some of Lisbon's best bars: Lounge, Cartel Cocktail Bar, A Tabacaria and also within walking distance is the fabulous Quiosque Sao Paolo ( you have to try their famous squid sandwich here ) .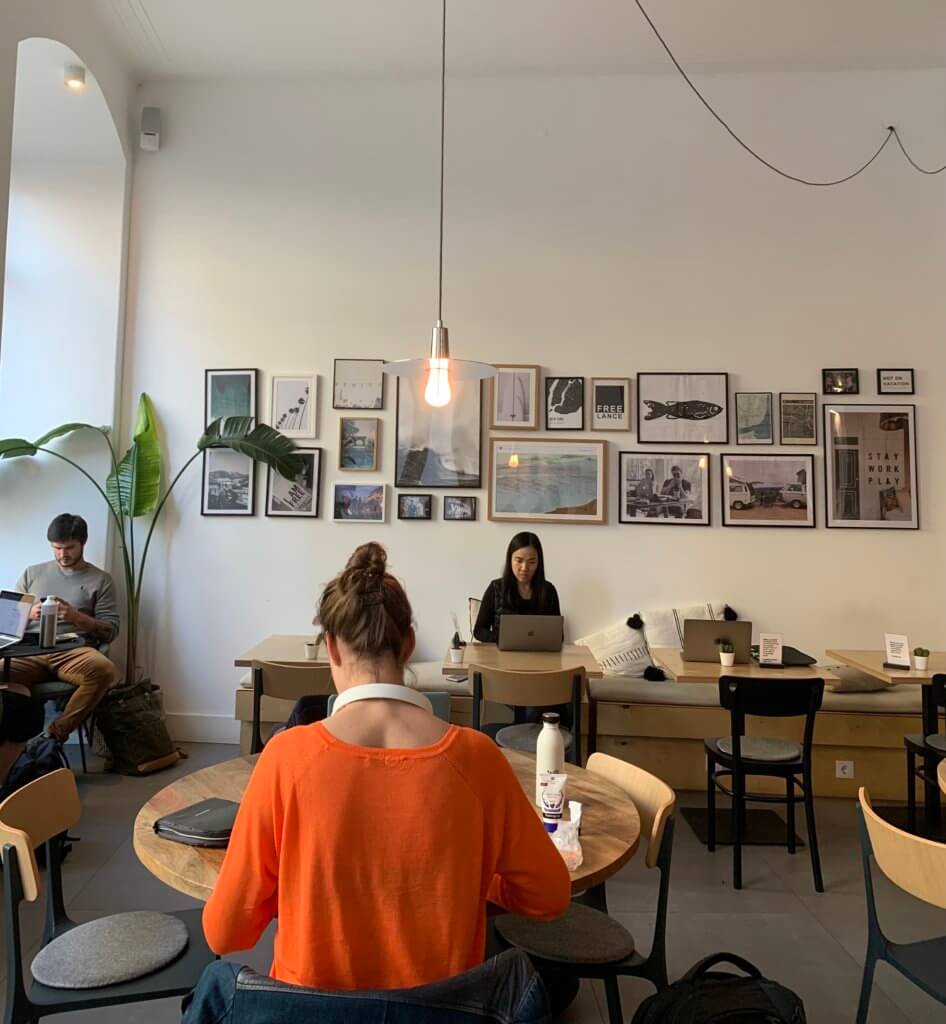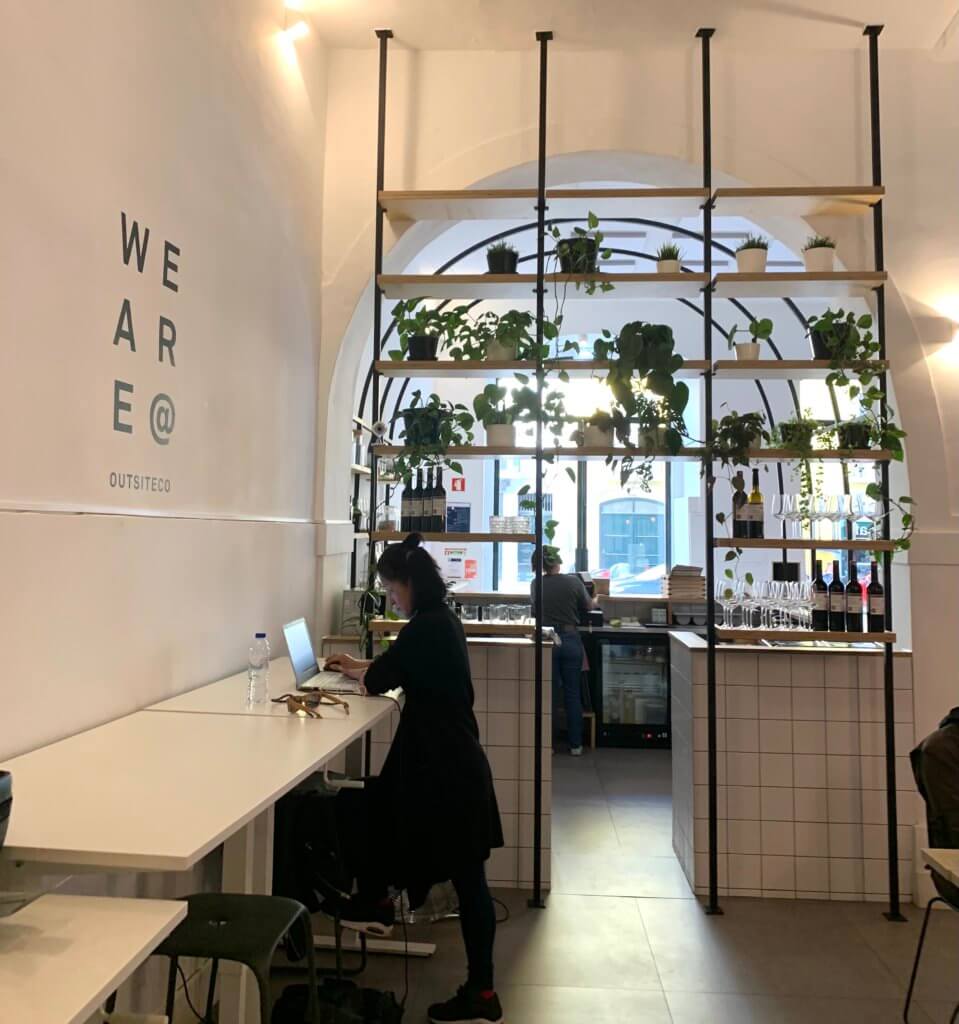 The facilities at Outside Lisbon are fantastic. The star is their basement coworking cafe. Lots of light, well spaced out desks plus meeting rooms. The cafe menu is excellent with lots of fresh, healthy local options, and all the coffee is sustainably sourced.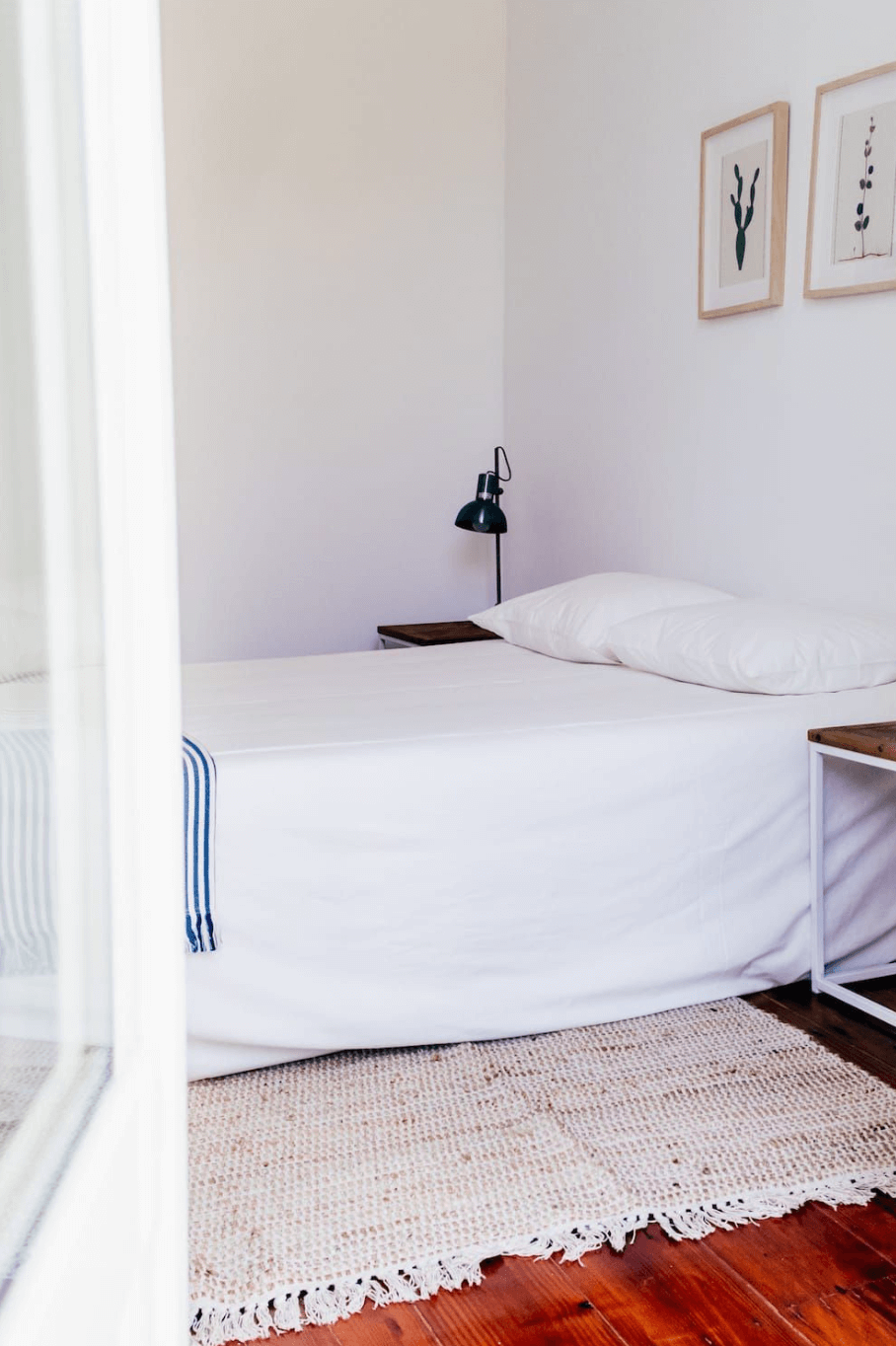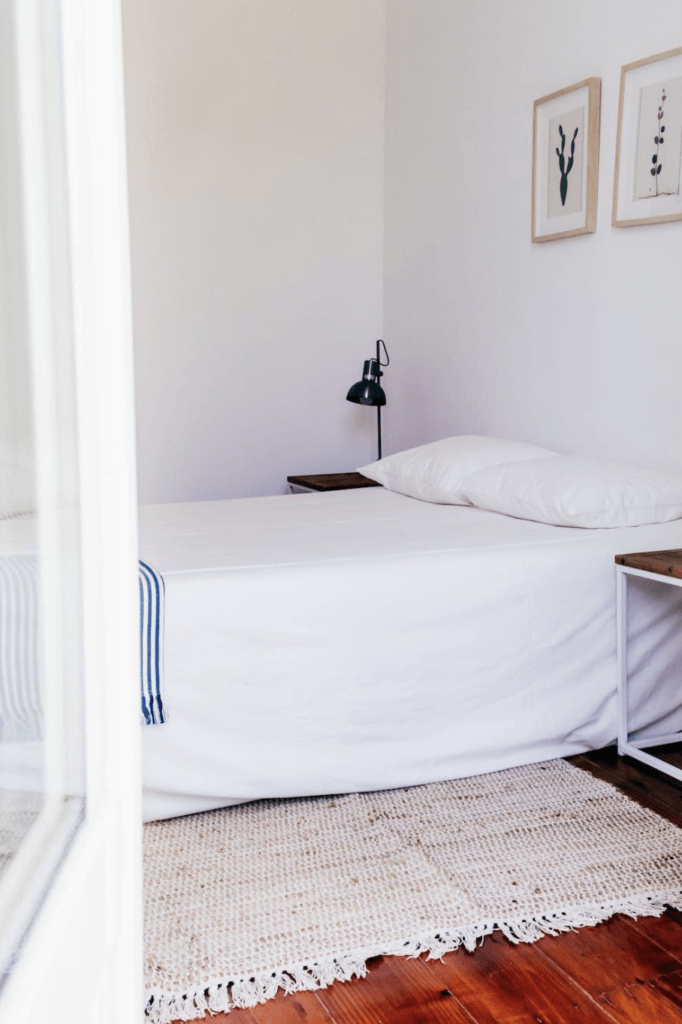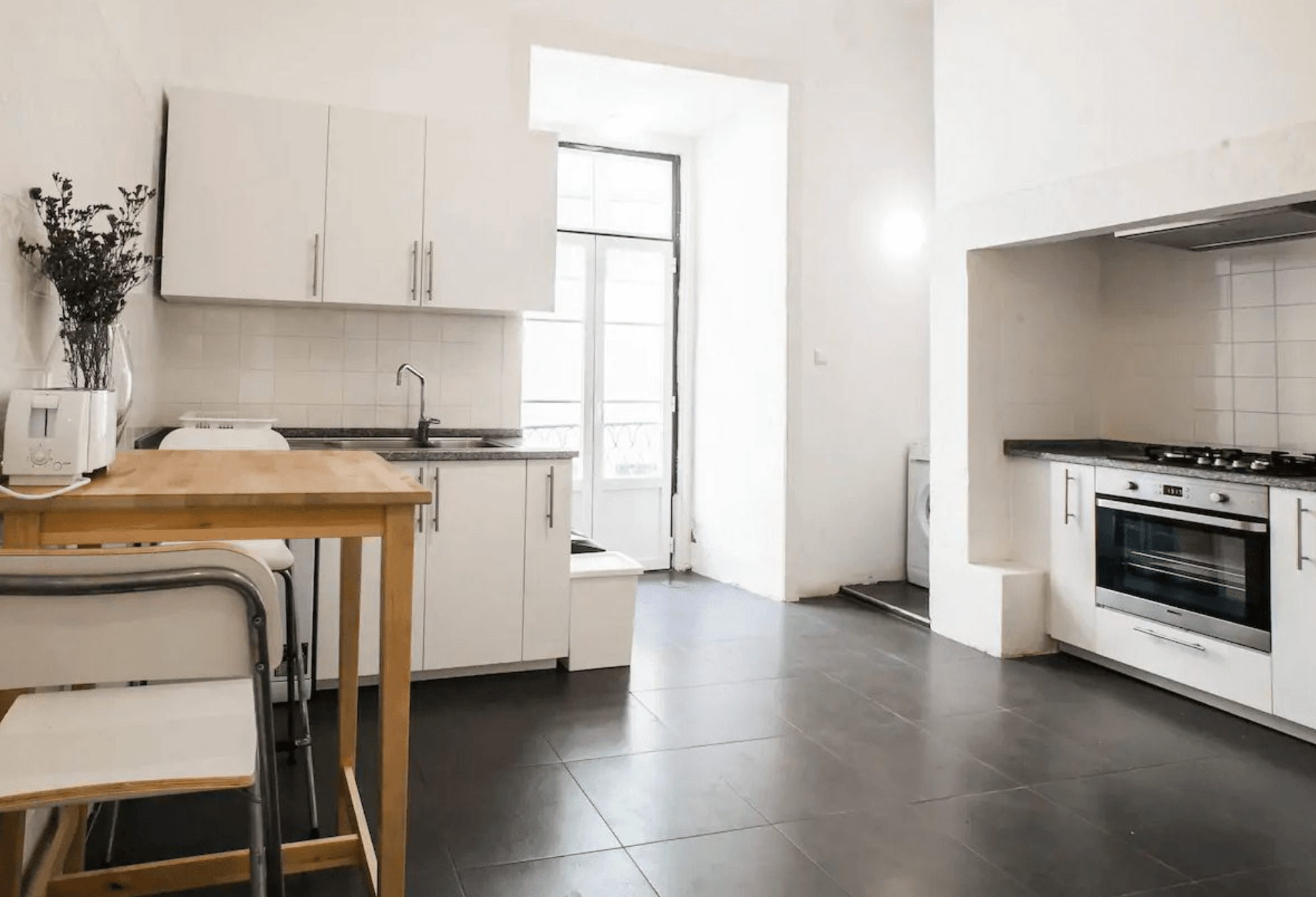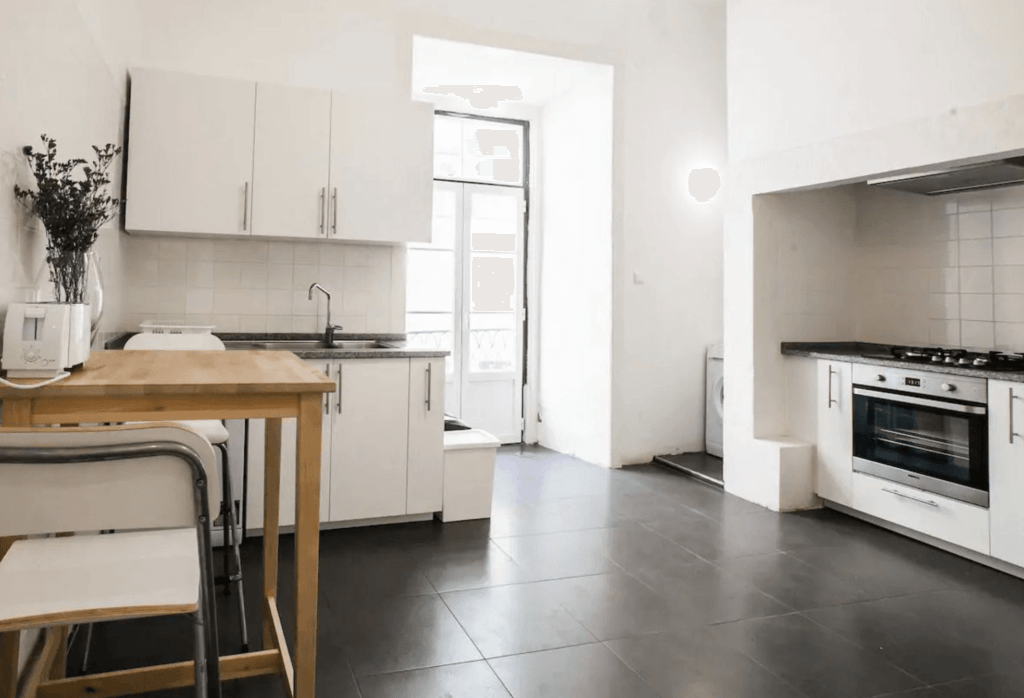 The accommodation itself was OK , nothing outstanding but it has everything you need for a short stay that include laundry facilities and a fully equipped kitchen. We stayed in private room with ensuite bathroom. Bed was comfy. Shared bathrooms were clean and well maintained. No AC, which was not an issue in February but could be a problem in summer months.
Before my arrival, I was sent instructions on how to check in, since Outsite operates as a house rather than a hotel. It was kind of strange having no one to welcome us but we had no issues checking in. There is also a cosy shared living room for each floor but we rarely used it during our time there and did not meet any of our other coresidents there. One of the cool features of the shared space was the blackboard which listed local neighbourhood spots for eating and drinking plus a list of 'who's here?'
Overall, it was a comfortable stay for us. We didn't get to meet or get to know anyone else but we were there for a few days in the quiet season so I expect if we stayed longer / came in the summer, it would be a different experience. The location and facilities were great. We paid around €70 a night ( back in February 2020) but rates can vary from €70-150, depending on the season so keep that in mind.