When you think about taking the kids for a holiday, the first thing that crosses your mind is getting value for money.
You also want the holiday to be fun, engaging and uplifting. Something they will hopefully talk about in months and maybe years to come.
Plus you certainly don't want to go too far to enjoy quality time with your family.
You have all these variables to juggle.
Last year our family holiday was to the Canary Islands, Tenerife. A short hop on the plane from our home, Madeira. The year before it was Barcelona and then a MSC mediterranean cruise which was a great experience for the whole family.
This year, we decided we wanted a bit more of an urban adventure.
London, was our choice.
Looking back, it was a wise decision. Not only in terms of the amazing range of options of things to do plus also in terms of value for money. We think London might be one of the best if not the best value for money family destination in the world. Not convinced? Read on and decide for yourself.
Getting around
1.Get an Oyster Card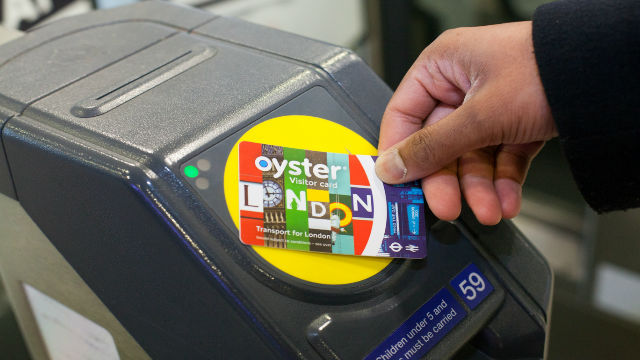 Oyster is a pay as you go travel smartcard which you can use on all forms of London public transport. Here is a little known but awesome fact. Kids go FREE if they are under 11 years old, when accompanied by an adult using a pay as you go Oyster Card (up to four children per adult) on Tube, DLR, London Overground and TfL Rail services.
Price: £13 per adult. You can order it online and have it delivered to your address/country for extra £3.25. The Visitor Oyster card is cheaper than buying a paper Travelcard or single tickets, plus you can enjoy exclusive offers and promotions at some London restaurants, shops and entertainment venues.
2. Gatwick Express or National Express
If you book the return ticket online , 3 or 4 passengers travel for the price of 2. Everyone must travel together on both journeys. Valid for five days from the date selected and return on any day within 1 month. Kids under 5 years old, go free.
Price: Gatwick South terminal to Victoria Tube Station £69.80 (99 euros for 4, both ways) . The best value alternative is National Express where you can travel as little as £5 one way.
3.Uber App
An app established in 2010, launched in San Francisco that is taking over the world. It gets you a private driver and works out to be 30% – 50% cheaper than a black cab. You pay with your credit card on file so you no longer need to worry about cash and a receipt is emailed to you at the end of each trip.
Tip: If you have never used Uber before, sign up using this promo code kashb57ue and get £10 off your first ride.
Where to stay in London on a budget with the family
When it comes to choosing a place to stay in London with the kids there are 3 things that are important:
Location, location, location! Kids get tired very quickly walking from A to B so it makes life a lot easier to stay central, or at least within walking distance to a tube station, especially in a big city like London.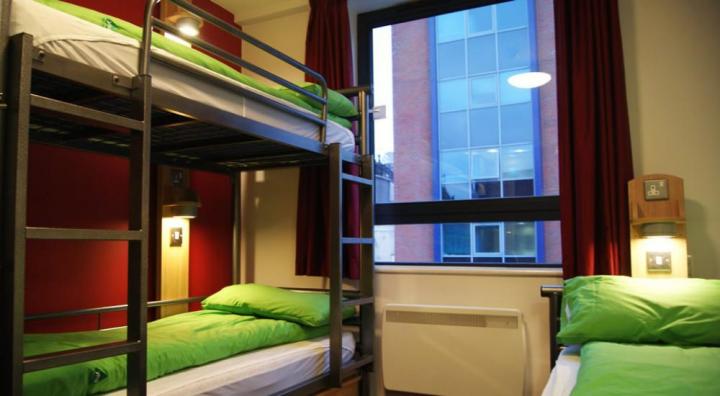 4. YHA London Central Hostel
YHA London Central Hostel was a nice place to explore the capital and just five minutes walking from Oxford Street. With friendly staff, a range of activities and deals on popular attractions, self-catering facilities where you can cook yourself plus a nice main café/bar for guests with TV and free wifi. We stayed in a 4 bed family room with ensuite bathroom. The bunk beds were comfortable and came with a reading light each and charging point , room was small but quiet, equipped with lockers, and a secure digital key card access.
Prices: Private en-suite Family Room – sleeps up to 4 people and costs between £60 (low season) to £129 per night (high season) per room.
5. Apartment in London, West Kensington
Apartments can work out to be great value in London if you travelling with a group of friends or family. We stayed in a 2 bedroom apartment courtesy of FG Property. In addition to spacious, tastefully decorated 2 bedrooms, we had a living room to relax with a convertible-double sofa bed. Great location in the trendy area of Earls Court – West Kensington area. It can easily accommodate up to 6 guests.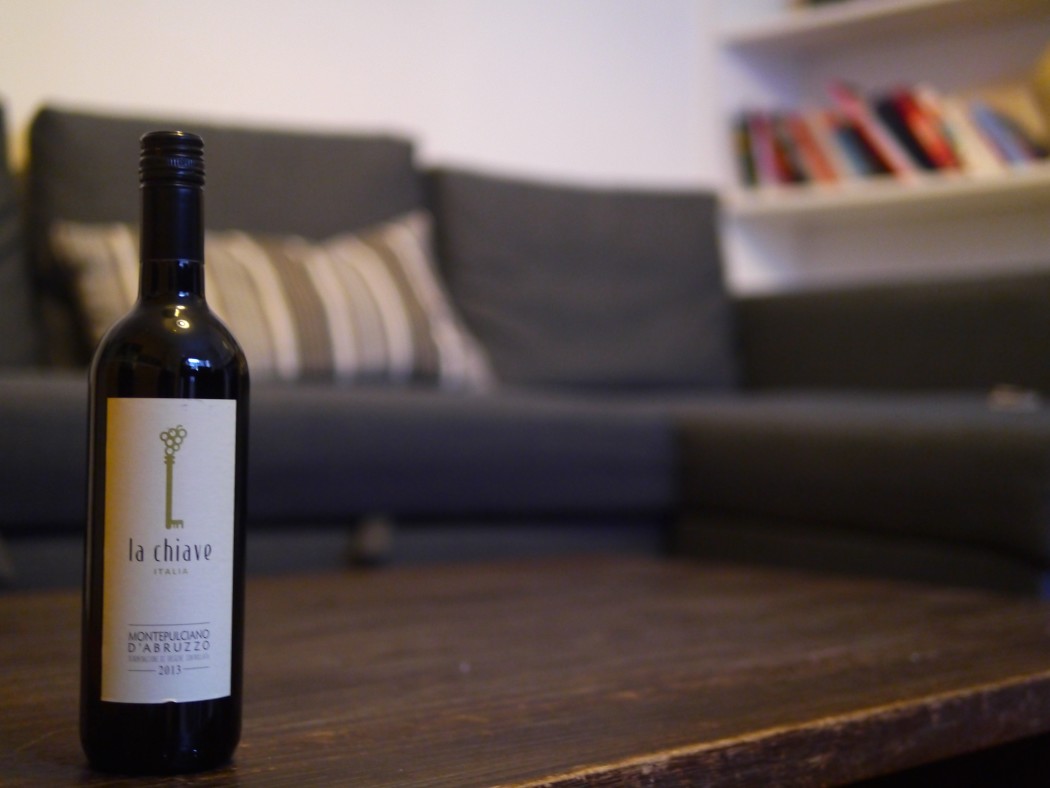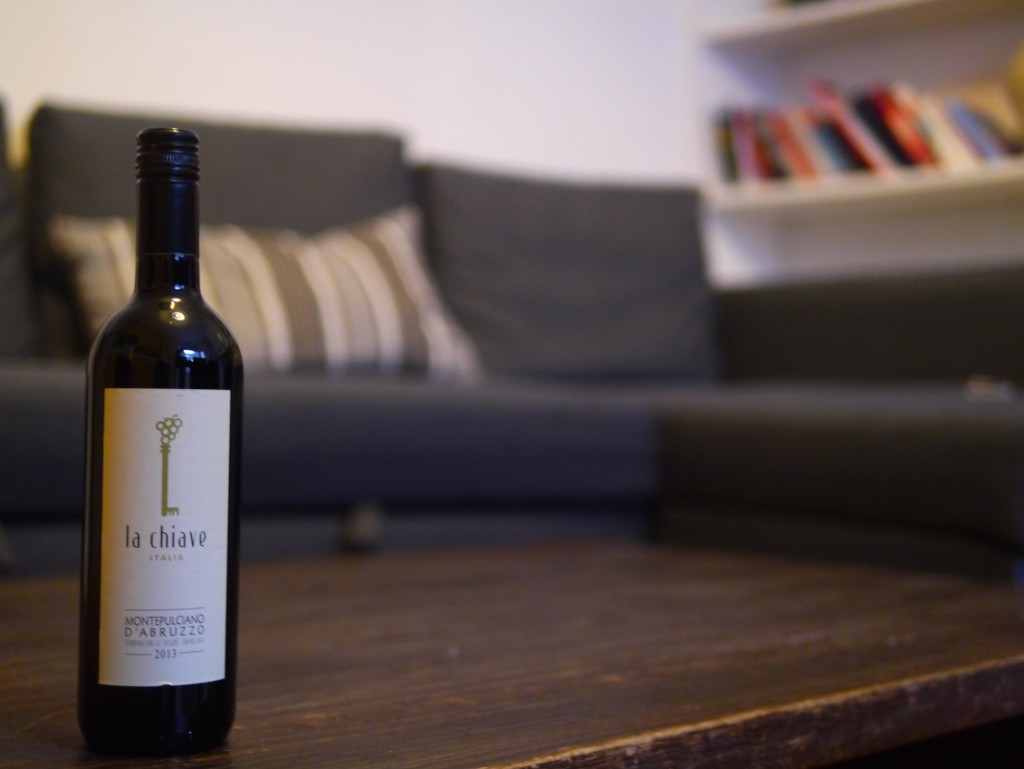 The living cum dining room was cosy. It came with a flat screen TV , bookcase and a nice sized dining table. Kitchen was fully equipped with all the modcons- dishwasher, microwave and fridge/freezer.
The bathroom was small but with a decent shower and bathtub. Towels were provided. It also has central heating and excellent Wi-Fi connection. They also provide bedding and towels. West Kensington Tube Station is just a few minute's walk away and there are several supermarkets like Tesco and Co-operative in close proximity. There is also Normand Park (10 minutes by foot) which has a big playground and grass area for picnics.
Prices: £177 pounds per night. On the basis of 6 people sharing, this works out to be less than £30 per person, per night which is great value for staying in a high quality, stylish accommodation in a nice part of the city.
6. Travelodge Covent Garden
If you're looking for a hotel near Covent Garden, a tourist hotspot famous for its street performers, diverse restaurants, shops and theatres choose this recently renovated hotel.
Family en-suite room : Prices vary from as little as £59 a night on a Sunday going up to £121 pounds per night for 4 .Book early to get the best prices.
7. London University Rooms, Bankside House
Located on London's South Bank, just across the road from the Tate Modern and in close proximity to Borough Market , Bankside House used to be the offices for the Bankside Power Station (now Tate Modern) and was converted into a student residence in 1995. Breakfast is included and you get continental and English options. There's bar in the basement with Sky TV and games. Free wifi available as well as tea and coffee making facilities in each room. You can check-in anytime after 3pm as reception is manned 24 hours a day.
Prices for Rooms: Triple Ensuite (B&B) for 3 £119.00 and Quad Ensuite (B&B) for 4 £133.00.
Things to Do in London on a budget with the family
Tell me, how long will you stay in London, and I'll tell you what you can see, for it would take a lifetime to visit all the attractions London has to offer. The best part (and I've never been in any city that offers this) is that all the public museums are FREE! I'll leave you with some suggestions:
8. Science Museum
Price: Free for Kids and Adults
There are 7 floors of interactive science displays waiting to be explored, plus an IMAX center with 3D movies (and popcorn!) . Highly recommend buying the the Explorer ticket which gives you access to the IMAX cinema, Legend of Apollo, Red Arrows 3D, Typhoon Force simulator and also you get a kids guidebook. Cost: Adult £25, child (7+) £22
This is a family friendly museum. There are a lot of activities for families on each floor which you can discover via their free brochure or electronic displays. This way, you can plan your visit better and know what to search for. In their shop they also sell a sticker activity book which is packed with puzzles, games and facts about the museum and also a kids handbook with activities, questions and games from each theme featured in the museum.
You can easily spend a whole day here.
As for food, you are welcome to bring your own food. There is a designated picnic area on the 3rd floor.
9. Natural History Museum
Price: FREE for kids and adults
Alongside the Science Museum, the Natural History Museum ranks as one of the most amazing museums in London and the world.
From seeing the fossils of all the prehistoric species of Dinosaurs ..to theories of their disappearance and even seeing a very lifelike T-Rex robot …you'll never see anything like this.
Don't miss meeting the blue whale and other magnificent mammals, amphibians, birds, minerals, meteorites, volcanoes and also the opportunity to experience an earthquake. For £5 you can also buy a guide book for kids only with puzzles and quizzes, and awesome facts about the museum.
For food, we took our own meal and had a picnic in the surrounding beautiful garden.
10. British Museum
Price: FREE for adults and children
Learn how to tell time before the clocks, crack the code of the Rosetta Egyptian Stone, take an x-ray tour inside a mummy, use animation software from Tablet Samsung to bring Ice Age animals to life, creating scenes that you can watch at home.
Online you can sign for their Free Families newsletter for Activities, events, trails and receive regular updates about the range of free family events and activities
Open daily 10.00–17.30 Fridays until 20.30
11. Kensington Garden Diana Memorial Park
This is a free playground created in memory of Princess Diana. It has a sensory trail, tepees, a pirate ship and various sculptures to play; all set in the beautiful Kensington gardens. Peter Pan, was the inspiration for this memorial which aims to encourage children to use their imagination.
12. Coram's Field
As result of donations and fundraising activities, this is a FREE playground and park for children. It has also a city farm and a cafe which is open from March until October. No adult is allowed to enter without a child. It has green areas and play equipment for all ages from toddlers to older children. Highlights in this park include an aerial slide, two large sand pits, a paddling pool in the summer and an animal farm with goats, chickens, rabbits and birds. If you want to buy a memorable gift, you can sponsor an animal and in return you will receive a certificate. The person's name will be posted by the side of the animal's enclosure.
13. Legoland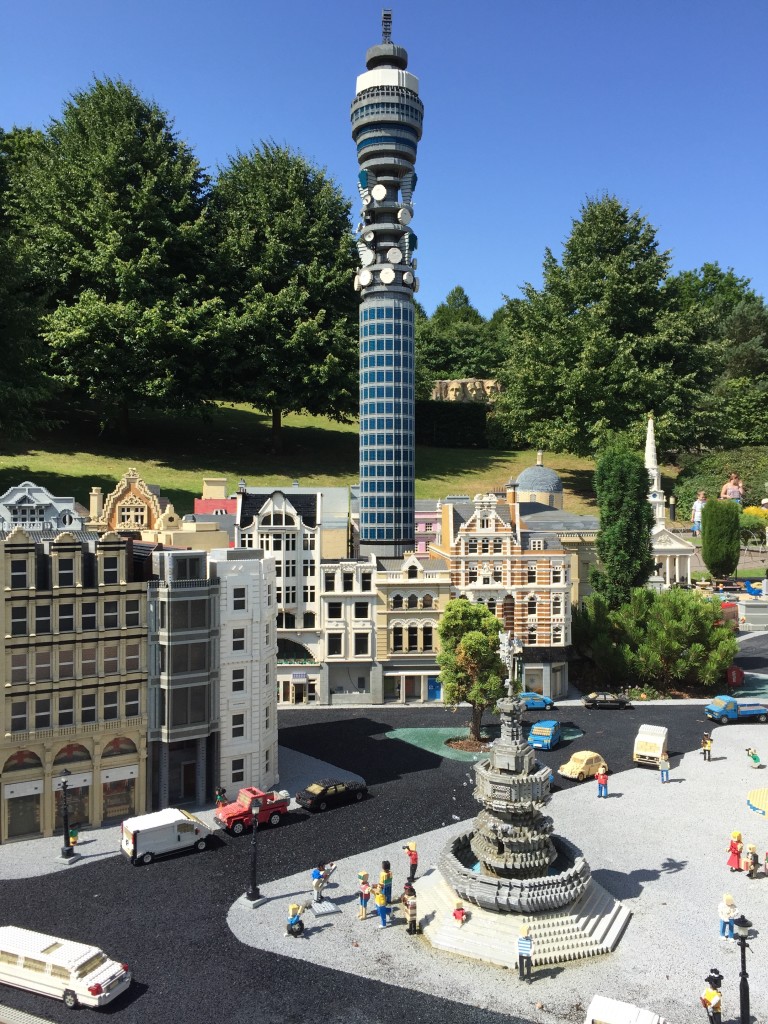 This theme park situated in Windsor was the highlight of our trip. We came on a weekday to avoid the weekend crowds. Our strategy for seeing the park was back to forward. We went first to Lego City to the driving school of Lego Fiat electric cars. Boys loved this. Then we all popped into the Lego Fire Academy where we all had to drive a fire engine and put out a 'fire' in the house. Then we made our way to Adventure Land to hop on the Atlantic Submarine voyage. The submarine voyage was basically an underwater trip on a boat made of Lego where we could see sharks and other fish made of Lego mixed with real ones.
Other highlights included a ride on the Hill Train, the Pirates of Skeleton Bay -a pirate-themed live action show featuring impressive acrobatics and swashbuckling swordplay plus last but not least Lego Miniland, an area which allows you to walk through world famous landmarks that have been recreated in lego form.
They had a special offer when we visited: If you'd like to come back the next day, you only pay another 5 pounds. Once inside the park, attractions are not paid. The average queue waiting time was about 20 minutes.
There are about 50 attractions for all ages and green spaces to relax or have a picnic. ( Yes you can bring your own food here unlike many other world renowned themeparks )There are also many restaurants for food and drink and several shops including the Heartlake Shopping Mall. There's a FREE service called "Buy now, collect later" where you can shop in any store and collect it at the end of the day in the beginning of the Park.
To get to Windsor we caught the train from London (Paddington station) to Windsor Station and it took us about 45 minutes (Price for family of 4, return ticket was £42).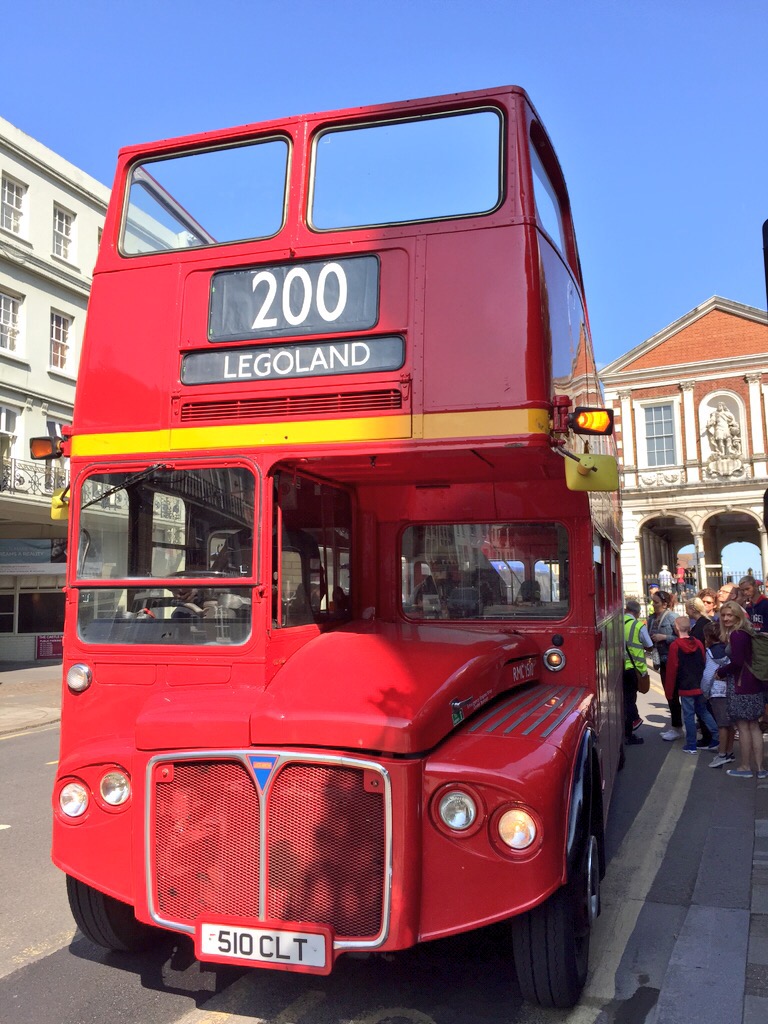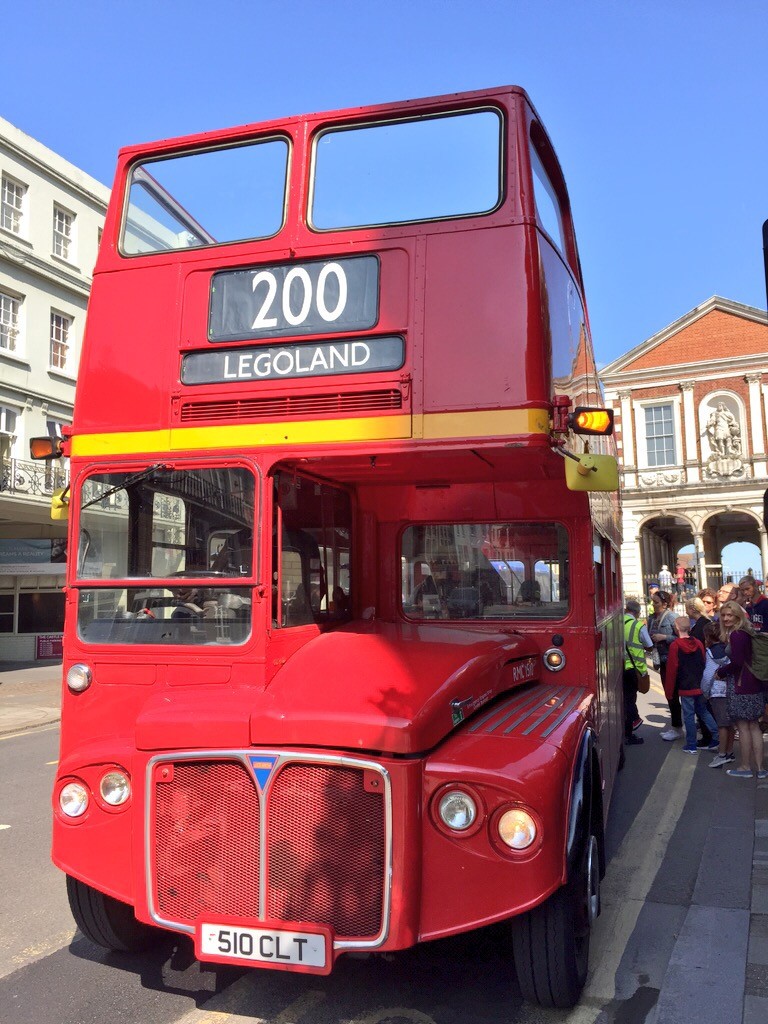 At the street outside Windsor station there is a cute double decker bus to Legoland. (Price for a family of 4 return ticket was 10 pounds). Online purchased tickets for Legoland had 40% off when you booked 2 days in advance, for selected dates in July. For 4 people it costed us £87 (about 120 euros). Not the cheapest place to visit but the kids had so much fun. Definitely worth the splurge.
Open from 10 -17 h.
14. Musical : Charlie and the Chocolate factory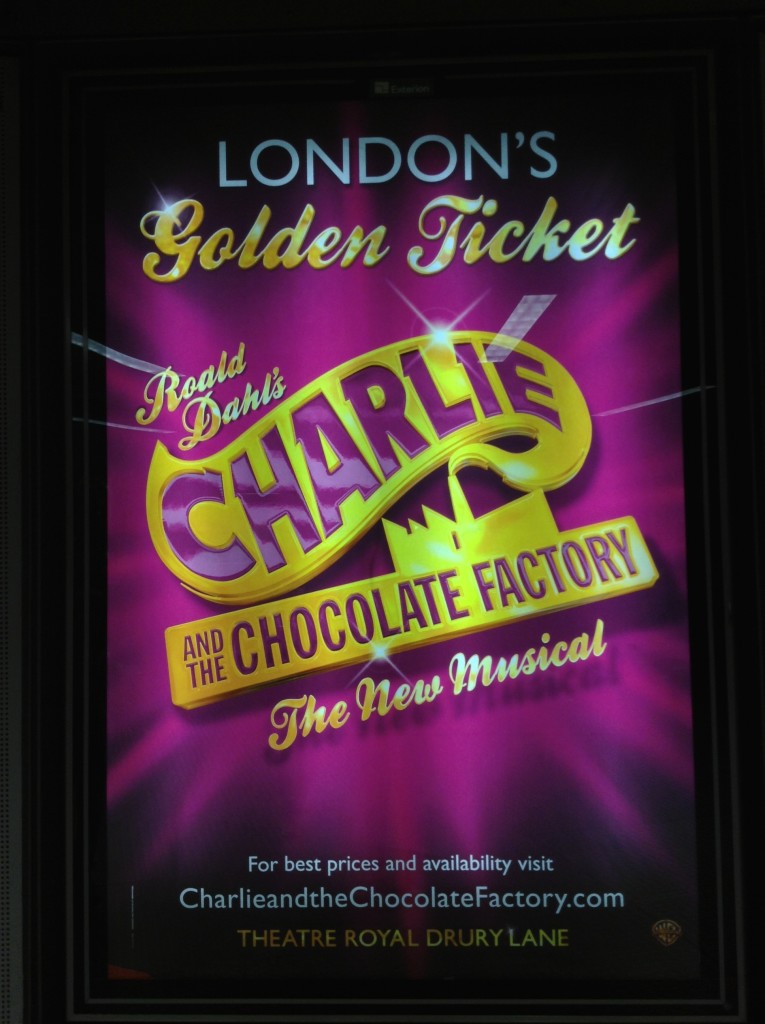 No visit to London is complete without watching a musical. Directed by Sam Mendes it tells the history of confectioner Mr. Wonka and the boys who won the golden ticket to visit his mysterious factory. Based on the book of Roald Dahl, it was probably the best musical and theatrical show I've been to in my life. Fantastic production, superb sets, very cool special effects and costumes plus a first rate cast. Prices start from £17.50. This again is something worth splurging on as a treat for the family.
Tip: Monday – Friday performances are cheaper than Saturday.
Times: Monday – Saturday at 7:30pm
Wednesday and Saturday at 2:30pm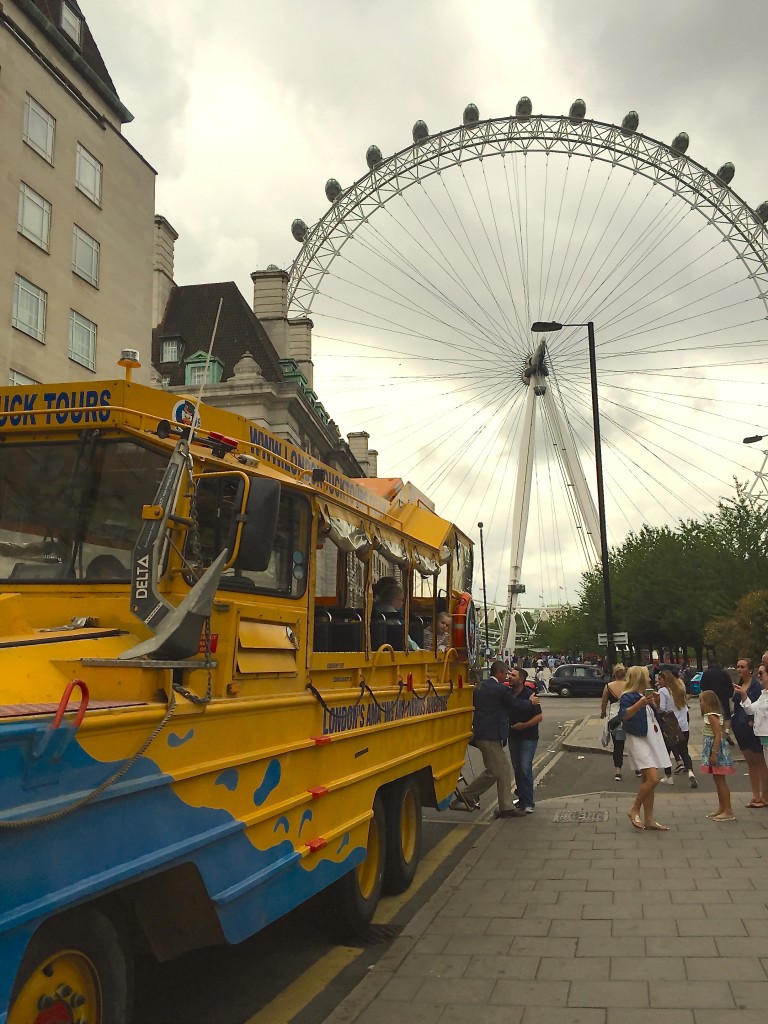 15. London Duck Tours
London Duck Tours is a fun sightseeing tour, from dry land to river on an amphibious D-day Second World War vehicle. Suitable for all ages from 3 years old. What elevates this tour above our guided tours is that we had an extremely knowledgeable and hilarious guide plus a fab change in perspective when the 'duck' entered into the Thames river. Quacking fun indeed and definitely worth the fee.
Adult £24.00, Child (under 12) £16.00 Family Ticket (2 over 18's & 2 Child/Youth OR 1 over 18's & 3 Child/Youth) £70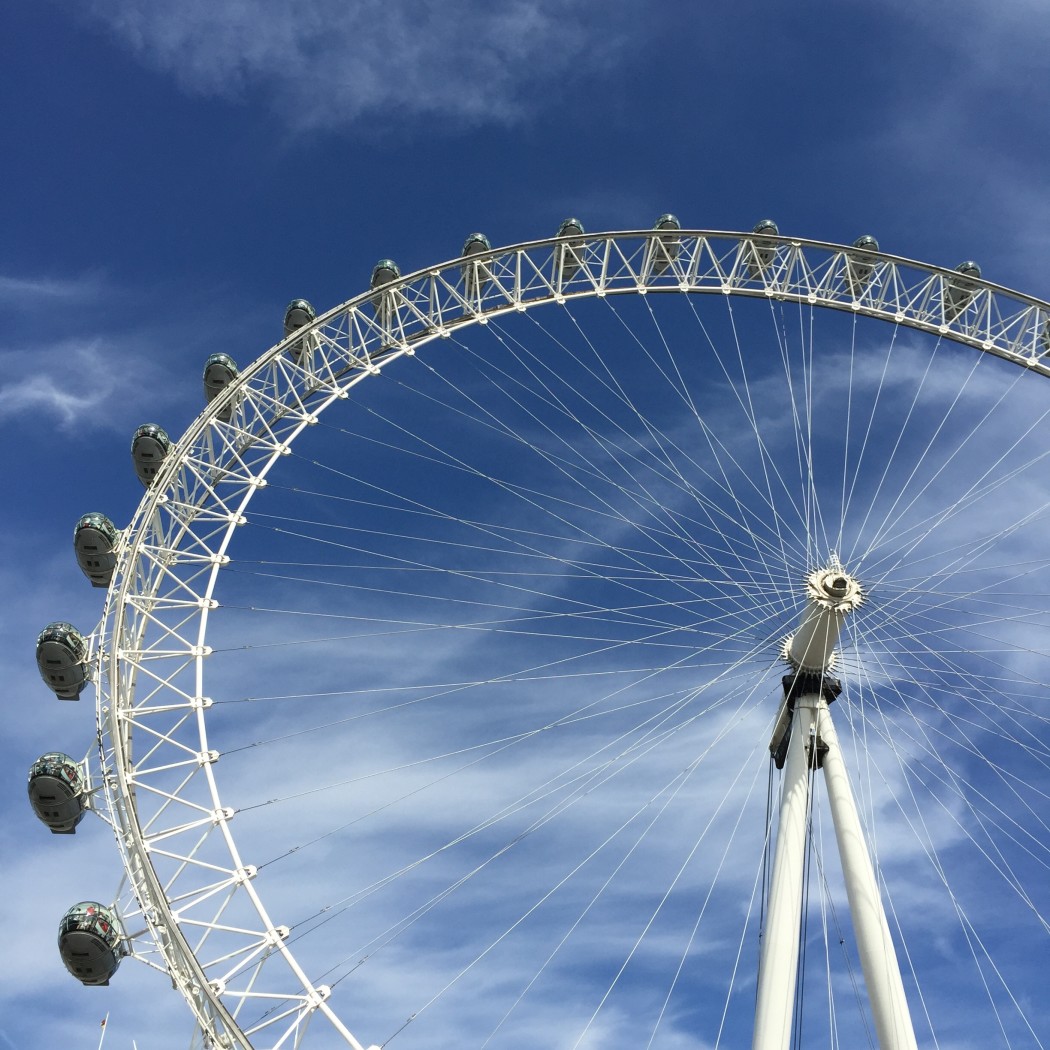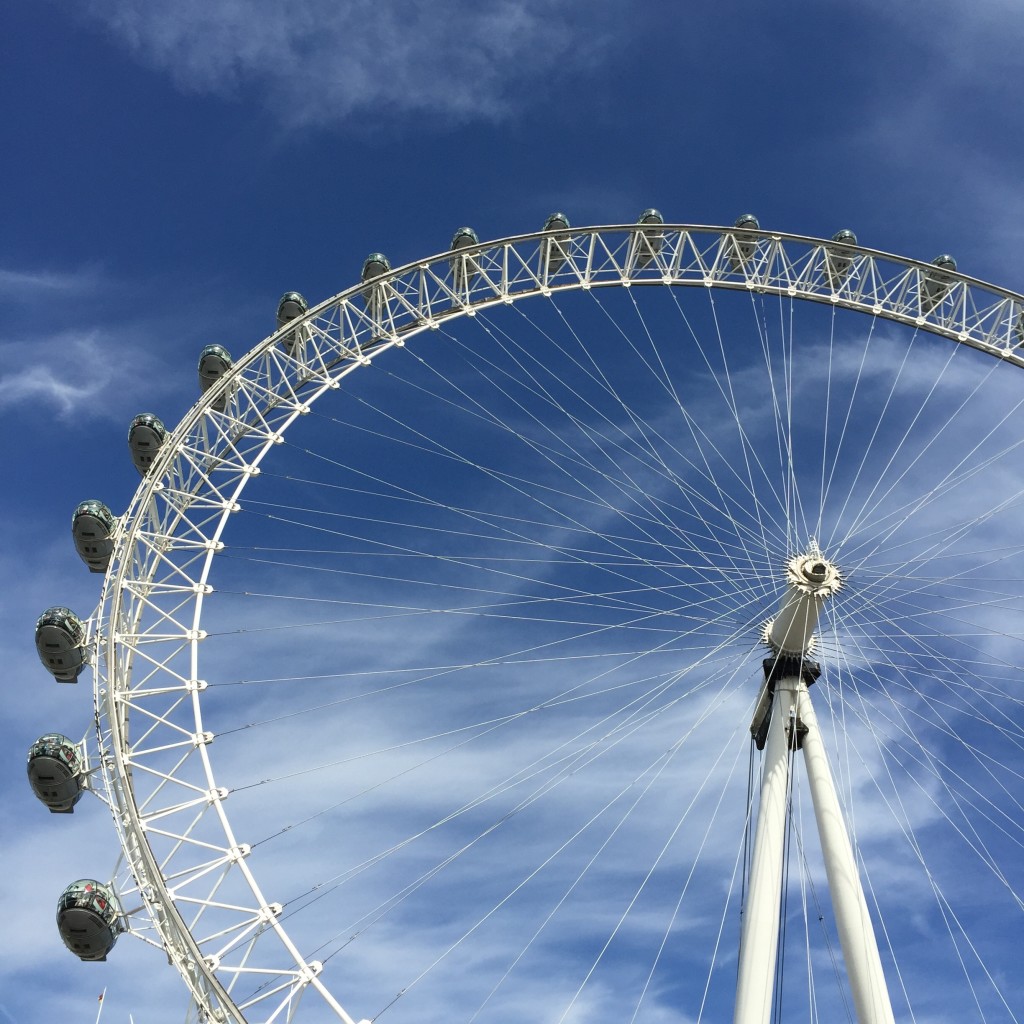 16. London EYE
At 135 metres, the London Eye is the world's tallest observation wheel offering 360 degree breathtakingly views of London with unique perspective from above the Thames River. The experience lasts about 30 minutes. You can move around inside the cabin, take pictures, or simply seat and admire the views.
Before you board the London Eye, visitors can enter the new 4D Experience, a three minute 3D film about the London eye, with spectacular in-theatre fourth dimension effects including wind and bubbles. The price of entry is included within your ticket
With the fast track option, you can get your tickets just 15 minutes before your experience, passing the majority of the queue.
Price: The Family Ticket (2 adults+2 kids older than 4 years old. For kids under the age of 4, entry is free ) is £100.80 (this is the price if you book online, at least the day before your visit with a saving up to 10%). The online price for Fast Track Tickets depends on the date and time of your visit. Cheaper tickets are generally available on weekdays, evenings. This, along with Legoland and the Duck Tours was one of our more expensive treats on the holiday but totally worth it for the breathtaking views.
17. Big Bus Tours/Night Bus/ Cruise
We chose their 48 Hour we got a lot of cool things: a FREE river cruise, FREE Night Tour, FREE guided walking tours where you can learn more about the history of St James' Palace and Buckingham Palace and also witness changing of the Guard Ceremony (worth £7) and a FREE reward voucher book with discounts. What's not to like?
On their 'blue tour' you get commentary in 12 recorded languages about the history of the city. The designated route covers all the major landmarks and sights of the city and lasts 2 to 2 1/2 hours. The hop-off hop-on facility makes it easier to discover specially when travelling with children. The Red Tour offers live commentary in English. Price 48 hour Ticket: Adult £33.00, Child (Age 5 to 15) £16.00 Family (2 adults+ 2 childs) £85.00
Food and Drinks
18. Supermarket Deals
When you're travelling with kids it's always good to carry a backpack with some food and drinks.
Most of the days, we would take the Kids to the supermarket to buy lunch. They loved the whole process of picking up their meal, and it made our day easier to plan, especially because most of the places we visited had picnic areas.
In many supermarkets like Boots, Tesco or M&S they sell Meal Deals, which include drink+ meal+ snack/dessert. Price for the Meal Deals vary from £3-£3.50.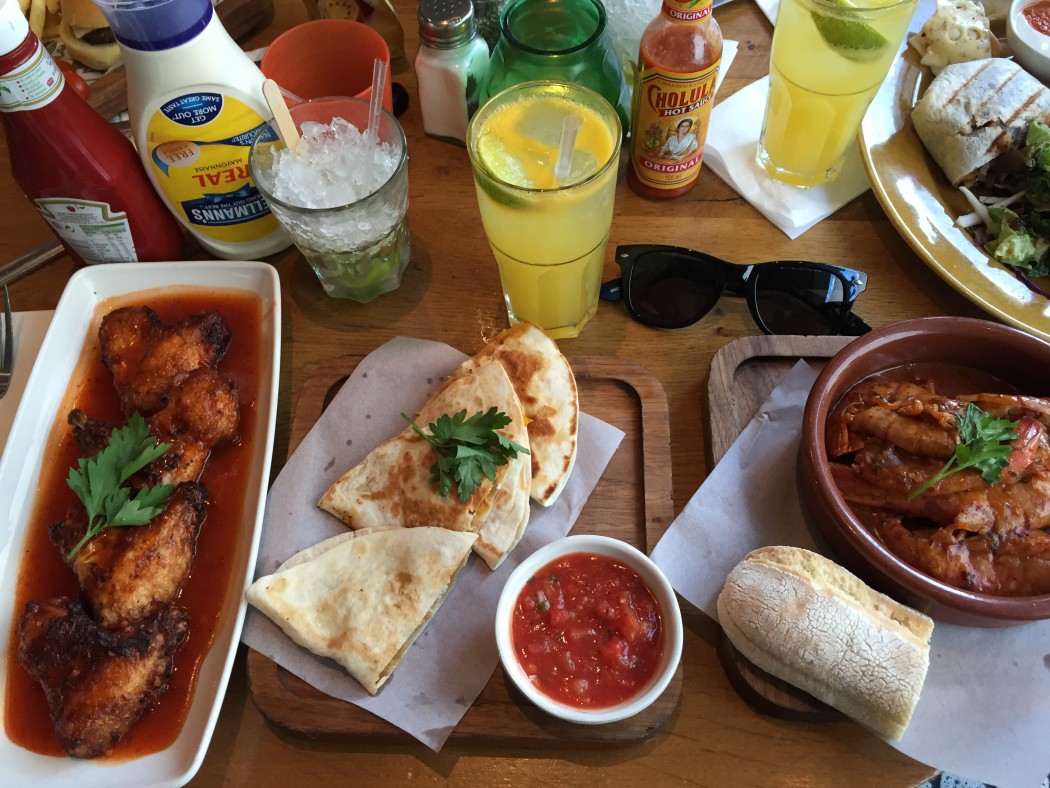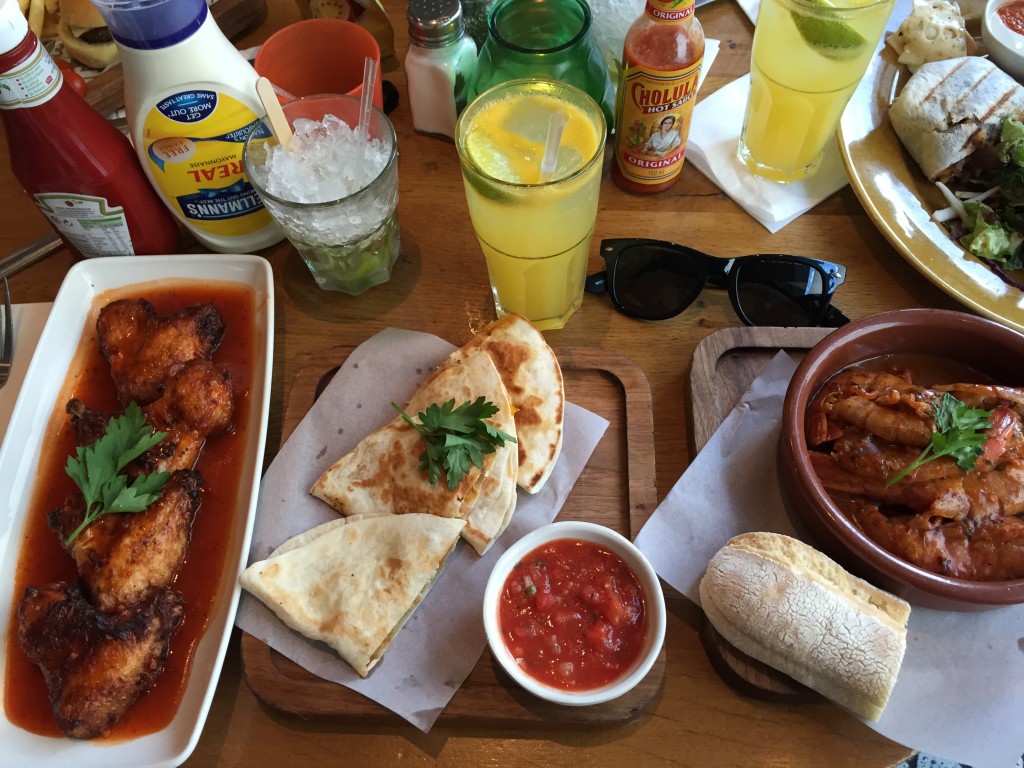 19. Las Iguanas
We kicked off our holiday with a meal at Las Iguanas in London's Southbank . It was a balmy Wednesday evening in July and the place was packed with officer workers who were no doubt attracted by their excellent 2 for 1 (5-7pm) 'Happy Hour' cocktail offer. After a long trip to London, the happy hour cocktails were a nice way to relax while the boys were happily engaged with their excellent activity packs. The menu is inspired by South America so you can expect a diverse mix of Latin American, Indian, Spanish, Portuguese and African dishes. We ordered from their excellent value tapas menu where you can share three dishes for £13.80 or five dishes for £23.00 before 7pm. We chose three dishes: their grilled prawns which was served in a garlic, lime and chilli sauce accompanied by a hunk of ciabatta bread. Delicious. We also had their chicken wings smothered in a spicy barbecue jerk sauce-big winner with the boys and me. Plus a crayfish and sweet chilli salad. Plus we also had their smoked chipotle chicken burrito from the main menu.
All Las Iguanas restaurants are child friendly with a special menu designed especially for kids! The kids menu, which consists of a main course, dessert and one drink costs just £5.90. Boys could choose from mini burgers, mexi-pizza, quesadilla, fish strips, tacos or meatballs. They went for the burgers and fries option which they loved. All the dishes were flavourful and delicious. With drinks, our bill came to £60 which I think represented great value for money. A great restaurant for the big kids and the small kids. Note that the restaurant offers FREE HIPP organic baby food in pouches and help to reheat baby bottles, just ask the server. Plus they also have gluten free, veggie and vegan menus with allergen information.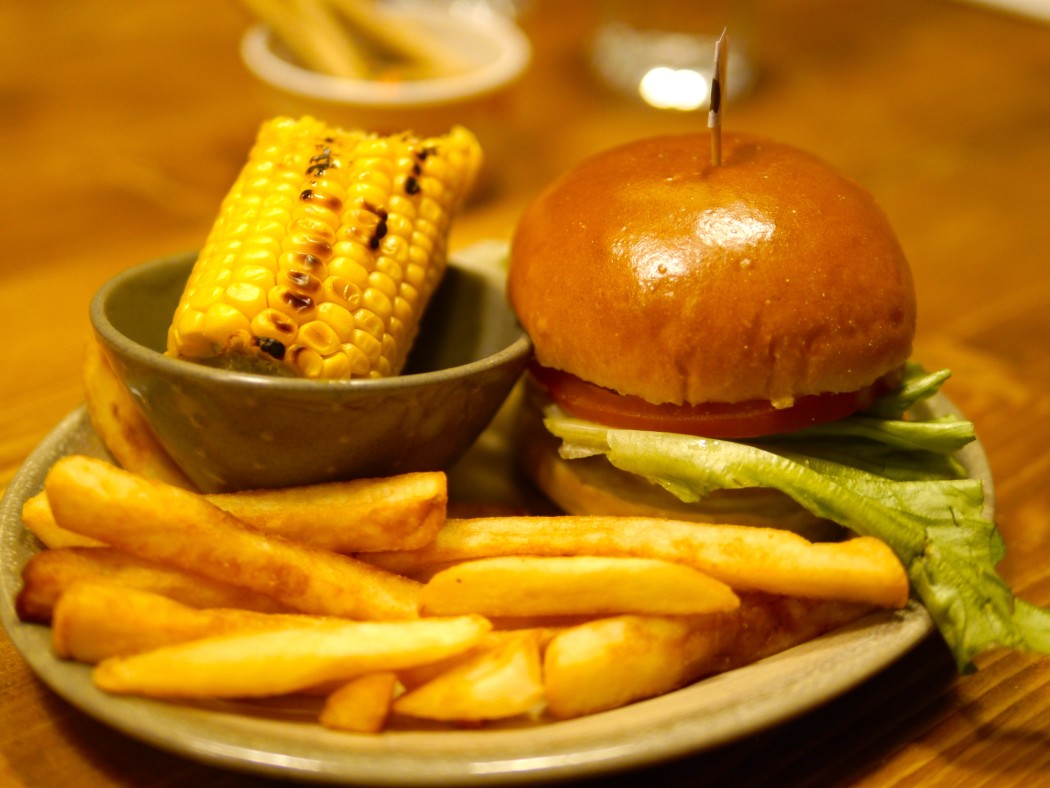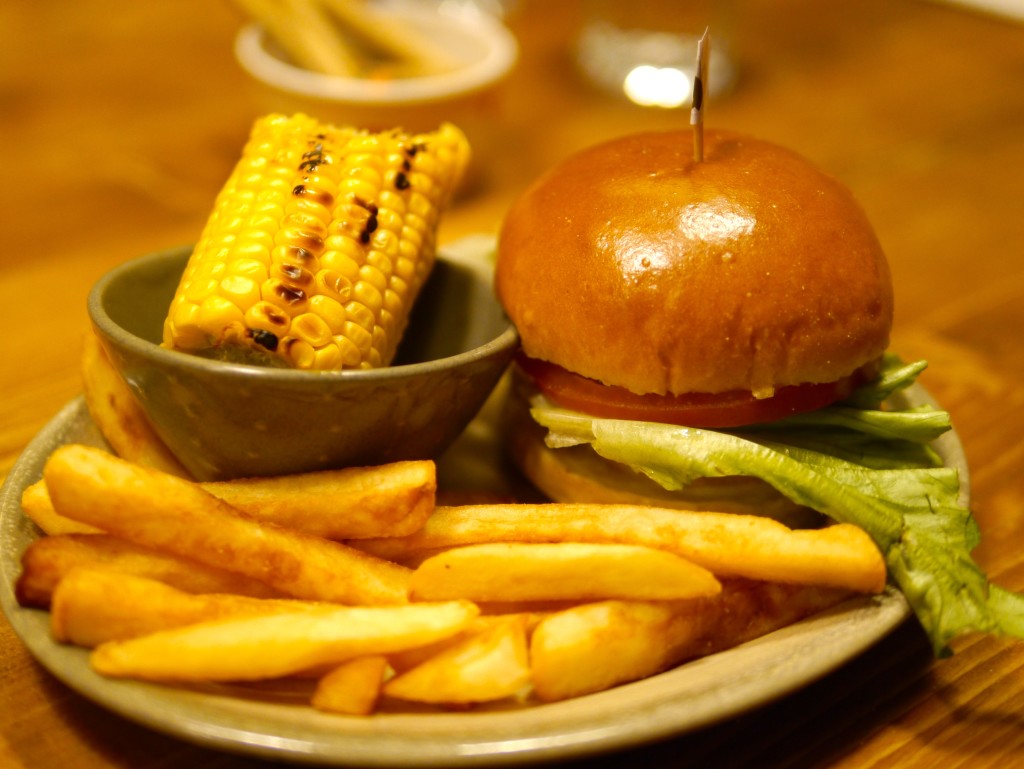 20. Nando's
This Portuguese/Mozambique restaurant is very successful all over the world. Famous for their piri-piri chicken, they also offer special menus for "Nandinos" (aged 10 and under), for £5.55 where you can choose from one main and two sides plus a Dino Dessert or Drink. They also give colouring sheets and crayons to keep kids entertained. Adult meal with 1 main and 2 regular sides ( choose from piri piri fries, spicy peas, garlic rice, sweet potato wedges ) costs £10.
21. Inamo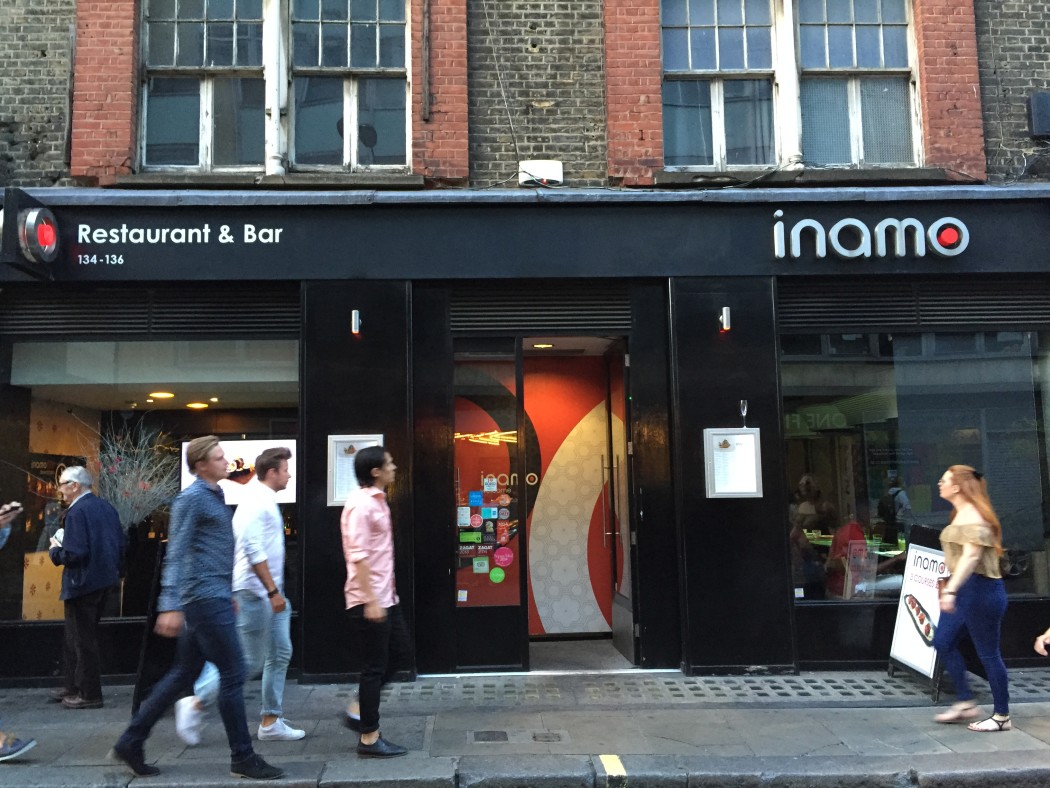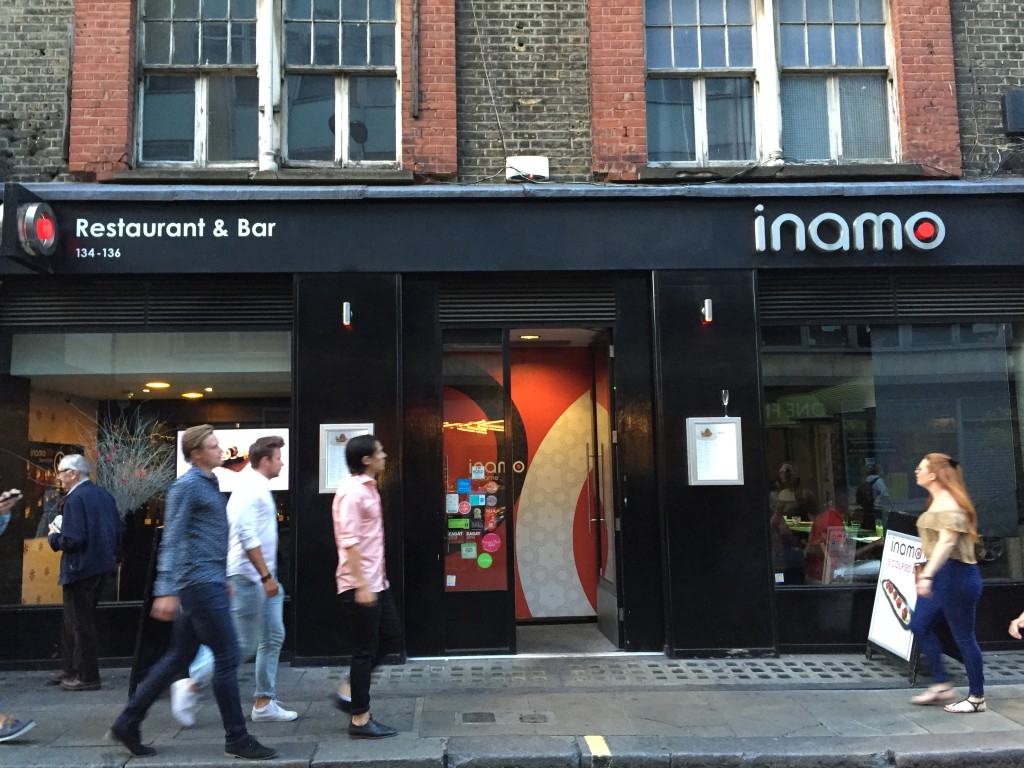 Have you heard of restaurants with an interactive E-Table?
This is the world's first interactive food ordering system with overhead projection technology, where you have control over ordering food, choose from the virtual tablecloths, view the inamo chefs working in real time using the 'Chef Cam' function and explore a wide range of practical services such as games or taxi bookings. This restaurant, located in Soho, we will not forget, not only for the food, but also the experience. We were able to play games like ping-pong against each other.
Happy hour at the bar is between 5pm and 9pm, Sunday – Thursday where you get your hands on some oriental inspired long cocktails like the delicious Kodama ( Japanese Tree Spirit )- a great combo of gin , rosemary and cucumber finished off with a dash of lychee juice.
Food is excellent value- you can get a starter, main course and dessert for 20 pounds plus kids bento boxes for £6.
They also have Sushi classes for Kids, where they learn to make 2 maki rolls with a sushi master (10 pieces of sushi to eat or take home) and take a tour of the inamo st james kitchen for kids & adults. There is a 15% discount for lunch if you dine there following the class. Sessions cost £17.50 for one child, £15 when booking for 2+ children. For children aged 7 to 16. For more information, checkout their website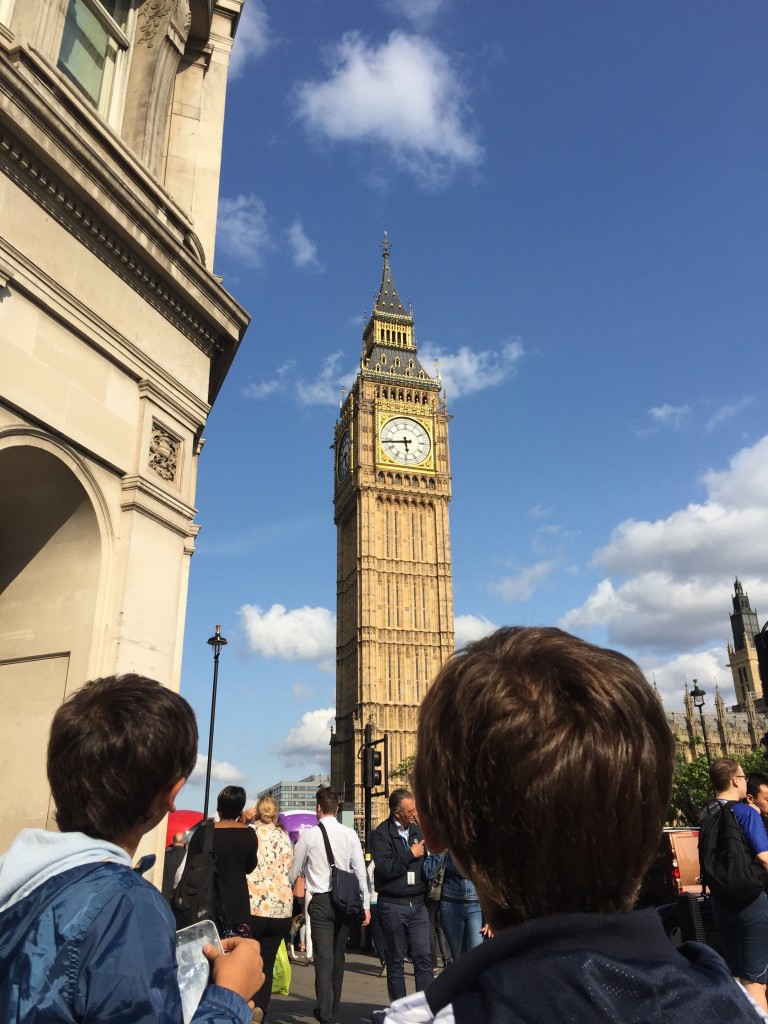 Verdict
Overall. It was a brilliant trip. London offered us a variety of great experiences and was a great choice for spending our family vacation. YHA Central was great value option for us but if you are prepared to spend more and in a larger group then the apartment option looks attractive. You can pick from one of the tours like the Duck Tours or the Big Bus Tours. Or if you are on a strict budget but looking for a cool experience, with the oyster card you can do a tour of the some of sights on the public bus Number 9 which is one of only two routes operating the old-style Routemaster buses. It passes Kensington Palace (you'll have to get off to see it) followed by the beautiful Royal Albert Hall and the monument to Queen Victoria's husband . Following that you can visit St James's Palace, Trafalgar Square, The Savoy hotel and the arts and cultural centre Somerset House. In terms of eating out, there are some great value places to eat out in London like the places we mentioned. Again, you've got to be sensible and not eat out all the time. Choose self catering accommodation options or stay in a hostel like the YHA London Central where they have a kitchen. If you are going to eat out, checkout the cheap eats guide to London from Julia or Steve Lowy's top 5 tips for cheap eats in London. Bottomline is you have to do your research and know where to go or else in London or you'll wind up in a tourist trap.
Let me add here that there are many experiences we didn't list here that sum up the magic of a trip to London like the simple act of walking through central London, admiring its wonderful wealth of Georgian and Victorian architecture, the neon signs, the statues, the colourful street scenes, the lights of London, the street buskers in Leicester Square, the sights and smells of its food markets like Borough Market, a walk along Regent Canal, visiting Camden Market on a Sunday morning-so many amazing experiences , so rich in detail that can blow a young persons mind. Especially, if they've never visited London. One of the highlights of the trip was when our little one, looked up at Big Ben for the first time and he was lost in awe. These kind of experiences are hopefully the ones that stay with you forever. Best of all they were all free.
Also worth noting…London is a unique, safe, one of a kind city. There is no danger of you or the kids getting bored here.
As Oscar Wilde once noted.
'When a man is tired of London, he is tired of life.'
We would love to hear you thoughts on this article. Agree or disagree? Your tips and suggestions.
If you think they are any other family friendly destinations that offer better value for money that London, please share your tips below.
Disclaimer: Elements of our trip were supported by Visit London and their partners but the views expressed here are entirely our own.