Followup to my very popular 7 best budget places to stay in London post earlier from this year, I have 5 more budget friendly accommodation options for you to check out on your next London trip
1. Generator Hostel, London. Bloomsbury.
Twin private room. From £49 a night.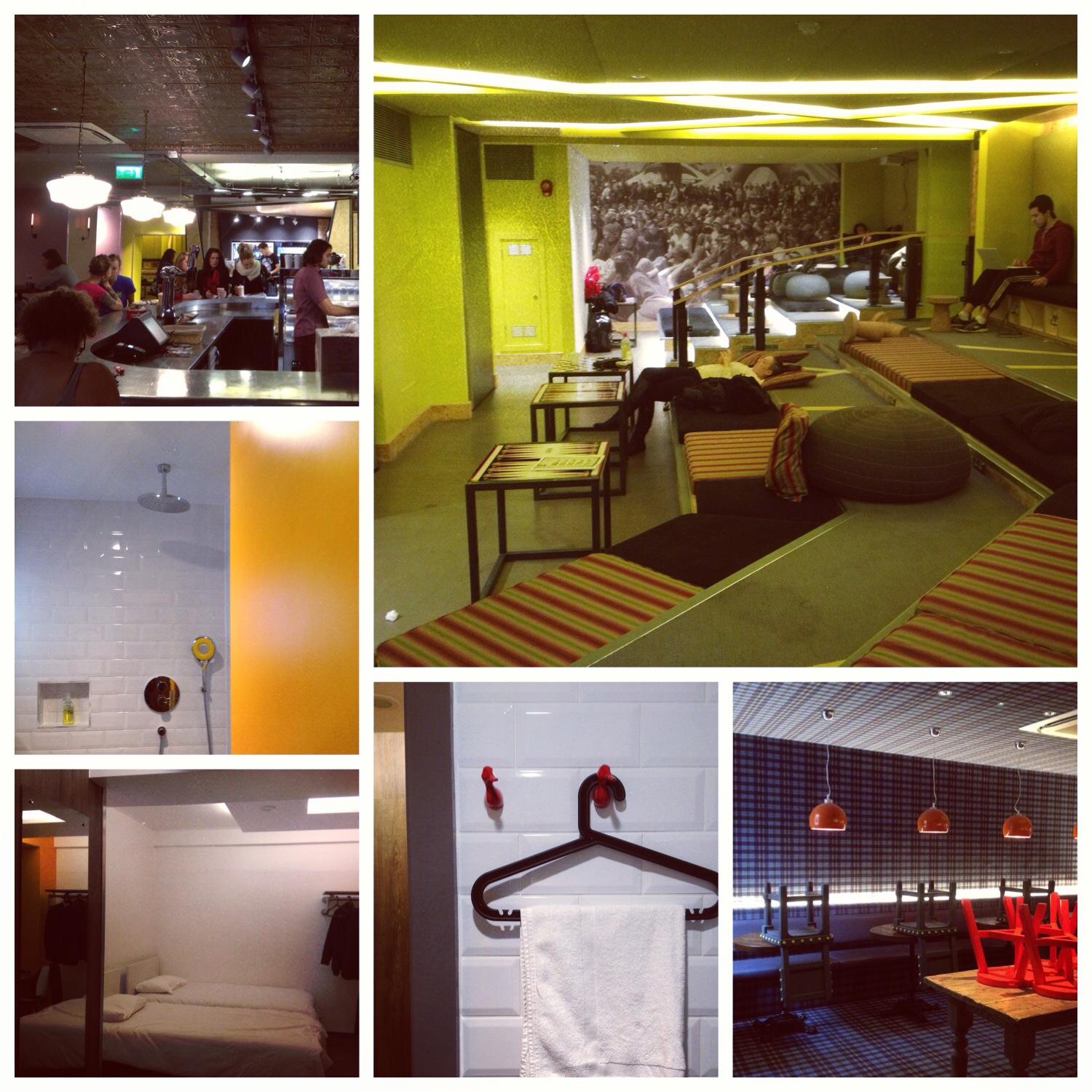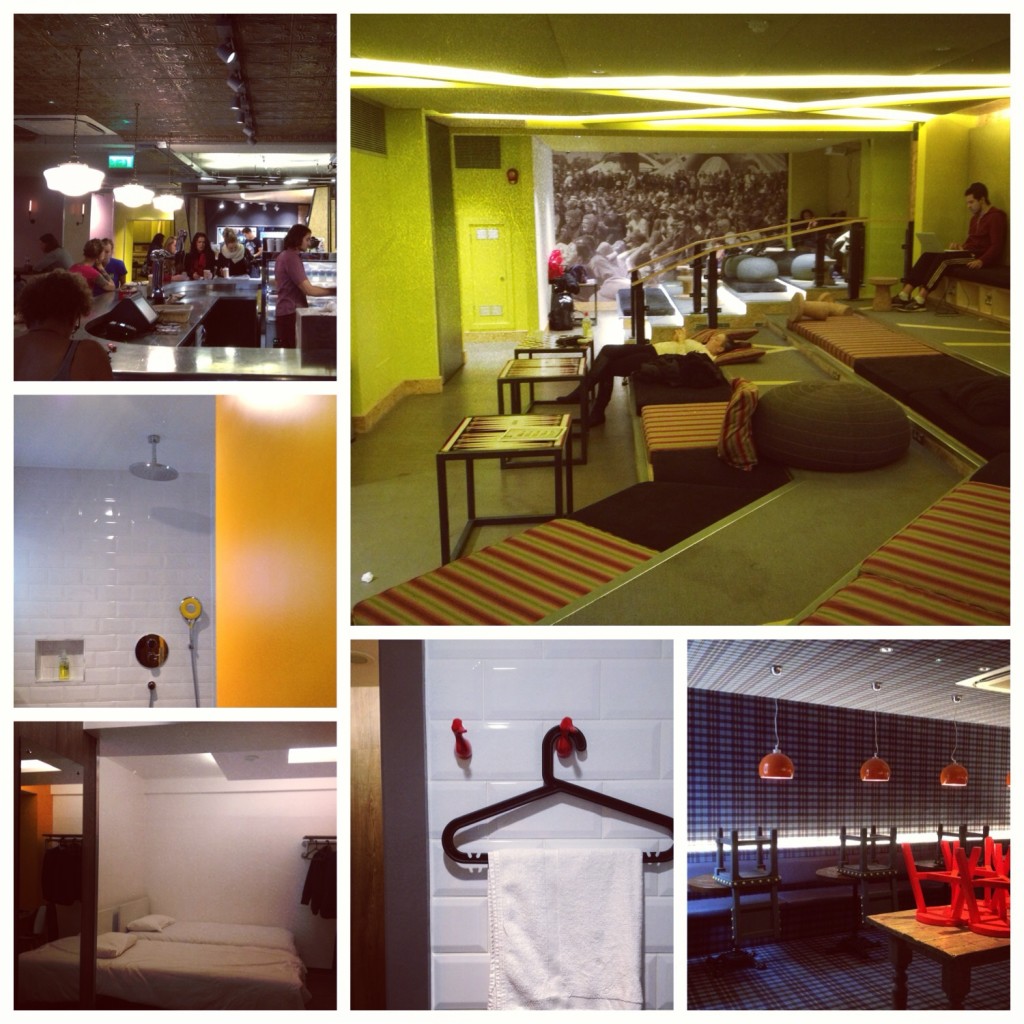 Generator London has recently undergone a major refurbishment which has transformed this place in a huge way.
I arrived quite late on a Wednesday night, close to midnight and the place was still buzzing. Reception staff were friendly and checked me in super quick time. There was a problem with lights in my triple bed dorm room so I got quickly checked into one of their very slick twin private ensuites. The room was compact, cosy and very comfortable. There was a clothes hanging rail, full length mirror, comfy beds, linen and towels were supplied plus wifi signal in the room (4th floor) was excellent. It would have been nice to have plug point by the bed instead of in the opposite corner of the room. The ensuite bathroom was very stylish with a powerful Grohe Shower and came with complimentary Waitrose toiletries. It definitely feels more like a budget boutique hotel room.
Downstairs they have a bunch of cool social spaces where guests can relax. If you want to party, they have a cool Generator Bar that organises a number of events for guests. On Wednesday night the Karaoke night was in full swing. Away from the bar they have a nice chillout lounge complete with flatscreen TV and nice low lighting where guests were surfing the net on their laptops or tablets. During the day, within this lounge, they have a nice in-house cafe where you can order coffee and their excellent brownies.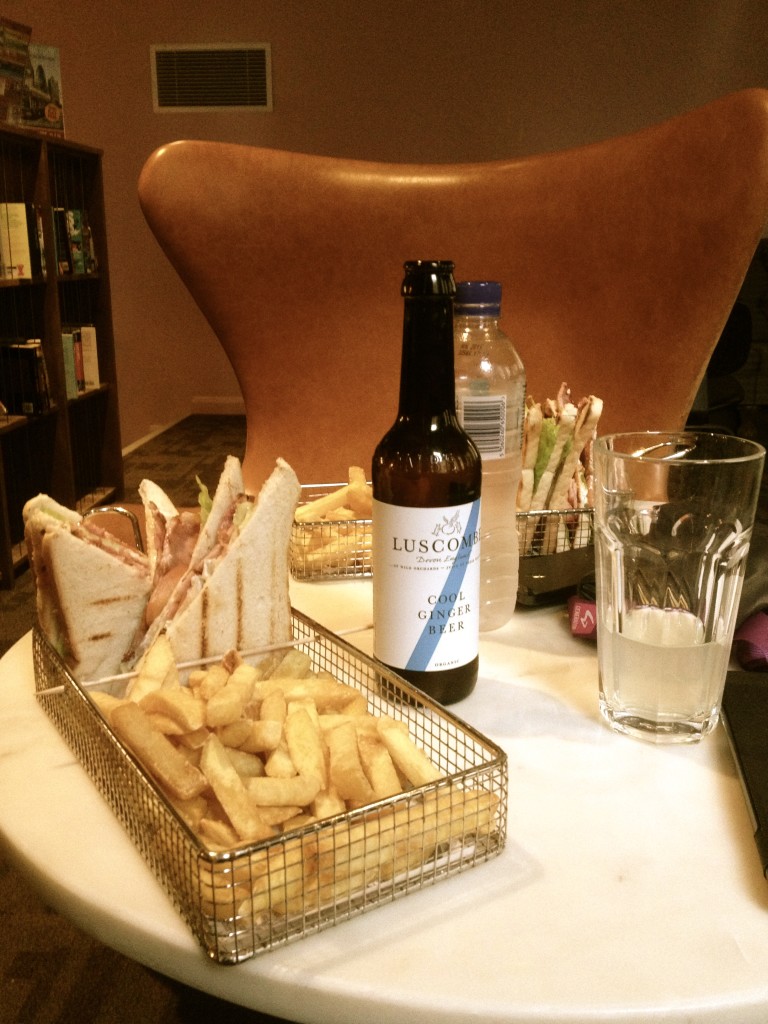 Alternatively they do a very moderately priced ( Around £6 mark) range of hot food and snacks. I ordered a BLT toasted sandwich with fries which washed down with a bottle of Luscombe Ginger Beer. Nice.
The other cool feature in this Generator Hostel is the movie room ( 2nd Luxury Hostel I've found to have a dedicated movie room, the other being U Hostels Madrid) where guests can relax and watch a movie. During the day, it acts as a very cool chill-out space where guests geek out on their laptops or sleep off their hangover. Other top facilities include their travel shop where you can buy your underground tickets, book a walking tour and just get good general travel advice. They also have storage room facilities for storing your luggage.
Areas of improvement? I personally would not go for their £4.50 continental breakfast. Your usual selection of breads, ham, cheese and cereal. Coffee tasted pretty awful.I've had better breakfasts in hostels plus they were for free.
Otherwise, there's not much to quibble about the Generator Hostel, London. Love the location, just a few blocks from Russell Square underground station and walking distance to the British Museum and Leicester Square. Bunch of cool cafes , bars and  budget friendly restaurants in the neighbourhood. It's definitely one of the best hostels I've stayed in London and a cut above many similarly priced budget hotels in the city.
Book at http://generatorhostels.com/
2. Housetrip apartment- North Kilburn, 5 bedroom apartment.
Sleeps 10. From £212 a night.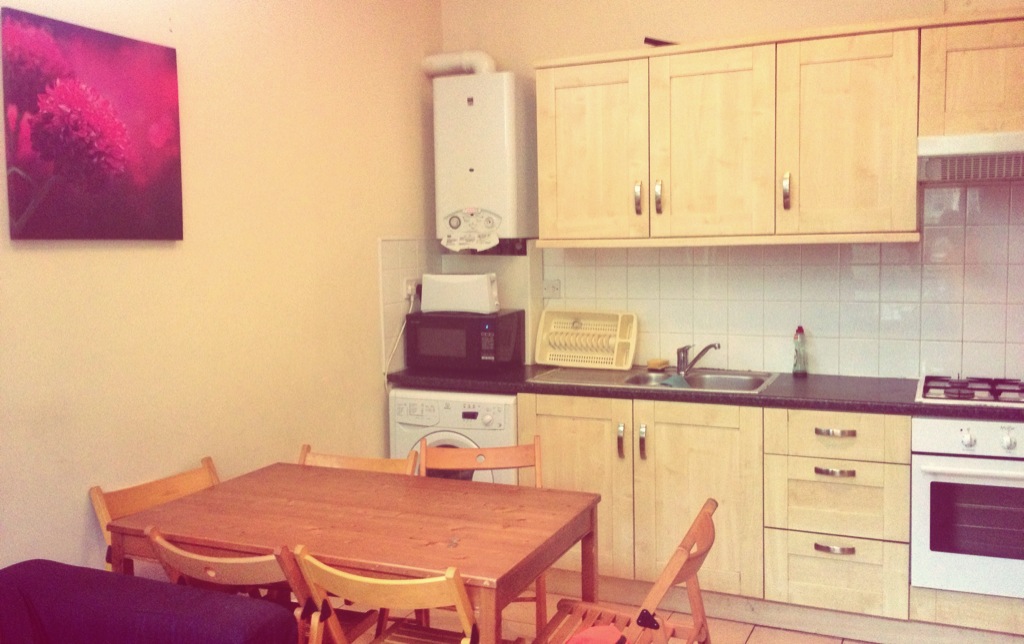 Courtesy of Housetrip, I was invited to stay in a 5 bedroom apartment in Kilburn Park.
Location: Nice quiet neighbourhood, just a few minutes walk from Kilburn Park underground station. 5-10 minute walk brings you to the high street where you have Tesco and bunch of other popular British High street shops.
The apartment is split into two levels. Top level has two large sized bedrooms plus a living room cum kitchen. Downstairs is another three equally large bedrooms and the bathroom. Beds are comfortable. Rooms have huge cupboards for hanging up your clothes. Towels and linen are included-great.
Apartment came with all the mod-cons you would expect -microwave, fridge-freezer, washing machine and plenty of crockery. There was a nice flat screen TV. There was also free wifi but during my stay, signal was poor.
Overall, it was a decent apartment, ideal for a few days short stay in London. Starting at £212 a night, sleeping 10, the apartment is brilliant value for money if you're travelling in a big group. In terms of areas of improvement, rooms could have a little more character plus just the solitary bathroom is a problem when you are travelling with a large group of friends and family.
Book at http://www.housetrip.com/
3. City Marque Apartments- Oxford House, 2 bedroom standard apartment.
Sleeps 5, from £220 a night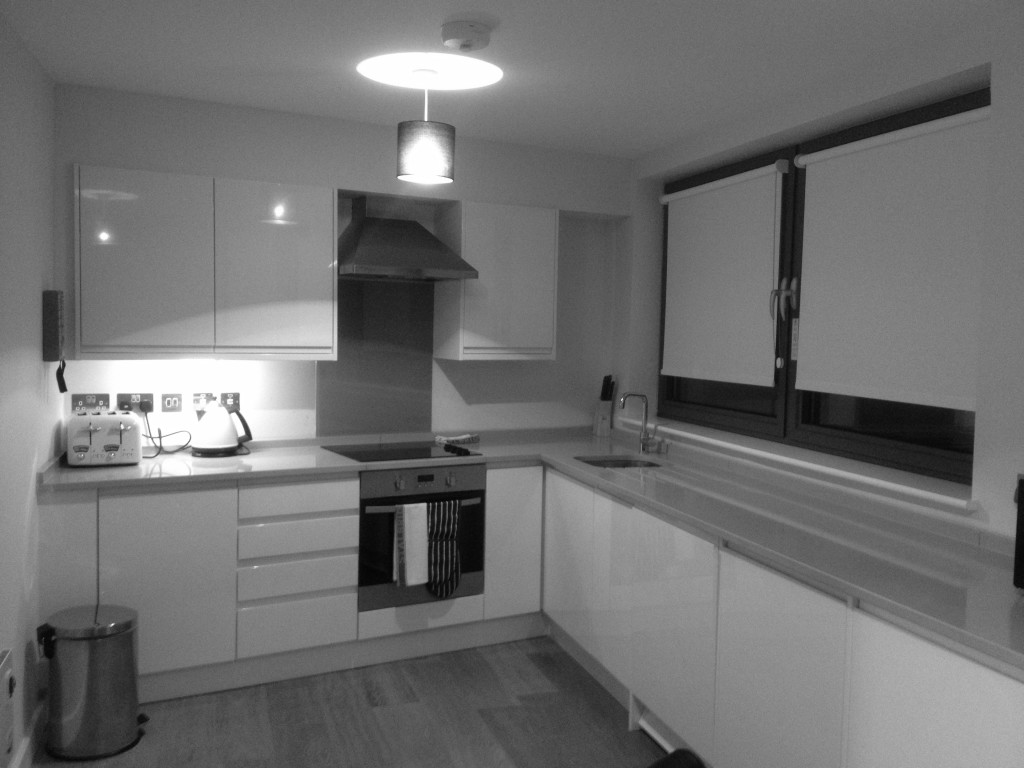 Less than 5 minutes' walk from Goodge Street Underground Station, City Marque Apartments in Oxford House are serviced Luxury apartments. Location is brilliant, next to Goodge Street tube station with lots of restaurants ( on the street you can find a Yumchaa, great tea shop that does ace cakes and has fantastic wifi ) in nearby proximity and a short walk to Oxford Street, Regent's Street and Covent Garden. The British Museum is a 10 minute stroll away.
I stayed for 2 nights in their standard apartments located on the third floor which had limited views of the London skyline. The apartment has a pleasing minimalist decor and equipped to a high standard. There was huge kitchen cum living room. Kitchen is fully equipped and also has a washing machine/dryer. Was very impressed with the superfast wifi, nice flatscreen TV and also the iPod docking station from where I could played music from my iPhone. Bedrooms are both a nice size.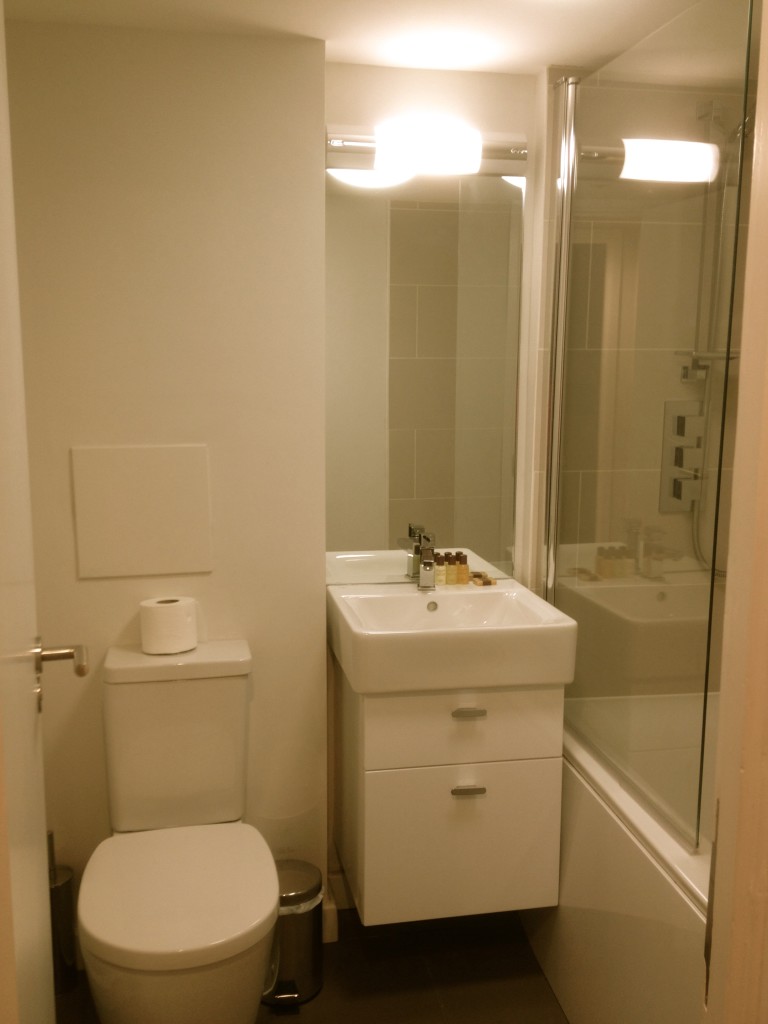 One bathroom and one separate toilet which for a group of 5/6 people was perfectly adequate. Beds were comfortable, towels were supplied. It was a comfortable apartment. Perfect base for exploring London.
The price? Starting from £220 per night, I think this was a bit pricey. Based on 5 people (could sleep 6 if 2 people would share the sofa bed) sharing, for the location and the quality of apartment you could argue this is good value. You, the reader, I guess are the best judge of that.
Book at http://www.citymarque.com/
4. Caring Hotel, London. Bayswater.
Single room, shared bathroom from £60 a night.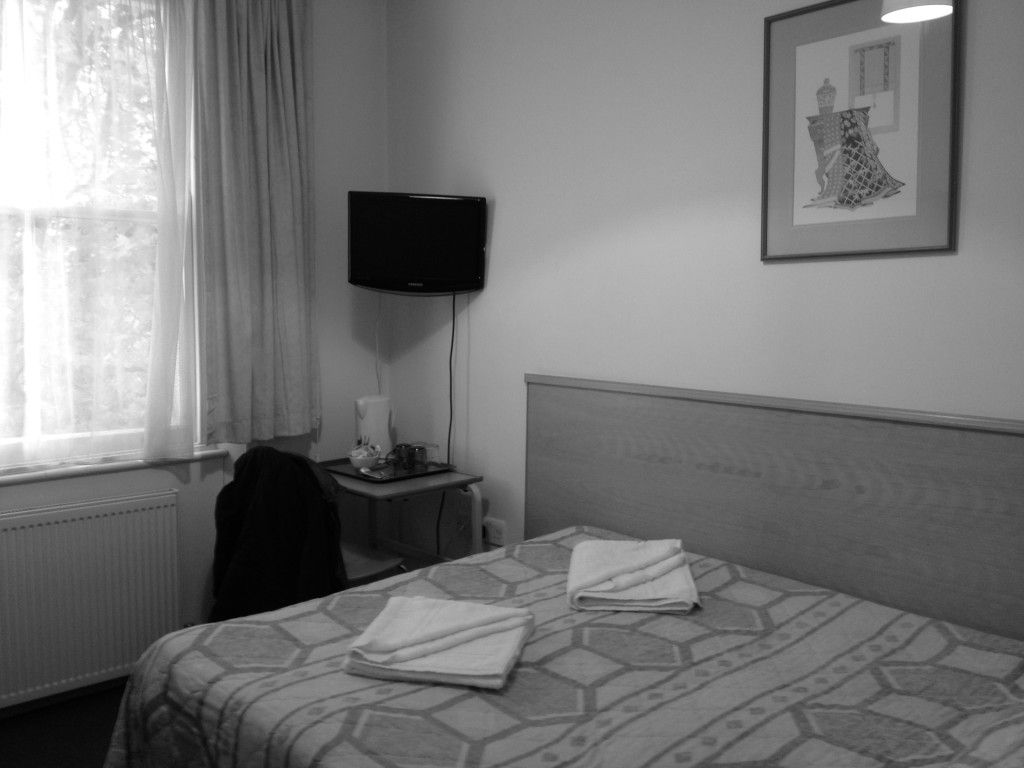 If you're looking for a comfortable, no-frills hotel in Central London with a nice breakfast, then Caring Hotel, London is the perfect hotel for you. I was searching for hours for a decent hotel for 2 nights, midweek in November and anything decent, located in Central London seemed to start at the £70-£80 mark. I then stumbled upon Caring Hotel on Tripadvisor. It had a very good rating of 4 from 789 reviews. The hotel has a good location in Bayswater just a 10 minute walk from Baywater Underground station. Travelling solo for business, I wanted something basic, comfortable but not too pricey. Price point of £120 for 2 nights for a double with shared bathroom via the hotel website was very agreeable.
The hotel did not disappoint. It was a quiet neighbourhood. My room was on the fourth floor. It's quite a hike up a very narrow staircase so if you have a lot of luggage, email them in advance and request a room on the first or second floor.
My room was comfortable. Bed was nice. It came with a sink and also a pod shower which was pretty decent. You have a wardrobe for hanging up your clothes plus also a kettle for making tea, coffee. The other big plus of this hotel is how great the wifi was. Brilliant.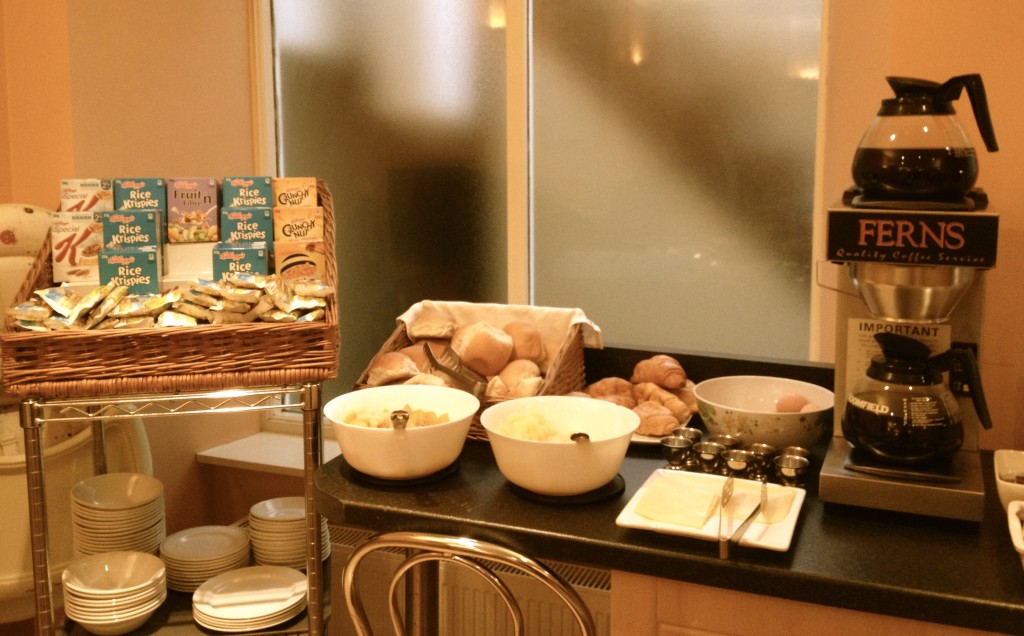 Buffet breakfast served from 7:30 am till 9am is good. You have fresh morning rolls, cereals, cheese, concentrated juice and coffee. Nothing fancy but more than adequate.
Overall, the hotel exceeded my expectations. Staff were friendly and helpful. I would definitely come back and stay here on future business trips to London.
Book at CaringHotel.co.uk
5. Access Farringdon Apartments. Farringdon
2 bedroom apartment, sleeps 5. Starts from £160
The apartment is in a great location just a few minutes walk from Farringdon Underground station.
It's in a quiet neighbourhood. A stone's throwaway from the apartment are a few nice pubs, a Costa Coffee plus a Budgens supermarket.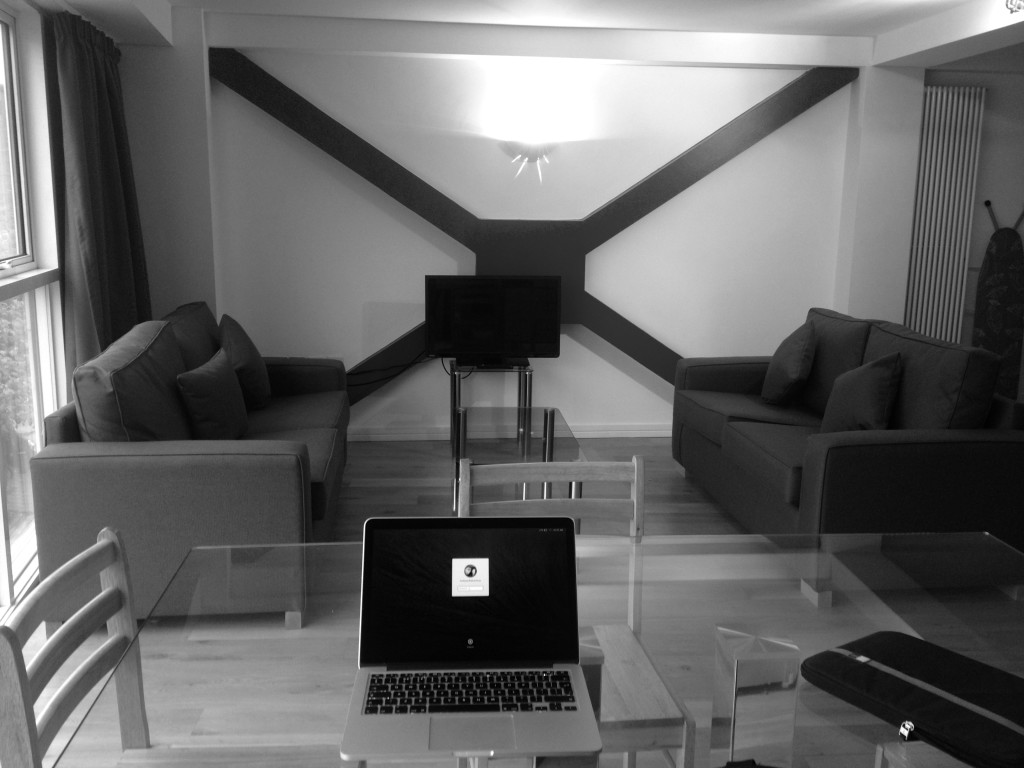 The apartments are newly renovated so everything in the apartment was brand new. The living room cum dining room is huge with lots of light. Kitchen has all the modcons you would expect. There are two nice sized bedrooms. One is ensuite. There is a second bathroom with shower and toilet so for a group of 5 this is perfect. The larger, master bedroom has three single beds and the smaller bedroom, 2 single beds. The single beds can be joined together to form a double bed. Beds come with fresh linen and also you are supplied with towels. The wifi is free at the time of my review and worked great. Overall, in terms of location, comfort and price, this was my favourite of all the three apartments I stayed in London last month. The only snag is that the apartment has a minimum booking period of 3 nights.
Book via booking.com My stay was kindly provided by Access Accommodation. If you wish to book any of their other apartments, have a look at their website.
Please note all the above accommodation, barring Caring Hotel was provided to me complimentary. The views I express are strictly my own.