Visiting Amsterdam on a budget? Besides this recently updated guide to the best cheap eats in the city ( compiled with the help of Amsterdam local, Frankie Bird from As the Bird Flies ) I recommend you reading my brand new guide on the best budget places to stay in Amsterdam and also how to travel across Europe for less then £250 ( which has some cool tips for Amsterdam ) my guide to the best budget places to stay in Amsterdam plus also if you want to get away from the hustle and bustle of the city, visit Hello I'm Local + Haarlem plus Rotterdam which is just down the road. So without further ado, here is the list of our favourite cheap eats in Amsterdam
Where to eat in Amsterdam
Dutch food is not all about stroopwafels and bitterballens, although admittedly these are the local foods I sample again and again when I visit the city. If feeling particularly brave do visit the abundant raw herring carts (haringhandels). If you simply can't stomach the smell, don't worry- 'kibbeling' are bite-sized pieces of battered, deep-fried-fishy deliciousness and are available at said carts too. Amsterdam is a truly cosmopolitan city. Expect to be treated to a wide variety of international cuisine here. 'Bazar' is a converted church that now serves nothing else than Middle Eastern food! For good Spanish tapas hop along to 'La Pata Negra' or if in the mood for ramen visit 'Fou Fow Ramen'. Soenda Kelapa on the Utrechtse Straat – an Indonesian Restaurant, or 'Taco Cartel' for Mexican tacos are eclectic options too. However, if you've come to Amsterdam eager to sample local fare- make your way to Geflipt for Dutch-style burgers. Café Kale, Café Oosterling or Bar Fisk is the place for a taste of the local Dutch pub scene.
Here are a few of my favourite cheap eats in Amsterdam
1. Kipfillet Kerrie, De Hapjeshoek
Tucked away in the bowels of Waterlooplein station is the Surinamese takeaway, De Hapjeshoek. For some reason or another, I always seem to pass through Waterlooplein station on every trip to Amsterdam ( beautiful Ecomama hostel is just a stone´s throw away from the station) Everytime I pass through , I cannot resist the delicious chicken curry sandwich aka ´Kipfillet Kerrie Broodjes.´
Chicken curry in a sandwich: need I say anything more? Plus at just €3 a sandwich, this is a steal.
Surinamese snack stalls like this are plentiful throughout Holland so do not leave the country without trying a surinamese broodjes. The surinamese sandwiches can be filled with chicken, chicken curry, egg, beef, pork, lamb, shrimp curry, or bakkeljauw (dried and salted cod )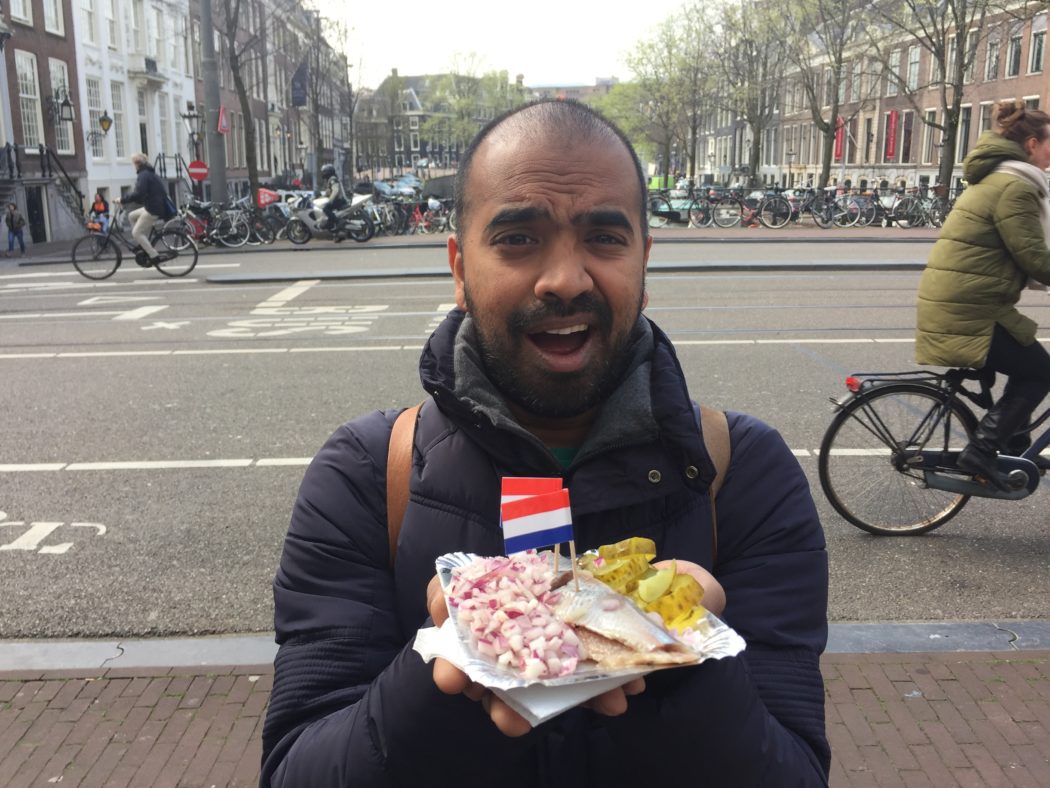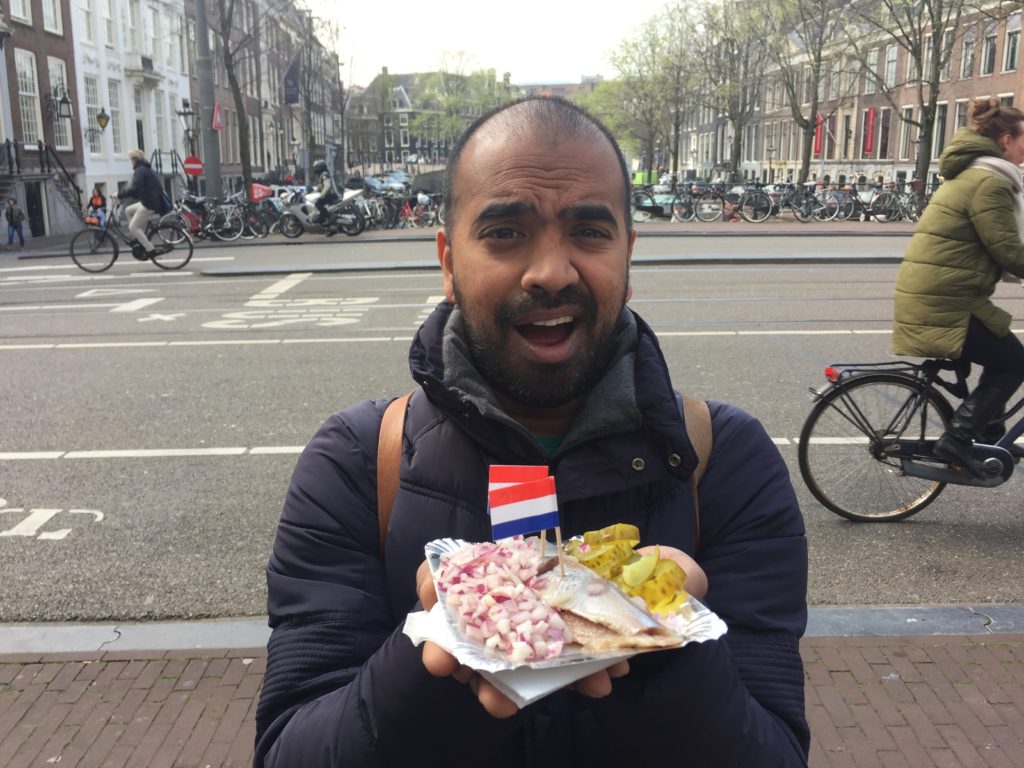 2.Herring. Vishuisje Herengracht
Herring. I know. The sight of it doesn´t inspire you. Trust me. This is one of those dishes that tastes better than it looks. I like to think of it as the Dutch version of sushi. Scattered across Amsterdam you will find numerous herring stands. My favourite is Vishuisje on Herengracht. For just €3 they serve herring with a side of pickles and onions. Delicious stuff. Guys who run the stand are super friendly and gave us some cool suggestions for where to drink and eat in the city.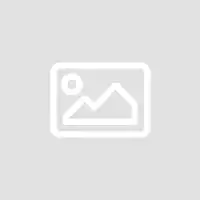 3. Fresh Orange: Juice Albert Heijn
I know. I am recommending you to try something from a grocery store. Albert Heijn mind you is no average grocery store. They have 15 types of sausages to choose from, amazing cheeses, the best peanut butter in the world: Doutzen Kroes , great stroopwafels too but what I love most about their store are their fresh fruit juices. You can buy them in different sizes: 250ml, 500ml and a litre. I love their freshly squeezed orange juice and at just €1.70 for 500 ml, this has to be one of the best bargains that Amsterdam has to offer right?
4.Chocolates or ice-cream (or both!) Van Soest
Chocolaterie Van Soest (Utrechtsestraat 143 ) is the place to go for all chocoholics in Amsterdam. I discovered the chocolaterie by pure chance. Barely a few minutes walk from Cocomama hostel, they serve handcrafted chocolates and bonbons which are freshly made on the premises. Plus in spring and summer they serve Italian gelato. Top tip: Pistachio ice cream was fantastic but my favourite is their white chocolate and raspberries gelato with chocolate on top: amazing. Cost: €2
5.Frietsteeg
No trip to Holland is complete without some good frites. Our search for the best frites in Amsterdam led us to Frietsteeg on Heisteeg 3. These frites were awesome. Crunchy on outside, soft on the inside. The frites here are freshly made on the premises and you can choose from an amazing range of sauces to go with your frites. Mustard mayo is a winner as well as the curry ketchup flavour. Small portion is €2.25, big portion: €2.75. Sauces are 50 cents extra.
6.Cafe Belgique
Amidst the tacky souvenir shops in the alleyways leading off Dam Square this cosy small pub was an unexpected find. Walking in here feels like a throwback to another time and era of Amsterdam. The graffitied walls lend a quirky vibe and you have over 50 Belgian beers to choose from. Price of beer is not so cheap: about €3.50 for a small glass of draft beer whose name I cannot remember. Come here for a wee drink and the atmosphere- you won´t regret it.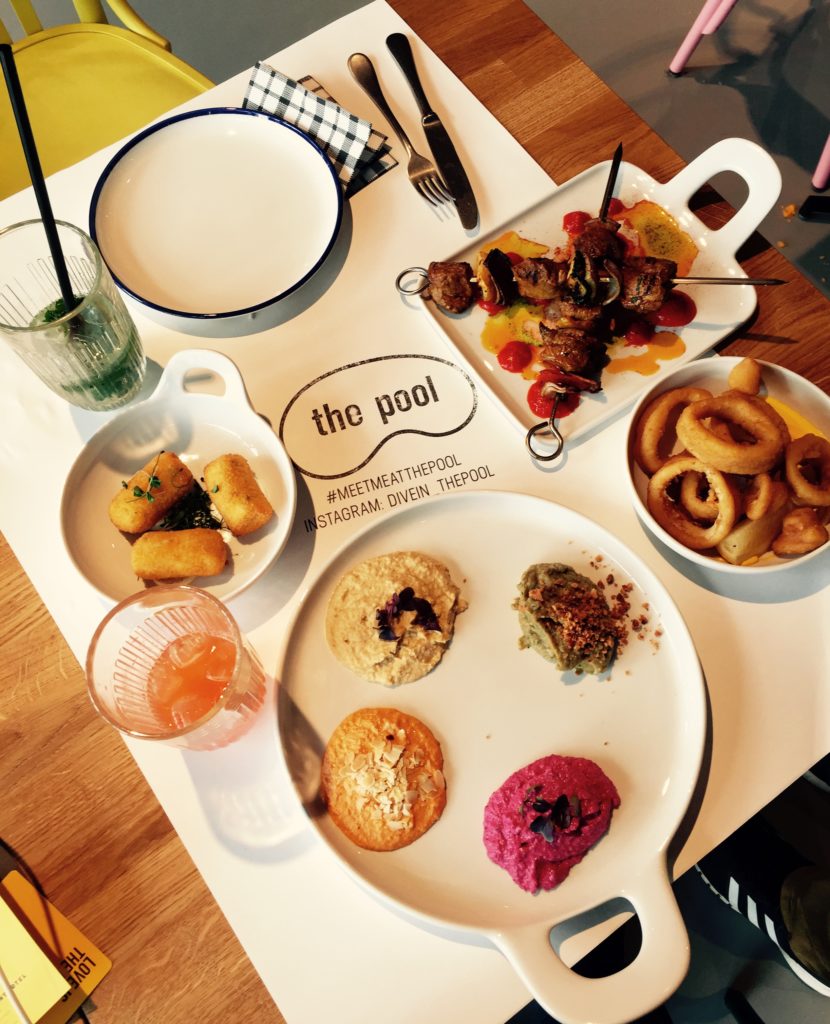 7. The Pool restuarant, the Student Hotel Amsterdam East
Situated in the lesser known but increasingly hip Amsterdam East on Wibautstraat is the Miami inspired ´Pool restaurant´(Wibaut­straat 131-A ) The resto is part of the new Student Hotel, a budget boutique hotel that is one of my favourite budget accommodation picks in Amsterdam alongside Clink Noord, Cocomama and the recently opened Ecomama boutique hostel. The restaurant has a very cheerful and colourful vibe. Staff are attentive and friendly. Cocktails The food itself is affordable and shareable. Everything we ordered was delicious. Highly recommend their Iberian style croquettes served with aioli (€4) Baba Ganoush and Hummus ( €5 each) spanish empanadas (€5) If you´re looking for a bigger plate of food, their pappardelle ragu (€11) or the citrus chicken with couscous is a winner.
Frankie´s recommendations
8.De Pizzabakkers
Ah, Pizzabakkers, you had me at "pizza and prosecco". This restaurant is possibly the very reason I failed to try out more Amsterdam restaurants as I found myself getting drawn back to it with its menu that focuses on, you guessed it pizza and prosecco. Admittedly, it's not the cheapest pizza in the city, but it's certainly the most affordable prosecco with prices starting at less than 3 Euros for a glass of prosecco and around 9 Euros for a (very yummy) pizza. Check the website for their locations across Amsterdam and make sure you book a table for weekend nights.
9. Abyssinia
It may seem a little strange that the first time I try Ethiopian food it's in the Netherlands, but that's actually how I like doing things so it was with great pleasure that I found out that Abyssinia was as affordable as it was tasty and filling. Served on a huge spongy pancake type bread and with another on the side, the main dishes, which start at around 12 Euros will fill you up until the following lunchtime, if you can eat it all of course. Best of all you're not only allowed to eat with your hands, it's expected and trust me when I say that it tastes even better washed down with the Ethiopian beer.
10. Moeders
Admittedly Moeders isn't the cheapest restaurant in Amsterdam but I think it does represent the most value for money and not just in terms of the portion size, which are bigger than the average person's head. Moeders, being Dutch for "mothers" serves up traditional, home-cooked Dutch cuisine with a little flair, a funky atmosphere and a lot of love, beaming down on you from all four walls of the restaurant that are covered in photos of "mothers". In fact, you can take a framed photo of your own mother to add to their collection, which they welcome. Main dishes are stodgy and full of flavour and impossible to finish, and when that comes at 15 Euros I think that's a budget happy meal.
11. YumiSushi
Of all the restaurants that I frequented in Amsterdam, this was where I went so often that they knew my name as well as my preferred beverage of choice. This typical rotating belt style sushi restaurant next door to Wagamama (which, by the way is overpriced and overestimated over in Amsterdam) serves freshly made sushi rolls, nigiri and maki with the cheapest dishes starting at 2,75 Euros. It's therefore quite easy to gorge yourself on raw fish for less than 10 Euros. Trust me, it's been tried and tested. Too many times.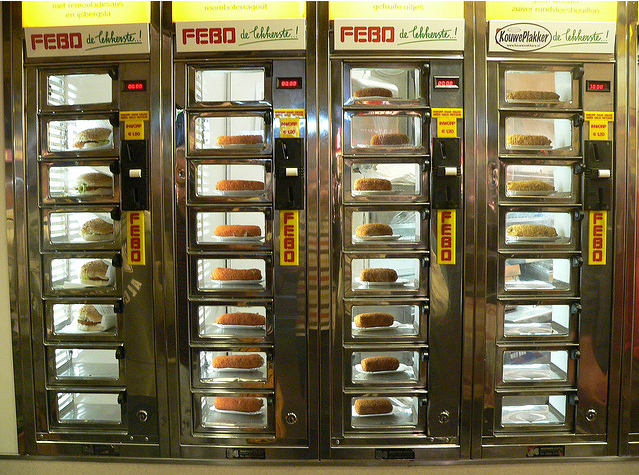 12. FEBO de Lekkerste
It would be sacrilege to write about budget eats in Amsterdam without mentioning Febo, the chain of vending machine style fast food restaurants that locals love to hate and hate to love, especially at 4am in the morning and they've just been kicked out of a closing nightclub. Surprisingly tasty fast food snacks ranging from burgers to the Dutch specialties of frikkandel (minced meat hot dog) and krokets all available at the deposit of a couple of Euros and the push of a button. As unappealing as it may sometimes look, FEBO de Lekkerste (which means FEBO The Tastiest) must be doing something right as it has 22 branches across Amsterdam.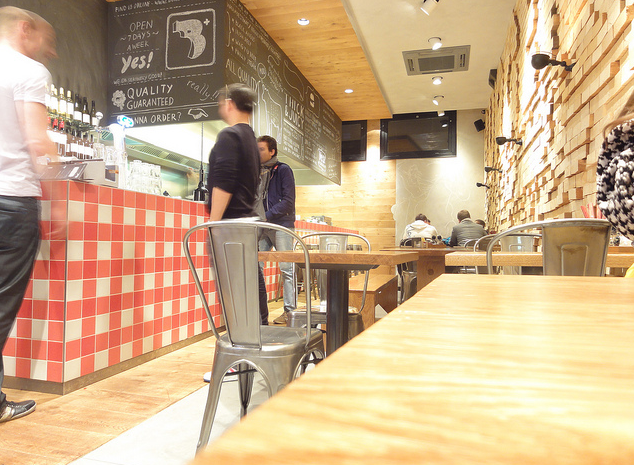 When my boyfriend comes in from a night out and tells me that he's just tasted the best burger in his life, I listen and then I say "Take me to you burger maker". Which is why I found myself devouring a Burger Bar burger on my very last night in Amsterdam, sitting outside on a bench in the pouring rain. But did I mind? Not at all, because it was indeed a mighty fine burger. (Possibly not the best in my life, but I think on the previous occasion my boyfriend was under the influence of something that is freely available in Amsterdam). For a fast food bar stuck in the middle of the Red Light District they take a surprising amount of care over their burgers and if you fancy splashing out you can even choose a wagyu beef patty. I lpersonally ove Burger Bar because they also offer brown bread buns, and obviously that then makes my 200g of beef and melted cheese (and fries on the side) healthy.
And here are some bonus tips for you…
If you stumble into a bar that has Bitterballen on the menu, try them!
It's unlikely they'll be more than 3 Euros and they are about as Dutch as orange clogs and are surprisingly filling (and addictive) so that's a cheeky extra budget eat tip.
Also visit Basis, a bar on Vijzelstraat, which welcomes you to bring your own food to accompany the drinks you then order. Basis even provides cutlery, microwaves and plates so it doesn't have to be sandwich, they'll also order in takeaway for you if you fancy splashing out a bit, all in the name of "gezelligheid" a Dutch term which literally means togetherness.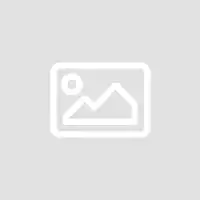 ---
Creative Commons License attribution
De Pizzabakers photo was licensed under Creative Commons License , courtesy of Jenzie.com, Abyssinia photo was licensed under Creative Commons License , courtesy of Abyssinia -FatPalate.com , Yumi Sushi photo licensed under Creative Commons License , courtesy of http://www.facebook.com/YumiSushiAmsterdam Febo photo was licensed under Creative Commons License , courtesy of http://www.flickr.com/photos/alkanchaglar/1240486060/ and Burger Bar photo was licensed under Creative Commons License , courtesy of Burger Bar http://www.flickr.com/photos/amsterdam-hotels/6346682147/