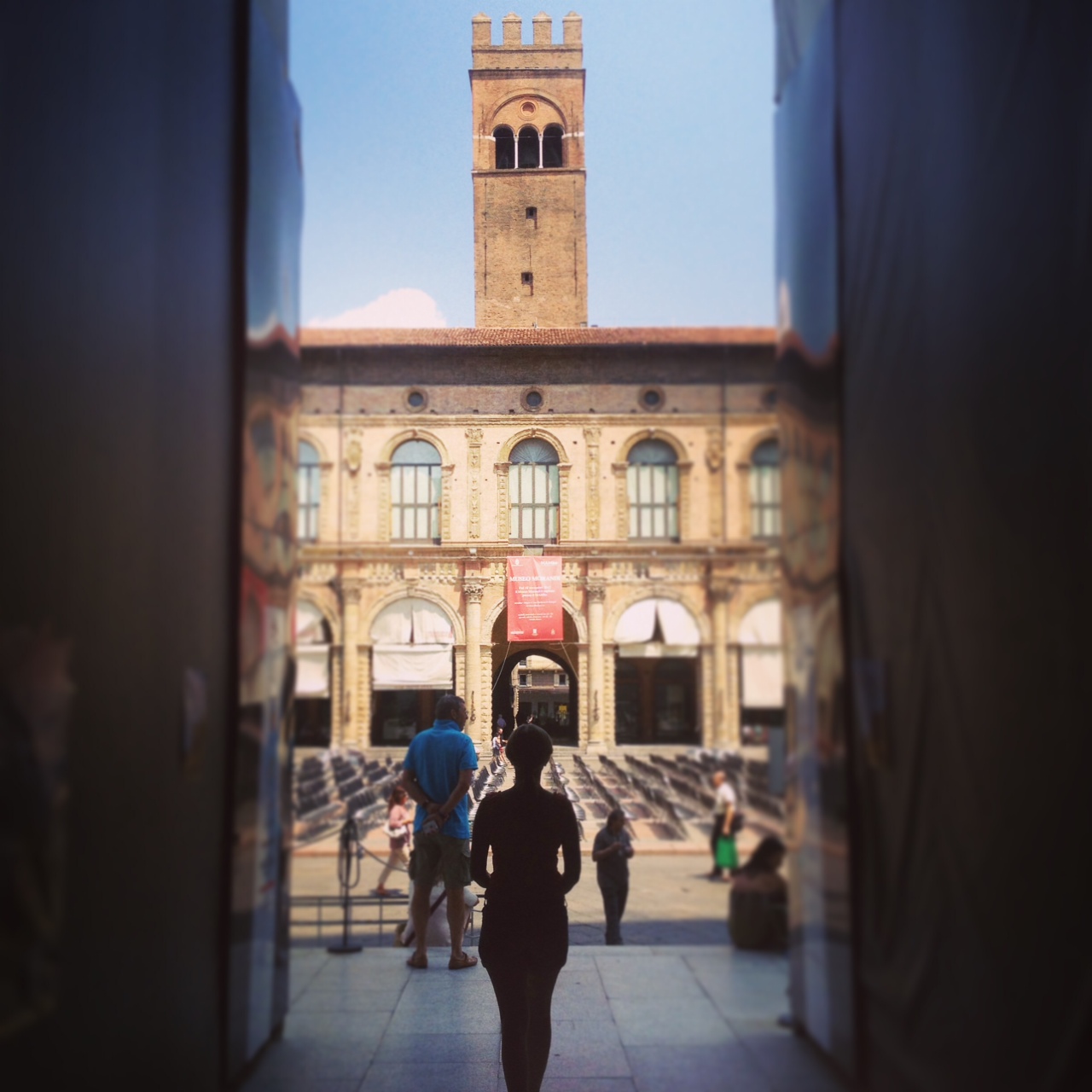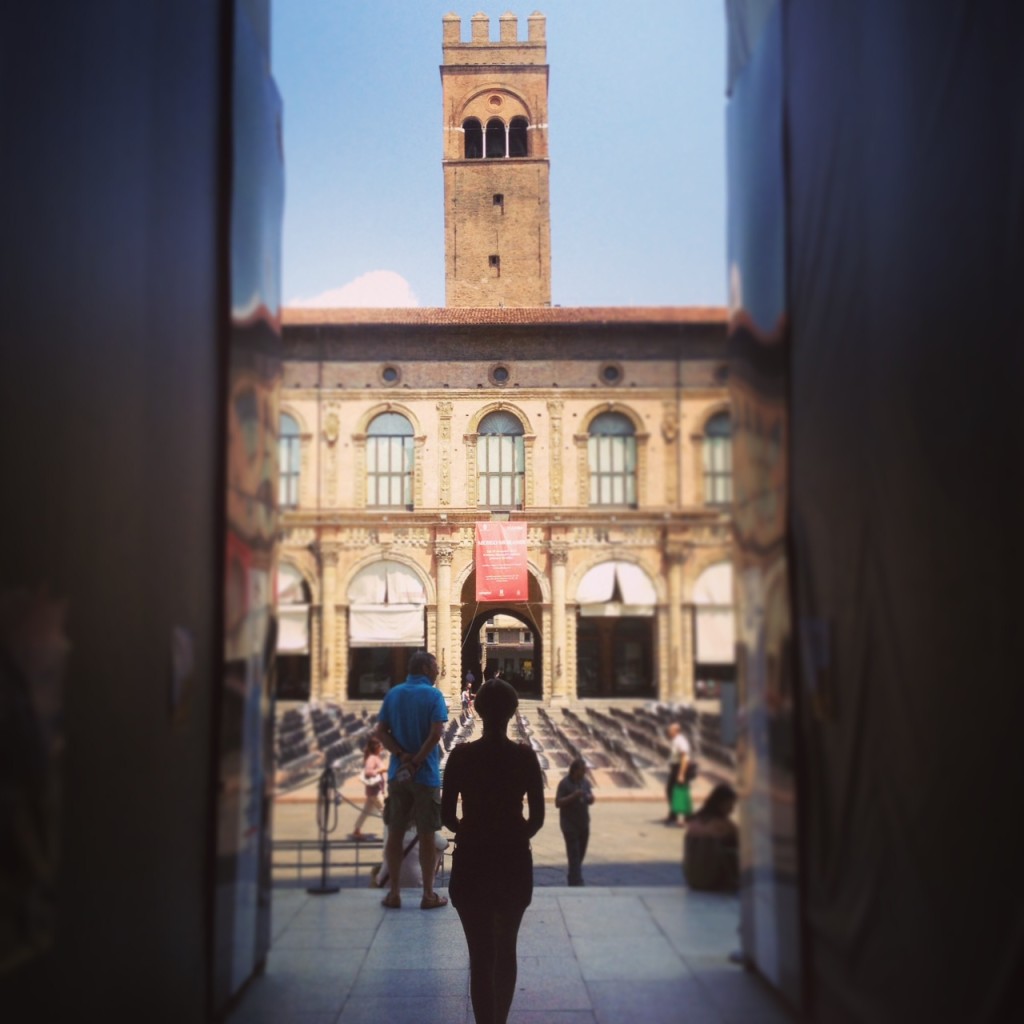 I like cities in which I can lose myself in.
I turn left. Then I turn right.  Get lost.
It's a game I play when visiting many cities.
I'm winning this time.
At every turn there is a revelation.
A nice café where the locals are gathered.
Not a tourist in sight.
Next turn. I am greeted by a beautiful historic church.
Angels sigh at me from heaven above.
I then find myself in a beautiful empty square full of cooing pigeons.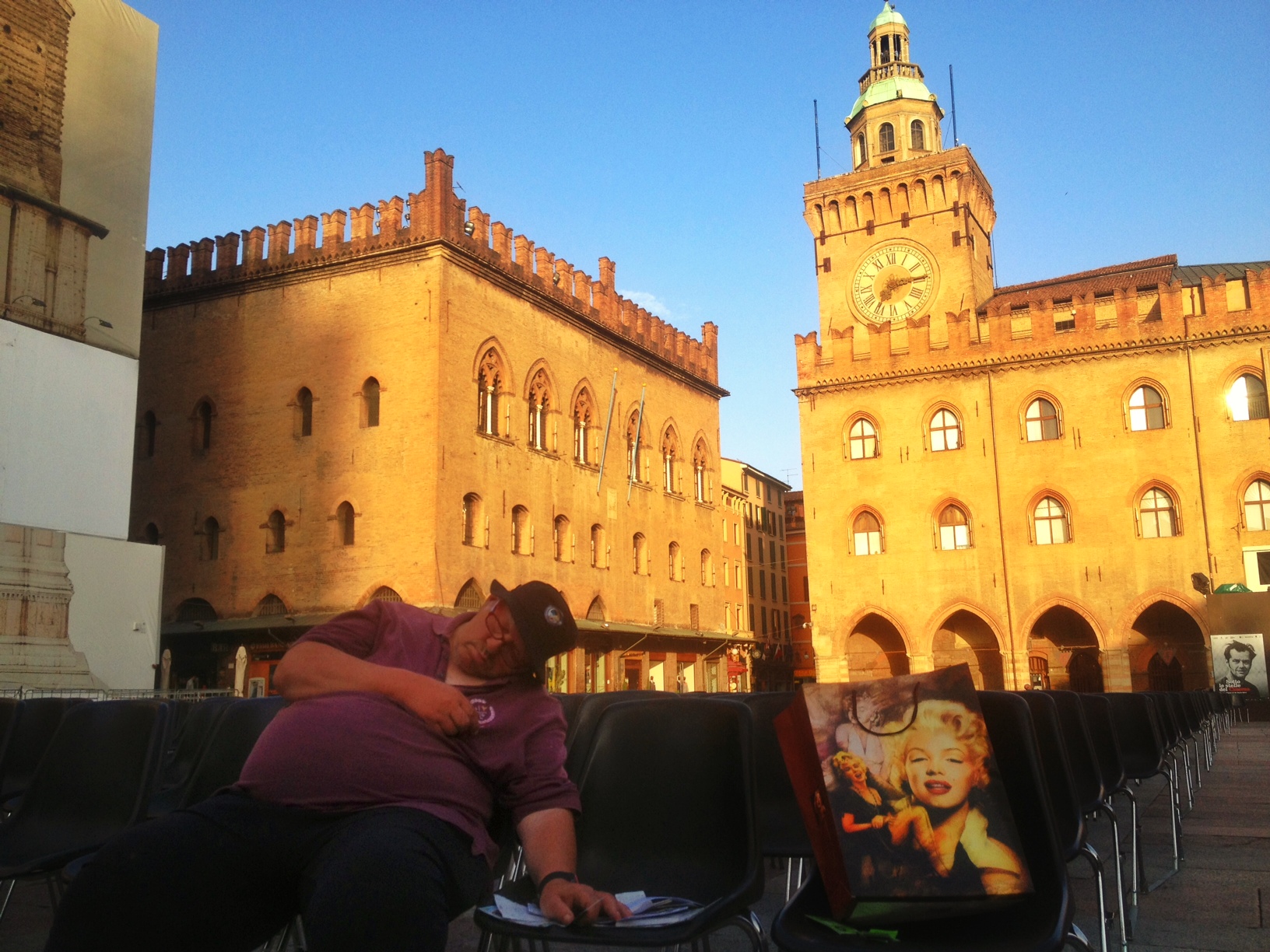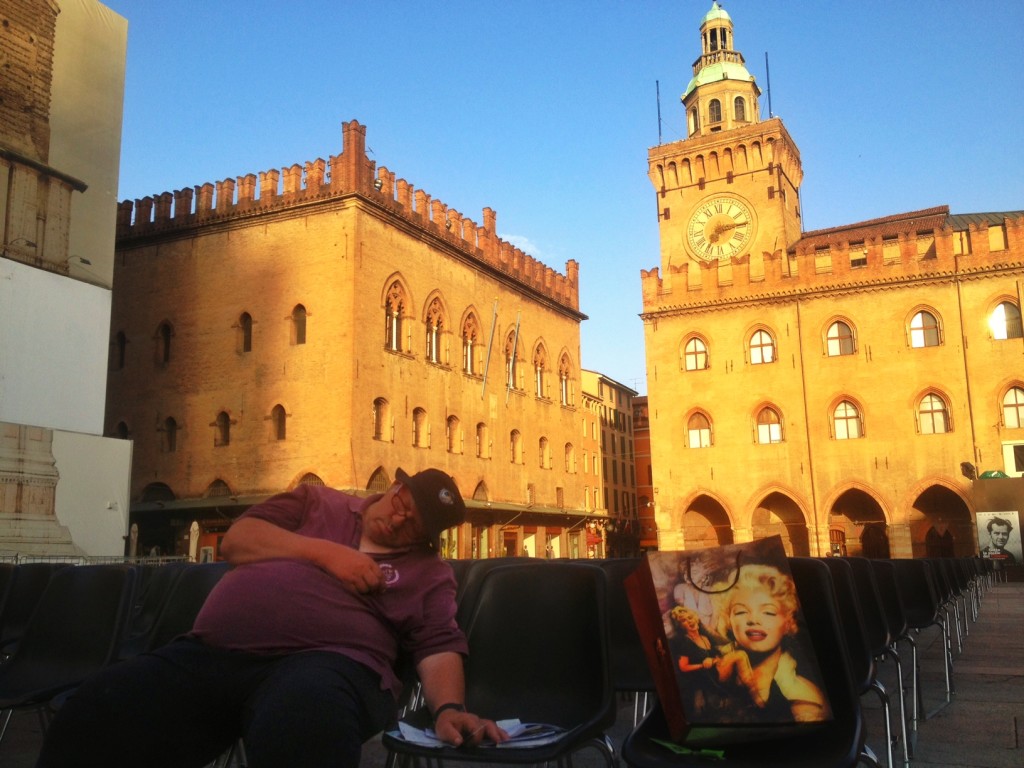 Plus the odd person having a nice old snooze on the chairs that are permanent fixture at this time of the year thanks to the Sotto le Stelle del Cinema.
Then on the next turn. It's chaos.
Traders are cackling away, setting up the market stalls.
The ripest, reddest tomatoes I have ever seen.
Crates of fish freshly caught from the Adriatic coast just a hundred miles away, sparkle like silver beads on the ice.
I walk by speciality shops selling the finest cured meats known to mankind- prosciutto de parma, mortadella and culatello di zibello.
My tummy rumbles.
Its 8am and I am already hungry.
But that's ok.
Because in Bologna, you can come here just to eat..
Welcome to my 48 Hours in Bologna, 'La Grassa'…the 'fat one.'
Ease a few notches on the belt.  Plus bring good walking shoes please. Not only to save money but your waistline too.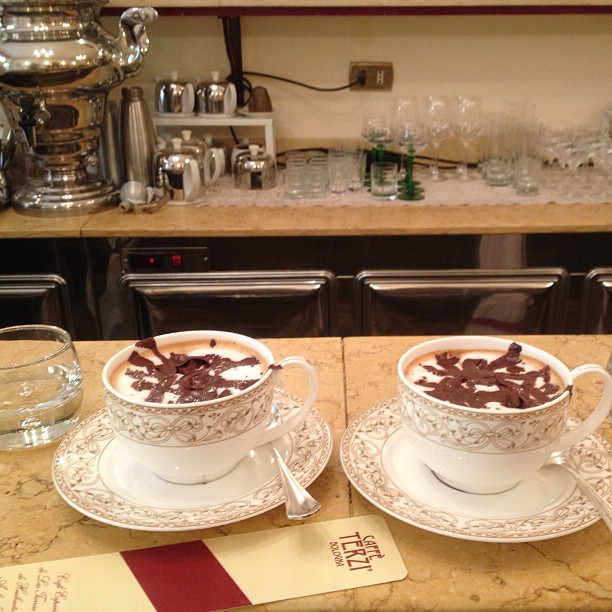 9:30am Caffe Terzi
I like to start a good holiday with a good cup of coffee.
For me the best cup of coffee in Bologna try Caffe Terzi (via Oberdan 10/D; 39-051-236-470; caffeterzi.it) where owner Manuel Terzi concocts the perfect cappuchino con cioccolatto-shavings of dark chocolate into a lovely not too frothy cappuchino really is the stuff of dreams.
Cost €1.50 Tip: Sitting down there is a cover charge of €2 so better off drinking at the counter
Top tip Turn left. Turn right? Ditch the map in Bologna. Like any classic Italian city, the whole joy of a visit to Bologna is getting lost and losing track of time and space.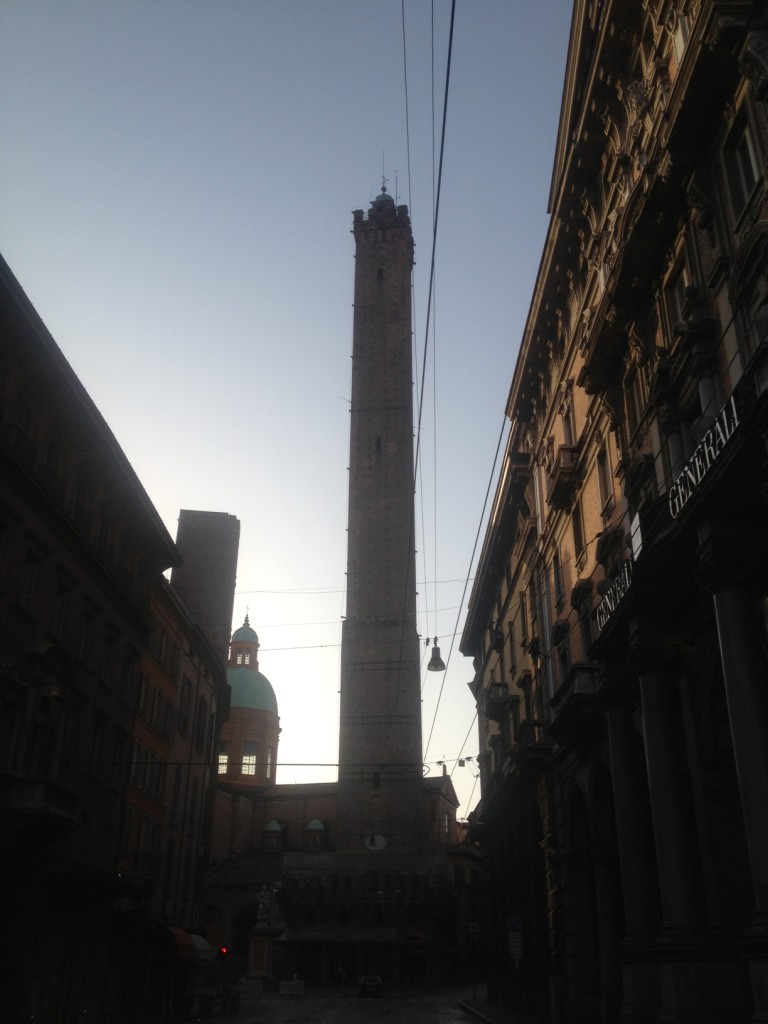 10:30am Via Emilia and the Due Torri
Sooner or later you will find yourself on Via Emilia which is an excellent reference point to any adventure in Bologna. 2200 years old,  this is the original roman road that connected Rimini with Piacenza. A grand boulevard, flanked by historic colonades and a string of designerwear shops,  at its crown lies the spectacular 318 feet tall Torre degli Asinelli, the symbol of Bologna and the perfect point to start your adventure.
When you look at these awe inspiring towers, remember these twin towers were kinda like the Manhattan of their age. They marked the gateway to the city. The towers were symbols of prestige to their owners. Higher, the more prestigious. To the point where they started groaning under the weight of gravity and started leaning. At one point they were 100 of these towers so you can imagine how breathtaking the city skyline must have been like. Now only 20 of these towers exist. It's a 498 step climb to the top but once you've made it to the top you are rewarded with stunning views of Bologna and the surrounding countryside.
Cost: €3
12pm Gelato No 1-Gianni
The perfect way to reward your epic climb is by having a gelato at Gianni. For me personally it's not the best gelato in the city but still is pretty epic compared to the gelato I've tasted anywhere in the world. You can choose from flavours like ricotta, mascarpone , cocoa, pistachio, nocciola, crema, chocolate, coconut or if you're looking for something light and fresh, go for their strawberry and lemon sorbet.
Cost: For as little as €2 you get a choice of 2 scoops.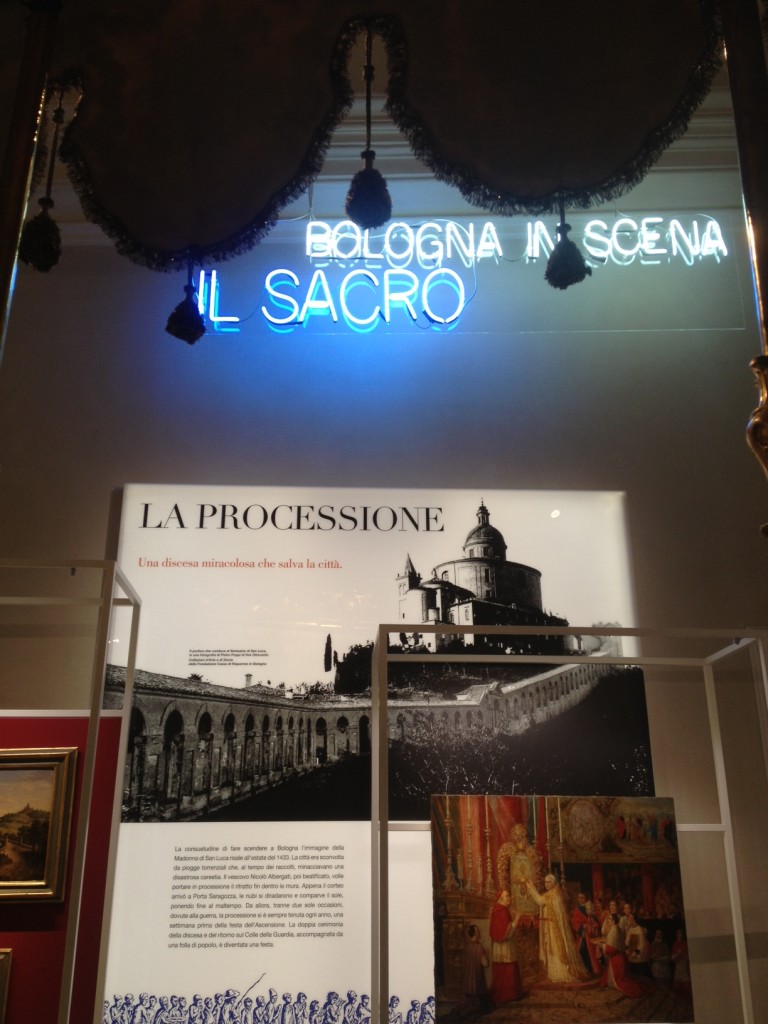 12:30pm Museum of History of Bologna
My next stop is just a few minutes walk to the brand new Museum of the History of Bologna housed in the beautiful Palazzo Pepoli. The museum condenses the 2220 years of the city's history into a few hours helping you retrace the amazing historical, cultural,  artistic and scientific heritage of the city of Bologna.
Cost: €5
Top tip Make use of the excellent free English Audio Guide which guides you through the museum. The museum also has a very nice café that does a decent lunch menu plus offers free wifi.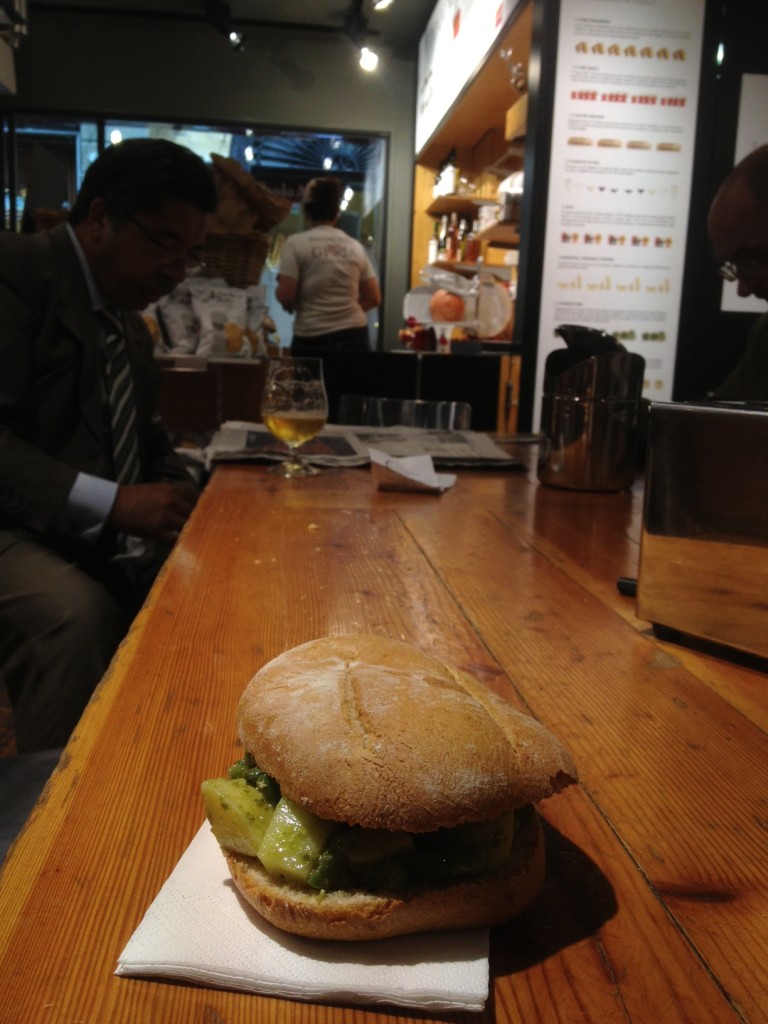 2pm Eataly
I love a place that is filled with books and smell of great coffee. When you add to that the smell of delicious Italian food to that equation, you have quite an unbeatable combo. Unwittingly I walk into Eataly, a chain of Italian gourmet restaurants that lies in the midst of the chaos of Mercato di Mezzo. They have an excellent wine bar and restaurant upstairs but if you're looking for a quick but tasty bite, pop into the deli downstairs. I grabbed a delicious sandwich with potatoes, beans dressed with some olive oil and pesto. Simple but so damn tasty. Italy in one bite.
Cost: €2.80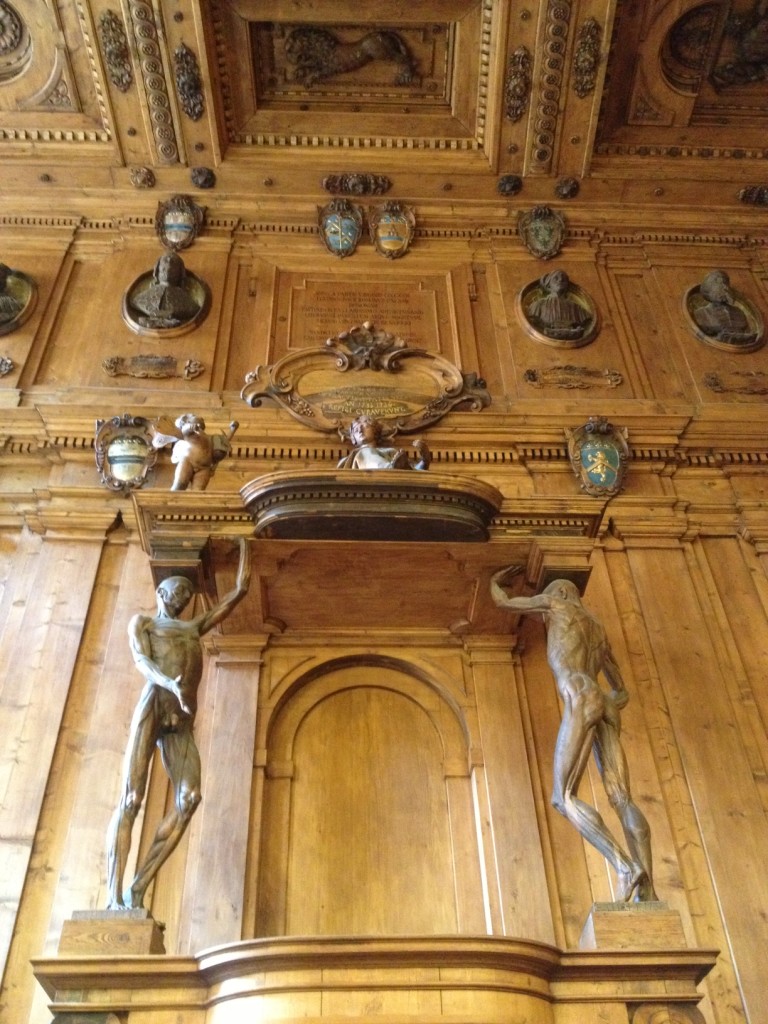 3pm Palazzo Archiginnasio
My next stop is probably one of the most important, historic buildings in Bologna- the Archiginnasio, home once upon a time to the oldest university of Western Europe ( 1088 )- the University of Bologna. Present day it functions as a library.
However the main draw for visiting here is the wooden Teatro Anatomico.
It's quite morbid and fascinating at the same time sitting on the benches of the theatre gazing up at the skinless humans of Enrico Lelli overlooking the dissecting table. Dating from 1637, this was the first university to allow dissection of the human body.
Cost: € Free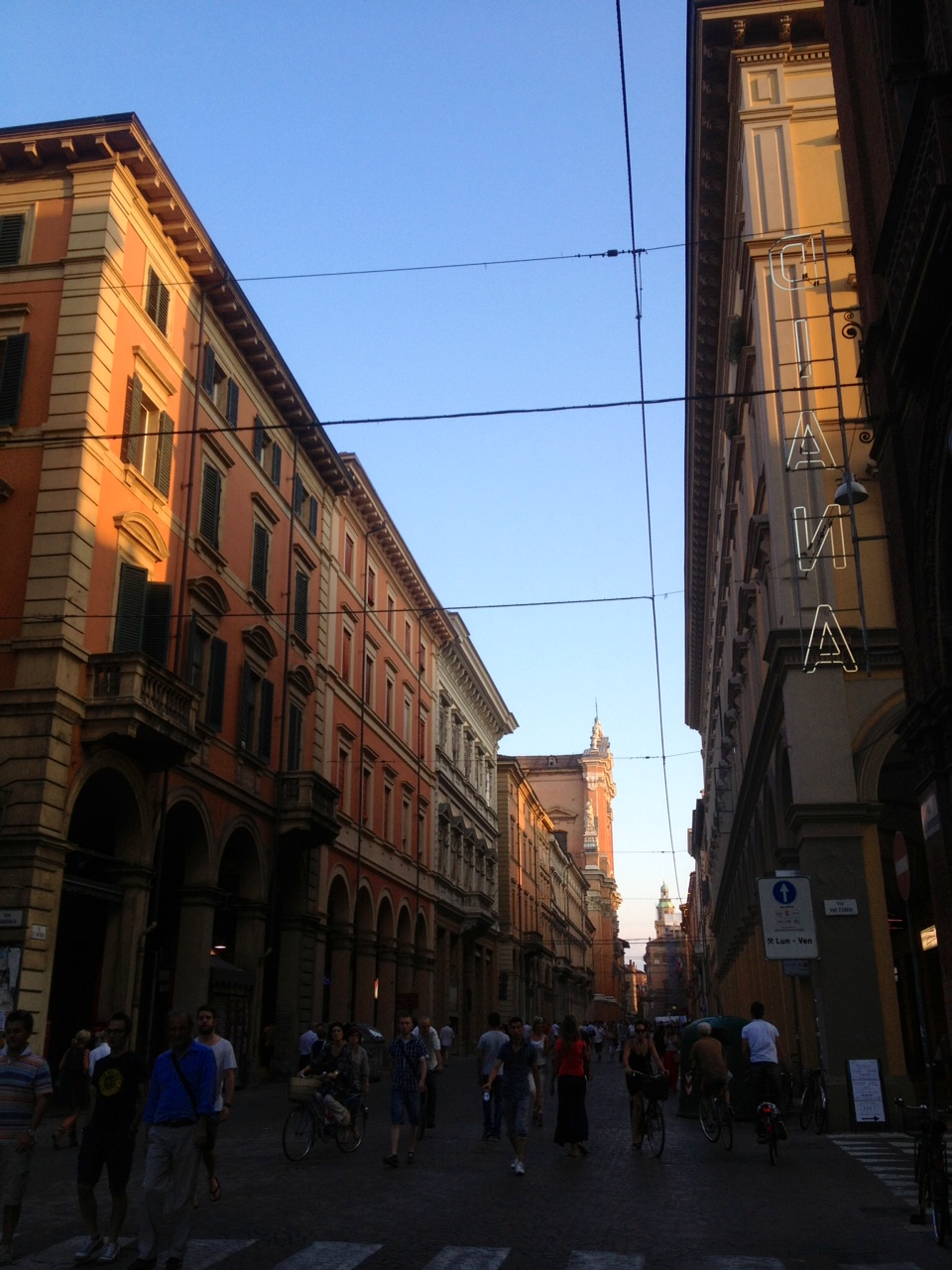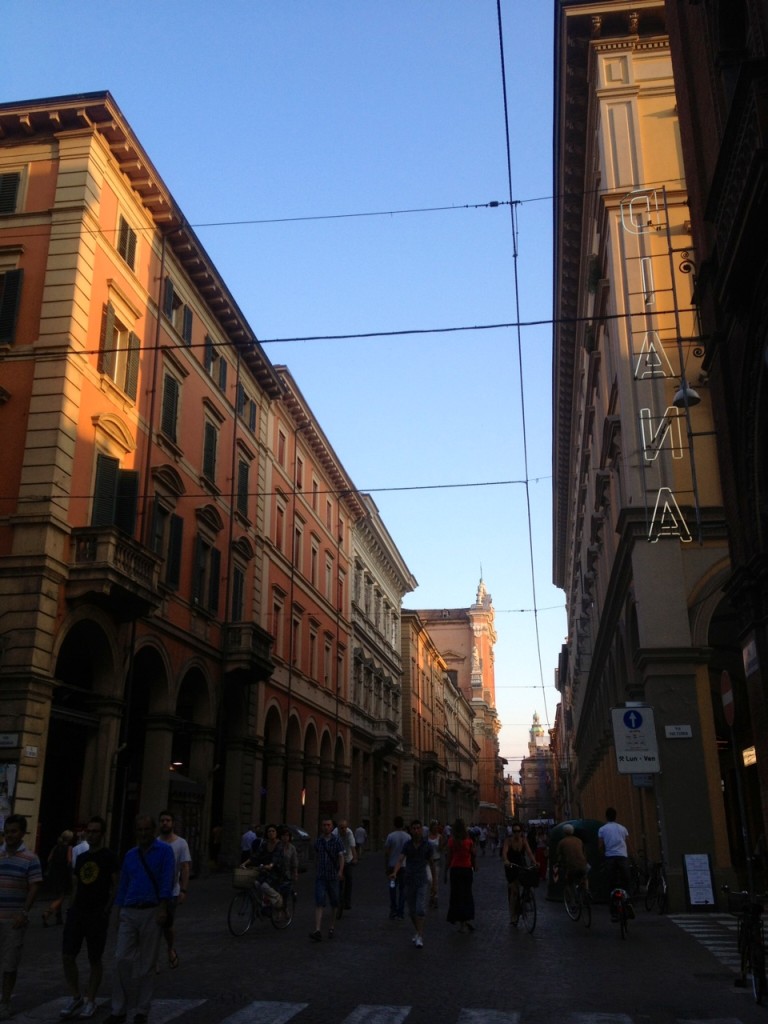 4:30pm Passeggiatta , Via Indipendenza
Shops remain closed here between 1 and 4:30pm. As the sun sinks and shadows lengthen, twist your way back to the 'high street' of Bologna- Via Indipendenza where you can indulge in a spot of window shopping, admiring the mix of local and international fashion brands. Suddenly, the street starts filling up with elegantly dressed locals and you're an active member of the famous Italian tradition of the passeggiata. People sip coffee under the arcades, watching the flow of humanity. Day or night, walking this street, under its beautiful arcades is one of my enduring memories of this city.
Top tip: If you're visiting Bologna on the weekend, on Saturdays, the historic square is closed to any form of traffic. Via Indipendenza is then perfect for pedestrians.
5:30pm Osteria del Sole
Perfect time for another pit stop. Duck into the maze of streets of the market and locate 13, Vicolo Ranocchi where you find the locals spilling out into the street from the city'd oldest wine bar, Osteria del Sole which has been serving thirsty locals since 1465. The great thing about this place is that it's unprententious, a relaxed vibe with a great mix of people from all walks of life. You can bring your own food here and have a inexpensive picnic with some gourmet treats from the Quadrilatero. Wine by the glass, red or white, is just €2. Last time I came here I had an excellent Pignoletto. Have a few glasses as the day melts into night.
Cost: Two glasses of Pignoletto: €4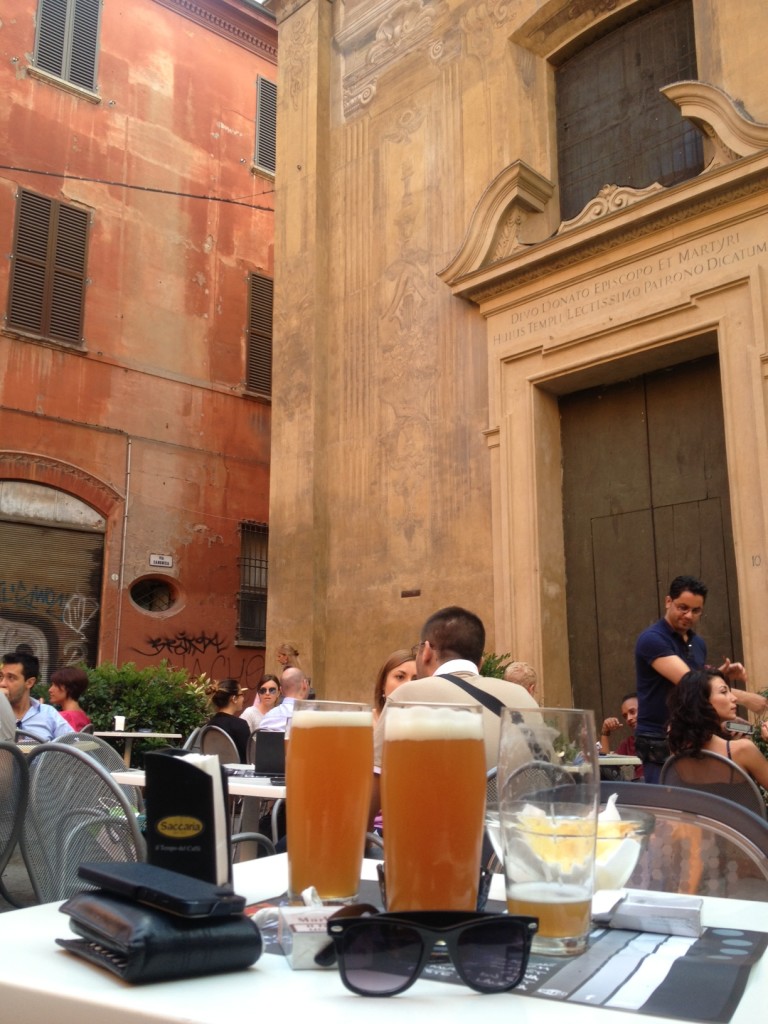 6:30pm Aperitivo at Lab Sedici
In the evening, Via Zamboni just a stone's throw from the Due Torri is choked with students from the university indulging in the tradition of apertivo –evening drink or cocktail that in many places accompanied by a buffet. The tradition of aperitivo has it's roots in Northern Italy so it's something I would definitely recommend you try on your trip to the region. For the cost of a drink, you are allowed to enjoy a plate of food from the buffet. While it's not meant to be a substitute for dinner, I have often been guilty of having the extra plate and overindulging myself. In Bologna, Lab Sedici is one of the best haunts for a traditional aperitivo. They offer an excellent range of beers and cocktails. I enjoy a glass of DAB- Dortmund for €6 and help myself to the buffet. Magic.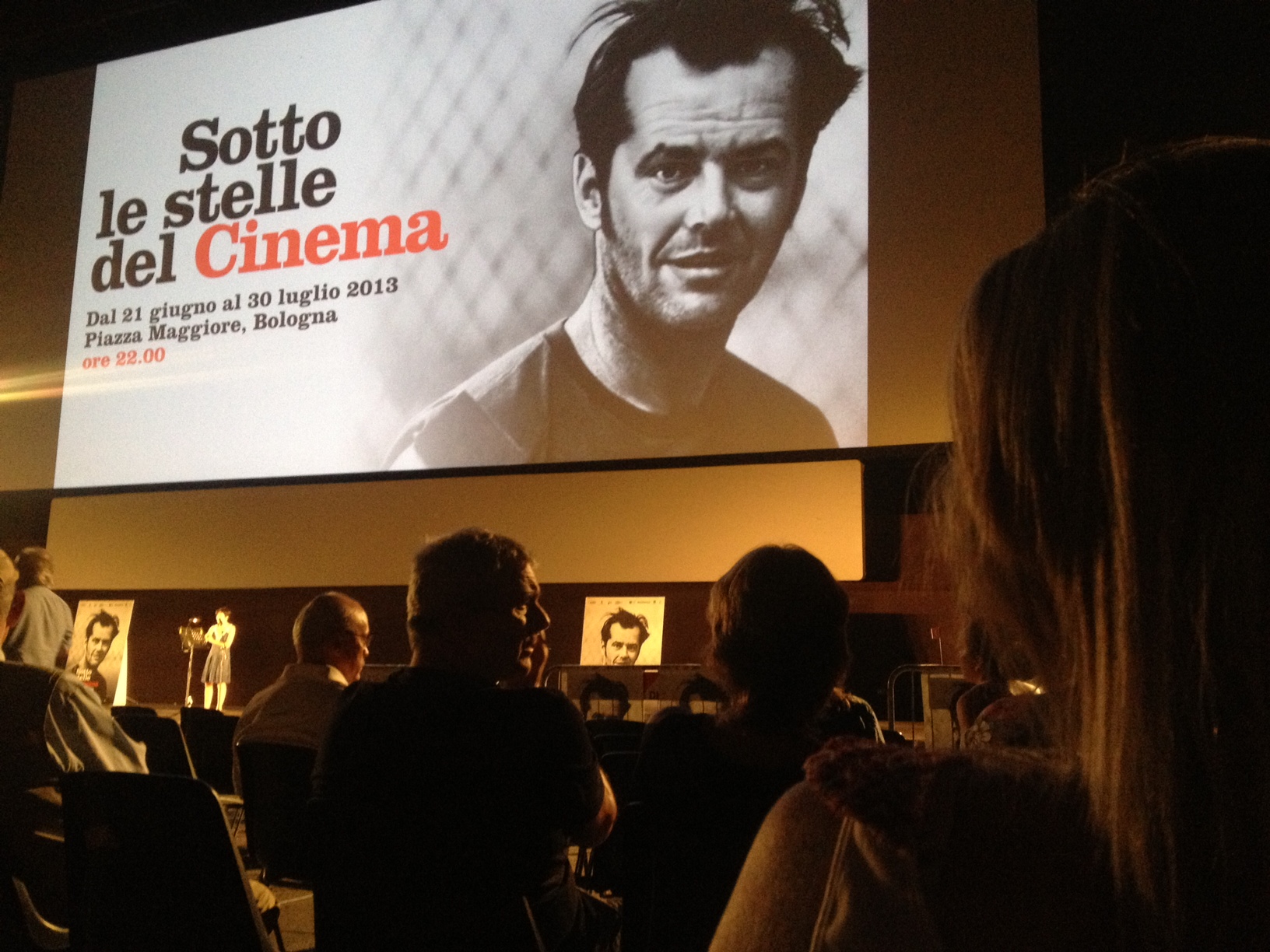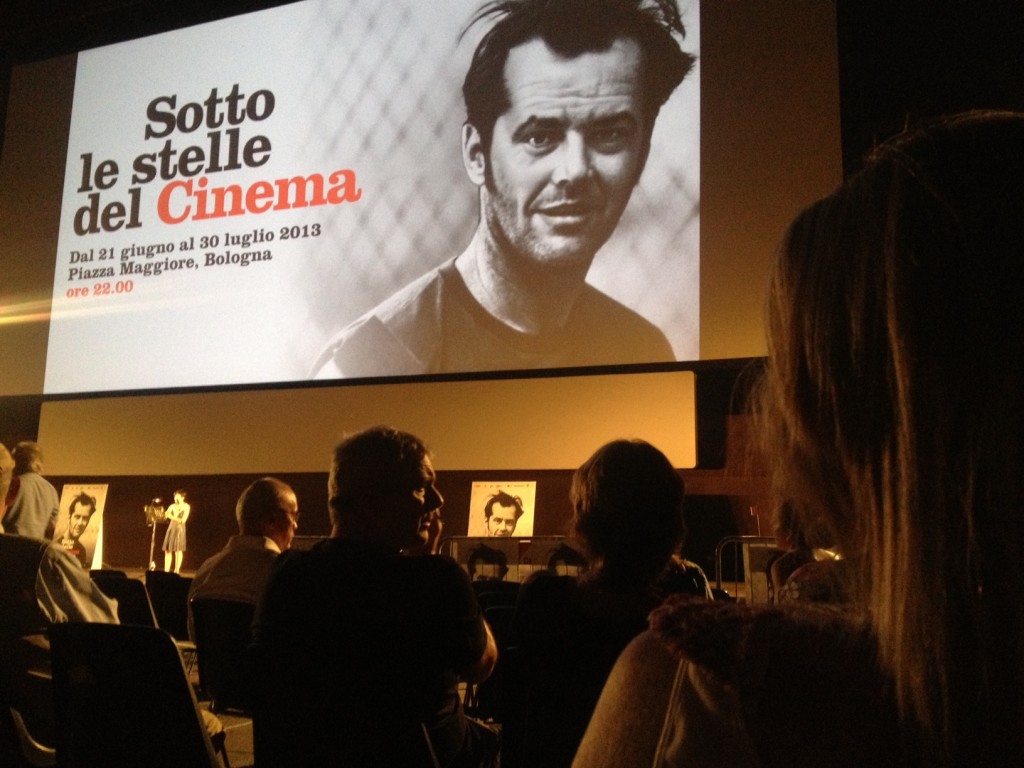 9:30pm  Sotto le Stelle del Cinema– One magical night of forty nights in Piazza Maggiore
If like me, you love movies, the best time to visit Bologna is from the end of June till the end of July when the annual open air film festival-Sotto le Stelle del Cinema is held in Piazza Maggiore. It's free for locals and tourists.
It kicks off at 10pm so I grabbed  a seat around 9:30pm. I brought my own bottle of drink along with some snacks I had picked up from the market earlier. It's quite indescribable, intoxicating the feeling of watching a movie on the big screen in the middle of a historic piazza at night, thousands of people sitting in pin drop silence, stars sparkling above your head.  At this year's festival they showed some classic movies of Jack Nicholson, Jerry Lewis, as well as some of great protagonists of the cinema who were both directors and actors, like Charles Chaplin, Orson Welles and Vittorio De Sica.  Perfect ending to a great first day in Bologna.
Cost: € Free
6:30 AM A pilgrimage to Santuario della Madonna di San Luca
2nd  day is an early start and kicks off with a unique pilgrimage. Bologna is the city of porticos and walking under these historic colonnades is one of the highlights of any trip to this city. The perfect way to admire these iconic porticos and also walk off the excesses of the day before was to undertake the unique journey of travelling under 666 arches (the longest arcaded walk in the world) to the UNESCO world heritage site of Santuario della Madonna di San Luca (Via di San Luca 36) a beautiful basilica that lies outside the city perched on a hill. The walk to San Luca begins at the arches at Meloncello. It's quite a hike but quite a spiritual experience.
Once you reach the basilica, you are rewarded with beautiful view of the green, gentle rolling hills of Emilia Romagna. Perfect way to start a day in Bologna.
Hours of opening: 7am-12.30pm & 2.30-7pm Apr-Sep, to 5pm Oct-Feb, to 6pm Mar
Cost Entrance free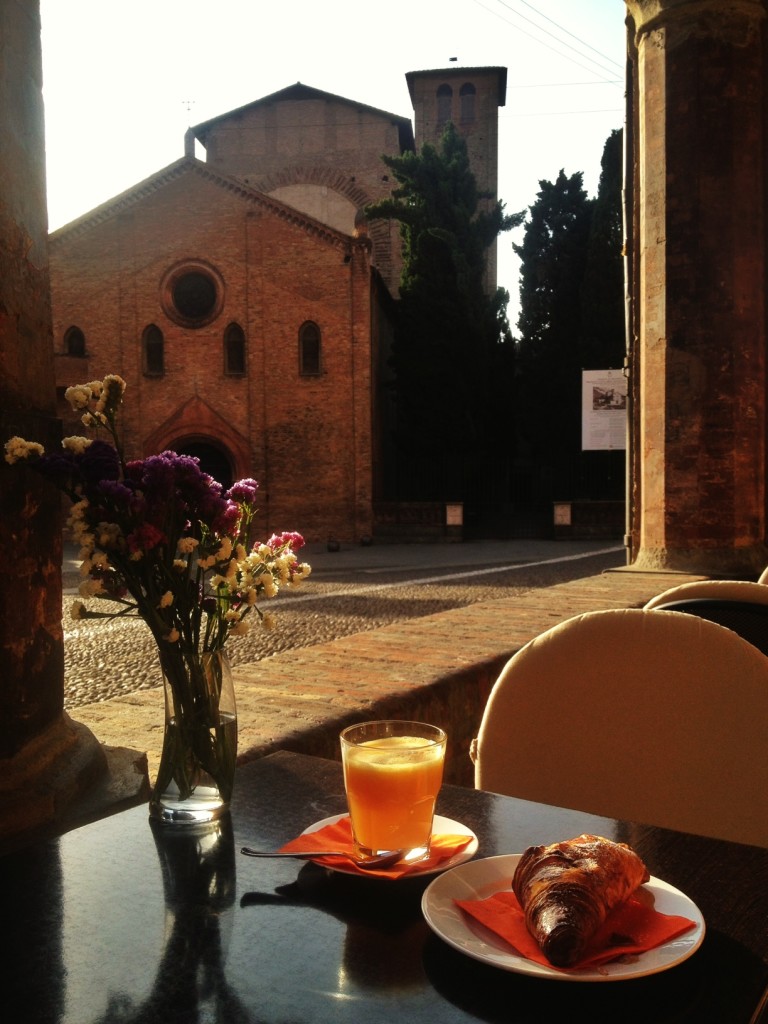 9:30 AM- Breakfast with a view: Caffe delle Sette Chiese
The perfect way to relax after the long walk is to have breakfast at probably the most scenic points of the city and watch the sun rise over the city. Devoid of the crowds, the Piazza Santo Stefano is one of my favourite piazzas in Italy with the beautiful church of Santo Stefano in the foreground, flanked by the beautiful colonnades. I settle down to a breakfast of a fresh orange juice and the crispiest, freshest salted croissant you could taste.
Cost: €4.50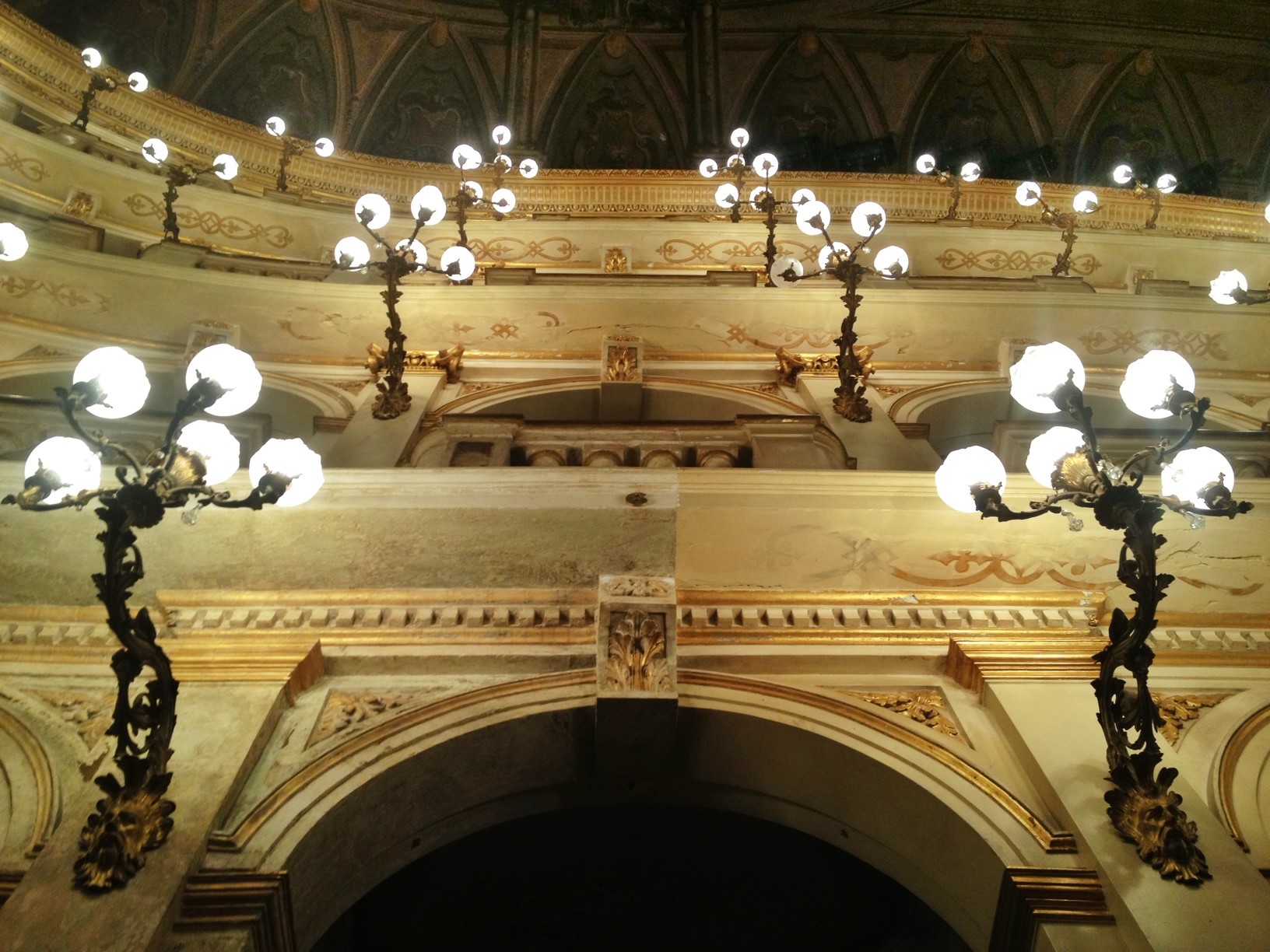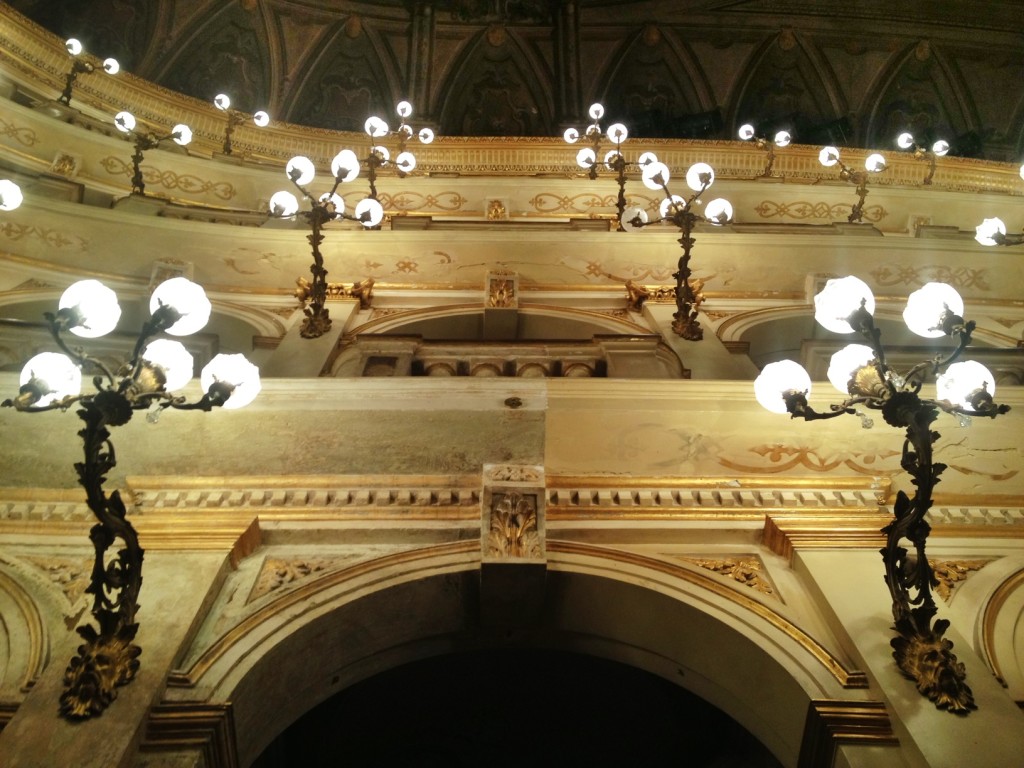 11AM Teatro Communale
Once I'm back in the city I decide to checkout the Teatro Communale. Note that the theatre is NOT open for public viewings during the day. However if you politely ask the security personnel via the side entrance to the teatro, they may let you in a for a quick viewing. If you never ask, you never know right..?
It's worth the short visit. The beautiful lights of the 250 year old Teatro di Comunale Bologna glimmer in the dark. I feel a tingle down my spine, just admiring the theatre, empty but still regal. This is the oldest publicly owned opera house in the world & the 2nd oldest opera house in Italy after Naples San Carlo. Situated in the centre of the University district you can catch everything from Verdi to Wagner or classical music performances from as little as €10. Check www.tbco.it for details of upcoming performances.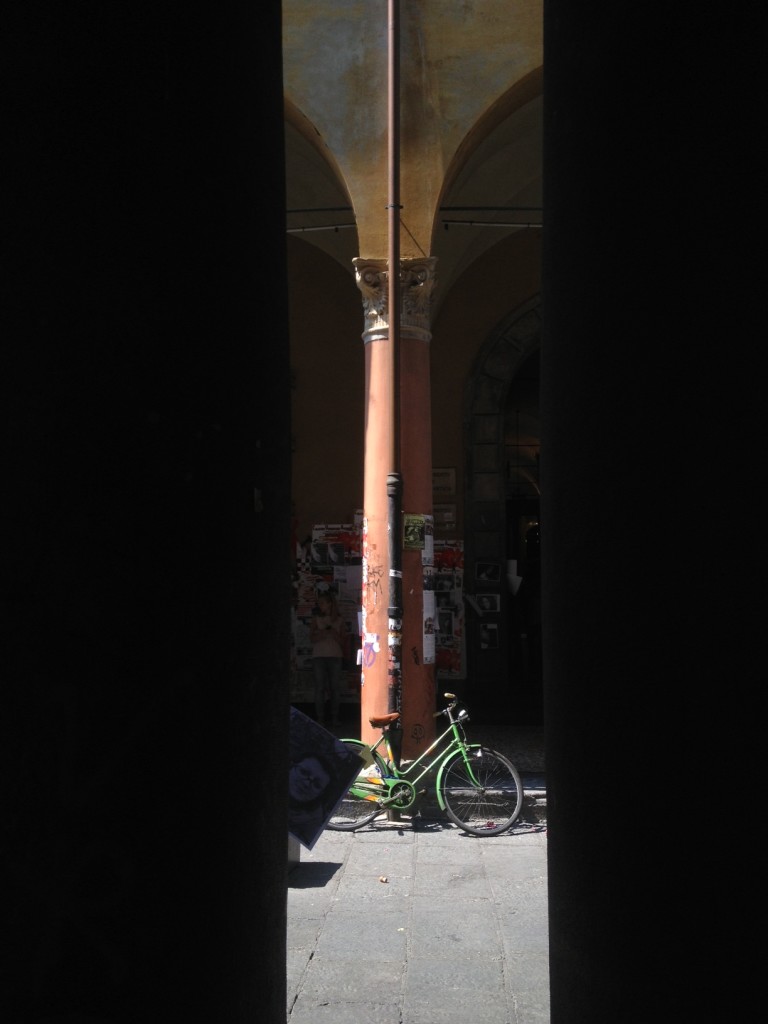 11:30am Walking down Via Zamboni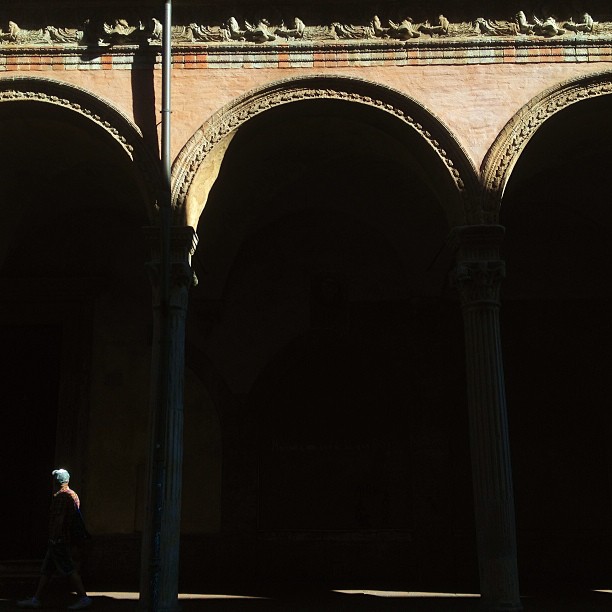 As I noted before, the real charm of Bologna does not lie in a museum but in the simple act of walking under the row of porticos and just observing the flow of everyday life. One of the most captivating streets to catch the flow of life in this city is Via Zamboni which besides being home to the Teatro Communale is also home to the University of Bologna.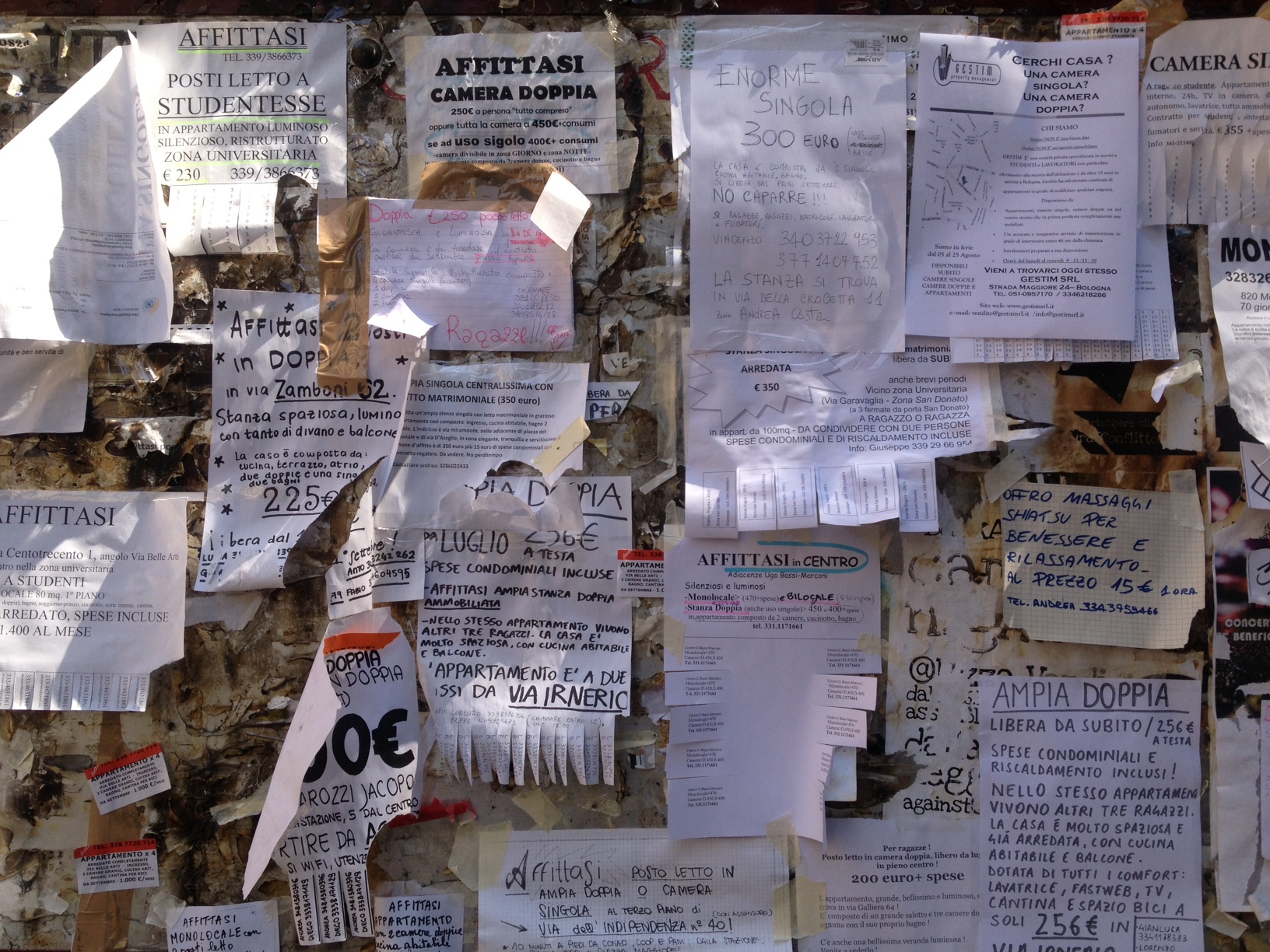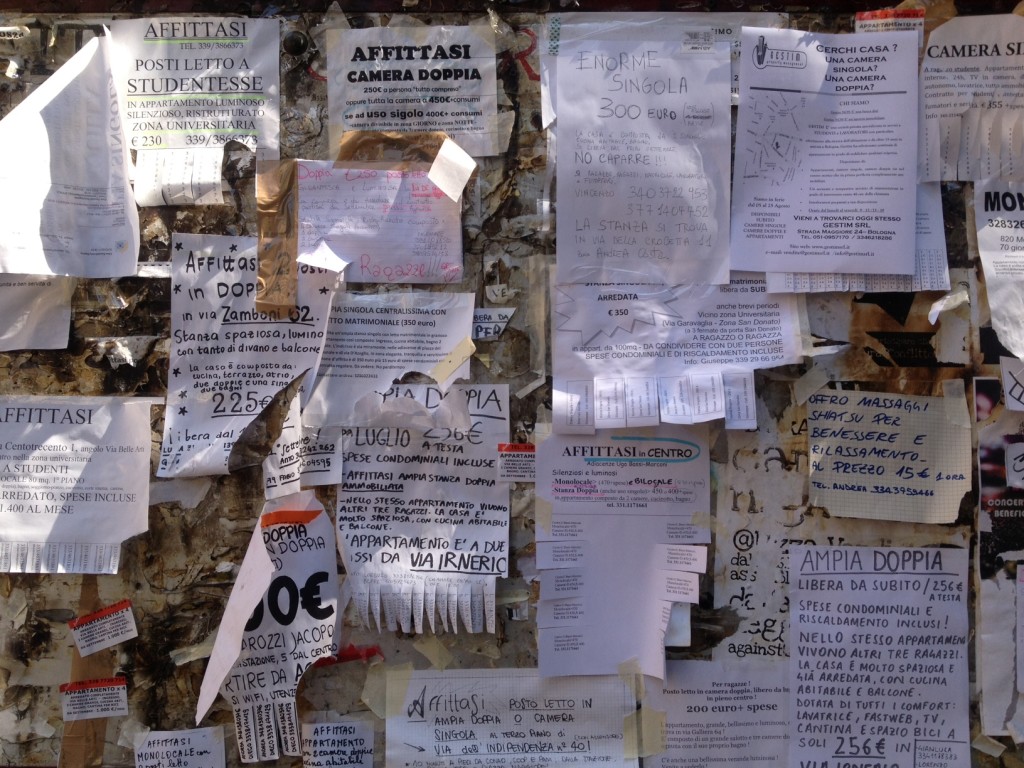 Be curious. Be bold. I spent some time walking into each of these century old buildings and spending time reading the student noticeboards ( Esp the room vacancy notices. €200 a month? With bills. Almost makes me want to become a student again and live in Bologna)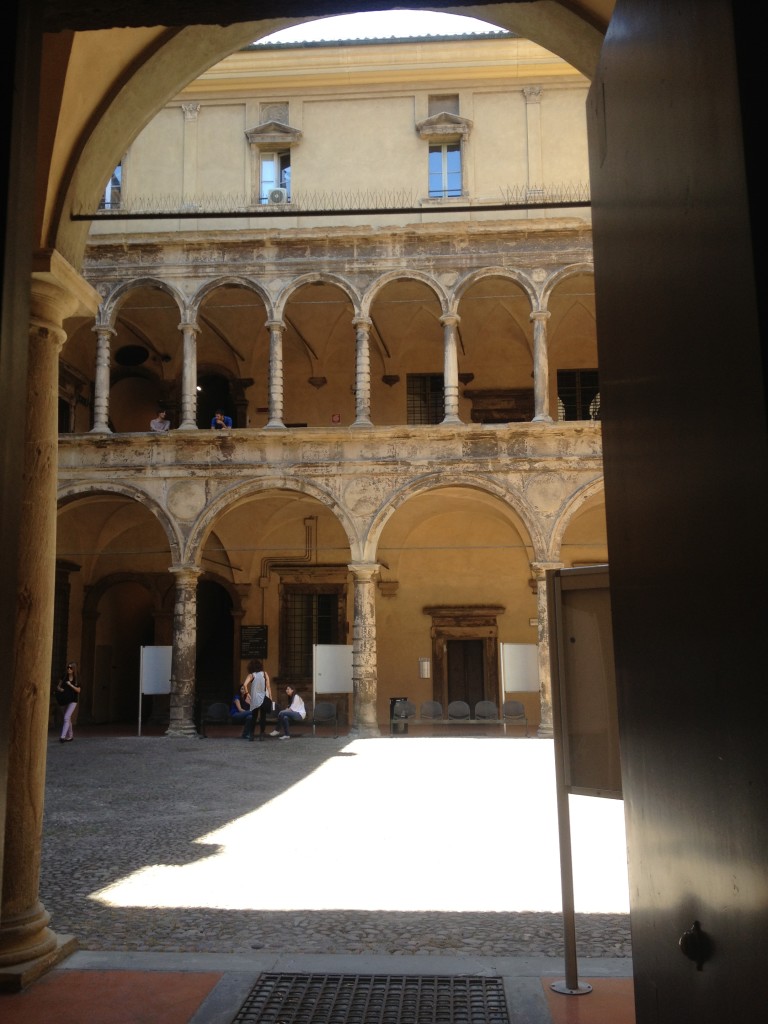 My curiousity was rewarded when I walked into the Faculty of Jurisprudence to discover this beautiful open courtyard filled with students sitting around.
Many of them studying their notes ( final exams ) and some were just chatting away. Brought back memories of my university days in Scotland.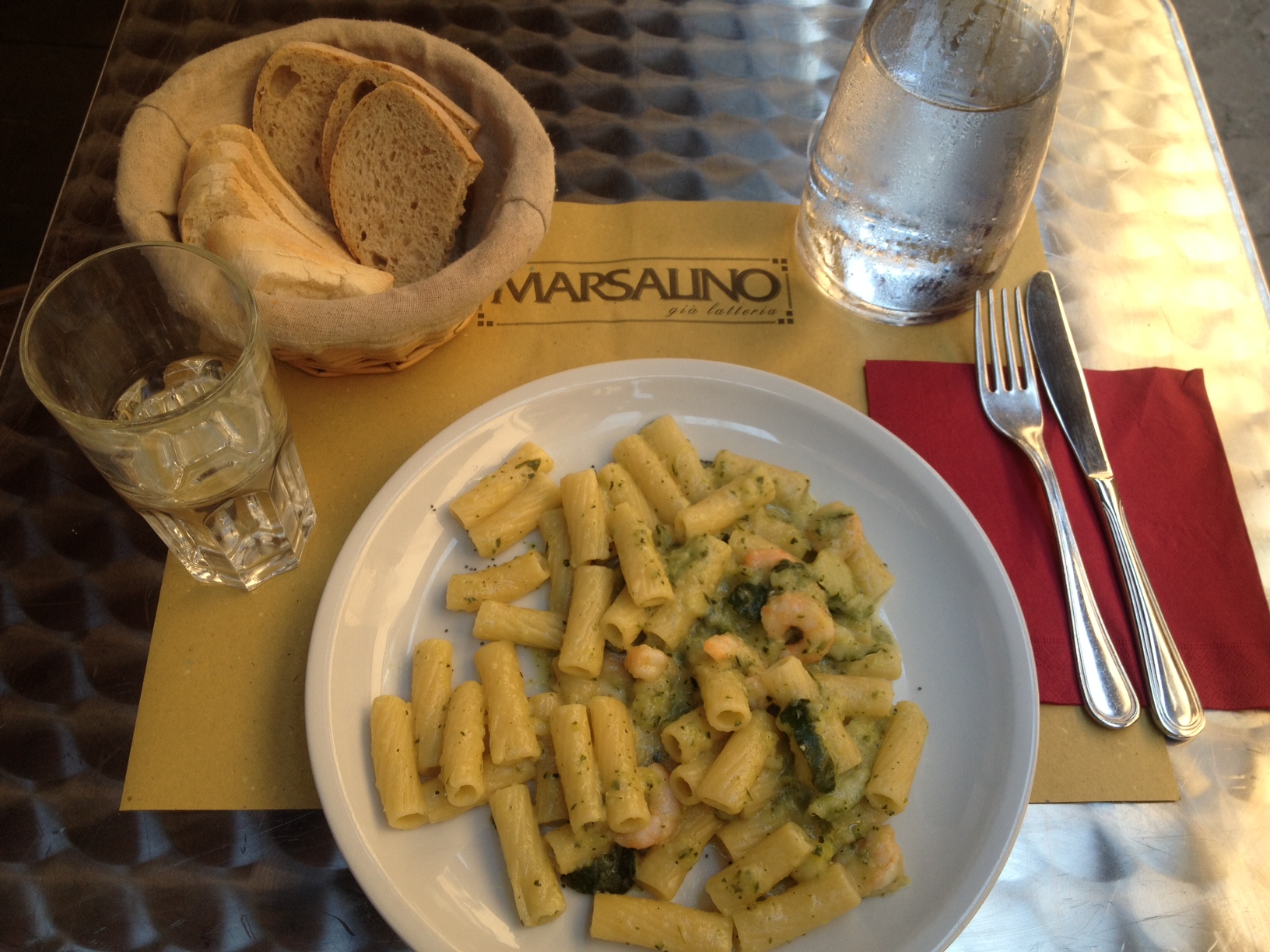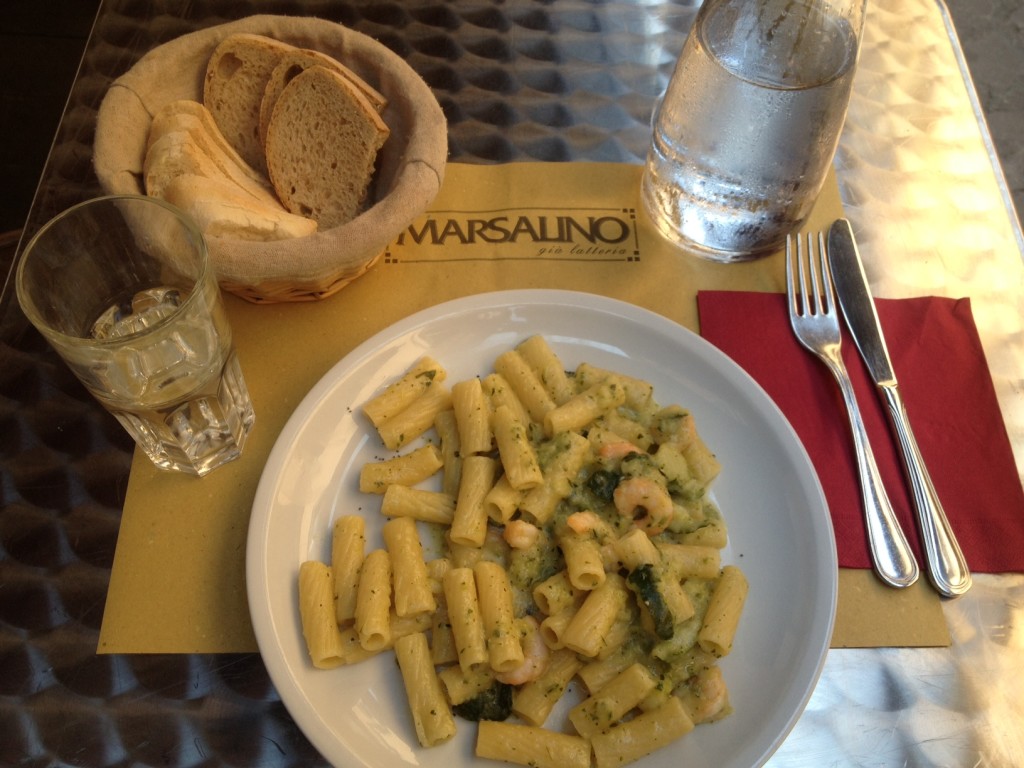 1PM Lunch Marsalino
Tucked away in a quiet corner of Via Marsala ( just a few minutes walk from Via Zamboni )with a few tables outside, Marsalino ( Via Marsala,13)  is a vibrant, very pleasant restaurant. The menu offers a few but excellent choices. All the food is locally sourced following the zero-kilometre principle.Mains for lunch range from €6-€7 euros. I enjoyed an excellent rigatoni with zucchini and shrimps. For dessert, I went for their excellent homemade chocolate cake (€3.50) Waiting staff are happy, friendly people. Excellent wine list too.
Cost: €10.50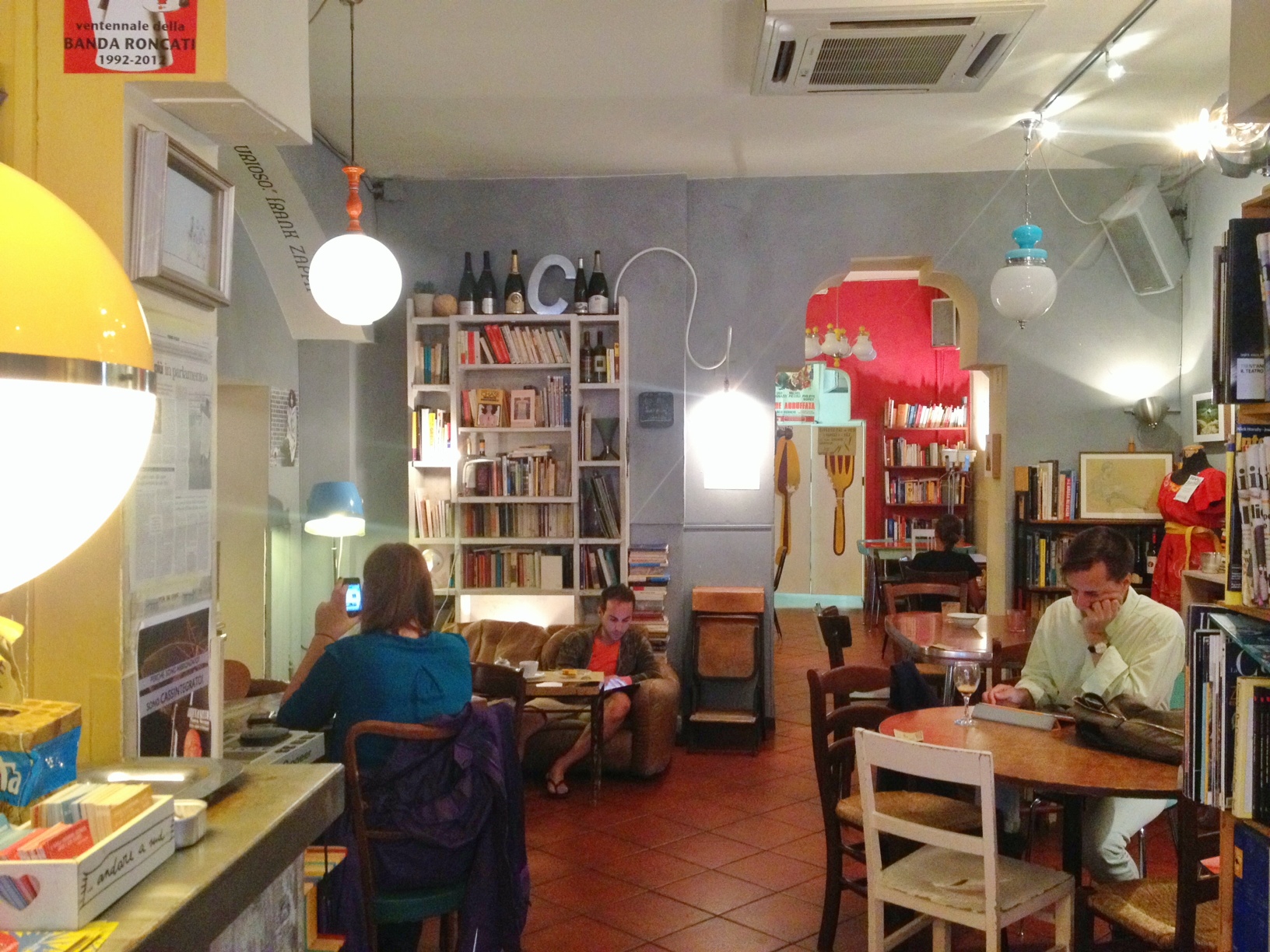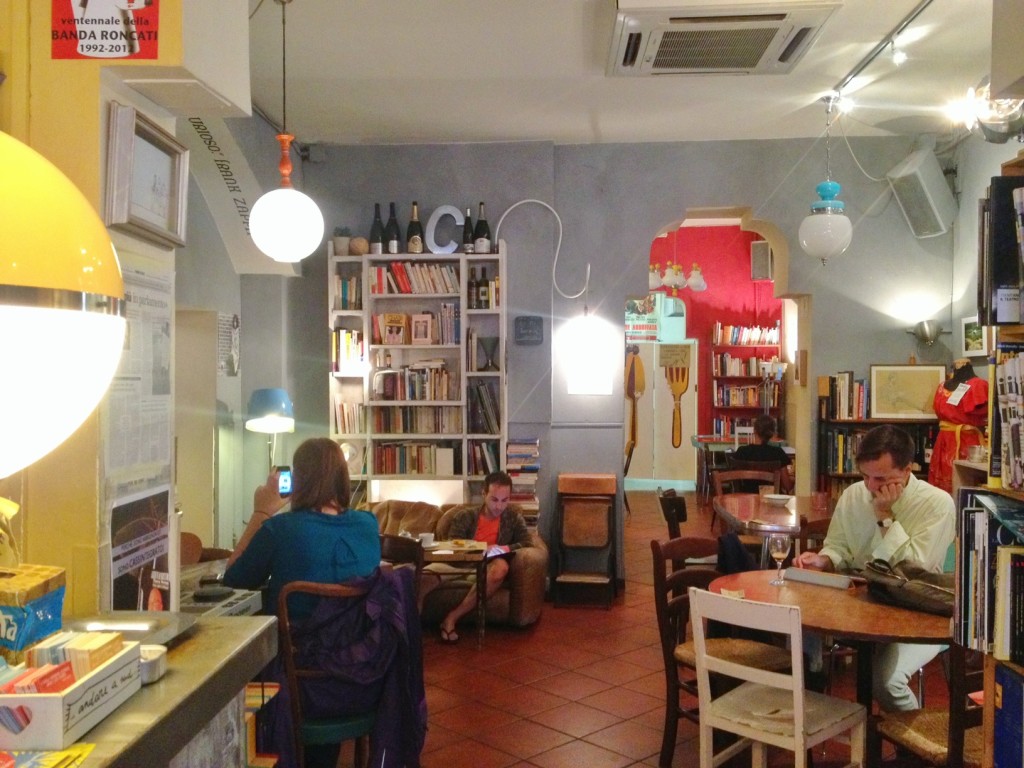 2:30pm Camera a Sud
To stop slipping into a post lunch pasta coma, I recommend checking out one of Bologna's excellent coffeehouses and Camera a Sud is one of the best.
Walking into this cafe is like being ushered into a writers living room- books piled up from floor to ceiling, Miles Davis playing in the background, beautiful photographs of a chinese tea plantation , interesting quotes everywhere , wine crates doubling up as book shelves-interesting place.. where you could be happily stuck here for hours. Wine list is great, coffee one of the best in town ( cheap too, cortado I was drinking was just €0.90)and the free wifi excellent. Little secret places like this hidden away from the view of the world are what make Bologna such a charming place.
Cost: €0.90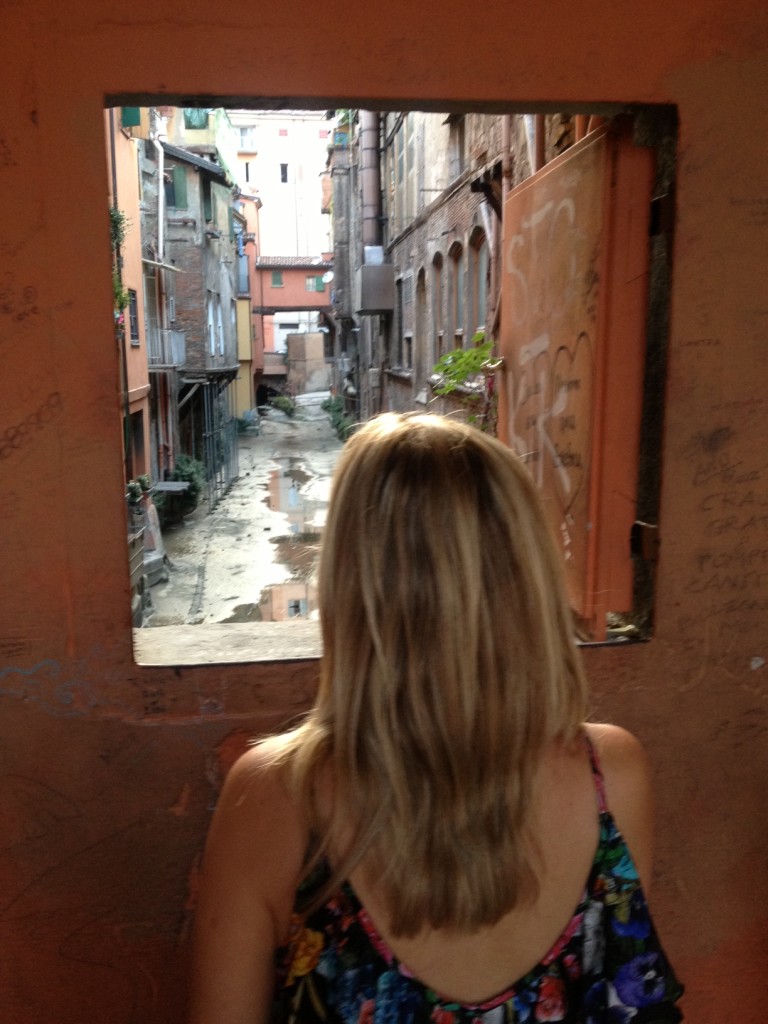 4pm Hidden canals of Bologna- Via Piella
If you think canals. Italy. Most people would associate canals with Venice. Many would not think of Bologna as a city with canals. Hidden from public view, an underground network of canals exists in Bologna. Now only a few exist, majority have been paved over by public car parks.  Riva di Reno for example, one of the city's major waterways which once traversed through half of the city now runs beneath the streets. A shame. If you visit Via Piella, you'll find a small window hidden in the wall which opens up onto the Moline canal.
These canals back in the 13th century were the most advanced waterway system in Europe. Bologna was then the fifth largest city in Europe (after Cordova, Paris, Venice, and Florence) with over 60000 inhabitants.
The city tied with Milan as the largest textile industry area in Italy. These canals help run the numerous textile mills and transport goods. Bologna's rich history of textiles is still evident from their street names: Via delle Moline (mill), Via dei Tessitori (Weavers), Via Drapperie (drapery)
[ Tip of hat to Kathryn Burrington's excellent post about the Hidden canals of Bologna which inspired me and I recommend you check out ]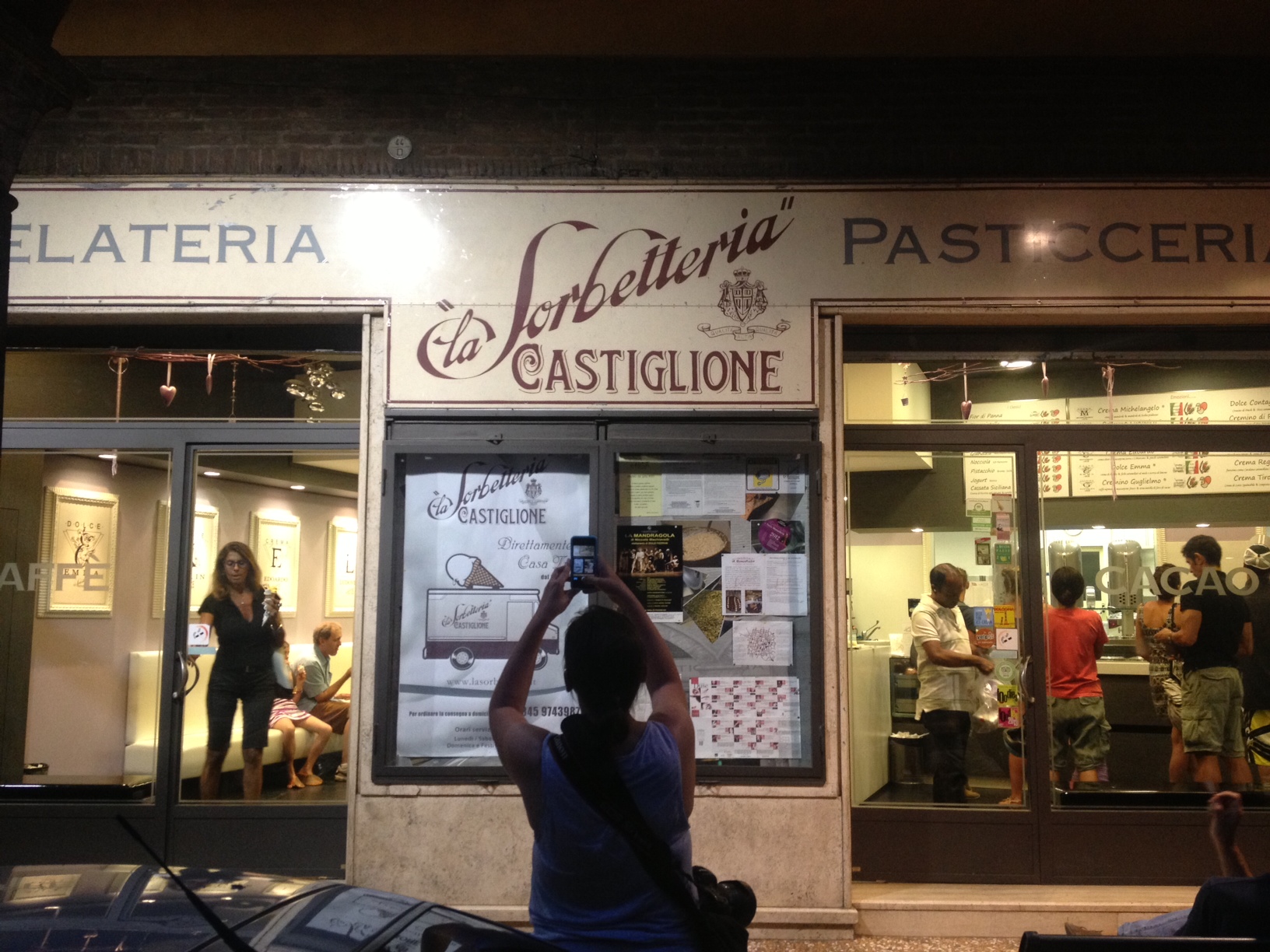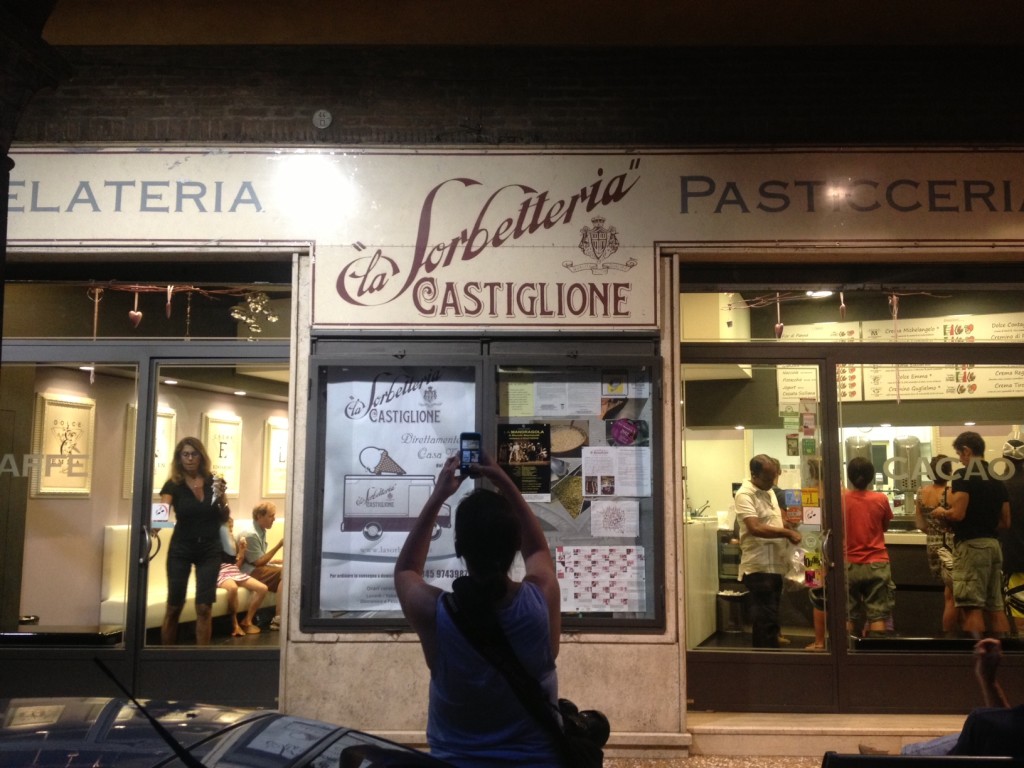 5:30pm  La Sorbetteria Castiglione
Time for another gelato.
The best places for gelato in the city in my humble view is La Sorbetteria Castiglione (Via Castiglione, 44 www.lasorbetteria.it), a classic gelato shop where there's always a busy hive of locals tucking into some of their mouth-watering flavors which include cremino ludovico,  hazelnut and cocoa butter; dolce contagio, with pine nuts and carmelized walnuts and dolce emma, with ricotta and figs carmelized with honey. Amazing stuff. I dream about going back here every day. Please enjoy on my behalf.
Cost €2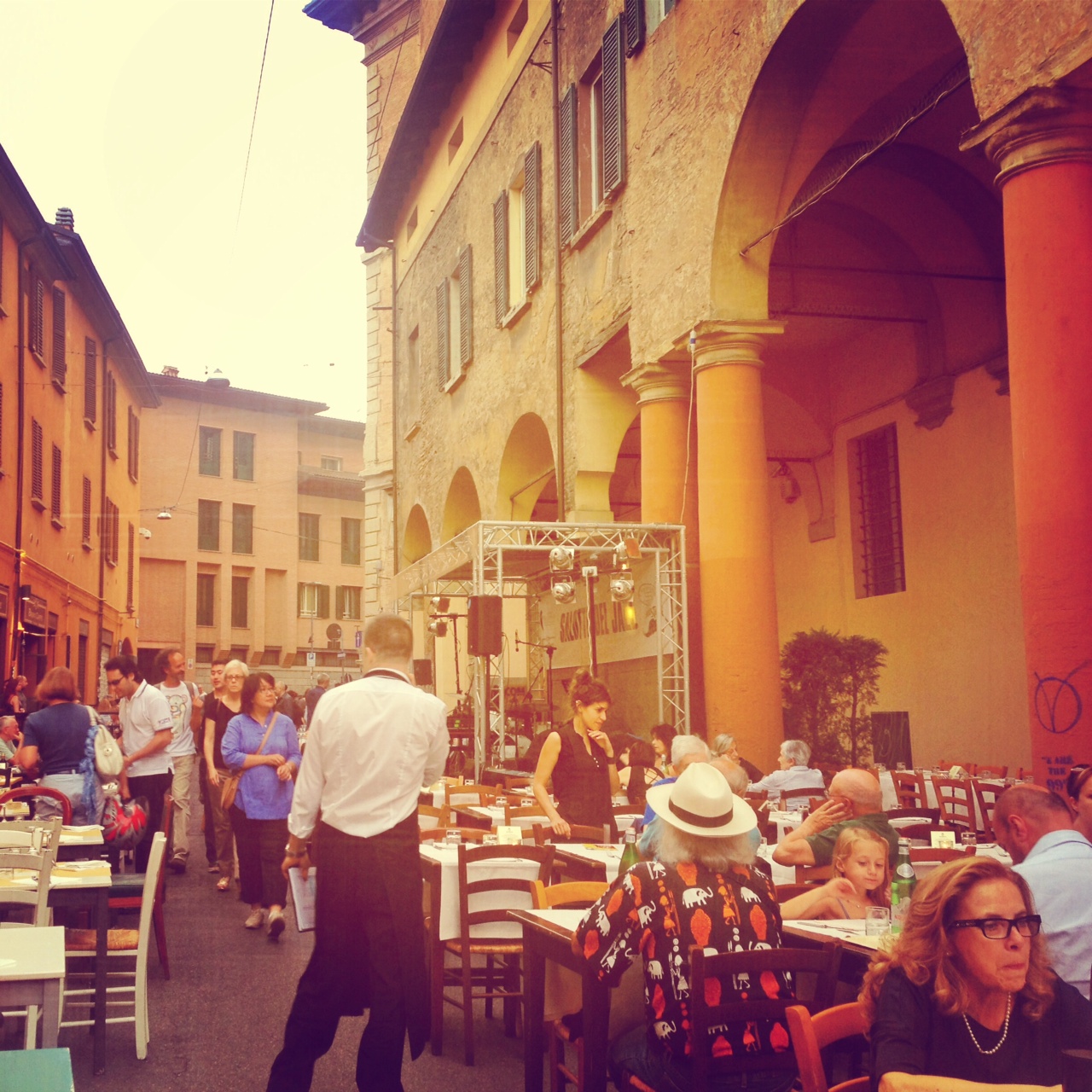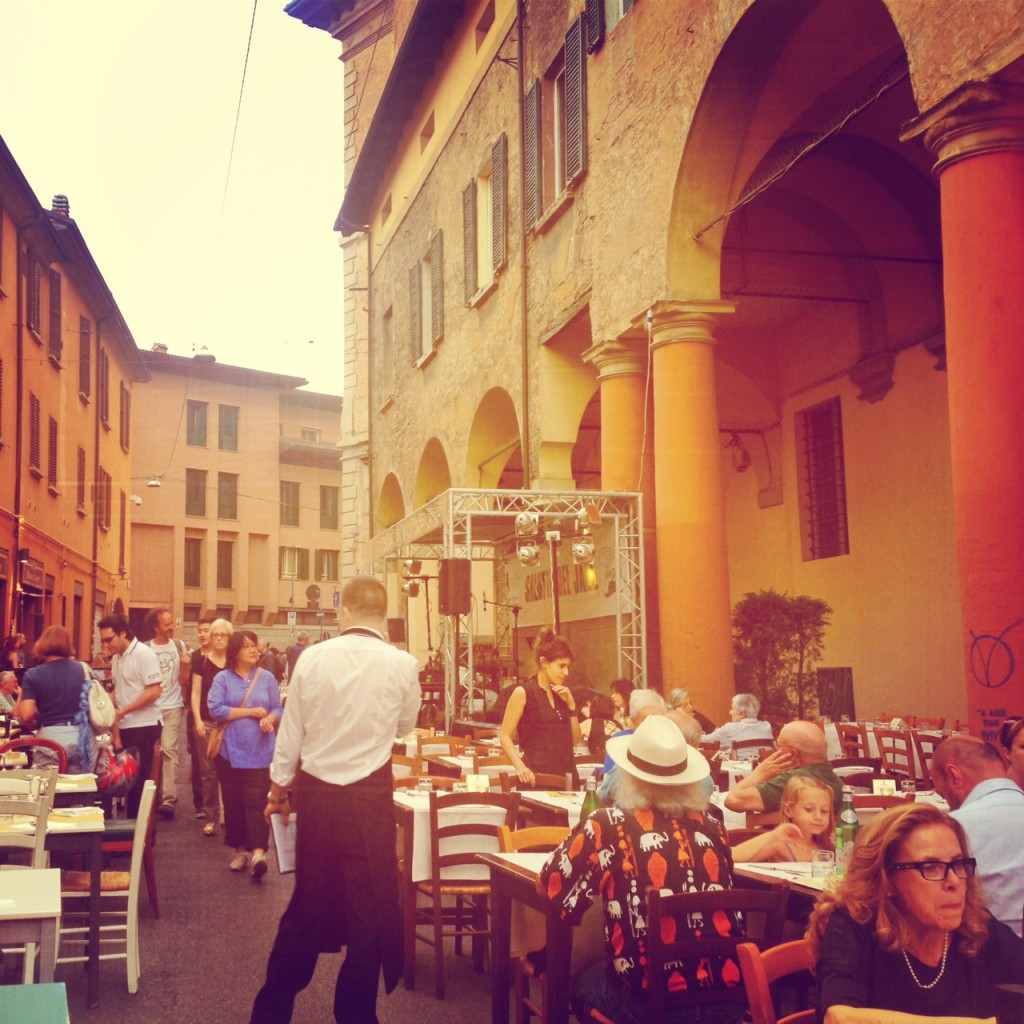 6:30 pm Salotto del Jazz
My next stop is Via Mascerella where I am about to discover another amazing secret of the city- a great summer event in Bologna called Salotto del jazz .If you're visiting from June to August you can dine and drink while listening to live jazz sitting on the street of Via Mascarella. The upper area is specially closed to the traffic for this period of time. Even if you don't fancy jazz, there something so cool about eating or having a drink on a street, surrounded by beautiful buildings in a communal setting on a beautiful summers evening, sipping on good wine like Pignoletto maybe….One of life's great experiences.
Cost: €3 for a glass of wine at Cantina Bentivoglio which hosts the best Jazz nights in Bologna. They offer an excellent daily fixed price menu for €28 which is worth checking out.
Top tip: Pop by for the evening feast at Mercato Delle Erbe
On Via Belvedere feast, every Monday, Tuesday & Wednesday during summer locals pour into enjoy meals prepared from unsold produce from the Mercato delle Erbe. Great atmosphere and the food is great. You can buy bottle of wine for a few euros and have a great meal surrounded by locals. Highly recommend if you're in town on any of those days.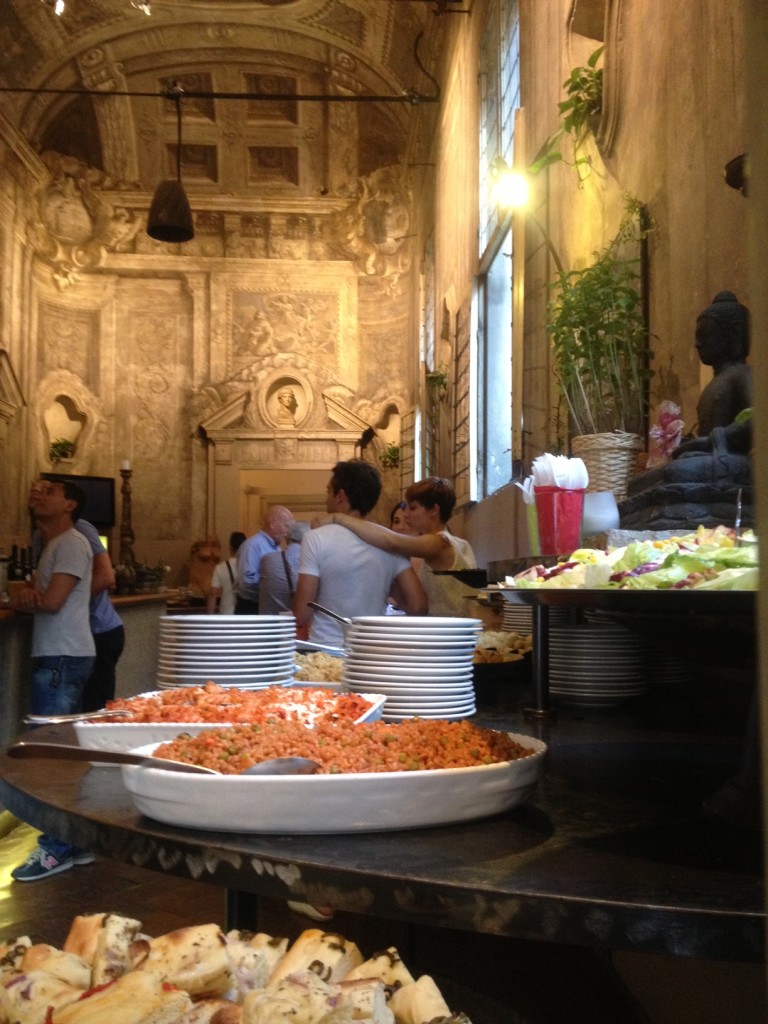 7:30pm Aperitivo at La Stanze
Another very decent aperitivo option in Bologna is La Stanze. A former 16th-century private chapel of the Palazzo Bentivoglio, one of the highlights of a visit here is the high ceiling which is adorned with beautiful pastel frescoes. Aperitivo. Expect plates of pasta, grilled vegetables, bite-sized pizzette, cheeses and prosciutto.
Cost: €7 which includes any drink or cocktail.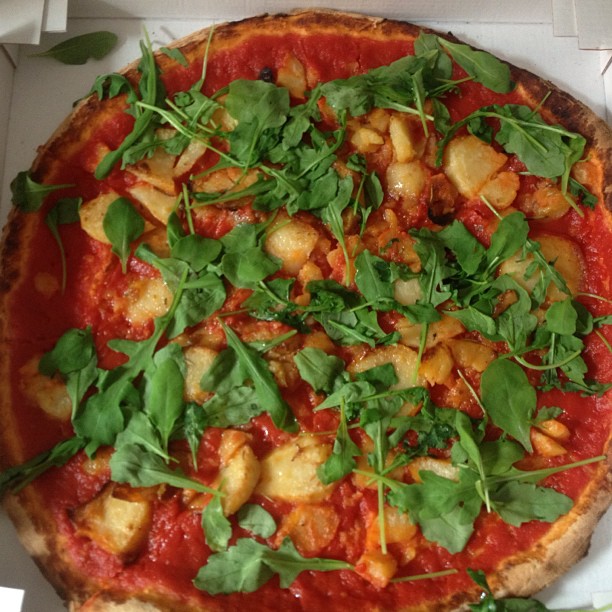 9pm Pizza Casa
I'm still hungry and I walking out of La Stanze, I smell pizza. Pizza Casa (Via delle Belle Arti, 6,) just up the road a few hundred yards is a simple pizzeria that does great pizzas, freshly baked in their huge oven. It's popular with students and locals. Pizzas are very competitively priced with a margharita pizza costing just €2.50. You can create your own, which I did. My pizza ( I called it 'Kashizza) consisted of tomato, garlic, potatoes and topping of rocket leaves. Delicious. Pizza and potatoes is a Michelin star winning combo.
Cost: €3.50
10:30pm Klubbing at Kinki
If you're in the mood for clubbing, the club scene in Bologna is not the most vibrant for what you would expect in a student city.  There's lot of Irish bars which are popular with the students, tourists and hence you can expect, overpriced drinks. However there are cool clubs like Kinki which is an icon of the local club scene since 1950. I was curious to check out the place with a few friends and  wasn't disappointed. Free entry, good music, drinks and cocktails were around the €5-€7 mark.  Crowd was mixed bunch but overall a decent night.
Cost €13. One beer and an aperol spritz
12:30 am Piazza Verdi
The perfect place to end 48 Hours in Bologna is in the lively Piazza Verdi where the students congregate at night to chat and drink into the late hours. It felt like I had stumbled into some huge street party. Nothing beats summer nights with people on the streets and drinking cheap good wine (Latter is no problem, for €3-€5 you can get a very nice bottle of Sangiovese in Bologna. )
Cost: €5
Where to stay
There are a few but decently priced budget options in Bologna. Accommodation will be one of your biggest expenses in Bologna. Unless you wish to stay at the hostel that is 6 km out of the centre which for me pretty ruins the fun of experiencing this city.
Albergo Centrale ( Via della zecca 2 ) just a few minutes walk from Piazza Maggiore is an excellent priced budget option with a good location, cracking buffet breakfast, nice interior decor and clean and comfortable bedrooms. Via Booking.com, 2 nights in an economy double room with breakfast here comes to €69 per room, per night. Which works out to be €35 per person, per night including breakfast which is a great deal in my opinion.
How to get there and away
Bologna has an excellently priced and convenient rail connections to all the key cities of the north. You can reach Florence in an hour and half and pay around €11.50. Rome is 3 1/2 hours and tickets cost €34.
The Guglielmo Marconi airport is just 6 kms northwest of the city.
Aerobus-BLQ is the express shuttle bus service connecting Bologna Marconi Airport to the Bologna Central Railway Station. There are regular services with the first bus from the airport leaving at 05:30 and the last bus at 00:15. Travel time is 20 minutes. For more information about schedules see TPER.
Tickets currently cost €6 one way. Taxi costs around €15 so if you are travelling in a group, better take a cab. Taxi rank is just outside the arrivals entrance.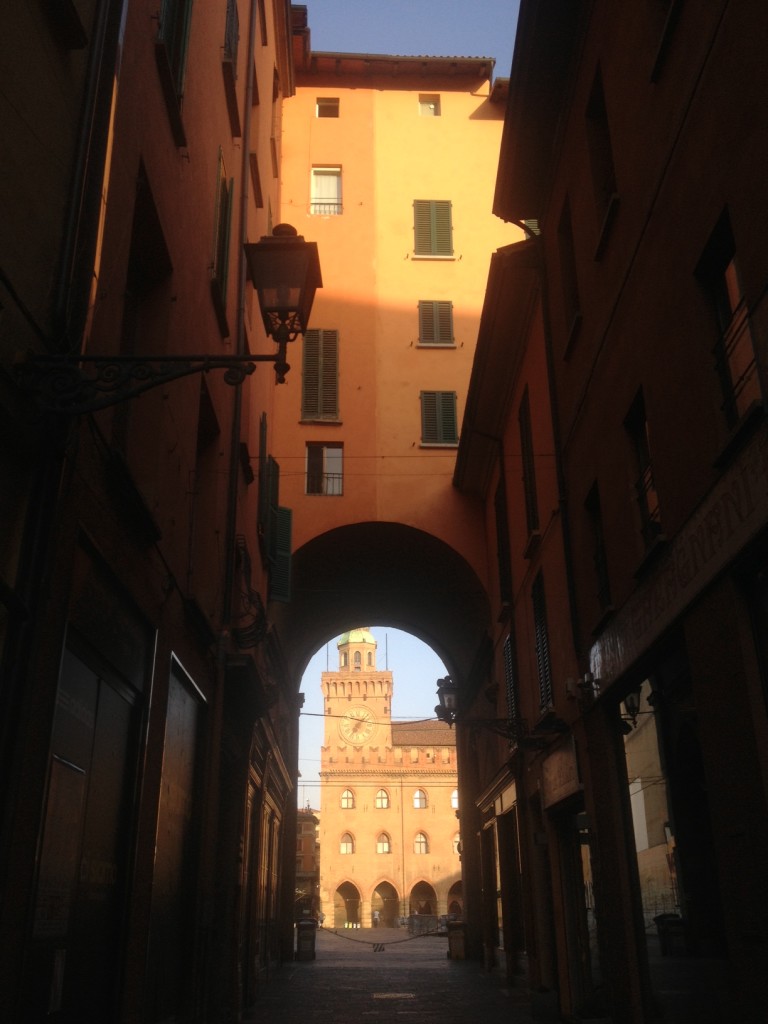 Total cost of

48 Hours in Bologna
Caffe Terzi €1.50
Climbing Due Torri €3
Gelato No 1-Gianni €2
Museum of History of Bologna €5
Pesto potato beans sandwich at Eataly €2.80
Palazzo Archiginnasio €Free
Wine at Osteria del Sole  €4
Aperitivo at Lab Sedici €6
Santuario della Madonna di San Luca €Free
Breakfast with a view Caffe delle Sette Chiese
Lunch Marsalino €10.50
Coffee, Camera a Sud €0.90
Glass of wine at Cantina Bentivoglio €3
Gelato, La Sorbetteria Castiglione €2
Aperitivo at La Stanze €7
Pizza Casa €3.50
Klubbing at Kinki €13
Bottle of Sangiovese, Piazza Verdi €5
2 nights in Albergo Centrale  €138
Return, Airport Bus €12
———————————————————-
Total €219.20 / £187 / ¢300
———————————————————–
My thanks to the amazing people at Emilia Romagna tourism board for making Blogville a reality.  Also thanks to my fellow iAmbassador colleagues for their passion, craft and dedication to this project. Plus a big thanks to all my friends and fellow bloggers who I shared this unique experience. You can read about the bloggers amazing experiences of Emilia Romagna here.