Today on the BudgetTraveller we are talking about quiet hostels. Not party hostels.
Does the word 'hostel' conjure up images of raucous, loud, after hour parties attended by very young people leaving behind the aftermath of a 'happening night'? Are you someone who likes to wind down after a long day of sightseeing with a good book? Or are you just that person, who not unreasonably, requires a restorative night of undisturbed sleep after embarking on a busy day of sightseeing in an unknown city? Look no further… we have the definitive list of quiet hostels- each of them an oasis of tranquility. Slip off those sturdy walking shoes after a long day of activity and luxuriate in the calm of these quiet hostels.
1) Plas Curig Hostel- Snowdonia, Wales
Beautiful interiors, superb facilities, and the stunning lush green landscape of Snowdonia make Plas Curig one of Europe's best hostels. Once you come here, your opinion of hostels will change forever. Plas Curig is in a dreamy location in the picturesque village of Capel Curig at the foot of Snowdonia. Come here to escape. I spent most of my time snug in the lounge, admiring the mist-shrouded views of Moel Siabod in the distance with the river Llugwy at its foot, winding its way to Betws-y-Coed. It's also not far away from the beautiful stretch of North Wales coastline, so it's a great location for exploring the great Welsh outdoors. The staff here are a great asset to this place – they're extremely knowledgeable with lots of great tips of nearby hiking trails and places to eat. They offer guided walks of the area and wildlife tours for a small fee. The hostel offers an excellent self-catering kitchen and a large separate dining area. The communal entrance area includes a well-stocked library. Stay warm by the wood-burning stove in the lounge and enjoy sitting by the broad bay windows, perfect for spending hours gazing at the beautiful scenery. The free Wi-Fi is excellent. Beautiful interiors, top-notch facilities, and a great location makes this stunning abode the best hostel I've seen in Britain.
A bed in the dorm room starts at 20 pounds per person; family rooms from 90 pounds per room per night. 
A private room for two people with twin beds and ensuite will set you back 60 Euros per night. A bed in a 4 Bed Female Dorm will cost 21 Euros. 
3) Seven Fells Hostel
This is a
A single room costs 35 Euros per night; a bed in a 6 bed mixed dorm will cost about 22 Euros per night.
4) YHA Grinton
Situated in the Yorkshire Dales, Grinton will not feature highly on the dream England itinerary of many popular travel guidebooks. The reason I picked Grinton is due to its scenic location in the heart of the Northern Yorkshire Dales. There is a beautiful YHA hostel here, a former shooting lodge, which offers panoramic views of the surrounding Yorkshire Dales. The joy of visiting this part of the world is the gorgeous scenery and landscapes that earned Yorkshire the moniker 'God's own country.' This hostel is the perfect base for a relaxed walking holiday and also if you are a keen mountain biker this will delight you. The other star feature of this hostel is their luxury camping pods. Housing upto 4 and starting from just £50, these camping pods are very comfortable and an excellent alternative to camping. This unique hostel also boasts a gorgeous honeymoon suite complete with a freestanding roll top bath on the top floor – perfect for couples. Prices of private rooms at YHA Grinton start from £39 while dorms room start from £18.
Beds here are from 10 pounds and family rooms from 29 pounds per night.
5.Loft Mountain Hostel
This hostel is just a 10-minute walk from Bourg St Maurice train station. Just a five-minute walk to the Les Arcs express funicular, Loft offers excellent access to the huge Paradiski area, which has three parks, two half-pipes and over 400 km of skiable piste. The Loft Mountain Hostel looks like a very chic French chalet but the interior is very spacious, comfortable and homely. The living room is like that of a 5-star ski resort, with big, comfy sofas and large windows, with a huge 40-inch plasma screen TV with Sky channels. Outside, there is a nice terrace and garden patio area where guests can relax in the sun. The kitchen is probably my favourite part of the Loft – so much so that I featured Loft in my list of top five luxury hostel kitchens. There is a Lidl supermarket right across the road that stocks a number of local French specialties, so you won't have to go far to find ingredients for your next meal. I loved visiting Vanoise National Park, a short drive away. Bourg St Maurice has weekend markets where you can get your hands on some stunning local fare – from the ripest, juiciest tomatoes to freshly baked baguettes to deliciously nutty Beaufort. The key thing I loved about my stay was just chilling out in the Loft and the village of Bourg with its quaint narrow streets, patisseries, nice restaurants, and weekend markets. If you're looking for more excitement pop up to Les Arcs 1800 on a Friday and Saturday evening where there are a few good bars and nightclubs.
One night's stay at the hostel will set you back 30 euros per night.
As you can tell from the first word 'Casa', the concept of this hostel is all about feeling at home – a 'home in Gracia' — and that's what they focus on offering their guests. The hostel is centrally located on the grand boulevard of Paseo de Gracia in the neighbourhood of Gracia, close to Gaudi's la Pedrera and Casa Batlló. You are away from the touristy drag of Las Ramblas, Barrio Gothic, and the menace of pickpockets. Choose from a variety of rooms- from six-bed dorm rooms and one-, two-, three-, four-, and five-bed private ensuite rooms, all of which are spacious, cosy and quiet. They have a regular programme of events in the hostel and the staff are really friendly and helpful. An oasis of peace in the city, this is a great hostel to call home for a few days.
A private room for 2 persons will typically cost 54 Euros per night. Book it here.
A beautiful 130-year-old building with high ceilings and chandeliers, a garden complete with picnic tables and gnomes, a cuddly hostel cat called Joop, a kitchen stocked with beers for €1, a hostel run by a bunch of energetic ladies who know the city like the back of their hand plus an authentic, not-too- touristy location – what more could you want from a hostel in Amsterdam?
Ecomama is a green and luxurious update to its sister hostel in Amsterdam, Cocomama. Similar to Cocomama, Ecomama places a big emphasis on the social aspect and has a large communal space, a big kitchen and a real teepee tent where guests can meet and interact. It has 7 different types of rooms tailored to a wide variety of people, from the El Cheapo room for those on a shoestring, to a Double Deluxe for a romantic night for two. The hostel has impressive green credentials- from a water saving system, green roof to a beautiful range of recycled design furniture. The icing on the cake? Ecomama donates €1 for every night that you sleep at the hotel to NGO's and good causes she supports, such as Niños de Guatemala which aims to improve society through education and entrepreneurship in Guatemala. Dorms run from 29 Euros, doubles start from 90 Euros although prices may be differ according to the date. Book it here.
Formerly used as the office of a bus company (hence the name), Bus Hostel opened its doors in May 2013 and it has welcomed a wide range of guests since then, from a globetrotting pensioner backpacker to a couple of newly-weds who asked staff members to be witnesses as their wedding. Bus Hostel has communal dorms, rooms with just four or six bunk beds, ideal for those preferring a little more privacy and three "Ritz" rooms cater for couples who want a double bed and some privacy. All the communal bedrooms have spacious lockers for valuables and if you do choose to have the bed linen they offer at a small additional cost then you will be guaranteed a cozy night's sleep on a perfectly plump pillow and cotton fresh white sheets. All the bedrooms are wonderfully minimalist in a way that only Nordic countries can achieve, though do expect the odd quirky detail. Bus Hostel is located less than ten minutes walk from the city's BSI central bus station and you can find yourself in the centre of Reykjavik at the foot of the impressive Hallgrímskirkja Cathedral within fifteen minutes walk. The bar serves cheap beer and wine and I warmed to the additional touches that I didn't know hostels were known for like the book swap cupboard, free wifi, free luggage storage and the free food shelf in the kitchen. A notoriously expensive country and city to travel in, Bus Hostel is currently the cheapest hostel and budget accommodation available in Reykjavik.
Prices for a bed in a dorm start at 2800 ISK (£15) a night in low season and 4750 ISK (£25) in high season. A double room is 9100 ISK (£50) in low season and 12990 ISK (£70) when summer rolls around and this includes towels and bedding. Book it here. 
9) Nuremberg Jugendherberge
Nuremberg may not figure prominently on the list of top destinations to visit but with it's magical Xmas markets,  important history, relaxed easygoing vibe, great restaurants and pedestrian friendly cobbled streets , compact old town -it is the perfect place to visit for a long weekend. You can expect family friendly attractions that include the city's unique complex of underground tunnels and dungeons plus excellent museums like the Children's Museum, Toy Museum, School Museum or the Germanisches Nationalmuseum, (for a guide to the city, please check out my earlier 48 Hour Guide to Nuremberg). An even better reason for the family to visit is the opportunity for the kids to spend the night in a 500 year old fairytale medieval castle. The newly refurbished Jugendherberge Nuremberg is housed within the thick walls of the city's Kaiserstellung Castle which towers above the city's old town. The hostel has excellent facilities. Ultra-modern rooms, all with en-suite shower and toilet. There is an excellent bar and bistro where you can choose to dine plus their generous breakfast buffet is the perfect way to start your day. Other key facilities include a play room, guest kitchen, facilities for warming baby food and drinks, bottle warmer, highchairs, cots and a toilet seat for children, bathroom stool, nappy changing pad and nappy bin.
Essentials
Quadruple room starts around the 135 euros (2 bunk beds); a bed in a multi bed dorm is around 32 Euros per night but may vary. All children under 5 years stay free of charge when using existing beds. All children under 2 years stay free of charge for children's cots/cribs. The maximum number of children's cots/cribs in a room is 1.
Hello I'm Local is a boutique hostel centrally located in the city centre of Haarlem in the Netherlands. It is located in the Burgwal neighbourhood of Haarlem. It is in close proximity to the famous Grote Markt and the water so it is very well placed. It is also only a 15 minute train ride into Amsterdam from the city. There are a total of 12 rooms and a living room and patio for relaxation. The rooms are clean, airy and bright. There is no Wi-Fi or TV in the bedrooms, only in the living room area. Friends and guests are welcome in the living room or courtyard but quiet time starts at 11 pm at  night. This is the perfect hostel to enjoy that undisturbed night of rest.
A bed in a mixed dorm (max 14 people occupancy) costs about 19 Euros per night; a double room costs 65 Euros. Book it here.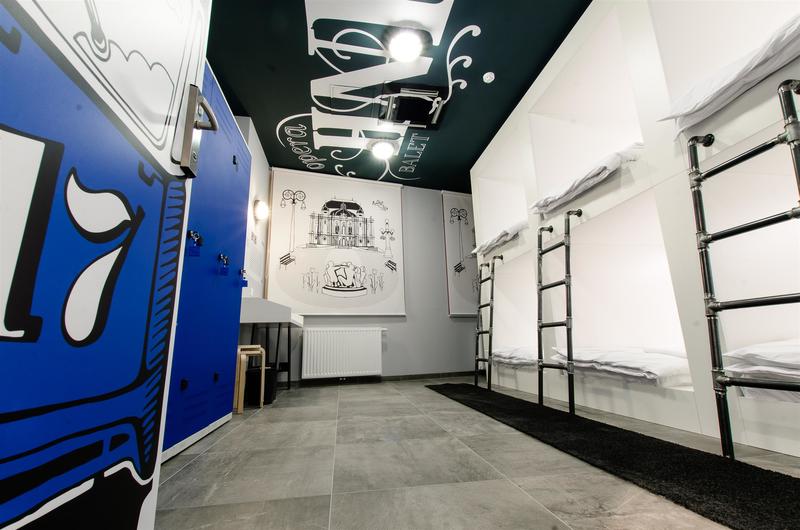 11) Main Square Hostel, Zagreb
Sleeping in the 8 bed dorm in the high season will cost 18 Euros per night per person; 55 Euros per room for the 2 bed room with ensuite bath.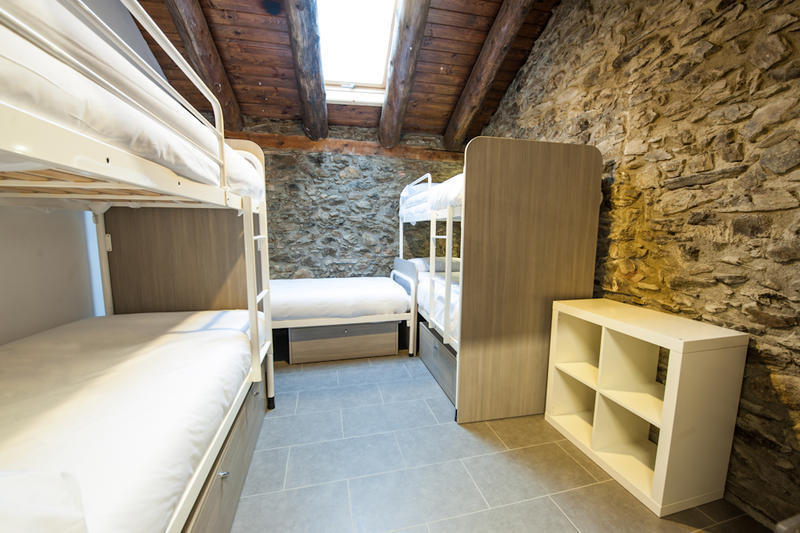 This hostel, which resembles more of a mountain lodge is nestled in the heart of the Pyrenean mountains of Andorra and has a rustic, outdoor appeal to it. It is the dream location for mountaineers and hikers but people seeking rest and relaxation whilst contemplating the beauty of nature would find themselves at home here. It is a year round location. There are things to do both in the winter and summer: you can ski or hike to your heart's content. The lodge itself is 200 years old and has many modern comforts. Outdoor activities you can partake in here are: skiing, snowboarding, telemarking, randonée skiing, freestyling, freeriding, mountain biking, downhill biking and trekking. After a grueling day of outdoor activity this hostel is the perfect place to relax.
A stay in the twin room provided with single beds will set you back 44 Euros per night. A bed in a 5 or 6 bed mixed dorm costs 19 euros per night. Book it here.
If interested in other top rated hostels spread across the length and breadth of Europe please read our Best Luxury Hostels of Europe post.
Also here is a round up of the Best Family Friendly Hostels in Europe.
I will leave you with the words of Virginia Woolf who said:
"How much better is silence; the coffee cup, the table. How much better to sit by myself like the solitary sea-bird that opens its wings on the stake. Let me sit here for ever with bare things, this coffee cup, this knife, this fork, things in themselves, myself being myself."
Even if it is not possible to be forever solitary and silent, perhaps there are times on a busy trip that these moments are needed. I hope you will find them in these hand-picked quiet hostels.