Copenhagen is one of Europe's most liveable and also one of its most expensive cities. The Danish capital benefits from unparalleled urban planning and is one of the world's greenest and tidiest cities- commuting is a breeze here. The Danes also excel at superior architecture and building. Therefore, it is not surprising that the city is home to some of the most stylish and coolest hostels and hotels out there. Here is our 10 best cheap hostels and hotels in Copenhagen that you should checkout. PS If you are travelling with family, worth checking our earlier guide to Copenhagen on a Budget for families
1. Steel House Copenhagen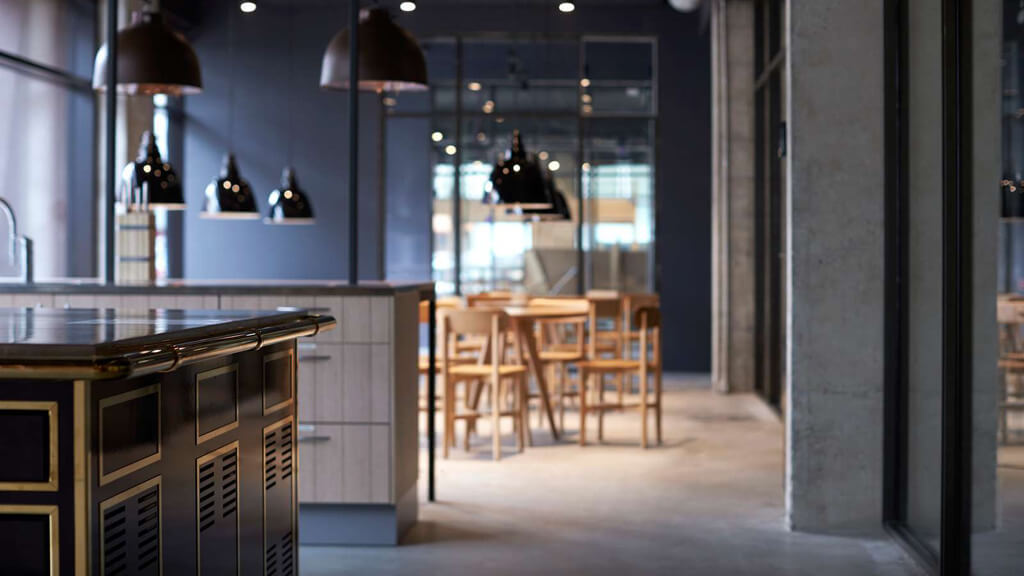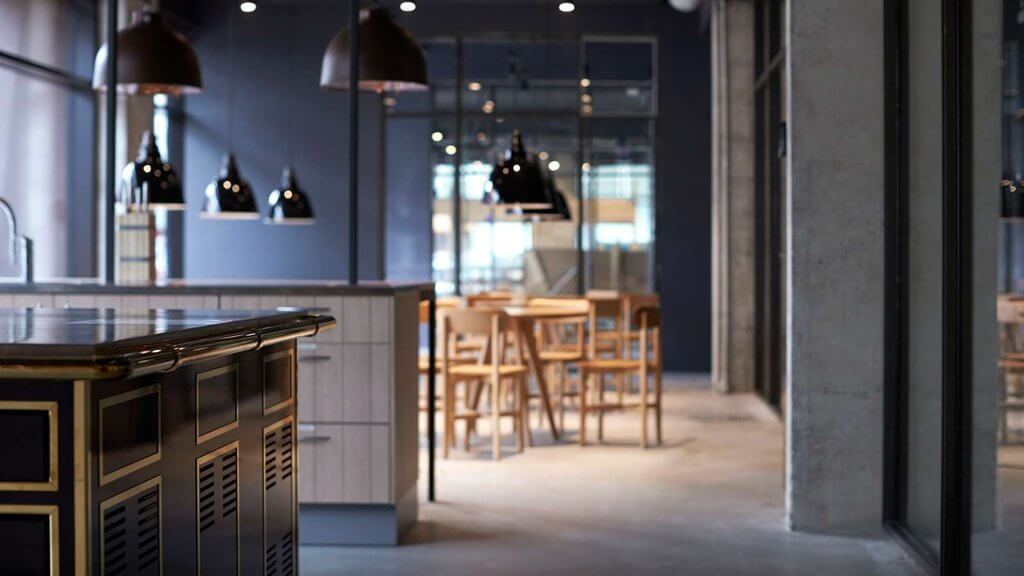 Location
is located in Vesterbro, near Tivoli Gardens and the Central Station of Copenhagen is located just a 5 minute walk away. Vesterbro is Copenhagen's most hipster area. The steel-clad building, once housing the Danish Union of Metalworkers is now home to this stylish design hostel. Tivoli Gardens, The City Square Hall and the famous pedestrianized shopping street Stroget, are all nearby.
Rooms and Bathrooms
When you envision the Steel House Copenhagen dorm rooms think futuristic pod-style cabins, built with a mix of steel, dark wood and white washed walls. Each pod style bed comes equipped with a personal light and power socket. Dorm rooms also have personal lockers. All rooms have ensuite bathrooms and sometimes a private terrace.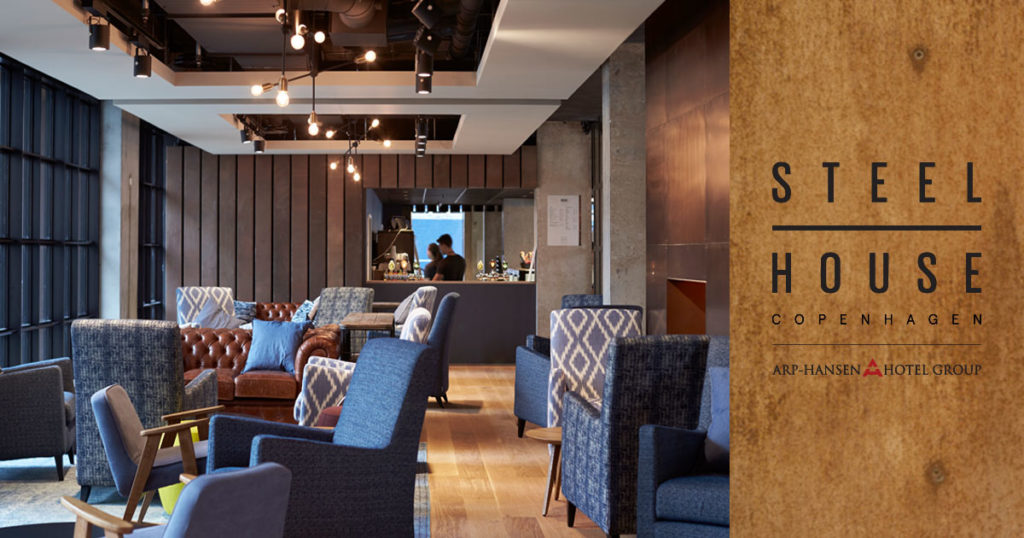 Facilities
The Steel House Copenhagen, lives up to its name and has an industrial vibe with its cool, Nordic design. The 253 rooms lay emphasis on using raw and rustic elements – wrought iron columns, exposed pipes, concrete and brick. The open plan layout encourages social interaction. Leather Chesterfield sofas, game boards and an on-site bar are conducive to that end. Grab and Go breakfast bags are available with tea or Fairtrade coffee from 6am to 11am. The basement lounge sometimes converts to an event venue for karaoke nights or for local acts.
Factbox
Rates start from €30 per night for a dorm, €130 for a double
Address
Herholdtsgade 6, c/o Arp-Hansen Hotel Group A/S, 1605 Copenhagen, Denmark.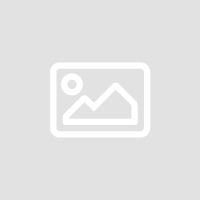 2. Generator Copenhagen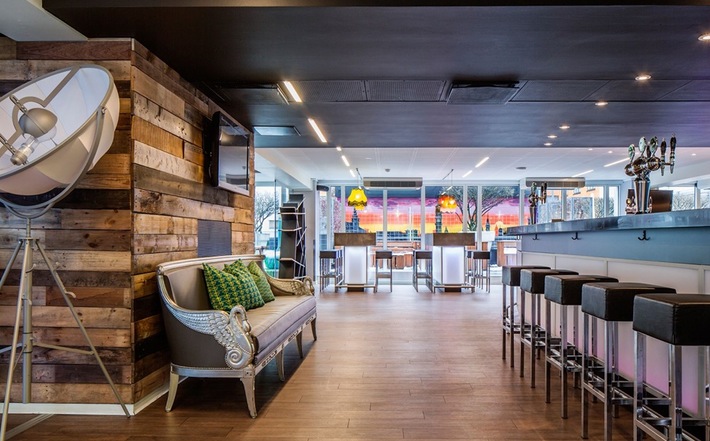 Location
Generator Copenhagen is located in the city centre near Kongens Nytorv Square.
Rooms and Bathrooms
The Generator has an elegant, minimalist Danish design. Tim Bjorn illustrations and intricate lighting characterize the rooms. Choose from private rooms or shared rooms. Private rooms are Premium Doubles that sleep 2 persons, Twin Room (sleeps 2), Quad Room (sleeps 4), Double Room (sleeps 2), Family Room (sleeps 4) and 6 Bed. Shared rooms consist of the Small Shared Room that sleeps up to 6 people, Female Shared (sleeps 6) and Large Shared (sleeps 8). Premium Double Rooms have little luxuries like a desk and chair, ensuite bathroom, large mirror, clothes-hanging unit, bedside lamps, fluffy towels and power sockets. A dorm room has bunk beds with privacy boards, dressing tables, mirrors, hair-dryers, lock-up storage, power sockets and attached bathrooms.
Facilities
The facilities at Generator Copenhagen are outstanding. There are multiple chill-out areas an alfresco terrace and even a pétanque bar.
Factbox
Booking via Hostelworld.com rates start from €24 for a dorm, €117 for a double
Address: Adelgade 5-7, 1304 Copenhagen, Denmark.
3. Meininger Urban House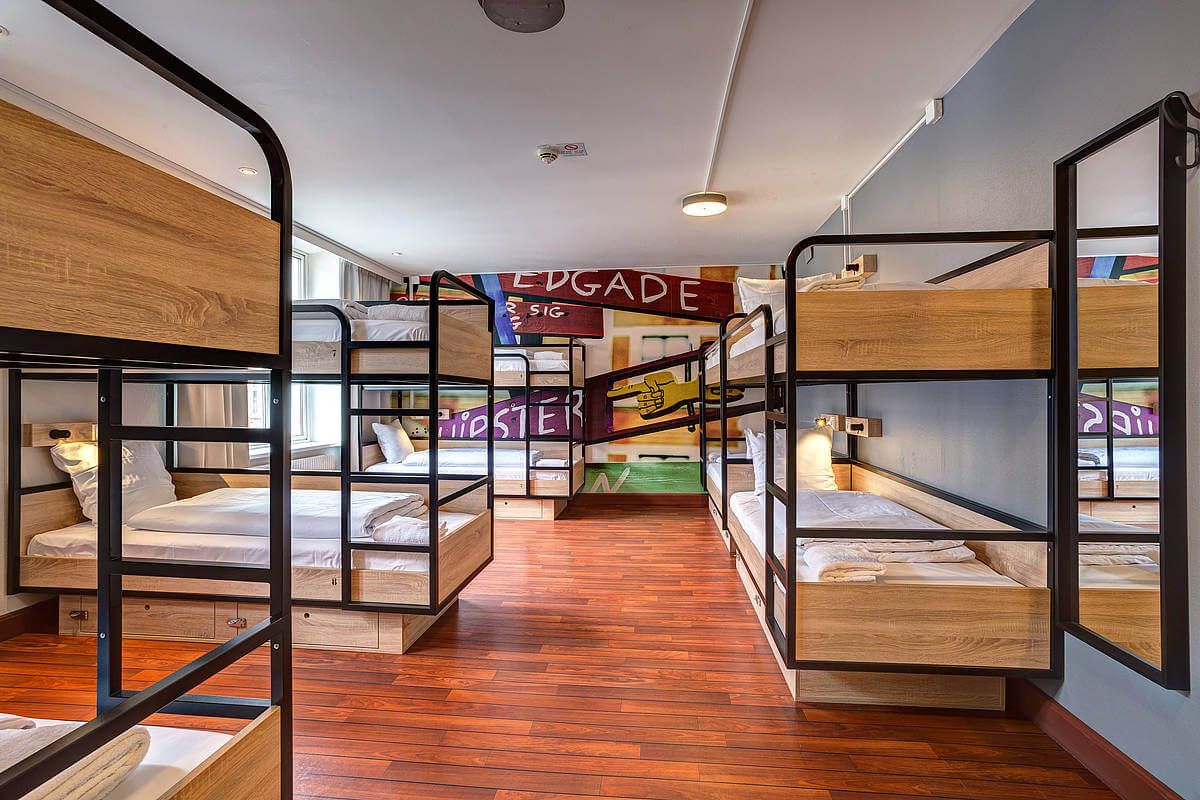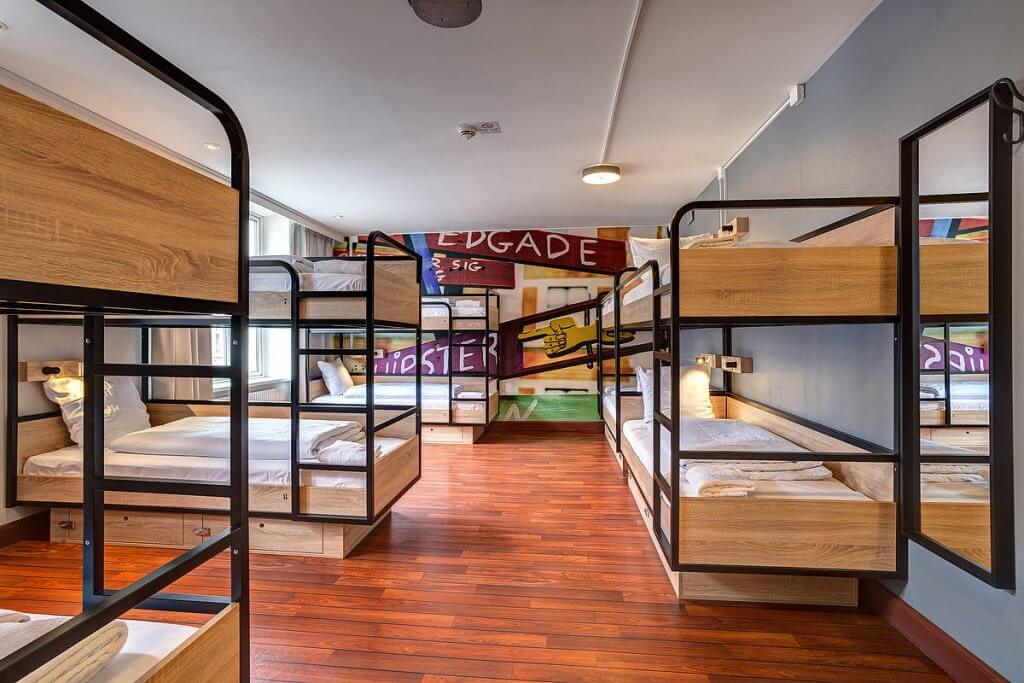 Location
The Meininger Urban House is a fab location, situated right behind the main train station.
Rooms and Bathrooms
The Meininger Urban House has a whopping 228 rooms including 879 beds, spread over 5 floors. The private rooms have an attached bathroom with shower and the convenience of a hair dryer and toiletries. Rooms are well heated and have fantastic free Wi-Fi. Rooms are light and airy with parquet floors, arched windows that nearly stretch from ceiling to floor, fresh linens and interesting decor elements on the walls. Most rooms have tall mirrors and a place to hang up clothes. Rooms are clean, spartan and comfortable.
Facilities
The public zones in the Meininger Urban House include a bar and restaurant, a game zone, a lounge, lobby and even a swanky cinema room. The guest kitchen is modestly outfitted with everything needed to rustle up a self-catered meal. The Urban Bar has happy hour from 7 to 9 pm each night. Colorful leather sofas, wooden bookshelf's and brick walls provide a cool, modern design to this classy hostel.
Factbox
Booked via Hostelworld.com, rates start from €27 for a room in a 10 bed dorm, €30 for a room in a 6 bed female dorm and €110 for a double
Address
Colbjornsensgade 11, 1652 Copenhagen, Denmark.
4. Copenhagen Downtown Hostel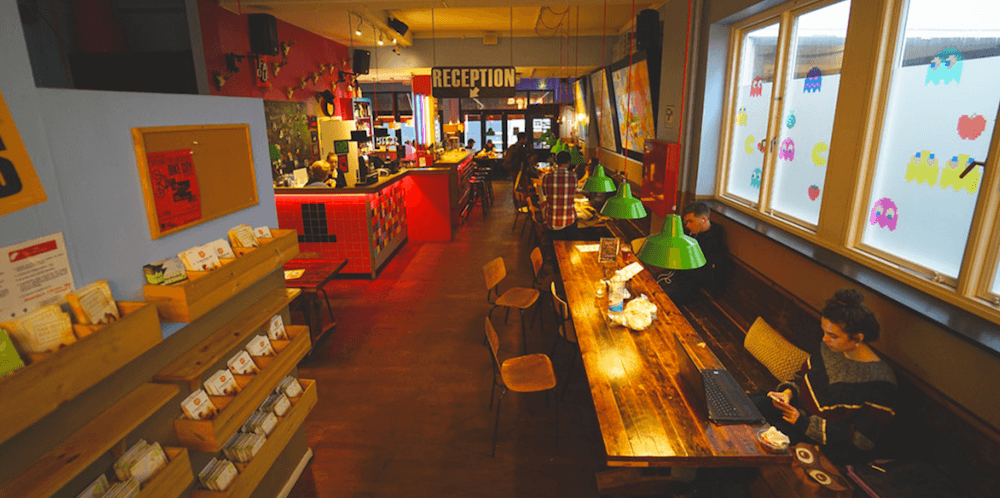 Location
Copenhagen Downtown Hostel is located in the heart of the historic city centre, just a ten minute walk from the Central Station. Major sights about town are just around the corner.
Rooms and Bathrooms
The rooms at Copenhagen Downtown Hostel include single, twin and double private rooms and 4,6,8 and 10 bed rooms. Linens are included along with the provision of a reading light next to the bed. Rooms have universal power adaptors. Bathrooms have hot showers. A washing machine means you can do your own laundry in the hostel.
Facilities
Copenhagen Downtown Hostel provides a number of facilities that will ensure you have a comfortable stay. There's free Wi-Fi in all public areas and even iPads for borrowing from hostel staff. An all you can eat breakfast, costing about 10 euros, should set you up for the day. There's an on site cafe and restaurant to satisfy all those hunger pangs, along with a bar that stays open well into the night (actually morning- 5 am!). If you are looking for social activities a billiard table beckons. Play a board game with new found friends and family, or even participate in a game of foosball.
Factbox
Booked via Hostelworld.com , rates start from €100 for a double, €31 for a bed in a 12 bed dorm and €38 for a bed in a 4 bed female dorm.
Address
Vandkunsten 5, 1467 Copenhagen, Denmark.
5. Woodah Hostel
View this post on Instagram
Location
The Woodah Hostel is located in the centre of town, in the upbeat and happening Vesterbro locality.
Rooms and Bathrooms
The Woodah has 30 custom made wooden bunk bed cabins, which are designed to ensure extra privacy. Cabins come with a privacy curtain, a personal reading light and a locker to secure personal items. The beds are made with crisp white bed linen. Bathrooms and toilets are shared and come with comforts like mirrors and hair dryers.
Facilities
Even though the Woodah is a relatively small accommodation, the aim is to create a cozy, welcoming yet urban environment. The hostel has an on site Woodah cafe and bar serving delicious Danish food and drinks. All the food is organic and produced locally. The Woodah focuses on the well being of guests. Outdoor yoga classes are offered in the grassy backyard and the hostel has tie-ups with local yoga schools.
Factbox
Booked via Hostelworld.com rates start from €37 for a dorm, €75 for a double bed in a mixed dorm
Address
Abel Cathrines Gade 1, 1654 Copenhagen, Denmark.
6. Annex Hotel Copenhagen
View this post on Instagram
Location
The Annex Copenhagen is just a two-minute walk away from Copenhagen Central Station and hence is perfect if you are coming into the city by train.
Rooms and Bathrooms
The hotel has private rooms painted in bold, bright colours and bathrooms that have been renovated in 2017. If you book one of the private rooms with ensuite toilet and shower, (the Annex+1 or the Annex+2) the price includes the cost of breakfast. You can also choose from 1-2-3 or 4 bed per room occupancy.
Facilities
One of the best things about the Annex Copenhagen is it's unbeatable location near the Central Station. The Meatpacking District with trendy bars and restaurants is just a block away along with lots of nearby nightlife. The Lakes and a running trail of 7 km are just around the corner, as are the Town Hall, Tivoli and Stroget. Once you stay in the hotel, it provides an unbeatable location with many things to do within walking distance. Apart from the fact that the hotel is fresh, bright and the bathrooms newly renovated, there's free high speed Wi-Fi and a common kitchen that enables you to self-cater. Luggage storage is possible in the luggage room next to reception along with provision to store valuables in the hotel safe. There's an iron and ironing board located in the ironing room and currency exchange facility in the reception. Bikes can be rented in the reception too to explore the city like a native.
Factbox
Booked via Hostelworld, rates start from €58 for a double.
Address
Helgolandsgade 15, 1653 Copenhagen, Denmark.
7. Wake Up Copenhagen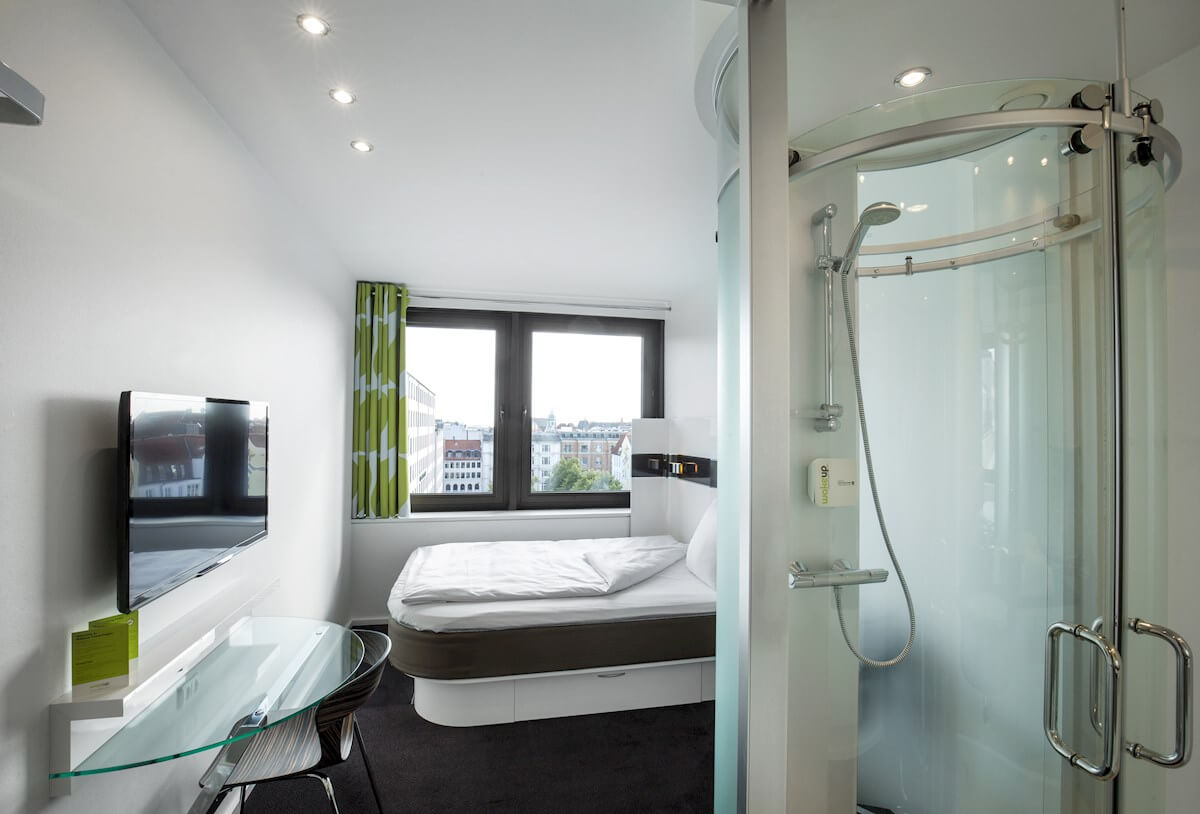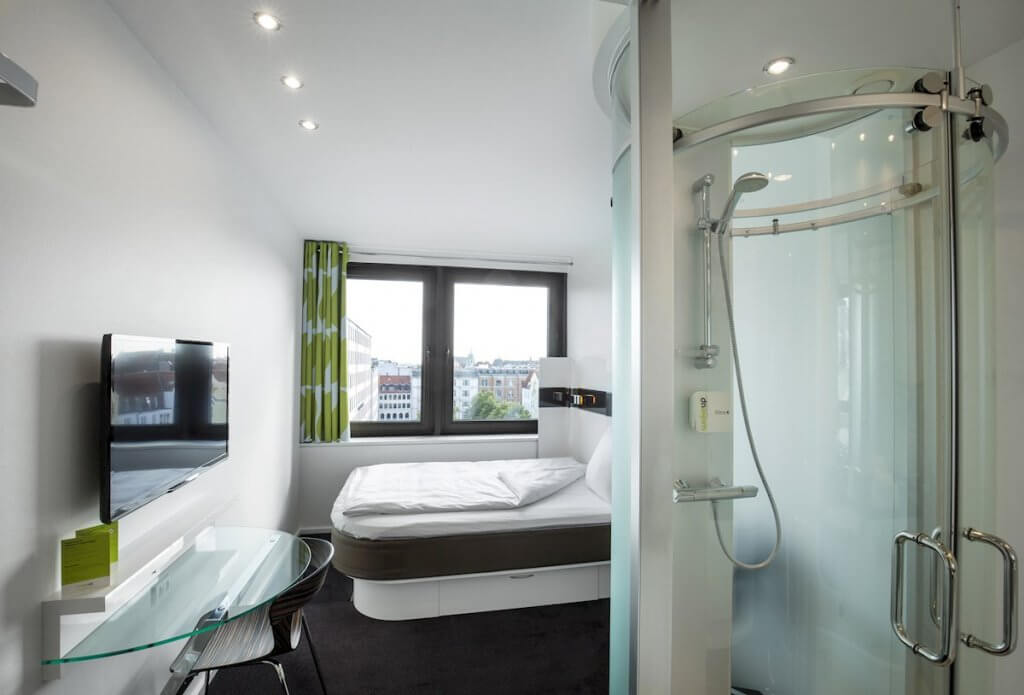 Location
Wake Up Copenhagen-Bernstorffsgade is conveniently located in Copenhagen City Centre. The property is located just 600m away from Tivoli Gardens.
Rooms and Bathrooms
Guest rooms at Wake Up Copenhagen have flat screen TVs with cable channels. Rooms have a desk to work from. Each room has a private bathroom. Choose from the Standard Room, Sky Room and Heaven Room (all sleeping 2 persons) and the Triple Room.
Facilities
The hotel has free Wi-Fi and a comfortable guest lounge. The ample buffet style continental breakfast features bread, butter, cheeses, cold meat, fresh fruit, jam and cereal. Choose from beverages like tea, coffee or fruit juice. Other food and drink facilities provided by the hotel include an on-site coffee house, fruits, chocolates and cookies, a snack bar and a mini-market on the premises.
Factbox
Booked via Booking.com, rates start from €106 for a double
Address
Bernstorffsgade 35, 1577 Copenhagen, Denmark.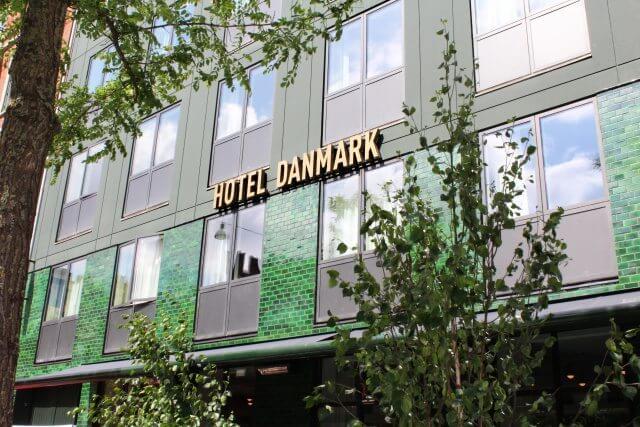 These last 3 options are not so budget friendly but I've included them for those who were happy to push the boat out a bit more….
8. Hotel Danmark
Location
A centrally located Copenhagen hotel between the National Museum of Copenhagen and the Copenhagen City Hall Square.
Rooms and Bathrooms
The rooms of the Hotel Danmark are located in two separate buildings. One of the buildings dates back to 1792 and is a protected listing. Special features of the rooms in the Hotel Danmark include a writing desk, large windows that  stream light in and cable TV. There are a number of room types to choose from: small single, small double, superior double or twin (sleeps 3), junior suite (sleeps 3), family room or three bedroom suite (sleeps 6), two bedroom suite (sleeps 4).
Facilities
A complimentary wine hour is offered to all guests between 5 and 6 in the evening at the hotel lobby bar. Hotel guests will also benefit from the organic breakfast in the morning. The rooftop terrace provides sweeping views of the city, so definitely have your camera at the ready. The hotel has its own lush urban garden where guests can relax after a long day. Restaurant Tivolihallen has delectable Danish sandwiches on offer. Alternatively choose from the a la carte menu. The hotel is conveniently located nearby pubs, cafes and restaurants.
Factbox
Book via Booking.com -rates start from €145 for a double
Address
Vester Voldgade 89, Copenhagen, Denmark.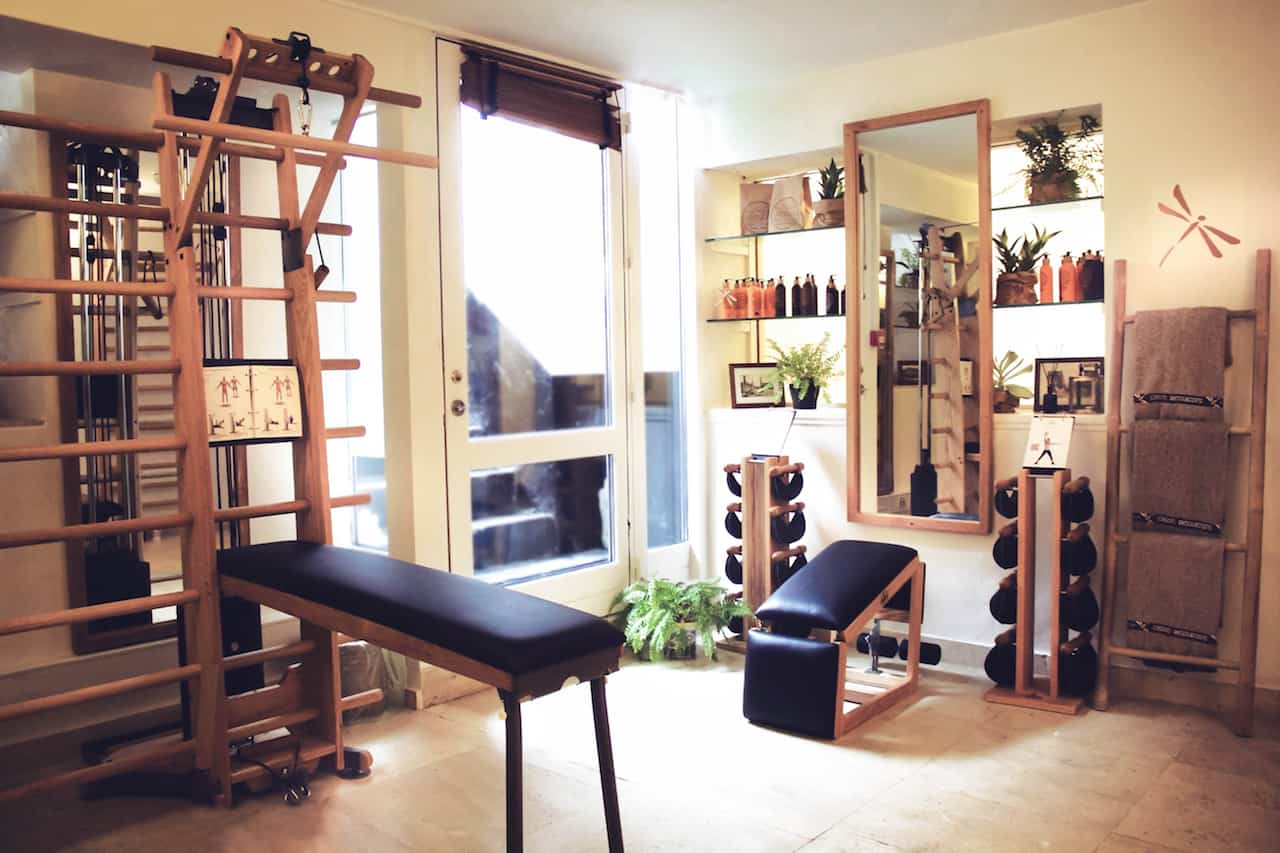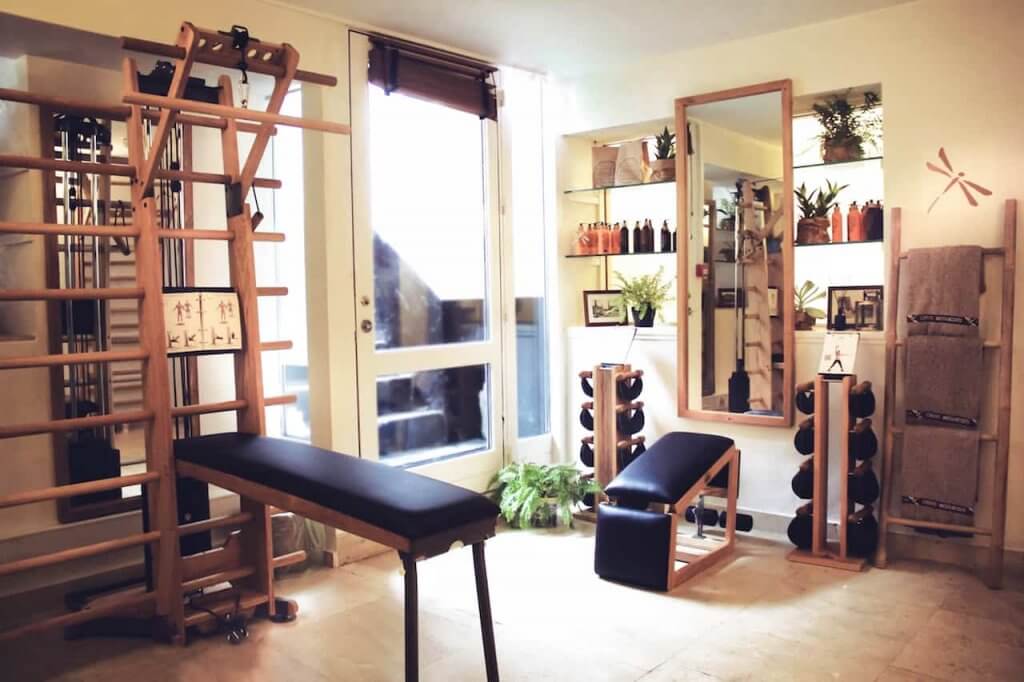 9. Axel Guldsmeden
Location
The Axel Guldsmeden is located on a narrow street in the upbeat Vesterbro area. The hotel is just a minute's walk away from Trommesalen Bus Station.
Rooms and Bathrooms
The Axel Guldsmeden has 212 rooms with 4 spectacular penthouse suites, with private rooftop terrace and hot-tub. Rooms have been inspired by Balinese decor. They have free Wi-Fi, roomy four poster beds, flat screen TVs, minifridges and designer toiletries. Family rooms include bunk beds.
Facilities
Axel Guldsmeden is found in a lovely turn of the century building. The hotel's focus is on eco-consciousness and sustainability-oriented media. The hotel has Green Globe certification and the green key. The hotel has a relaxing Axel Spa- perfect for some relaxation and rejuvenation in the hot tub and sauna. The hotel lounge and courtyard are also perfect places to relax. The Cafe Nord is the stylish restaurant at the Axel Guldsmeden. Exposed brickwork, large windows and recessed lighting create a wonderful ambience to feast on the culinary delights on offer. A plush lounge and a garden with sofas add to the perks of this delightful hotel.
Factbox
Via Booking.com rates start from €118 for a double
Address: Colbjornsensgade 14, 1652 Copenhagen, Denmark.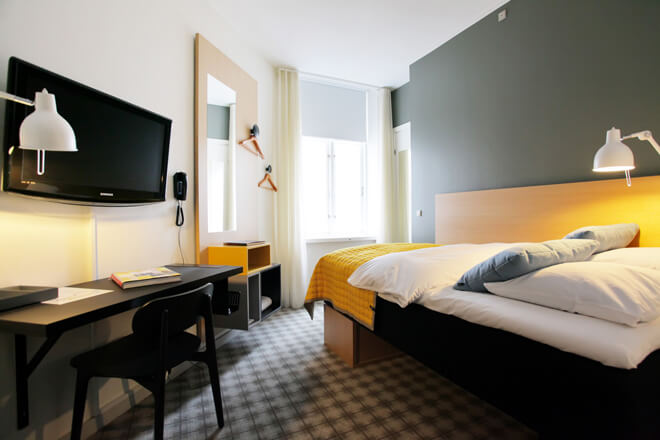 10. Ibsens Hotel
Location
Ibsens Hotel is located in the Nansensgade area in Copenhagen's city centre- a 5 minute walk away from Norreport metro station.
Rooms and Bathrooms
All rooms at the Ibsens Hotel are welcoming and pleasant. The rooms have provision to hang up clothes and with space under the bed to store suitcases. The non-smoking rooms have free Wi-Fi, cable TV, a desk, phone and an en-suite bathroom. Choose from Tiny, Small, Medium, Large, X-Large and Junior Suites equipped with comfortable Jensen beds.
Facilities: Ibsens Hotel is a boutique hotel with a home like atmosphere. The hotel is attractively decorated with art pieces from local and international artists. Ibsens provides a breakfast (DKK 155 for adults and DKK 75 for kids up to 17 years). Grab and Go breakfast bags are also available on request. Food is mostly organic and locally sourced. The culinary bend of the food is based on the principles of New Nordic Cuisine. The bar at Ibsens is open to hotel guests as well as outsiders. You can enjoy good coffee (sourced from 'Original Beans'), beer from Norrebro Bryghus, several organic wines and gin and tonics made with Herno Gin.
Factbox
The not so budget friendly option in this list – Via Booking.com, rates start from €169 for a double
Address
Vendersgade 23, 1363 Copenhagen, Denmark.