One of the top destinations in Europe, Rome can be a challenge for those traveling on a budget, and this is certainly true when in search for a decent meal. With its share of restaurants catering to visitors in the historic center, it can be difficult to find good value for money. Here are some places to eat in Rome that will ensure you eat well and not spend a fortune.
1. Pinsere 
You've probably heard of pizza but what about pinsa? It's an ancient type of pizza that's oval-shaped and with toppings on top. One of the best places to try pinsa is at Pinsere where you will be spoilt for choice. From a plain pinsa (no toppings) which costs €3 to fancier toppings of pears, gorgonzola, walnuts and honey (costs €4), this is the perfect place to grab a quick lunch bite. They also offer some limited selections of pasta and rice salad. The place is small and mainly for people to takeaway but there are some bar stools and a wall bar table to enjoy your pinsa.
Located close to the main train station, Termini, it's about a 12-15 minute walk. Alternatively, you can take Metro A to Repubblica or Barberini stop and it's a shorter walk.
Address: Via Flavia 98
Opening Hours: Mondays to Fridays 8.00am to 4.00pm
2. Forno Campo de' Fiori
Located as its name suggest in Campo de' Fiori, it is renowned for its pizza bianca (plain pizza without any toppings) which is delicious as it is or it can be filled like a sandwich with cured meats, vegetables, or cheese. Here the pizza, including pizza bianca and pizza rossa (with tomato sauce topping only) is sold by the weight. Let them know how big of a slice you want and usually, it won't cost you more than €6. The place is popular with locals and tourists alike so expect a crowd at lunch time.
Address: Campo de' Fiori 22 / Vicolo del Gallo, 14
Opening Hours: Campo de Fiori 7.30am-2.30pm and 4.45pm-8.00pm
Vicolo del Gallo 10.30am-4.45pm
Closed on Sundays (Note: In July and August, there are also closed Saturday afternoons)
3. La Renella
If you want pizza for dinner but got to Forno Campo de' Fiori a touch too late, fear not. Enjoy a nice stroll across the Tiber to Trastevere where you'll find La Renella, an excellent alternative. You'll be drooling over the display of pizza with a wide range of toppings, and don't be surprised if you find it challenging to decide on just one slice! Average price €5.
Address: Via del Moro 15, Trastevere
Opening Hours: 11.00am to 11.00pm
4. Pastificio
Tired of panini and pizza? Then head to Pastificio to get some hot freshly prepared pasta dishes for under €5. There's nothing fancy about this place despite being in the vicinity of Piazza di Spagna. Pastificio sells dry pasta but at lunch it offers one of the best deals in town.
For €4 you get to choose between two dishes and it includes water and the house wine. Your heaping pasta will be served on a plastic plate and expect to be using plastic utensils and cups (told you there's nothing fancy). The place is small with some chairs and wall bar tables and when it gets crowded, you might have to wait for people to clear out.
Alternatively, on a sunny beautiful day, you can get the pasta to go (not the water and wine though) and enjoy lunch in Piazza di Spagna, a prime spot to just soak in Rome. Since it is also popular with locals, head there just a touch before 1pm to beat the crowds.
Address: Via della Croce 8
Opening Hours: Lunch from 1pm-2pm
5. Trattoria Vecchia Roma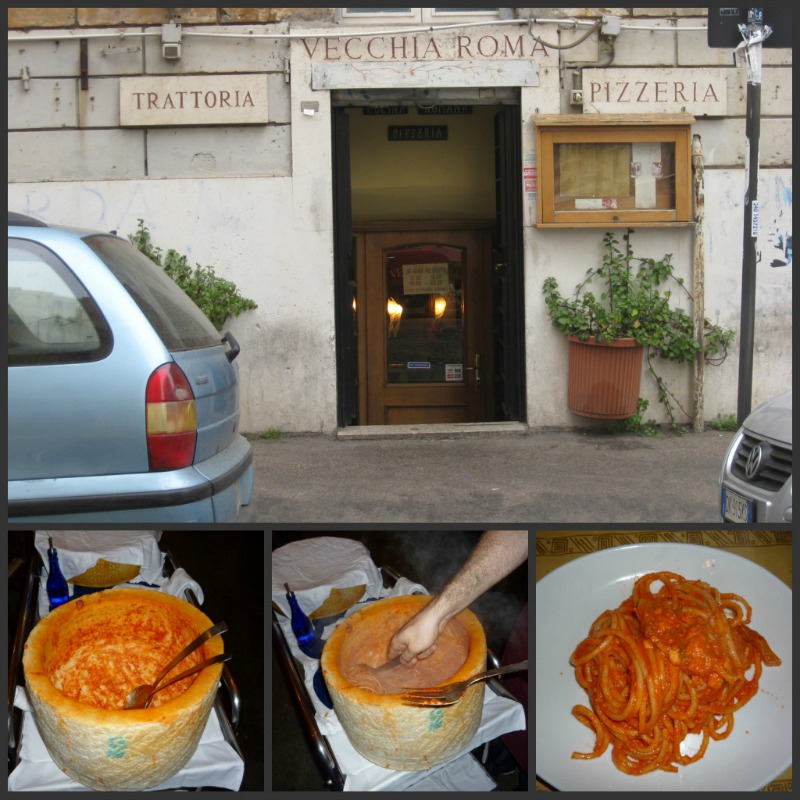 Situated in the Esquilino neighborhood is only a short walk from the Metro A Vittorio Emanuele stop. Their specialty is bucatini all'amatriciana which they flambe and mix it up in a pecorino wheel. Portion sizes are generous and dishes start at €9. As its popular place, reservations are highly recommended.
Address: Via Ferruccio, 12
Tel: 06 446 7143
Opening Hours: Mondays to Saturdays 12.30pm to 3pm and 7pm to 11pm
6. Kathmandu Fast Food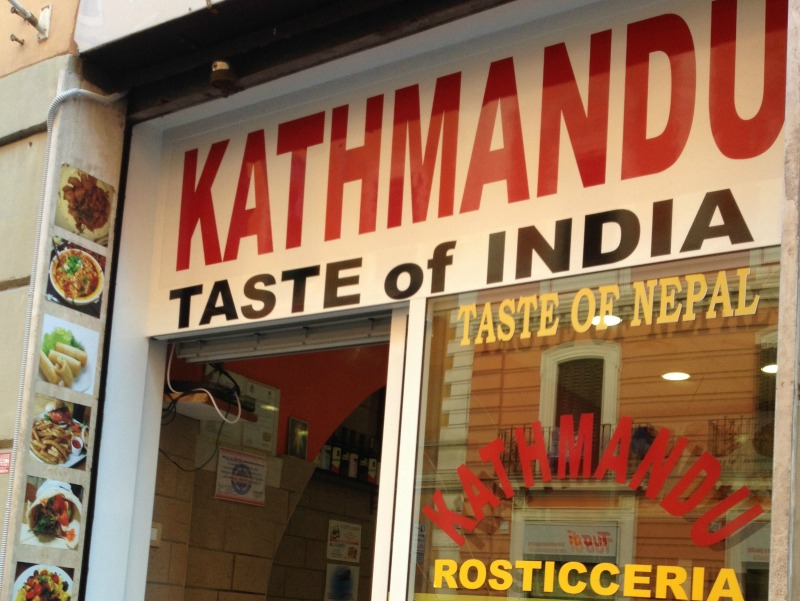 If you want a change from pasta, panini and pizza, make your way to Kathmandu Fast Food also in the Esquilino neighborhood, where you can get a mix plate of rice, vegetables and meat curry for not more than €7. A hole-in-the-wall but you won't be disappointed.
Address: Via Michelangelo Buonarroti 38
Opening Hours: Every day of the week from 10.00am to 11.00pm.
7. Hamburgerseria / Burger Bar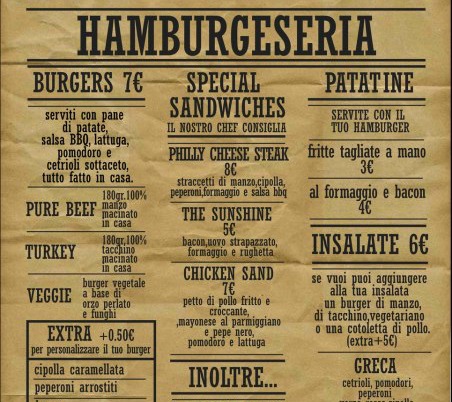 Craving for a burger or a late night snack? Close to Piazza Navona, you will find this burger bar tuck in a corner. They offer a choice of beef, turkey or veggie burger served with tomatoes, lettuce, and BBQ sauce for €7. It doesn't come with fries which would be an additional €3. On the menu, you will also find hot wings, salad and chicken quesadilla, each at €6.
Address: Via Del Teatro Pace 35/3
Opening Hours:  Mondays to Fridays 6pm to 2am / Saturdays and Sundays from 10am to 2am
And here's a bonus!
Gelato is not made equal in Rome! In general it is an affordable treat, if you know where to go! Here are a few gelaterie that offer excellent gelato and for €2-€3, it will be money well spent.
FataMorgana: Various locations in Monti, Trastevere, Prati. Check their website for more details.
Gelateria del Teatro: Via dei Coronari 65-66 and Lungotevere dei Vallati 25
V-Ice: Corso Vittorio Emanuele II 96
Gelateria Corona : Largo Arenula 27
Come il Latte: Via Silvio Spaventa, 24/26
Il Gelato: Viale Aventino 59
Biography
Diana has made Rome her home for the past 7 years. Consequently, she has found herself sharing her experiences on the blog BrowsingRome.com where she now also writes about about her adventures beyond the Eternal City. Connect with her on Twitter, Facebook, and Instagram.
PS: If you're visiting to Rome, also don't forget to check out our review of the Beehive Hostel & Hotel , my experience of renting an apartment in Rome and also how to get rich in Rome at 11am 
PS: If you are visiting Florence, don't forget to check out our cheap eats guide to Florence