PARIS. £100 spending money. Just 2 days, 48 hours in Paris.
Paris in Springtime is nice.
Bit muggy.
Crowds of tourists everywhere .
Not everywhere.
Especially, if you are willing to go off the beaten track.
Which was exactly my plan.
However 48 hours is not a lot of time to explore Paris.
On top of that I had set myself the challenge of a daily budget of £50.
Excluding accommodation.
More than enough…. I hear you say.
Trust me £50 does not go far in Paris…as you will learn soon.
Here is a diary of my 48 hours in Paris.
Day 1: 27th April 2011
Edinburgh Airport
4pm
Never leave buying your euros till last minute. I just got 105 euros for £100 today at Travelex. Biggest rip off.
7.30pm
48 hours and counting- I land in Charles de Gaulle Airport.
I head into Paris on RER B Train.
35 minutes is the journey time.
Cost of my ticket is 17.40 euros rtn!
Left: 86.60 euros.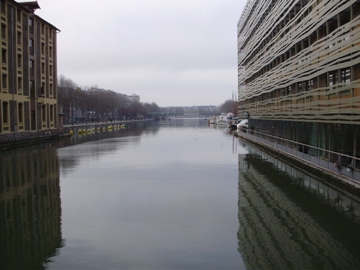 8:30pm
I check into my home for the next 2 nights: St Christopher's Inn Paris.
First impressions are good.
Receptionist is pleasant and welcoming.
The hostel has it's own Bar called Belushis.
They are showing the Barca-Madrid game.
I check out my room for the night- a 12 bed dorm. For the price, I can't complain.
You have your own reading light, blinds and luggage locker beneath your bunk.
9 pm
I'm off for a pint at Belushis.
Place is heaving and packed.
Good game so far.
Beer price alert: Pint of Kronenburg is 4 euros.
Just flash your room key, otherwise if you don't show it , price creeps upto 6 euros ( which is the standard price across most of Paris let me warn you )
1030 pm
Half Time.
Drinking that pint got me really hungry.
I check out Belushi's menu: 10 euros for a burger!
No thanks.
I head out for a snoop around the neighbourhood.
The hostel is by the canal , I spot  some very cool bars and restos to eat.
Eventually I plump for home comforts and decide to go for an Indian: Crepes Chaudes on 182 Rue de Crimee
I know. Coming all the way to Paris to eat at an Indian?
However, I have a good feeling about this place.
Looks clean, I get a good waft of the food from the street.
I have Chicken Curry with basmati rice, dessert is crepes with Nutella after.
All for just 10.50 euros.
I can't complain. Nice curry and those crepes were yum.
Left: 75.50euros
Day 2: 28th April 2011 
4.30am
Morning! I had a dream that I was surrounded by a swarm of snarling hyenas.
I wake up with a cold sweat.
Actually, it's just a bunch of Brazilians snoring in my dorm.
Too many caipirinhas last night I guess.
8am
I drag myself downstairs. Not much of a morning person to be honest,
Free Breakfast at St Christophers- not bad.
The breakfast counter is lined with a shitload of golden brown crispy baguettes.
I grab a few and and wallop tons of Nutella on them and wash it down with a gallon of orange juice.
9am
Buy a Paris Mobilis Pass. For 6.10 euros you get unlimited travel on zones 1 and 2 for 24 hours.
Left: 69.40 euros
9:45am
Cold, grey day.
I'm in Pere Lachaise Cemetery.
It's a beautiful place.
You do need a map to get around this place- very confusing layout.
I meet Jim Morrison in the 6th Division.
11am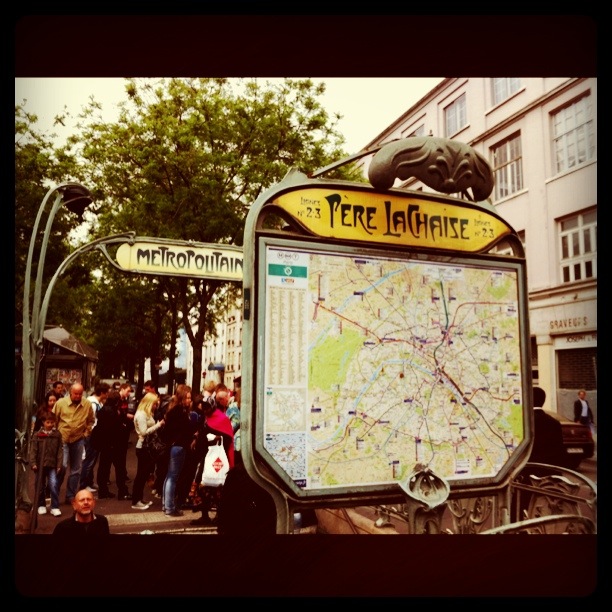 Love the Art Noveau entrances of the Metro stations in Paris.
Next stop: I'm off for a taste of the macabre: The Catacombs!
11:45am
Queue MASSIVE in front of Catacombs.
@katyabroad tweets me
"Ugh, Catacombs does not sound like a fun day out! Have you got anywhere to go a little less 'touristy'?"
12:30pm
I abandon the Catacombs queue.
Tip: Come early to avoid the crowds. I head off to see where Joyce, Hemingway lived in rue Cardinal Lemoine
1:15pm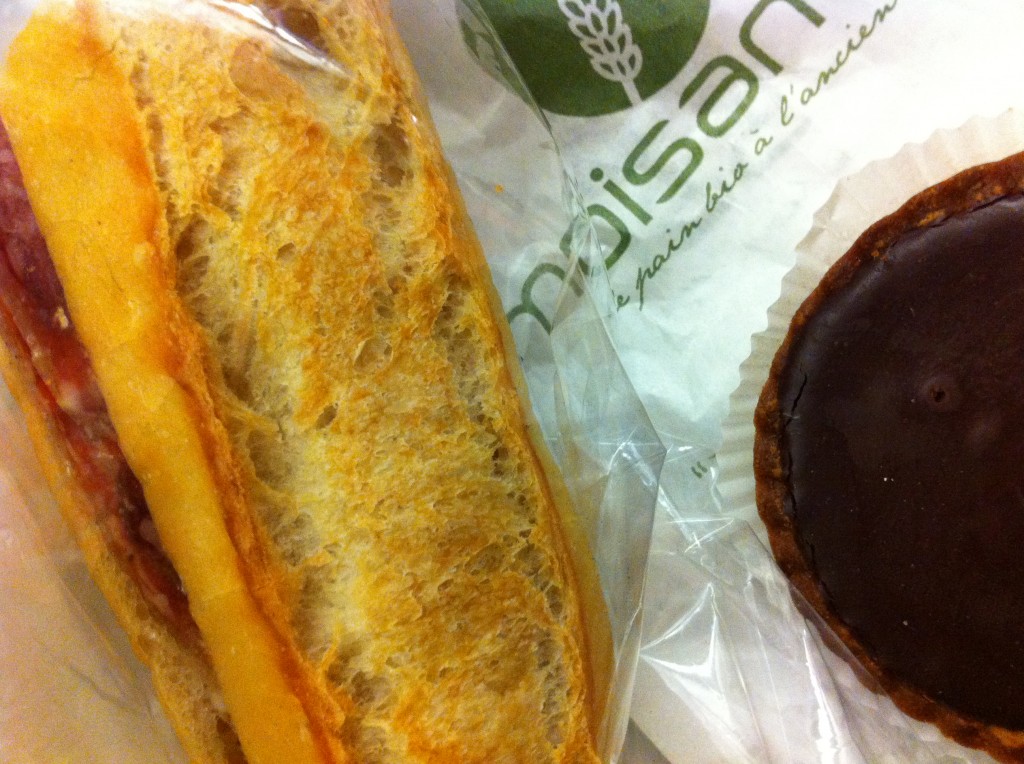 Quick but v tasty lunch at Moisan in Place Maubert: Baguette with saucisson & chocolate tart: 6 euros.
Left: 63.40 euros
2pm
I'm at 71 Rue Cardinal Lemoine: courtyard where Joyce finished writing Ulysses.
Closed to public now sadly.
2:10pm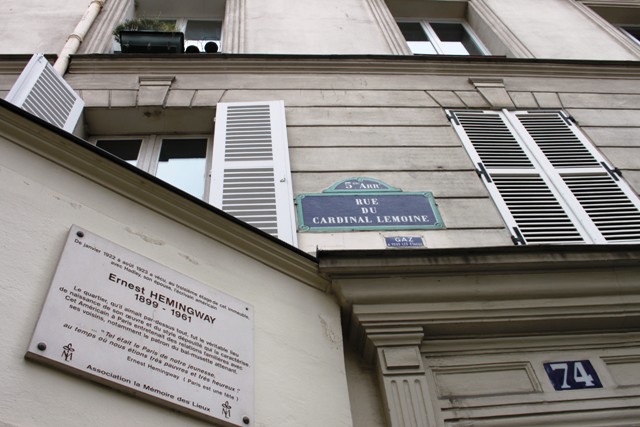 'This was how Paris was in early days when we were poor & happy' ( A Moveable Feast)
74 Rue Cardinal Lemoine
Around the corner from Rue Cardinal Lemoine: 39 Rue Descartes.
Hemingway lived here from 1921 to 1925.
245pm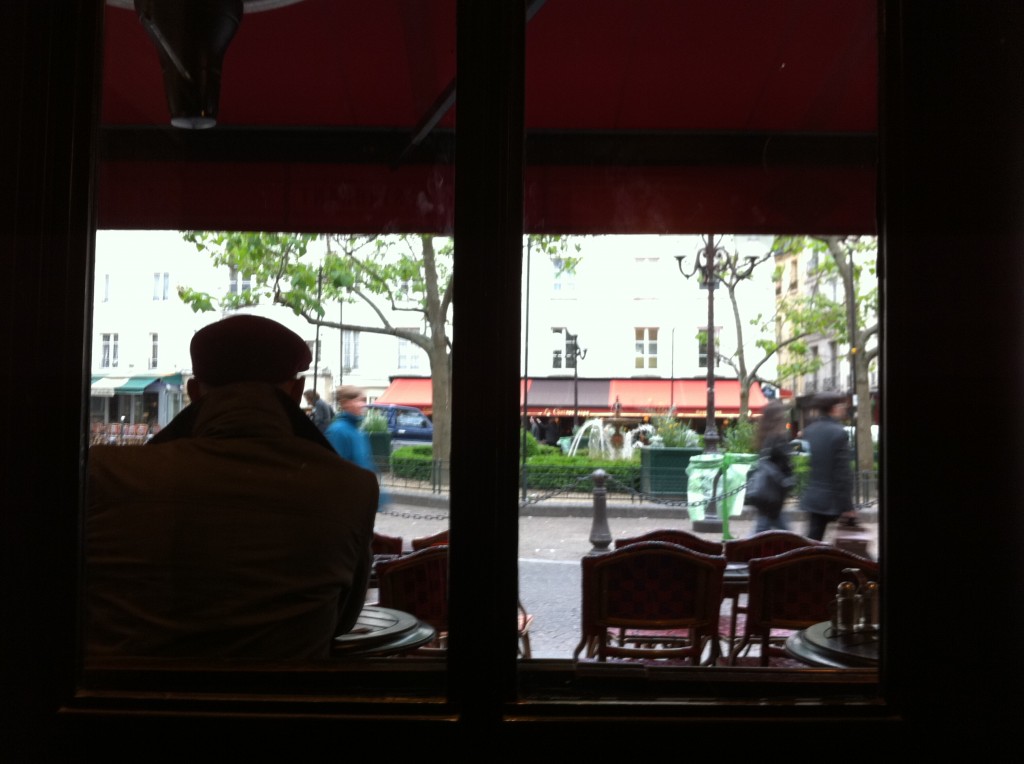 I need a pickmeup.
I go for a double espresso at Cafe Delmas on Place De la Contrescarpe.
Hemingway describes this place as a 'cesspool' where all the prostitutes, drug addicts, pimps and sailors used to hangout.
Espresso sets me back 6 euros!
I have now left: 57.40euros
330pm
Had a cool chat with Remi Lemoner,owner of Hotel Vieux 'Beat Hotel' where Ginsberg, Kerouac stayed.
The hotel is located in 9 rue Git-le-Coeur, an unassuming street in the Latin Quarter.
Remi was a real character and had a ton of interesting stories to tell me- a true adventurer. He was one of the first westerners to step foot in Mongolia back in 60's when there were heavy restrictions on foreigners entering the country.
4pm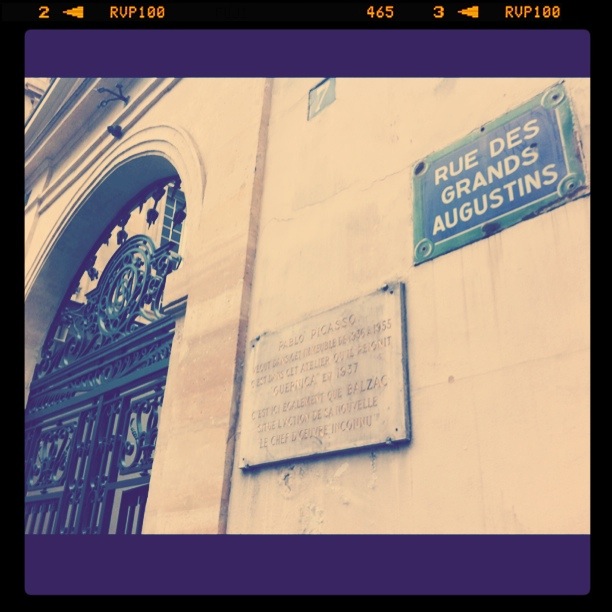 I'm at 7 Rue Des Grands Augustins: Picasso finished his masterpiece Guernica here.
4:20pm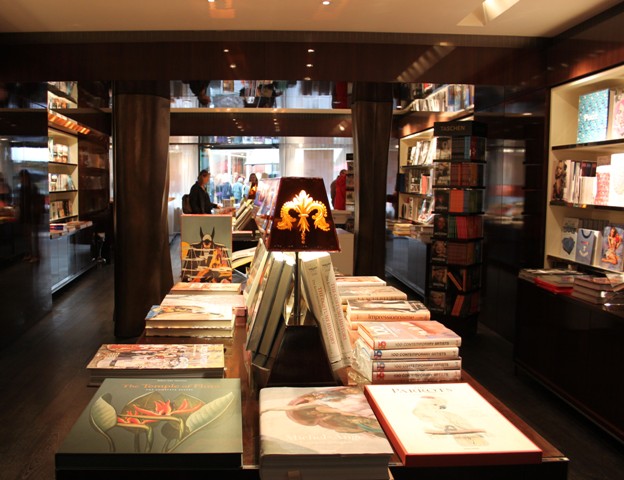 Tres cool! I come across a Taschen bookstore at 2 Rue de Buci
5.08pm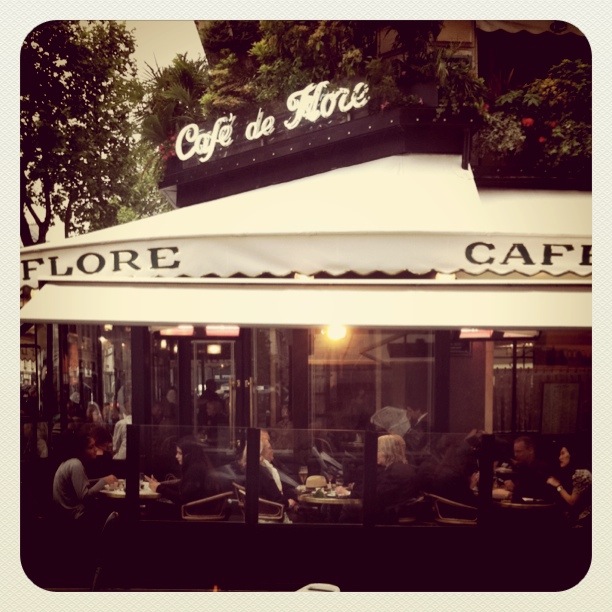 Cafe Flore bursting at seams.Favourite hangout for intellectuals Sartre and Simone De Beauvoir.
RT @h_dumigan: Considering unfollowing @BudgetTraveller 'cause of the tantalising updates on 2 days spent exploring Paris. Envy is a terrible thing. #100Paris

RT @arpimay: #100Paris this is a literary, artistic and cinematic Parisfest! Enjoying it.
530pm
More of Hemingway's Paris.
44 Rue Jacob. Hotel Angleterre : Ernest spent his first night here in Paris on 14/12/1921
Later on 56 Rue Jacob Hotel York I witness a plaque that is a reminder of an important moment in history….
On 03/09/1733 this is where David Hartley Benjamin Franklin signed the treaty for American Independence.
6pm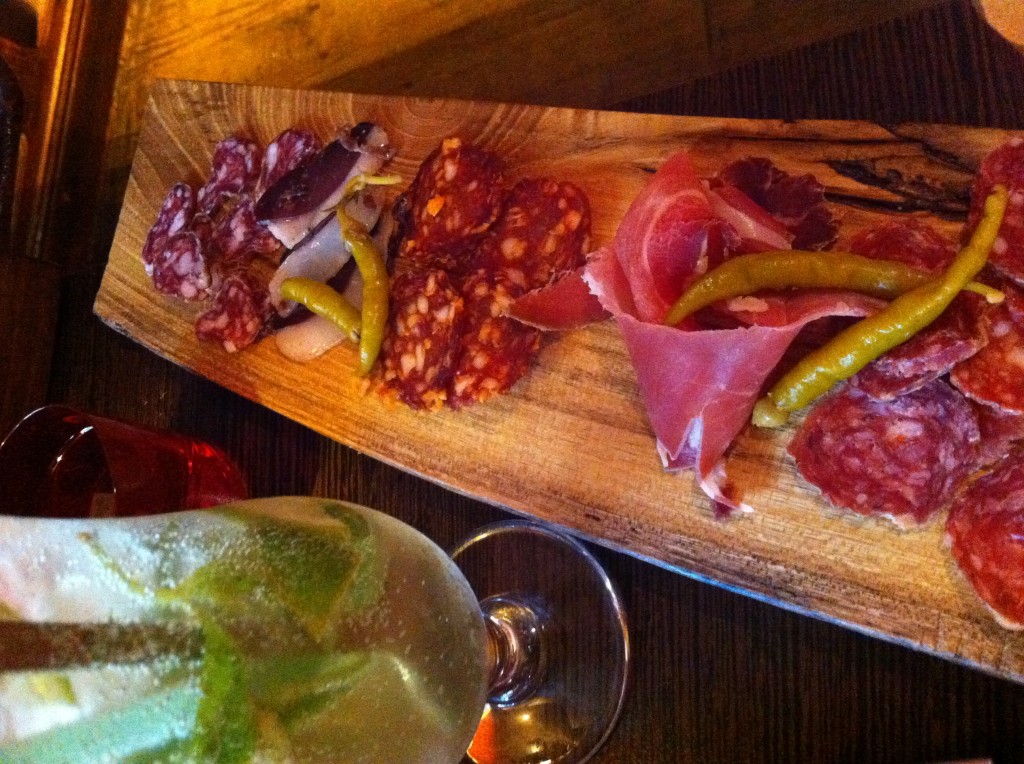 I'm at Dans Les Landes – the 5th's hottest joint.
Just steps from the Rue Mouffetard market and the charming St Médard square, this smart little spot is full of varied tapas-style tastes from France's southwest.
At just 8 euros for a mojito & charcuterie, I can see why this place is so popular.
Left: 49.40 euros
Day3: 29th April 2011
12 hours left. 49.40 euros left.
It was the day of the Royal Wedding.
Not a confetti or Union Jack in sight across Paris.
9:30am
I buy another 24 hour Mobilis Paris Metro Pass. Cost 6.10 euros. Left 43.30 euros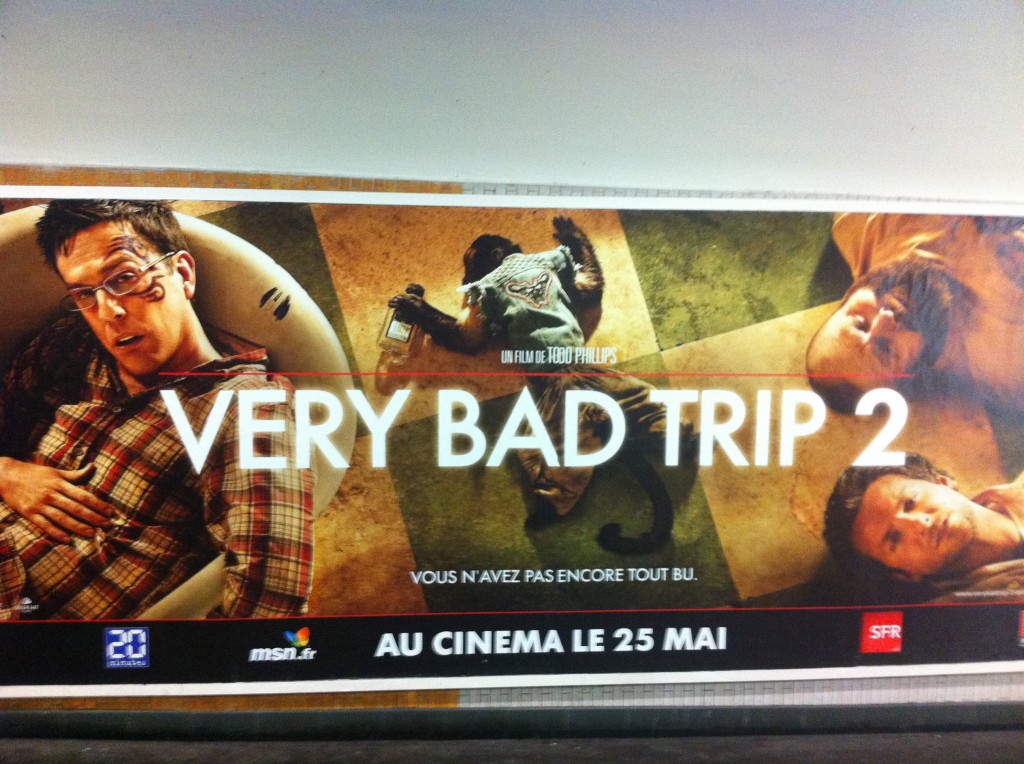 Great to see Hollywood movie posters when travelling: always translates into something completely different.
Hangover 2 translated in French : 'Very Bad Trip 2'
10:30am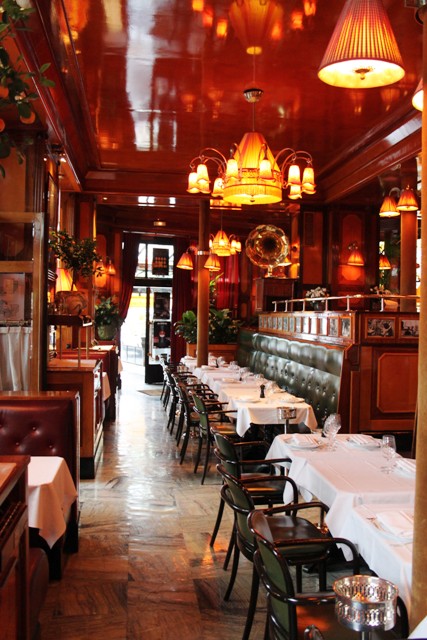 I'm in the very chic Le Dome restaurant ( also known as the Angle American Cafe in the heyday) where Picasso & many luminaries used to hang out.
Here's a picture.
I feel like the Antichrist on the day tweeting about #100Paris challenge.
My whole feed is jammed with female followers raving about Kate Middleton's dress- boring!
12:30pm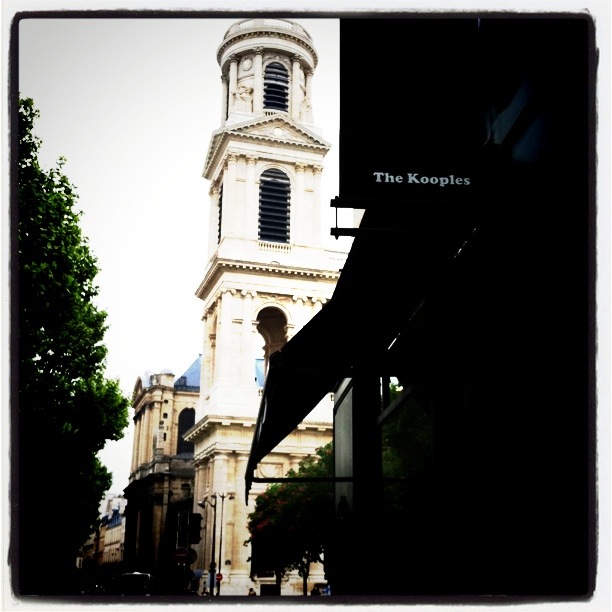 Enroute to St Germain, I stop to admire the beautiful tower of Eglise St Sulpice
1pm
Lunch –I wish I had remembered the name of this place- food was fantastic.19euros. ( Left: 24.30 euros) Fixed 3 course menu with a half a carafe of wine. Food smells great +diners speak in French: good sign. Just saw someone having Crepes Suzette with Grand Marnier-wow.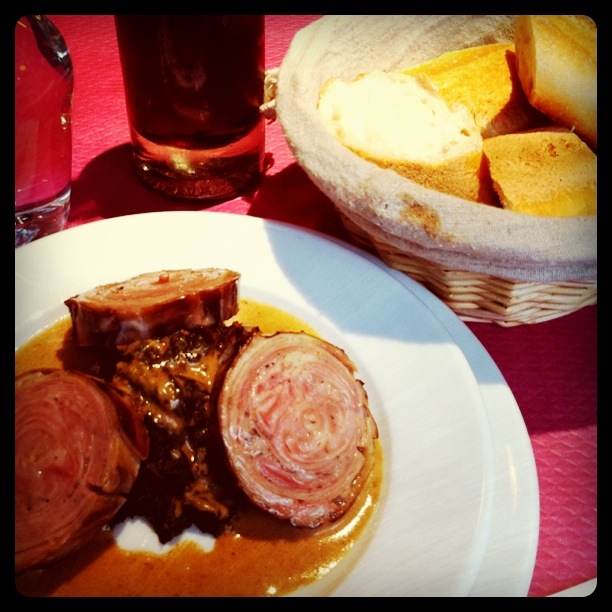 Starter of warm Sausages w/ garlic fresh cream cider sorrel & spinach sauce-nice.
2:30pm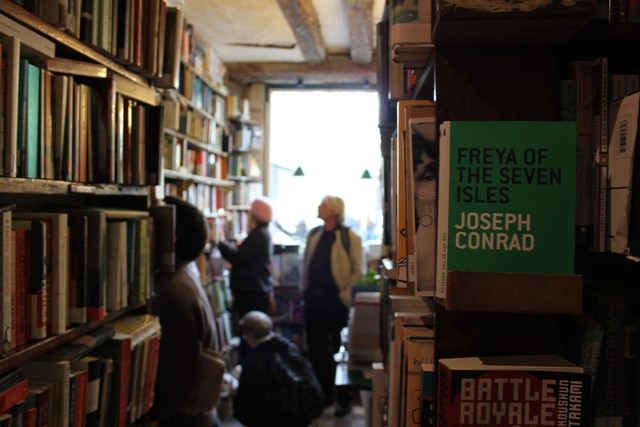 'We are sum of all the moments of our lives'

Jesse's famous quote from that stunning movie: Before Sunset
I am at the famous Shakespeare & Co where Jesse + Celine reunite
As a souvenir from my trip I splurge 8 euros on a book of Neruda's poetry at Shakespeare & Co.
I'm down to just 16.30 euros with 5 hrs left of #100Paris challenge
330pm
My legs are like jelly walking around Paris.
I take it easy and just beach myself on the banks of River Seine to right of Notre Dame.
Suns out.
I spend a few hours just lazing, reading my book of Neruda poems and watching Paris pass me by.
7.00pm
I meet an old university friend at a very flash cocktail bar in St Germain.
16 euros- buy one get one cocktail. Got myself a mojito.
Heaven.
Left: 0.30 euros.
THE END
Au revoir!
PS: If you enjoyed this post have a peek at my post Nostalgia is a seductive liar: Remembering Paris for the 1st time