Bus, Train or Plane- what is the best way to see Europe?
Bus, Train or Plane? Which is the best way to see Europe, I often hear from first-time travellers. So many countries to see and visit but so little time-trying to fit in all the must see cities you've dreamed of visiting can become a bit of an ordeal. Then there is a question of budget. Organising your trip becomes a bit of nightmarish experience. Especially if your travelling solo. You also want to have the spontaineity to be able to just get on a bus or a train without the fear of the last-minute price tag.
Earlier this year, as many of you may know,  I ventured on a quest to visit 50 of Europe's best luxury hostels. I was going to cover a lot of ground so I adopted a flexible approach of using the train on some routes, the plane and then the bus wherever relevant. I had a great time Interrailing across Europe in June with my Eurail pass. I loved the freedom of not having to book and hopping on some of their networks ( Germany, Austria) with no reservations. However in certain countries like France and Spain, reservations were essential and in some cases had also a price tag. For far-flung corners of Europe like Lisbon + Edinburgh- I found easyJet to be a really quick way to crisscross my way across Europe.All that was left to sample was jumping on a bus and seeing Europe.
Busabout Europe
Then someone told me about Busabout Europe– a hop-on-hop-off bus network where using their Flexitrip pass, I could visit nine cities in Italy and throw in a trip to France, Austria, Germany and Switzerland for as little as £350. It sounded like a great deal and more economical option compared to Interrail Courtesy of the nice people at Busabout, I was given a pass to sample the Busabout Europe experience. I thought I'd summarise below my thoughts about what I enjoyed about Busabout and what could be better to give you a balanced idea of whether the pass will work for you.
What I enjoyed about the Busabout Europe experience
On my first day of travel I presented my booking reference (which I printed off from the internet) and my passport and was issued with a swipe card that was to be my pass. I booked my Florence- Nice-Barcelona-Valencia sectors and all of my accommodation online at the Busabout website. The site is easy to use and it clearly lays out all of your bookings so you don't mix up any of your plans. With the Flexitrip pass I could have 6 stops and it lasts the whole operating season ( This year was 2nd May 2012 through to 28th October 2012 )
Choose from 33 destinations, stay as long as you want, explore the region.
I could visit a choice of 33 destinations in their network and have a choice of 6 stops with the Flexitrip option. There is no limit on how long you can stay in each city. I travelled from Florence to Valencia, spending a week in Florence staying at the fantasic Plus Florence , then a few days in Cinque Terre, then heading to Nice where I spent a week exploring Cote D'Azur ( Nice is the perfect base, watch out for the thieves there mind you ) before going to Barcelona for a few days and then ending my trip in Valencia where I sampled the madness that is La Tomatina – 5 stops in total and I spent a month covering that route. Most people, mostly younger first-time travellers I met were covering that route in a matter of a week or 10 days running themselves ragged in the process. After sharing my trip experiences with a few fellow Busabouters, many of them wished they had spread their journey out.
The other thing is that you have a degree of flexibility with the pass.
You can make changes to your schedule 24 hours in advance if you wish to stay on in the city for a few days extra. You can also buy additional 'stops' from the Busabout Guides to extend your Flexitrip pass. During the peak summer schedule note , that some of the bus routes run to capacity so it can be a problem rebooking.mMy advice is for you is that if you do want to make changes, make them early. It takes a matter of seconds for the change in itinerary to be confirmed so that is v.handy.
Top tip: The pass is valid for the whole summer so take it slow, if time isn't an issue.
I recommend doing lots of research before you plan your itinerary if you are traveling in summer. Make at least 3 stops along the way where you can stay somewhere for a longer time and have a few 'chill-out' days to recharge your batteries.
Terrified of travelling solo?-then you will love Busabout
Having been on the road for the last few months, I seem to have mastered the art of travelling solo. Thanks to social networks like Twitter and Social travel networks like Gogobot, sites like Couchsurfing-making new friends on the road is not a problem. However if you like the idea of a travel network across Europe that allows you to meet fellow travellers during your trip, then Busabout is perfect for you. Busabout have an excellent community page where you can get tips prior to your departure plus via the TripMates function, you can also befriend fellow travellers who are travelling on the same departure dates as you.
Friendly, expert Guides
One of the other great advantages of travelling with Busabout is that you get the expert advice and insight of the Busabout Guides. The Busabout guides on each bus gave me lots of details on the destination I was heading to plus they also helped pre-plan any activities prior to me arriving at the destination. Also they are at your service, if you need to book your accommodation at the destination. Note, that they can book you on with only their recommended providers. While I didn't need to take advantage of these features, it's great to see the level of care and passion that the Guides put into their jobs to help the passengers. These guys are passionate travellers themselves and that comes across clearly in their jobs. I had the chance to hang out with Adam Agenda MC Bazeley who was our guide from Nice to Barcelona. From the best places to taste Paella, to the history of Spain under Franco and where to enjoy local tipples like 'Calimocho'- Adam was a walking encyclopedia of everything Spanish. Not only does he know his history and his food, the guy turns out be an awesome Rapping Travel Vlogger. I managed to capture him on film doing an awesome Gaudi Rap on our way to Barcelona which you check out below.
Also on the long trip from Nice to Barcelona, I had the pleasure of getting to know Hannah who had just recently joined Busabout as a guide over the summer. Here is a nice wee video interview of Hannah, sharing her experience of being a Busabout Guide and her experience so far of being part of the company.
Overall, it was a smooth and enjoyable experience. Even though some of the sectors like Nice to Barcelona can last upto 10 hours, the monotony of the journey was broken up watching films that they show on the bus. There are a few refreshment stops along the way at service stations to grab food.Also, another big plus point is whenever you have a mighty hangover from the night before, helps to just roll out of a bed and just hop on the bus without the stress and hassle of getting to the train station or airport.
Things that I didn't like about Busabout
Limited routes
While with an Eurail pass you can pretty much cover the whole of Europe, with BusAbout you are restricted to a selected routes and stops. Plus if you're doing the 'loop' you are limited to heading in one direction. Busabout offers about 33 destinations while the options with InterRail are closer to 30,000 plus complete flexibility over directions.
Limited service and frequency
On popular train routes you get a number of trains running per day, while Busabout serves each stop every second day. As I mentioned earlier, during the peak summer season , book in advance to avoid getting stranded for longer than planned, as the seats on the buses get snapped up very quickly.
Ausabout?
I don't if this was just my experience but majority of the crowd that use Busabout are Aussies. In fact, I think it should be called 'Ausabout' than 'Busabout'. While I have nothing against Aussies, in fact I have a number of friends from there, after riding with them for a few weeks, I kinda became aussied out and was craving for some variety & diversity of travellers. Plus also an older traveller, the Busabout crowd tends to be more younger, first time travellers so at times you do wish they were more older, experienced travellers to hang out with. Suggestions for improving the product would be to offer more routes, possibly bespoke networks for slightly older, mature travellers to help attract a more wider audience, more activity options at destinations , broader choice of accommodation options at each network point plus having free wifi on the buses-this would boost the brand and overall user experience.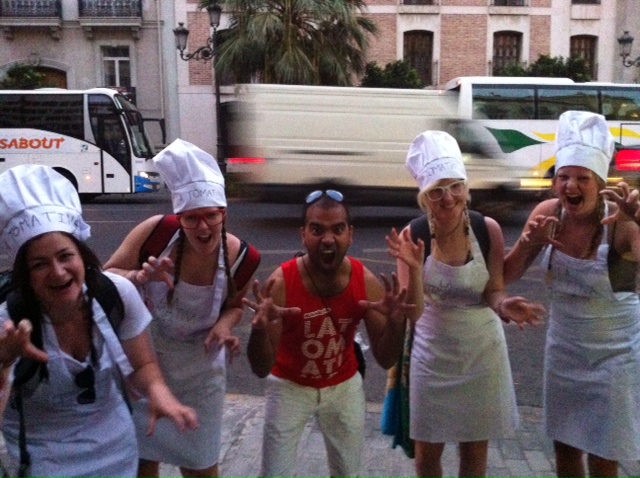 To conclude: Is Busabout Europe for you?
I think if you are a first-time traveller in Europe and have never travelled solo before, Busabout is definitely for you. I love the concept. You can plan your own itinerary, never worry about being alone, you have expert friendly guides on the buses to answer your queries and help you,  accommodation options can be booked on the site or via the guides-all you have to do is put your name down, get of bed before the bus leaves, meet lots of people and be ready to party hard. For more about booking your Busabout Europe experience visit the website http://www.busabout.com/ Also check out the Busabout TV channel on Youtube http://www.youtube.com/user/BusaboutTV
Note: While Busabout sponsored my trip, the views put forward in this article are entirely my own.