We came to Thessaloniki to eat and work. Plus to enjoy the warmth. It was late October and still a perfect 24c. Over little under a month, we enjoyed some of the best food we have ever tasted. What makes Thessalonki, the food capital of Greece? The city's rich culinary traditions have been built on the wave of immigrants that have made the city home over the centuries. Where to eat in Thessaloniki and what food should you eat in Thessaloniki? To really feel the pulse of the city, head to one of the city's many mezedopolia ( small plates restaurants where you gorge on a variety of local dishes, washed down with ridiculously affordable ouzo, wine, retsina or tsipouro). I've shared below the best restaurants in Thessaloniki that are good quality and budget friendly. Let me know if I should add anymore names to this list.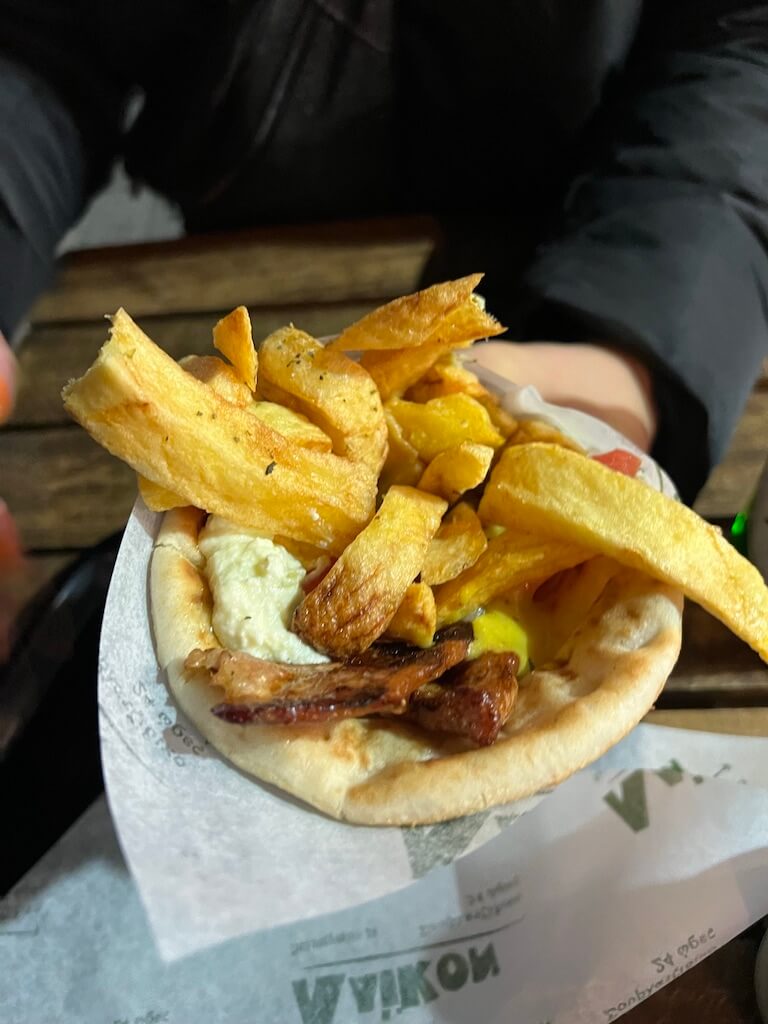 1. Laikon
Situated next the nightlife hotspot of Ladaika , you will find Laikon. I can't vouch for this being the best gyros in Thessaloniki but I'm sure it is up there with the best in the city- loved the combination of crispy pancetta with mustard, spicy cheese spread-tirokafteri and their hand cut fries, bundled into a fluffy toasted pita.
Cost: €3.20
Address: Politechniou 24, Thessaloniki 546 25, Greece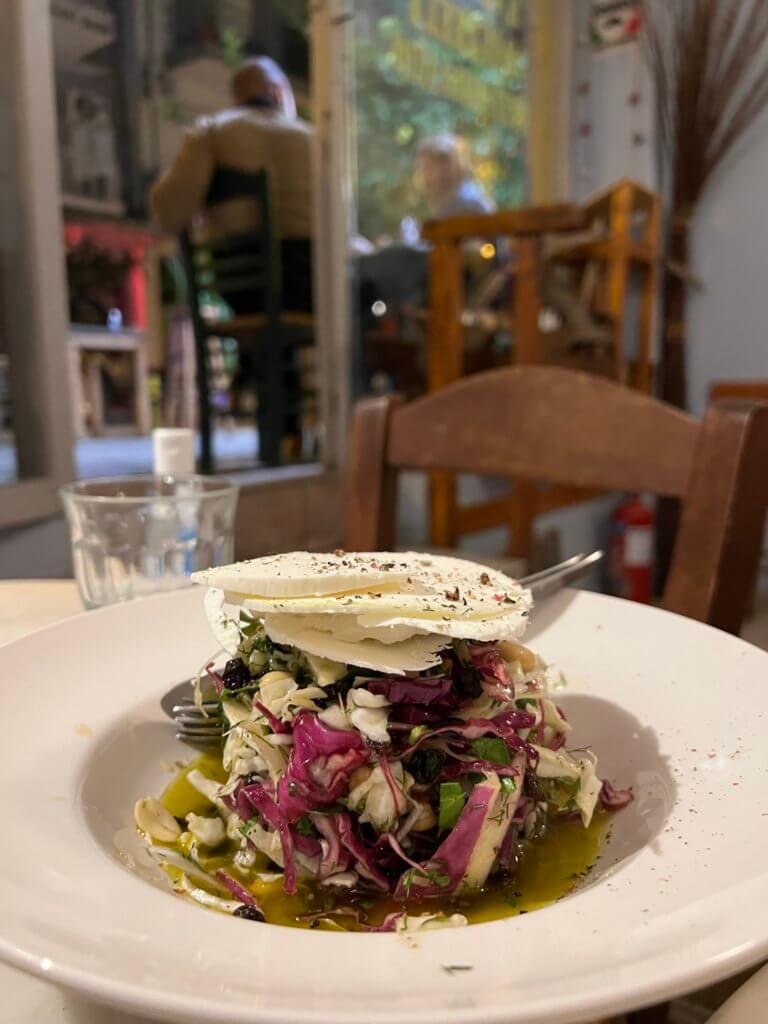 2. Kafeneio Odysseia
Run by the affable Christos and Rita, Kafeneio Odysseia for me sums of the magic of Thessaloniki's food scene. There is no menu here. You are served whatever is fresh from the oven. It feels like eating at someone's home rather than a restaurant. Everything we tasted from their amazing crunchy salad to the broad beans in tomato sauce baked in the oven to Dolmadakia (vine leaves stuffed with rice) -each dish tasted heavenly and was beautifully presented.
Cost: The prices are super cheap- we ordered 4 dishes and it came to €20. Half a litre of the house white wine was €5.
Address: Kastritsiou 11, Thessaloniki 546 23, Greece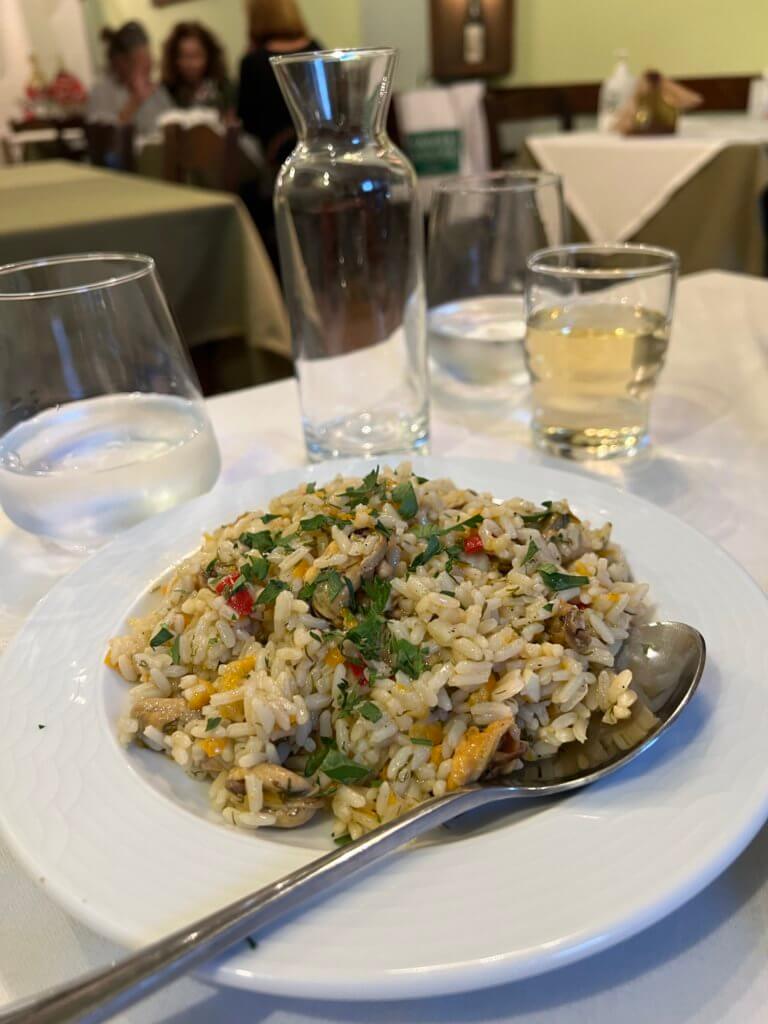 3. Argofageio
This was another highlight of Thessaloniki, It is a small intimate restaurant with 6 tables and the quality of food here is amazing for what you pay. The handwritten menu changes daily and prepared with whatever is fresh from the market.Everything we tasted here, from stuffed mushrooms to seafood rice with mussels was amazing. Two glasses of white wine: €2.50.
Address: Apellou 6, Thessaloniki 546 22, Greece


4. Το Δίχτυ
Good seafood, lovely atmosphere, nice music and really good prices- safe bet for decent seafood in Thessaloniki
Address: Δραγουμη και, Dimitsa 18, Thessaloniki 546 23, Greece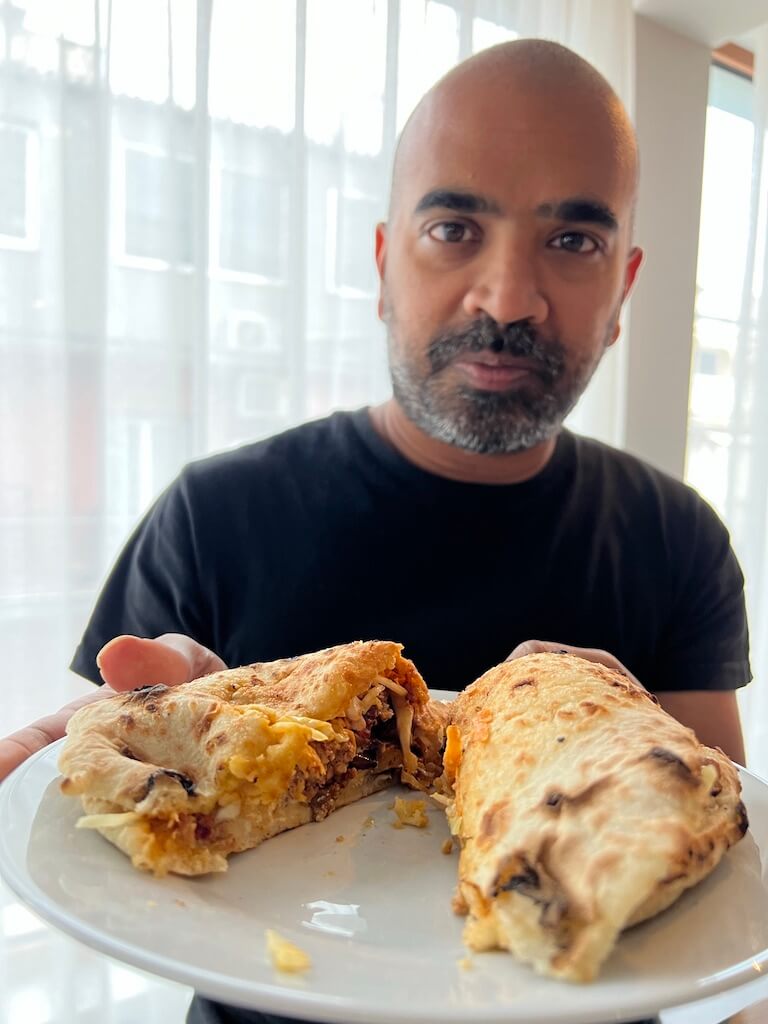 5. Salento Wood Fired Street Food
This restaurant besides serving great wood fired oven pizzas specialises in Puccia sandwich, a traditional bread from Salento, an area of Puglia. It's a street food classic made with pizza dough baked in a wood-fired oven. Similar to a pita (but not quite as thick and as chewy) you can choose from a variety of fillings- mushrooms, pulled pork, salsiccia, pesto, prosciutto crudo- you are spoilt for choice.
Cost: Prices start from just €4.50
Address: El. Venizelou 76, Thessaloniki 546 31, Greece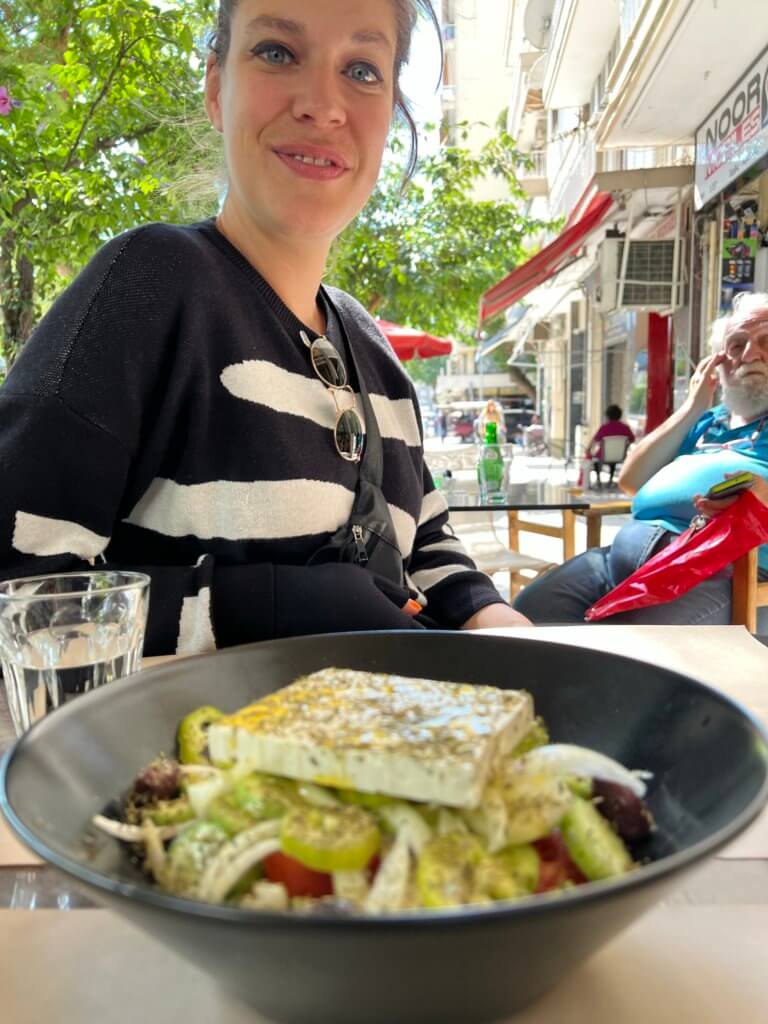 6. Μπακίρι Καφενές
I would recommend this old fashioned coffee house /meze 'small plates' restaurant near to Zeus is Loose Hostel on the strength of the staff, price and also the food.
Cost: We ordered a greek salad which was fantastic, fried fish plus some coffees for under €8.
Address: Chalkeon 23, Thessaloniki 546 31, Greece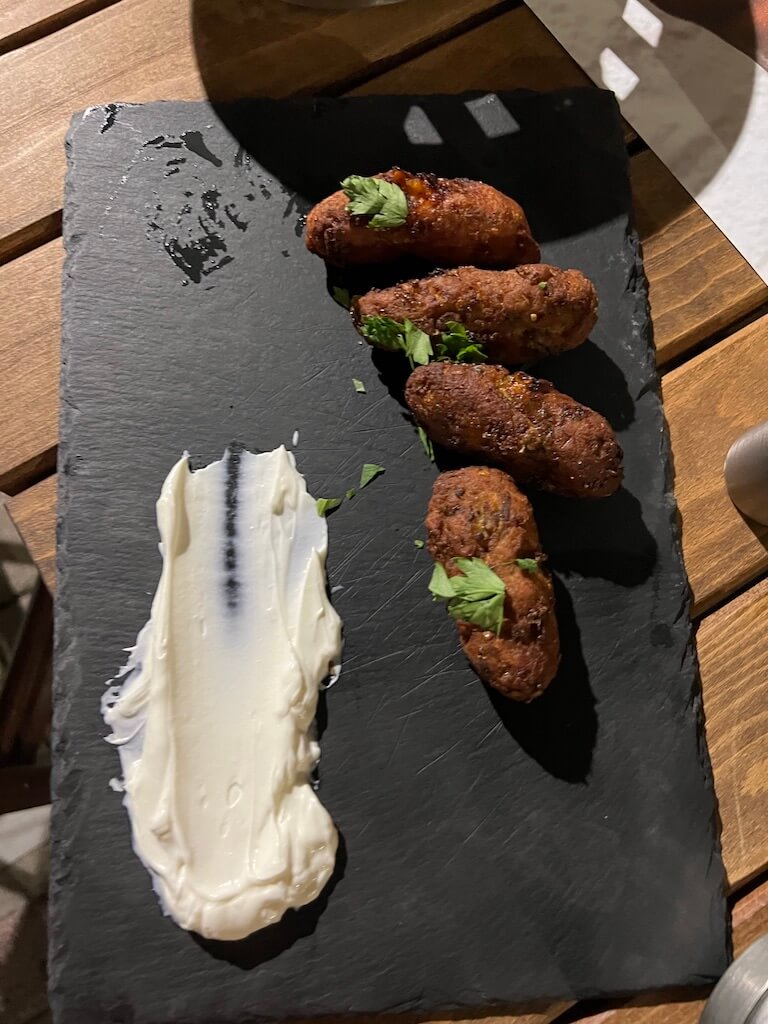 7. Οινοποτείο καπηλειό
This meze small plates restaurant in the Kapani market is a gem with variety of traditional greek dishes. Pick of all the dishes was the smoked aubergine with feta.
Cost: Meze starts from just €4 and half a litre of wine from €5. Incredible value and wonderful service.
Address: Spandoni 26, Thessaloniki 546 24, Greece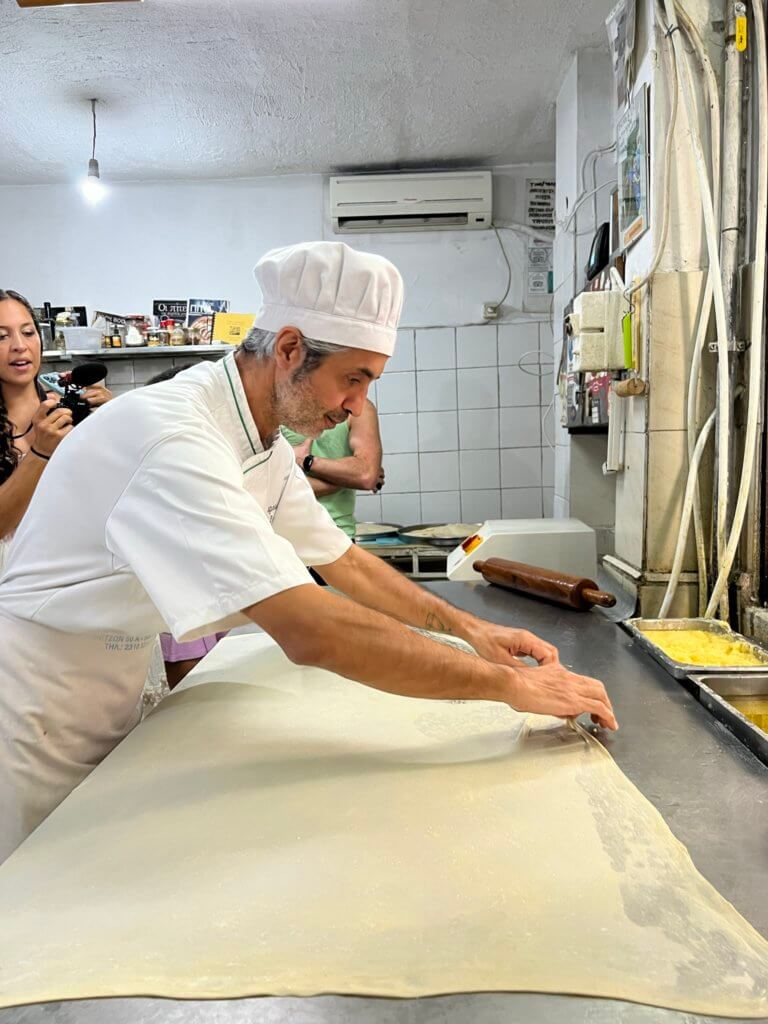 8. Bougatsa Bantis
If there was dish that represented Thessaloniki and its history, it would be Bougasta, a phyllo pastry pie that is enjoyed for breakfast in northern Greece. It is close cousin of Turkish börek which you also find in the Balkans.
The best place to try in Thessaloniki is Bougasta Bantis, run by Philippos Bantis and his family. Philippos is the 3rd generation of the family making Bougasta, a tradition carried on from his grandfather who came to Thessaloniki with the wave of Greek refugees who had to leave Cappadocia back in the early 1920's. The Greeks from Asia Minor brought their rich food culture and century old baking traditions. So when you try the Bougasta here, you are tasting a unique slice of history and heritage. Founded in 1969 by Phillippos's father, you can try cheese, spinach or my favourite-semolina custard and cinnamon.
Address: Panagias Faneromenis 33, Thessaloniki 546 32, Greece