I've been cooking like mad for the last few days.
Spices flying out of the jar, sauces spluttering everywhere (damn, always forget the lid. Sorry Claire for making a mess of your lovely wee kitchen) and the beautiful smell of curry is resplendent everywhere in the house.
Time to get the incense out.
I am temporarily resident in Edinburgh at my friend, Claire Connachan's cosy little house.
Having been on the road for 4 months, it's been great to be in a 'home' and be able to cook all my favourite dishes.
I miss the comforts of simple, home food while on the road.
There's only so many greasy kebabs, sandwiches, burgers or pizzas you can eat before you just lose appetite.
You long for something simple and nourishing.
Like a kick ass Greek Salad maybe.
I often just loving eat lentils- we call it 'dahl' in India, with some nice basmati rice.
Few mouthfuls of that and I'm home, in my mum's kitchen in Kolkata.
So, it's great whenever you get a hostel with a kickass kitchen.
For me that's one hallmark of a Luxury hostel.
I've talked about the concept of Luxury in a hostel about not just being a private bed.
For me the concept of luxury extends to a number of things- like hospitality of the staff, the ambience and the facilities they offer guests like a beautiful kitchen.
I've been to some amazing hostels in my Luxury Hostels trip and had the pleasure of discovering some great hostel kitchens to cook in.
I thought I'd share with you some of the best hostel kitchens I've cooked in so far from my Luxury Hostels tour.
So in no particular order…
Loft Mountain Hostel, Bourg St Maurice A kitchen with a view
The kitchen at the Loft Mountain Hostel situated in the picturesque ski resort town of Bourg St Maurice , is something out of a 5 star luxury apartment.
With room for 15 residents, the kitchen never gets overcrowded with guests.
Plenty of plates, pots, pans and cutlery.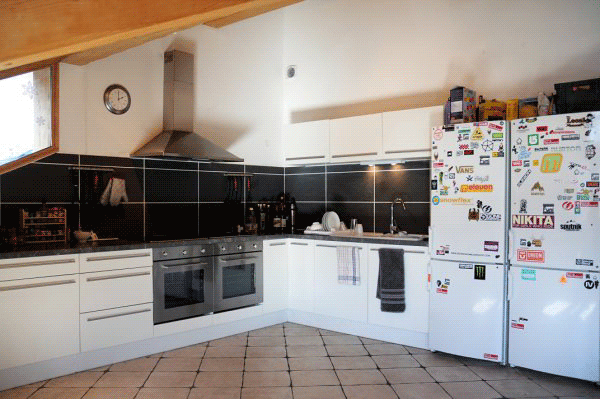 A big huge fridge to store all your food.
Also, there is a spice shelf if you are missing your spices plus other key cooking ingredients like oil, salt and sugar that are free for guests to use.
Charley- the bubbly, friendly owner of the Loft is a big foodie herself.
She will often be seen pottering around the kitchen conjuring up some very tasty creations with the help of her great selection of cookbooks ( often treats guests to impromptu dinner- she is awesome ) which I dipped into frequently for inspiration.
Just across the road, there is a Lidl. Which stocks a good selection of local French produce too. Plus there is fantastic local food market in Bourg on Saturdays to take advantage of.
They also have free coffee and tea which guests can help themselves to you.
Most importantly, while cooking you also have a view of the lofty peaks of the Les Arcs mountain range to inspire you.
What's a kitchen, without a view?
Cocomama, Amsterdam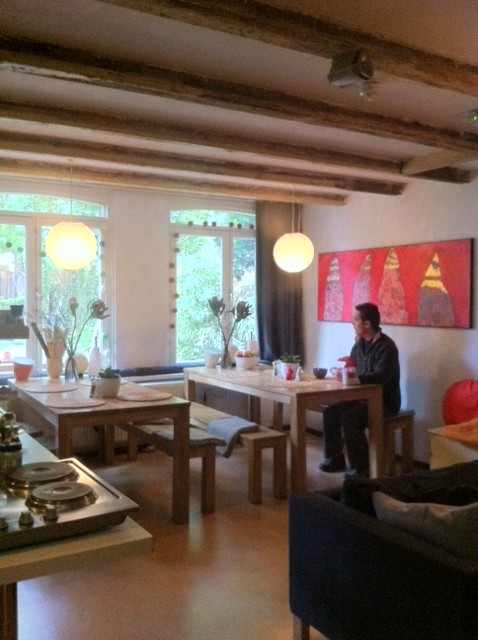 The kitchen cum living room space at Cocomama was a happy oasis of good food, banter and wine for me during my stay in Amsterdam.
Lot of the guests, including the owners would cook in the kitchen so you had a cheerful, happy communal vibe that never got too busy, thanks to the boutique small size of the hostel.
Plus right beside the kitchen, you had the beautiful lush green garden where guests could eat their food.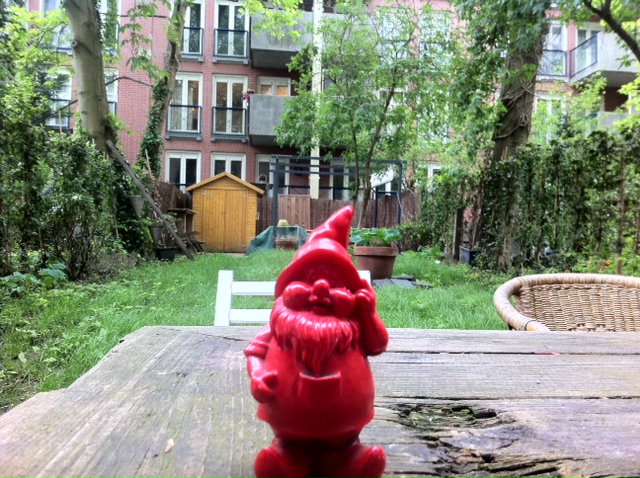 During the day sunlight would flood into the kitchen giving a bright, happy feel about the room.
A Lidl around the corner meant I could get my hands on a lot of essentials.
The hostel offers guests free pasta, oil and essentials like salt, sugar.
On Tuesdays, if you feeling broke after the excesses of Amsterdam's  nightlife, they organsise a Tight Ass Tuesday where you eat pasta with the guests for as little as 3 euros.
Plus we can't forget Jupp- the hostel cat who lazes around the kitchen and makes you feel at home.
Dream Hostel, Tampere
The kitchen at the Dream Hostel, Tampere is a dream- like something out of an Ikea showroom but far better.
With it's colourful palette of blue and white, the kitchen has a very dreamy, happy feel about it.
Lots of small, potted plants and low lighting give the place a nice, chilled out vibe.
I'd just go back to sit in that kitchen and happily work all day, break the monotony by speaking to the awesome staff  and of course cooking my food.
Pride and joy of the kitchen here is their filter coffee machine which guests can use to brew a very decent cup of coffee for free with their generous supply of top notch Columbian grinded coffee.
Often Ville, will shower guests with random acts of kindness like leaving huge bowls of some of the juiciest, sweetest strawberries from the local market down the road for the guests to tuck into.
Also other quirky surprises in the kitchen include, free popcorn whenever it rains ( which it does a lot in Tampere, so your chances are good) or on a Friday night.
Gallery Hostel, Porto
Set in a 19th century building, Gallery Hostel is a stunning space.
One of the highlights is the open plan communal kitchen.
During the day guests can relax, drink free tea and coffee and work on the long breakfast tables.
In the morning, you get an awesome breakfast buffet spread that would not look out of place in a 5 star hotel.
Evenings at Gallery Hostel kitchen are quite special- after a drink at the bar, guests can sit down to a 3 course meal, enjoying authentic cuisine typical of the local area for 10 euros that includes a whole bottle of port wine. It's a great way to meet fellow guests and bond with them.
When I visited we had a delicious Caldo Verde.
The meals are cooked by the hostel's very own Brazilian chef. It's the kind of food your mother in law (if you're lucky to have one)  would make, that good.
Rooms Deluxe, Valencia
The kitchen cum living room at the Rooms Deluxe Hostel in Valencia  is a beautiful space.
Large, modern in design and well stocked in terms of cutlery, the kitchen has a very nice layout.
Plus the biggest surprise is the excellent Nespresso machine.
80 cents to enjoy your own brewed cup of Nespresso.
Talk about finding luxury in a hostel 😉