One of the most common questions I get from readers is if I can recommend them a good hostel to stay in New York that is not too expensive. There are a few decent cheaps places to stay in New York but forget about finding a cheap room in New York. For anything half decent, good location, clean -you're looking at around $150-$200 for a private room. One way to save money in New York is by choosing to stay in a hostel. Based on my recent trip to the Big Apple, I've rounded up my best budgets places to stay in New York that offer great value in terms of location, price and facilities.
1. HI New York City Hostel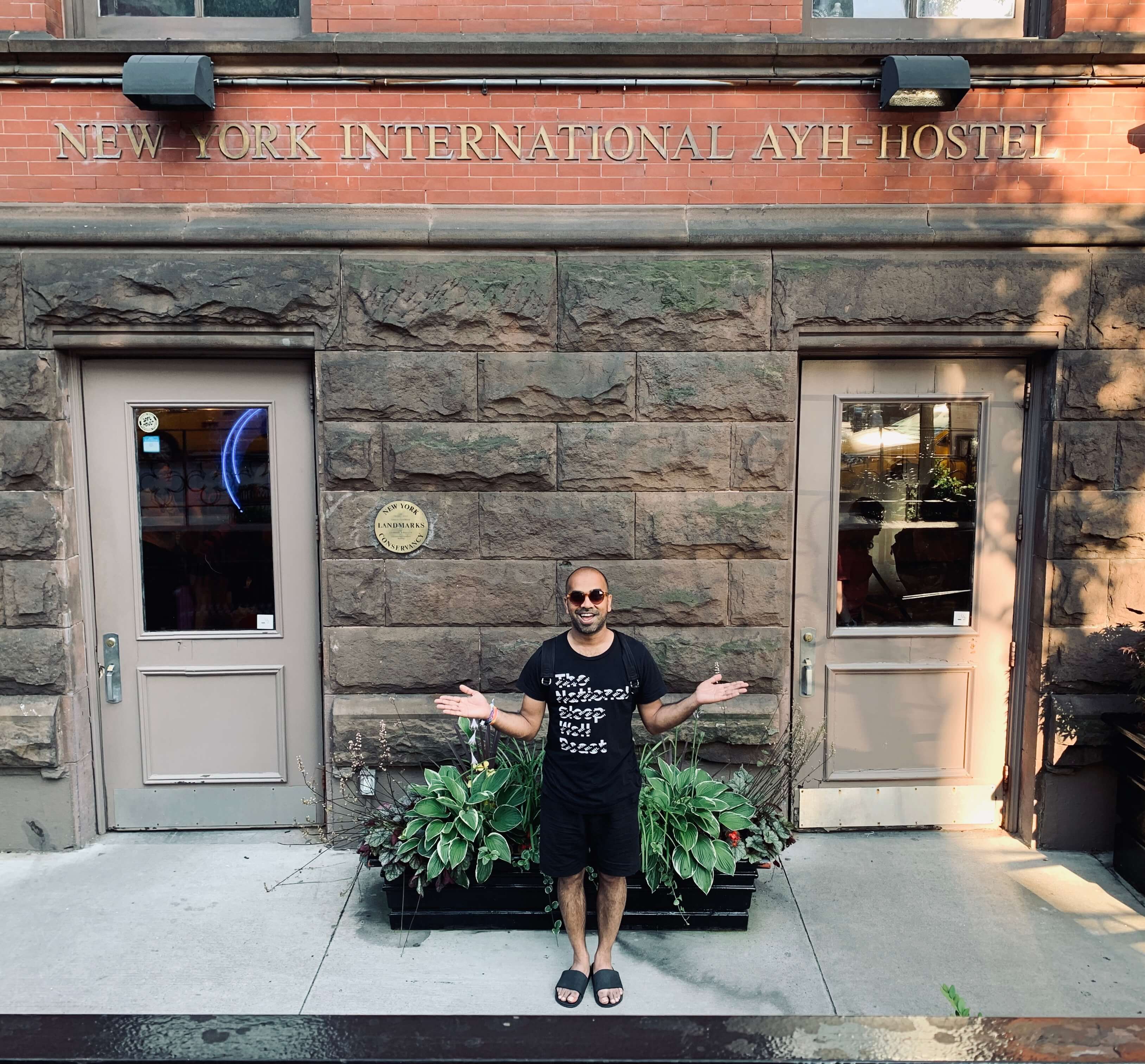 HI New York City Hostel is one of my favourite cheap places to stay in New York. I love its fantastic location in Manhattan's famous Upper West Side which is just 2 blocks from Central Park plus you have a subway stop around the corner which connects you to the rest of the city.
It is also a really cool neighbourhood -I discovered some great places to eat and drink on the doorstep of the hostel. Just around the corner there is Malaysia Grill which offers classic Malaysian dishes like Roti Canai and Nasi Lemak at really affordable prices. There's also Xian's Famous Foods – one of Bourdain's recommended eats in NYC where you can savour Xian style spicy noodle soups with delicious dumplings. Also a short walk from the hostel brings you to the vibrant neighborhood of Harlem and also the Columbia University campus where you can go for beers at the very relaxed Arts and Crafts Beer Parlour.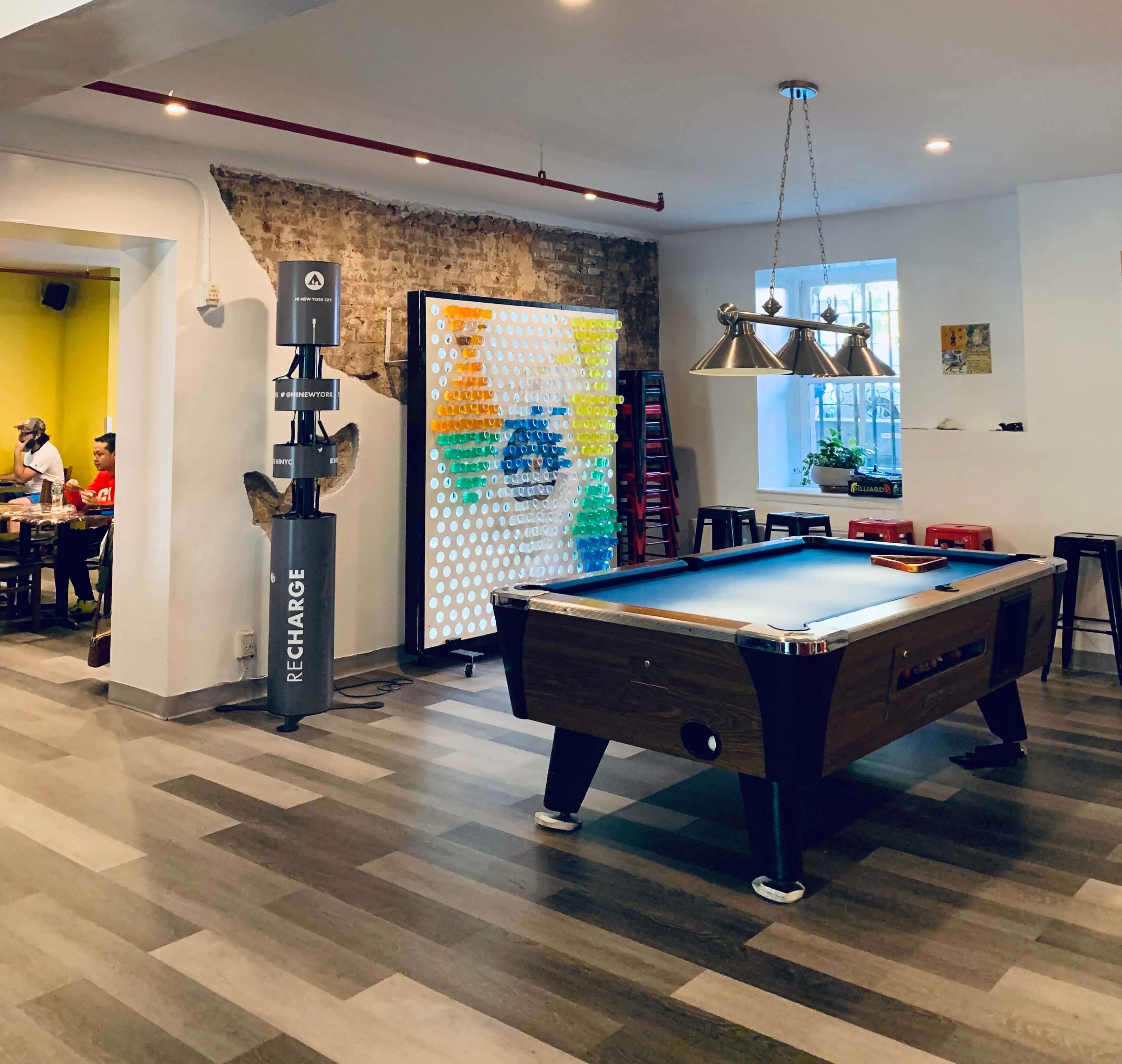 One of the other reasons I'd recommend HI New York City Hostel is the wide range of facilities on offer to make your stay comfortable. They have an excellent in-house cafe/deli where they serve monstrous sized sandwiches with tasty fillings ranging from meatballs marinated in tomato sauce to smoked salmon or pesto chicken.
They also serve the classic NYC style bagels filled with bacon and eggs. There's also pretty decent coffee, juices, fruits, cereals and muesli available. We would grab our breakfast from the cafe and choose to sit in their huge, beautiful outdoor patio-perfect in the summer. We found the garden to be an oasis of calm to relax in with a book after a busy day of exploring New York. ( They have a bird feeder and a water fountain that attracts all kinds of bird life-was very therapeutic to sit there and watch the birds take a bath ) They have an indoor seating area for eating plus also 2 lounges with plenty of sofas to sink into, enjoy your coffee or just read or book, browse the internet on the free wifi. There's also a pool table area plus a decent laundry room for doing all your laundry. On the ground floor they also have a very large well equipped kitchen which is great for cooking -New York can be pretty expensive so having a kitchen to cook in is a lifesaver.
It is a huge hostel with over 667 beds. There are no private rooms for couples -only dorms here. You can choose from male, female and mixed dorms ( for couples ) plus from 4, 6, 8, 10 and 12 bed dorms. For example a bed in a 12 bed female dorm ranges from $50-$60 USD per night. For the location it is a really good deal. Yup, you do have to share with 11 other people but the beds are very comfortable, rooms are clean and beds are spaced out so it never feels too cramped. The hostel provides you with a set of fresh sheets, blanket, and a decent pillow. Each bunk has an assigned locker next to it for your belongings. Just bring your own lock.
Another good reason for staying at HI New York City hostel is the range of free activities they offer.This range from free activities like a free walking tour of Brooklyn during twilight to watch sunset over Manhattan from Dumbo or you can join the welcome party on Thursday where you can connect with fellow hostel travellers over free drinks. There are also a number of paid but moderately priced tours which include a tour of all the best speakeasy bars of New York or visiting some of NYC's best rooftop bars-prices for these tours are just $10. I joined their free ( by donation ) weekly improv comedy club shows in the basement where a bunch of budding local NYC comedians entertained us for an hour. Quality of performers varied which is to be expected but overall, I was pretty impressed and the hour just flew by.
Other things to note-The staff during our stay were helpful. I found them to be quite informal and distant when compared to staff from European hostels but that's maybe a difference in hostel cultures.
Book your stay at HI USA New York City hostel via Hostelworld.com or Booking.com
( Disclosure- My stay at HI USA New York City Hostel was provided by HIUSA but the views expressed here are entirely my own )
2. The Local NYC Hostel
Situated in the LIC neighbourhood of Queens just a few subway stops from Manhattan and Brooklyn, The Local NYC hostel is another excellent budget friendly option for staying in NYC.
One good reason to stay here is that they have a own rooftop terrace which offers you panoramic views of Manhattan's skyline.
The hostel has a relaxed chilled vibe with an onsite bar, open plan lobby with long tables, lots of comfy sofas and chairs you to kickback in and relax, read a book or work from your laptop. At the back they have a large exhibition space where they showcase works of local artists and also have a projector where they show movies. The rooms are clean, comfortable- bunk beds come with their own private plug, reading light and lockers for you to secure your stuff. Staff hand out free locks to guests.
In terms of where to stay in New York city on a budget, Queens is a great choice. There is a number of excellent bars and restaurants to choose from-my pick of the bunch is the LIC Market where you enjoy tasty salads, range of delicious sandwiches ranging from 'Slow Cooked Pork' ($13) to Grilled Cheese ($12) and simple dishes like Rigatoni pasta or signature slowed cooked pork with rice and beans. ($15) Other good budget option is Aunt Rosie's Diner- an old school diner where you can dig into classic NYC comfort food like Beef Brisket, Chicken Parmagiana & Chilli over Rice.
Room rates start from €35 a bed in a 6 bed dorm and €100 for a private ensuite booking via Hostelworld.com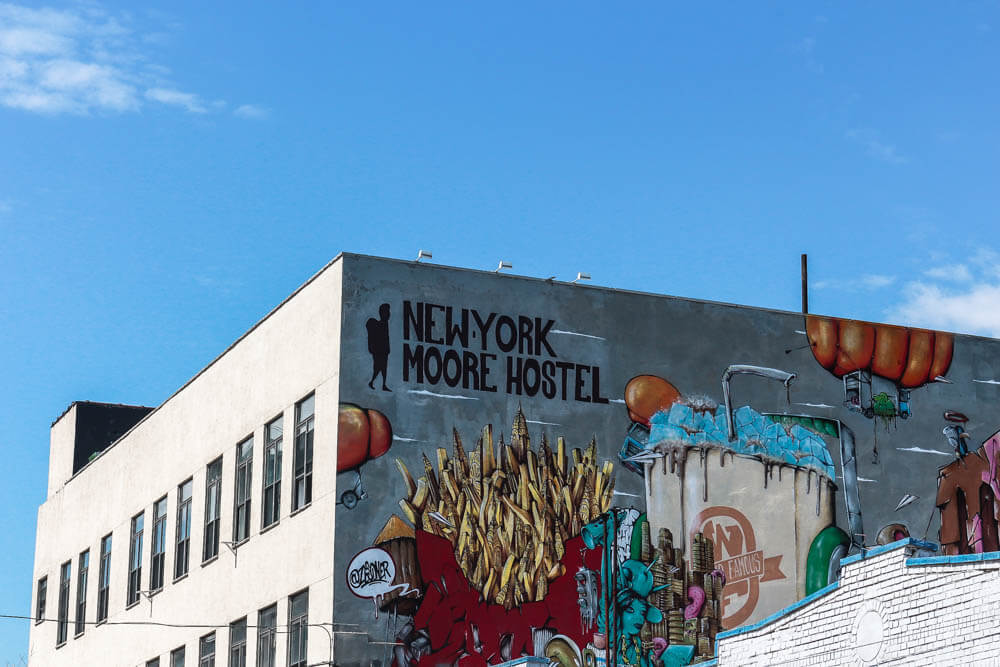 3. NY Moore Hostel
Situated in the artsy hip neighbourhood of East Williamsburg, NY Moore Hostel scores highly for their spacious ( high ceilings) , clean and cosy rooms, super friendly staff, facilities like a well equipped kitchen and nice common room (with Netflix) plus added bonus of free tea/coffee. It is a little less on the quiet side and not as social as HI NYC hostel. Little remote in terms of location but excellent if you're looking to explore Brooklyn which is my favourite neighbourhood in New York.
Booking via Hostelworld.com, rates for a bed in a female only dorm starts at €49
4. American Dream Hostel
If you're looking for a more homely hostel with a personal touch, consider the American Dream Hostel , a family owned New York City Hostel that has been welcoming travelers for over 20 years.
The location of the hostel is a big plus- located in the Gramercy Park district you are right in the heart of Manhattan and just a mile walk from the Empire State Building and a 4-minute walk from 23 Street subway station. The rooms and bathrooms are squeaky clean, the owners offer a very flexible check-in and check-out policy so you leave your luggage in your room or in their storage room. The staff are friendly with lots of tips for things to do in New York. Other plus is the offer of a free continental breakfast – mainly consists of pastries, fruit plus they have plenty of bread stocked in the kitchen so while nothing special, saves you a bit of money. Plus there is a shared kitchen you can use and a coin operated laundry.
Booking via Hostelworld.com, rates for a private room ( with shared bathroom) start at $100 a night and private double ( with shared bathroom) for $120 a night.
5. LIC Hotel
This casual hotel is conveniently located just a 2-minute walk from a subway station, making it easily accessible for guests to explore New York City. Situated close to shops, the hotel is also within 3 miles of major attractions like the iconic Empire State Building and the renowned Museum of Modern Art (MoMA).
The hotel offers bright and comfortable rooms with hardwood floors, providing a welcoming ambiance for guests. In-room amenities include Wi-Fi access, flat-screen TVs, and minifridges, ensuring a pleasant stay for travelers.
Each morning, guests can enjoy a delicious breakfast buffet served in an airy dining area. This provides a great start to the day before venturing out to explore the city. Additionally, the hotel boasts a rooftop terrace with picnic tables and stunning city views, offering a perfect spot to relax and take in the sights after a day of sightseeing.
Via Booking.com, rates for a private room starts at €100 a night.
6. OYO Times Square
Last but not least, have also a look at OYO Times Square hotel. I would pick this budget hotel in New York purely for the fantastic location right in Times Square. Their basic standard full rooms are simple and modern, equipped with a spacious bed, flat-screen HDTV, Bose sound system and a desk to work from. Showers are nice and complimentary toiletries.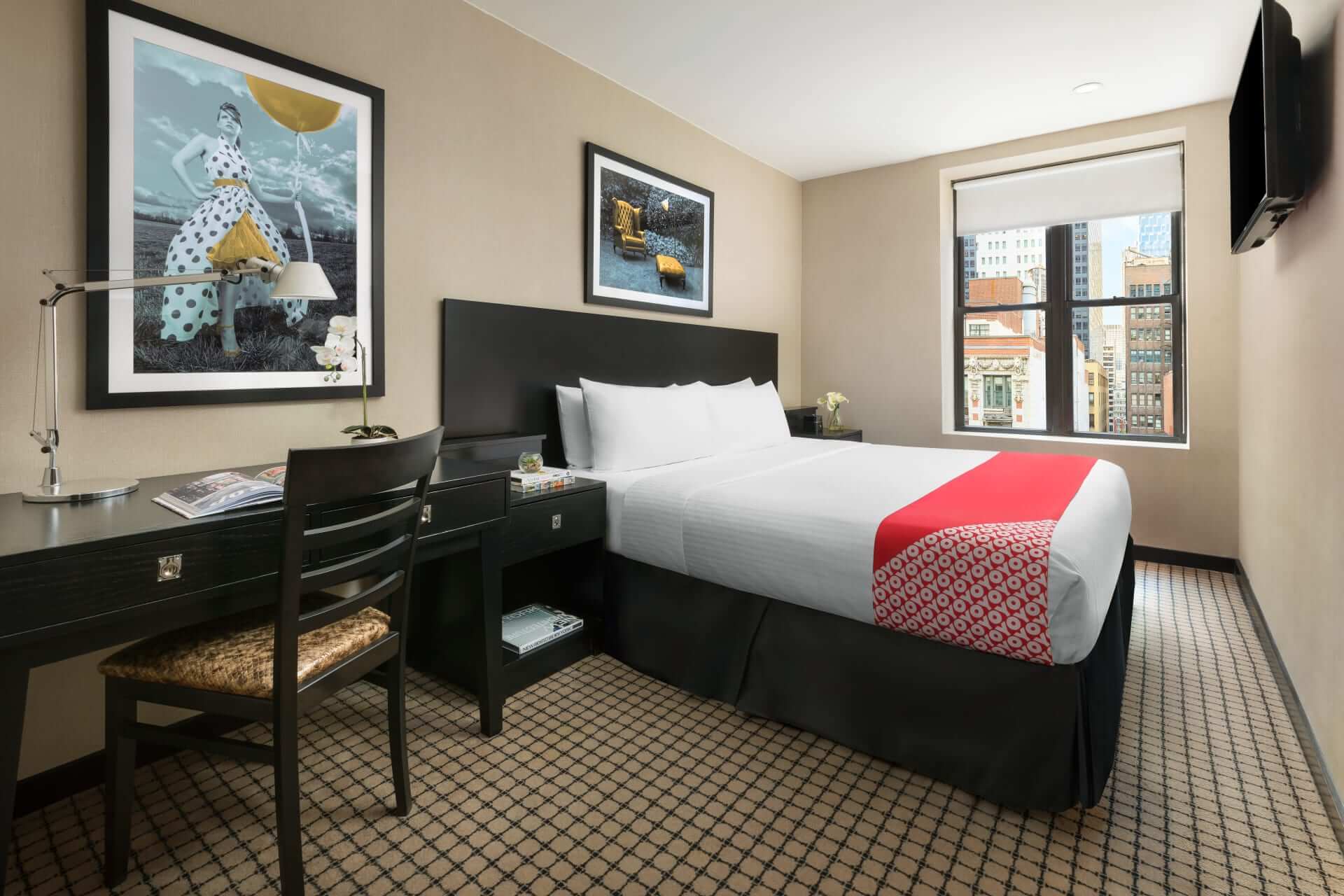 Again, purely for the location and convenience, I would pick this hotel.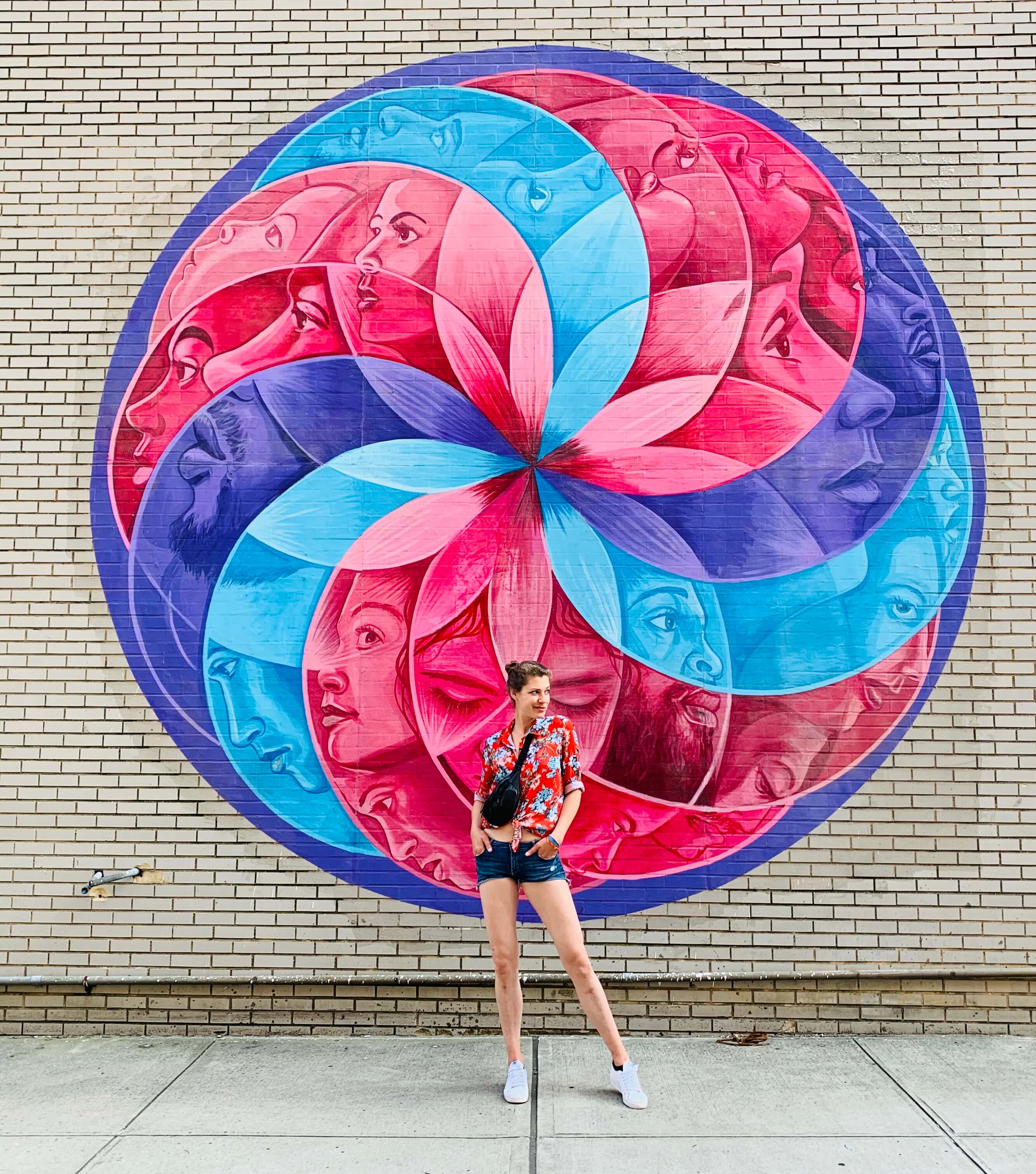 Looking for more hostels in New York?
I recommend using Hostelworld to find the best hostels in New York
Further New York Guides and resources to checkout
If you're looking for more excellent NYC guides, highly recommend my friend Adventurous Kate's guide to the biggest mistakes first time visitors to New York plus Travel of Adam's LGBT Guide t Brooklyn
On the blog, I recommend you checkout two earlier New York guides: 10 things to do for free in New York and also how to enjoy New York on a budget according to the season. If you are planning a trip to Boston, checkout our guide to Boston and Cambridge on a budget plus the A to Z guide of enjoying Martha's Vineyard on a budget.