Excited to be finally be able to share with you 12 of my favourite budget places to stay in Amsterdam. There's a nice mix of budget hotels and hostels to choose from, depending on your budget. Look forward to your feedback and if you are visiting Amsterdam, do checkout my recently updated guide to the best cheap eats in the city. This post covers a mix of hostels and the best budget hotels in Amsterdam but if you are on a tight budget, then checkout my guide to the cheapest hostels in Amsterdam. Before we jump into my recommendations, I'll answer a few key questions that will help you decide which hostel in Amsterdam is best for you.
Where is the best area to stay in Amsterdam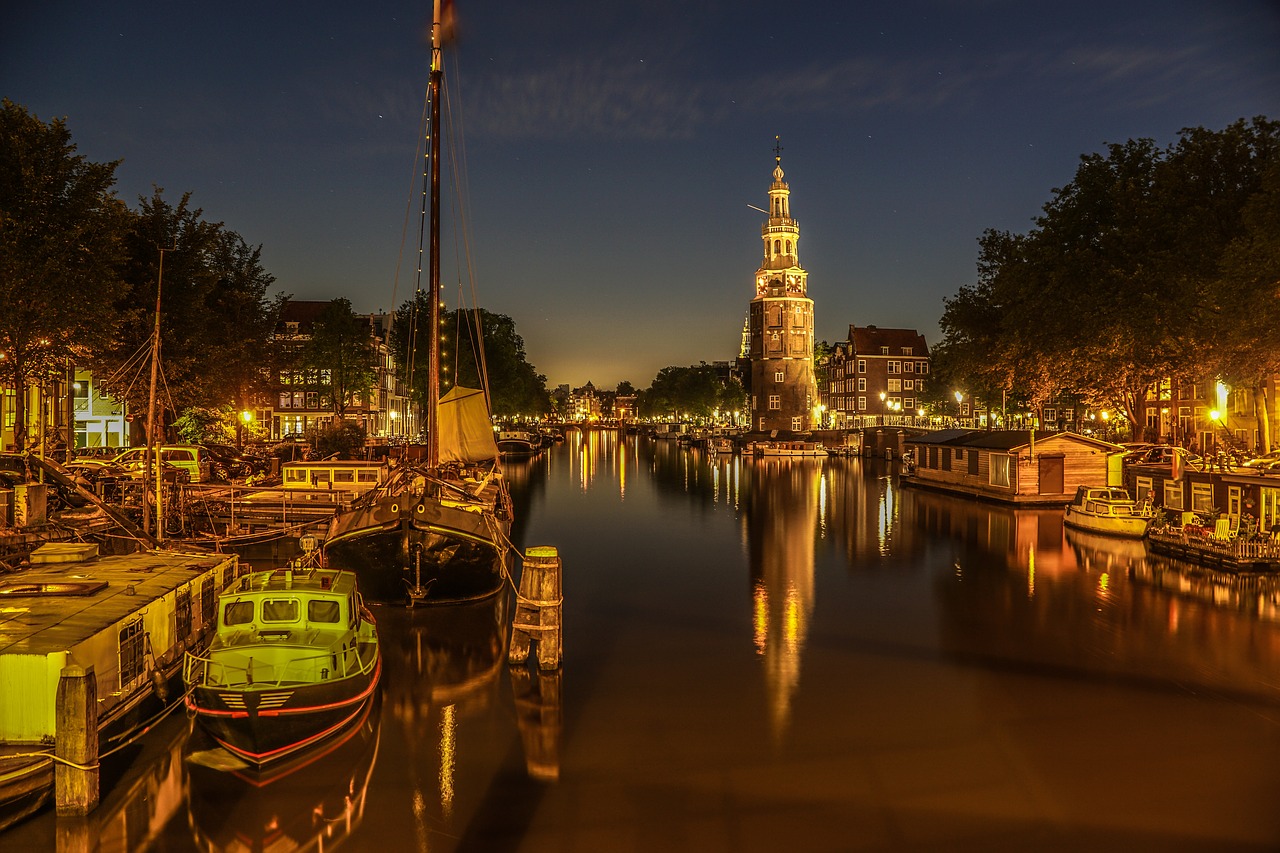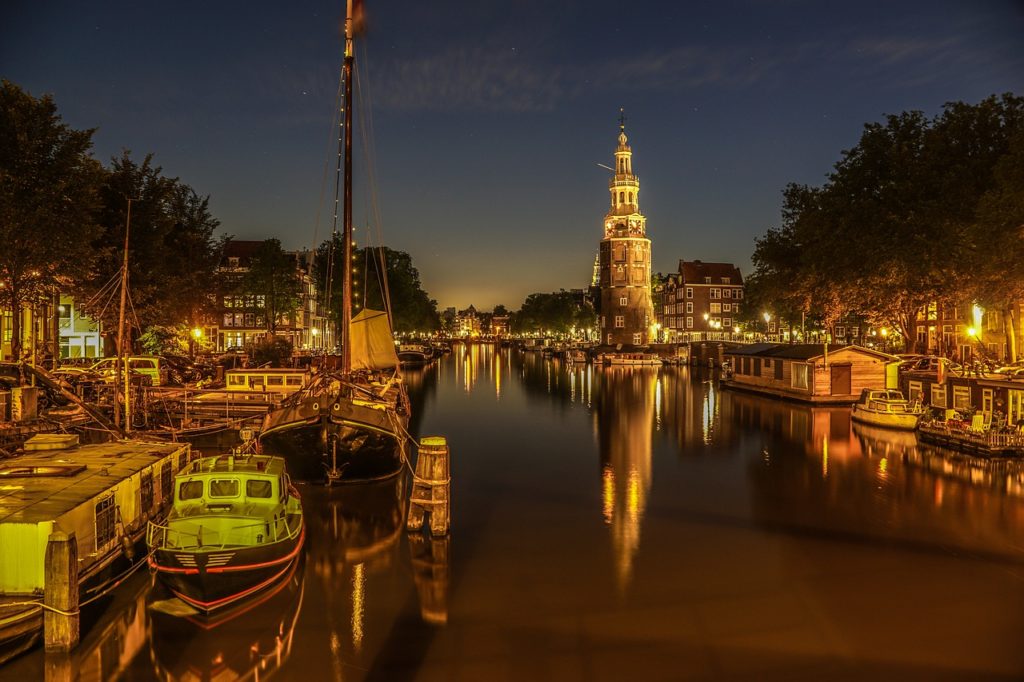 As a 1st time visitor to Amsterdam you will want to stay in the Amsterdam City Center or Old Centrum which is the area around Amsterdam Central Station. You will find the majority of the cheapest hostels in this area, ranging from the quite but social Ecomama to the more party friendly Flying Pig Downtown Hostel. My favourite neighbourhood in Amsterdam is De Pijp also known as the Latin Quarter that just lies to the south of the city center. Home to the fantastic Albert Cuyp market and also the Heineken Museum, this area is popular with students and creatives alike. You will find the beautiful Cocomama hostel here. If you are looking for something bit more alternative in Amsterdam but still central, I would definitely consider Amsterdam Noord which was named by Time Out as the coolest neighbourhood in Amsterdam. This former industrial area is just a short hop on the ferry across the river IJ, right behind Amsterdam Centraal Station. The excellent Clink Noord is the hostel to stay in Amsterdam Noord.
Are hostels in Amsterdam Safe?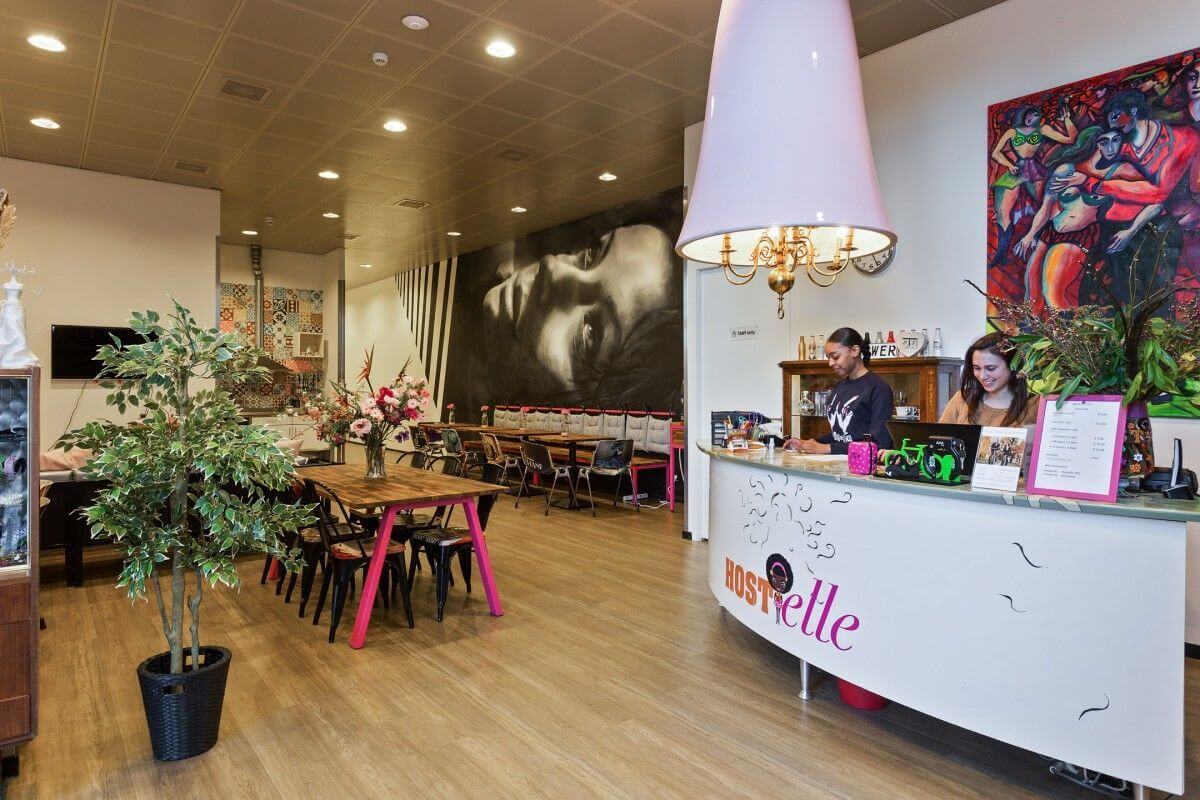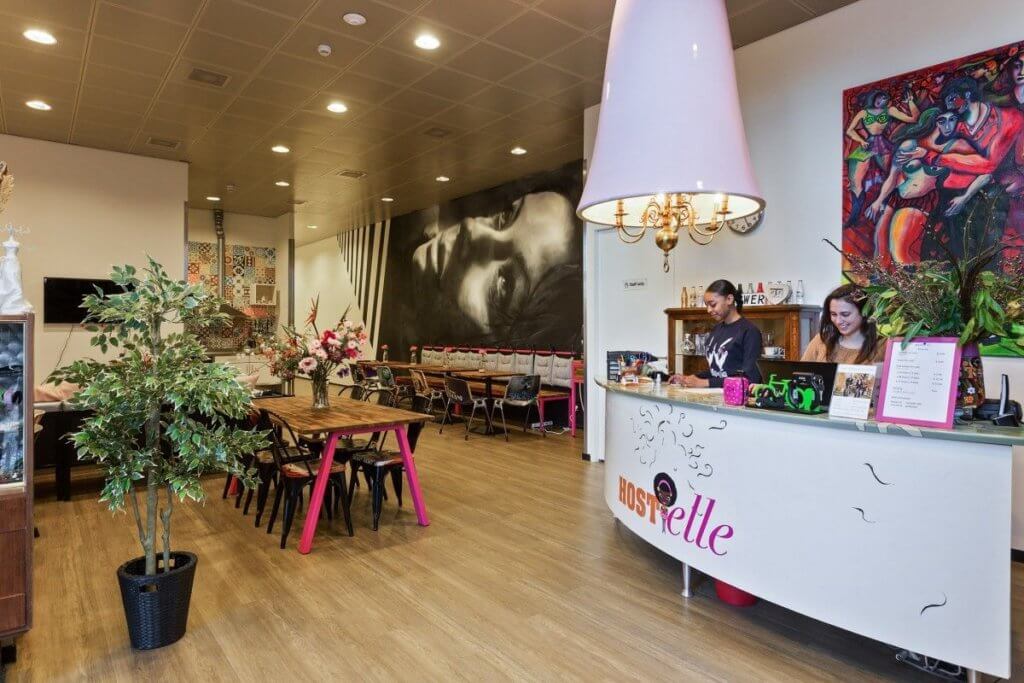 If you are questioning whether to stay in a hostel or hotel in Amsterdam, I would emphatically recommend hostels because Amsterdam has some of the best hostels in Europe in terms of design, in terms of character plus they are well run by great team of experienced staff and are extremely safe. All the hostels offer lockers. They will have a member of staff working 24 hours and will have security cameras installed. In terms of general tips, always travel with a padlock , don't leave your valuables lying around and always have a comprehensive travel insurance.
1) Cocomama
Westeinde 18, 1017 ZP, Amsterdam, Netherlands.
Rates: Dorms: €21- €45; Privates: €76- €150 booking via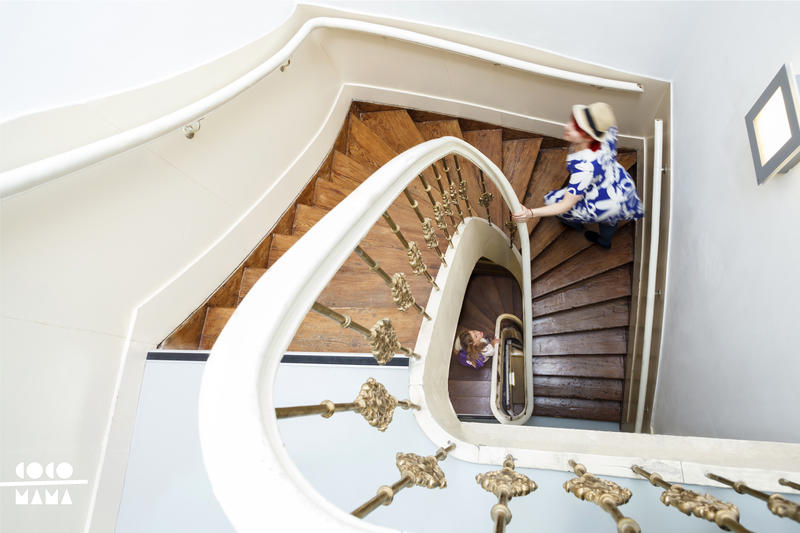 Located in a less touristy but convenient part of town, near Rembrandt Square, has a racy history. Yes, it was previously a brothel.
Housed in a century-old building, with exquisite period details, chandeliers and lofty ceilings, this hostel is stylish but cozy, welcoming and warm.
With respect to rooms, you can expect comfy bunk-beds and beds, lockers, power outlets, private showers in ensuing rooms. There are five private double rooms, each resplendent with Dutch themes ('van Gogh', 'Tulips', 'Cow and Milk' etc). If you're on a budget there's the option of the Windmill six bed dorms.
Want to know something else? provides all linens and makes your bed for you prior to arrival.
Don't forget to make friends with Joop, the hostel's very own resident cat.
Amenities: free Wi-Fi; organized tours, kitchen, luggage lockers.
2) Ecomama
Valkenburgerstraat 124, 1011 NA, Amsterdam, Netherlands.
Rates: Room in the 8 bed experienced traveller's dorm ( best dorms ever ) starts at he €27 mark or you can book their double deluxe private ensuite from €84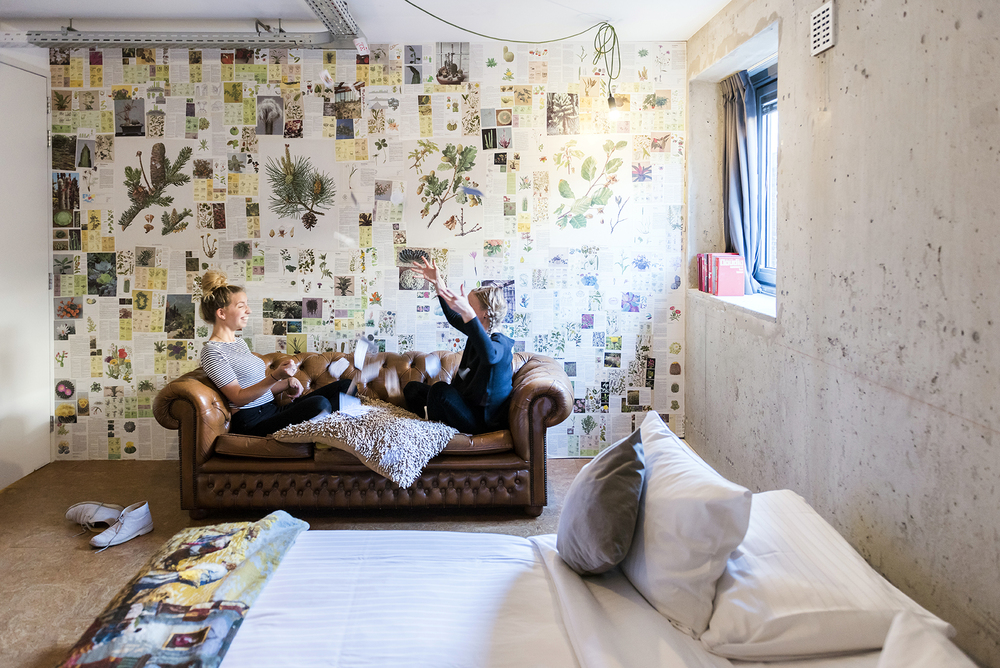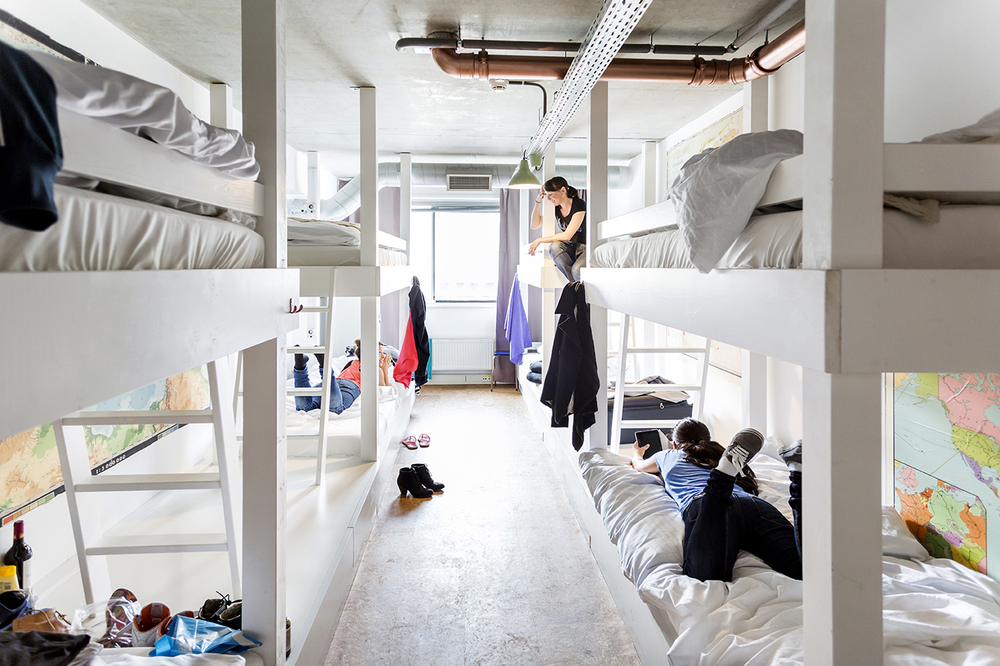 is the eco-conscious, sister hostel to . Located in the heart of Amsterdam, slap-bang next to the Waterlooplein Flea Market and the Jewish Museum, Hostel Ecomama is conveniently just 2 metro station stops away from Central Station.
A stunning feature of this modern, eco-conscious hostel is its wide, open communal spaces whether it be the sitting area (loaded with magazines), the café (awesome coffee and baked goods), or the teepee (featuring classic and contemporary movie shows) you can always find a welcoming nook of the hostel to call your own.
What makes Ecomama, truly stand apart from the rest is its impressive focus on sustainable living and green credentials.
is a stylish, budget friendly hostel but the choice of seven different types of rooms means that it can accommodate every type of discerning traveller. From the 8-bed luxurious dorm for 'experienced travellers', to the girly 'Ladies only dorm' (free nail polish, glossy magazines and hairdryer), to the Double Deluxe, the flashpacker's dream retreat for that romantic weekend, Ecomama has you covered.
Amenities: kitchen, bikes for hire, book exchange, large luggage lockers, linen and soap included, free Wi-Fi.
3) ClinkNOORD Amsterdam
Badhuiskade 3, 1031 KV Amsterdam, Netherlands
Rates: 4-6 person mixed dorms start at €24, whilst a bed in the 4 and 10 girls-only dorm starts from €25 a night; private ensuite from €80 per night booking via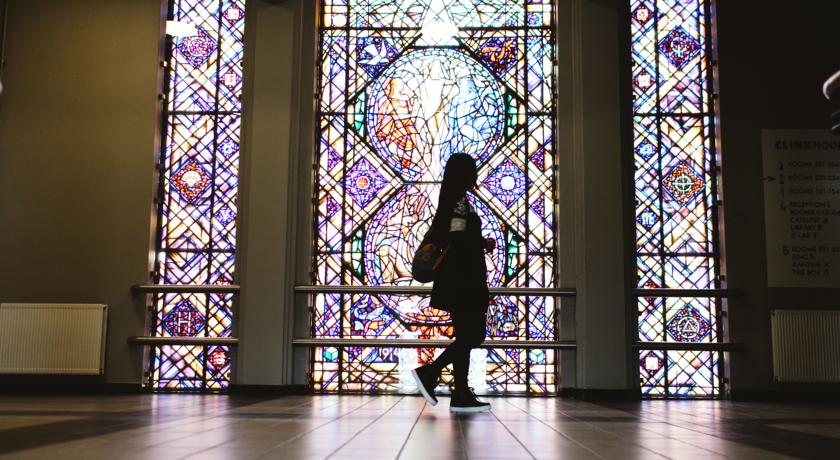 This is the first Clink hostel to be opened outside the UK after two backpacker hostels opened in London. is located in the lush, green Amsterdam NOORD area, located on the other side of the River IJ. It is a world away from the hustle and bustle of Central Station and the Red Light District and if you don't mind the short ferry journey (24 hour ferry service via the 'Buiksloteregveer') to NOORD, then you have a peaceful, green neighborhood to call your own.
is a sizable hostel with over 750 beds. The dorm rooms, sleeping from six to sixteen people, are comfortable and each bed comes equipped with a plug USB port and overhead light. The private rooms have ensuite bathrooms.
The hostel has exceptional facilities including a library, restored stained glass windows from the 1920's, the atrium and the in-house ZincBar, with a delicious and affordable menu. Expect the Dutch classic Bitterballen (meatballs covered in breadcrumbs, doused with mustard), the Clink Burger with chunky chips and their stone baked delicious pizzas. There's a buffet breakfast for €6.90 or just grab a baked treat and coffee for €3.50 from the Catalyst Café.
Amenities: library, free Wi-Fi, in-house bar, affordable café, self-catering kitchen, luggage lockers.
4. Hostelle- Amsterdam's first female only hostel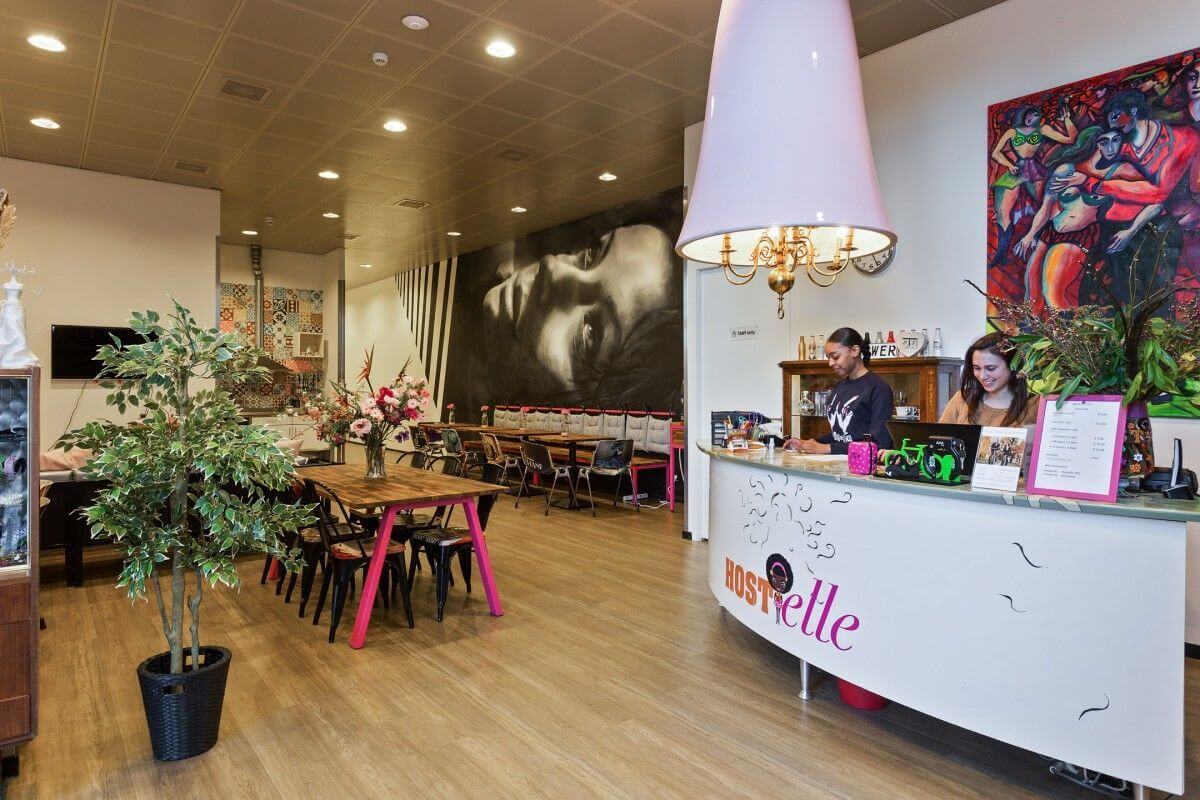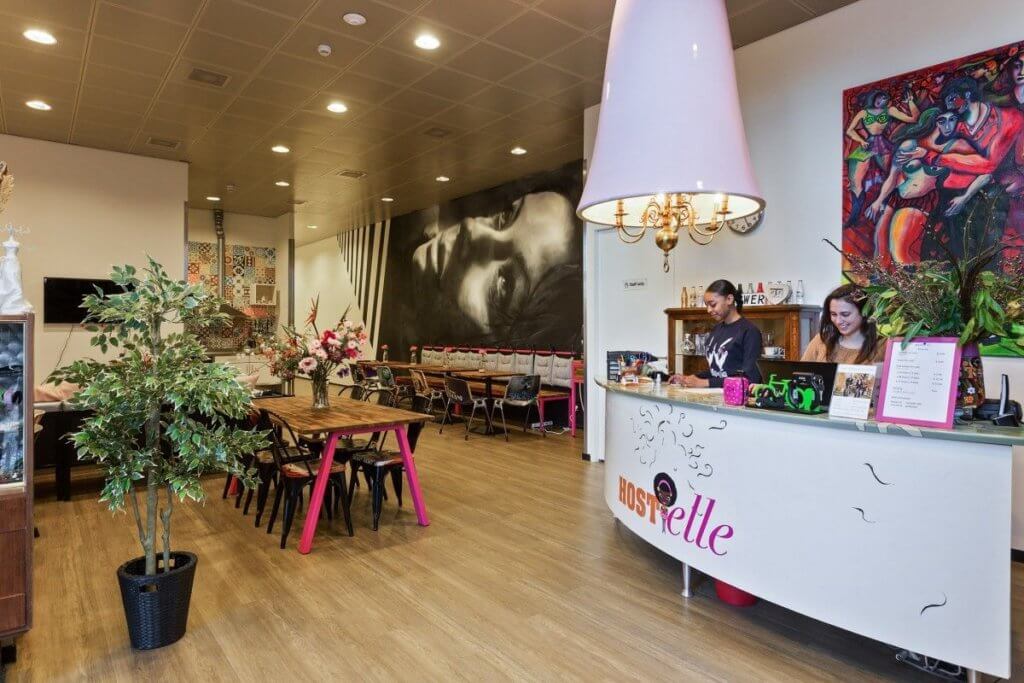 Hostelle is Amsterdam's first female only hostel with the primary aim of creating a safe yet fun space for female solo travellers and groups to enjoy Amsterdam. The hostel is located in Zuidoost district which is home to people from all parts of the world and this reflects in the diverse range of places to eat here. So if you are foodie, this neighbourhood is perfect. The hostel is a 15 minute metro ride away from Central Station. The hostel itself as a homey down to eatyn atmosphere. Staff are super friendly and helpful, You have a choice of shared dorms ranging from 4, 8 and 10 bed dorms. Every bed in the dorm comes with its own shelf and a free locker for guests to store their valuables. Linen is included in the room price and a reading light is supplied upon request to guests.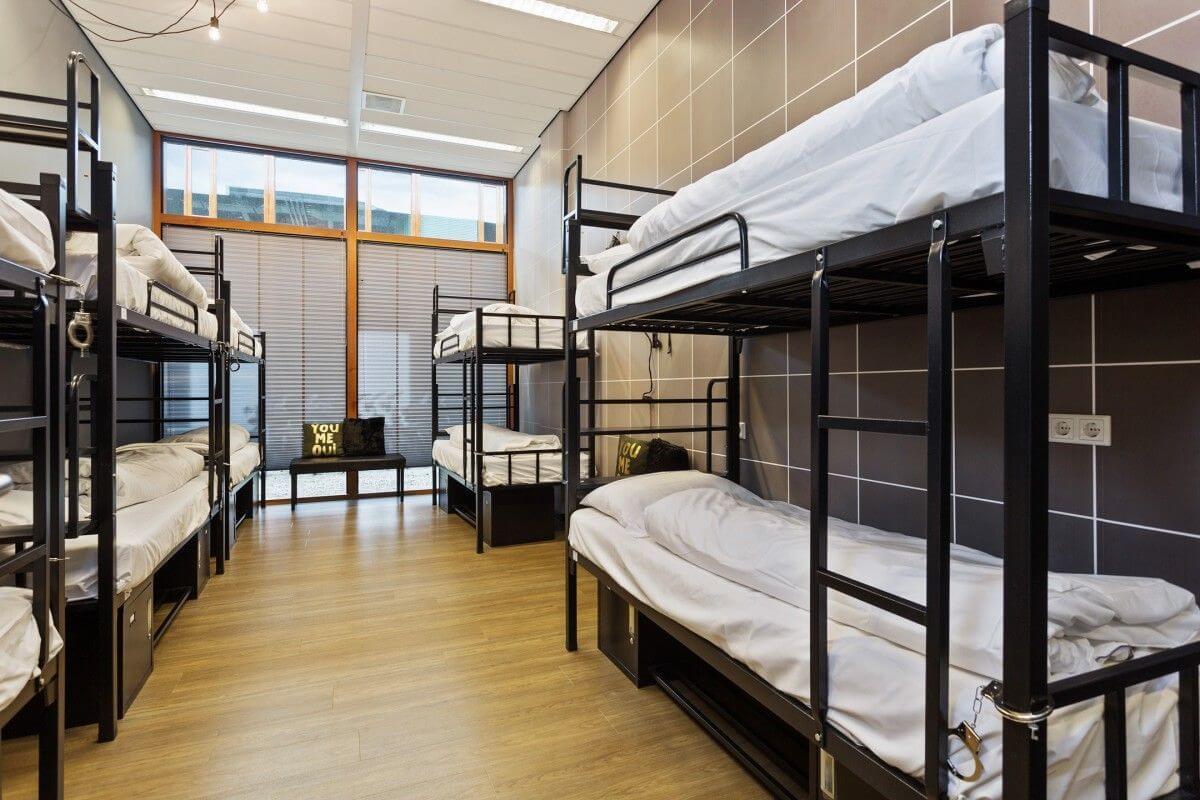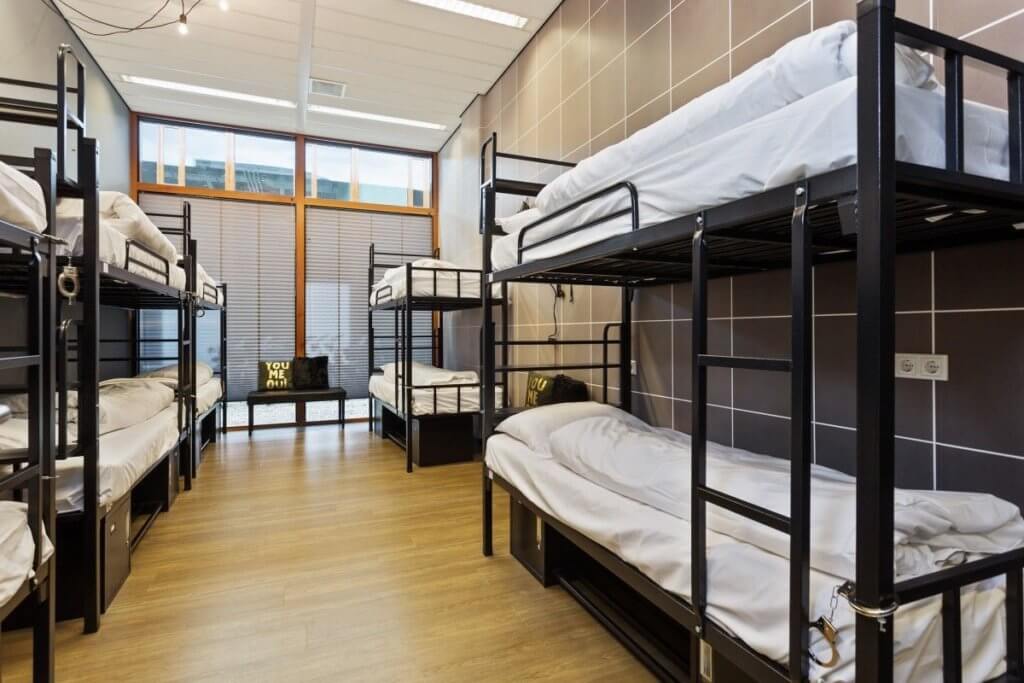 Amenities: 24 Hour Reception, Self Catering facilities, Bicycle Hire, Laundry Facilities, Luggage Storage & Towels for hire
Price per bed: Dorms from €18 booked via Hostelworld
5) Generator Amsterdam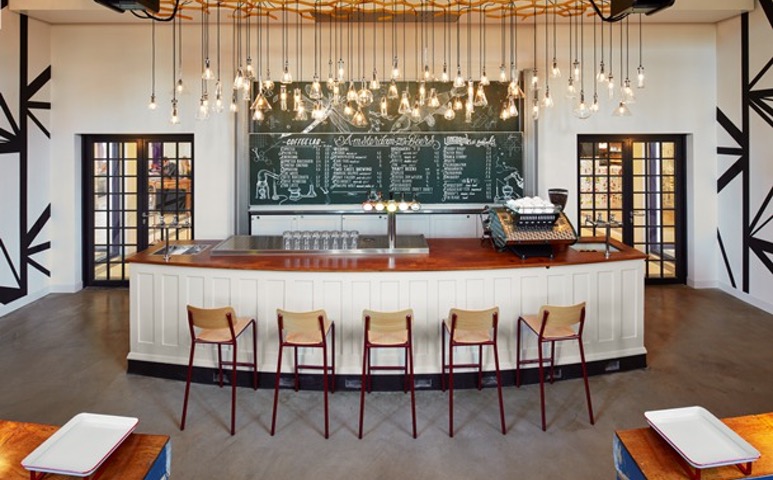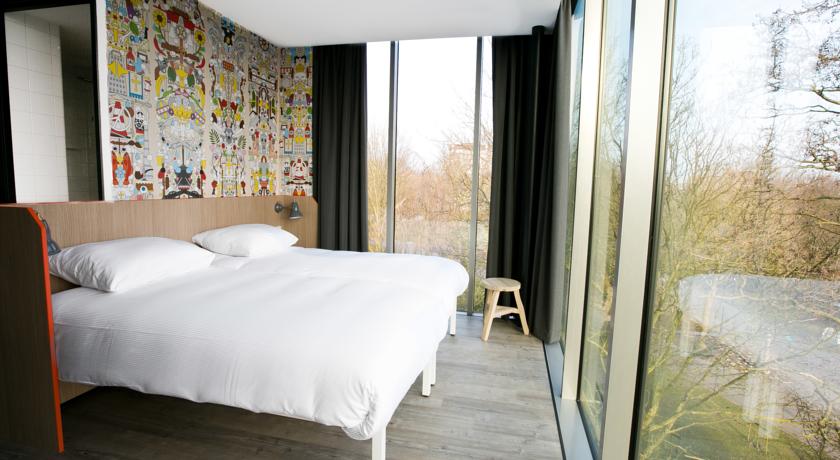 Mauritskade 57, Oost, 1092 AD Amsterdam, Netherlands
Rates: A bed in a 4-bed mixed dorm starts at €17, a premium double room can be acquired for €85, a twin room with private bath from €67 booked via
is a brand new hostel found in the east of Amsterdam near De Pijp. The hostel itself, a former zoological building in Oosterpark, with a convenient location near to the tram stops and only a couple of tram stops away from Central Station.
The former lecture hall has been reincarnated into a lounge and bar. The modern design contrasts well with the beauty of the old building.
There are a number of room types to choose from: the quadruple room with 2 single and 2 bunk beds, the twin room with ensuite bath, the premium twin room, a bed in a 4-Bed Mixed Dorm, premium double or quadruple room.
There's a great games room for evening entertainment and a well designed, shared lounge with TV, which is very welcoming.
Amenities: Free Wi-Fi, bike hire, bed linen, 24 hour front desk, breakfast, lunch and dinner available on the property.
6) Student Hotel Amsterdam City
Wibautstraat 129, Amsterdam, Netherlands
Rates: Rooms starts from €73.60 for a single private ensuite or €87 for a double private ensuite room booking via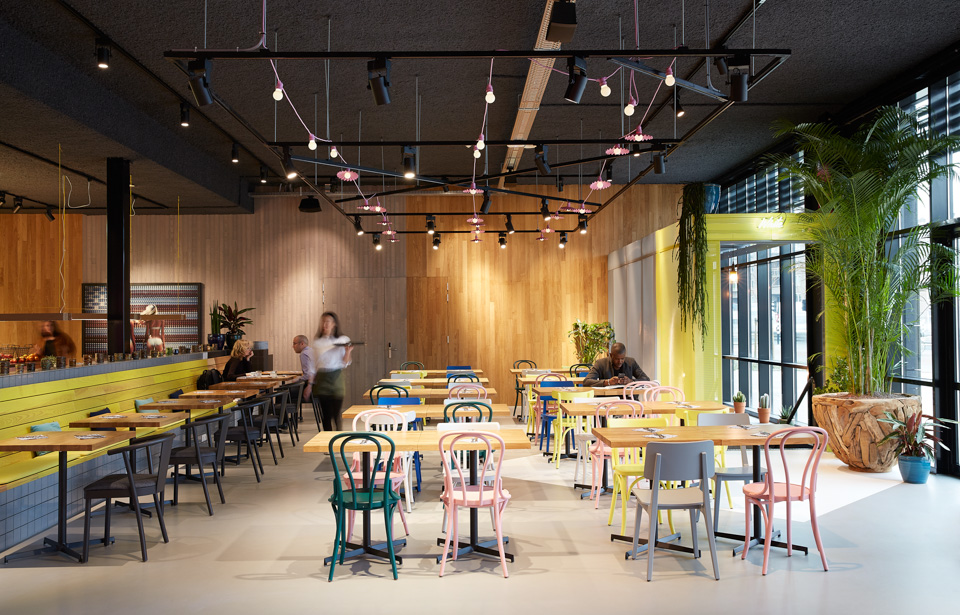 The opened with the idea of being a meeting place of short-term /long-term scholars and visitors. The hope was to create a common ground for the cross-cultural exchange of these two communities.
Rather than provide a dreary academic environment, The Student Hotel in Amsterdam is surprisingly upbeat and has a bright cheery design. The main lobby seats a host of students/visitors who are browsing their laptops from comfortable desks. Everything from the black and white wallpaper in the reception area to the retro black and white notice board, to the quirky designer lobby stands testimony to the hotel's emphasis on creating a welcoming environment.
Rooms are comfortable and spacious with designer furniture and the beds are comfortable. Each room is equipped with hot functional showers and also a desk for late-night studying.
has an excellent central location, a few tram stops away from Central Station. Willen Riyslaan tram stop is right outside the hotel.
Amenities: Free library, bike hire, free gym, affordable diner, games room, free Wi-Fi.
7) Student Hotel Amsterdam West
Jan van Galenstraat 335, 1061 AZ Amsterdam, The Netherlands.
Rates: Standard Plus Room for €64.80, Executive Room from €69.30, Superior Room from 69.30 and Suite from €78.30 booking via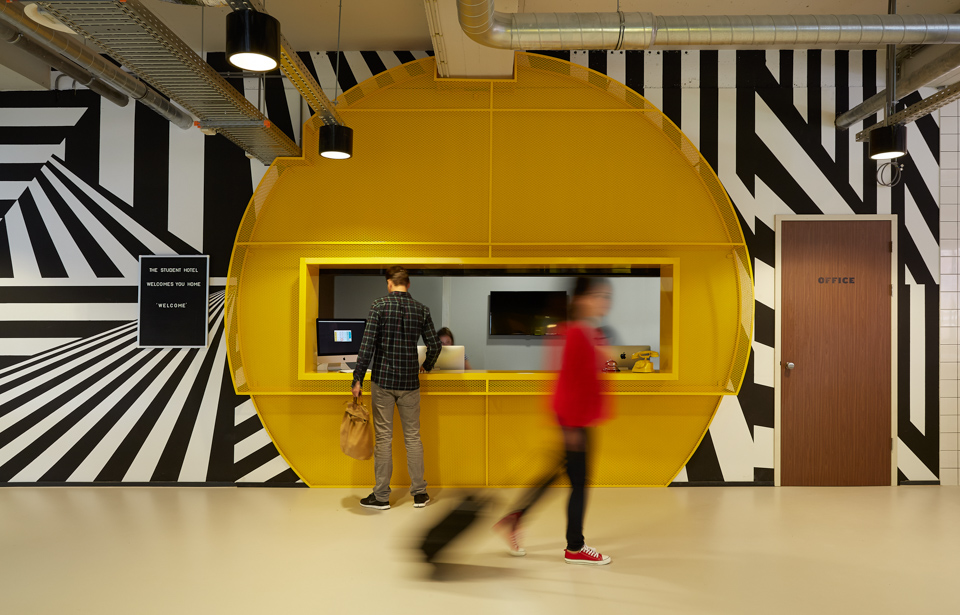 is located 25 minutes away from Central Station by tram. Take Tram 13 and get off after 13 stops. As mentioned before the Student Hotel represents a brand catering to the needs of the savvy world traveller and also the student looking for long-term stay. The location at Amsterdam West is described as a 'cozy-contemporary hotel campus'. As regards long term stay its possible to book accommodation here from 2 weeks to a year!
The hotel has a huge bike depot at its doorstep: very convenient for exploring the city on two wheels. The hotel has a relaxed, fun vibe. Enjoy spontaneous barbecues, a friendly game of ping pong, or chit chat with fellow hotel dwellers in the bar-restaurant area called The Kitchen. Plenty of room to study too.
There are a few room choices to select from if you're a traveller: Standard Plus Room, Executive Room, Superior Room or Suite. The Standard Plus Room has an en-suite bathroom, air-conditioning, free Wi-Fi and a double bed. The Executive Room has the same conveniences with a larger size room. The Superior a Room in addition features an extra-large king bed. The Suite is the 'piece de resistance' with a private kitchenette in addition.
8) Volkshotel
Wibautstraat 150, 1091 GR Amsterdam, Netherlands.
Rates: Double rooms can be found at around the €79 mark and rooms sleeping 4 persons from €139. The Miss Petite room comes in at the €59 mark booking via Booking.com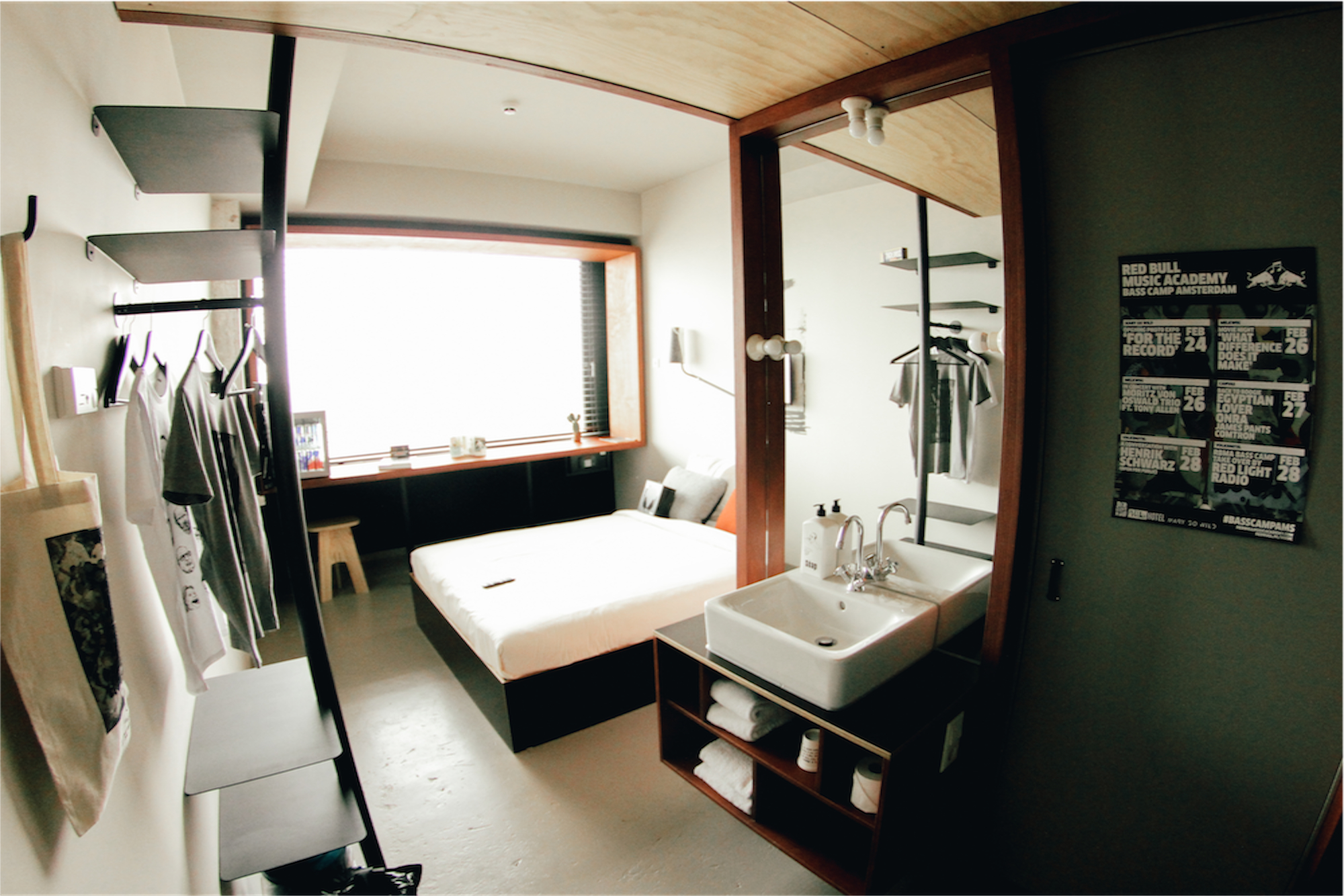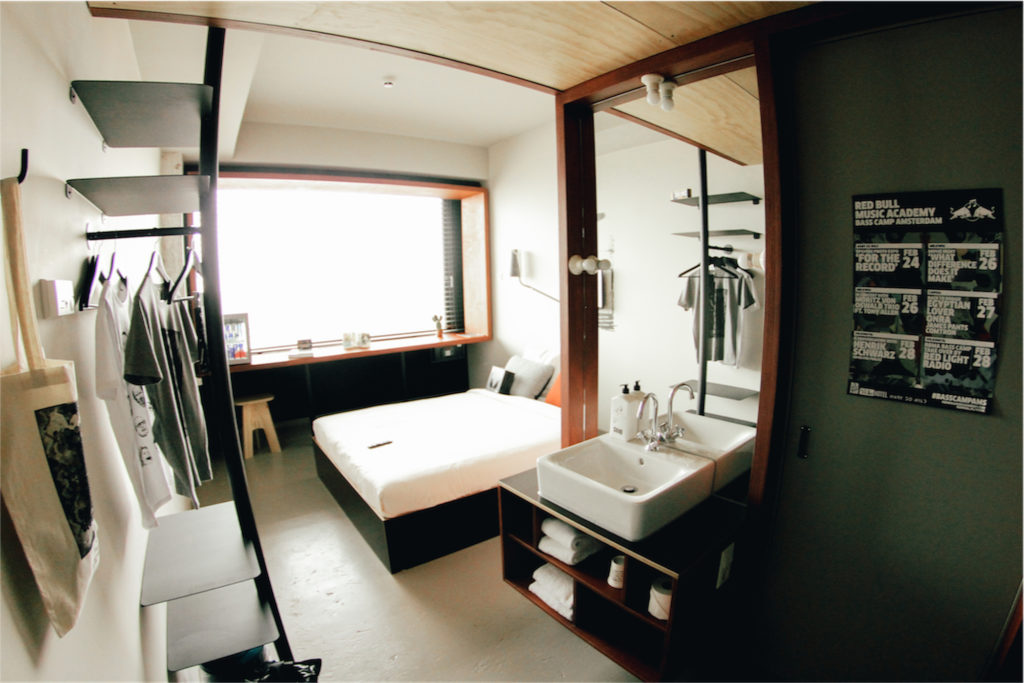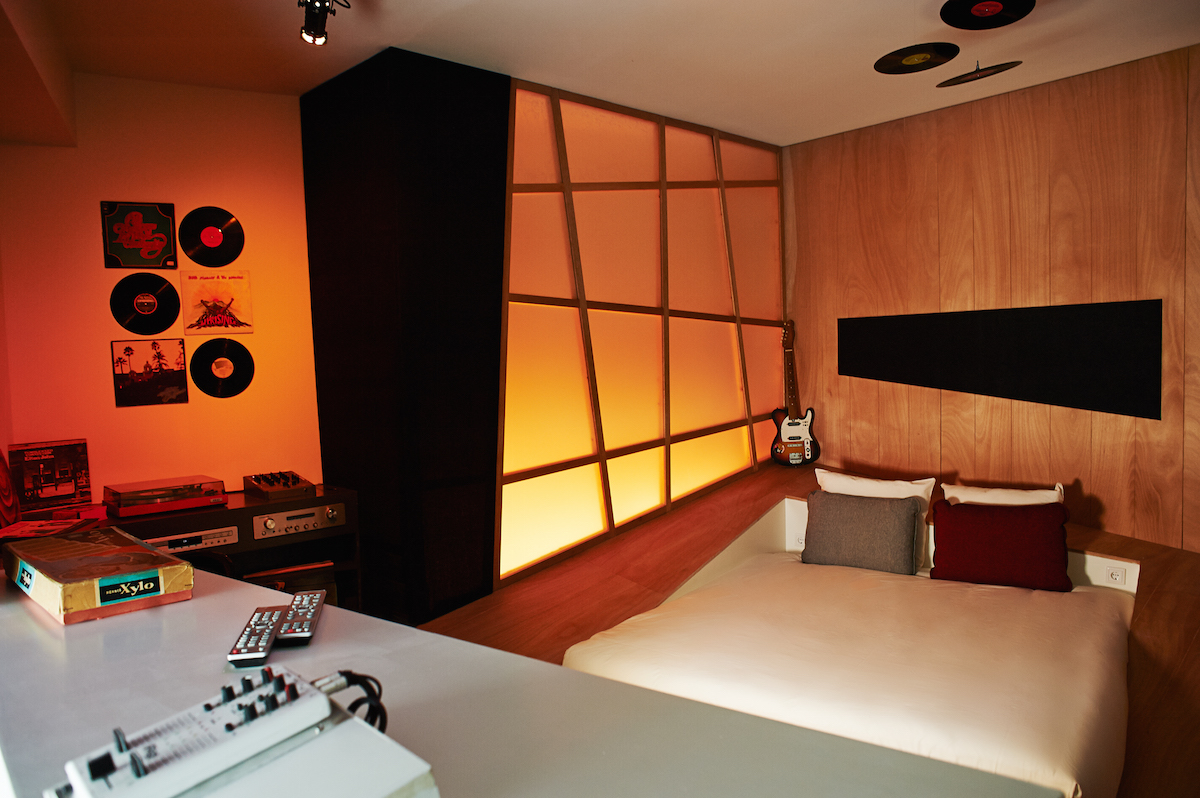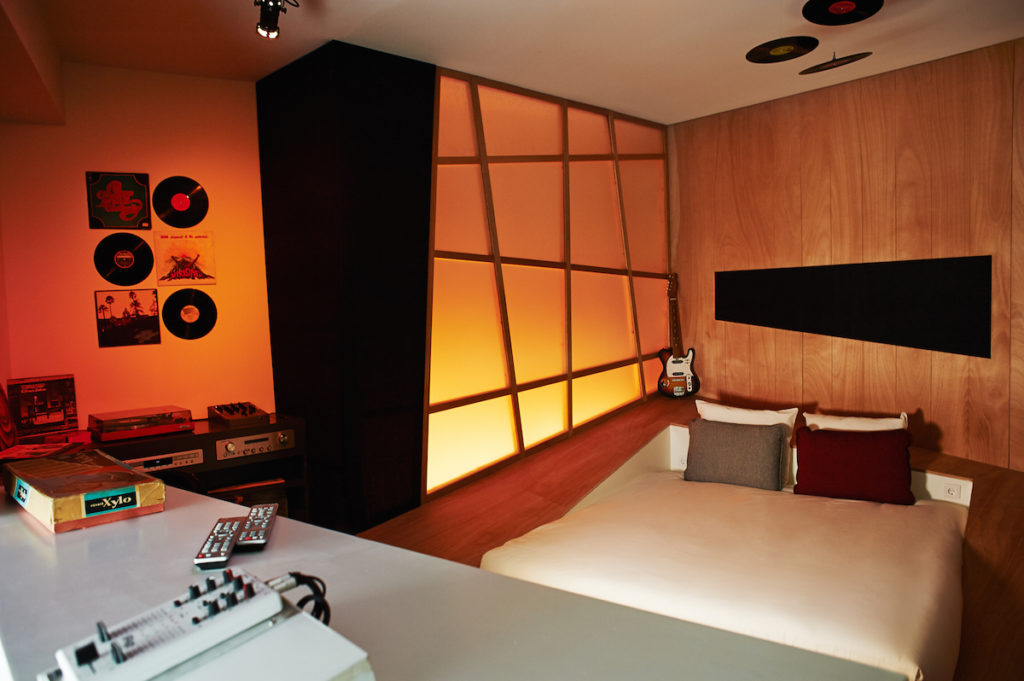 Volkshotel is located in the hip and emerging neighborhood of Amsterdam East. It's near the bustling market near Waterloo Square and the Amstel River. Approach the hotel via the Wibautstraat Metro stop. To reach the hotel by taxi from Central Station expect to pay €15-€20.
The hotel premises were once a newspaper's headquarters. The hotel is home to 172 rooms of different sizes. Choose from rooms quirkily named Miss Petite, Sir Standard, Sir Standard's Sister, Ms. Big, Mrs. Massive and Madam Miva. The design of the hotel is very nice and tasteful. There are provisions for free Wi-Fi and a safe. Opt for a yoga session at the hotel or get sporty with Volks Sport, get a nice haircut or a relaxing massage. There's a sauna and hot tub too!
The hotel runs its own personal boat tours on their 100 year old mahogany hunting boat that takes in the sights of riverside East Amsterdam.
Enjoy a late night cocktail or two at Canvas the hotel's on site restaurant/bar. There's even a rooftop terrace to enjoy the sights of Amsterdam.
9) Hotel not Hotel
Piri Reïsplein 34, 1057 KH Amsterdam, Netherlands.
Rates: Stay in the 'Secret Bookcase M' room, sleeping two, starting from €63; the 'Crisis Free Zone' with double bed and shared bathroom from €58 per night booked via Booking.com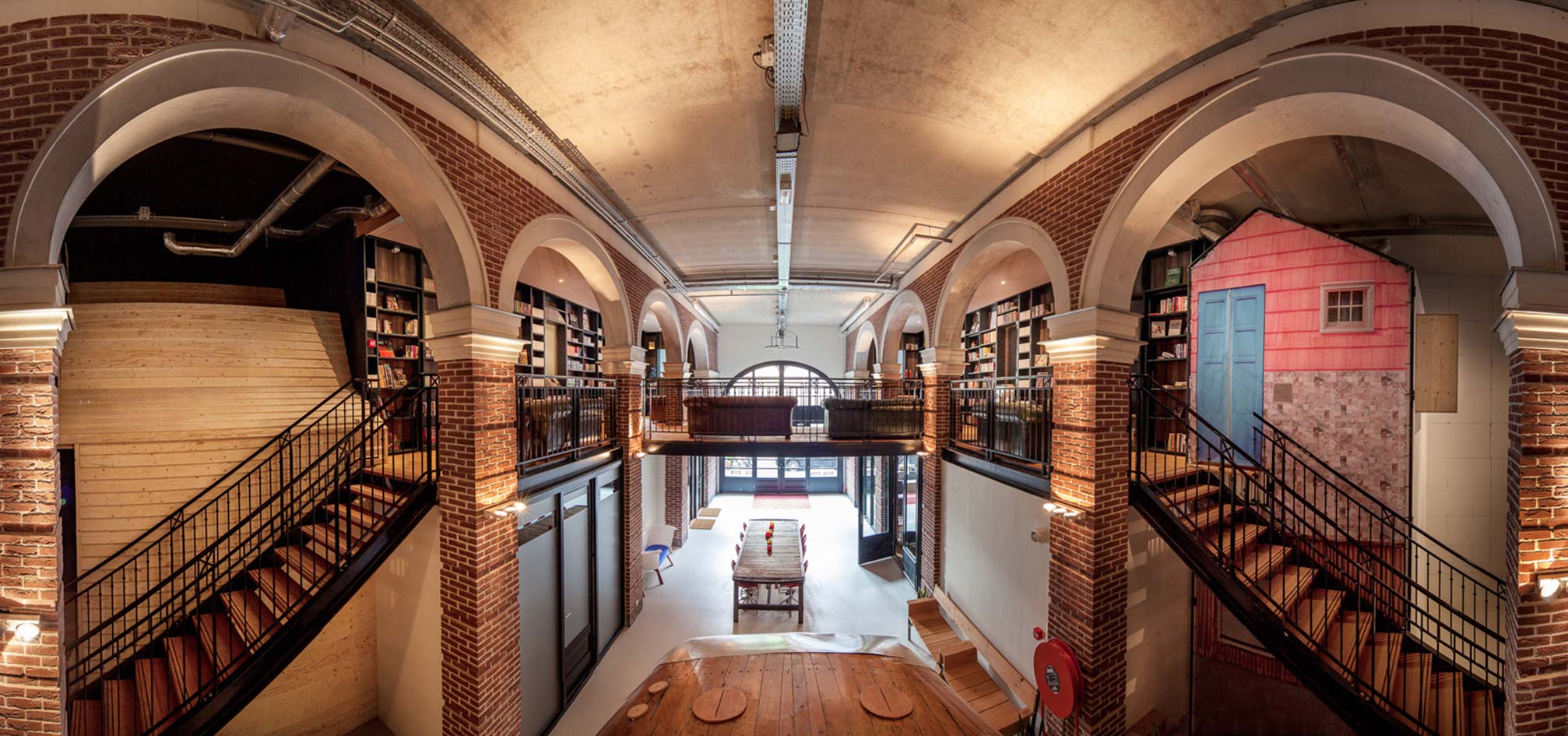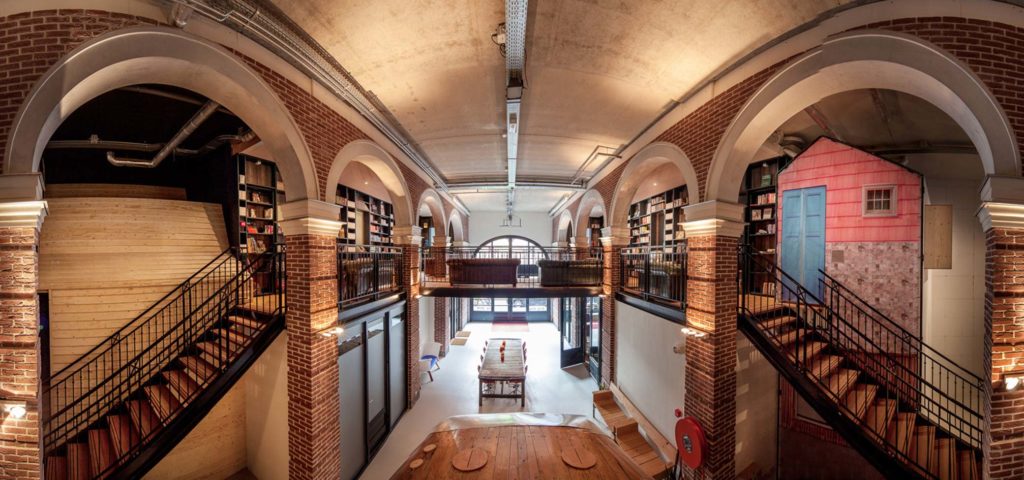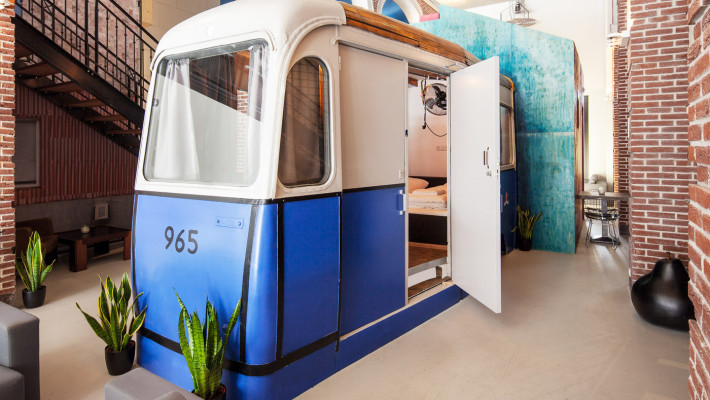 Hotel not Hotel resembles a hip boutique hotel. It's quirky, cool and the design is fascinating. The hotel's emphasis is on design. The rooms and the common areas are really quite stunning. The majority of the rooms have been designed by individuals from the Eindhoven Design Academy – a collaborative called Collaboration-O. With names such as 'Amsterdam Tram Cart', 'Crisis Free Zone', 'Crow's Nest', 'Secret Bookcase XL','Fading Colors' and more, each of them is a delight.
The hotel is located on Piri Reis Square, which is walking distance from the tram No 17 stop.
Would you believe that the bar connected with the hotel is called 'Kevin Bacon'? Named after the famous actor the bar is described as ' zero pretention, it always delivers, and it makes sure everybody has a good time.'
This is a place to grab a quick breakfast in the morning or a cocktail at night before treating yourself to a delicious Thai food dinner. Enjoy the ambience of the terrace too on warm days.
10) Lloyd Hotel and Cultural Embassy
Oostelijke Handelskade 34, 1019 BN, Amsterdam, Netherlands.
Rates: Budget twin room with shared bathroom can start as cheap as €53 a night and go upto €120 a night booked via Booking.com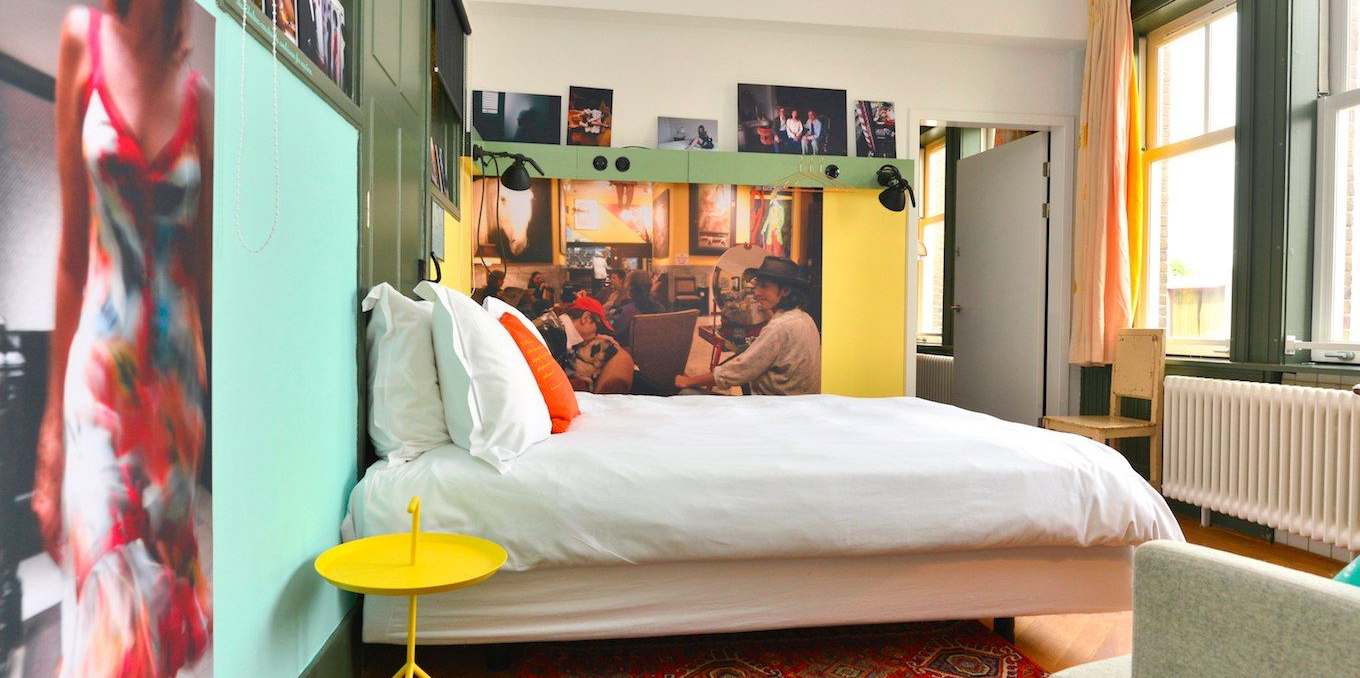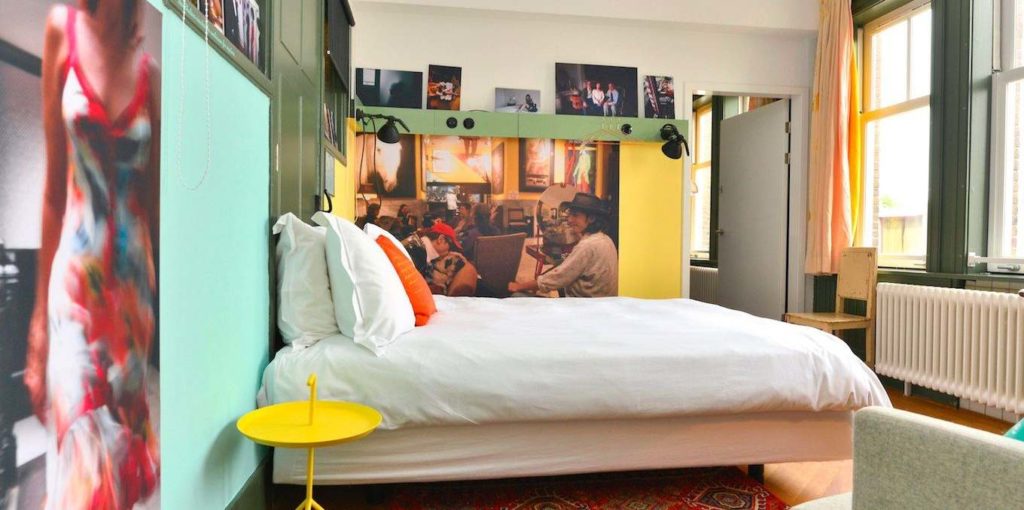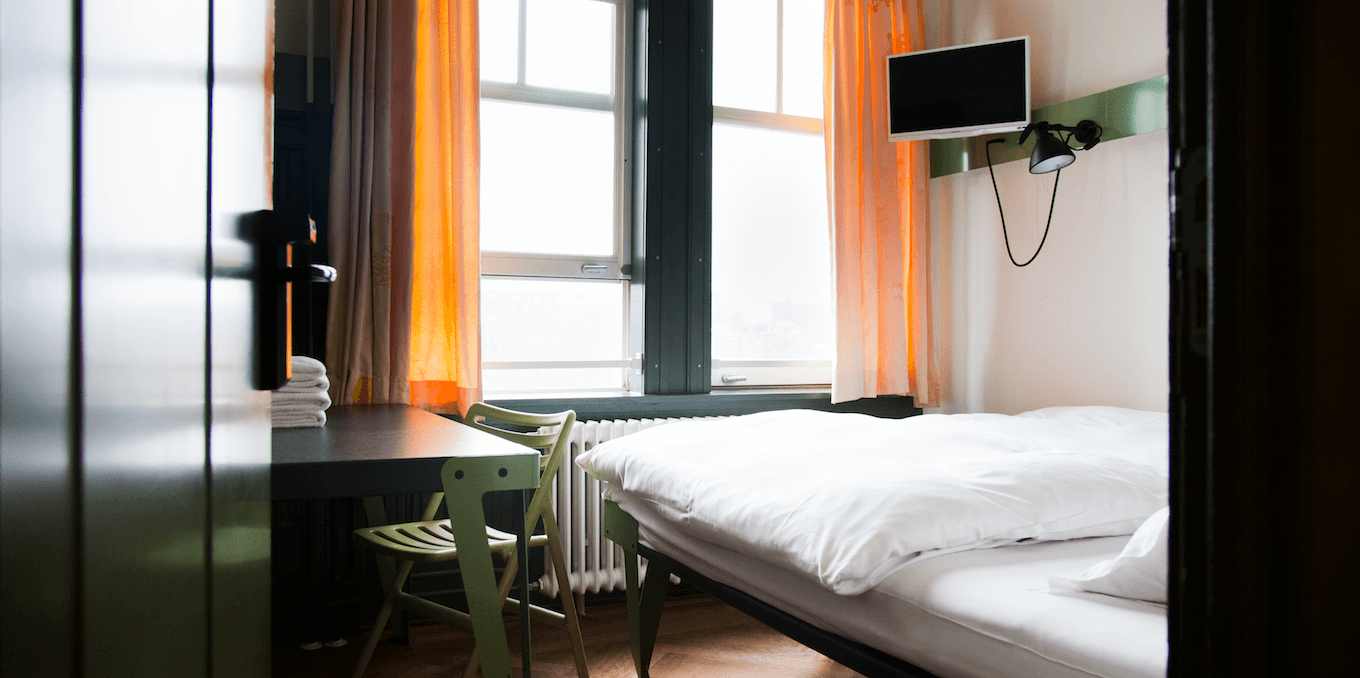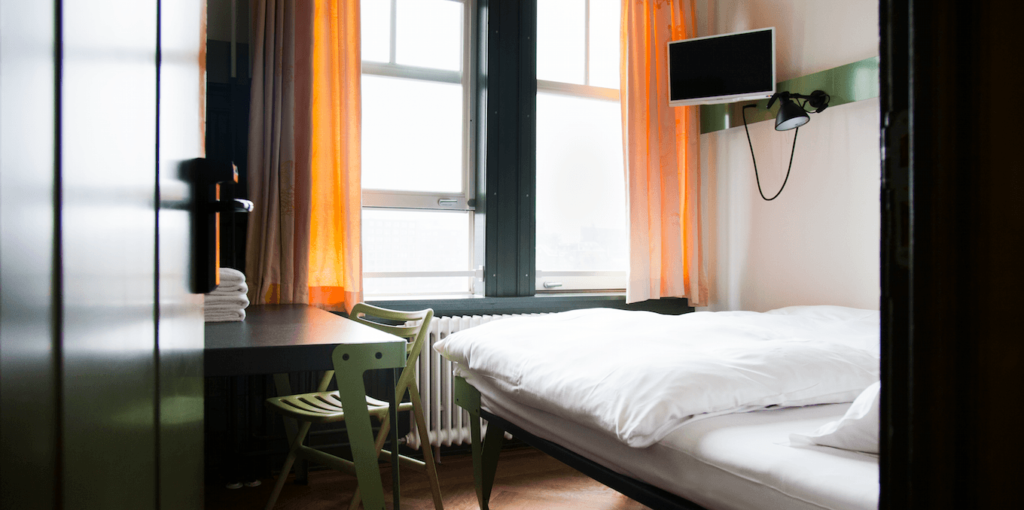 The Lloyd Hotel and Cultural Embassy is more than a place to stay, it's an institution in its own right. Housed in a historic building, 2 km from Amsterdam Central Station, it is described as 'created as a home for travelers of all stripes we believe in sharing cultural luggage-yours and ours'. The hotel hosts regular cultural events that are a delight to attend. There are 4 open platforms, multiple meeting spaces to host these events.
The rooms in the hotel range from 1-5 stars with regards to facilities. This ensures that the hotel caters to every budget.
Expect a large restaurant and a big south facing terrace, bike rentals at reception, stored luggage facilities, free Wi-Fi, wheelchair access for certain rooms, a library and the possibility to cater to small domestic pets.
11) CityHub Amsterdam
Bellamystraat 3, 1053 BE Amsterdam, Netherlands.
Rates: The price of a night's stay in a Hub starts from €53 booked via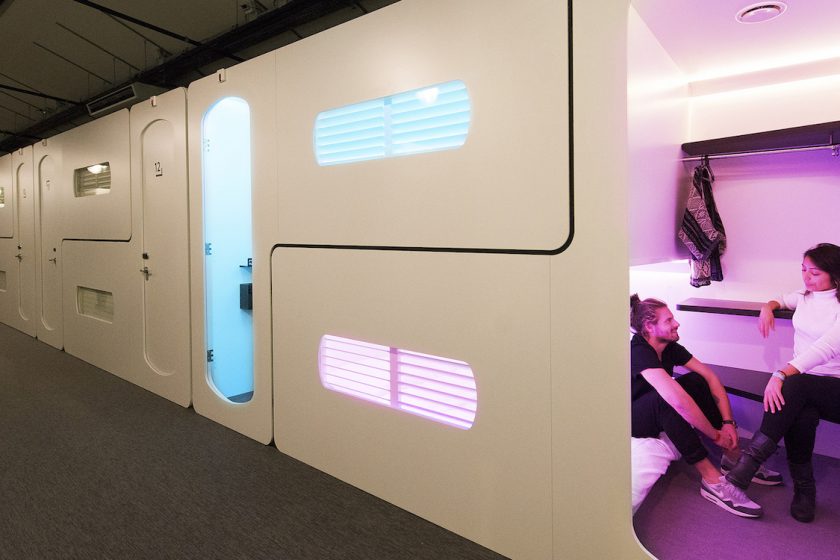 is located near the Ten Katestraat street market. From Central Station avail of tram 17 and get off at the seventh stop at Ten Katestraat.
The novel feature of the CityHub in Amsterdam, are their innovative and minimalistic design of 'Hubs' or small cabins for stay. The Hubs have free Wi-Fi and air-conditioning, pre-made beds, changeable ambient lighting, rain showers, separate male and female bathrooms and complimentary towels. For €10 you can have breakfast in the 'Breakfast Club' across the street.
has a number of hosts who will be happy to guide you during your stay.
12) Citiez Hotel Amsterdam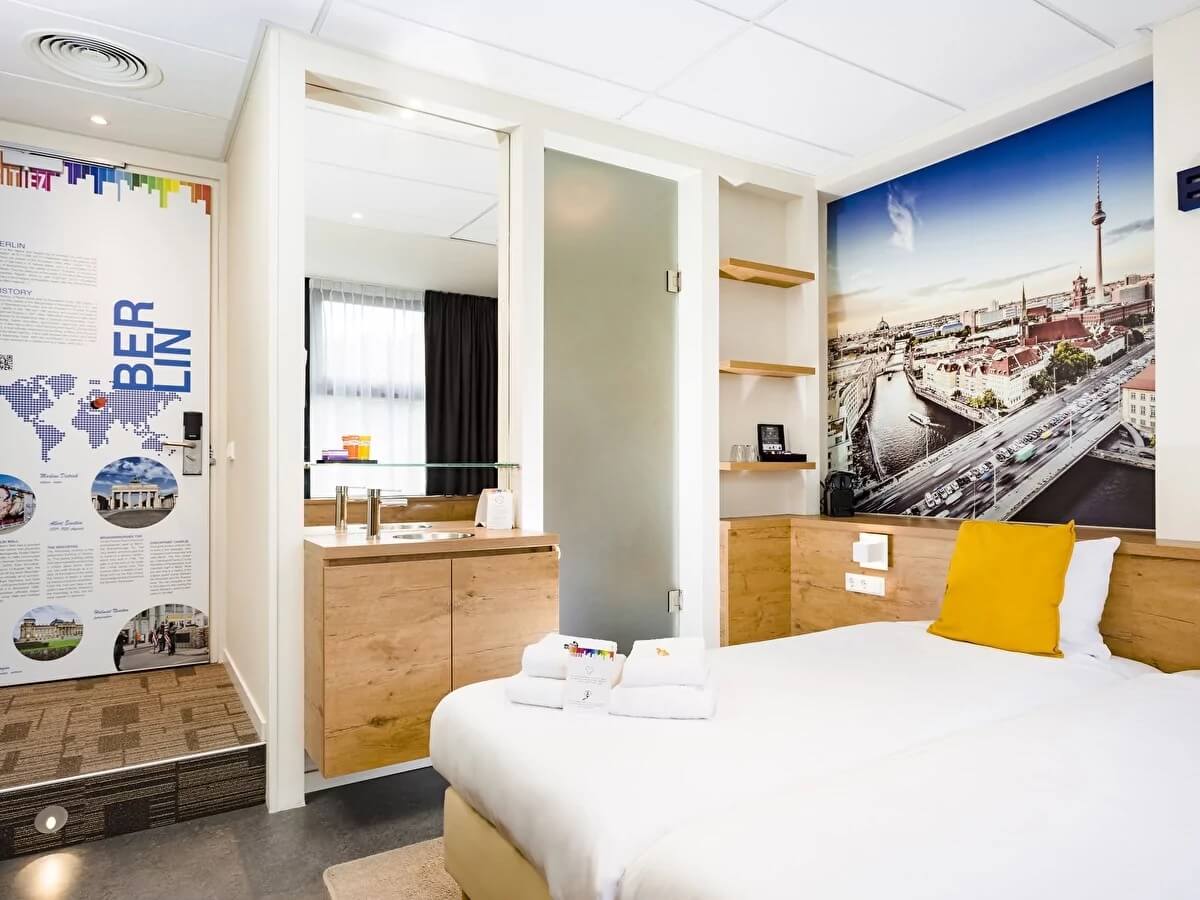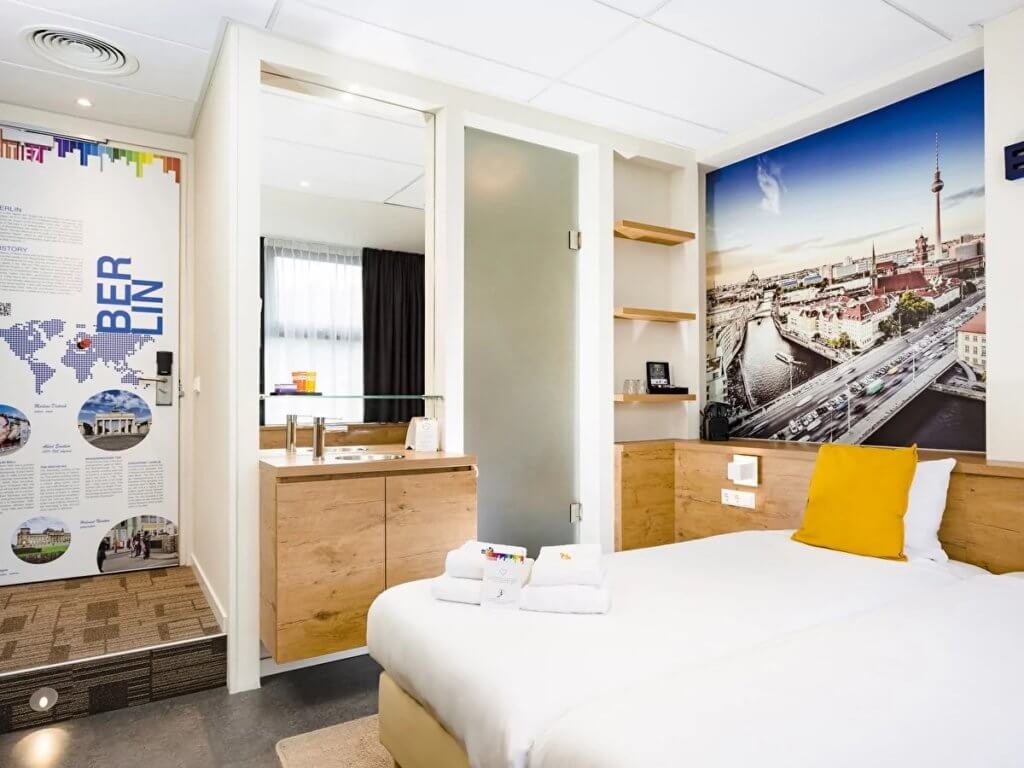 Osdorpplein 372A, 1068 EV Amsterdam, Netherlands
This compact design hotel is located in the Osdorpplein shopping centre ( 25 minute ride from Central Station ) where you will find all the mainstream fashion labels plus the brand new food court WestMarket. Tram 17 takes you directly to the central station. Staff are super friendly and helpful. Rooms are on the compact side but its clean and decent for a good nights sleep. There is an all day cafe onsite but also plenty of cheap options nearby for breakfast.
Room rates start from €80 via booking.com