Longtime Philly residents Michael and Larissa Milne recently sold everything to travel the world. You can follow them on their blog, Changes in Longitude. Here are the good, cheap eats they miss from their home town:-
To Market, To Market
Head to the historic Reading Terminal Market for lunch right in the center of town.
Start with a sandwich of succulent, slow-roasted pork at Dinic'ss, followed by a freshly baked Pennsylvania Dutch soft pretzel that has been lovingly dipped in melted butter before baking (and how could THAT be bad?).  Explore the fresh fish and produce stalls before satisfying your sweet tooth with some ice cream.
Belly up to the marble bar at Bassett's—America's oldest ice cream counter—for a dish of one of 30+ super-creamy flavors, including a personal favorite, pistachio.
Go South and Go International
South Philly has always been an area filled with immigrants, which means great cheap ethnic restaurants. The area that was once almost exclusively Italian still boasts plenty of "pasta and red gravy" spots, but in recent years a thriving Asian community has emerged. The neighborhood around 11th and Washington Sts. sports several Vietnamese, Thai, Cambodian and Lao eateries.  They offer differing degrees of formality, from simple pho-slurping spots to slick restaurants, but all are a good value.
Our go-to place is Le Viet, a swanky spot where at lunch 20 different meals that are all huge, exceedingly fresh, and absolutely delicious are available for only $5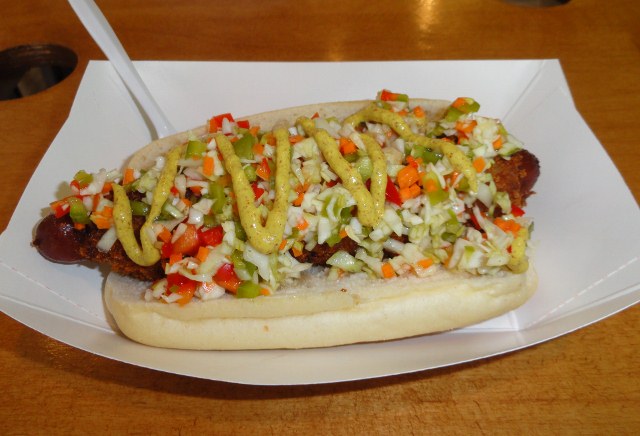 Steak-out a Sandwich
The Philadelphia Cheesesteak has become our global culinary ambassador, but the city offers so much more between the bread. In 2010 Philadelphia Magazine dedicated almost an entire issue to great sandwiches in town. Grab a Banh Mi at one of the Vietnamese delis, on funky South Street enjoy a creatively dressed "dog" at Hot Diggity, or one of a dozen meat or veggie creations at Jake's Sandwich Board in Washington Square West. Good cheesesteaks can be chomped throughout the city, but for the truly sublime, head to John's Roast Pork (yes, they do cheesesteaks too) near the waterfront.  And for heaven's sake, do not get it with Cheez Whiz!
Take it to the Streets
Street food has long been a part of Philly culture, and this is raised to an art form in the University City neighborhood just west of the central business district. Kitchens-on-wheels prepare all sorts of delicacies in the streets that thread through the University of Pennsylvania and Drexel University campuses.  Along with the standard hot dogs and sandwiches you can get great Greek, Chinese, Indian and the freshest fruit salads.  There's even a truck that parks outside Drexel's library at night and serves freshly baked chocolate chip cookies and milk!  If you're not sure which food truck to try, simply look for the one with the longest lines out front. Penn Food Trucks provides the most up-to-date listing of which trucks are where.
Go Early, Get Happy
When you're up for something a little fancier, consider an early dinner via Happy Hour. Philadelphia restaurants get very competitive for business between 5 and 7pm, and lure customers with great deals on food in the bar area during this period.  The most popular offering is ½ priced appetizers from the regular menu, try Farmacia in the Historic District or Table 31 in Center City. But some spots also have dedicated specials, such as the $2 "Slider Menu" at Caribou Café: gourmet mini-sandwiches such as smoked salmon or sliced filet of beef.  Check the Philadelphia Weekly for a current list of the latest and greatest.