I've been here before.
Déjà vu.
I look at the beautiful expanse of St Mark's square, my eyes then climbing the length of the Campanile.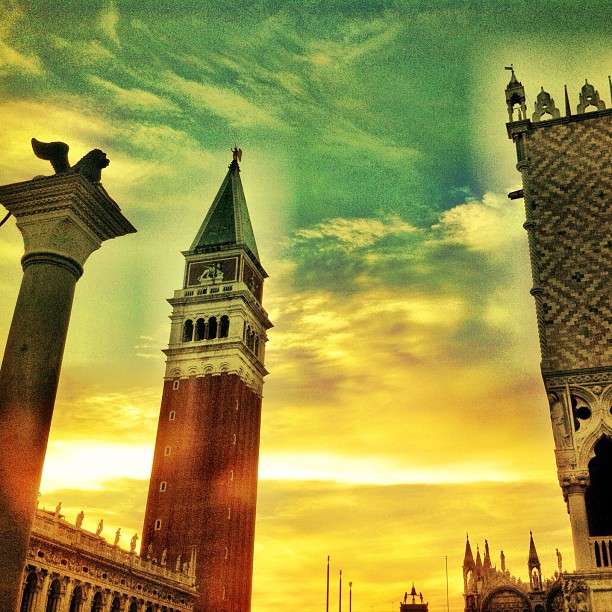 I see the golden weathervane glowing : Archangel Gabriel is twirling gently for us in the gentle Adriatic breeze, coming in from the lagoon.
Soaring further above, I lose myself in the few sparse white fluffy clouds
Then for a few moments,  time stands still in the infinite solid blue of the summer Venetian sky.
I lower my eyes and feel giddy.
I am lost somewhere between the past and the present.
A thousand pigeons take flight from the square and I want to join them.
On the rooftip of the buildings, like a voyeur, they take a sneak peek at the coming and going of Venice's never ending opera of life.
I remain glued to the view,  for awhile my eyes resting on the vista of the city's most famous church.
I am always mesmerised by the gilded Byzantine mosaics of the Basilica of St Mark's.
Everytime I see this square, I feel something quite amazing.
I guess seeing St Mark's for the first, second or even the 4th time, it feels like a memory renewed, a love renewed.
A deep feeling of happiness.
Of being reunited with someone you've loved deeply.
There is no need  for false pretenses, to be anyone but yourself.
You experience a sense of shortlived but quite intense emotion.
You know that the time of your date with destiny is limited and all the happiness you ever want can be condensed into a single moment.
How can you define happiness?
The moment I walk into St Mark's is for me one of the closest things to experiencing perfect happiness.
I have never felt more alive. More present in the moment.
I am in the middle of something big.
I don't what it is but it numbs my brain like I'm on some powerful drug.
I feel connected to the happiness and love of the people I see around me.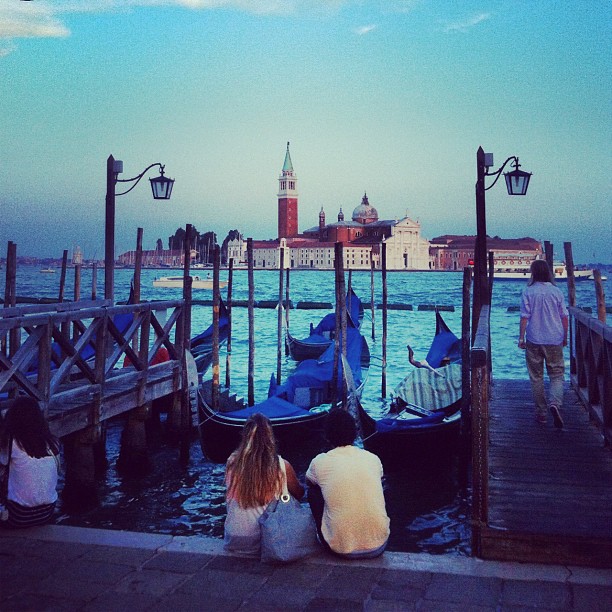 Holding hands. Eyes closed. Oblivious to the world.
This is the holy shrine for lovers.
Nothing in the world, I think comes close to it.
I wrote a piece about Lisbon being the most romantic city in the world.
I take it all back.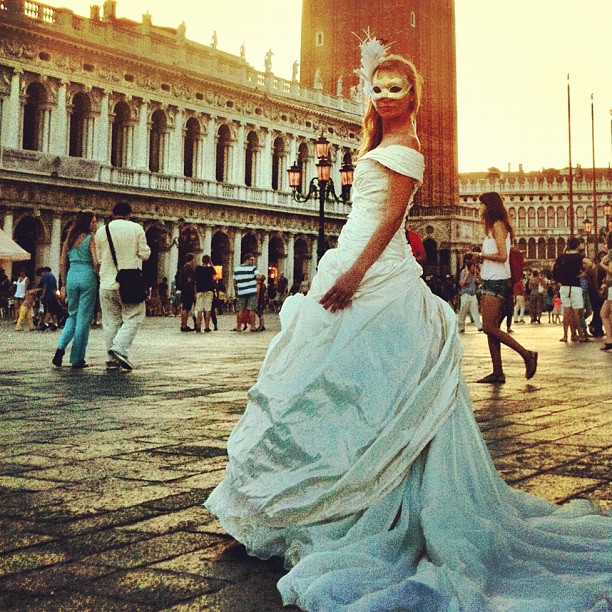 I love you Venice.
Despite all your crass touristy menus, your overpowering stench, one billion mosquitos,  one million souvenir shops, melancholic sad looking and pesky Bangladeshi's trying to draw blood by thrusting their thorny roses into my hands.
Despite all this, Venice still retains the allure and can still trade itself on its ageing looks.
A slightly melancholy beauty.
I don't see her first.
I need to go places where no one sees her .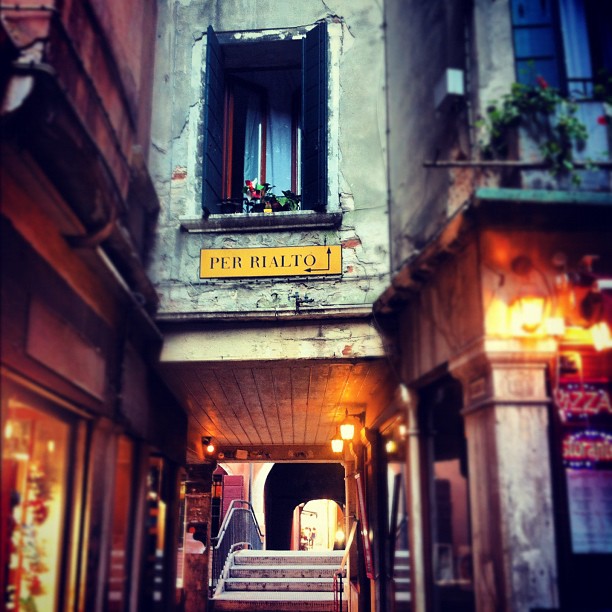 I walk the opposite way where it says per Rialto & per San Marco.
Soon, I find a place where the crowds have all but disappeared.
A moment of solitude in one of Venice's many squares, a deserted bridge.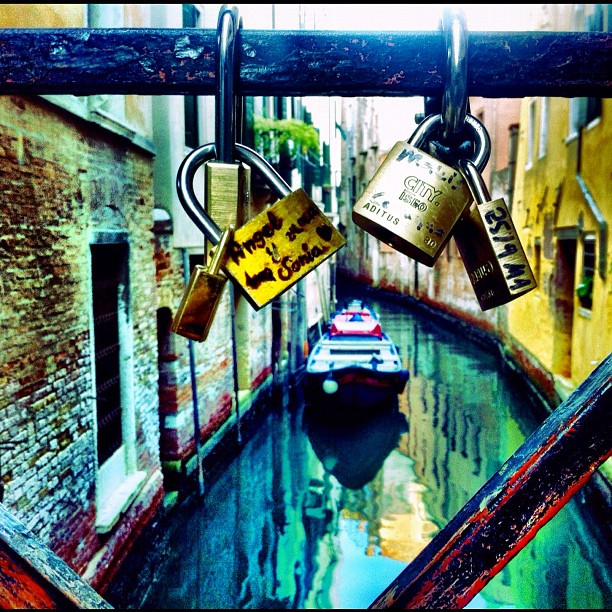 Hair on the back of my neck stands up.
If you take the time to speak to her and look into her eyes, the fire is still there.
Venice's beauty is eternal.
One that will outlive me, you and future generations to come.
I rediscover the romance of Venice in its unique traditions, known only to the locals.
I avoid the crowds, touristy restos around St Mark's where on previous visits I have spent a lot of money for very average food.
I spend a day just discovering the various Bacari 's – where I sip on a glass of Ombra Bianco  (local white wine) for as little as a euro accompanied by the local Venetian tapas: Cicchetti.
Hopping from Bacari to Bacari I have a kind of a venetian pub crawl lets say. In any bar I'd be eating anything from mini sandwiches, plates of olives to crostini with various food toppings , marinated seafood and prosciutto with melon. All for a fistful of euros. It's great way to discover the city.
I spend a few hours later in St Mark's, resting my weary legs.
I think the ombra has gone to my head.
Day turns to night.
Sky turns every shade of red till it becomes fuzzy pink before a lighter shade of blue.
The light , even at the late hours here is amazing.
My heart aches.
Only coming to Saint Mark's does this to me.
It reminds me of memories past.
I have been here before.
Yet, that was a different life.
Still, I still feel that ache.
Amazing how powerfully a human can remember sadness over happiness.
I am sad but still, I have hope.
As I know I will be back.
The opportunity to create a new memory.
One thing I've learnt, as with life,  there is always a next time with Venice.