There are no pictures left from my last trip to Tampere.
Except one of 2 pictures. This is one of them. As you can see, in July 2012 I had just discovered the joy of the HDR filter on my iPhone.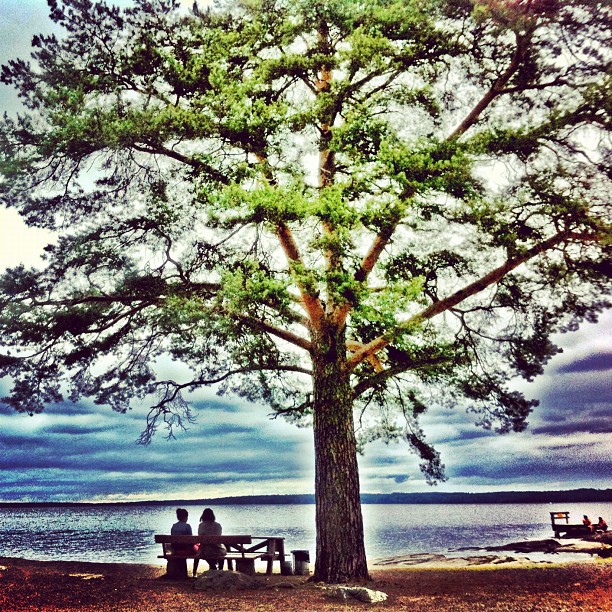 Our parents had photo albums. I thankfully have Instagram to store my photos.
The pictures that I took on this trip all disappeared shortly after the trip.
I was robbed of my beloved black iPhone 4 in Barcelona. My phone wasn't backed up.
4 years have passed since my last visit to Tampere. I remember the trip very well.
I loved the Dream Hostel. I had been on the road for a few months by then. Having visited over 20 cities in the span of 6 months, I needed a rest.
The hostel had a very warm welcoming vibe. Everyone, from the receptionist to the cleaner to the guests were super friendly. It was what I exactly needed. I enjoyed the quiet still mornings drinking their columbian filter coffee while listening to the slow drizzle of rain outside. Ville, the owner started handing popcorn to all guests. Only when it rains. An eccentric but wonderful tradition at the hostel.
When the rain cleared we went to the local public sauna. I remember the faces of grown old men, red faced and grunting in the intense heat. I remember my contact lens melting. I remember the cold clear water of the lake. A lake so clear. Unspoilt. Like a mirror to the heavens above.
One morning. I woke up and went to the nearby market. Ate mustamakkara-the local blood sausage for breakfast with lingonberry jam. Washed down with some cold milk. Probably one of the strangest breakfast traditions I have experienced in the world. Definitely, one of the most memorable ones.
These are just some of the memories I have of that trip.
So the question some of you may be asking: why go back to a place you know?
Well. I had intended to revisit but the trip never happened until now. I am currently revising my guide to Luxury Hostels of Europe ( due September this year)
The Dream Hostel has opened recently a new hotel wing. Which I am very curious to see. Plus in addition, with the help of fellow coworker Rui, a videographer, I will be filming the hostel. Plus the city.
I was asking myself this question this weekend: What makes people go back to a place? Is it nostalgia? Or do we as humans seek comfort in the places we know best?
I was back in Costa Brava recently with my girlfriend, Sofia, her parents and the boys. I had a magical experience in Costa Brava 5 years back. This region for me has everything you could possibly want in a holiday -pristine nature and a beautiful coastline, amazing yet affordable gastronomy, all types of adrenaline raising adventure activities , abundant cultural activities and most importantly -wonderful people. I guess I wanted to share some of that magic with the family , recreate some of the memories from that trip 5 years back and see something new. I spent a good few months talking up the trip to Sofia. So a part of me was nervous. I do sometimes have a tendency to slightly over exaggerate and always hope for the best in everything. This strategy can spectacularly backfire or in some cases, pay rich dividends.
The sequel was as good as the first trip. Kids loved it. I revisited some old favourites likes Girona and Cadaques. Fell in love with both places as if I had seen them for the first time. Went for an aimless wonder with the family around Cadaques, losing ourselves in the labryinth of white washed cottages and terracotta roofs.
It was on this aimless wonder that we stumbled upon Restaurant El Barroco, a Lebanese restaurant. We drank cold beer from Beirut. Had a wonderful mezze platter in this beautiful rustic courtyard brimming with potted plants and adorned with lamps. It was an unexpected find. We later discovered that Dali dined here and was a regular here. Sometimes such spontaneous, serendipitous finds define a holiday experience.
Maybe its just me. My age showing. I am a sentimental bastard. The older I get, the more I want to dig deep. Discover the layers of a destination. I find the more I like a place, the more I enjoy going back. I always find there is something new to discover. I hated Paris when I visited the city 15 years back. However on subsequent trips, once I got over the hype and got away from the tourist traps, I discovered a very different Paris. Give me any excuse to go back to Paris.
We live in a world where numbers matter. Country counting is popular amongst some of my fellow blogger friends. Which is great for them. Interviewers are often dismayed when they discover the number of countries I have visited. For someone who travels professionally , often 6-7 months in a calendar year, it is surprising how many countries or destinations I haven't visited. I made a decision to slow down, give up the dream (nightmare) of being a digital nomad and settle down in Madeira a few years back. A decision I don't regret. Best thing I ever did. I love the island. The people. I live with someone special. That I admit , is a key factor. Plus having seen a lot of the world, it is a great place to call home.
However, this is just me. I am in no hurry to see the world. At 37, I feel like I have plenty of years ahead of me. I am in good health. Thanks to this blog, I hopefully will travel till the day I die.
Knowing that there is still so much of the world to see, keeps the fire burning, my curious imaginative mind fertile. Plus there is so many worlds within a world to discover. Right?
I am on my way to Tampere as I type this blog post. (Greetings from Brussels airport!) I am looking to revisiting some old haunts in Tampere. Plus have some new epiphanies along the way.
Experience. That's worth counting and what matters at the end.