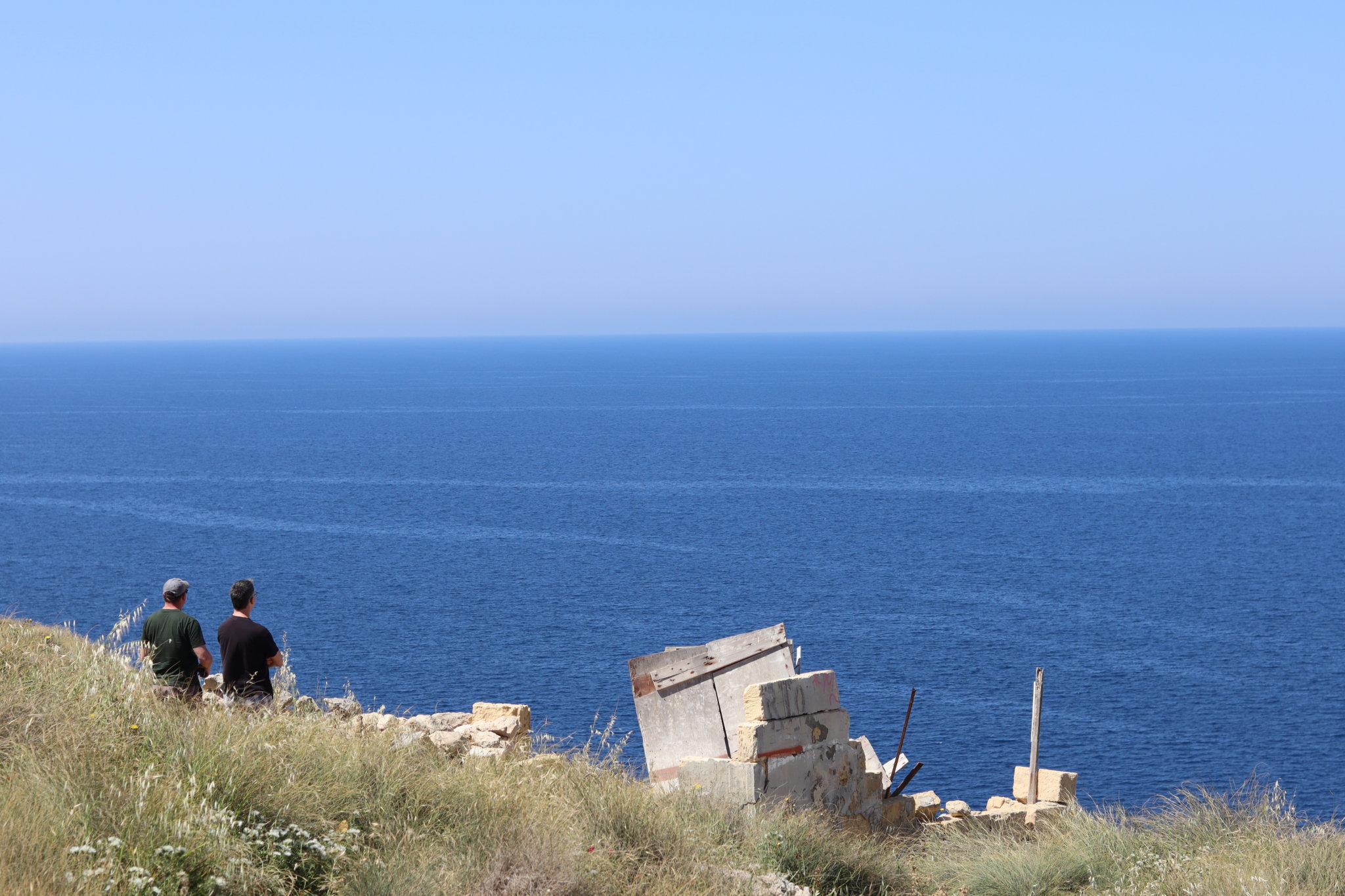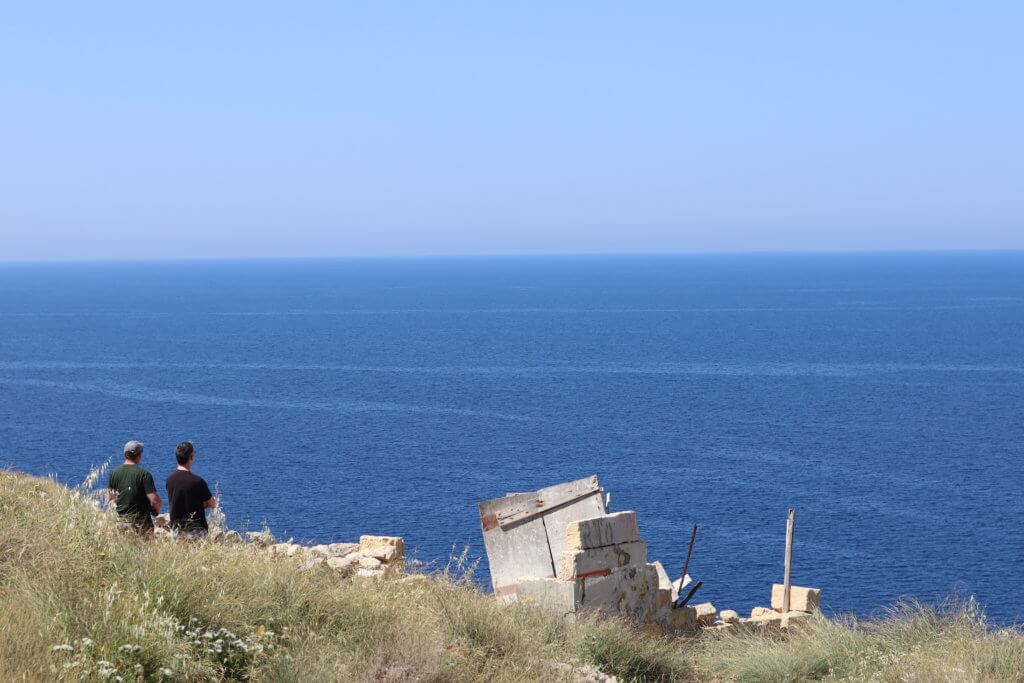 We stumble down the sulphur-yellow dirt track, no sign of Claire's secret beach. In the past 15 minutes we have been honoured with just the odd lonesome goat for company and the swallows, dancing above our heads. I take a slurp of my water. It is past midday but already the April sun feels strong on our skin. We reach a dead end. Force of nature implores me to look at my phone for answers. According to Google Maps, the track or beach does not exist. We are in no-mans lands. I look up again, into the distance, my eyes swimming in the most perfect shade of deep blue Mediterranean Sea. Sabrina reminds me that Claire, our new Gozitan acquaintance had mentioned a turn off to the right. We retrace our steps up the dusty yellow track.
I notice the clumps of wild feral fennel casually growing amidst the poppy flowers. We find our turn off, an overgrown path covered with a thicket of wildflowers of all the colours of the rainbow. I pause to take photos of them so that someone can identify them to me later. Besides the happy dance of swallows there is also the sweet meditative hum of bees, frolicking in the meadow of wildflowers. I close my eyes. Sometimes, travel presents you with these moments of almost near perfection.I soon hear a wild yelp of happiness from Sabrina. I open my eyes and see she has ventured forth, via a craggy slope through the impenetrable haze of wildflowers.
She has found the path to the mythical secret beach. It has the perfect view of the dreamy turquoise blue waters of Comino in the distance. We must have sat there in perfect silence for almost half an hour before a couple came. There was a look of surprise and then a big smile.
'So you know about this beach too.'
We nodded our heads reassuringly and raised our hands, half apologetically to reassure them…the secret stays with us. We retrace our steps up the track. The goat had disappeared. When we reach the top of the track and look down again, there was no visible landmark in the horizon of our secret beach, just the swallows dancing in the sky.
Maybe there are no secrets in travel anymore.
It was better before. We had to use our imagination and not rely on Instagram to visualise a place. Maybe its an old age thing, but there is this horrible tendency of people in my age group to romanticise the past. Travelling was more fun, authentic. There were less crowds in the most popular travel hotspots. You didn't need to get up at 5 am to see the Trevi fountain. You could fly Ryanair around Europe for as little as €2 return. Plus, there was no hassle with carrying liquids or restrictions of carry-on luggage. Hostels were super cheap. I remember travelling with my trusted Lonely Planet guidebook and the 3 hostels listed seemed to have room for everyone.
Then came the age of the internet. Social media. Suddenly, there was a huge amount of information at the tips of our hands. We were in theory, better equipped to travel more and better. The opening hours of restaurants could be found without the need of a phone call. We could find the list of the ten best things to do in Berlin in a flash thanks to the boom in blogs. There was no need to pop into the tourist information office or speak to travel advisors anymore. No need for human interaction. Everything you needed to know about a city or place was one Google search away. Now we have AI tools to help plan our travel itineraries. Nothing is left to chance. We have our bottomless bucket list of places to see before we die. Instagram over nourishes our desire and dream to travel. With so many places to see and so little time, travel becomes another task, another list of things to finish. We arrive home, miserable and unfulfilled.
'If I was to tell a tourist what to do in Gozo, I would tell them to go swimming on one of our amazing beaches where locals spend lot of time in spring and summer. I would tell them to do a cooking class. Immerse yourself in the everyday life of the island. Go to any cafe or bar.'
Claire, Mojo.
I am back in Malta after almost 8 years. I remember looking at the old photos and feel like it was a different era and a different me. One of the highlights of my trip was visiting the small, traditional fishing village of Marsaxlokk in the south eastern corner of Malta. I remember on a sleepy late September afternoon having the whole waterfront to myself, a bottle of the local Cisk lager in hand. I also remember wandering the narrow streets of the Mdina, the silent city, timeless and this feeling of almost walking back in time. 10 years later and I am excited to be back in Malta but a little nervous. It is like when you reconnect with old friends and wonder, will it be as nice as before?
The popularity of the island in the years past has soared thanks to the popularity of shows like Game of Thrones. We revisit Mdina and it seems a lot less silent. The crowds have multiplied. Luckily, I had been warned by some locals to avoid Mdina and visit the neighbouring village of Rabat. Rabat feels as timeless and enchanting as Mdina but when we visited, there was hardly any crowds to be seen, just the odd local. We were grateful to Mark from the Kings Crown pub for the tip.
Confession time. It was not entirely by chance we met Mark. Philip told us about Stephen. Stephen spoke of Mark. We met Philip thanks to a card game we invented. Let me explain.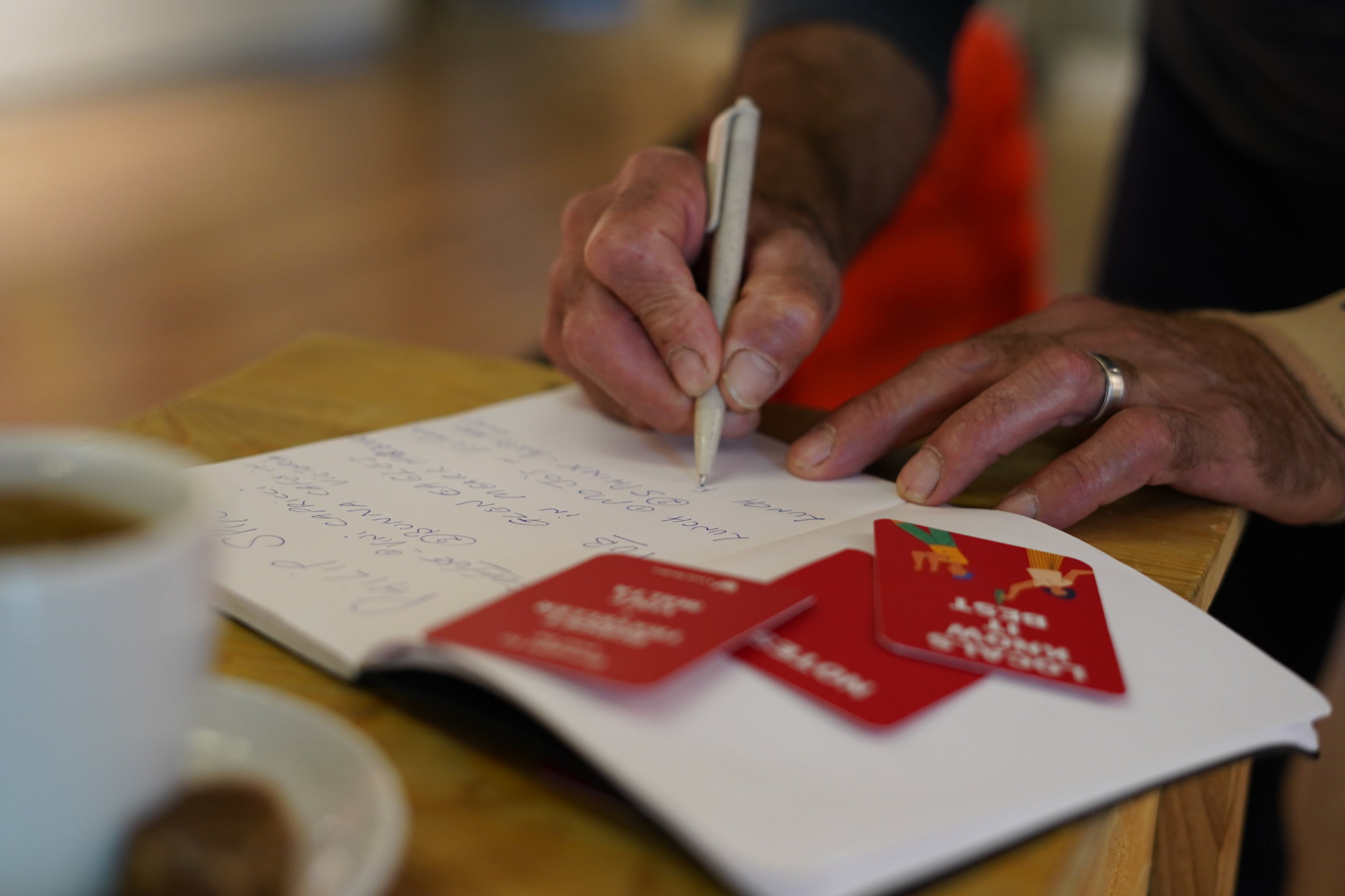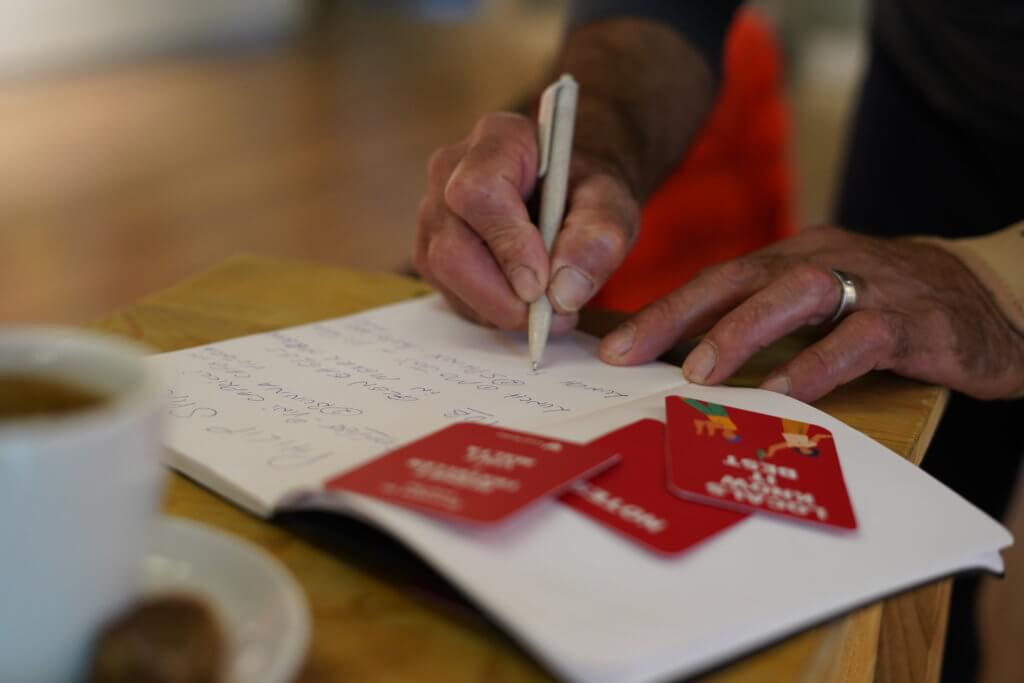 For this trip to Malta we had decided to do something different. Instead of planning the trip to death via researching endless blog posts, Pinterest boards and Instagram galleries, chewing through a guidebook, we decided to have a different kind of trip. The whole trip would be a game of chance, constructed with the help of speaking to random locals. No guidebook could be used. No smartphone too, unless we were completely lost. Approaching locals randomly to ask for travel tips can be awkward sometimes so I had to come up with a device, so I thought why not create a deck of cards with questions to the most common things you would want to know on holiday. The cards would help reduce the awkwardness of breaking the ice. The idea would be that locals would draw a card and then give us a tip based on the question on the card. We would then follow on that tip and also ask the local to recommend another local we should meet and help us on our quest.
The trip
So how did it go? Our experiment started in Gozo when we met the wonderful friendly Philip Spiteri from the popular Ta Philip restaurant. He pretty much introduced us to the whole island. After drawing the card asking him to name his favourite lunch spot, he recommended we meet the lovely Claire who runs Mojo restaurant in Victoria, Gozo. Claire, was responsible for introducing us to the secret beach I mentioned earlier. When he drew the card asked to name his favourite pub, he recommended we visit the Gleneagles pub in Mgarr Harbour, run by the affable Tony who turned out to be a goldmine for tips and also a man with many stories to tell of the island. While there is sadly no such thing as a time machine, with some people you meet on your travels, you have a connection with the past, with all the magic and sadness that has passed before, that sense of almost being there when they describe all the emotions, the stories of the people they met in their bar for the last 40 years. Tony was that kind of person. A connection to Gozo's past.
We ended three memorable days with a bag full of new memories and friends. We ended up in a lot of new places and a very different perspective of Malta. I would need an entire day just to tell you about all the magic but let me finish with the end of our trip. Picture the most incredible sunset. We were at Dingli cliffs. We had received the tip from countless locals. It seems like everyone had got the same tip too. The car park was jammed and the viewing point was already a tussle between visitors, scrambling to get that perfect picture of the sunset that would immortalise the moment in history. Led by our driver, Alex we walked further away from the crowds, along the cliffs until we were strangled by the empty silence of the big wide open sea. A retired police officer who hunted down local smugglers, Alex knew every street, every dust track like the back of his hand. He wasn't a man of many words but there were times when showing us the island, I would see a flicker of emotion in his eye. I saw his eyes widen when we reached the spot. We were a million miles from everything and just the open wide sea, bathed in this golden light as that fiery red ball of fire slowly melted into the horizon. Somewhere in the distance was Africa. It was then I fished out my pack of Twistees.
It was a tip from local chef Stephen La Rosa.
'Do not leave the island without eating this!'
We sadly had no Cisk but those twistees tasted damn good. We ate it to our hearts content in perfect silence, till the darkness swallowed the sun and our shadows. I then gave Alex the biggest hug and I think we both had a tear in our eyes.
What makes moments like this and travel so perfect?
No matter how much we perfect technology and AI, some things in life can't be manufactured. In the end, it comes down to timing. Plus, also being in the right place. Serendipity. In this sense, Malta was perfect.
The beauty of our adventure was that it was nothing to do with luck but all about being brave and taking a chance. So, my message is simple. If you do visit Malta, leave the guidebook and phone behind in the room. Go to a bar. Order the local drink. Have a random conversation with a local. Give them the permission to share their home with you. You don't need the card game. I promise you, you will be surprised at what you might discover.
In the end, it is really simple. Travel is all about the people. It becomes so much more meaningful and exciting when we connect with locals, find out their story and maybe learn something new that changes your perspective.
Turns out, there are still secrets in travel. You just need to ask the right people.
Further reading
Things to do in Malta and Gozo
Disclaimer: The trip to Malta was possible thanks to the kind support of Visit Malta UK and partners. However, all the opinions expressed here, good and bad are entirely my own. Plus, a huge thank you to all the locals we met in Malta and Gozo who made our trip unforgettable. More Malta and Gozo stories and tips coming up soon on the blog. In the meantime, please visit the Visit Malta website for more ideas to plan your trip.