Last weekend. It was cold, raining and we were lost in the confusing maze of canals of Amsterdam.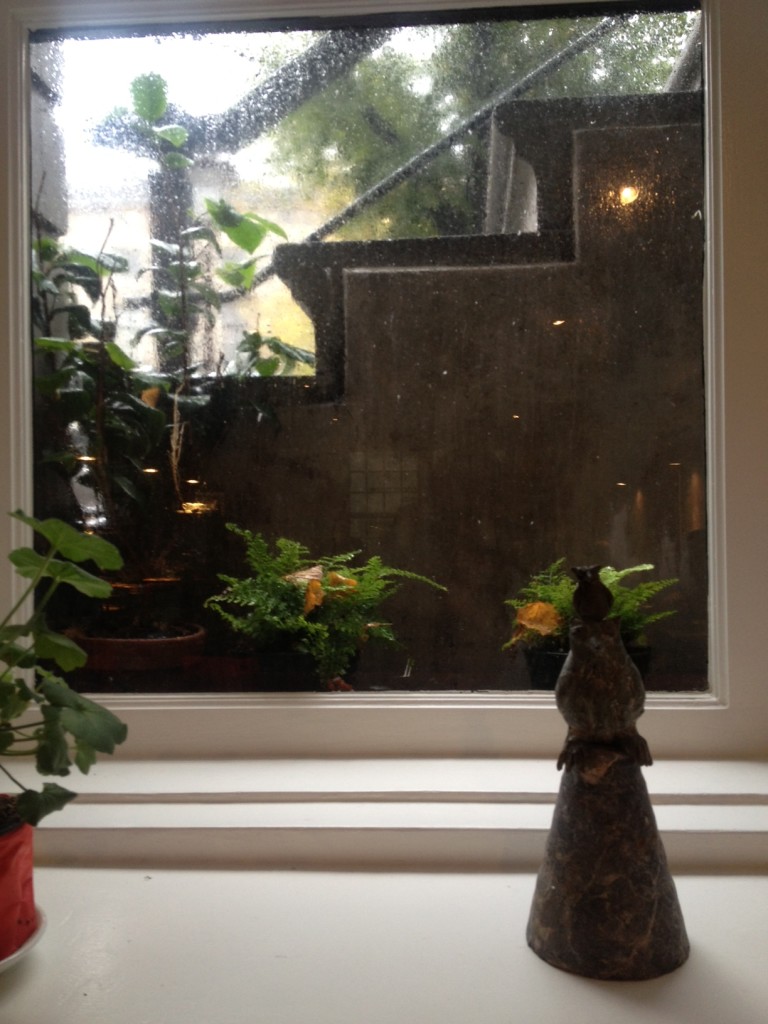 The rain was no longer vertical.
It was lashing into our faces from a horizontal angle on the back of furious gusts of moisture laden air.
Unlike the beautiful Autumnal day before, the canals were no longer still and silent but thanks to the incessant rain overnight, had swelled considerably.
They were like tidal rivers now,  angry and shrill as the swirling wind around us, threatening to overflow their banks.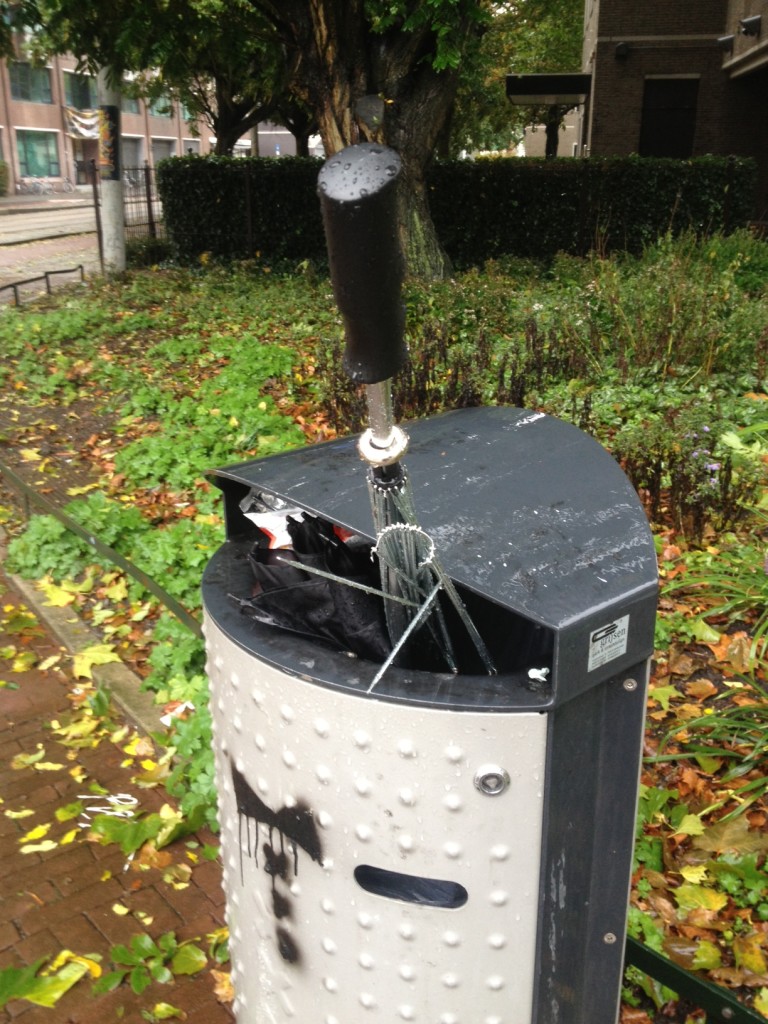 Umbrellas were of no use in these blustery conditions.
Every 5 steps, we found broken umbrellas sprayed across the pavement or jacked into bins.
'Broken umbrellas like dead birds'  was the phrase that came to mind, to quote Mr Waits.
Dead autumn leaves were like now like a slimy carpet under out feet.
The earth was truly beginning to move under our feet.
It was at this precise moment that we finally managed to locate FOAM, the museum of photography in Amsterdam.
I love this museum and I always come back here whenever I revisit Amsterdam. I find their photography exhibitions always thought provoking and moving.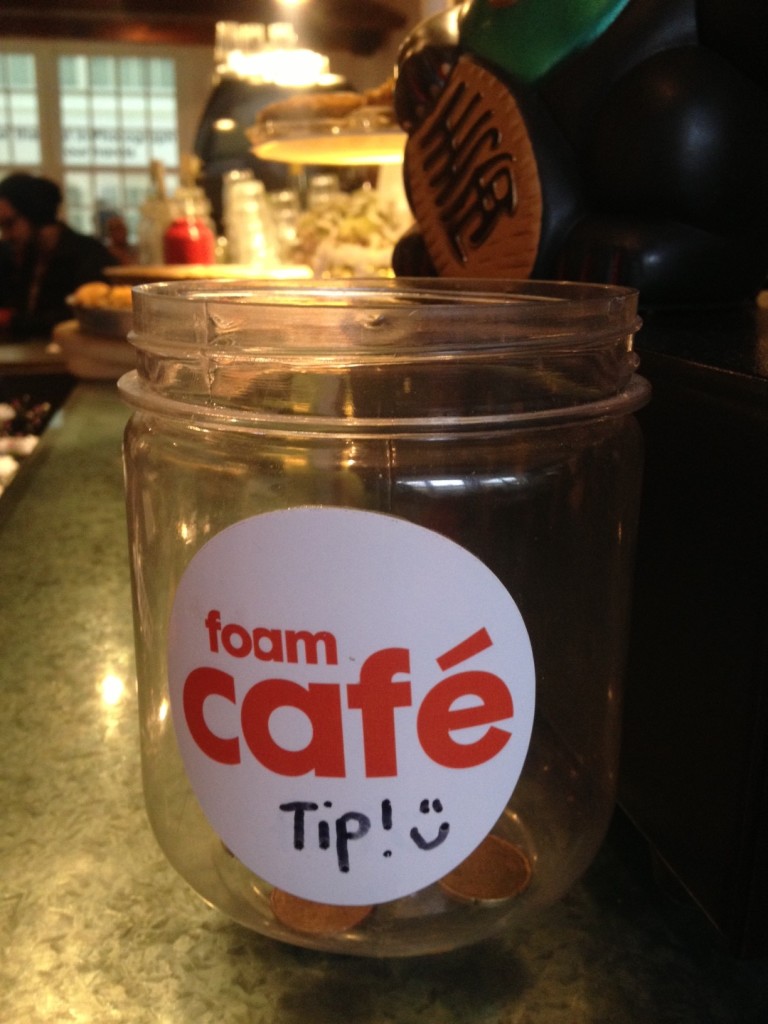 To warm our hands and feet, we nip down to the basement café of Foam.
The staff here are always warm and welcoming. Out of the rain and away from the prying wind, suddenly a moment of calm and peace descends upon us. We sit down. Rub hands to generate warmth. Order tea. As we flick through the prospectus of the exhibition ( 40 years of Dutch magazine photography) a pot of steaming tea arrives with a smile and a nice piece of shortbread. We are paying for the tea but still, sitting there feels like a privilege.
The food menu looks like quite varied and interesting. Little pricey for the BudgetTraveller, nevertheless, it looks like really good quality food and smells great. Everyone is smiling, happy with their food. We look at the animated faces of all the people in the cafe and wonder about their lives, where they came from. Marvel at how fate has brought has together at this precise moment in time.
The low lighting is soothing. The rain drops slide down the broad window panes behind us. There is a reassuring sense of comfort and gratitude being in the museum café, shielded from the unpredictable elements.
Then, as gratitude envelopes my heart, a nagging thought enters my brain…
Why are museum cafes such an unloved instituition?
I rewind a few days back to our day in Rotterdam. I remember Sofia, my girlfriend suggesting that we have lunch at the Museum Boijmans van Beuningen ( Fabulous collection of surrealist art )
I scoffed at the idea with the nonchalance of a well travelled man. In my heart, museum cafes were not an entity within themselves. There were an unwanted add-on. A sideshow to the main event. Somewhere you passed through on your way to the exit or after taking a wrong turn from the souvenir shop.
I closed my eyes and visualised tired faces when thinking of museum cafes. Bored faces. Haggard looking parents. Weary waiting staff.
However, maybe I was a victim of a stereotype?
I plumbed my memory to think of all the museum cafes I've visited on my travels.
I immediately picture myself back in Edinburgh where I lived for almost 8 years.
I am taking a walk down the enchanted Water of Leith canal. Starting at Dean Village, I wind my way through the village, into Stockbridge and then finally found myself at the feet of the city's two excellent modern art galleries- Dean Gallery and the Scottish Gallery of Modern Art.
Both the cafes in these two museums are excellent, my favourite is the Café Modern One at the Scottish Gallery of Modern Art.
The café is always is this vibrant mix of art lovers, tourists and locals. It's always packed. Especially on sunny days where people soak in the sun in their glorious outdoor garden patio. The food here is excellent too and offer generous portions.  From their delicious crispy jacket potatoes to homemade soups and casseroles to their puy lentil salads plus an excellent range of cakes-this café is a great place to eat in it's own regard.
Back to almost the present- Rotterdam and the café at the Bojimans museum. Sofia was desperately needing to make a phone call to her parents via Skype and hence needed a decent wifi connection. After buying our tickets to the museum, the friendly receptionist informs us that the café has both free AND working wifi. While she makes her phone call, I buy two coffees. Both come with a free piece of chocolate shortbread. I pick up a selection of local magazines lying on the next table and for a few moments, find myself really absorbed, enjoying myself.
Sipping on the freshly brewed coffee. Words. Images. A beautiful sense of calm. Around me I don't see any bored or unhappy faces.
The more I travel, for better or for worse, I've realised I've become a godamn fussy person. The travellers curse. A simple café won't do. I won't settle for a cold slice of pizza for lunch or visit Starbucks just because of the free wifi.
I want to feel welcomed. A smile, when I walk in.
Even if it's a tiny bite of something, be authentic. Even if all you got is soup and sandwiches, if your soup is something local and unique to your establishment, you've got me hooked. Lie. Tell me you made it with your grandma's secret recipe. Tell me a story.
I want to feel a sense of connection with the environment I'm in.
I love places with great design, that allow light and seem cheerful, even on the dullest day.
Plus I really really love FREE WIFI. Especially when you are travelling on the road in a foreign country, it's great to be able to connect with your friends and family on the road.
A museum café ticks all the boxes.
They won't have the most jaw dropping menus but they will have a limited but good selection, something nice to nourish your soul. The staff I've found are always polite and friendly. The design of most museum cafes, in harmony with the rest of the building, is always eye catching. The coffee is always good.
So the next time you visit a museum, don't treat the café as an unwanted add-on. A place just to rush through to pee in their loo or catch up on your Facebook messages using the free wifi or a convenient pit stop to stuff your mouth before running to the next destination.
Treat it as an experience in it's own regard. A quick escape from reality. A place for reflection in the midst of a holiday where you can gather your own thoughts before you are ready to face the world outside.  Come rain or shine, I promise if you give them a chance, they might just surprise you and be a highlight of your next holiday.
Some of my favourite museum cafes to check out on your next trip..
Le Café Diane, Tuileries Gardens |Paris
In the heart of the Tuileries Gardens, this is the Museum Café with THE view, offering a great vista of the Louvre and the Eiffel Tower in the distance. Perfect for a sunny day, nestled within the beautiful Tuileries Gardens, this place is perfect.
Café Modern One, Scottish Gallery of Modern Art | Edinburgh
Hearty food, generous portions, a beautiful outdoor terrace and a nice mix of locals and tourists- this is a place not to miss on any trip to Edinburgh. Perfect, when combined with a walk up the Water of Leith.
National Café, The National Gallery | London
 If you want to get away from the bustle and clamour of Trafalgar Square in the evening and really looking for a decent bite to eat, then do pop into the beautiful National Café at the National Gallery. Menu is a mix of modern British and European cuisine. At the moment, they are offering an excellent offer of £10 supper 'dish of the day' with a glass of wine, beer or soft drink. You can expect dishes like Wiltshire pork and mussel paella to a homemade fish pie and fragrant Thai seafood curry.