One of the reasons I love coming back to Scotland is for the food.
Think Scotland and the first culinary delicacy that pops into people's head is haggis.
Whisky. Aberdeen Angus beef maybe. Plus of course the deep fried mars bar.
All worthy gastronomic delights in their own respect.
The whisky drinking Scot who scoffs deep fried mars bar every night after a few drinks though is a bit of a modern myth.
One that may have been cheekily invented by their English counterparts.
Having lived for 12 years in Scotland though, I know what Scots love to eat at 3am on Sunday morning.
Scottish food is not just about haggis and deep fried mars bars.
My recent food themed shortbreak to Scotland you could say was a bit of a challenge to discover a different side to the country's food heritage.
Trying to do that on a budget was an even bigger challenge.
I landed in Edinburgh after an early morning flight from London.
I had the privilege of living in this city for 8 years.
Even after all these years of living here,  hair on the back of my neck was standing up as our rental car pulled into the grand straight of Princes Street.
The glorious Edinburgh Castle, looming above the city atop it's volcanic plug, greets us in all it's majestic glory.
We're in Edinburgh for a few hours. We are heading back here tomorrow so it's a whirlwind trip down memory lane for me.
We park the car and walk up Lothian Road to the excellent Edinburgh Larder for breakfast.
Because of the early morning start, I had already a ravenous appetite and enroute to the Larder we stopped for a coffee and my favourite Scottish breakfast snack of all time- a bacon roll at Ryan's Bar ( Hope St, Edinburgh). Sitting outside, sipping on their excellent coffee and chomping on my bacon roll ( crisp and nicely done) looking at the beautiful panorama of Edinburgh Castle, there are few better ways to start your day in this city.
Next stop is the Edinburgh Larder Bistro on 1a Alva Street.
This place really is a microcosm of Scotland's natural larder.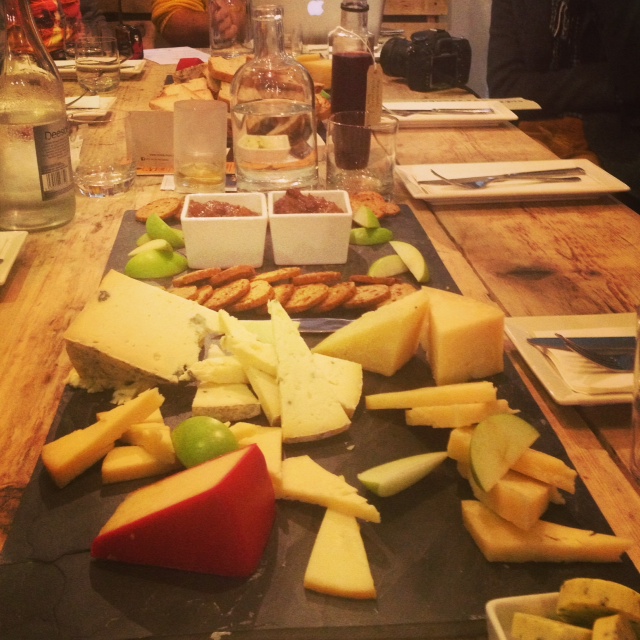 It's approaching lunchtime so we went for a nice cheese platter which came with homemade oatcakes, apple and fresh chutney. This platter was the perfect showcase of the amazing range of artisanal produce you will find in this country.  We had some fine crumbly 'anster' cheese from St Andrews, a soft creamy Highland brie, Blue 'Murder- a wild blue veined Highland cheese plus a personal favourite, Isle of Mull cheddar. It's got a very well rounded taste, not too intense but still full of flavour. Tasting this is like a flashback to so many happy memories of my years in Scotland. I dream of this stuff at night often. That good.
The Edinburgh Larder Bistro is one of the top budget eats in Scotland.
You can enjoy the platter at The Larder Bistro as part of their excellent value 3 course lunch for just £15 where you can enjoy a choice of amazing dishes like a fillet of the local mullet with sea foraged vegetables or toffee glazed pork with braised lettuce and crushed potato.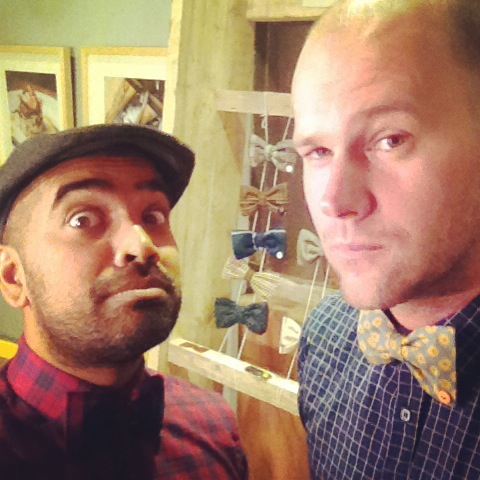 PS: If you're looking for a unique gift, they sell some pretty snazzy bow ties here, in picture, modelled here by me and my good mate, Michael Turtle.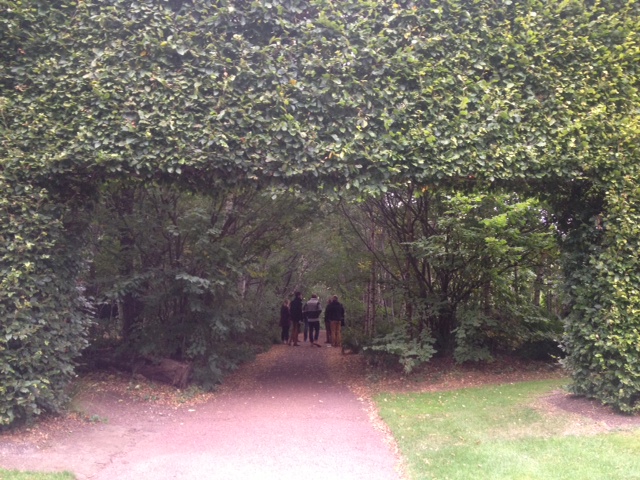 Our next stop on our foodie expedition of Scotland is the beautiful Royal Botanic Gardens.
This is another old favourite haunt of mine. The landscaped gardens here are beautiful to walk at anytime of the year. They have a very nice zen like Japanese water garden. Plus an excellent café here where the eggs benedict comes highly recommended. Our reason for heading to the Botanic Gardens was for a primer course in food foraging.
I don't know about you but the idea of foraging for food has been one of those skills I've been always curious to learn more about.
My father grew up in a rural part of India where nature's bounty was rich. The garden of the house he grew up in was more like a jungle. You could find everything here from the freshest (hottest) green chillies, sweetest bananas, mangos, gourd, pumpkin…..
The soil was rich and practically anything you stuck anything into the ground, it would grow. No need for pesticides. So my father's knowledge of horticulture and the fruits of nature is very intimate and rich. Even though he now lives in Kolkata, a far cry from the beautiful countryside of his childhood home, he comes alive and is in his element in our local bazaar in Kolkata where come any season, you'll find such a rich range of produce. If there's a vegetable or herb he's not sure of, he'll start nibbling it like a rabbit and be able to deduce what it is in a flash.  He's like the Valentine Warner of India, my dad. Having grown up in the urban jungle of Manchester and Kolkata, it's a talent I've always been envious of.
Years on. …watching food foraging expert, Max Coleman in action and examining the multitude of planet species with that same almost animal instinct in the garden of the Royal Botanic Gardens, suddenly brings back memories of my father, our days spent in the local bazaar and food foraging in the 'jungle' of my grandparents house.
In an era where we eschew frugal living and want food, pre-packaged on the shelves of supermarkets, I think it's a very refreshing , almost rebellious , the idea of being able to find food in a wild forest for free. So while it wasn't exactly wild and untamed, I was curious to discover what nature's bounty had in store for us at the Royal Botanic Gardens.
We found a few flowered leeks. Wild garlic. Rowenberry.
I asked Max for some tips for anyone keen to start foraging for food.
His advice was to start simple.
The most obvious thing you will find commonly growing in forest land are blackberries. Another easy plant to spot is nettle. Then graduate from there.
We're back in the car.Scotland enjoys an excellent public transport system. You can see most of the country by rail or bus. However to really enjoy the wide open roads and wild scenery of Scotland at your leisure, a self drive holiday really is unbeatable. Also in terms of value. it's unbeatable.
We hired a 5 seater Volkswagon Polo car via Skyscanner Carhire  for 3 days for £92. With a petrol bill of £40 the grand total came to £132 which divided by 4 people works out to be excellent value. We headed to the west coast past Stirling and it's beautiful castle, a quick stopover for a cup of tea at the picturesque village of Callender before embracing the moody charms of Glencoe. This is where a self drive holiday in Scotland comes into its element. The roads snake their way through this stunningly beautiful yet desolate valley , each twist and turn leaving you gasping for breath.
Finally we reach our intended destination- Airdeny Chalets  a mile from the village of Taynuilt which is situated in the lush green county of Argyll which is in the south western pocket of Scotland. We have spectacular views of Ben Cruachan (3650ft) in the distance.
Loch Etive is on our doorstep where we enjoy a stunning pink Autumn sunset.
This is a part of Scotland that is mainly popular with Scots but rarely visited by international tourists which is a shame because there is so much beauty and unique history to appreciate here.  Plus a great location-Oban is only 20 minutes drive away which is the port of departure for ferries to Mull, Iona and the other isles of the Inner Hebrides..  Being a 3 hour drive from Edinburgh and being Autumn, daylight was quickly beginning to disappear so we quickly dumped our bags in our very comfortable 2 bedroom cottage and headed off on an expedition to forage for mushrooms for dinner. This was part of the property's cool 'Owners Secrets' feature where guests can request the owner to introduce them to a hidden gem or something unusual and known only to local.
Foraging for mushrooms is something popular across Scotland and highly recommended activity to do here thanks to the fertile soil, large swathes of woodland, moist climate and abundance of rain that the Argyll peninsula enjoys.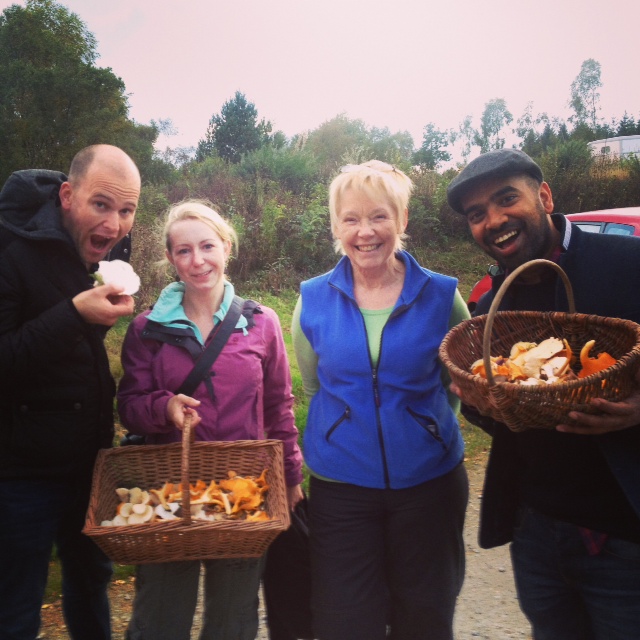 With the help of local expert Marilyn Turbitt  , we are guided through the process at the nearby Fearnoch Forest.  The tricky part of mushroom foraging is figuring out what is edible and which ones are the less edible and of the poisonous variety.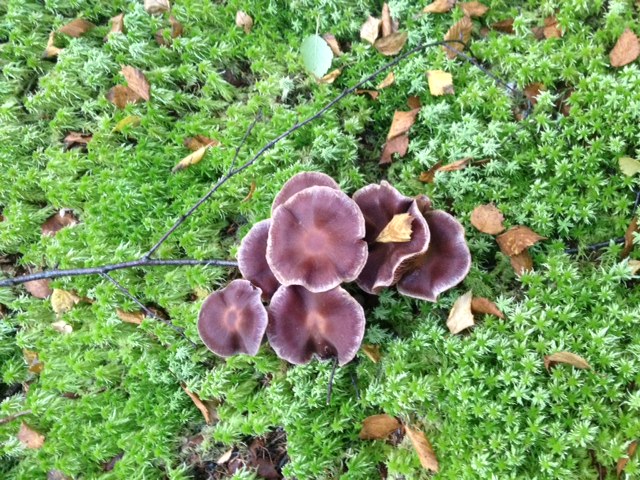 The alluring purple looking and hallucinogenic red varieties were the ones to avoid.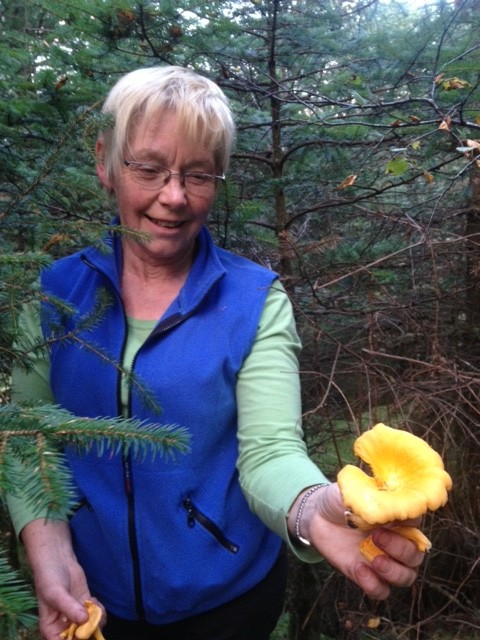 We had a rich catch that included beautiful chanterelles, angels wings and also a few other lesser known varieties….Armed with our fantastic catch of mushrooms we headed back to the cottage to cook dinner.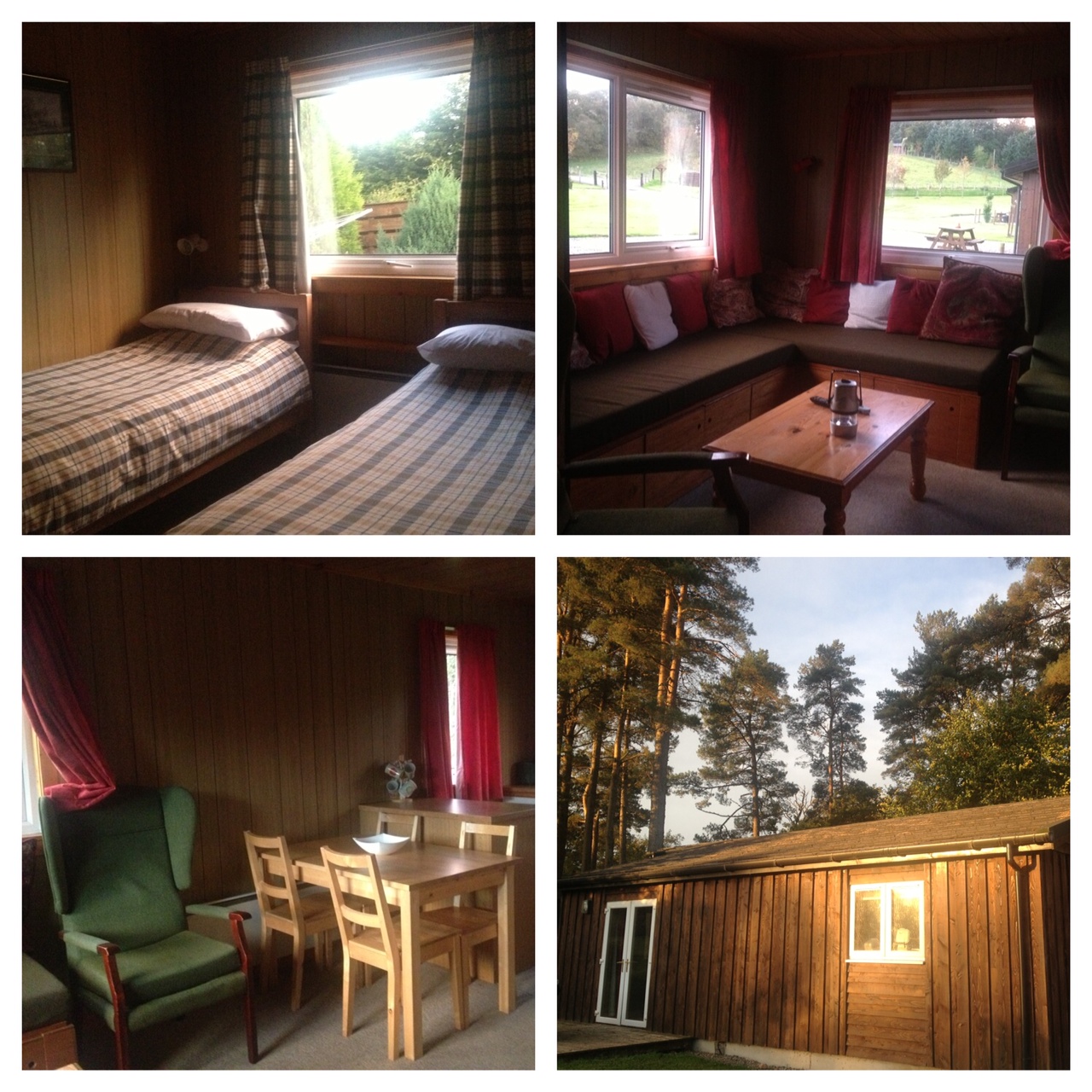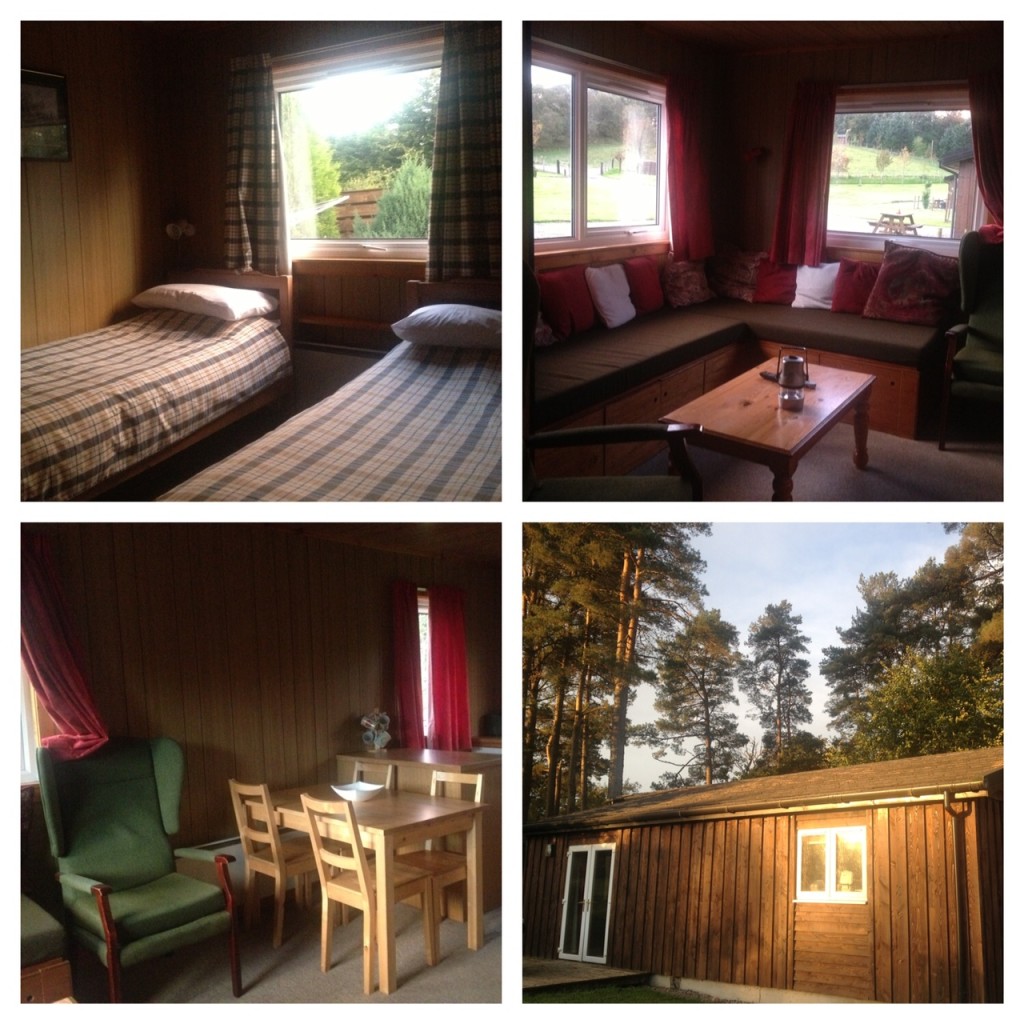 The Airdeny cottages are very snug, compact with all the amenities you would hope for in a self catering holiday. A well equipped kitchen with plentiful crockery. Besides a nice sized living room with a TV plus CD player/Radio, the bedrooms were very comfortable and nicely heated. The apartment has a nice sized kitchen where we had a grand feast that night-a stirfry of our foraged mushrooms, some cottage pie with mash and broccoli.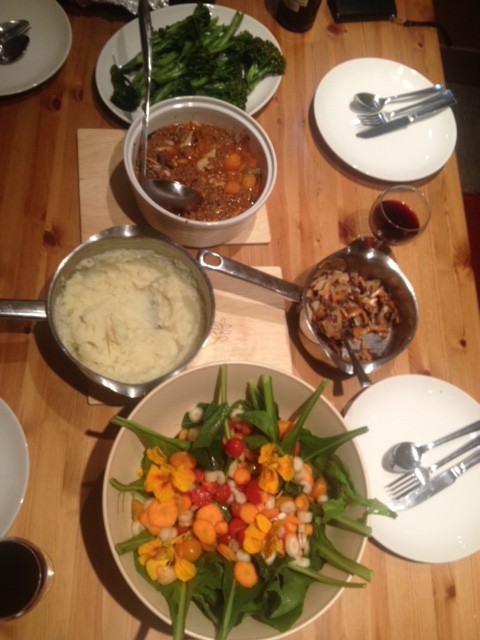 You can use minced beef or lamb ( Shepherd's Pie) and this dish will feed 4 and costs around £6 shopping at any decent highstreet supermarket. At £1.50 this is great value. Here is the recipe.
700g potatoes
700g mince, any kind.
2 onions
2 carrots
100g mushrooms
2 tins plum tomatoes
150g mature cheddar cheese
1 tablespoon Olive oil
15g butter
Salt
Pepper
What To Do.
Preheat the oven to 175 degrees.
Peel chop and boil the potatoes then drain, reserving the water that they have cooked in.
Peel and chop the vegetables while warming the olive oil in a pan.
Sauté the onions until translucent, adding the rest of the vegetables (but not the tomatoes). Cook for a further five minutes before adding the mince. Once the mince is browned add the tomatoes and simmer while you prepare the mash.
Add the butter to the potatoes and spoonful of the potato water, mash, adding more water until the potatoes are mashed to your preferred consistency. Transfer the meat sauce to an ovenproof dish, spreading an even layer of mash over the top.
Grate the cheese over the mash.
Bake for 20 minutes at 175 degrees or until the cheese is lightly golden.
( Many thanks to food expert Siobhan Hanlin from Facets of Fabulous and Ruaraidh Menzies for the recipe! )
DAY 2
The next day, after a nice sleep, time to say goodbye to Airdeny Chalets and drive back to Edinburgh.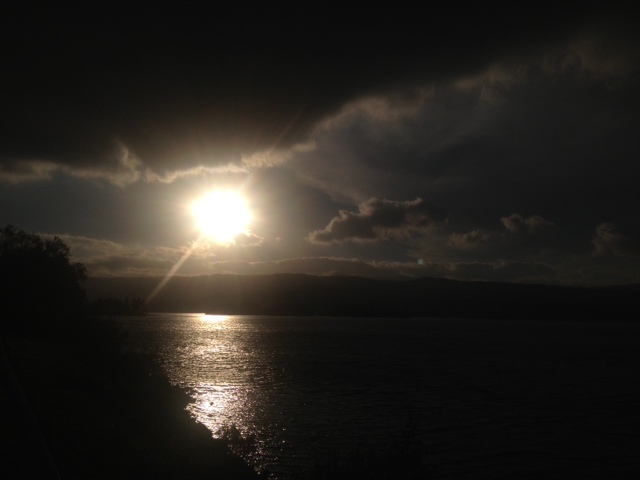 We enjoy the scenery along the way.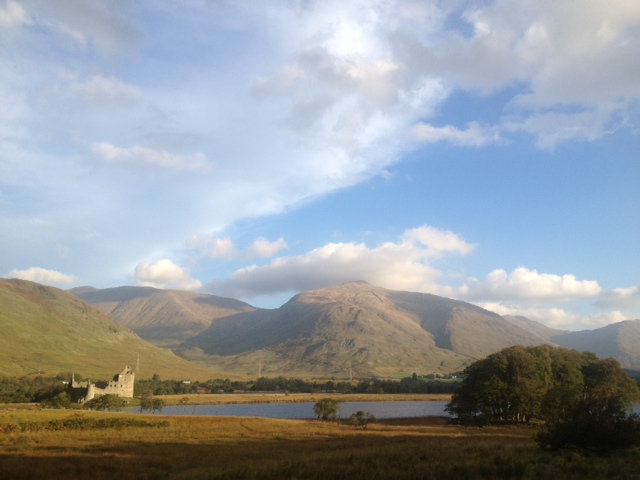 This is Kilchurn Castle on Loch Awe.
A castle, a loch, mountains , fluffy white clouds and blue skies- this is romantic Scotland at its best.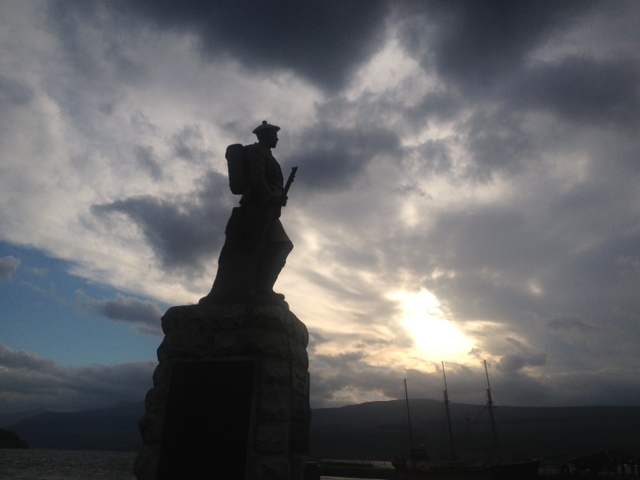 Another scenic stop on way back is the picturesque town of Inverary.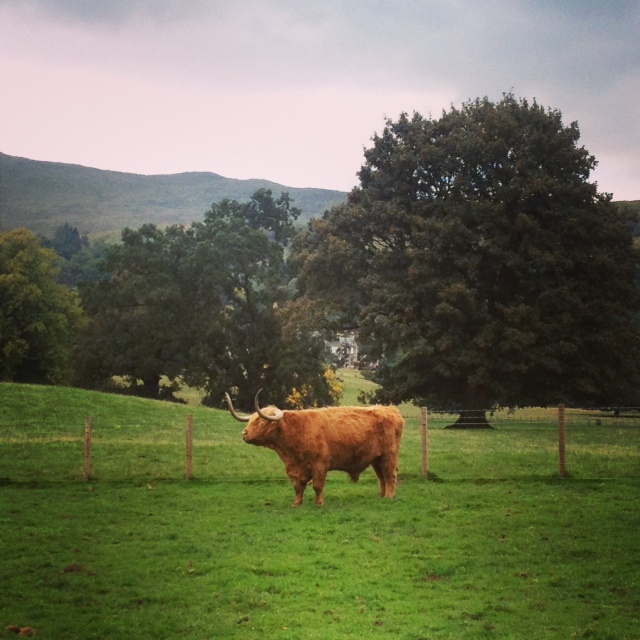 Plus….there's even time to even to say hello to a Highland cow, the 'Hairy Moo.'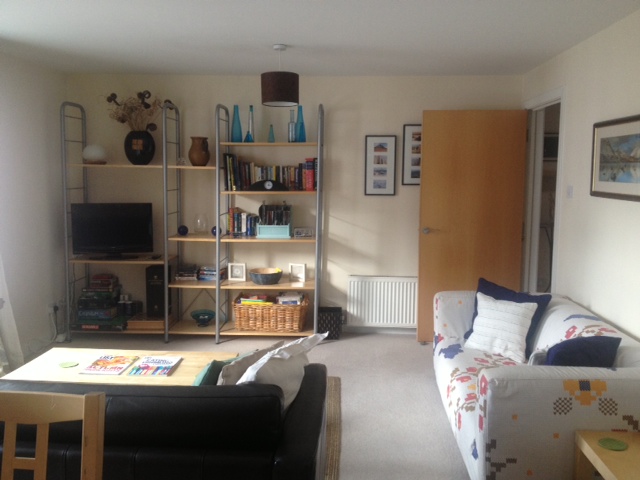 Our base for the night in Edinburgh is a beautiful 3 bedroom apartment in Silvermills just off Haymarket. It's unfashionably located out of the centre but I've always loved this part of town. You have Haymarket train station around the corner plus a glut of excellent restaurants in the neighbourhood.  So perfect for foodies. If I was to recommend one restaurant to check out- go to Chop Chop, an excellent Chinese diner on Morrison Street where the dim sum is excellent.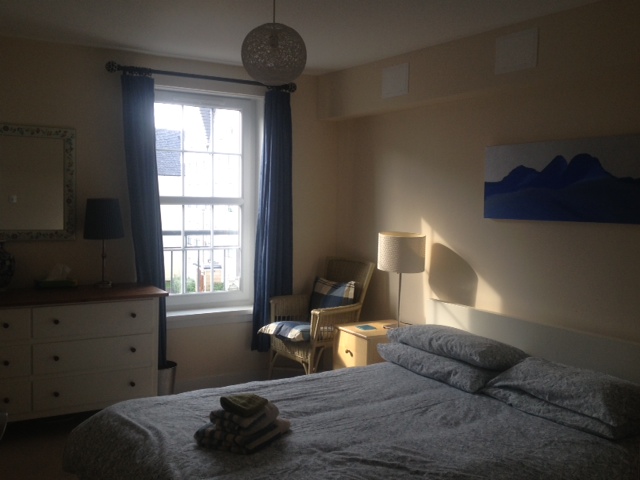 The apartment itself is excellent. Very well furnished with all the modcons you would expect to create that perfect home away from home experience. Superfast wifi plus very quiet so ideal if you're travelling with your family. Just down the road from the apartment is Lothian Road which is home to some cracking bars, bunch of ethnic diners that reflect the city's multicultural heritage plus there is the historic Filmhouse cinema, home to the Edinburgh Film Festival where you can check out the best in arthouse, independent cinema.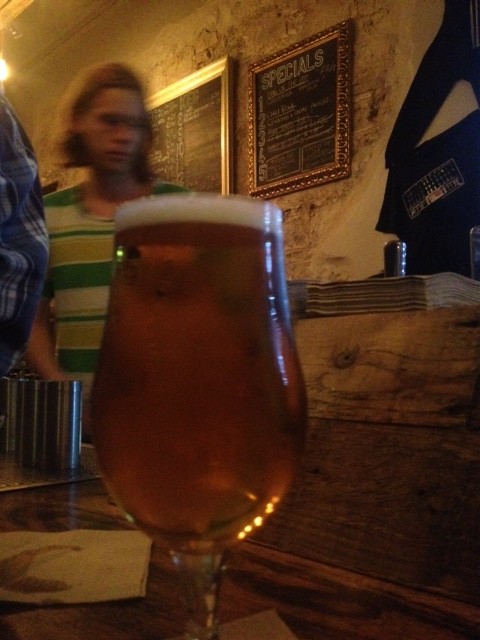 Edinburgh is home to some cracking pubs. ( For more about the best beer houses in Edinburgh check out this piece by local expert , Richard Taylor ) There is an amazing range of choice on offer. One great place to start your pub crawl is the excellent Hanging Bat. It's all about the beer and supporting local producers here. Beer wise they have 6 casks, 14 keg lines and 120+ bottles and cans. There is also do a bunch of interesting beer tasting events like for example the opportunity to sample the Ola Dubh range ( think peat, chocolate, caramel and vanilla notes) matched to special chocolate selection from the local Chocolate Tree.  So check ahead before you come to Edinburgh for their latest events.
I sampled the excellent, floral and fruity B&T-Bitter and Twisted blonde beer of Harviestoun brewery. Other craft lagers you can sample here include the  legendary  Schiehallion (pronounced "She-hal-i-on"), a deep and complex lager. More stronger ( 4.8% Abv) this was more my kind of lager-not too sweet or bitter, not too fruity. I recommend go for a selection of 5 beers from tap, served on a tray in 1/3 pint glasses. At just £10, this is a great way to sample some of the abovementioned beers and sample their excellent range of draught beers.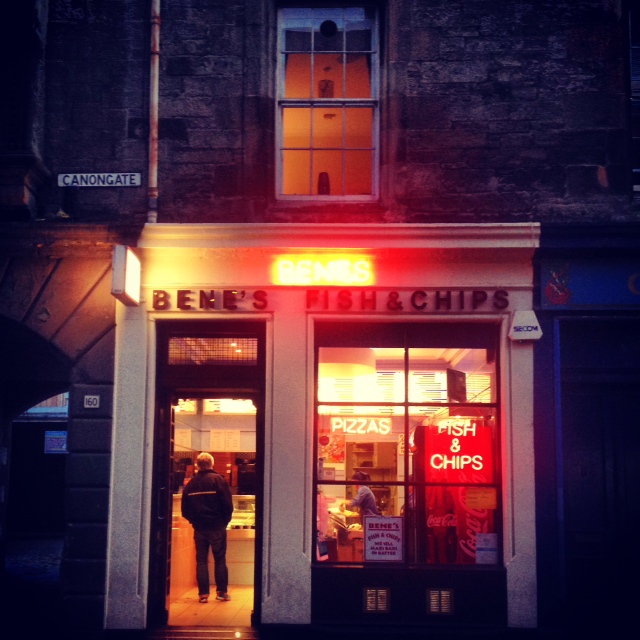 To soak in the alcohol, the final stop is an old favourite of mine. You cannot leave Edinburgh without sampling a 'fish supper'- which is the local take on fish and chips. Everyone has their personal favourites but my go to place is Bene's Fish and Chip shop on the bottom of the mile.
You typically get cod or ( more likely) haddock which is deep fried in a light batter whose recipe is a family secret. Fish supper is accompanied by thick cut chips.
Tip- To dress the chips don't ask for ketchup which you will get charged for. Ask instead for the local 'salt and sauce' which is free and simply salt, vinegar and HP brown sauce.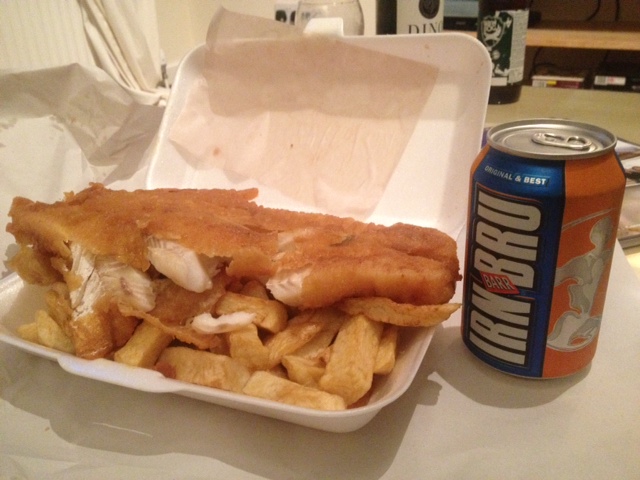 So for £8 (with a can of Irn-Bru) you have one of Scotland's greatest culinary creations that is probably second only to Haggis in terms of popularity.
Last but not least to finish my whirlwind culinary tour of Scotland- you can try here the legendary deep fried mars bar.
I know you were going to ask me about angina-on-a-plate.
Try. I dare you. However, if you don't enjoy it, don't complain.
I'll tell you simply weren't drunk enough 🙂
Essentials
Book your self –catering holiday via my kind hosts Embrace Scotland who I would highly recommend.
Airdeny Chalets, you can find a range of properties sleeping from 1 to 7. Price ranges from £291 (low season) going upto £775 in high season, per week. Silvermills Apartment is a 3 bedroom apartment, sleeps 5, starts at £515 in low season going upto £815 in high season. Divided by 5, this works out to be a pretty good value option for location.
Thank you!
Many thanks to my kind hosts Embrace Scotland and Beryl from TRIPOrganiser for inviting to me this fantastic foodie themed adventure of Scotland
Big love to food experts, Siobhan Hanlin from Facets of Fabulous and Ruaraidh Menzies from Rors Kitchen  Through your passion of Scottish gastronomy, I have discovered a world of Scottish food outside deep fried haggis mars bars and whisky.
My dear friend Ewan McCowen for introducing me to the Hanging Bat and the fantastic range of lagers of Harviestoun Brewery. If you visit Edinburgh and want to get a tip of the best beer houses, drop a tweet to Ewan 
Also thanks to the good people at Skyscanner and also Momondo who made my trip to Scotland possible.
Also if you're visiting Scotland in the summer and keen to learn more about the centrality of science to our culinary experience , pop over to the Edinburgh International Science Festival site , which will be a mini Festival of the science of food and drink,
Last but not least thanks to all the bloggers who came along. I am not the biggest fan of blogging trips usually ( too old , grumpy and inflexible) but hanging out with you guys- Dylan Lowe, Carina Herrmann, Sebastian Canaves Borner, Anja Beckman, Bjorn Troch, Katrine Carstens, Robin McKelvie and Michael Turtle…was a blast. Thanks for the memories!