A design hostel in a 19th Century palace with it's own private cinema room, rooftop terrace and bar? Welcome to U Hostels, Madrid.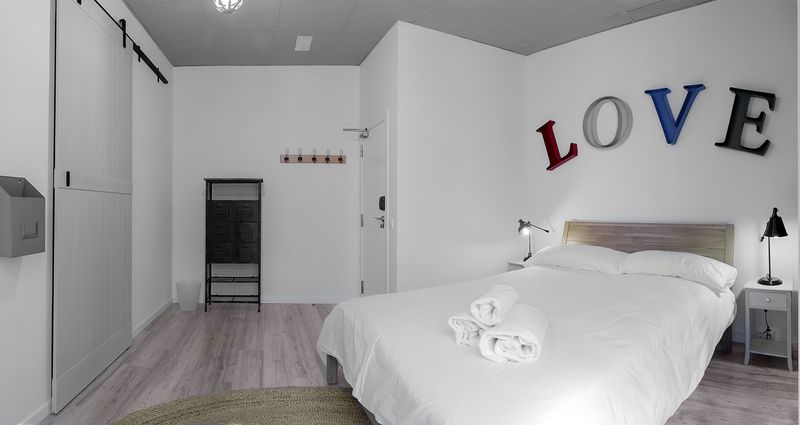 Location
Located in a 19th century palace right beside the Alonso Martinez Metro station and just a 15 minute walk to Puerta del Sol, U Hostels Madrid is a great base to explore Madrid.
Rooms and Bathrooms
In sync with the rest of the building, the white washed rooms have a clean minimalist design that is easy on the eye.
Dorms are air-conditioned and come with private lockers.
Bunk beds are custom made with comfortable mattresses.
Each bed come with a private reading light and power sockets for recharging your gadgets.
You have a choice of dorms with ensuite or shared facilities.
BudgetTraveller's Tip: Choose the 6 bed dorm with no bathroom than a room for 4 with bathroom. Much more spacious plus you  have a private balcony looking onto the main street. There are tons of bathrooms and showers on each floor.
Linen is included in the price plus they have free luggage storage to store all your stuff .
There is also a female only dorm.
Facilities
U Hostels boasts it's own private cinema room that guests can relax in and choose a movie from their extensive DVD collection or catch the latest football match. It's so cosy that you can often find the odd guest dozing away during the day, sleeping off their nocturnal exertions.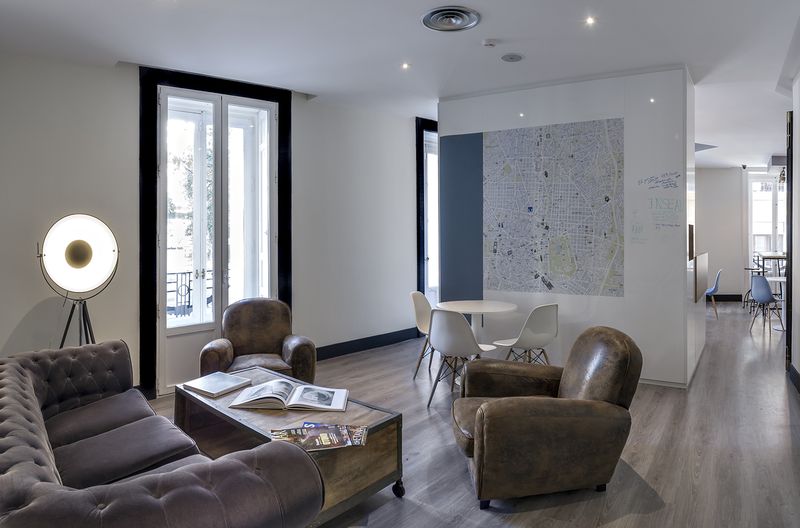 Next to the cinema, the Hostel has a nice chillout zone for guests where they can read a book or plot their travels across Madrid on the huge magnetic wall map of the city.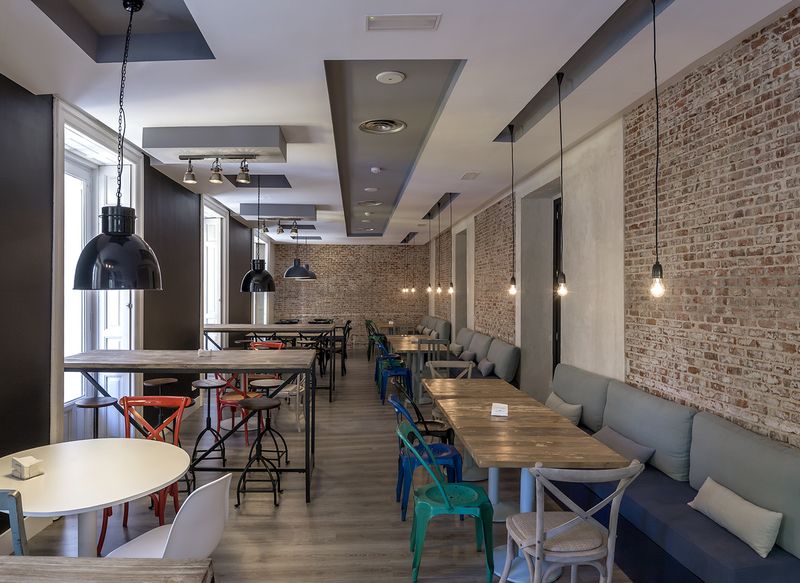 If you're looking for a quiet drink to relax after a day of seeing the sights , the hostel has an excellent onsite bar with  v.competitively priced drinks.
Erica and Pablo from the hostel run an excellent programme of daily activities to help guests plug into the DNA of the city- from excellent free walking tours to visits to Flamenco bars and pub crawls, something there for every type of traveller.
They have just opened a rooftop terrace which is perfect for enjoying Madrid sunsets and having a drink.
Free wifi is excellent, especially for this size of hostel and on each floor they have free computer terminals
They have a nice sized kitchen free for guests to use and fridge to store your food items.
The hostel offers a basic free breakfast but for an extra 1 euro you get a cup of Lavazza coffee or for 3 euros, a special breakfast which includes coffee, fruit and delicious Serrano ham: worth every penny.
Verdict
Many people would prefer to stay central but I quite liked the offbeat location of the hostel with the Metro station at the doorstep. The staff are friendly and helpful. The facilities here are fantastic and in terms of the décor, the hostel is one of the best design hostels I've come across in my travels. A very relaxing and beautiful hostel-for the moment, this is the place to stay if you visit Madrid.
How to get there
Best way from the Airport to reach U Hostel Madrid is via the metro –takes around 30 min & costs €4
To reach the hostel take the pink line (line 8) until the end at "Nuevos Ministerios" and change for the dark blue line (line 10) in direction "Puerta del Sur" and get off the metro after two stops at Alonso Martinez (the closest metro station to the Hostel).
From here you have to walk up Calle Sagasta you will find our hostel after 100 meters on your left side.

The metro runs daily from 6.00 a.m. until 1.30 a.m
Or if you arriving by train ( Atocha Train Station )  walk 250 meters to the Atocha Metro station and take Metro line 1 (turquoise line) in direction Pinar de Chamartin.

Get Off at Bilbao and walk down Calle Sagasta and you will find the hostel after 350 meters on your right hand side.
Factbox
Looking at prices for October 2013, cost of a single, ensuite room is €60 while a bed in a mixed, 4 bed dorm with private bathroom starts at just €23.50 a night,  while a bed in the 12 bed dorm is just €15 a night.
Address
Calle Sagasta 22
Madrid 28004
Spain