With a stunning outdoor pool and terrace bar, close to some of Seville's oldest tapas bars and cafes -Oasis Backpackers' Palace is a great base for exploring Seville.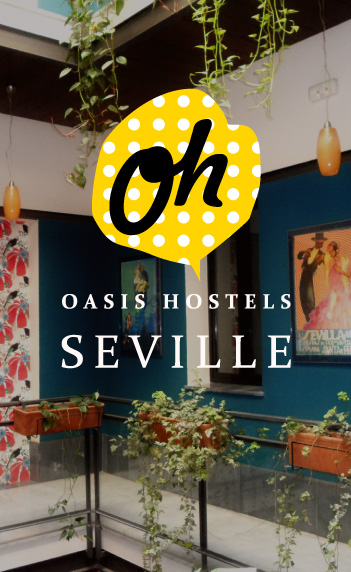 Location
Situated in a 19th-century building near Plaza Encarnación, the hostel is in a great location with a clutch of historic tapas bars and some of the city's best nightlife spots within a short radius.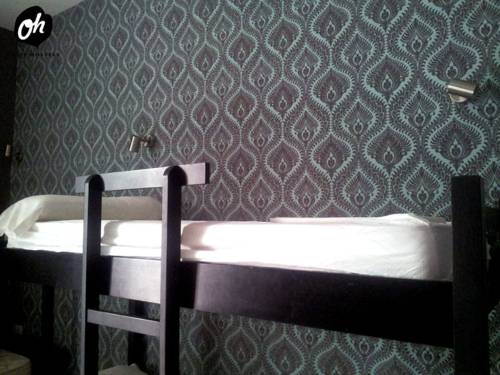 Rooms and Bathrooms
High ceilings, towering ornate columns, stained glass windows , marble staircase and antique furniture create a palatial sense of grandeur.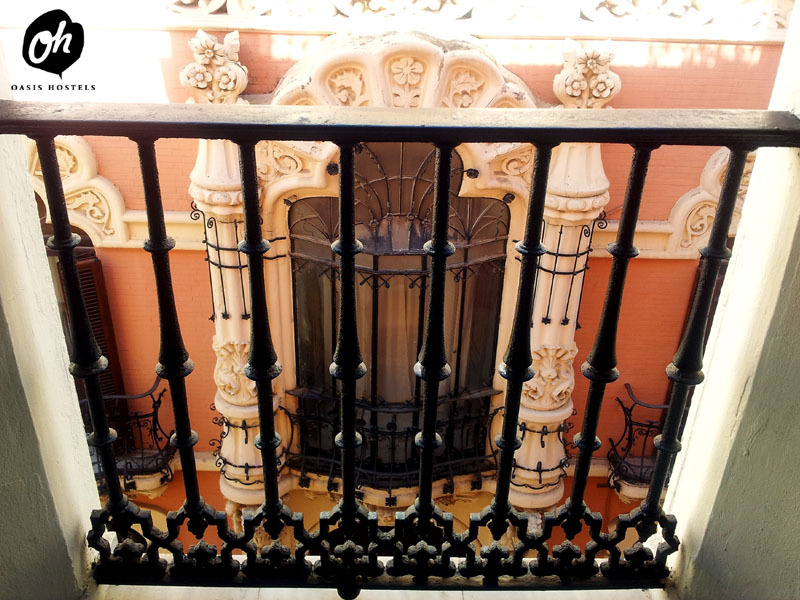 Dorms are spacious, bunk beds are sturdy with large lockable drawers beneath to store your luggage and valuables.
Private rooms are air-conditioned , very stylish and spacious with a balcony and large ensuite bathroom.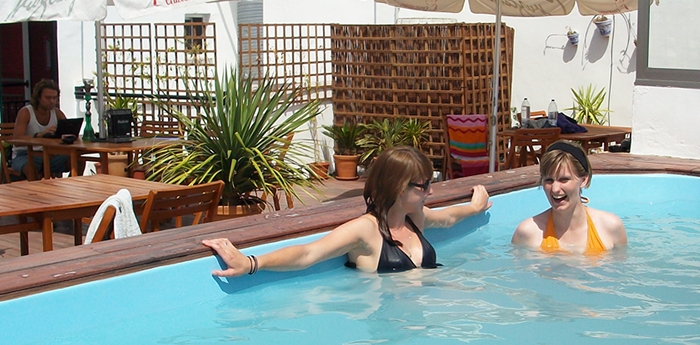 Facilities
Guests checking-in get a free drink token which they can redeem at the roof-top terrace bar which also has its own pool.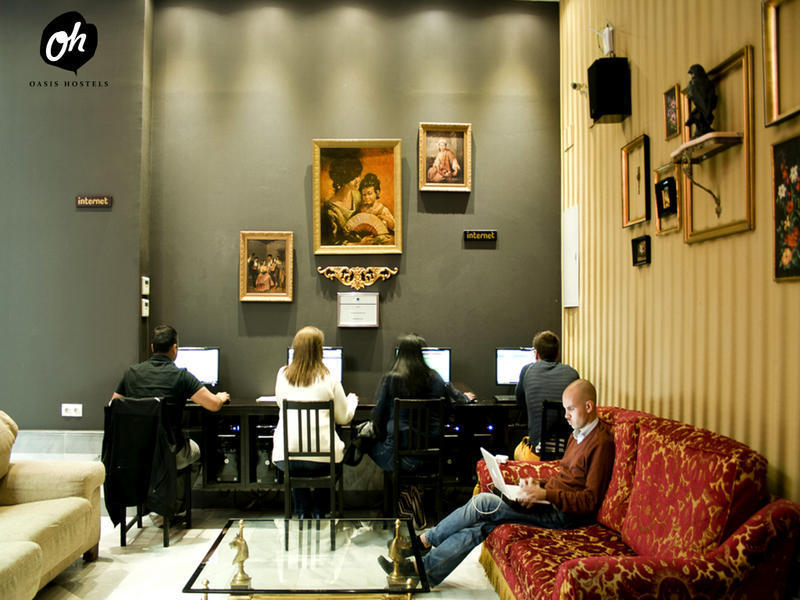 Tip: Do not come here if you are not in the party social mode.
On the first floor there is a common area where you can meet people and check your mail on the free internet terminals. Plus you have the stunning rooftop terrace with pool which becomes a party zone at night with cocktails being served , live bands performing or a DJ pumping out the tunes.
You can have dinner with fellow guests on the terrace enjoying dishes like paella and glass of sangria for as little as €5.
A late checkout of 11:30am means there's no need to rush the free breakfast ( 8-11 am) of pancakes, toast, cereal, tea and coffee.
Staff are attentive to guest needs and helpful.  Hostel has an excellent inhouse concierge service during the daytime which offers travel advice, book tours and plan your future trips. Pancho tours  provide free walking tours which offer indepth insight into the history of Sevilla.
Free wifi is pretty good.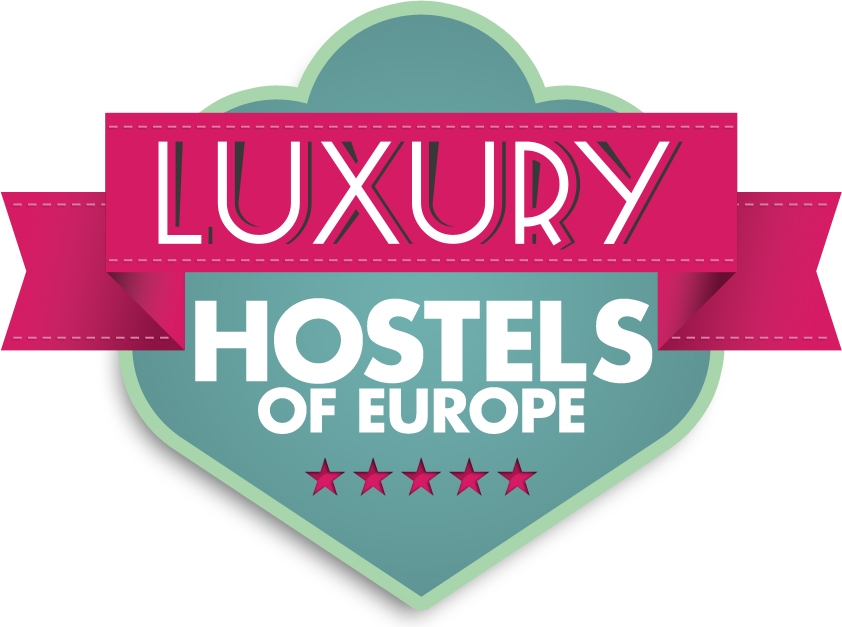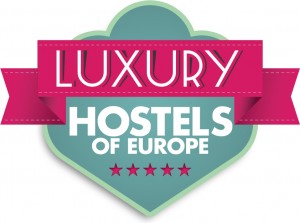 Verdict
I love the interior décor and the staff are friendly and helpful. The facilities here are good and there is a great buzz around the place. Rooftop terrace is great for cooling down in the Andalusian heat and also is a great place to party. This is a very cool hostel in a great city.
Factbox
C/ Almirante Ulloa, 1 – 41001 Seville (Spain)
http://www.oasissevilla.com/sevilla-hostel/
Prices
Dorm rooms ( 4, 6 and 8 bed ensuite ) start from €13 and Doubles start from €44.
Getting there
From the Train Station Santa Justa
Exit the station through the doors marked B or C. Walk along the front of the station past the taxis, to the bus stops. Take Bus No. 32 to Ponce de Leon and get off at the last stop. From here take the street Almirante Apodaca which changes to Calle Imagen and continue straight until Plaza Encarnación.The hostel is on the left hand corner of the plaza just behind the Iglesia de la Anunciación church at Calle Compañia 1.
From the Seville Airport
There is just one bus that takes you to the city. Get off at the train station stop (first station after the airport: Santa Justa) and walk to the entrance of the train station. Turn left and cross the parking and you will see the Bus Stop No. 32 on Street Avenida José Laguillo. Then follow the directions above "From Santa Justa train station". A taxi to Plaza Encarnación will cost 25 euros, plus an extra charge for luggage.
Disclaimer: My stay was sponsored by Oasis Hostels but the views presented here are entirely my own. All photographs used in this review are taken by Oasis Hostels.