It's quite upsetting and sad to see what has happened in Oslo.
I was there only a few weeks ago.It's the most unlikely place on earth where you could have imagined an act of such terror could take place.
There is no right or wrong place for terrorism anywhere but Norwegians are some of the most peace loving, easygoing people you will meet on your travels.
It's a beautiful city and despite my budgetary restrictions, I really enjoyed this city.
It definitely needs some love from travellers and even though these are difficult times, there never has been a better reason to go now and support them.
Make a stand against terrorism by travelling.
Follow my tips below of where to eat, sleep and visit and you can make the most of this city
1)Where to stay in Oslo: Comfort Hotel Xpress
Cost: 299kr per night if booked in advance. Book it here.
My top tip for staying in Oslo is cool, design and budget friendly hotel – Comfort Hotel Xpress. Booking in advance you can get rooms for 299 kr which is around £35 which for Oslo is amazing value. Plus within the deal you get a very snazzy, modern clean bedroom, carpetted floors, warm fluffy pillows, a nice sized plasma screen TV, nice bathrooms and excellent free wifi. The hotel lobby also has a great chillout area with magazines and a 50 inch plasma screen plus coffee machine where you can have unlimited espressos and cappuchinos. It's in a great location just a 10 minutes walk fromOslo's main train station.
2) Stockpile the booze on the flight or at Duty Free
When you get off the plane-follow the mad rush to the duty free. Or even buy booze at your departure airport or on the flight. Do not wait till you get to Oslo. From 5pm, supermarkets stopping selling beer and wine, after 8pm-you cannot buy it anywhere.
3) Buy the Oslo Pass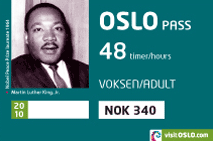 Cost: 430 Nok for 72 hours
I invest in a 3 day Oslo Pass which is 430nok. (£50) It covers a lot of the main musuems featured in this article, pays off after a few visits plus you can enjoy free transport on bus, trams & you can hop on the 91 ferry boat to Bygdoy
4) Visit Bygdøy Island
35 Nok: Boat 91 to Bygdoy
A perfect day trip from Oslo is a visit to the Bygdøy Peninsula which holds some of Oslo's top attractions in one small place.
You can visit by bus or the scenic way is to hop on the boat 91 leaving from Pier 3 in front of the City Hall. It takes 15 minutes, and the service runs from mid March to mid October. It costs 35 NOK which is roughly £4. Or free with the Oslo Pass.
Bygdoy has a quaint, rustic feel with a rich history. Highlights here are The Norwegian Folk Museum , the Viking Ship Museum, the Kon-Tiki, Polarship Fram and the Norwegian Maritime museum. These are clustered together in a small radius making seeing everything simple and easy.
5) Bygdoy Island top tip: Kon-Tiki Museum
65 Kr or free with the Oslo Pass
While the masses of tourists gather and coo with delight at the Viking Ships at the Viking Ship Museum ( which is awe-inspiring) many people bypass the Kon-Tiki museum.
This is a special museum which is the embodiment of one man's bravery and extraordinary vision to cross the Pacfic Ocean on just a reed boat. His name is Thor Heyerdahl . He was a scientist, adventurer and environmental campaigner. The Kon-Tiki Museum is his lasting legacy of the original vessels and artifacts he collected from his world-renowned expeditions. His recreations of the prehistoric voyage to Easter Island showed that early man had mastered sailing before the saddle and wheel were invented.
You can see the original Kon-Tiki raft, the reed boat Ra II, check out an exhibition about the Tigris and an Easter Island exhibition that includes a 10-metre replica of a statue from Easter Island.
The museum also has a film screening room and souvenir shop.
6) Nobel Peace Center  
80Kr free with Oslo Pass
In the light of the recent terrorist attack, the center takes on a even bigger significance. It seeks to promote popular interest in issues relating to war, peace and conflict resolution – in Norway as well as abroad.
Beginning on every hour there is a guided tour which is free and the guide is very informative.
You can discover all about the life of Alfred Nobel and also about the Nobel Laureates. It's a very interactive, hands on kind of museum which makes it great fun for kids and big kids alike.
7) Norway Resistance Museum
100 kr is the entry fee, but its free to enter with the Oslo Pass.
Even if you and your partner are not a museum person, you will enjoy this place.
You get an indepth history of the World War II resistance movement in Norway and includes information on the Holocaust.
Displays are in English and Norwegian. It's a moving tribute and account of how a nation under occupation organized themselves and stood upto the tyranny of the Nazis. There's also lots of thoughtful mentions of the allies who supported Norway during the resistance.
8 ) Munch Museet
Entry fee: 75 NOK, free with the Oslo Pass
Oslo has a great selection of museums but for me the standout museum is the Munch Musuem.  Edvard Munch bequeathed a large portion of his work to the city before his death in 1940, and this great museum is the result.
'The Scream' is the painting most synonymous with Munch and for many is the standout painting in the exhibition.
However there are some incredible works on display here like "Dance of Life" (my favourite), "Winter Night", "Jealousy","Eye to Eye",and his "Self Portrait with Paint Brushes".
Munch's art is incredibly intimate, the subjects painted are revealing which makes it very accessible to even the most casual observer and lover of art.
I left the exhibition stunned, my mind filled with all kinds of imagery and a portrait of a wonderfully, talented but tragically flawed genius. I dare you not to fall in love with Munch's art after seeing this exhibition.
A must Oslo see.
9) Vigeland Park
Vigeland Park is scattered with 192 sculptures in total.
The park is Gustave Vigeland's artistic statement about the quintessential themes of life and relationships.
It ranges from the very expressive like the Angry Boy (in picture, no not me, the wee boy above me) to the monumental Monolith: containing 121 figures at a height of 17 metres it symbolizes man's longing and yearning for the spiritual and divine.
Madman or genius –whatever you make of sculptures this is a unique display and very much worthwhile visiting during your Oslo visit. Plus its free.
Where to eat in Oslo
10) Lunch in Grunerlokka: Mogador Cafe
In Grunerlokka I visited Mogador – an Afghan run café slightly off the beaten track. They serve a nice selection of tapas and meze and it's reasonably priced. The service is pedestrian so you have to have oodles of patience. The food is however worth the wait. I tuck into a Lamb curry with rice, spinach and salad.
Cost: 159nok. A nice cool glass of Beer for 41nok
11) Cheapest possible snack in Oslo? Deli de Luca
The chain of coffee , delicatessen shops called Deli de Luca is relatively inexpensive. I got a salad with Pesto Rosso and a slice of Tiramisu for just 75 nok. That's the cheapest possible snack in Oslo.
12) Pizza craving? Move over Pizza Hut and Dominoes, check out Peppe's!
Oslo Central Station I bumped into a franchise ofOslo's favourite Pizza chain: Peppe's.
There's handful of them across town.
Two slices of Pizza and a coke for 79 NOK. Bargain for Oslo. Plus free wifi. Great.
13) The Last drop: Bohemen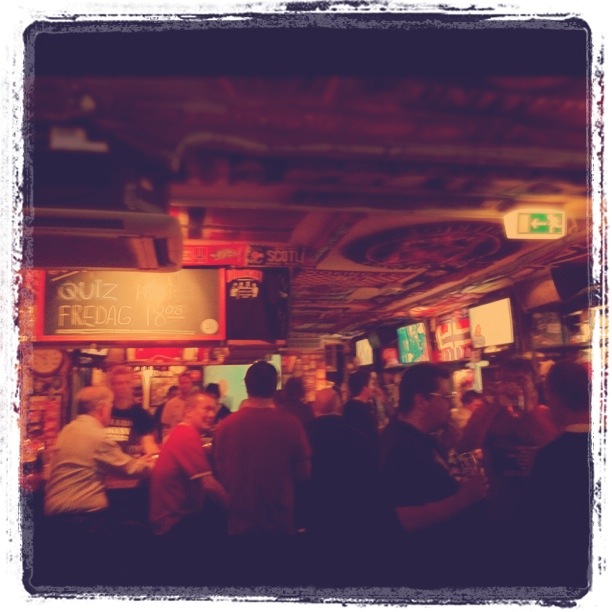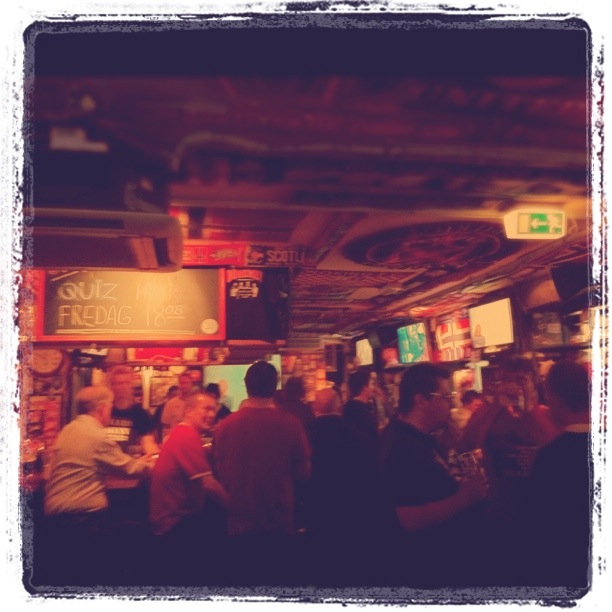 I discovered this pub by chance looking for somewhere to watch the football. It was absolutely packed to the rafters with football fans, plastered with football memorabilia from tip to toe and plasma screens in every corner. Every football team in the premiership I think is represented here by the local fans. Manchester United fans outnumber everyone which is understandable given the Norwegian association through native Ole Gunner Solsjkear.
Price Check: Pint of Frydenlund: 54nok.
There was good banter amongst the watching locals and I felt really at home in this place. Supposedly it's Travel Channel: Ian Wrighty's fave hang out inOslo.  If you are a footy fan in Osl and looking for a place to watch the game here- Bohemen is a local institution not to be missed.