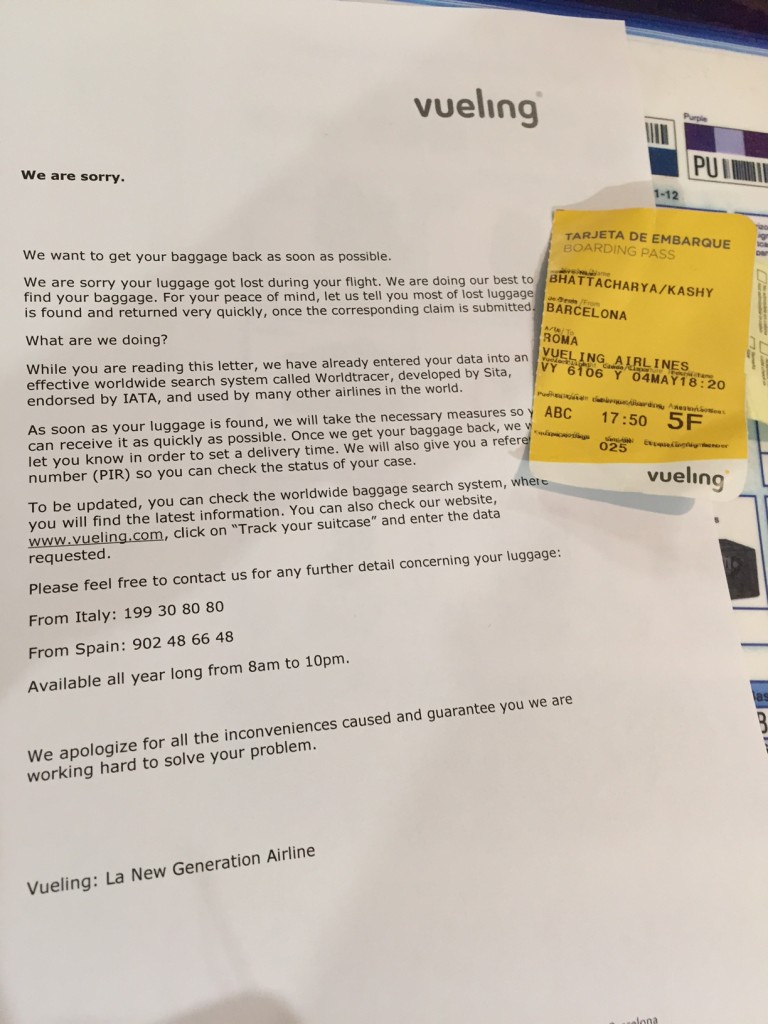 YOU LOST YOUR LUGGAGE? AGAIN?! 
I posted the Facebook update from Rome airport at 2am.
When feeling miserable and fishing for sympathy, Facebook is our dear friend.
The responses I got from friends were partly sympathetic. Some were in a less generous mode and saying they travelled carry-on only.
Then there was my friend who knew I had lost my luggage twice in the last 6 months.
The last two occasions, I travelled without insurance.
On the first occasion I got my luggage back within 48 hours from easyJet.
The second occasion was heavy. I was flying with Turkish Airlines with Sofia and spending a week in Tokyo- in December. It was freezing cold.
Turkish Airlines offers compensation of €25 a day.
In the end, we got the essentials we needed. We both did a bit of shopping for warm clothes. I got toothbrush, underwear from the 100 Yen store. It turned out more than OK in the end.
After a few emails back and forth, Turkish Airlines offered us €250 each as compensation. Which was more than what we expected.
Recently the people at MoneySuperMarket.com got in touch to say that they were doing a project to help raise awareness of the importance of travel insurance. In 2014, of the 1.5 million people who filed claims for insurance via MoneySuperMarket, 25% of claims were related to the loss or damage to luggage.
Given my recent experiences of losing luggage I thought, this sounds like a good idea to support.
The challenge was simple. Send me to an epic destination. £300 of spending money, with no hand-luggage.
All I would travel with was my small backpack, which had my passport, laptop and mobile phone charger.
I picked Rome. It is a city that has grown on me in the last few visits and I wanted to go back with my girl.
The only problem was that I had been travelling on the road for a few weeks and coming from Barcelona. I had my old, trusty, large rucksack with me.
So, my other half, Sofia who was joining me in Rome from Madeira, decided to fly with her purse only and one good book, passport and her camera.
So all good … till the day of travel.
WELCOME TO MY DAY OF TRAVEL HELL
Sofia was flying with TAP Portugal whose pilots were in the midst of a 10 day strike. 30-40% of flights were grounded including her flights from Lisbon to Rome.
On the other side, I was stuck in Barcelona thanks to bad weather. Vueling started delaying and then cancelling a whole bunch of flights. The airport descended into chaos.
Queues of upto 150 people were at the Vueling counter  trying to find out when their flight would take off. Only one member of staff from Vueling was available to speak to the anxious customers. No food vouchers were handed out. It was utter chaos.
I'd been there before with Vueling.
Meanwhile, Sofia managed to get onto the last flight to Madrid from Lisbon with TAP. Usually in the case of flight cancellation, airline should reroute at no extra cost but that day was chaos in Lisbon. Grown men weeping…people just wanting to get home.
She would spend the night at the IBIS Madrid airport hotel (Great deal, just £45 ) and then fly the next day to Rome from Madrid with Ryanair.
Thanks to having insurance with MoneySuperMarket.com as part of the challenge, Sofia's flights were covered.
On the other hand, I spent the whole day at Barcelona airport with no idea of whether my flight to Rome would take off. No one from Vueling's ground staff could tell us when our flight would take-off. I kept checking on their mobile app and saw the flight departure time fluctuate every hour. At one point, the estimated time of departure was switched to 3.30am! By 10pm, passengers were getting irate. Nobody at the airport could tell us if we were leaving. Then by some wonderful twist of fate, we got the boarding call. At 11.30pm , almost 12 hours after the flight departure time, my flight to Rome left Barcelona.
At 1.30am in Rome, I was almost home and dry… only to discover that my baggage had not arrived.
I queued up at the lost luggage counter for Vueling and at 2 am filed the Property Irregularity Report (PIR). I was asked for details of what my bag looks like and where I was staying.
I then asked Vanya, the lady who was assisting, about whether Vueling offered 'first needs payment" which is essentially an offer from the airline to cover the cost of essentials such as toiletries and a change of clothes.
Vueling apparently has no official policy of offering compensation unlike easyJet or Turkish Airlines.
I scoured their website high and low after and saw nothing mentioned.
I was advised by Vanya to keep hold of receipts.
17 DAYS LATER. TRACING CONTINUES….


17 days on and still there is no sign of my luggage.
I've been tracing the status of my luggage.
As you can see from the screenshot my luggage is still being traced.
I've had a quick chat with the people at MoneySupermarket.com about my next steps.
Only after going missing for 21 days is a baggage declared lost. I can then make a claim for compensation from the airline.
So the D-day is 27th May.
If my bag is ultimately declared lost, Vueling will be liable to pay out for the luggage under the Montreal Convention, which gives guidance on the amount to be paid – although it's a set amount, it can vary a little by airline.
For example, British Airways is liable for destruction, loss or damage to baggage up to approximately £1,000.
When making a claim, the airlines will probably ask me to provide a list of what was in the bag, as well as receipts to prove I own the items.
Which is slightly problematic as I hardly keep receipts of clothes and stuff.
I'll keep you posted but without receipts apparently I may not get as much compensation.
This is where the travel insurance policy from MoneySupermarket.com may come to the rescue.
I can claim for an amount that's greater than what the airline gives me. I would be able to claim for the difference from MoneySuperMarket.com minus any excess.
I'll keep you posted about what happened next and also what I got upto in Rome with my £300 and no luggage. In the meantime, LOVE TO HEAR FROM YOU if you had a lost luggage incident like me and if you had any success getting compensation.
If you like to see how I got on in Rome with no luggage, MoneySupermarket.com have put together a nice page  with all my social media updates from the trip. Plus you'll see how my other four blogger colleagues got on with their respective challenges.
Meantime, have a great weekend folks.
Disclaimer: I went to Rome as part of a lost luggage challenge with moneysupermarket.com. The fact that Vueling lost my luggage is entirely a strange and terrible coincidence.