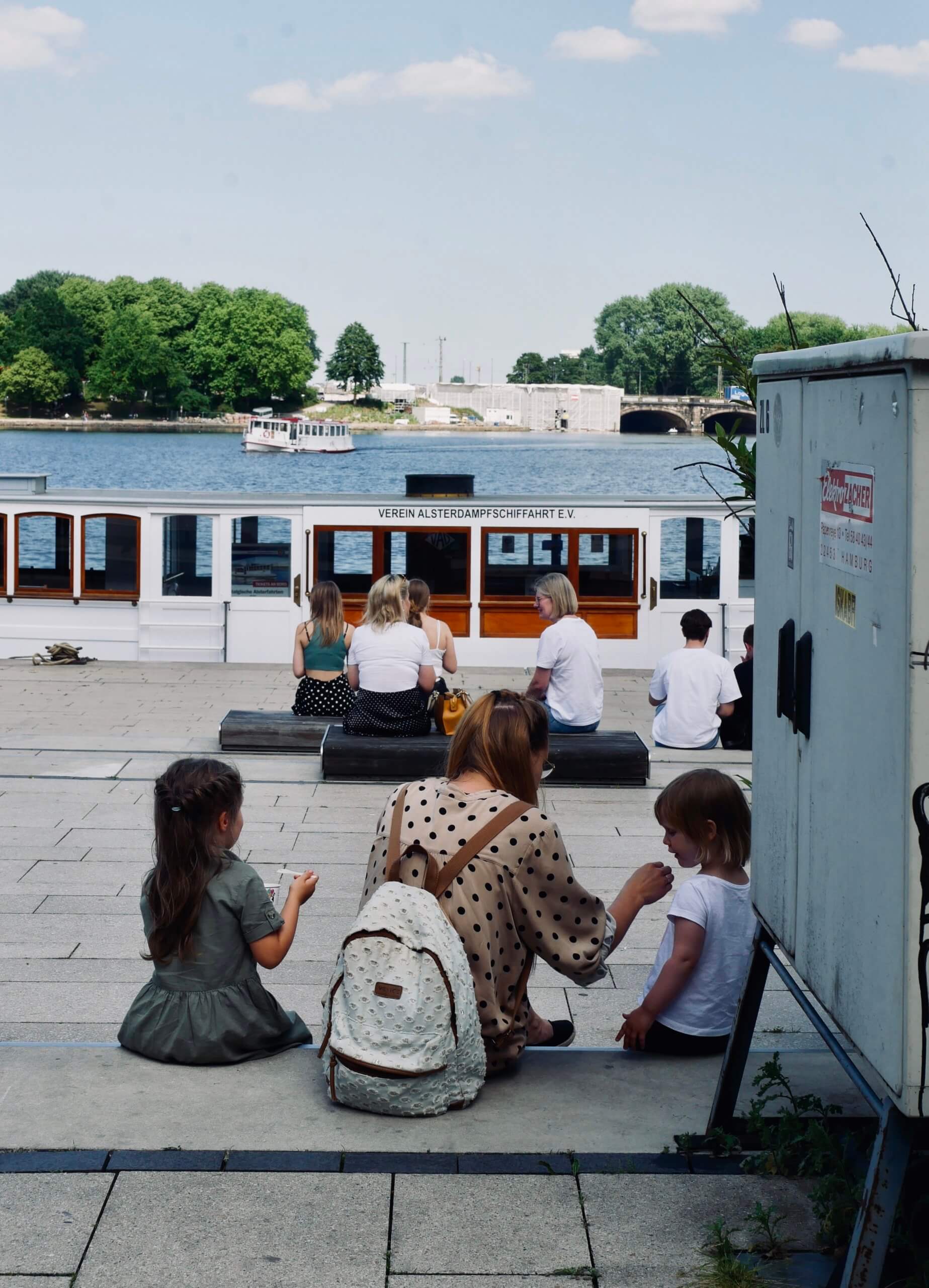 August 2020. We've come almost full circle since last summer. The year has been the most extraordinary and craziest year in life. In uncertain times like this, it is important to pause. Reflect. Hold onto the memories of happier times and people. The friends we made along the way during our travels. The memorable meals and of course the wonderful company, with whom, we've shared those meals.The long serendipitous days of travel when you carve a line through an unknown city and create your own magical, dream universe full of people, places…memories…when you feel like you've entered into a parallel universe of some sort. When the holiday is over, even though we leave these magical worlds behind and retreat back to our everyday life, they never leave us. In a way, they enter into our DNA and become part of us forever.
As we pause, revive our weary souls in August, just like Xmas, I'm grateful for this period when life temporarily hits the pause button. One of the few shining lights of the pandemic has been the gift of time, opportunity to think and reflect. In times of strife, I've found my travel memories to be a place of healing and solace. I've dug deep in my box of memories. Amongst many things, I wondered why does the loss or absence of travel hurt us so much. Why does travel mean so much to us? Sometimes the act of travel is so much more than just travelling. Correct me, but I feel it somehow represents an ideal and a sense of freedom that is often missing in our lives. What is it about these parallel universes we inhabit for a few days, that mean so much to us?
To find out the answers, as travel restrictions have slowly been lifted over the summer, I've been retracing my steps recently to some of my favourite parallel universes recently. Even though flights to Athens and Lisbon are cheap as hell and I see repeated stories on how safe air travel is, I'm not feeling really upto the demands of air travel.
Time to explore my backyard. Recently, as some of you know, I was in Leipzig which was incredible fun and an emotional weekend too. Prague, was an emotional trip and lot of fun. The next old favourite that we were dying to revisit was Hamburg, a city where both Sabrina and I have strong emotional connections. Sabrina lived in Hamburg for a while and went to university there, so there's always a strong pull to return to her 'heimat'. Over the years we've collected a lot of amazing memories. Going back here, feels like slipping into a pair of well worn comfortable slippers. I know the city and I feel the city knows me.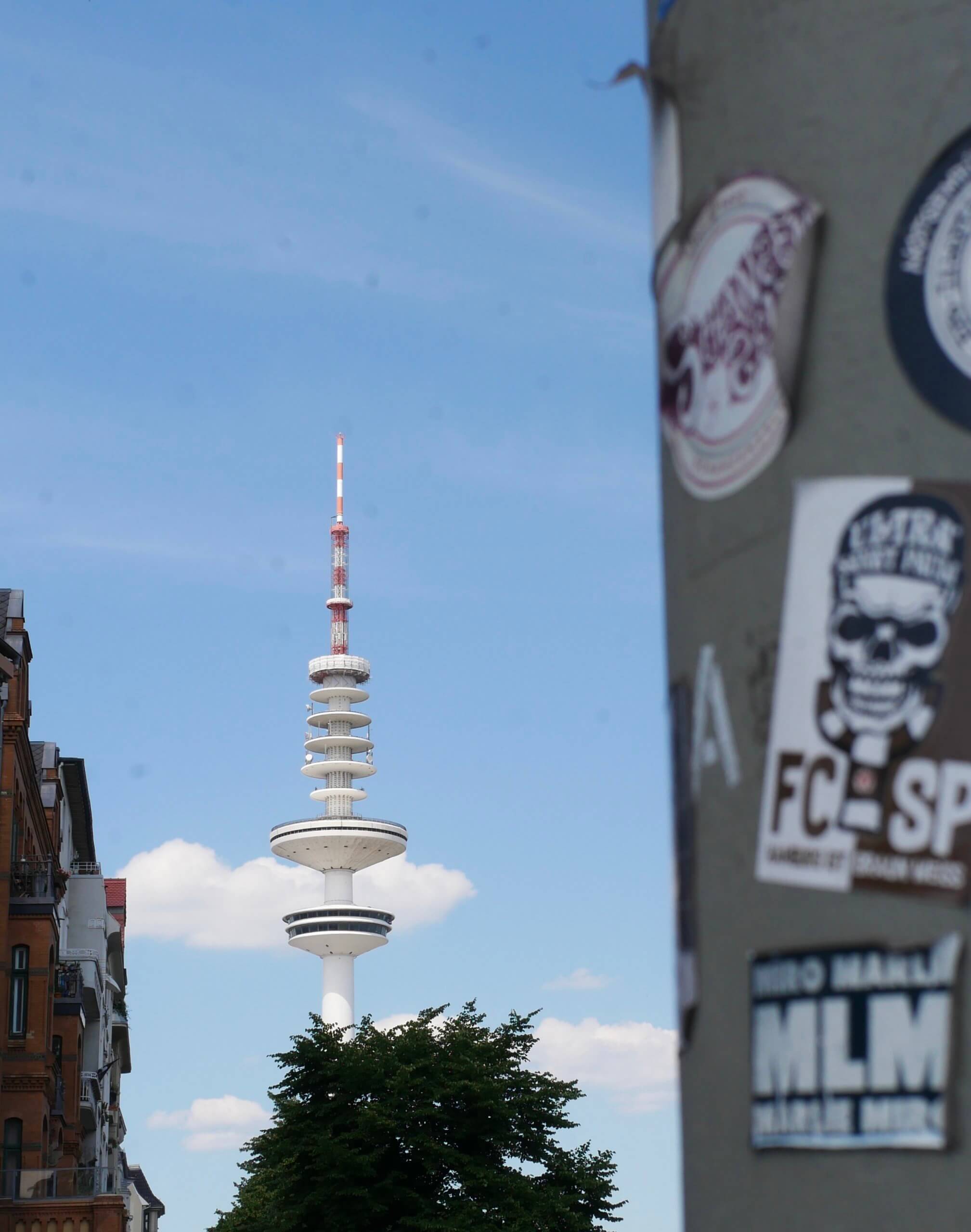 I can't quite sum what is it about Hamburg that makes it special and keeps me coming back. With some cities, just like love, it is an instant feeling and connection you feel the moment you walk its streets.
I can tell you that Hamburg wasn't love at first sight. 2012 summer. I walked out of the train station, the smell of piss and chaos instantly sapping the life out of me. These were the days of no Google Maps remember. I spent an eternity on a very humid day in June trying to find my hostel, A&O Hostels which was tucked behind the Hauptbahnhof in St Georg. Back in 2012, St Georg was a few glorious light years away from gentrification, very rough around the edges and probably not the best introduction to Hamburg. Especially for someone like me, who at 33 was a belated entrant to the world of backpacking and travelling solo. There are far better hostels in Hamburg than A&O. The hostel was filled with pimply faced teenagers ranting at the poor wifi and casual labourers, mainly from Eastern Europe, who had landed in the city in search of any kind of work. I can still remember their sad faces, chain smoking furiously at the entrance and jabbing their shrill voices into their mobile and fingers into the sky, protesting with an imaginary god, the injustices of life. Travelling solo can be such an intimidating experience at first, especially in a new city. I remember sheepishly asking for the city map at the hostel reception and venturing out at night on the first evening, walking the streets of the city, wide eyed and slightly feeling sad for myself, an unhappy voyeur, looking on at the scenes of life unveiling themselves before me. The sense of isolation and unhappiness was the starkest when I hit the Reeperbahn. A riot of neon lights, aggressive pimps and heavily drugged beggars, I quickly left. After the almost sterile, disneylandesque nature of Amsterdam's Red Light District, Hamburg's Reeperbahn felt every inch what a red light district should be – grotty, seedy, loud and a wonderful assortment of characters that could only be from the Reeperbahn.
My trip did improve over the weekend I was there. My redemption lied in the comfort of the now sadly closed Beatles museum on the Reeperbahn. The Beatles have been a huge part of my life. Alongside my sister, I danced, sang along to all their songs from a young age. My favourite songs were their more earlier, happier poppier stuff like 'Love me Do' and 'Hard Day's Night.' As I grew older, I appreciated their later darker stuff on the White Album.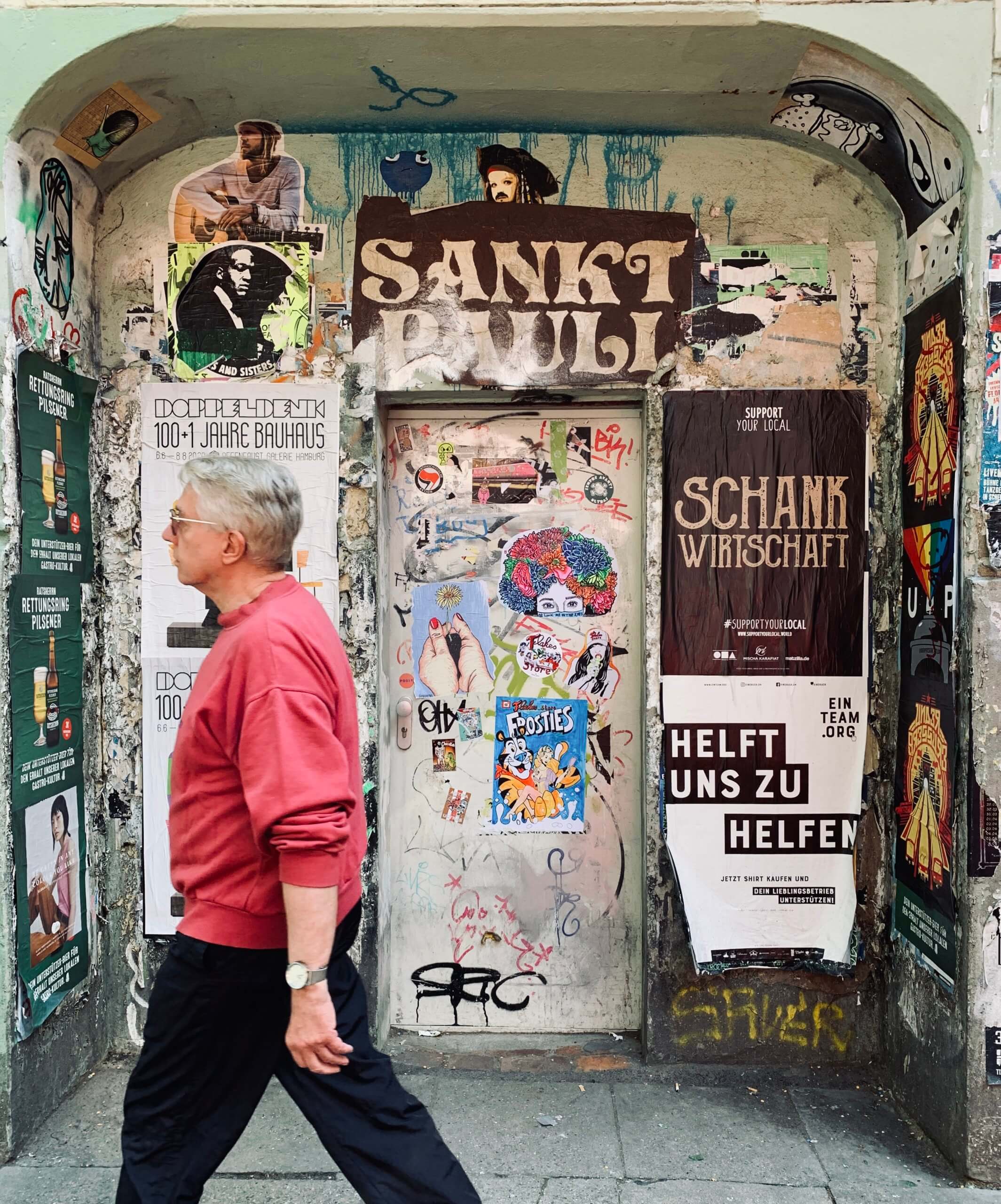 My love of Hamburg, much like my love of the Beatles, I've found kind of grows with age. The grotty, seedy Reeperbahn which I hated so much on first glance, I grew to love, the more I explored its layers and its incredible bar scene. There's a bunch of amazing bars here, all with their own history and story. There's Rosi's for example, named after Rosi McGinnity who opened the bar in 1969. She flirted with the Beatles here, married the British musician Tony Sheridan who played in many clubs on the strip and paved the way for the Beatles arrival. Then there's cult places like Zum Silbersack where you can get shots of local Mexikaner and sway to 1950's German schlager till dawn. The bar is not the most glamorous place on planet earth with their gruff service, smoke filled rooms and sticky floors but this is the place where you will encounter true local Hamburg legends and have as we say in Scotland proper banter. When day breaks, everyone heads for breakfast brunch at Cafe May – one of the best places to start your day in Hamburg.
I travel through my stomach but that wasn't always the case here. On my first trips, when money was tight and I wasn't very well aware of the city, I would end up eating a kebab or one of those 'wok to go' fast fried noodle joints. When you are young, travelling solo, you want your food fast and cheap. However, as you grow older and become more self assured in your own company, you start developing a better, finer taste of food and also where you might find the true locals eating, instead of the more touristy joints. There was one snack I discovered on my first trip in Hamburg that for me sums up the city in one bite – the humble but ever so tasty fischbrötchen. I would usually grab my fischbrötchen at the stands right after exiting Landungsbrucken – fish fillet sandwich with homemade tartar sauce (pretty tasty stuff but after a few trips to the city I realised I was missing out on the really good stuff further up the 'brücke' pier 10 to be precise where you'll find Brücke 10). Here with a nice bread roll, you'll get a choice of fish fillet, matjes or crab meat. Sabrina loves it with crab meat, I love it with matjes and a few crunchy onions thrown in for flavour. Wash it down with an ice cold Astra beer and you have the perfect Hamburg meal. ( PS Here's a recent list of some good places to eat in Hamburg )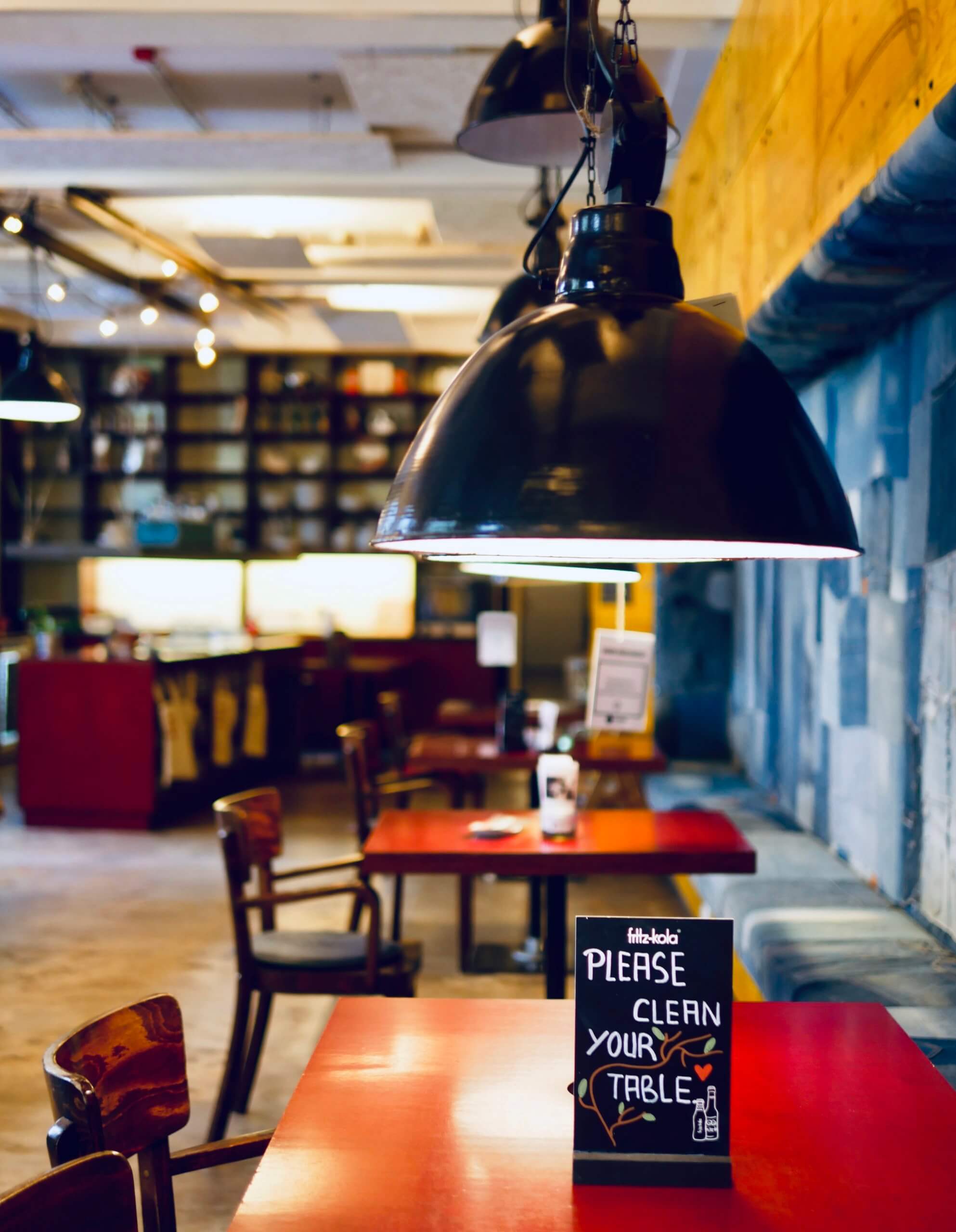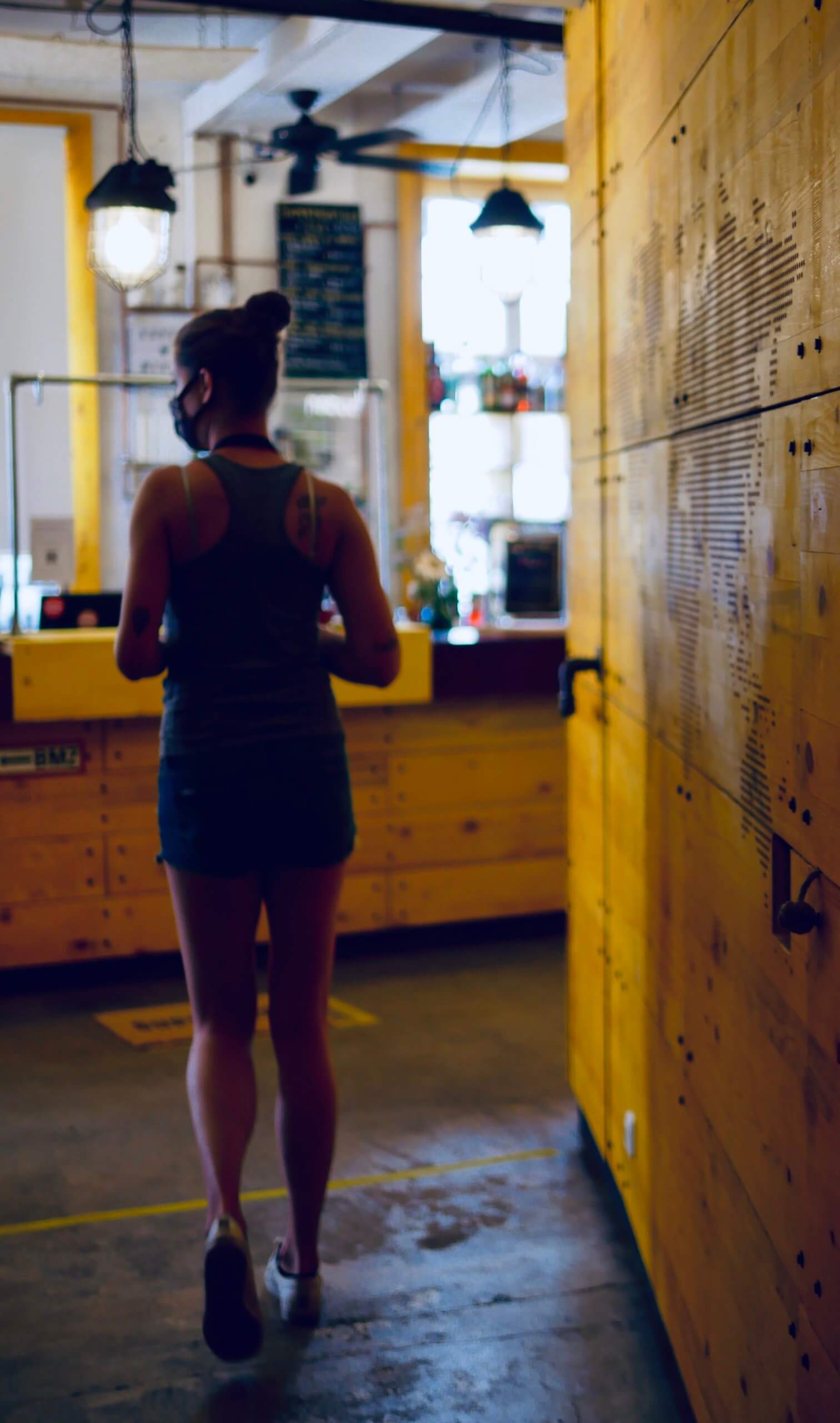 We talked about the importance of good drinks and food when travelling. Plus I told you how much I hated A&O hostels on my first trip. In fact, I've never had a great experience staying at their hostels. Just like love, there are some hostels or hotels where you feel an instant connection. Superbude in Hamburg is one of those places where you feel at ease, at home. ( If you haven't visited Superbude, here's an earlier review of why I consider it, one of Germany's best hostels ) Even though the staff were wearing masks, they greeted me with their eyes shining and an energetic 'Moin'. Somethings in life, you can't fake. It was an emotional experience to be back in a hostel again after Covid. The hostel industry has been one of the worst sectors in tourism affected really badly by Covid. I know a few travellers feel that hostels aren't safe places to be and I wanted to reassure everyone that hostels like Superbude are doing everything to make guests feel at home and safe. Let me tell you what the Superbude are doing to help guests feel safe.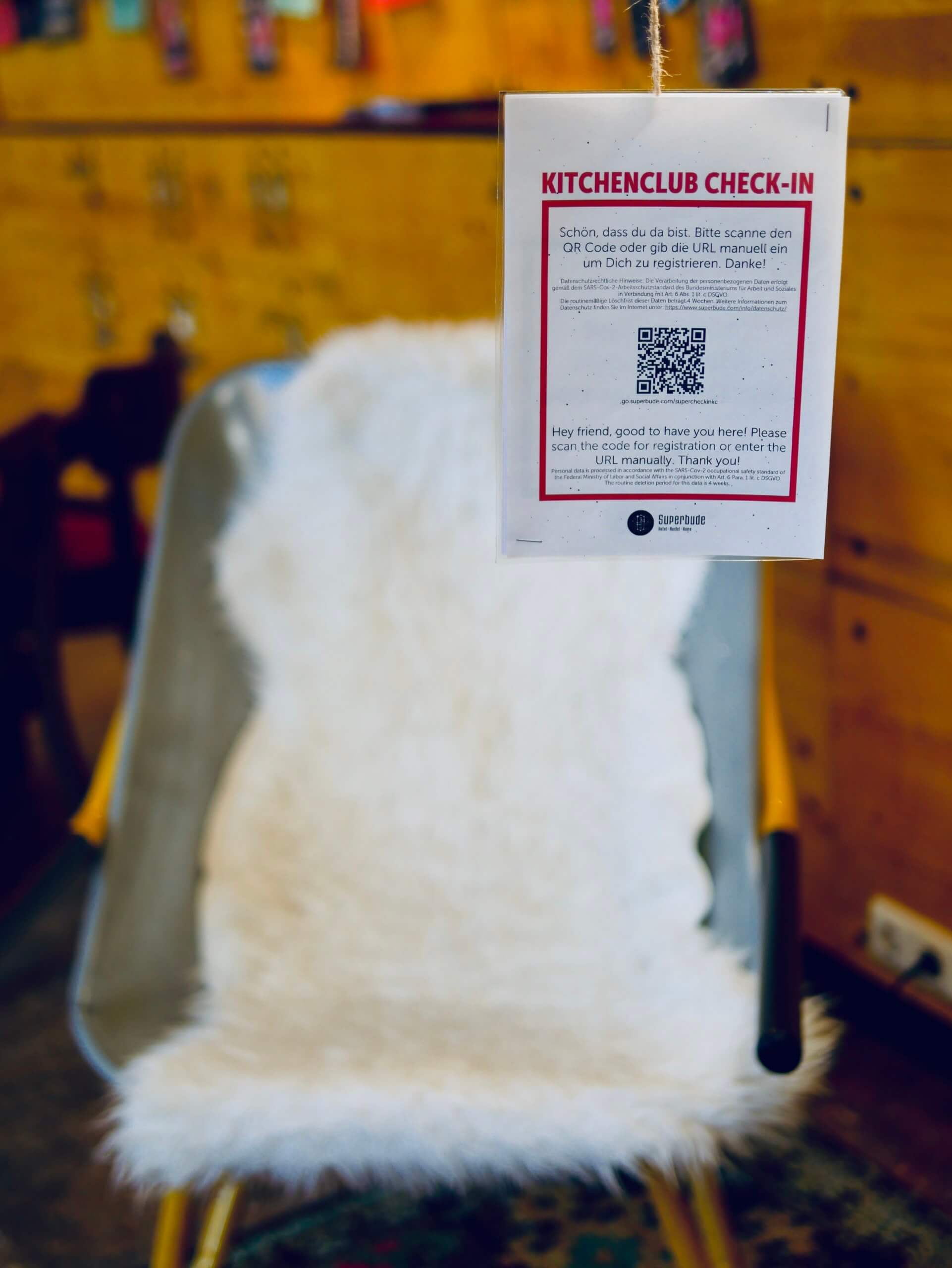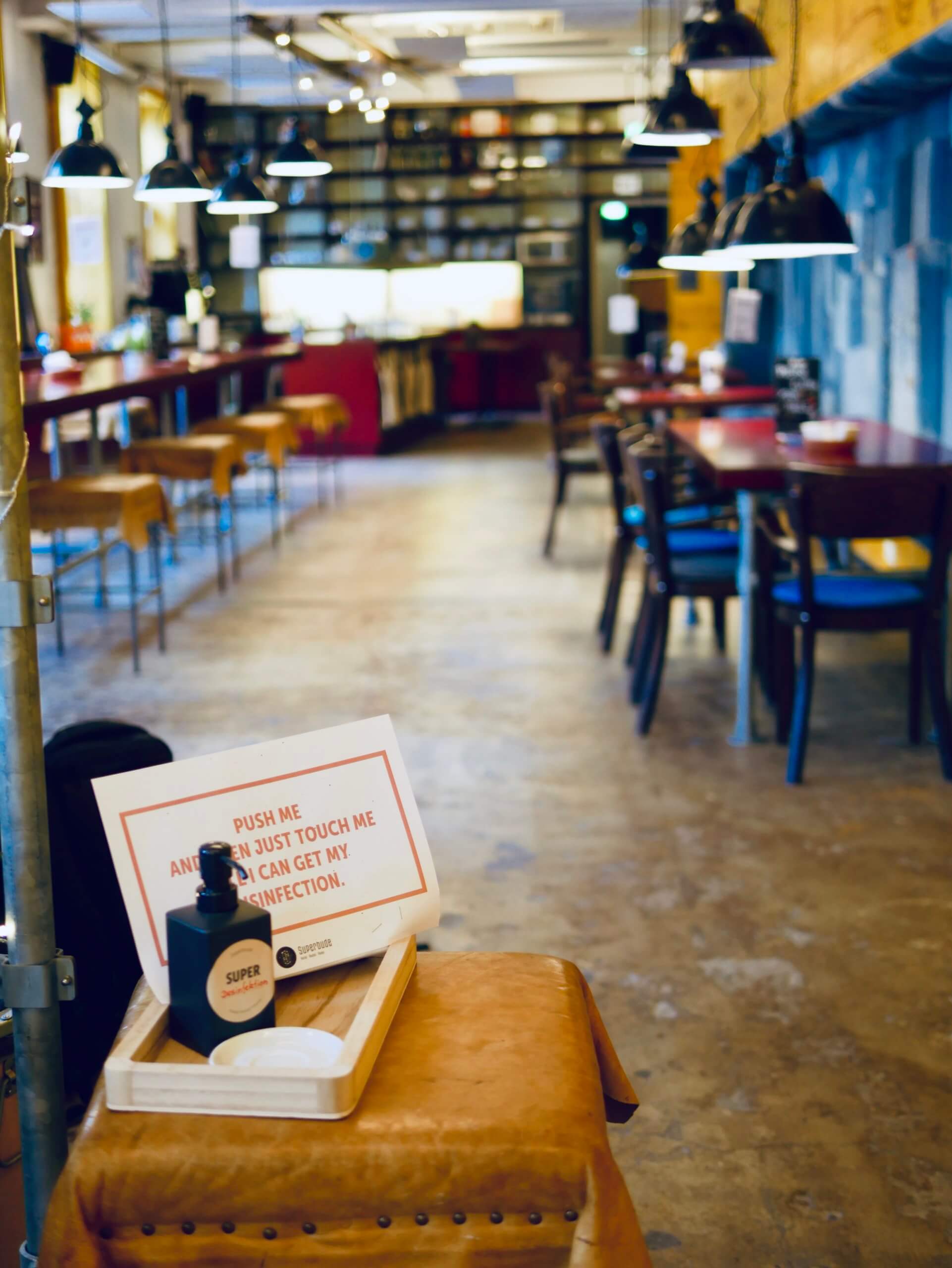 The common areas are being cleaned regularly. Every floor has a disinfection station with polite reminders for guests to wash their hands at all times. QR codes are on tables and chairs in the common area, asking guests to check in so that the staff know who was there and when.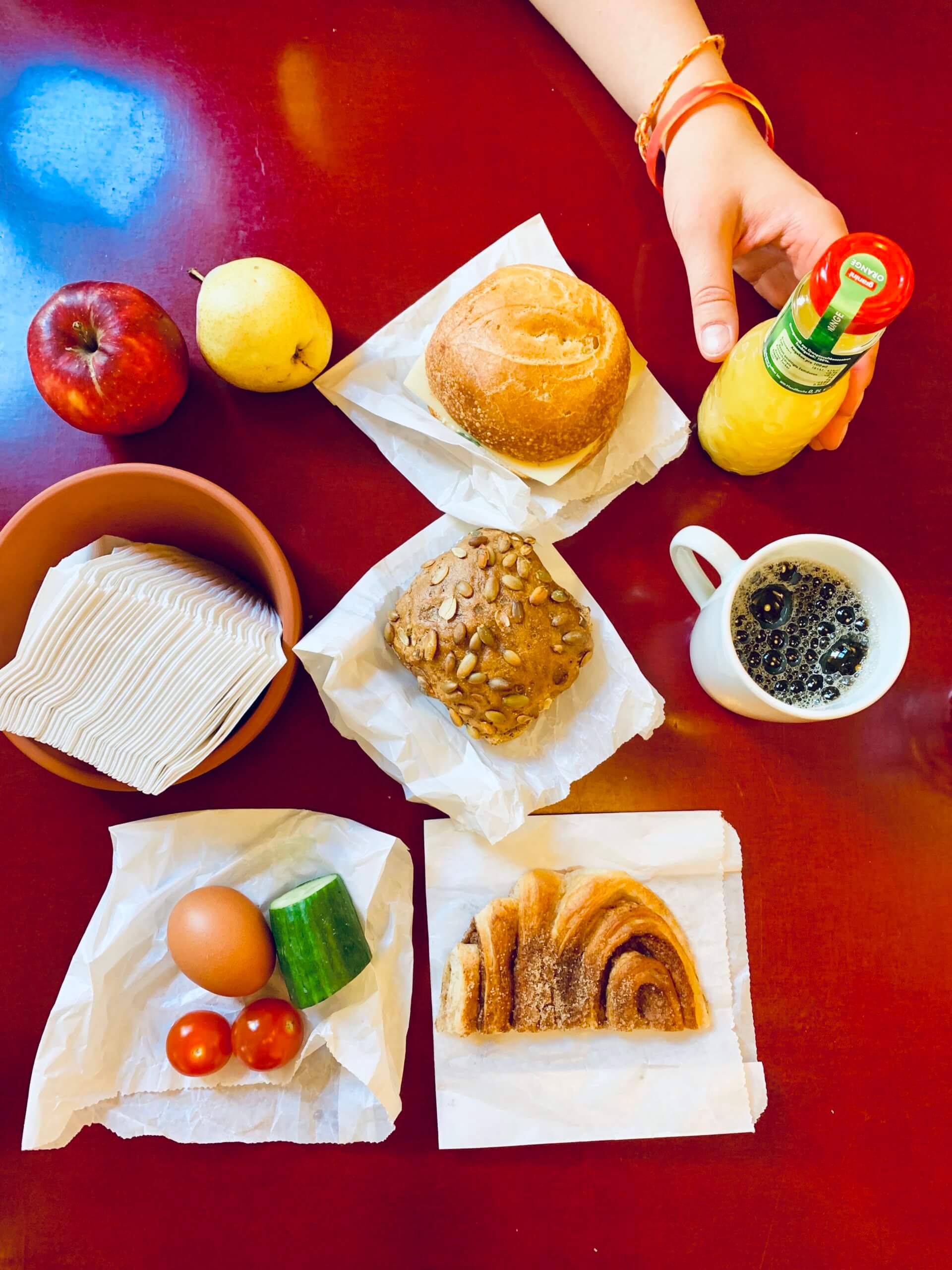 Breakfast is to go and a very generous selection of delicious homemade muesli jars, freshly baked franzbrötchens ( True Hamburg classic sweet pastry baked with butter and cinnamon, similar to a cinnamon roll ) , delicious sandwiches, yoghurt and fruit. To minimise contact at the moment there are no social activities in the hostel. The flip side is that the hostels seem rather quiet places to be in the evenings. This was very strange for me to experience but that's the reality that hostels and everyone in tourism is facing. I know, hope that the virus won't be around forever. However, till things get back to normal, I hope we continue to support tourism businesses that give a real damn about you having a good holiday like Superbude. So, next trip to Hamburg, stay with them. ( Here's a list of current special offers at Superbude ) Make a difference with your hard earned money. Amen.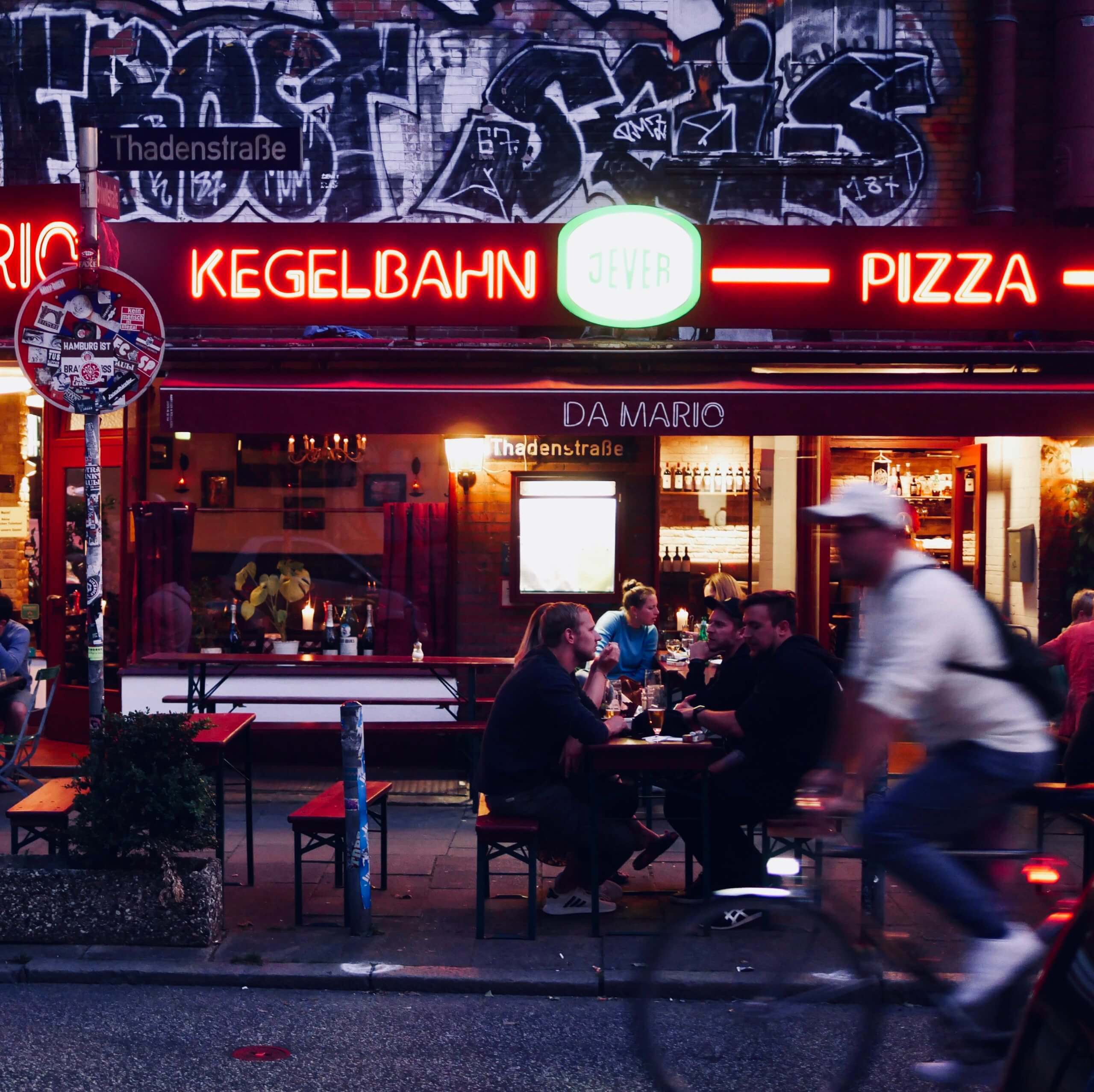 We've established some of the ingredients of a perfect holiday in Hamburg-where to have a beer, eat and where to stay. Last but not least, where are the places I love to visit that make Hamburg perfect for me? Here's a list from earlier but to give you an idea, let me tell you about my morning walk through the city, where I revisit some favourite spots and maybe discover a few new places.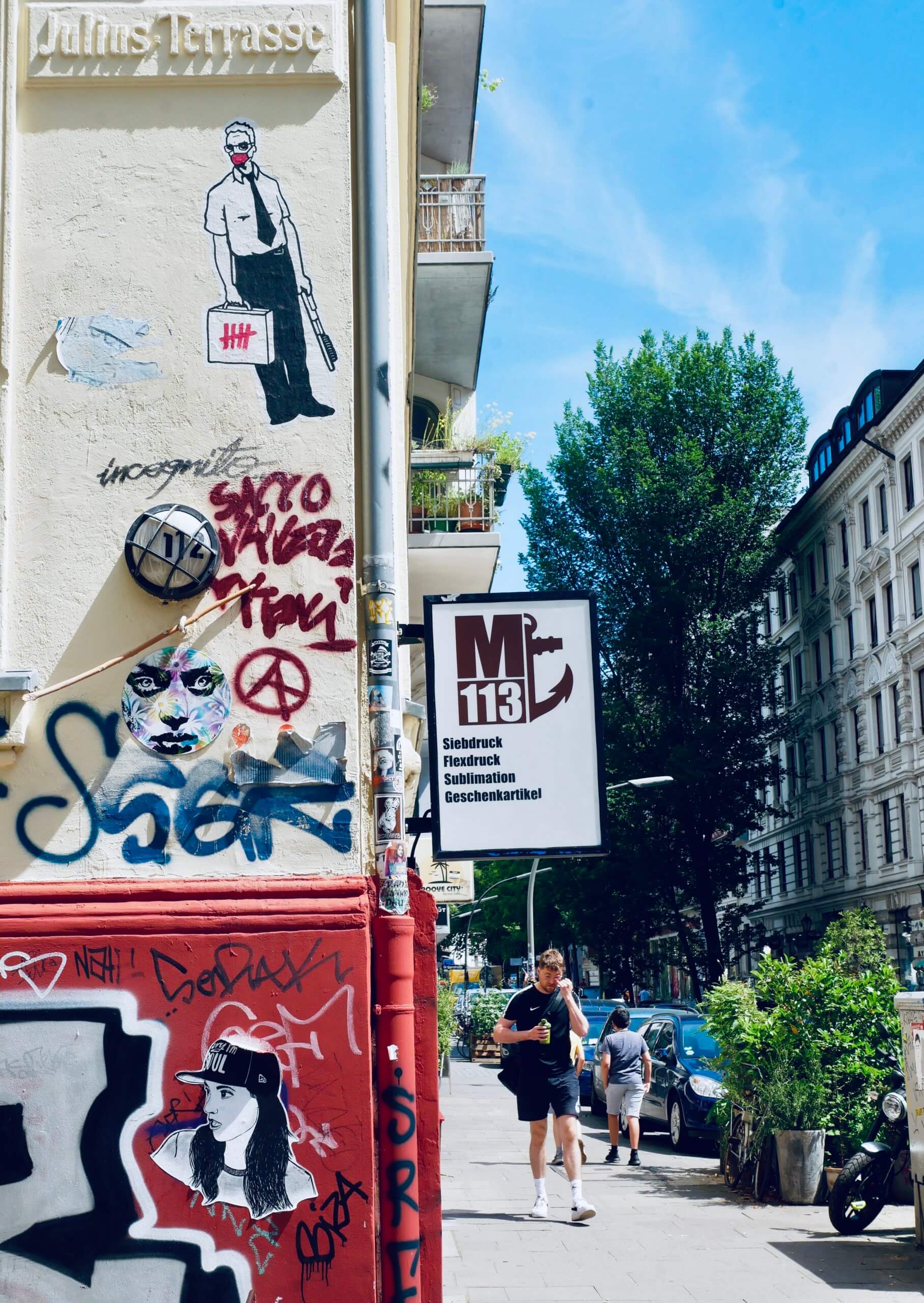 One of the best things about staying in the Superbude is its location in the Schanze/ St Pauli area where there's this wonderful vibe, air of electricity, especially in the summer when the locals all flock to the streets and the whole area has this vibe of a big huge summer festival. I turn right from the hostel and walk up Juliustrasse towards the colourful chaotic street of Schluterblatt. Schulterblatt is the nerve centre of Schanze where all the artists, expats, immigrants, hipsters, punks and anarchists of Hamburg congregate for drinks in the summer. The spirit of the area and Hamburg in many ways is symbolised by the Rota Flora theatre, which has been squatted in continuously since November 1989. Covered in grafitti, political slogans, the protest against the rampant gentrification of the area has now lasted 30 years and still continues with over 150 squatters occupying the building. This message of respect and tolerance for people with different values, ideals I think is what makes Hamburg unique and a very special city.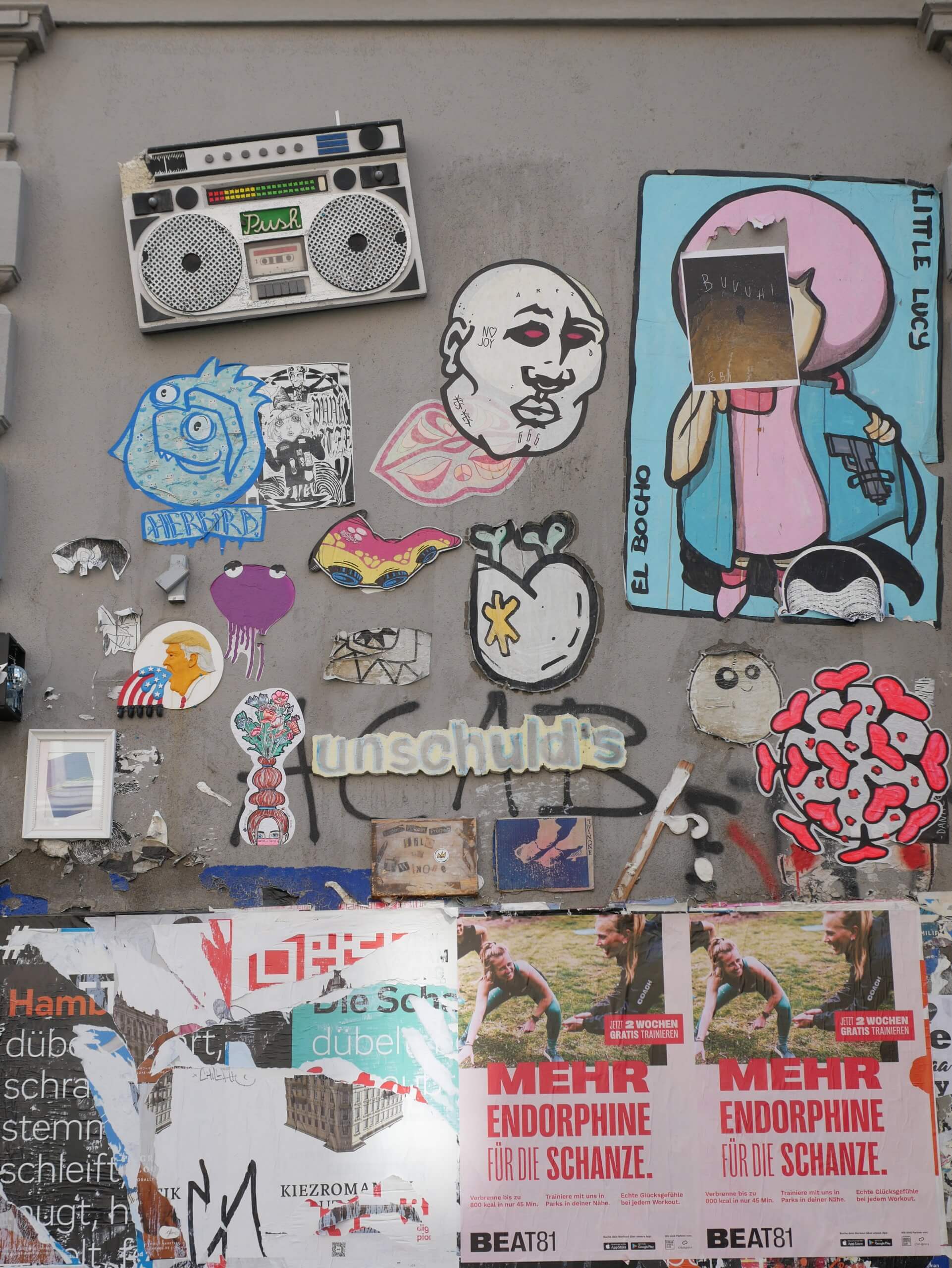 Another part of Schanzeviertel I return to on almost every visit is the Rosenhofstrasse where you'll find a diverse range of painted/printed paper on the walls, so called pasteups with works of art from some of the world's most famous street artists like El Bocho's Lucy. I talked about the joy of inhabiting parallel universes – the street art scene in Hamburg is one of the mini universes, once you enter its orbit, you see the city in a different way.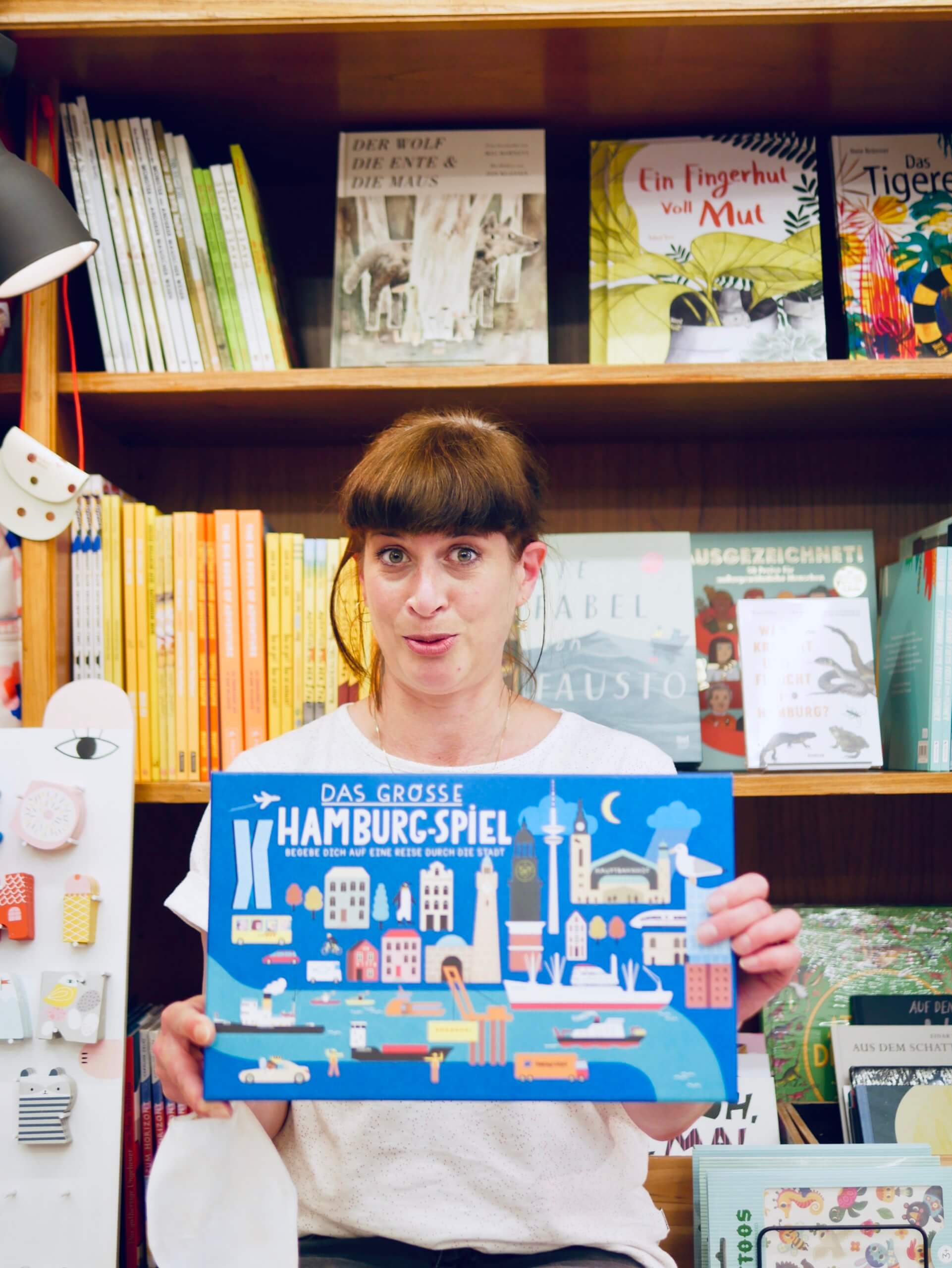 While in the area, on this trip, looking at my Google Maps, I spotted a name of a store I long wanted to visit. Place is called Human Empire. My connection with them happened almost 2 years ago when I published my book, 'The Grand Hostels: Luxury Hostels of the World.' They were proudly displaying my book in their beautiful shop and had tagged me on Instagram. I had dropped them a line to thank them and made a promise to visit them, the next time I was in Hamburg. Somehow, I couldn't make it to see them on recent trips but here I was on a sunny day in July, finally meeting them.
It is a beautiful store. Originally a men's outfitters store dating back to the 60's, with its wooden built-in wardrobes and long counter with large mirror walls, there's a wonderful nostalgic retro quality about the place. Originally an illustration and design studio, Human Empire founders Jan and Wiebke, created a physical extension to their labour of love by creating a concept store filled with all their favourite things, ranging from paper goods such as posters, notebooks, books, magazines and wrapping paper to a fine selection of home accessories and clothing from European designers. Wiebke was in-store when I dropped and was as friendly and wonderful in person as online. We had a great chat about all things Hamburg and classic design posters from Scandinavia, one of the store's many specialities. The conversation turned towards our mutual love of travel and she started telling me about this really cool hidden artists enclave in Leipzig. I left an hour but could have spent more time chatting to Wiebke. I leave, with a smile, enriched by the generosity of her spirit and her warmth.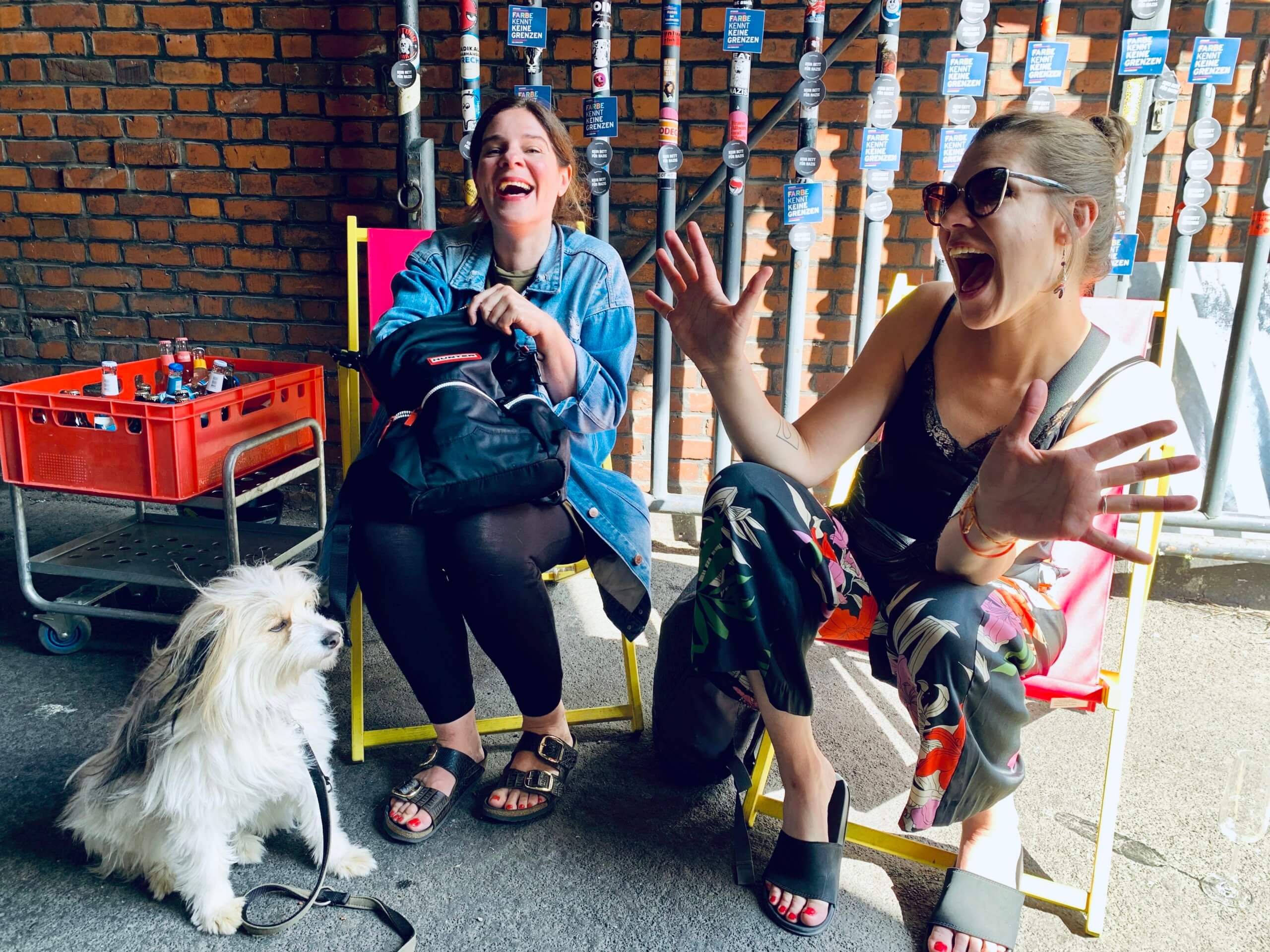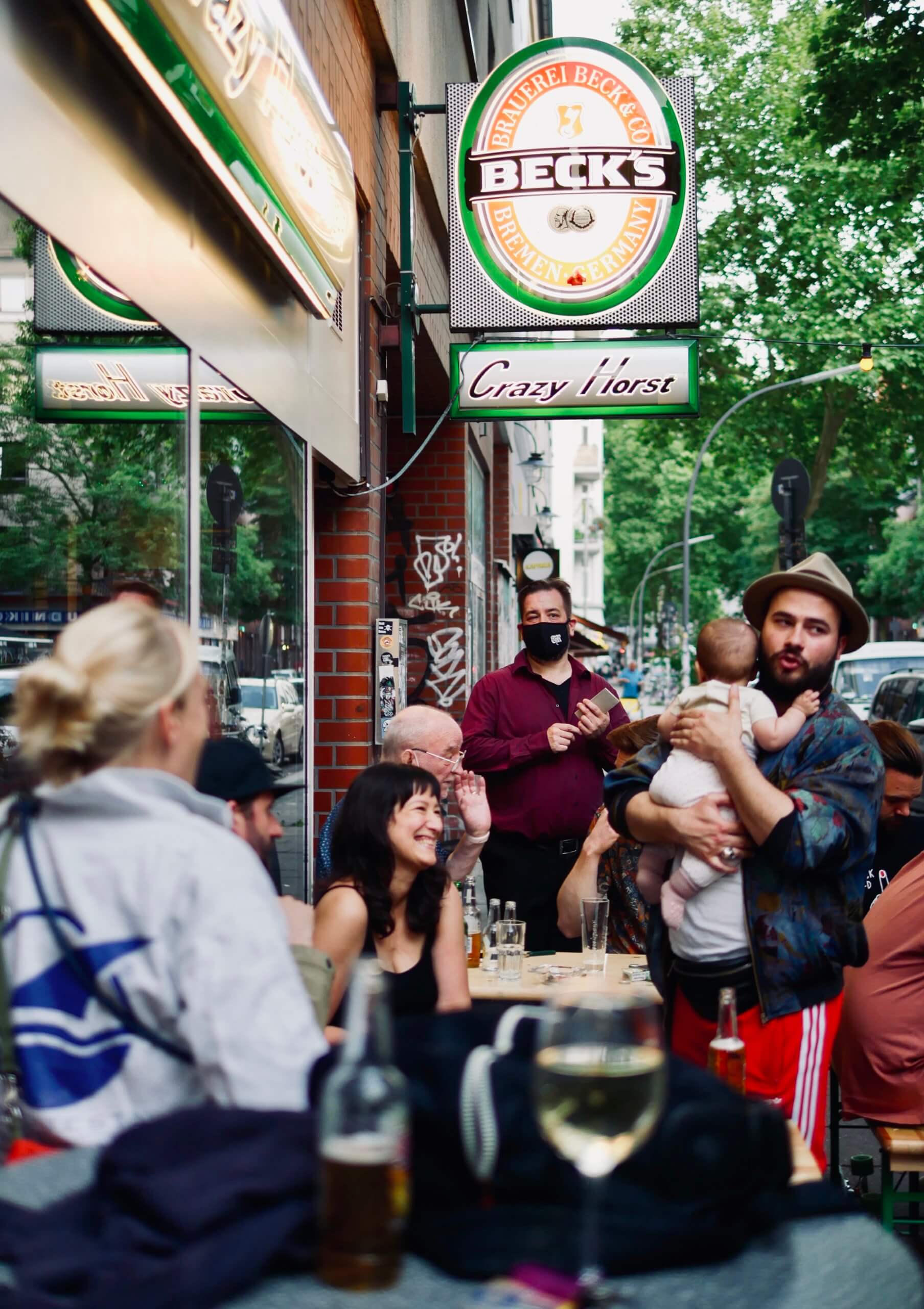 The rest of the weekend in Hamburg remains a happy blur. It involved meeting some dear old friends who have been a big reason why we fell in love with Hamburg- Kathrin, Jessica and Florian. Lots of reminiscing and good food. There are few birthdays to celebrate. There's lots of Astra. Lots of prosecco. Lots of hugging and emotional conversations. Long walks home at 5am. There is a hangover or two. There's still more good food- an epic meal at a brand new Indian restaurant called Authentikka. We're talking real indian food here, probably the best I've had in Germany.
I leave Hamburg with a heavy heart but bag full of new memories, faces of places, friends, old and new, I hope to meet again soon. The best trips in life, like love are like that. Where you feel at the end wanting more and more. The journey ends but in your mind you want to continue to draw that imaginary line through a city, this imaginary land of make believe in which you and a few friends exist. See where this new line takes you. Even as our heart seeks the unknown, the distant shores of cities far out reach, there is joy in returning to the familiar places we know we love, rediscover the imaginary worlds we carve out, those parallel universes, invisible to our eyes, waiting to welcome us again.
Disclaimer: I was invited to Hamburg as a guest of Hamburg Marketing and Superbude but the views, emotions expressed here are entirely my own.