All the great cities in the world are often defined by a river. Take London, Paris, Bangkok or Kolkata, all these cities have a pulse of life and an element of grandeur thanks to the river running through them. Of all the cities that have a river running through them, Lisbon is probably my favourite city. I remember the first time coming to Lisbon 12 years ago and on the first morning I woke up for a walk and meandered my way through the city. Throughout my walk, being a city of 7 hills and endless vistas, the river Tejo never quite leaves you. You see it glimmering, always catching your eye in between those impossibly steep travessas. The way the light bounces off the river, gives the city a really ethereal glow. Ok. My love for Lisbon may sound a little exaggerated but even after visiting the city for so many times, I still find new places and angles to fall in love with the city again. On my recent trip to Lisbon, along with Sabrina, I had the opportunity to do something we had never experienced before in Lisbon- go with a trip with FRS Portugal, which many consider to be the best sunset cruise in Lisbon. My only trip along the river is the passenger boat to Cacilhas from Cais do Sodre but the 10 minute journey always ends too soon for me so this 1.5 hour cruise was perfect.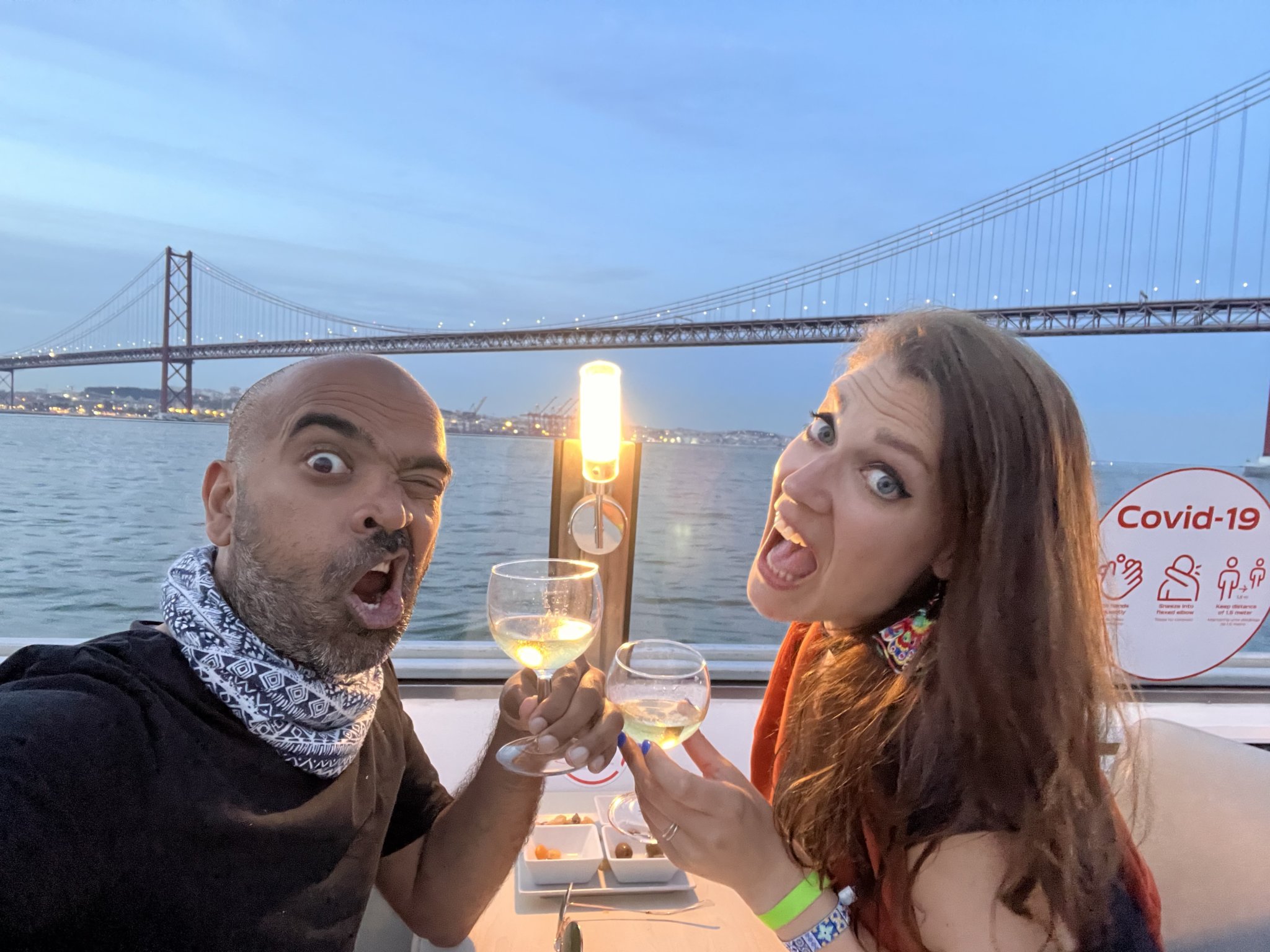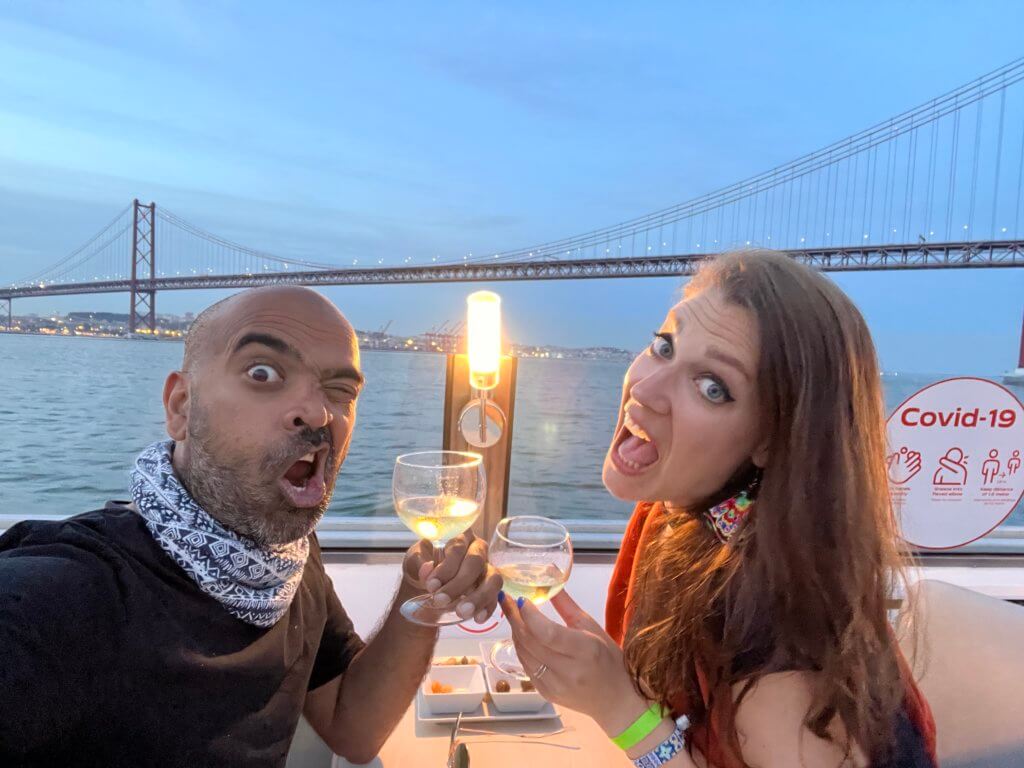 The FRS Portugal sunset cruise experience
The weather was perfect for the sunset cruise. Clear skies and light was perfect. The cruise boat departed from Terracio do Paco, right next to the majestic square, Praca Do Comercio. We were advised to come early to board, 20 minutes before departure and already found a sizeable number of people queuing up. Tip: If you want to guarantee yourselves a nice seat, try and come a wee bit earlier. The boat itself, was a modern convertible boat with a roof that closes in case of bad weather. It is a nice size and roughly accommodates 70-80 people so it didn't feel overcrowded, even at full capacity. The cruise had a nice mix of people from all parts of the world. Behind was a family from Philippines who were celebrating the last night of their Portugal trip on the boat. Beside was a stag group from Bergamo- well behaved and nice guys, not your usual stag group type. Thank lord. The cruise lasted 1.30 hours and takes you to some of the most prominent landmarks visible from the river that include Ponte 25 de Abril, the Museum of Art, Architecture and Technology (MAAT), Padrão dos Descobrimentos, the Belém lighthouse, the Belém Tower and finally the Santuário de Cristo Rei. The cruise goes at a slow pace so you can really admire all the landmarks really close and upfront. One of my favourite parts of the cruise is when it dips beneath the broad, majestic expanse of the red rouge Ponte 25 de Abril. You can hear the hum of cars and trains passing above and then to the left of the bridge, the classic view of the Cristo Mei statue- really something special. Another magical moment is when the sunsets and it slowly turns dark, the ship does another spin and repositions itself slowly in front of the Cristo Mei statue. With the moon glowing behind it, wow, it really looked magical. Altogether, the time on the boat seemed to fly by quickly. Maybe it was the wine but it is a really nice way to wind down after a long day of sightseeing or maybe it marks the beginning of an epic night out in Lisbon.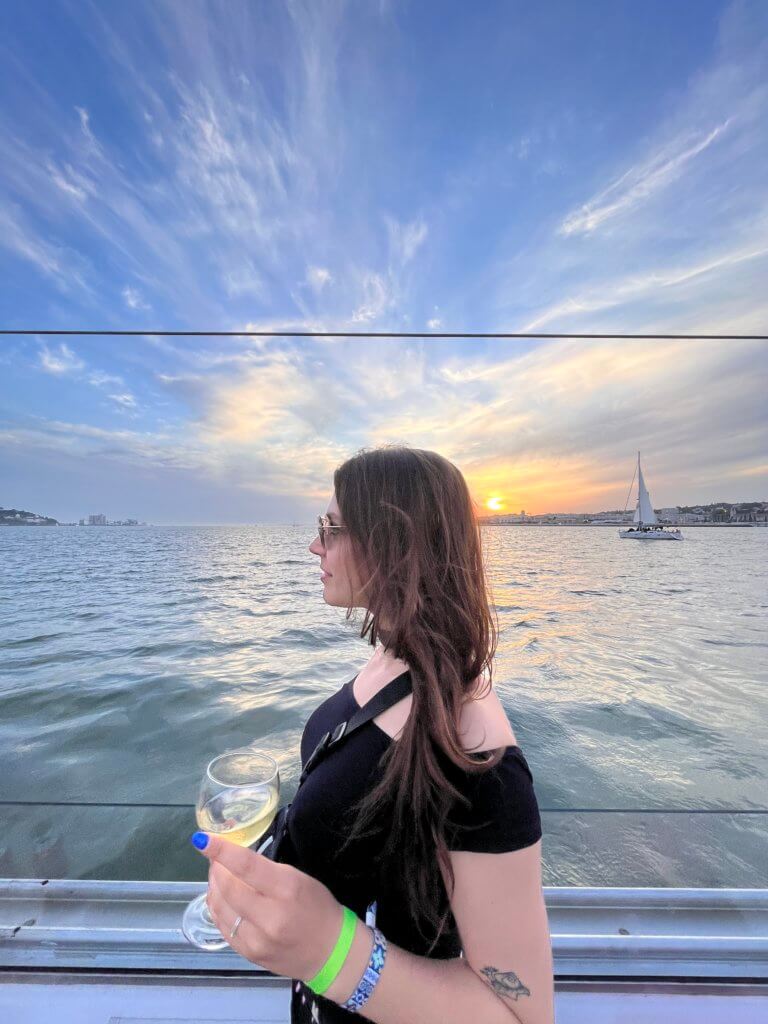 Complimentary wine and snacks included
The €29 ticket includes a complimentary glass of wine or beer or soft drink plus some snacks including the popular local favourite I love- tremoços. If you want to treat yourself to an additional glass of wine, prices for a small bottle of wine ( 0.375. I went for a Vinho Verde, Muralhas- really nice wine) was around €8. There's also ice cream on offer so a nice variety of choice of snacks and drinks. There's a slow hum of music in the background which at times I wish was a little bit more louder but then again, you don't want to strain your voice when talking. Toilets are onboard-nice and clean. Staff who served us were friendly and helpful.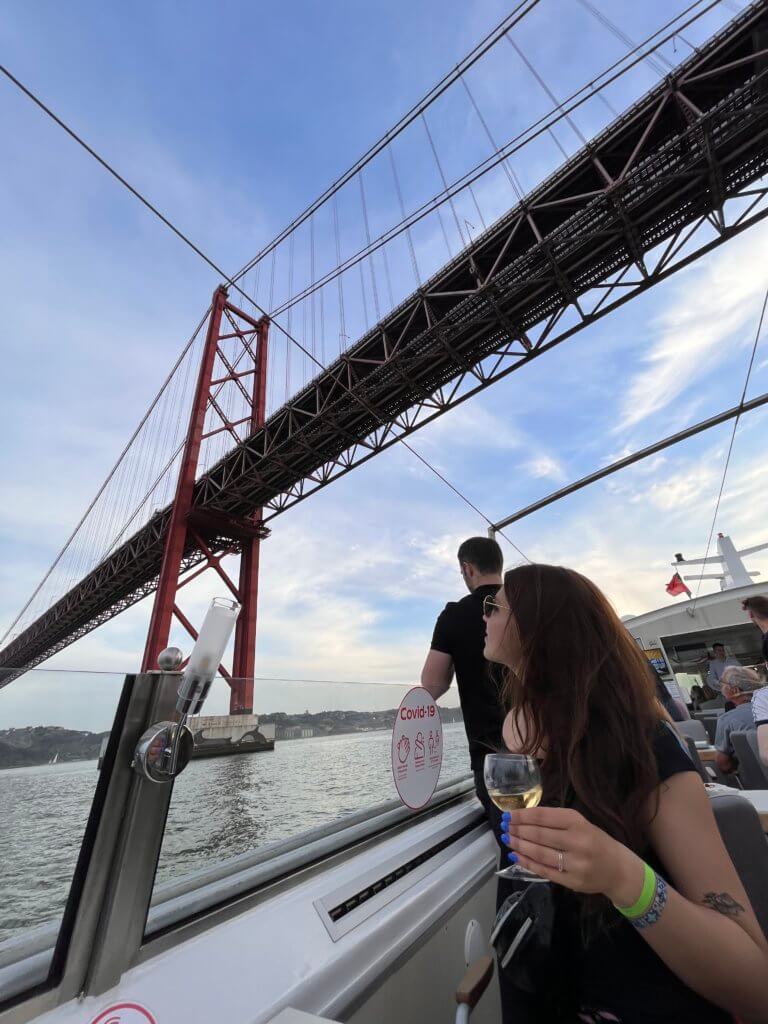 Verdict
For €29, the cruise, including the glass of wine and snacks, is really good value and an experience worth investing in on your next trip to Lisbon. The other value for money alternative to the sunset cruise, is the 40 minute Tagus river cruise from Praca do Comercio to Belem. At €12, is great value. If you are looking for something more flexible, they also offer a hop on and hop off ticket which is €24 and allows you to hop back by boat, if you are planning to take in some of the sights in Belem and spend some time there.
Hope the brief review covers everything you needed to know-if you have any questions, please drop me a line kash AT budgettraveller.org

Further resources
If you are planning a trip to Lisbon, also checkout my guide of the best things to do in Lisbon
and my guide to best budget places to stay in Lisbon.
Disclaimer
The cruise was provided kindly by FRS Portugal but all the opinions, good and bad, are entirely mine.