What is Serbia like? What are Serbians like? What makes this country tick?
I had no clue when I started out on our journey back in September last year. On the last trip back in 2015, I encountered a country, warm, welcoming and extremely hospitable. Even though they no longer touch the Adriatic, they retain that strong Mediterranean, sunny disposition. Maybe it is the result of decades, centuries of war that gives Serbs that release to live in the moment. The fact the country has been occupied by two radically very different empires, the Ottomans and the Austro-Hungarians is probably another reason why Serbia remains an enigma to most.
The turbulent history has left its mark in many ways, noticeably in its food. In Serbia, depending on which part of the country you are in, you'll find a mixture of Greek, Bulgarian, Turkish and Hungarian influences in the dishes you eat. Each conquerer that came left some traces of their national cuisine.
View this post on Instagram
From pies, like the Ottoman influenced greasy flaky burek to the thick coffee and dishes like the Hungarian-influenced paprika-red gulaš that you find in the north in Vojvodina, the footprints of the past are everywhere to be seen in Serbian cuisine. So if you really want to decode this diverse amazing country, trying the wide variety of regional cuisines is a great way to get to the heart of what Serbia is like and understand the culture
Food here is identity…it is everything.The most conventional wisdom among Serbs is that it is better to eat more because "strength goes in through the mouth" and "a passionate eater is a passionate worker". Everything revolves around food. Whatever the occasion it is in Serbia, it absolutely relies on the presence of food and drink. For the Balkans and also for Serbians, food is the conversation and substance of life.
It is with this in mind, I embarked on a road trip through Serbia to try and learn about their food culture with the hope that I would learn something about a country that is still relatively unknown to the world.
FOOD
Gibanica
You'll find Gibanica throughout the Balkans in Croatia, Slovenia (where it is called Prekmurje), Macedonia and even in the northern Italian province of Friuli-Venezia Giulia. However in Serbia, this dish is hugely revered and is a symbol of national cuisine.
Gibanica is a simple, pie like dish. You'll find both sweet and savoury versions on your travels in Serbia. I love the classic version that combines phyllo dough with fresh cow's cheese and eggs which is then baked in the oven – the result is a delicious flaky, pie with a warm savoury filling of eggs and cheese. Another savoury version I love is with leek, potatoes and mushrooms. There are apparently 17 versions of this versatile dish so there is a Gibanica for every person and occasion.
You'll find the dish on breakfast menus and cafes. Serbs usually devour Gibanica with yogurt as a appetiser or as a snack, especially during Christmas and Easter. No celebration is complete without Gibanica.
Where to eat Gibanica
Dokolica (Kralja Milutina 1, Belgrade 11000 Serbia) is a cozy bistro located in a calm street in Vračar not far from St. Sava temple. The service is great, staff are friendly and the food here is of a very high quality but also affordable. Their Gibanica is fantastic and recognised as the best in Belgrade.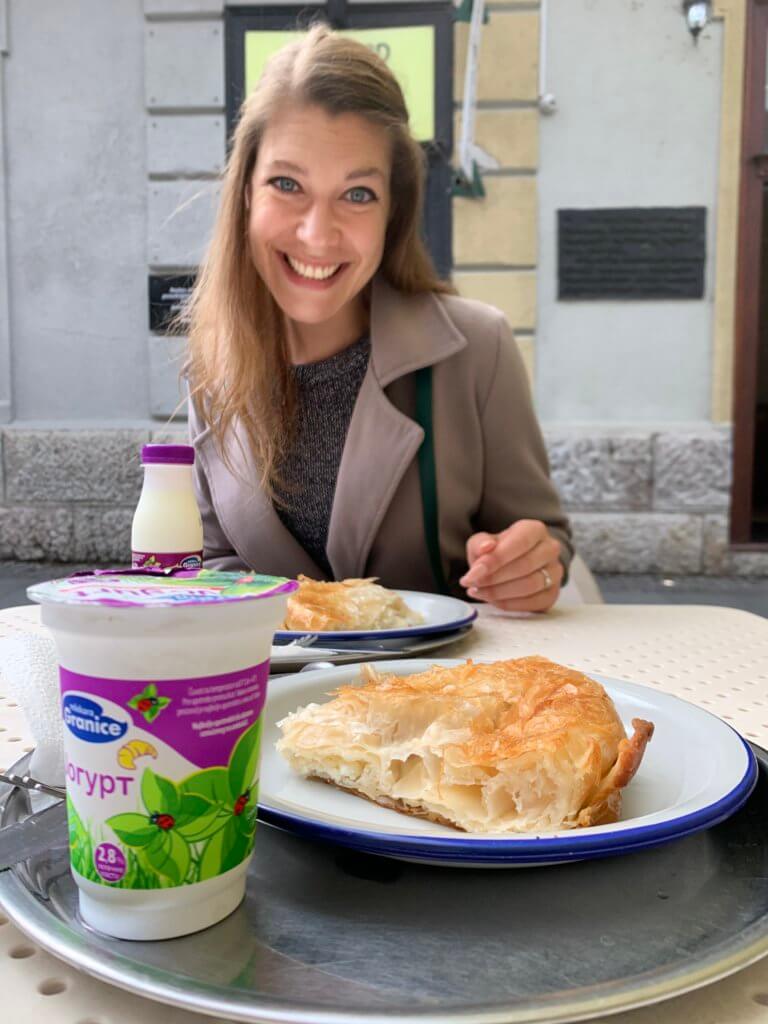 Burek
Burek is one of the oldest Balkan dishes that originated in the Ottoman Empire and it means "to twist" in the Turkish language. It's a filo pastry stuffed with meat, cheese, potatoes and spinach. Serbians adore pies and the Burek is a popular breakfast staple and popular local cure for hangovers.
There are many varieties of the dish, which range from plain to sweet, (there is also burek with popular local Eurocrem) to the controversial pizza-burek. The most common variety in Serbia, served either plain, with cheese or meat, can be traced back to the southern city of Niš, where it dates back to at least 1498. Just like Gibanica, you wash it down with a local, runny variety of yoghurt and find it at most local bakeries in the morning.
Where to eat Burek
We loved the classic cheese Burek in Pekara Spasa, the only bakery in the bohemian quarter of Belgrade – Skadarlija. One of the oldest bakeries in Serbia dating back to 1929, they are best known for their burek, bread and also their exceptionally tasty goulash in a bun. Another fabulous place to try Burek in Western Serbia is Era Pekara in Zlatibor.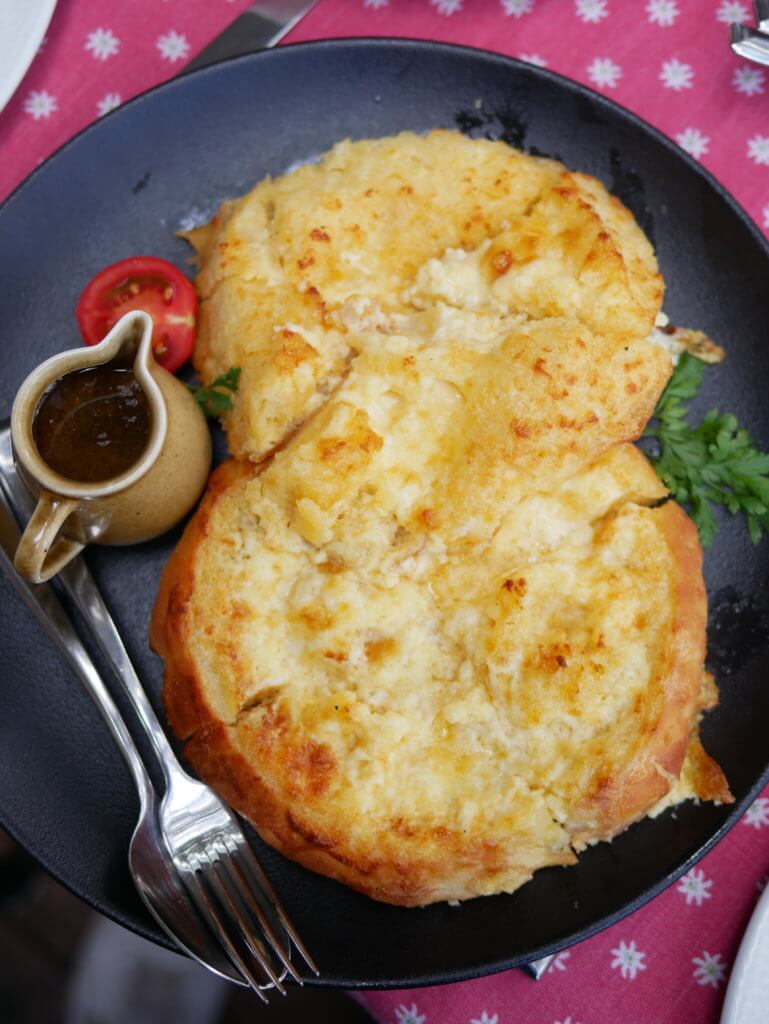 Komplet Lepinja
It seems that most morning delicacies that Serbians like to enjoy are carb-rich , grease heavy and are also perfect for curing hangovers. Let me present to you the 'Komplet Lepinja' which is basically a bun hollowed out and then stuffed with a bit of everything -scrambled eggs, clotted cream (kajmak) and then drippings from a roasted lamb or pig. The bun is baked to a light golden colour and then served.
My friends Srdjan and Slobo called it a 'heart attack on a plate' and it is every bit as decadent and tasty as it sounds. Pair with glass of yoghurt or sour milk on the side. Plus, like with all the best food, you should eat it with your hands.
Where to eat Komplet Lepinja
Era Pekara is the best bakery in Zlatibor to enjoy Komplet Lepinja
which you can savour along with their homemade sour milk.
Kajmak
Serbs do creamy and fattening exceptionally well, and most meals aren't complete without at least one blob of white stuff quivering on the plate. Kajmak, a creamy and mildly fermented Balkan spread made by mildly fermenting skimmed heavy cream (it's vaguely comparable to clotted cream), is a taste that, once acquired, will nag at your tastebuds for years to come; Serbs of the diaspora have been known to go to great lengths to smuggle it back to their new homelands. Often stored in animal skins, kajmak is spectacular with grilled meats, smeared on fresh bread, or shovelled into your mouth by the ladleful.
Where to buy Kajmak- Go to a green market
For the freshest and best kajmak , pop into one of the green markets- you'll see row after row of farmers selling their cheese and their kajmak. Green markets are an integral part of life in Serbia. These are one of the few places in the city where you can get certain ingredients that are key to traditional Serbian cooking such as kajmak and for example pršuta , a traditional Serbian smoked ham.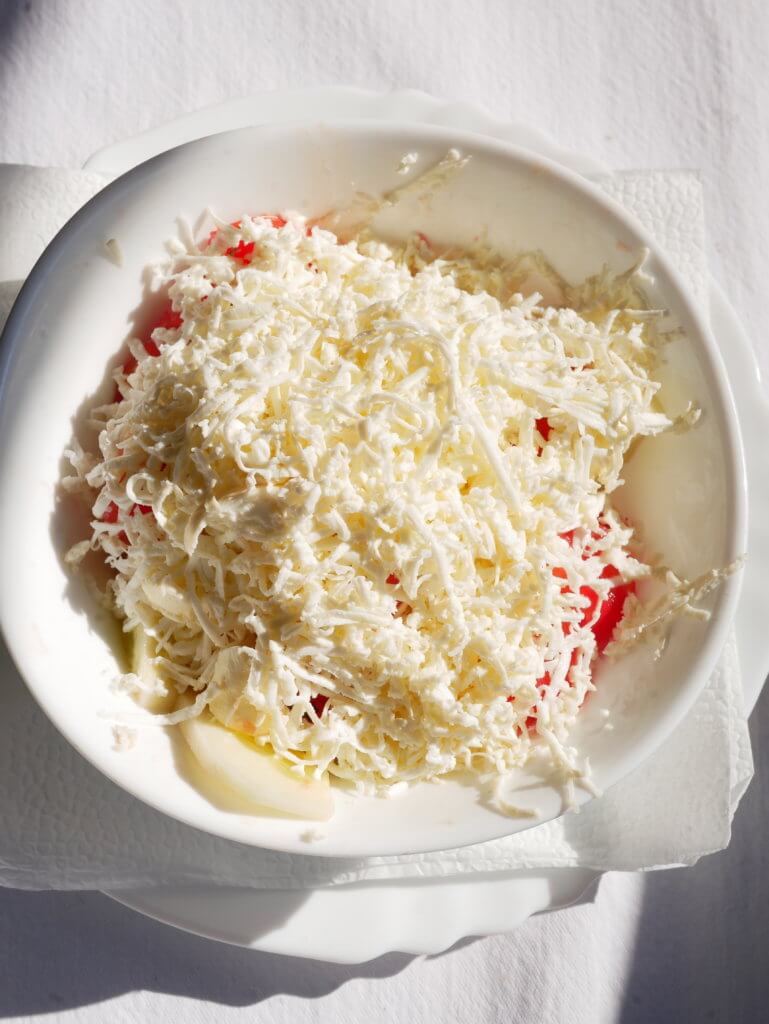 Shopska salata
There is not a lot of choice for vegetarians in Serbia but there is of course the cheese pies, Gibanica and Burek and also you have Shopska salata. Named after the Sopa tribe who originated in Bulgaria, Serbia and Macedonia, this simple salad made from cucumbers, tomatoes, spring onions, peppers and salted cheese is extremely popular in Bulgaria (national culinary symbol) and also is an integral part of Serbian cuisine. There is also Srpska salat, a Serbian variation of the dish that does not include the salted cheese.
You will find Shopska Salata in all good restaurants.
Pljeskavica and Ćevapčići
Queen of Serbia's streetfood scene
Besides their love of pies, dairy, Serbians love their meat. Especially when it is grilled. First, you have Pljeskavica, which gets its name from the word pljesak, which means "to clap hands". Made from a mixture of pork, beef and lamb, clapped into a spongy, pillowy pita called lepinja with onions, tomatoes, kajmak or urnebes, a spread made of hot ajvar and cream cheese and the result is a really lip smacking burger. The other queen of the streetfood scene of Serbia you have the slimmer, case-less Ćevapi (pronounced CHAE-vap or CHAE-vap-ee) sausages that is ubiquitous to the Balkans, since the days of the Ottoman empire and is very popular in Serbia. Every street corner of Serbia, you will scent the smoky goodness of cevapi and hear the beautiful hiss and pop as the fat melts into the coals.
Where to eat Pljeskavica and Ćevapčići
This is the go to streetfood in the evening, after or before going out. Loki is the best place in Belgrade for Pljeskavica, which is generally served with mashed potatoes and in portions large enough to satisfy two.
Mara at Vračar at 14 Novopazarska street, close to Kalenić Market is a great choice. The place where chefs go for pljeskavica, not to mention us regular people. Working hours are 9 to midnight. Price is around €2.5
Salaš
Most visitors to Serbia rarely venture off the beaten path and get outside of Belgrade which is a shame because they miss out on the more rural but wild, rugged and dramatic side of this country.
If you're looking to get off the beaten path in Serbia, visiting a salas is a must. From the Hungarian word 'szállás,' which literally means accommodation, salas are specifically small farms with family homes. They are a typical feature of the Autonomous Province of Vojvodina in the north of Serbia. Home to 26 different ethnic groups, it is a fascinating place to explore identity and what better way to learn about the region's unique food heritage than via some hearty delicious meals fare.
We visited Salaš Kátai Tanya in the village of Mali Iđoš (Kishegyes) which is roughly halfway between the cities of Subotica and Novi Sad.
'Our food is influenced by our Hungarian roots. However, when we visit my sister's mother in law's house for Orthodox Xmas, we learnt about Serbian dishes we never knew about. Our food reflects the best of Serbian cuisine but also our own culture plus a few dishes from our travels.'
Annamária Kátai, Salaš Kátai Tanya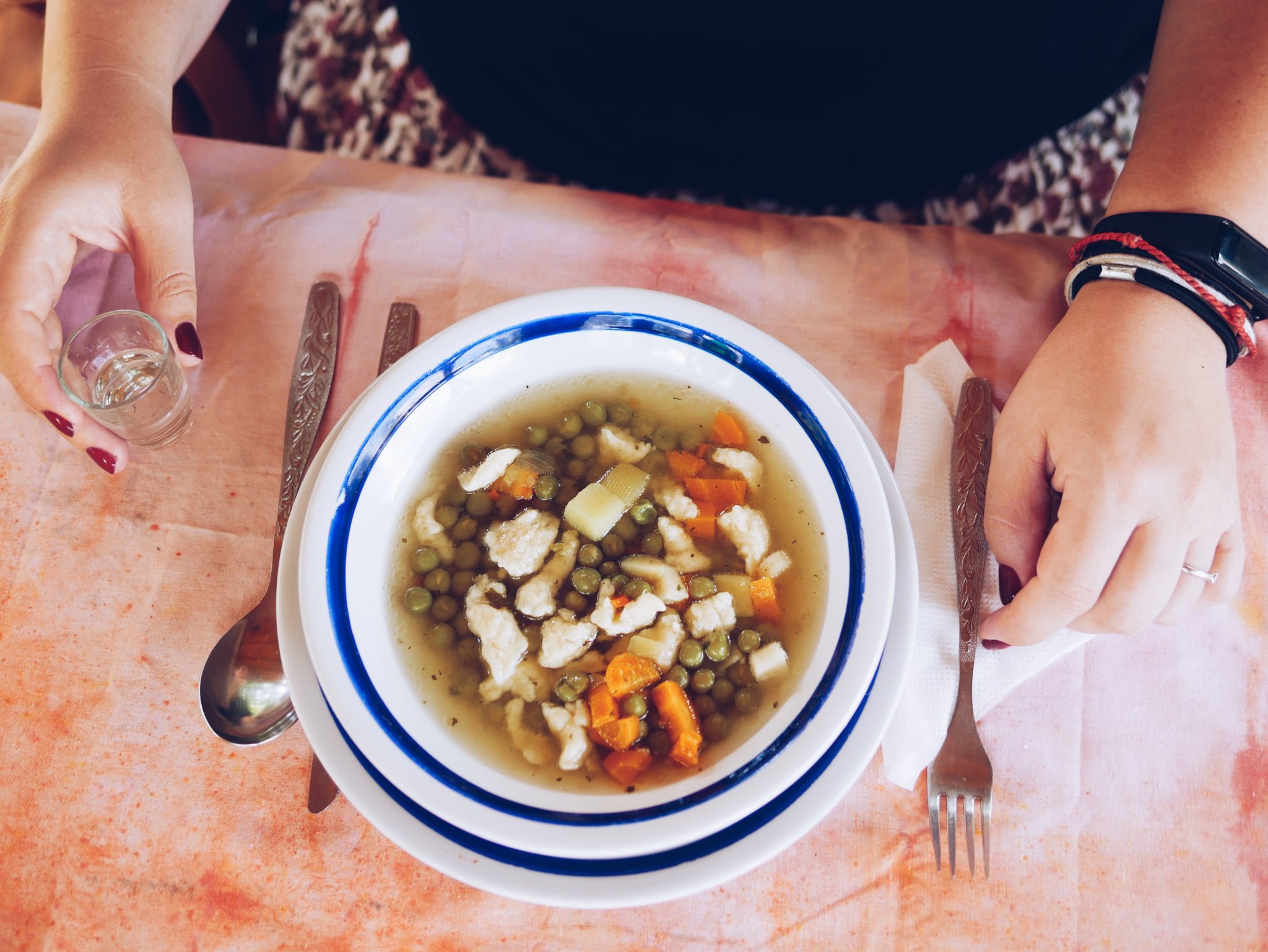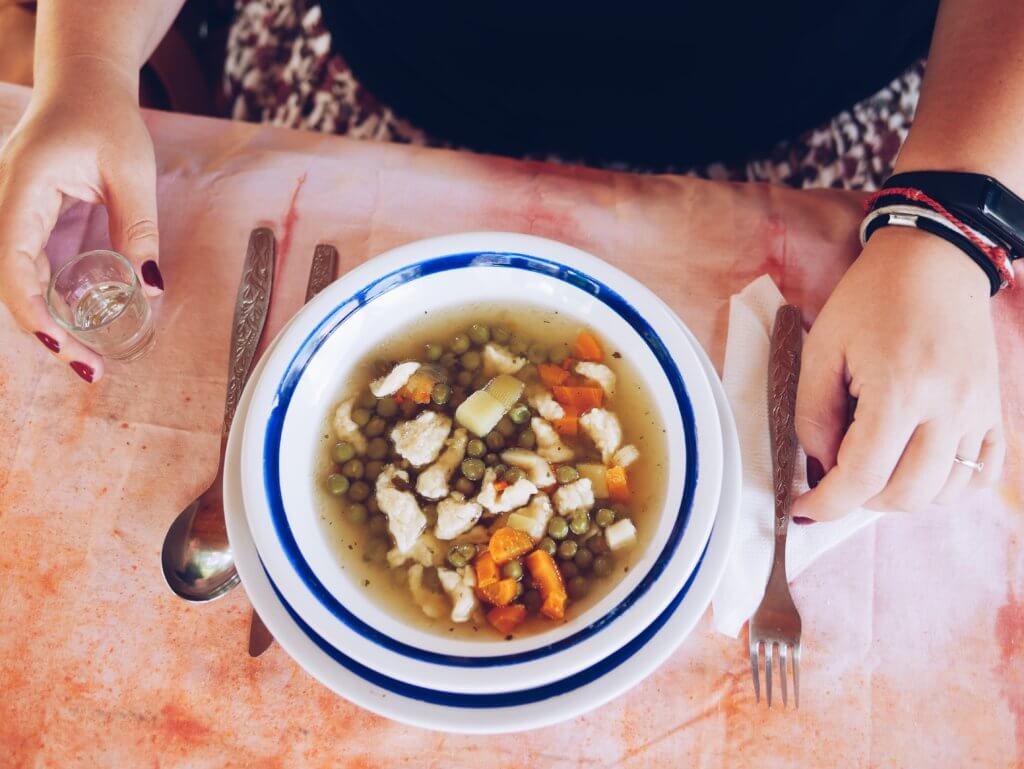 We start off with a delicious vegetable soup with semolina dumplings and followed by a plate of grilled local meats like šunka, Kulen and Kobasica , roasted potatoes accompanied by some Ajvar, a relish made with red peppers and garlic plus some Serbian style coleslaw and cabbage salad. We tried to digest this wonderful food with copious amounts of their homemade quince rakija. We finished off the meal with a strudel. After lunch, we also paid a visit to their Bakery Museum in Mali Iđoš where the kids of the family showed me how to bake over an open fire, Hungary's oldest and most famous pastry, a cake named kürtoskalács aka chimney cakes.

Mountain Breakfast, Zlatibor
The mountain breakfast from Zlatibor is not a breakfast for the faint hearted.If you are a breakfast person with a very generous appetite, you must try the mountain breakfasts from Zlatibor aka the mother of all breakfasts. A humongous spread featuring typical meats, milk and dairy products, cereals and flour, teas, jams and honey, as well as pottery and unique handicrafts that are typical of the region, this breakfast is basically a representation of Western Serbia on a table.
You'll find in the mountain breakfast dishes like the coma inducing "Komplet lepinja" (the meat, egg, and kajmak filled deliciousness )
Then you have the heavenly uštipci aka Serbian dough balls. Made with buckwheat flour and baked to perfection- crispy on the outside and warm fluffy on the inside, these are served in the mountain breakfast with kajmak (clotted cream) or honey and jam.
Potato Kačamak
Kačamak is the ultimate mountain dish that is honest, hearty and very filling – sets you up for a day in the mountains perfectly.
There are a ton of regional variants of this dish across the Balkans but the basics are maize/corn flour (not polenta, as this is too coarsely ground for this dish), pork fat and water to make the kačamak itself. In Zlatibor mountain breakfast they have a few variations of the dish – Potato Kačamak with cheese, kajmak, potatoes and smoked meat and also Corn Kačamak where the Kačamak is made with cheese, bacon, nettle or chard and then dressed with kajmak and the local pršuta.
To top it all off you have the local buckwheat pancakes filled with cheese, kajmak and eggs.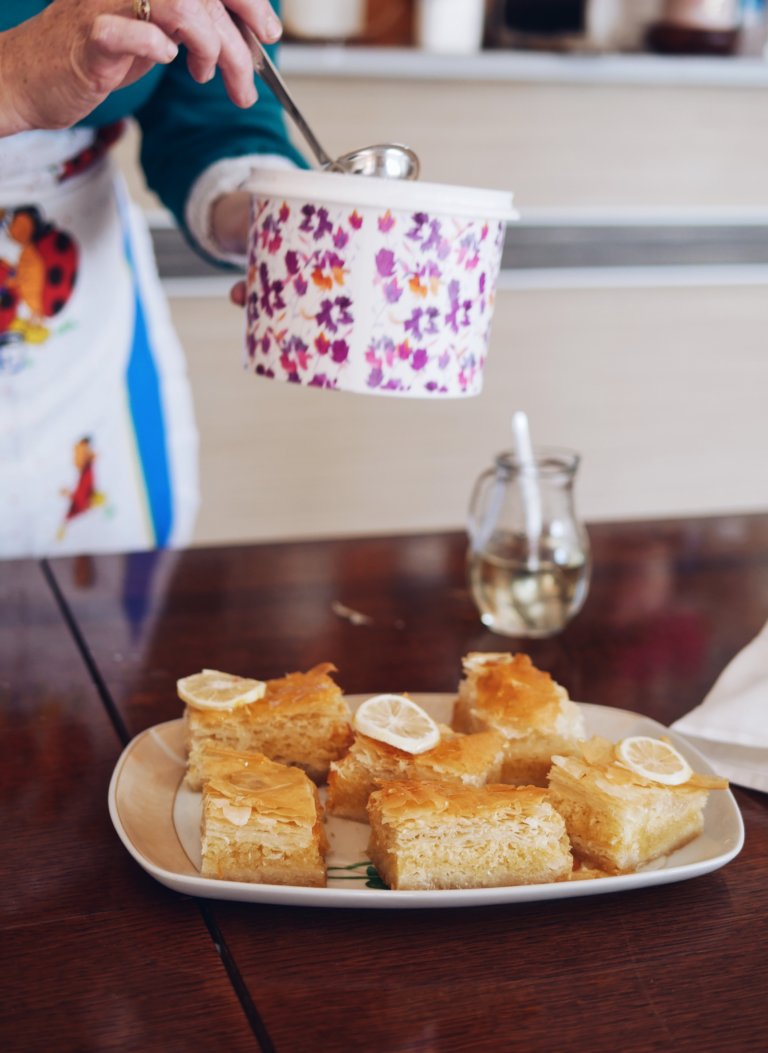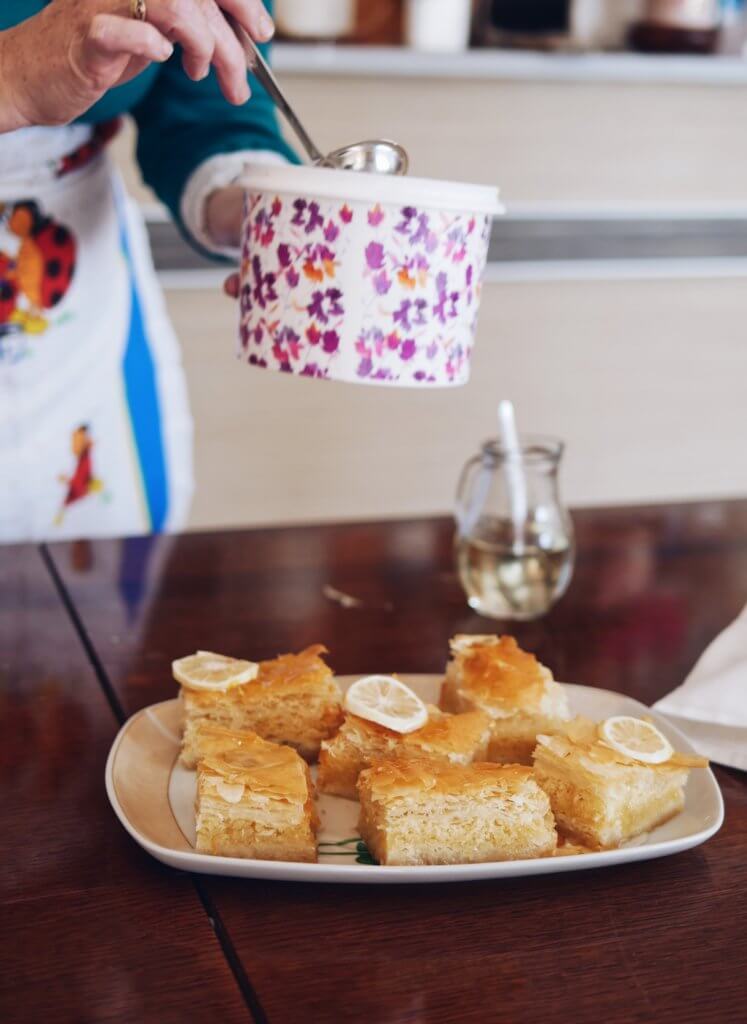 Tulumbe/Baklava and Kadaif
The Ottoman influence on Serbian and Balkan cuisine is evident especially when it comes to sweets. There's a number of sweets you should try. Tulumbe is one of them- a deep fried doughy dessert drenched in syrup. Then there is of course Baklava, a layered pastry dessert made of filo pastry, filled with chopped nuts, and sweetened with syrup or honey. Then you have stuffed Kadaif, a sweet dessert made from pastry soaked in sweet, sugar-based syrup. Balkans love sugary, buttery desserts. Then there is of course Turkish Delight aka ratluk or locum which is also a popular staple in Serbian households.
Where to eat
The pastel coloured Poslastičarnica Orijent is one of the remaining few sweet shops in Belgrade where you can try authentic Turkish-style desserts in Belgrade. They serve everything from sugary syrup drenched baklava and sesame-infused halva to crescent-shaped, walnut-flavoured orasnice. Located on Gavrila Principa street, the quirky Bombondžija Bosiljčić has been satisfying the sweet tooth of locals since 1936 and is one of the last remaining traditional artisanal candy stores in Belgrade. They are famous for their ratluk aka Turkish delight but also serve baklava, kadaif and a range of delicious sweets that are guaranteed to satisfy your sugar cravings.
DRINK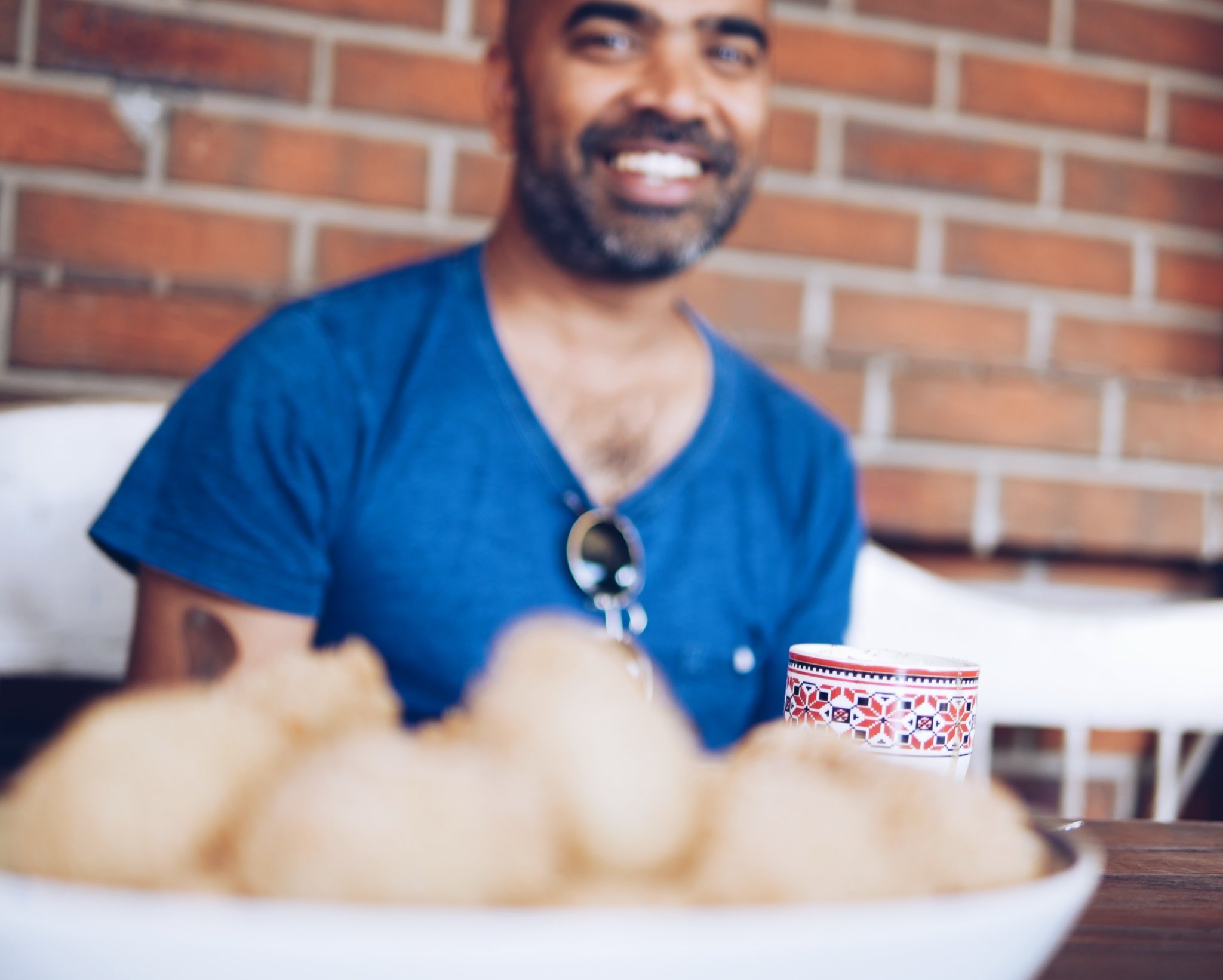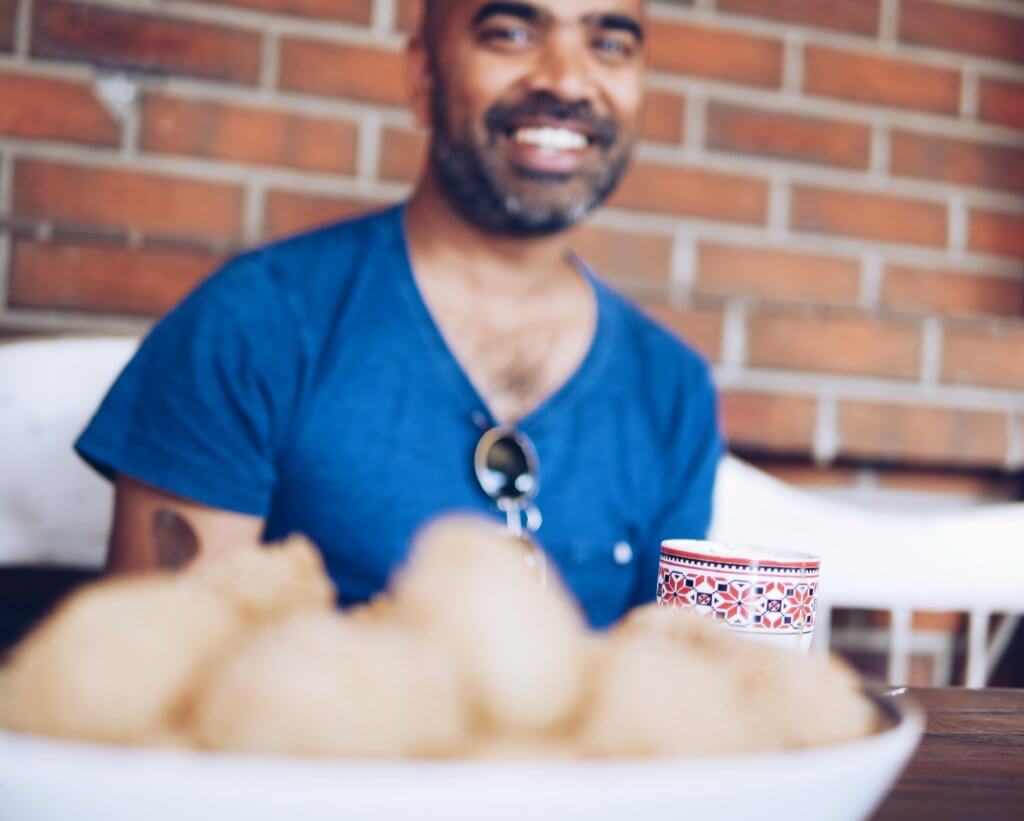 Non alcoholic
The day in Serbia does not begin without a cup of coffee. Thanks to the Ottoman empire, coffee became a staple of everyday life here, well before it became fashionable in Vienna, Leipzig or London. Belgrade was actually home to the first coffee house in Europe. Serbians will enjoy coffee with friends or family and are partial to some Slatko, Turkish delight with their coffee. Sometimes rakija might be served alongside coffee.
In terms of other breakfast drinks, yogurt and kefir are popular dairy beverages consumed along with burek.
Alcoholic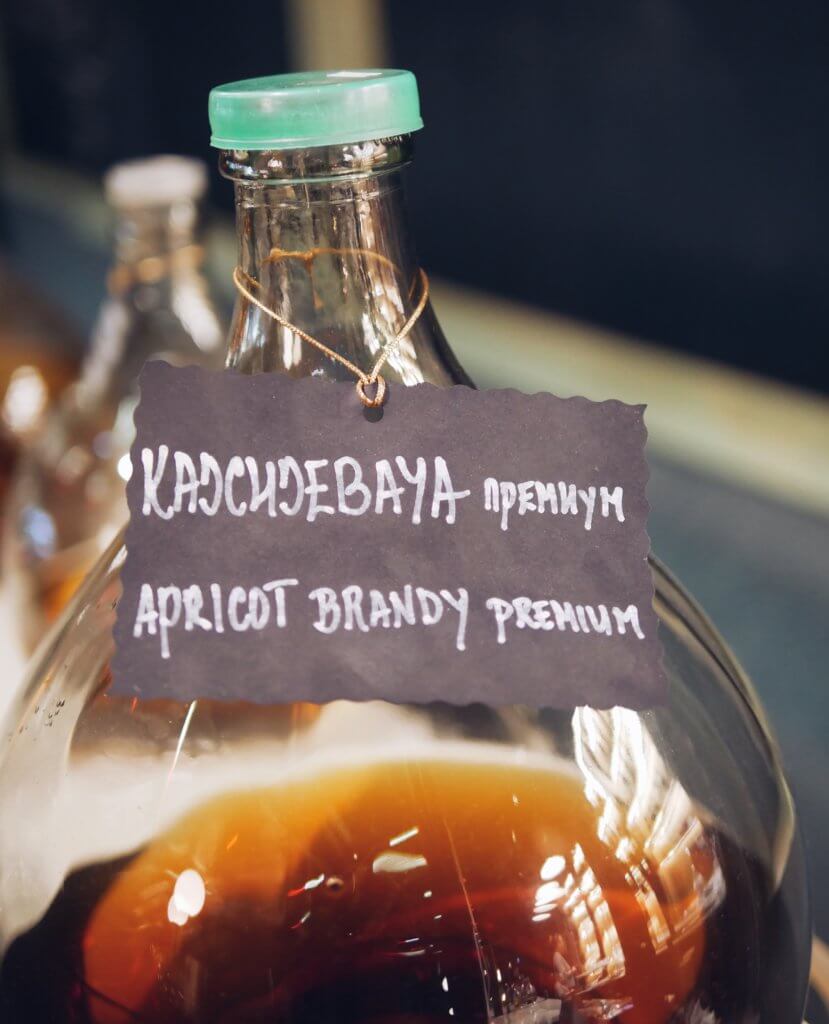 Rakija
Rakija is a general term for distilled beverages made from fruits. There are numerous varieties, which are usually named after the type of fruit they are made from. Comparatively many people brew their own rakija.
Where to try Rakija
The perfect place to sample Rakija in Belgrade is the city's first rakija bar in 2006 called, Distilerija. It is the first open-style, craft distillery for rakija in Serbia where you can find more than 20 types of rakija (fruit brandies) and liqueurs.
They have offer a tour of the distillery and a tasting menu of 4 different rakijas, accompanied with mezze for 1500 rsd per person.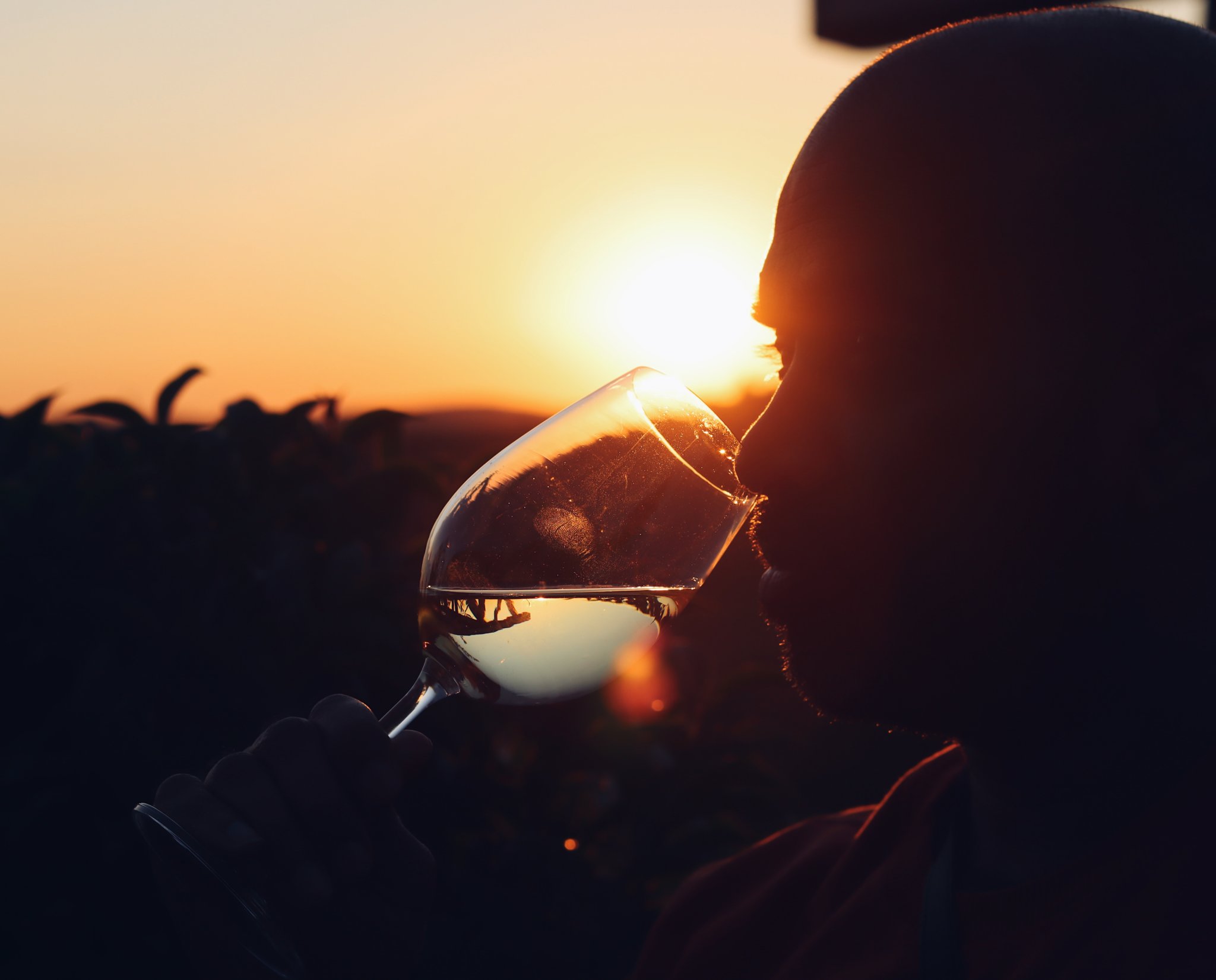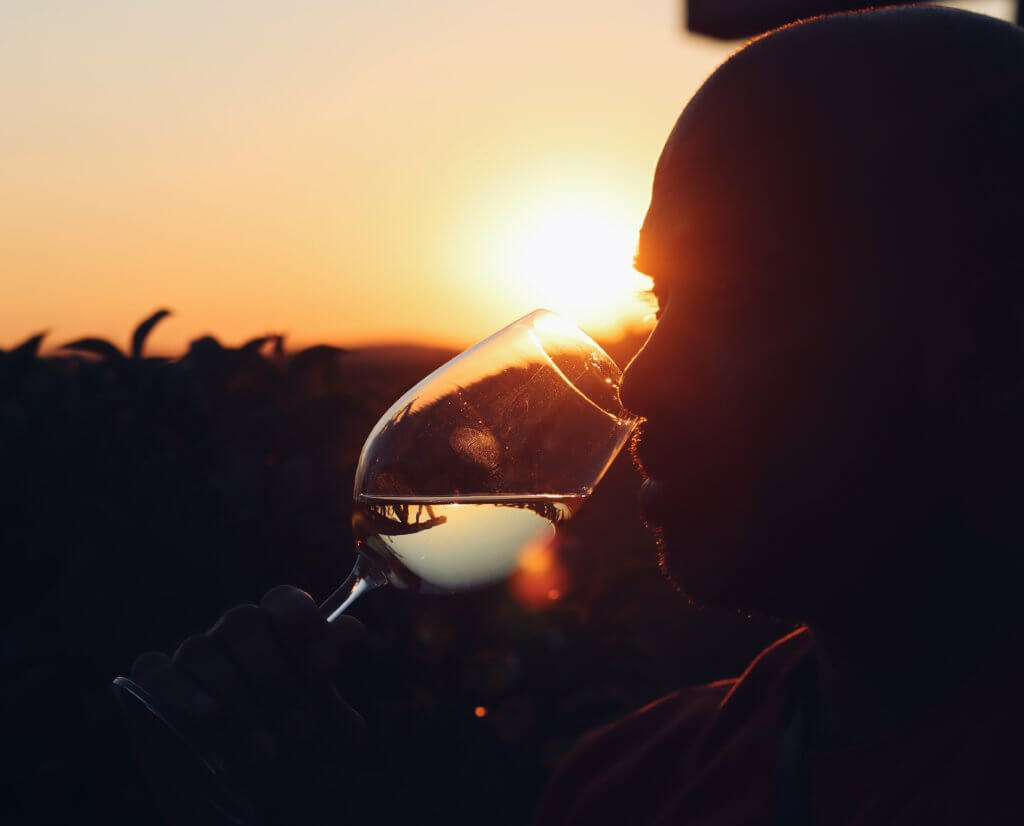 Wine
With over 110,000 hectares of vineyards in Serbia, producing about 645,000 tons of grapes annually, winemaking is now one of the fastest growing sectors of Serbian agriculture. The best place to learn and sample some of Serbia's best wines is the low-lying Fruška Gora that lies in the pancake-flat province of Vojvodina. It is of the oldest wine regions in the world dating back to the time of the Romans when Marcus Aurelius ordered vines to be planted around 1700 years ago.
Spread over 100 hectares of vineyards on the idyllic slopes that descend into the Danube, one of the most famous wineries here is the Quet winery. There's a wide variety of grape types found her that include Chardonnay, Italian Riesling, Pinot Blanc, Pinot Noir, Merlot, Sauvignon White, Traminac and Probu. Another winery worth visiting is the Kovacevic Winery which produces Rhine Riesling, Chardonnay and also specialises in the Bermet dessert wine that is the speciality of the region.
You can book a tour of the Quet Winery, click here ( http://fruvin.com/sr/ ) Also make time to visit the Vinska kuća Kovačević – housing a restaurant where they have a fantastic wine tasting menu or you can choose to dine à la carte and try some of their wines.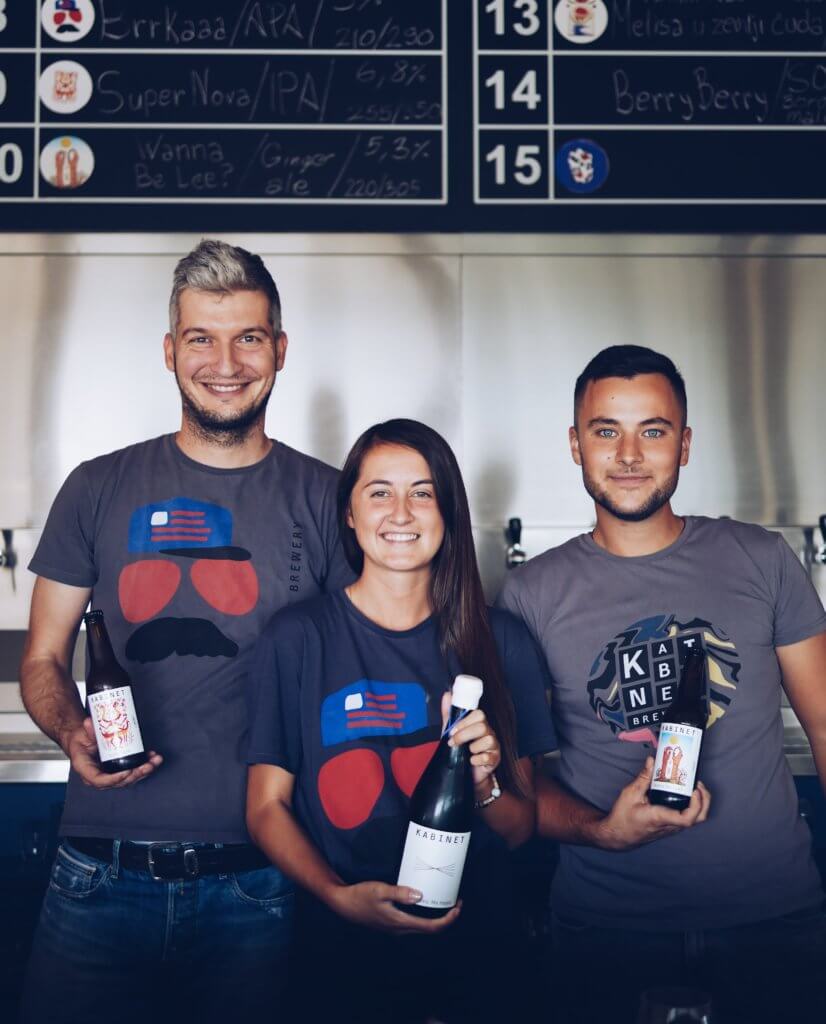 Beer
Beer is a very popular beverage if choice for Serbians and is outpacing traditional favourites like rakija and wine. The largest brewery in the country is Apatinska pivara. There is a big craft beer revolution underway and during your visit you'll be able to discover a wide number of excellent local microbrewers.
I recommend definitely trying any craft beers from Kabinet. They kickstarted the Belgrade craft beer revolution in 2014. They have everything from IPAs to porters and spicy beers on offer. If your schedule permits pay a visit to their brewery in Nemenikuće on a sunny slopes at the foot of mountain Kosmaj.
View this post on Instagram
Disclaimer: I visited Serbia along with Sabrina, thanks to a kind invitation from the Serbian Tourism Board. This trip was created and managed by me in association with the Serbian Tourism Board. As always, I maintain full editorial control of the content published on this site.