'Görlitz is a fantastic little town. You don't know what to expect.'
Tony Revolori-'Zero' from 'The Grand Budapest Hotel'
Few cities in Germany divide opinion like Görlitz.
It is hard to see why at first glance. During my first few hours of discovering this city, I walk around carrying my jaw in my hands. It was as Tony Revolori claimed, quite possibly the most unexpectedly beautiful city in Germany I had visited in recent years. There are 4000 listed buildings within the city (Note: Görlitz was spared of any bombing during WW2). To give you some context, Berlin has only 1500 listed buildings. From Baroque to Renaissance to Neoclassical to Art Deco, within a short walking radius, you can tick off all the major architectural highlights of the last few centuries. Hollywood, no surprise has come calling in the last few years. However, like most post reunification cities in the east, the city remains a work in progress. It feels a little unloved and rough around the edges. Which is fine by me. I enjoy imperfect cities.
Walking through Görlitz at times, feels really like a city stuck in time.
Globalisation never arrived here. There are no hipster cafes nor hipsters in sight. Very few young people. The 25 years since the fall of the Wall, has seen young people leave Görlitz and East Germany en masse creating a massive vacuum. Now, the city is trying to figure out new ways to attract youth and investment. Boosting tourism and inviting people like me I guess is part of their strategy to reignite interest in the city. However, there are massive challenges ahead. While strolling through the main square of the city, I spot with a shiver down my spine, the campaign booths of the right wing party, the AfD. I had arrived at a pretty critical moment in the city's future.Just 3 days later the city was going to make a choice between the right wing AfD candidate and Angela Merkel's Christian Democratic Union. This city was definitely on the edge, hanging off a precipice and I was right there in the middle of it all, walking the fine line between its beautiful past and uncertain future.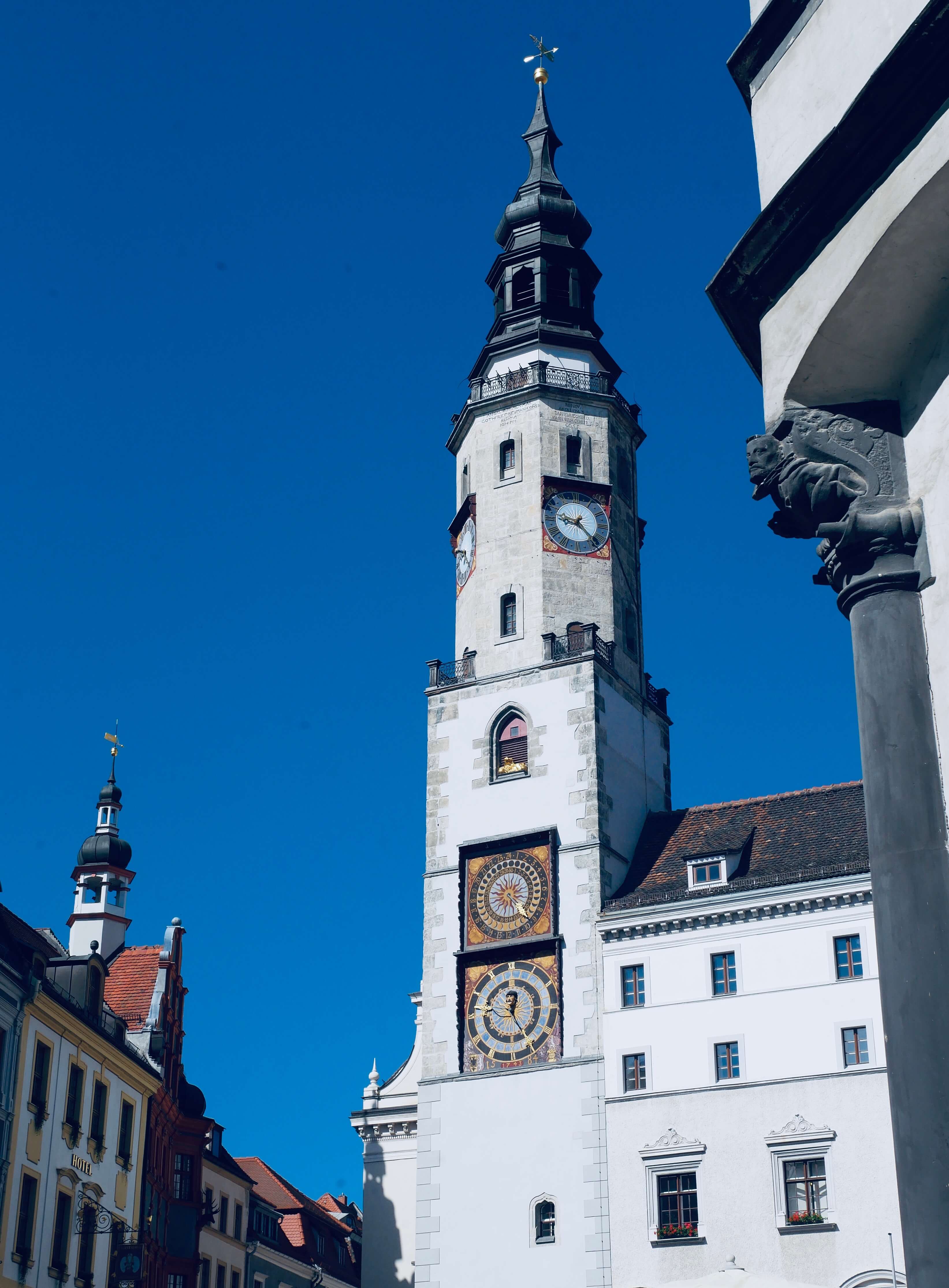 9.30am. We have just a day to explore the city.
I arrive with my other half, Sabrina at the bus stop in front of the ragged exterior of the train station. A few wrinkly faced locals are basking in the sunshine. The moment we arrive, our shadows towering across the cobbled streets, we are greeted by a few raised eyebrows and a grunt or two. I choose to ignore the prying eyes burying into the back of our heads. Few more odd stares and turning heads greet us during the 10 minute bus journey. I saw a man with purple eyes and he almost scared me. It is not uncommon to attract bewildering stares where we go : Sabrina and I make an incongruous pairing – she is a blue eyed, tall German lady -6ft 1 to be precise and I'm 5ft 5. We definitely spice up proceedings wherever we go.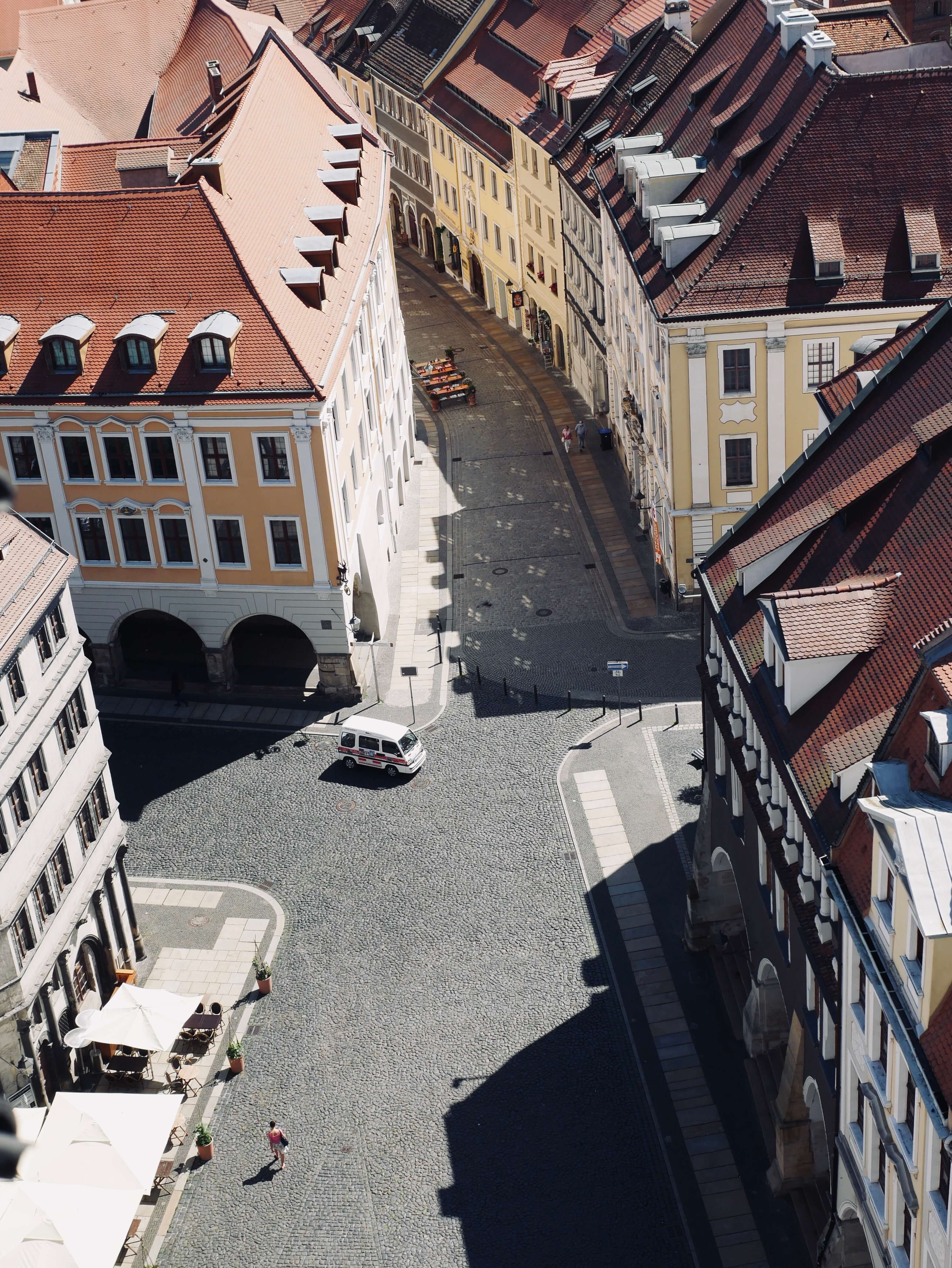 The bus drops us off near the historic centre. We glide over cobbled streets, soaking in the relative calm of the early morning. Pigeons coo at us, from the spires of glorious candy box buildings. The more we venture into the city, the more bewitching the architecture -from Baroque to Renaissance to Neoclassical to Art Deco – walking Görlitz is a time traveller's dream. Every corner, every twist and you're in Babylon Berlin or 1920's Paris.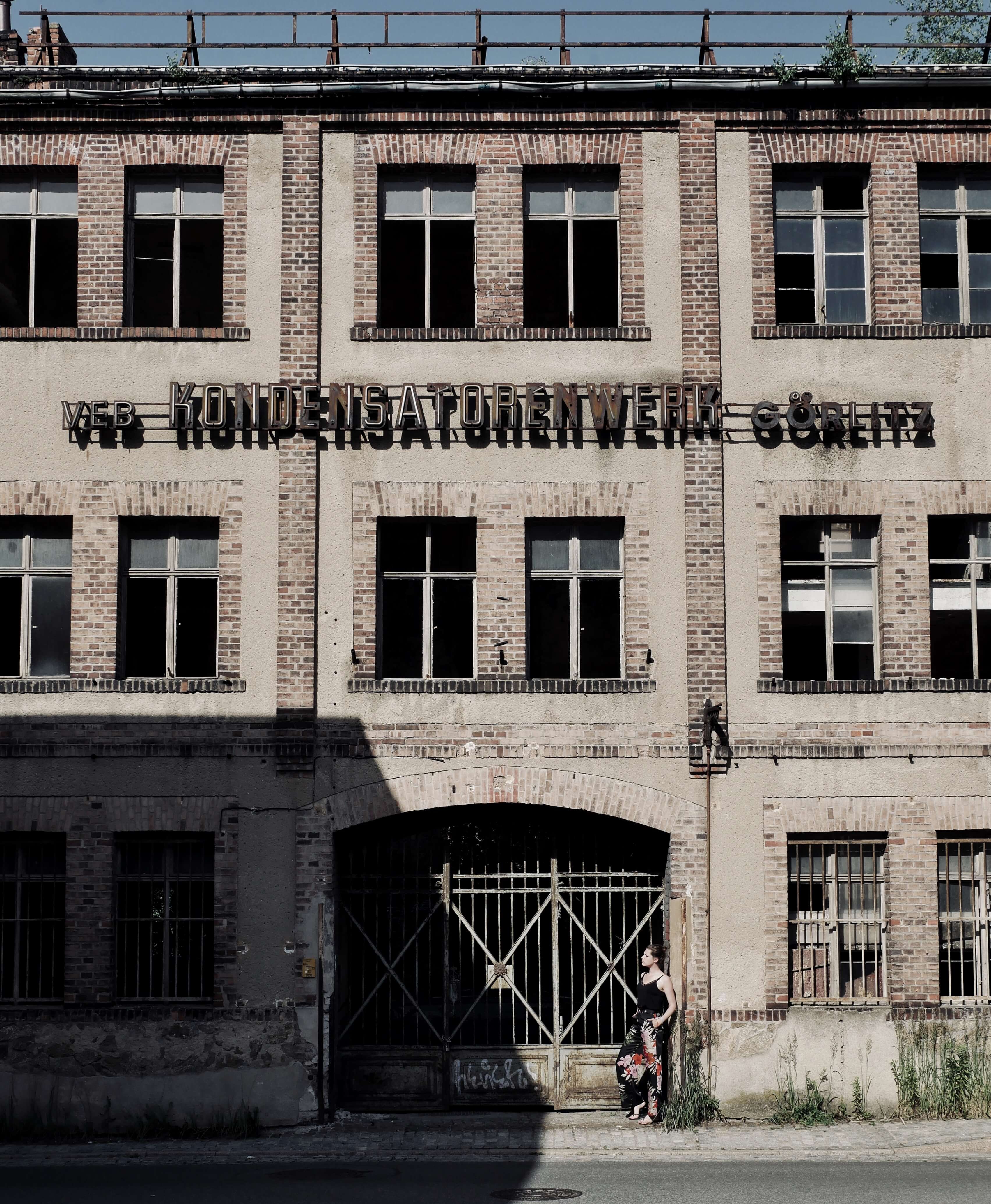 Many of the buildings in Görlitz are still in desperate need of restoration.
Some of the buildings are like the set of a Western film and boarded shopfronts with missing windows appear as if looted by cowboys. However, money seems to be coming into the city. A mysterious benefactor over the last few years has spent more than 10 million euros to help restore the buildings to their former glory. Based on extensive googling and reading multiple conspiracy theory websites, my money is on Nicholas Cage. Or probably someone within Hollywood. The city has been a popular site for shooting Hollywood movies like the Reader, The Monuments Men and Inglorious Basterds, earning it the dreadful moniker, 'Görliwood'. The most iconic movie shot here remains Wes Anderson's delightful ' The Grand Budapest Hotel'- one of the reasons that initially attracted me to the city.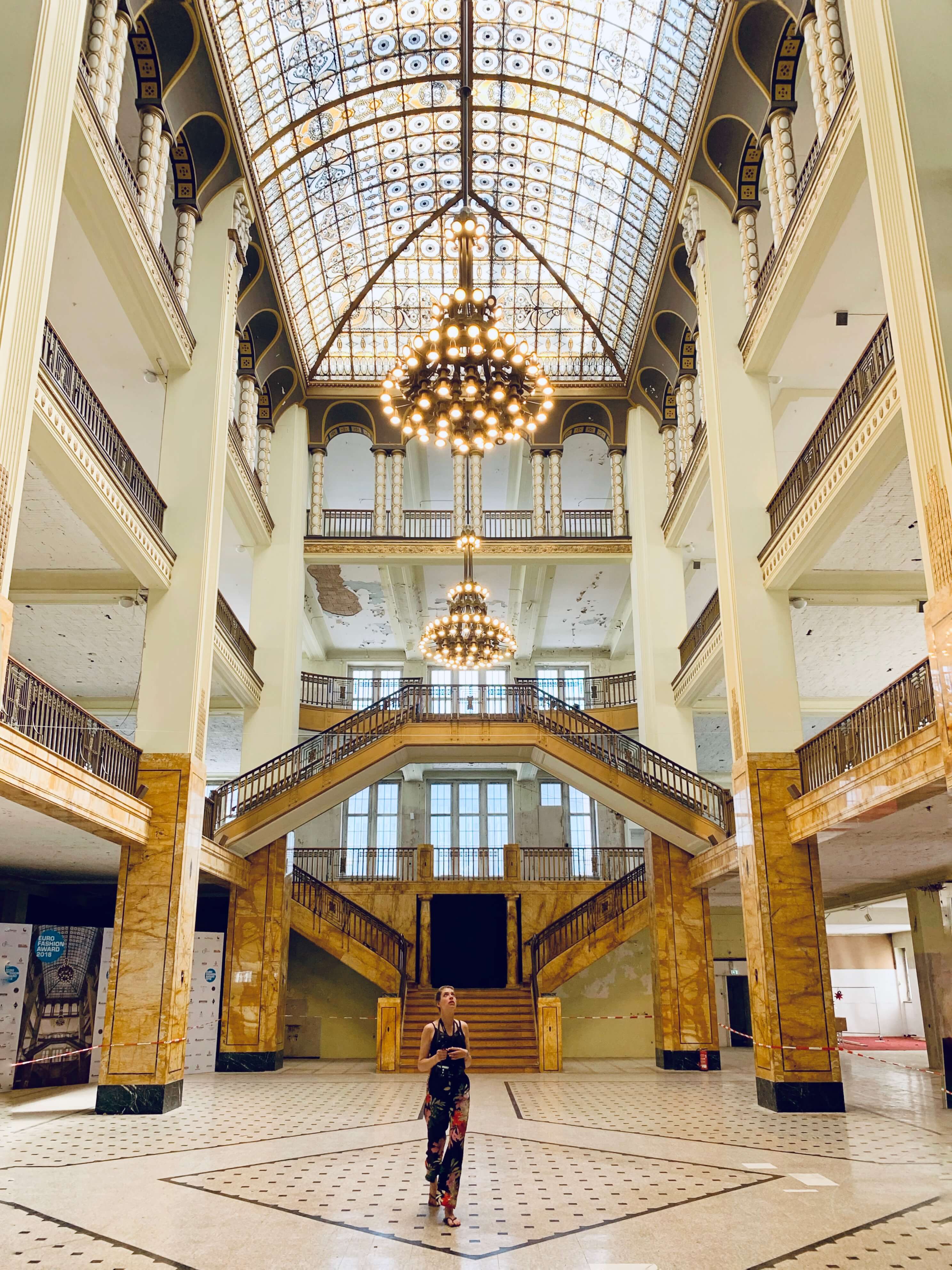 One of the pearls of Görlitz's magnificent architecture is the setting for the Grand Budapest Hotel. Yes, it really exists!
The setting for the Grand Budapest is an abandoned, Art Nouveau department store in Görlitz called Görlitzer Warenhaus (An der Frauenkirche 5-7 ) Anderson found the space while location scouting for the movie and promptly fell in love with its unique, historical architecture. Thanks to the fantastic privileges of my day job, we got a whole hour to explore the building. ( Note: You don't need to be a blogger or have 5 million klubeks to visit 'The Grand Budapest Hotel' -you can visit the building for FREE on Thursdays, Friday evenings only).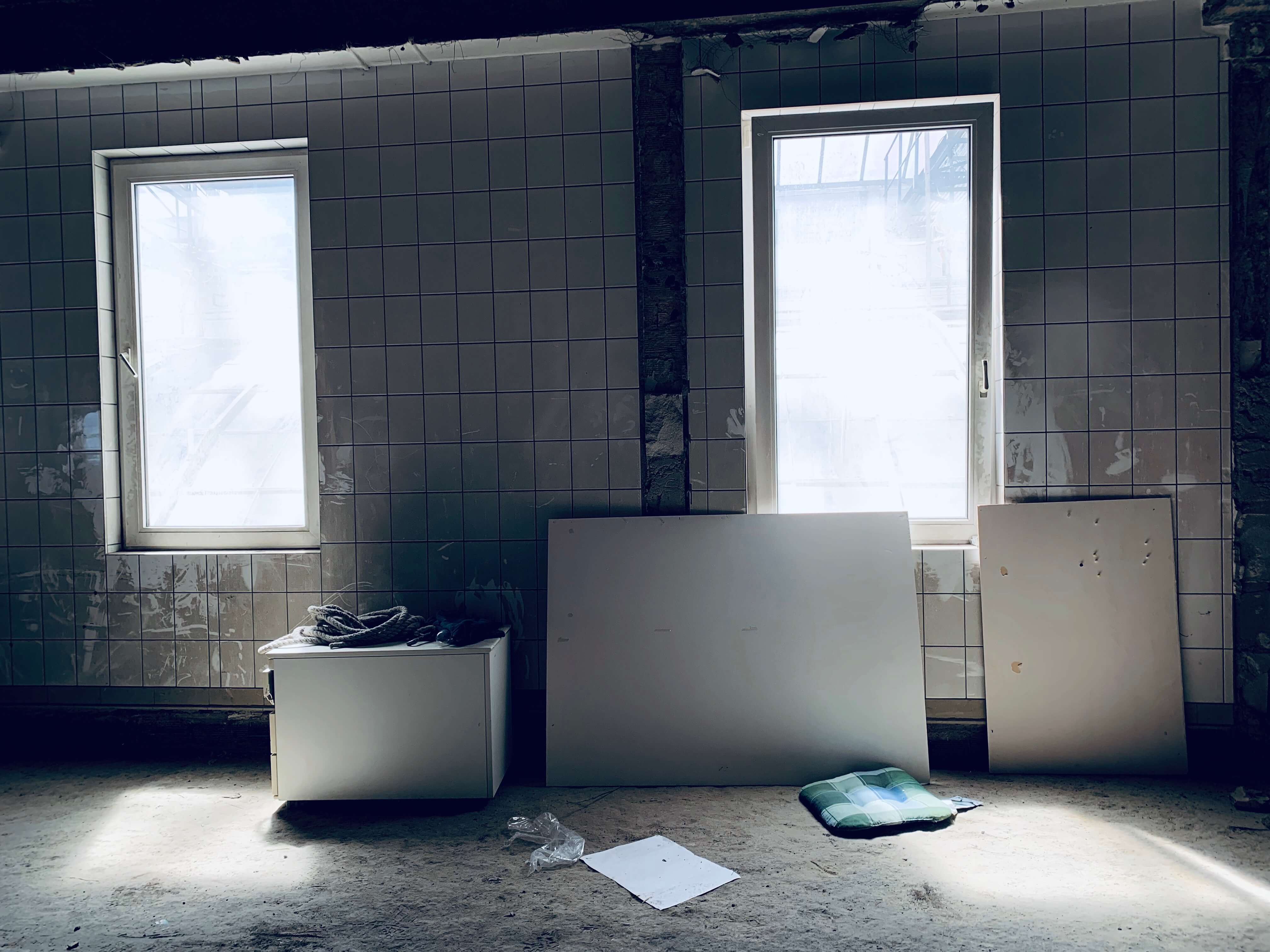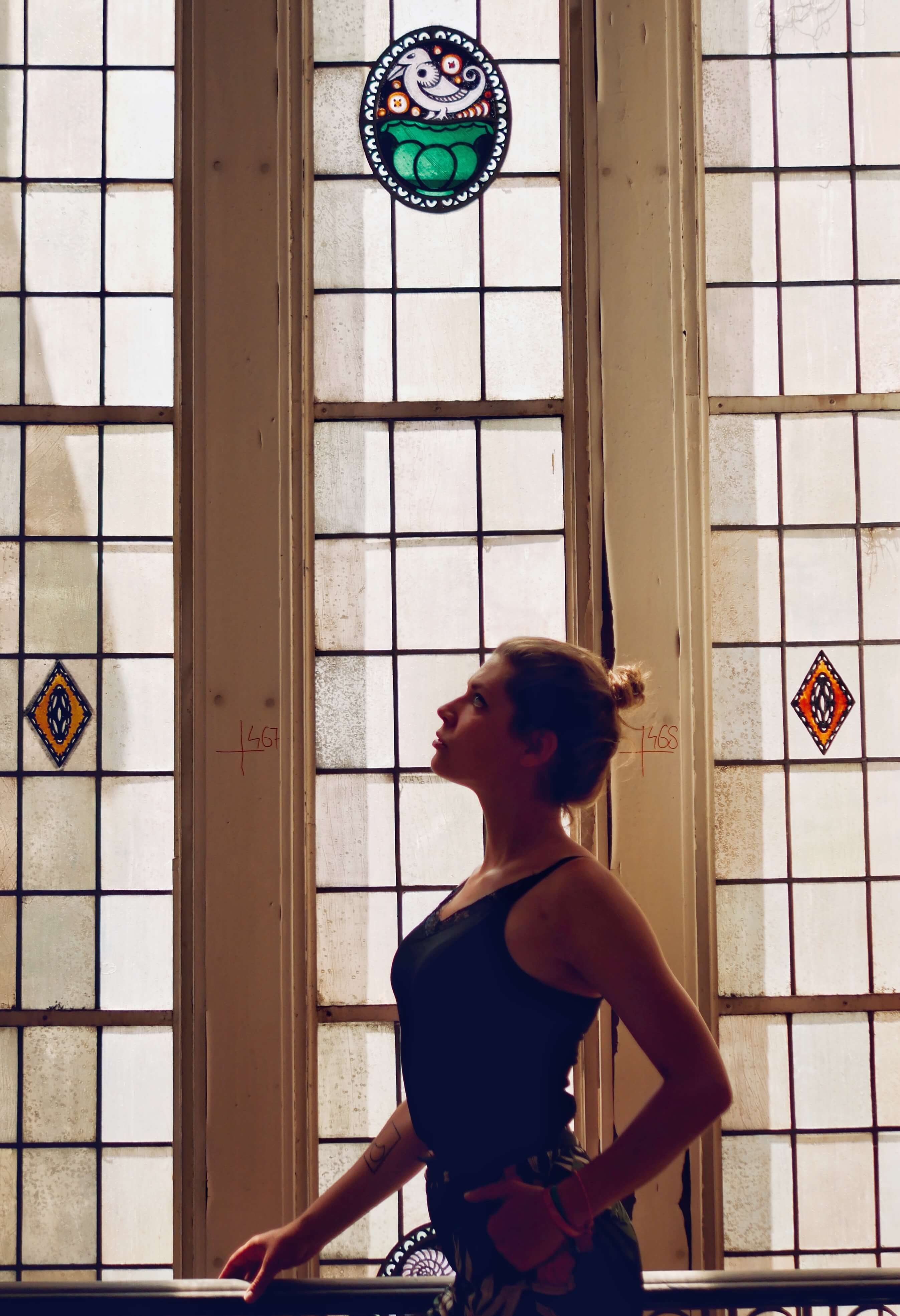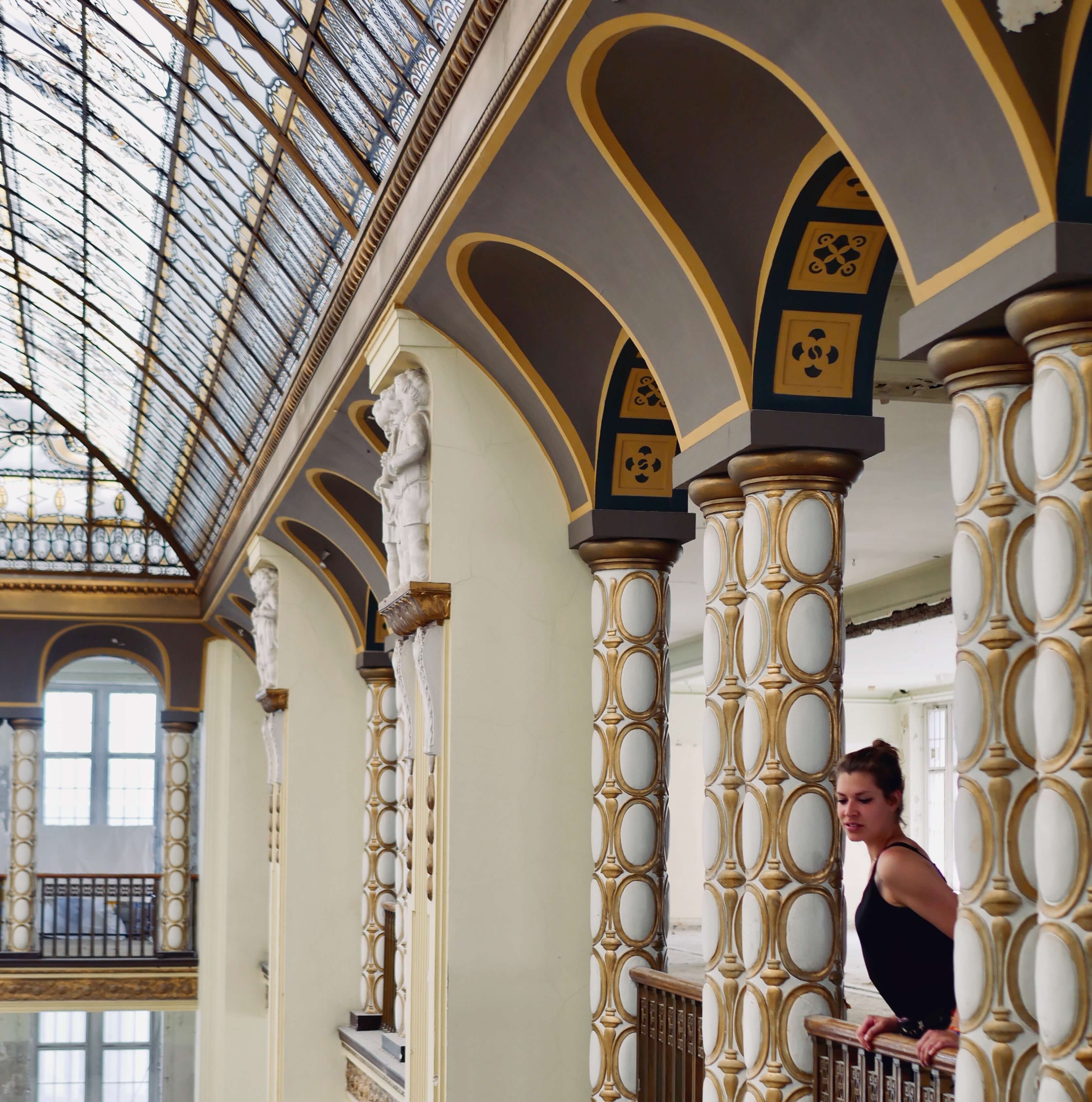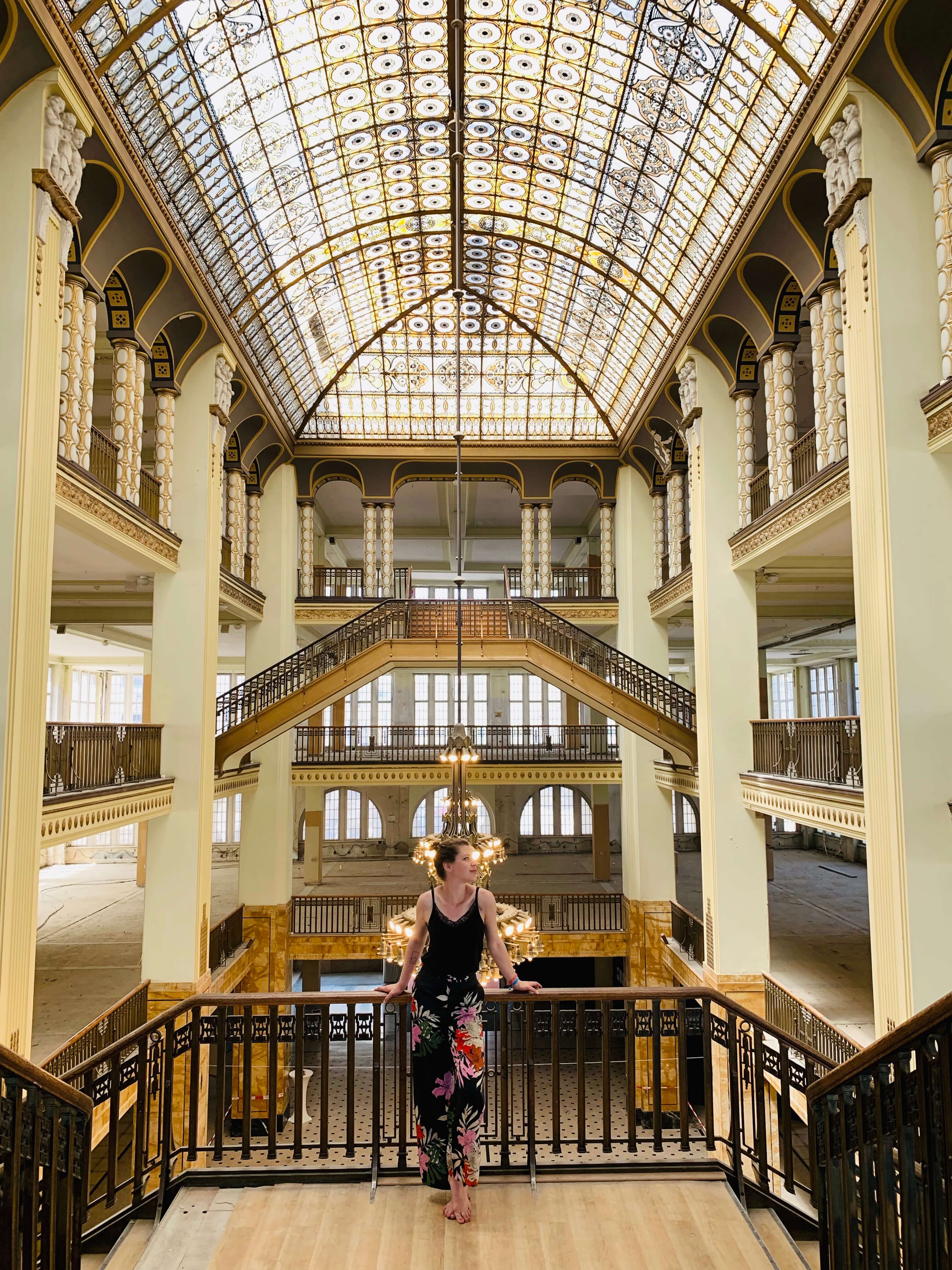 There's something about a movie setting coming to life right in front of your eyes.
I recognise the exquisite stairways, elevators and atrium of the building from the movie. At one point, I try to stop taking photos and keep my phone back in my pocket to soak it all in. The fact that the building remains abandoned and empty just adds more to the illicit charm of visiting the place. Visit soon though, the building has been acquired with plans to redevelop it into a luxury goods store.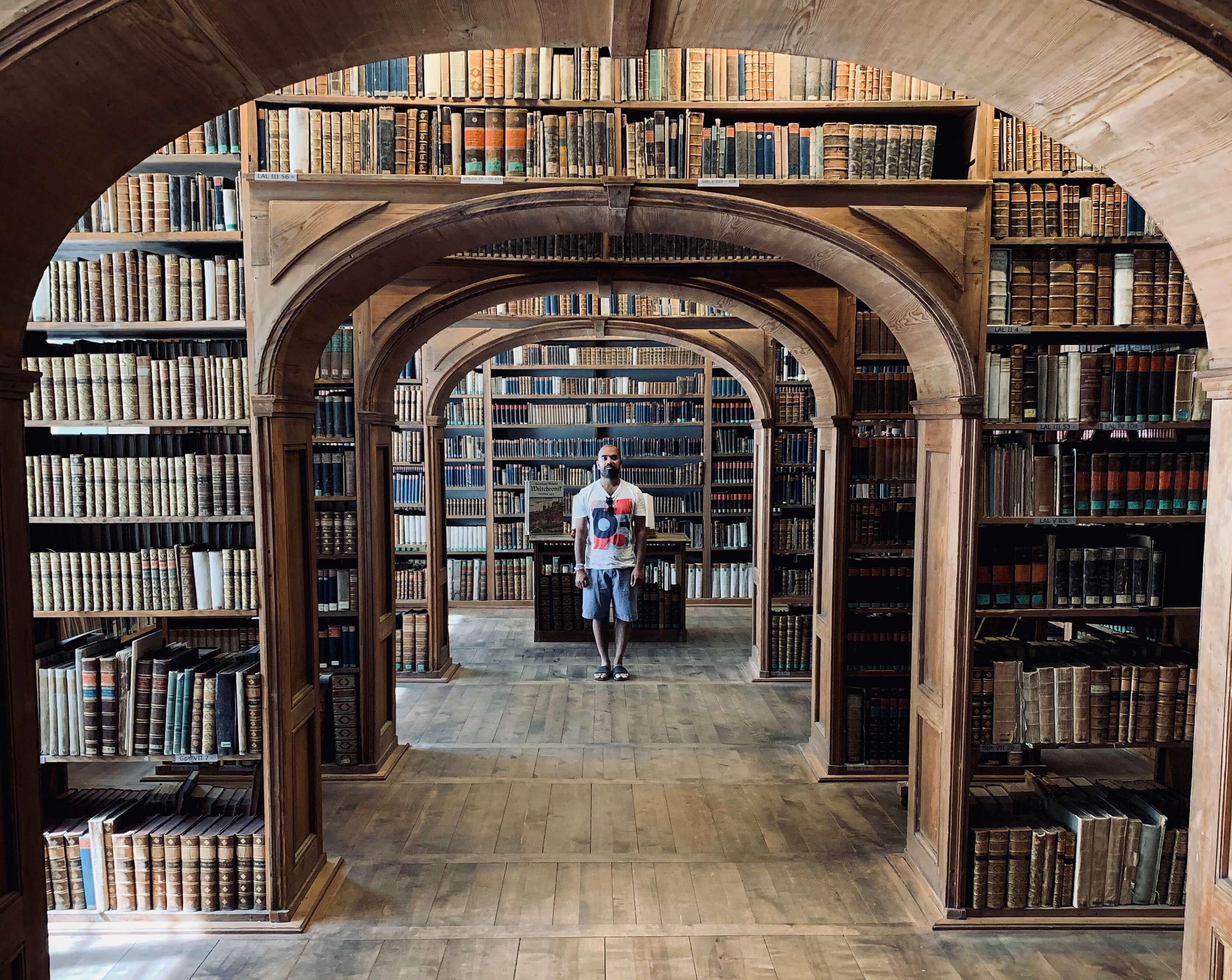 Görlitz has a few more surprises in store.
Barely a few minutes walk on Neißstraße 30 is another gorgeous baroque house – The Kulturhistorisches Museum (cultural history museum), which houses the stunning Upper Lusatian Library of Sciences. The unique and beautiful library is arranged with beech shelves in the middle of the room, instead of along the walls. This gives the feeling and the grandeur of being on a stage and it really takes your breath away. The library often features on lists of the most beautiful libraries in the world. It contains 40,000 volumes with numerous rarities and treasures, including medieval manuscripts and incunabula, which were the earliest printed books before 1501.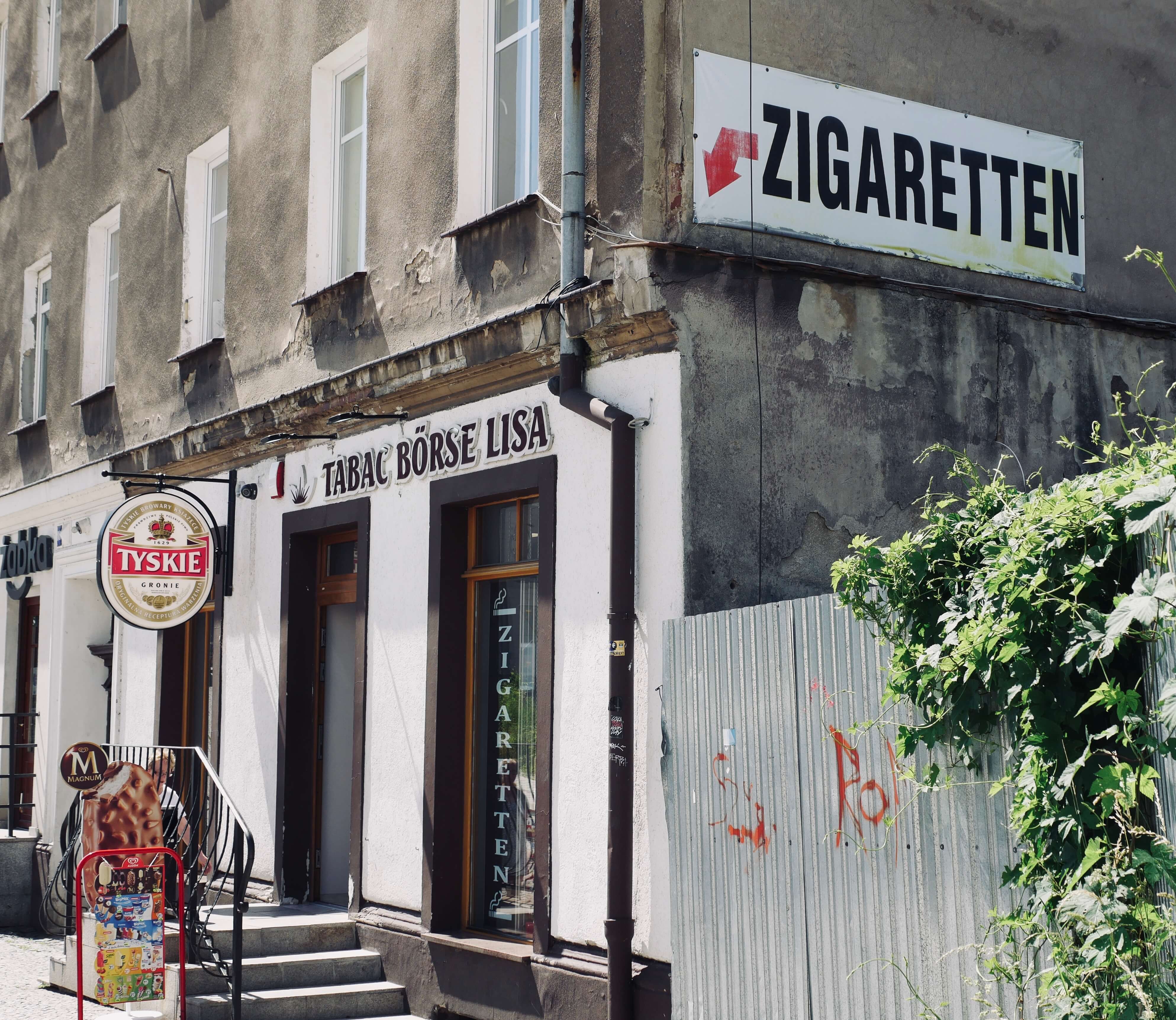 A city divided or a city reunited?
A short walk across the 200 feet wide Altstadtbrücke (Old Town Bridge) brings you to its other half, the Polish city of Zgorzelec. The proximity of the two cities makes Görlitz a unique location where you can experience two countries and cultures in one place. I walk across the bridge and feel a shiver, the hand of history run down my spine. The bridge only became fully accessible as late as 2007 when Poland gained accession to the EU. Imagine a world with boundaries, walls and where we live divided. Separated. Thankfully here there are no borders, no longer any border checks. No one raises an eyebrow as I cross the line that demarcates the border between the two countries. Signs in a drab font advertising cheap cigarettes and booze giveaway the fact that I am now in Poland. A pretty row of restored houses lines the riverbank on the Polish side. One of them bears the plaque of its most iconic resident, Görlitz's most famous son, Jacob Böhme, a philosopher and Christian mystic born in the 16th century. We enjoy a symbolic Zywiec beer at one of the restaurants lining the river. I don't have zlotys with me but the owner happily accepts euros. I sadly don't have time to see Zgorzelec. However, later when I climb to the top of the tower hall , you are told the tale of two cities. On one hand you see the beautifully preserved dreamy spires and roofs of Görlitz and then in the distance beyond the pretty pastel coloured houses on the riverfront you have the not so pretty modern reality of its twin city – rows of prefabricated concrete Socialist architecture. Ultimately it is a matter of personal taste but it is fascinating to see two cities with such split personalities and rapidly contrasting architectural styles, side by side.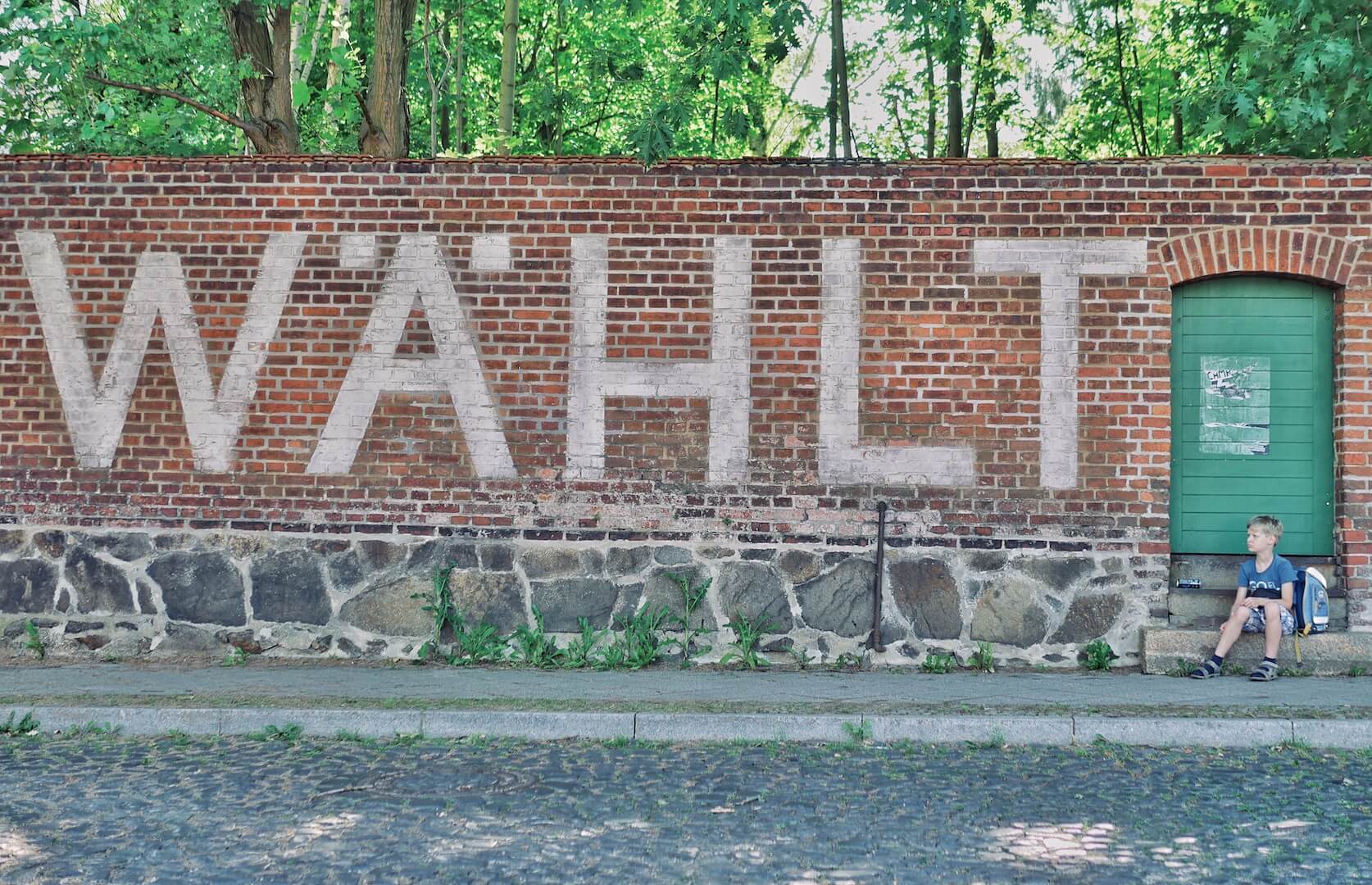 I am coming to the end of my day with more questions than answers walking around Görlitz.
I have enough beautiful pictures and tons of historical facts to write a powder puff piece about the city but I'm still lacking any critical insights about the city itself. Just then, by some miracle, a door opens.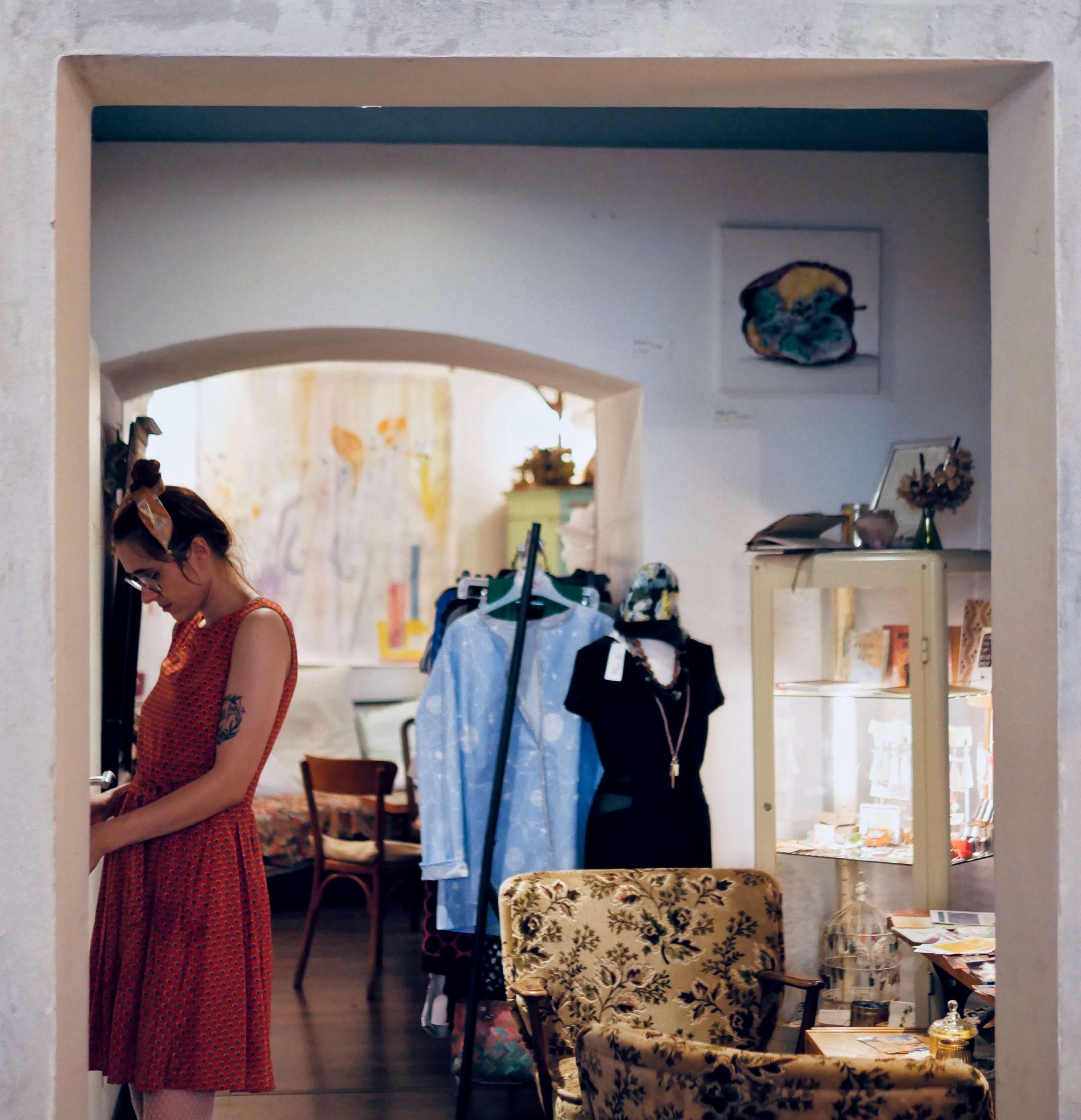 A cafe I had passed twice earlier in the day caught my eye again.
It was called Cafe Herzstück. ( Weberstraße 2). I think it was their outdoor menu board -the day menu, with all the tasty vegan and vegetarian options colourfully presented, that had piqued my curiosity. The cafe seems to be wrapping up for the day when we walk in but the owner Nancy welcomes us to linger for awhile. On the surface it seems like any other normal, cosy cafe but my eye spots a row of Singer sewing machines. I am curious to know more and Nancy was more than happy to tell me more.

'We are the first dedicated sewing cafe in the area. We are also a meeting point for locals in the city and offer it to them for meetings or presentations. You'll find every week everything from book readings, concerts to praline chocolate making classes and table football classes-something for everyone here. Knitting clubs have spread like wildfire over the past few years across Germany and I thought why not in Görlitz .'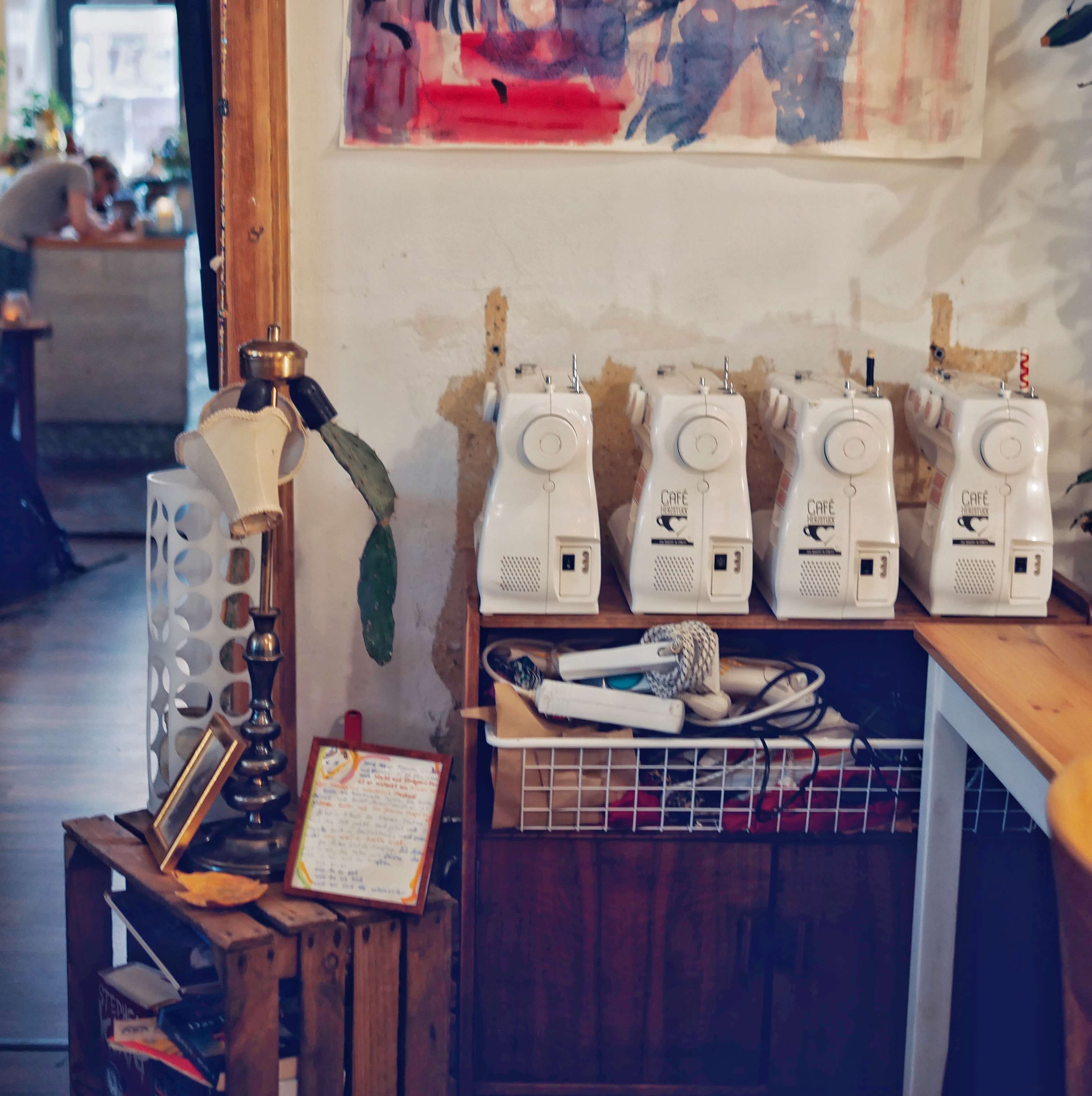 I am curious. I could see a concept like a sewing cafe totally working in Berlin. Why Görlitz?
'I wanted to show a different side to Görlitz , a creative, open minded Görlitz . We have a good energy in the cafe and want to attract open minded people with good energy to our cafe. Sure, it is more challenging to open a business here than say in Dresden or Berlin but we want to give something back to this place and make a difference. Görlitz deserves another chance. The city has a lot going for it despite the negativity. Nature is close to us. There's a lot of loved and unloved buildings. History lives here, small things but important things. Walking around the city reminds you to be a child and in awe of life. Sure. There's a lot of shit going in Görlitz but in the end I want to devote my energy to good things and good people. This cafe is the embodiment of my energy.'
I can't say how much I wanted to hear those words. Something huge, a force bigger than life, swept over me and released the tension, the sadness. I could also see it in Sabrina's eyes. We gave her a huge hug. Even though the cafe was closed, she gifted us her bestselling chocolate vegan cake. Its delicious. We say goodbye and hope to return one day soon. We're thirsty for one last beer before we return to the hotel. Nancy directs us to her friend, Alexander Klaus up the road who runs Brauerei Bierblume.
Amazing how once you connect with one amazing local, how the city opens up to you.
We had passed Brauerei Bierblume (Neißstraße 8) a few times and it looked quite ordinary from the outside. On the inside it is a different story. Formerly a brewery dating back to the 18th century, we walk in and discover a beautiful inner courtyard where locals on wooden benches are supping their beer from large glass mugs. There's a heavenly silence, coming here feels like entering an oasis, a sanctuary. After mentioning Nancy's name, Alexander Klaus's face lights up and he sits down to tell us a bit more about Brauerei Bierblume.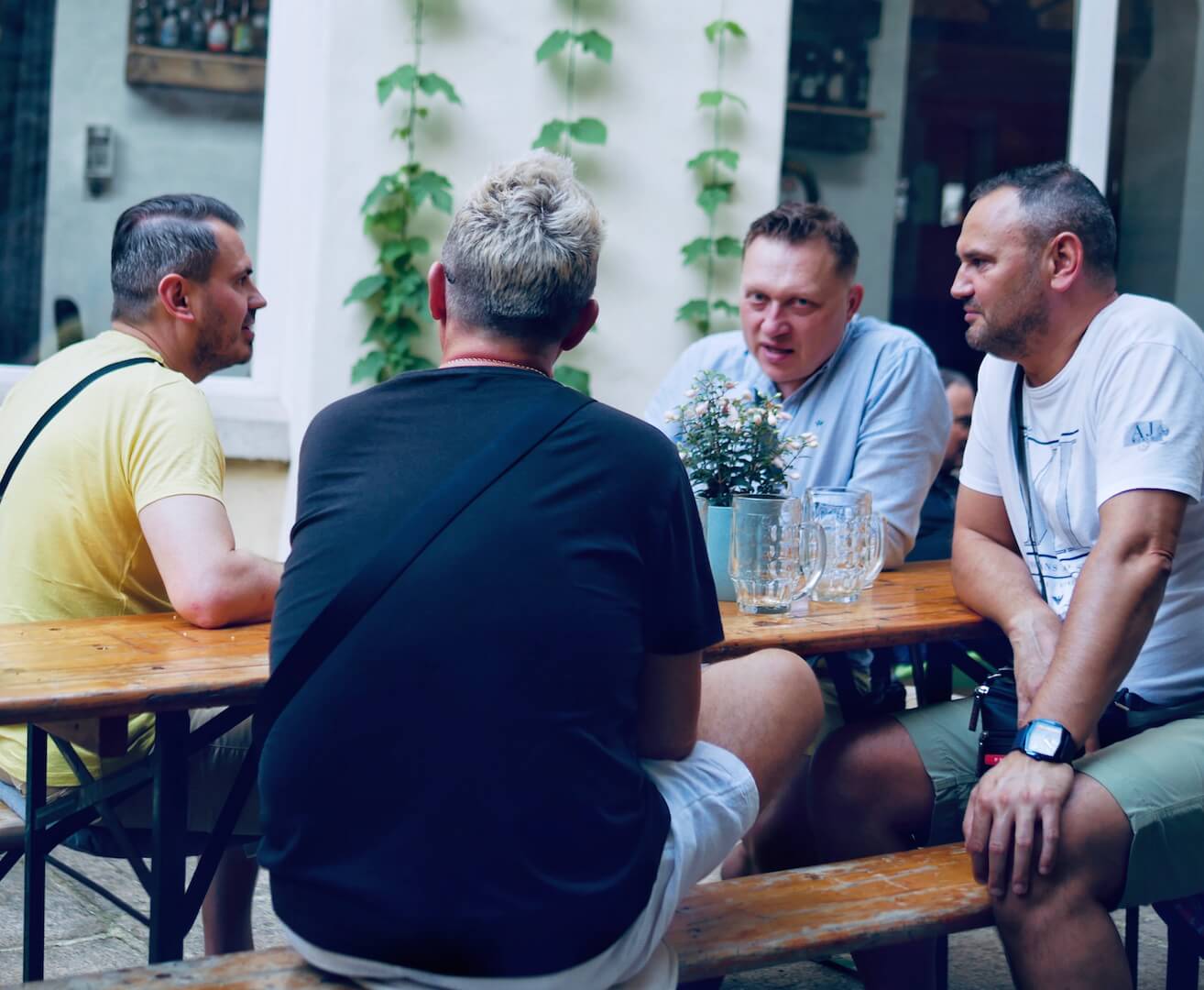 The name Bierblume derives from its humble origins: the microbrewery started out from a little flower shop -'House of Blume' before they moved into the current premises. Alexander's wife Diana was the original inspiration for the idea. She was a beer sommelier and only after meeting her, did Alex develop an appreciation for beer( I only drank whisky!).They decided to move back to Saxony and study management. During their studies they started brewing beer for fun for their professor at university and friends. That's where their hobby of brewing beer flowered into the current business idea. They have customers from all over the world with clients ranging from east Siberia to Washington.
Same question, I asked Nancy, I had to ask Alex. Why Görlitz ?
'I grew up here. We chose to live here because it's a very beautiful city. It developed from a dirty rundown East German city into a little pearl, a little hidden gem'
I leave the place on a high. Maybe it was the beer speaking. A trick of the mellow, fading light of day. Or maybe it was just the silent beauty of the place, the cobbled streets empty again and devoid of tourists.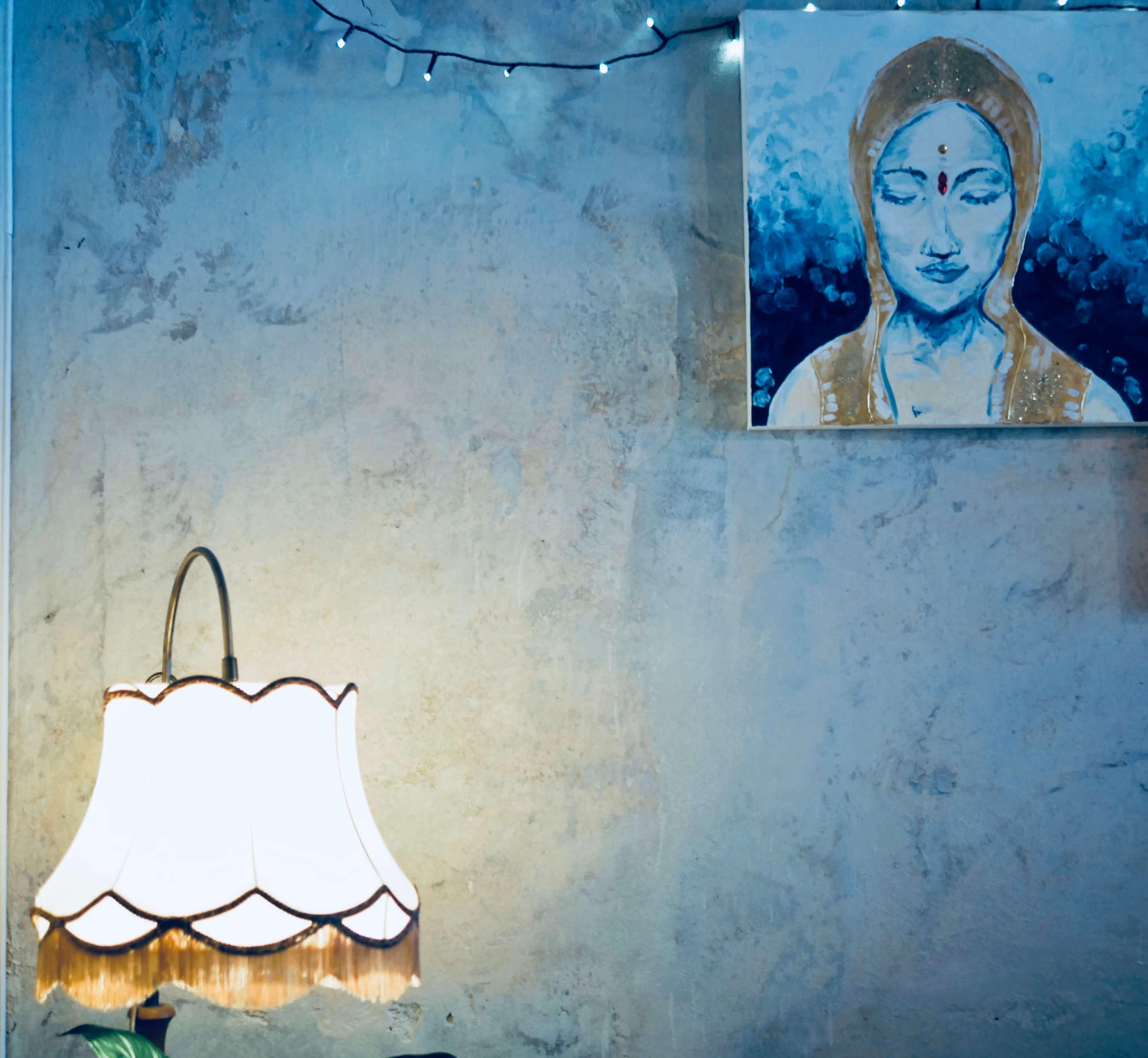 I leave the place with hope in my heart.
As often with places that are on the margins, that have been left behind due to the lack of economic progress or opportunities, there's always a sense of bitterness of what could have been. I've seen a similar story unfolding in Britain, especially the old industrial and mining towns where economic opportunities have dwindled and so have all the young people. Some people exploit that lack of hope and fear in people to sow the seeds of doubt, divide people. Others, like Nancy and Alexander find light, even when there is little hope, and try to bring people together over a simple jug of beer or a humble cupcake. They reminded me that in the end, we must strive to rise above the divisions being created and remember, it is not the politics but the people that define a place.
Essential facts
Fly into Berlin or Dresden and then take the train to Görlitz . Trains run frequently between Dresden and Gorlitz ( €24, 1 to 1 1/2 hours) If you are coming from Berlin , change in Cottbus ( €44, 2 1/2 hours )
Where to stay in

Görlitz
One of the best deals in town is the 3 star Best Western Hotel Via Regia where you can grab a private rooms for as little as €70 a night via Booking.com
Hotel rooms are modern, extremely comfortable and clean. The hotel serves a very generous buffet breakfast. Only minor drawback is the location- hotel is a 5 minute walk from the station and a bit far from the centre of town. Perfect if you have a car.
Another excellent budget option for couples or solo travellers is centrally located Görlitz "Old Town" Europe Youth Hostel. Located in a beautiful period building. ( one of the grandest buildings on the square-it really doesn't like a hostel from outside ) the hostel has large inner courtyard that is perfect to relax in after a day of sightseeing, generous buffet breakfast plus simple but comfortable rooms-altogether this hostel is a good choice if you're on a tight budget. Room prices start from €60 a night for a double and include breakfast. A bed in a multi bed dorm starts from €25 per person, per night and includes breakfast.
Disclaimer
My stay in Görlitz was possible thanks to the support of the Saxony Tourism Board who invited me to discover some of the region's lesser known cities: Meissen, Görlitz and Bautzen. I'd like to take the opportunity to let you know that while my trip was supported by the tourism board, the article and all the views represented here are entirely mine. Thank you for reading.