Famous for being home to Noma, the world's best restaurant and a leader in the New Nordic cuisine movement, Copenhagen has the reputation of being an expensive place to dine out. However, with a bit of research and planning, I am proud to share with you my guide on where to eat in Copenhagen on a budget. I have shared below my list of the best hostels in Copenhagen, best cheap eats in Copenhagen and also given you three tips for the best affordable restaurants in Copenhagen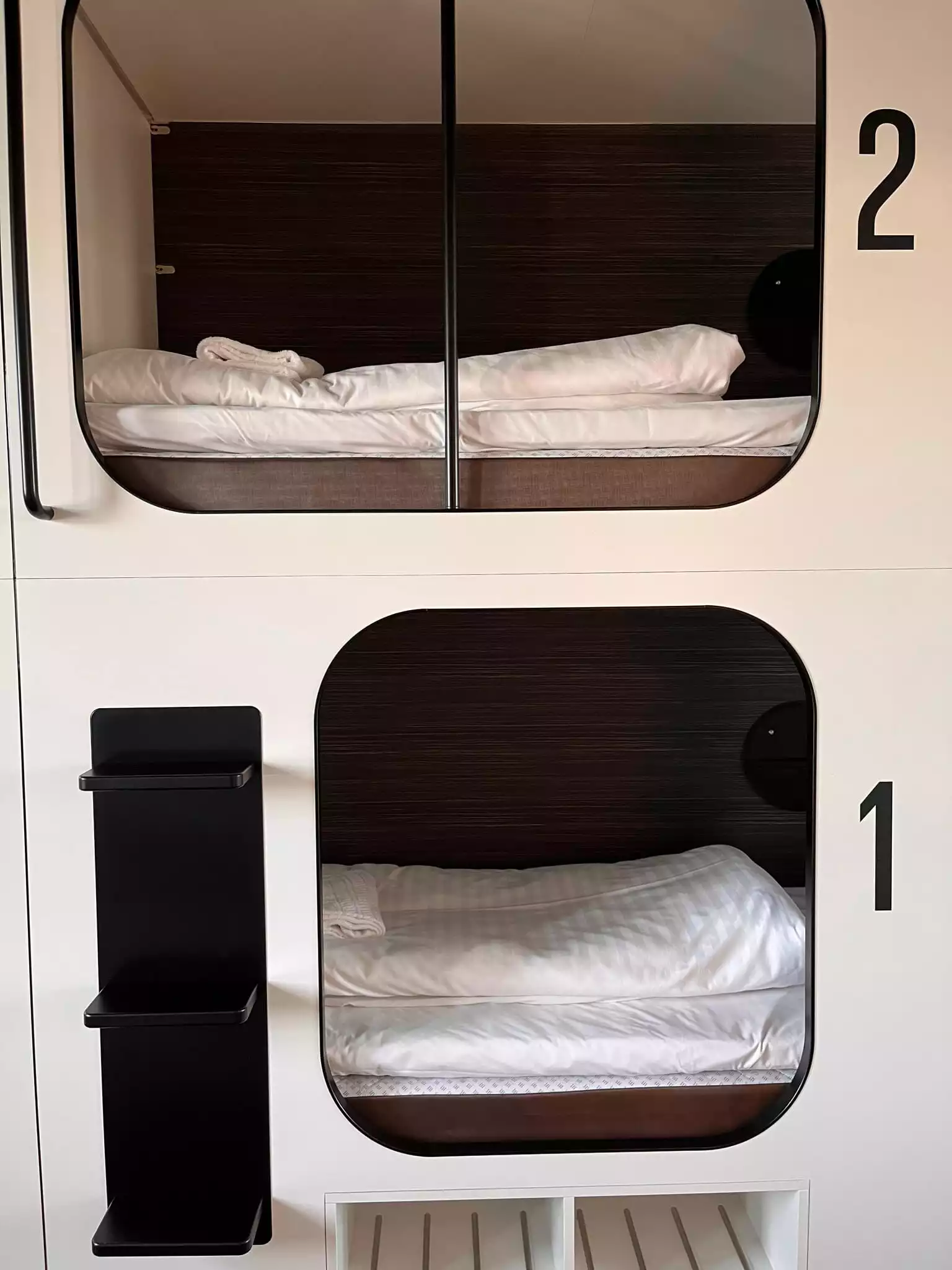 PS: If you are planning a trip to Copenhagen, checkout also my recent review of Next House Copenhagen– the hottest new luxury hostel in town plus this great guide from Sofia Vasconcelos on how to enjoy Copenhagen on a budget for families.
1.Absalon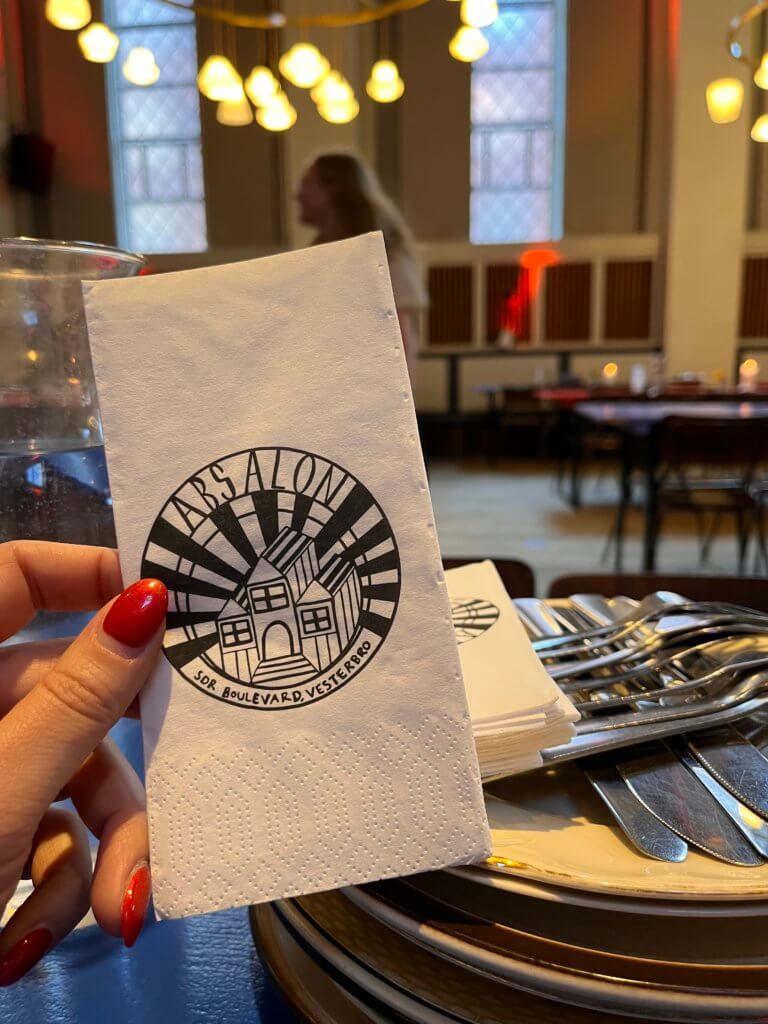 Address: Sønder Blvd. 73, 1720 København, Denmark
Absalon is hands down one of my favourite cheap eats in Copenhagen and dining experiences – think of it as your living room away from home…your breakfast café, your afternoon hangout, your evening bar and the place you eat dinner with over 180 other strangers! Located in an old historic church on Vesterbro's Sønder Boulevard, there is a wonderful sense of community here where you will find a great mix of Vesterbro citizens and tourists, of all ages, colour, creed mixing together on tables, enjoying some delicious food and meeting strangers from all over the city and the world. During summer, they move the long tables outside when the weather allows.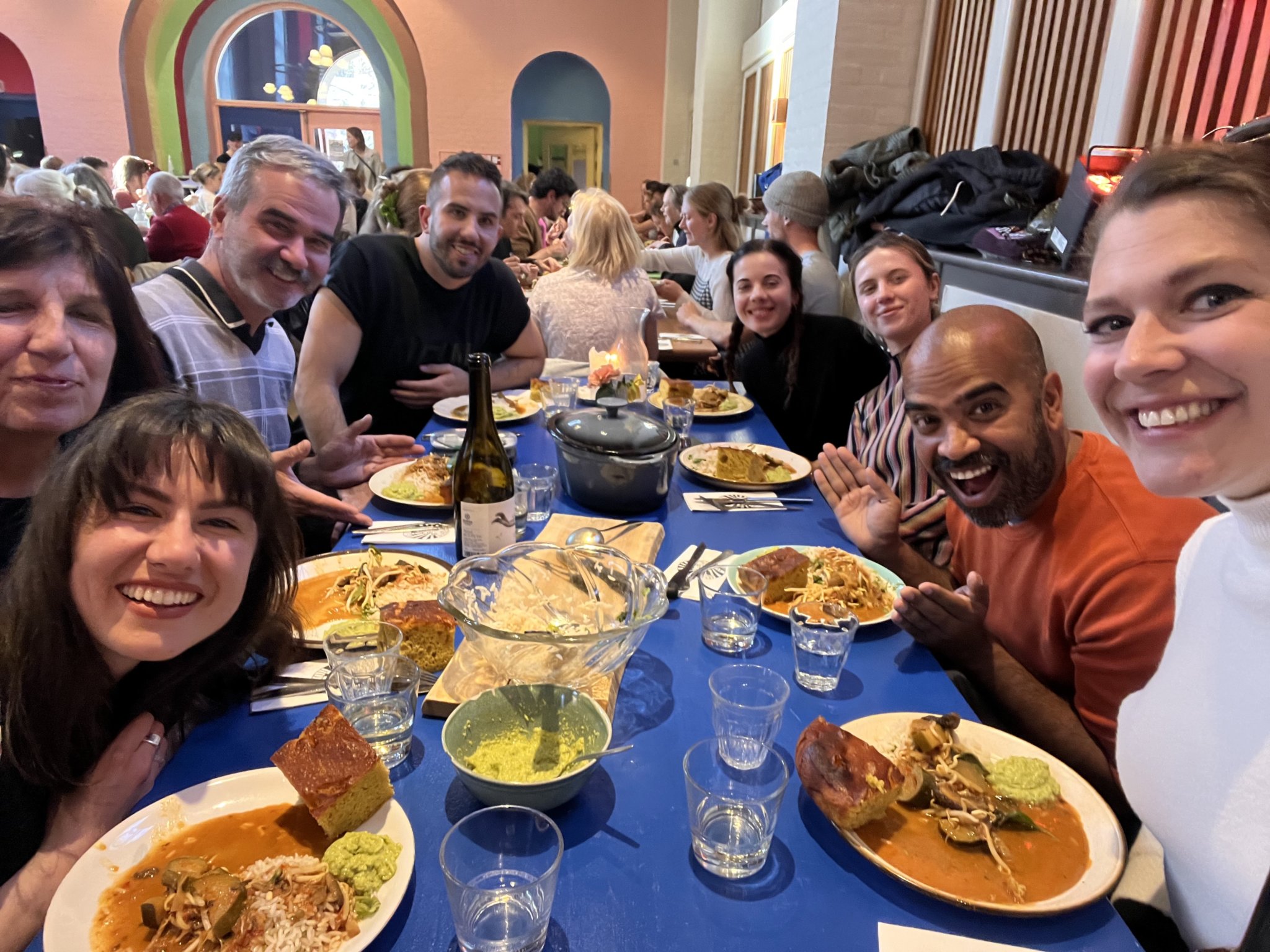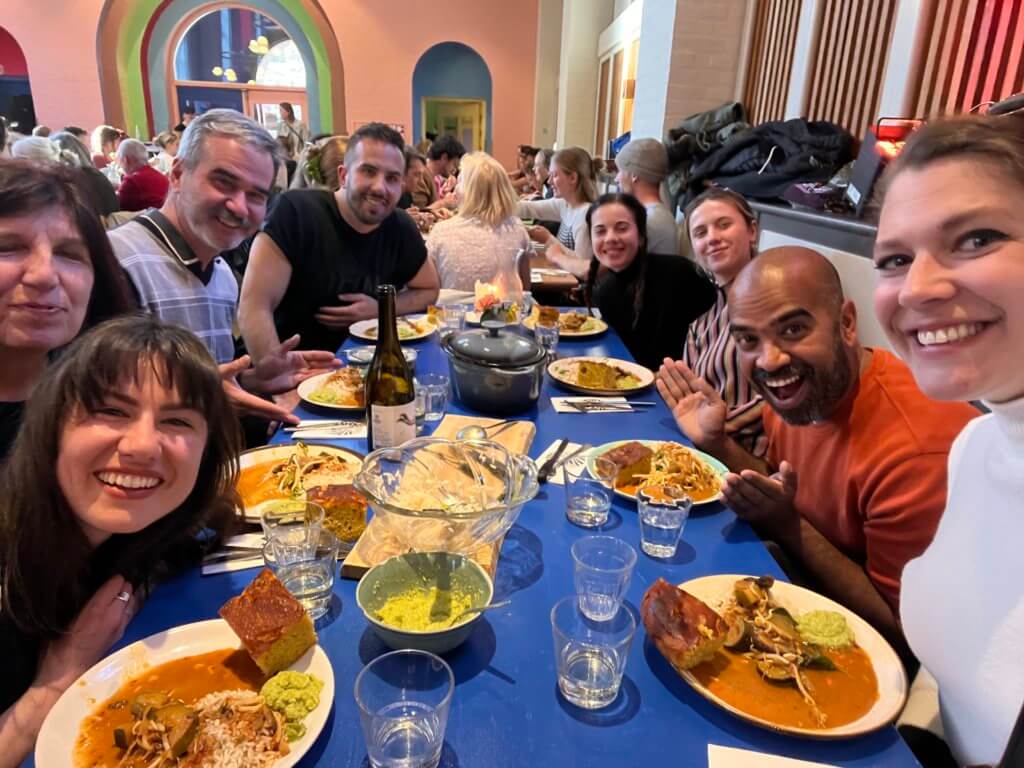 Dinner ( 5.30-7pm ) costs just 50 dkk but you need to buy tickets for the dinner online until 16:00 on the day. Leftover tickets are sold at the door from 17:00.
It was one of the best evenings I had in Copenhagen. I left with a full heart , belly but also a slight sense of regret- why aren't they more communal dining experiences like this in the world?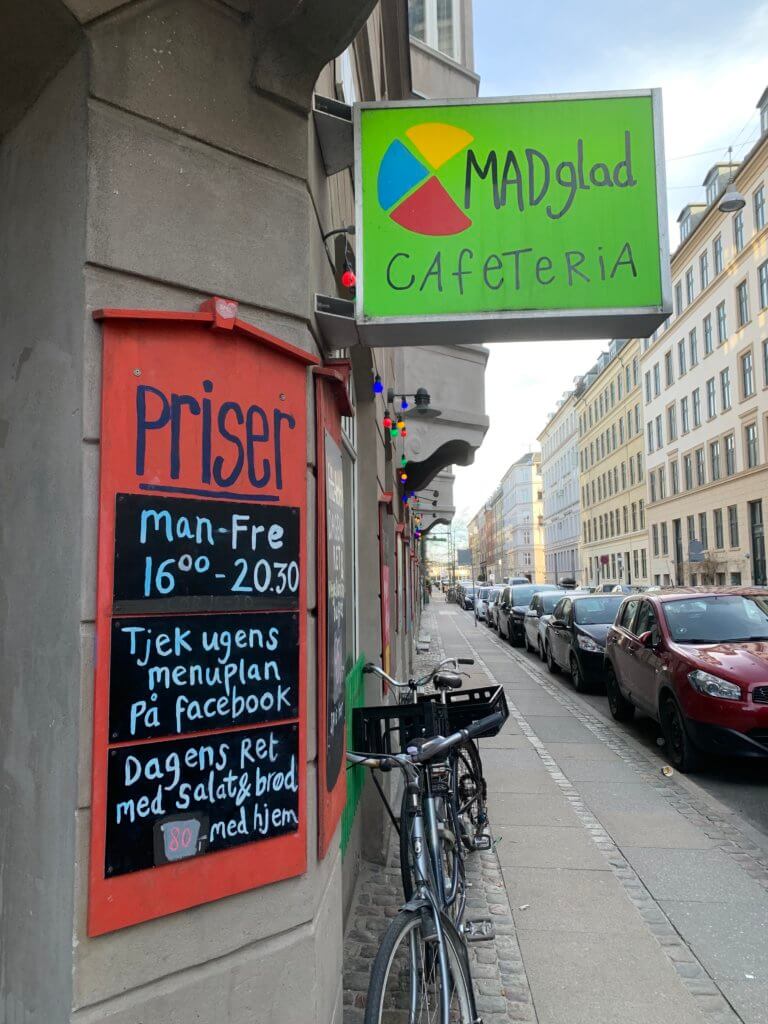 2.Madglad
Address: Eskildsgade 13, 1657 København V, Denmark
Madglad is another Vesterbro classic, which similar to Absalon, offers the possibility of a cozy, communal dining experience at a very affordable price. Monday to Friday, between 16:30 and 21:00pm, guests are invited to grab a seat at one of the long tables with colorful tablecloths, where you can be joined by a complete stranger. Definitely one of the best cheap restaurants in Copenhagen in terms of quality, experience and price.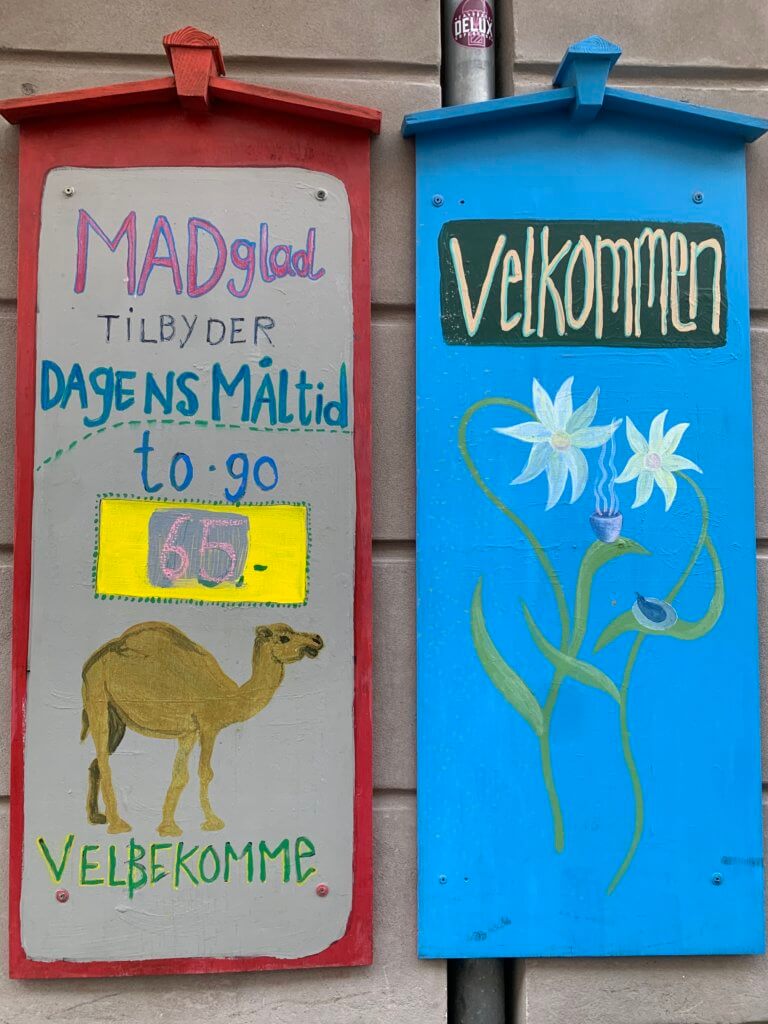 All you can eat daily special, served with different salads, hummus, and bread costs 85 dkk while the vegetarian lunch buffet starts from around 40-50 dkk.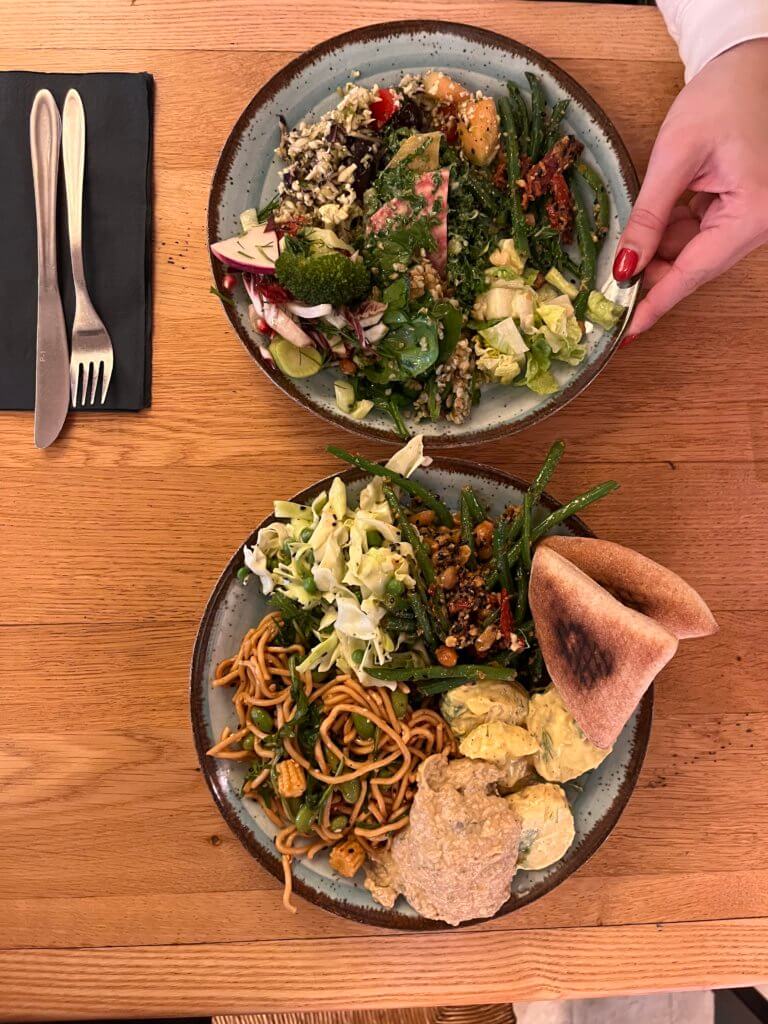 3. All you can eat Copenhagen: Try RizRaz Copenhagen
Address: Store Kannikestræde 19, 1169 København, Denmark
Another fabulous, high quality, if slightly more expensive buffet that caters for vegans and vegetarians is RizRaz. There are two RizRaz restaurants in Copenhagen, one located at St. Kannikestræde and another at Kompagnistræde.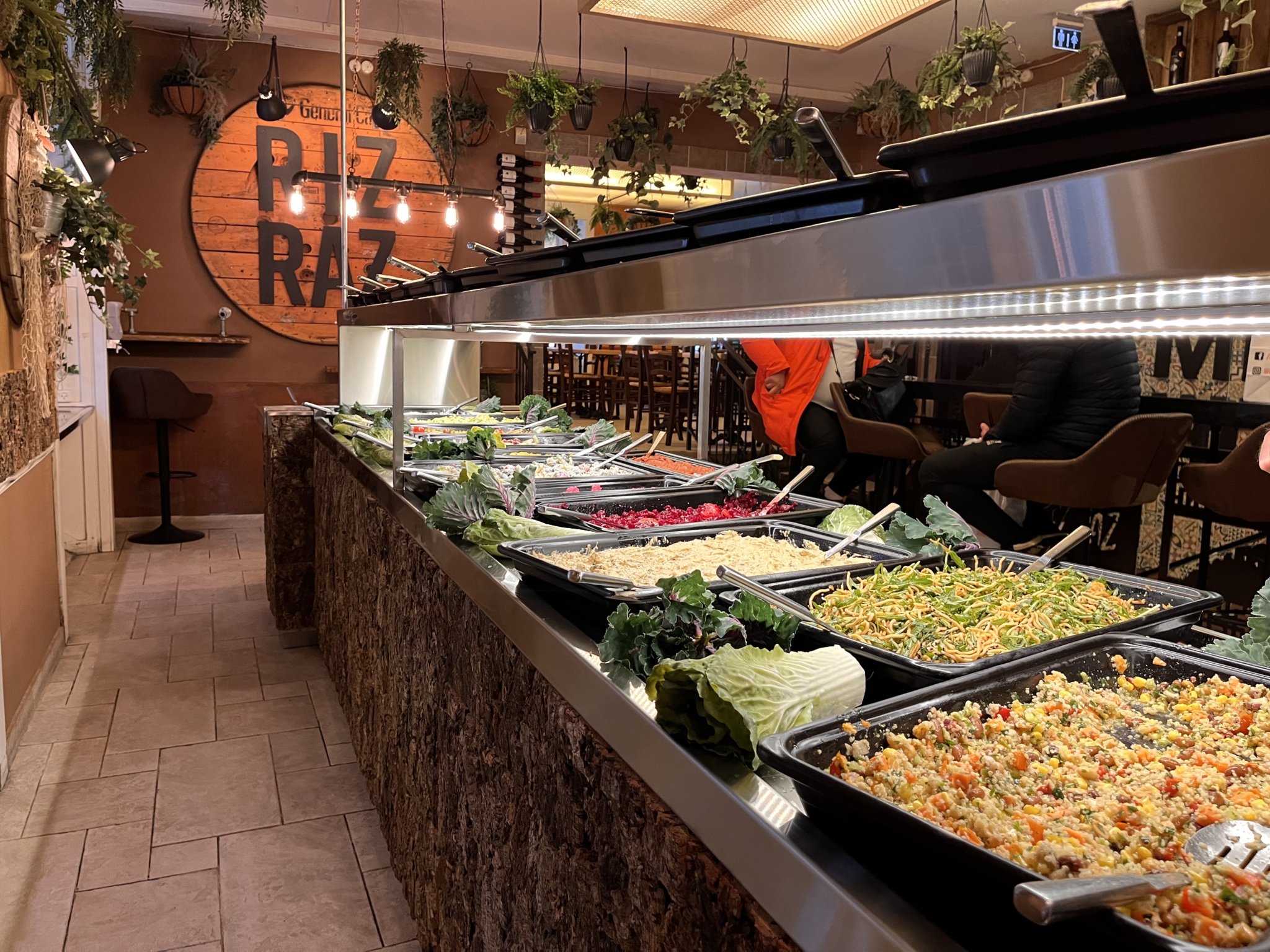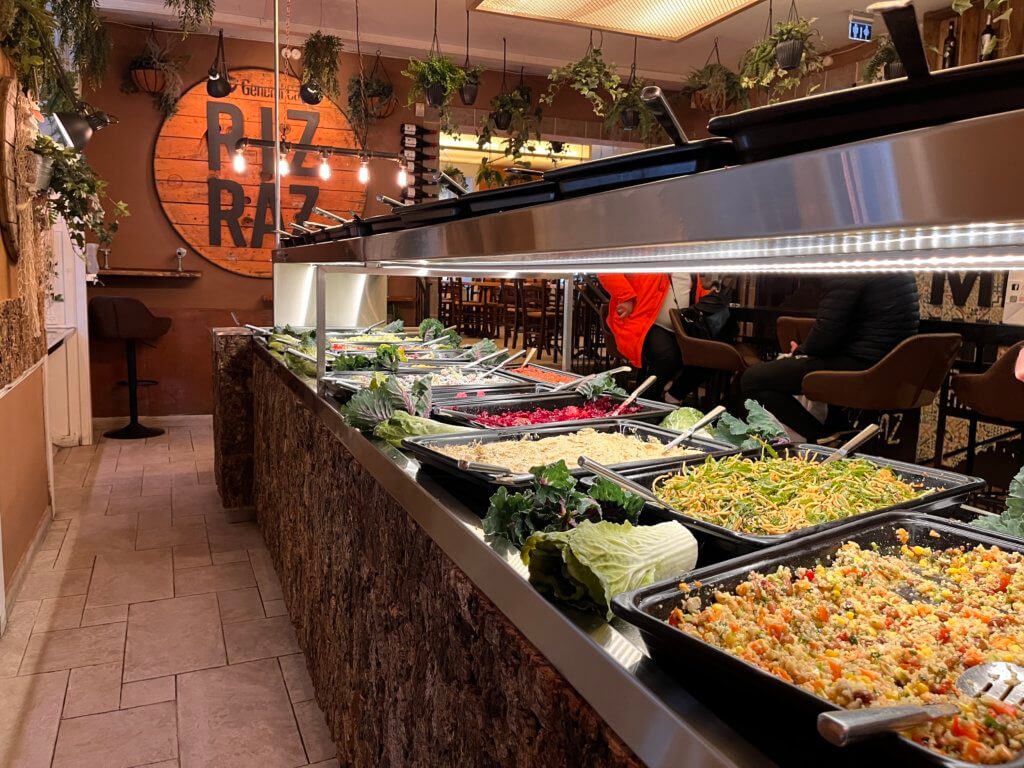 You can order a la carte dishes like their tasty burgers but their generous vegetarian buffet, with dishes like falafels, hummus, pizza, pasta and salad is incredible value. The lunch buffet ( 11.30 till 3pm ) starts at 145 dkk and the evening buffet ( 3 till Midnight) is 185 dkk.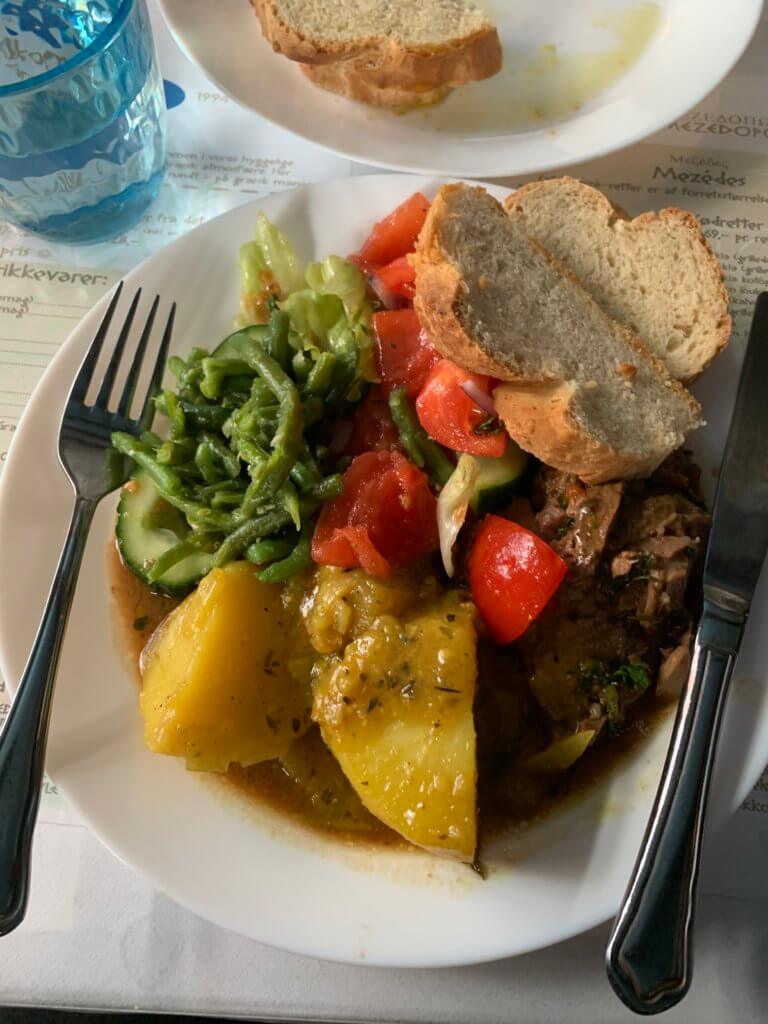 4. Det Græske Spisehus Ellas
Address: Fiolstræde 21, 1171 København, Denmark
Det Græske Spisehus Ellas is a piece of Greece in the heart of Copenhagen where you will always find a lively, friendly atmosphere and some really tasty, affordable traditional Greek cuisine. The food is cooked according to family recipes passed onto the owner Christos by his mother Chrisula, who originally opened the kitchen. The idea for the restaurant came to Christos after he noticed the lack of affordable, good quality Greek dining options in Copenhagen. Lunch buffet starts from just 129 dkk. ( Evening buffet from 169 dkk )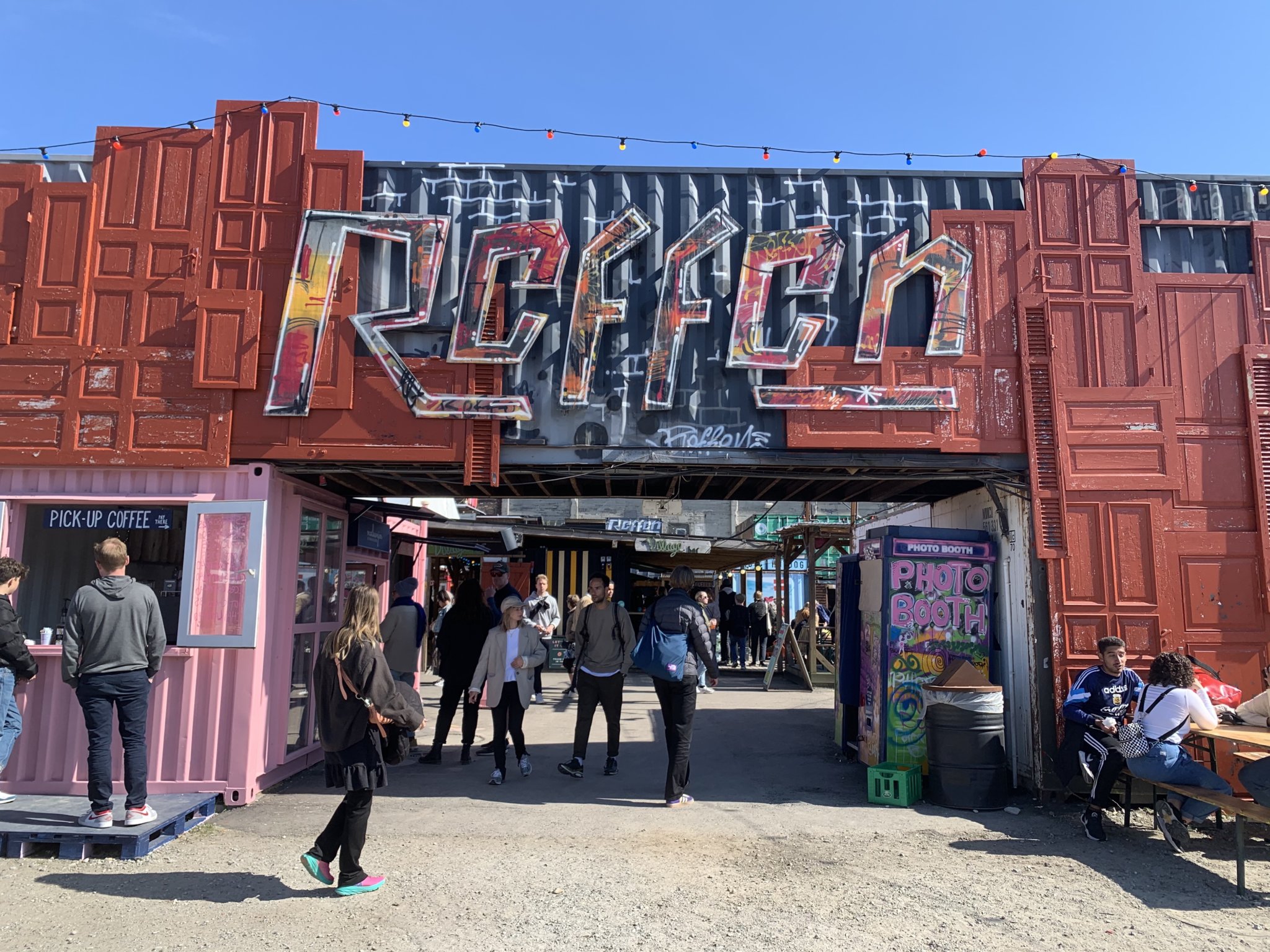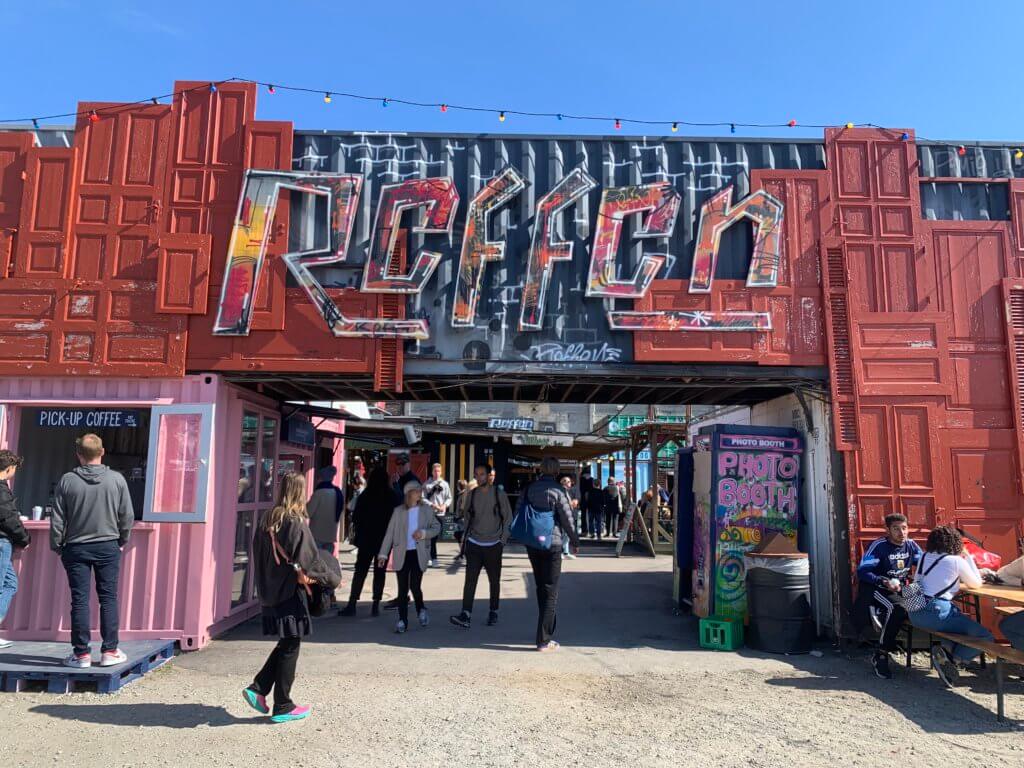 5. Reffen: Copenhagen Street Food
Address: Refshalevej 167, 1432 København, Denmark
If you want food that is local, authentic and cheap then do not look farther than Copenhagen Street Food, a colourful streetfood market situated on Refshaleøen island, a man made island covering a huge 6000m2 area where visitors can enjoy their dishes and drinks with front-row views of Copenhagen harbour. You can enjoy food from four corners of the world, (Korean, Mexico, Italian and Danish ) courtesy of 50 start-ups. bars and creative workshops.sit in the sun on one of their deckchairs and enjoy panoramic views of the city's waterfront.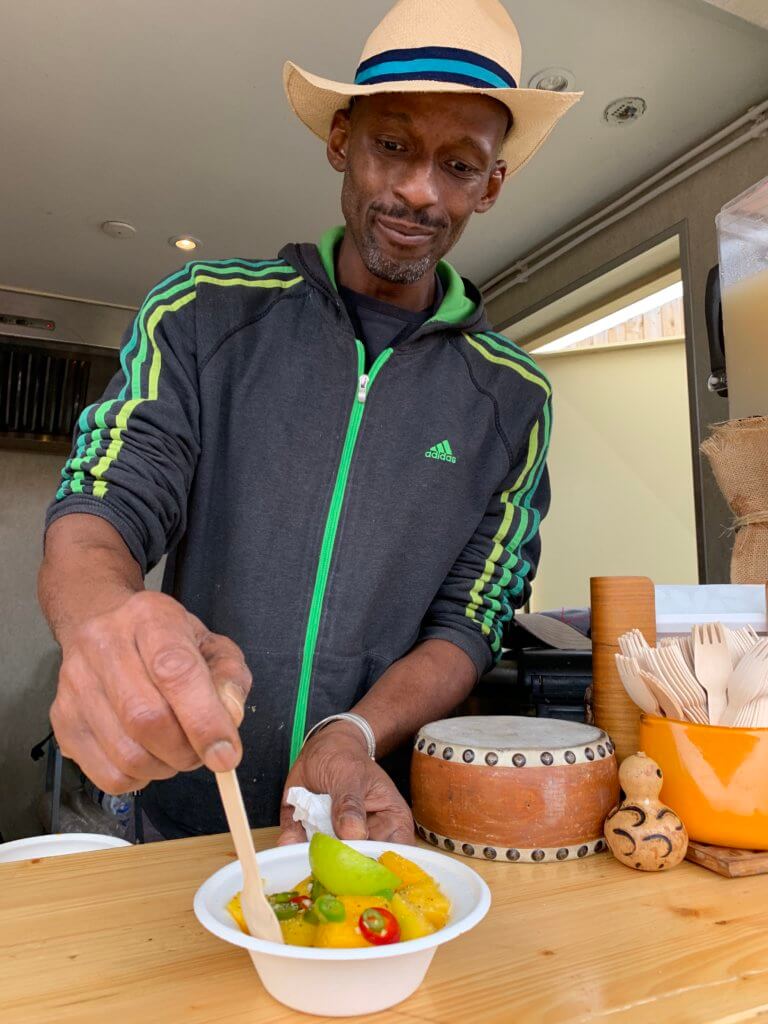 My favourite place to eat here is a Gambian food startup here called Baobab- their Domodar aka peanut butter stew is really delicious with a chicken or vegan version ( 79 dkk )
6. Best cheap smørrebrød in Copenhagen: Domhusets Smørrebrød
Address: Kattesundet 18, 1458 København K, Denmark
Nothing is more typically Danish to me than the humble open-faced sandwiches aka smørrebrød. To sample one of the best smørrebrød's in Copenhagen, nip into Domhusets Smørrebrød (Kattesundet 18) on one of the side streets off Strøget. My favourite here is the Stjerneskud : egg, shrimp and caviar, potato with a dollop of mayonnaise and fried onions on top. Each open faced sandwich costs just 15 dkk which is about €2. Another place to try smørrebrød is Slotskælderen Gitte Kik.
Other smørrebrød favourites to try
Fridas (really close to Steel House Copenhagen hostel)
Frk. Barnas Kælder
Sorgenfri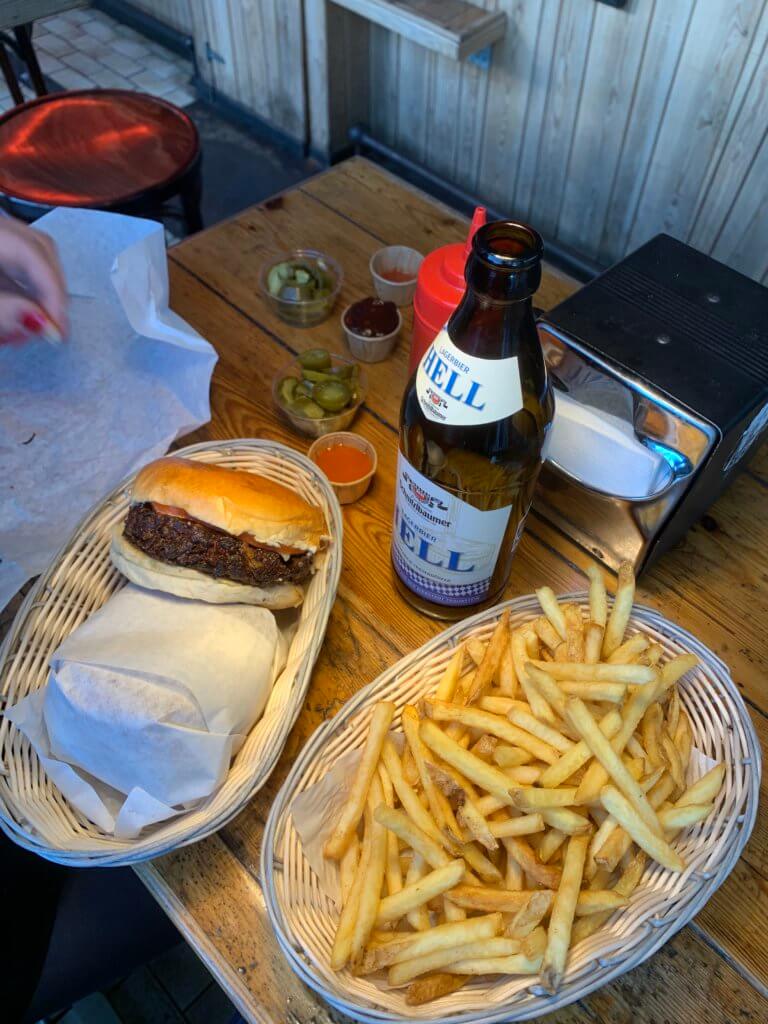 7. Tommi's Burger Joint Kødbyen
Address: Høkerboderne 21-23, 1712 København, Denmark
Kødbyen or the Meatpacking District in Vesterbro is one of Copenhagen's most popular places to go out, and Tommi´s is one of the reasons why. Expect quality fast food burgers, quality thin cut fries with a buffet of hot sauces and relishes to douse them in, tasty milkshakes, craft beers all served with a generous dose of Icelandic flair.
Veggie burger offer which includes fries and a soda is 99 dkk (€13) while their Hamburger offer is 119 dkk ( €16)
8. Banana Joe, Nørrebro
Address: Elmegade 18, 2200 København, Denmark
Nørrebro is the multicultural hub of Copenhagen, with a mix of the city's finest restaurants, bars and a bunch of great ethnic eats.
Thanks to local blogger, Alex Berger, back in 2012, I got the chance to checkout one of the best value for money burger joints in Copenhagen: Banana Joes. Alex likes his burgers to have high quality meat, a bit messy, and full of flavour which and that's what Joes consistently delivers. It is a one man operation and food is delivered with a smile and a bit of banter. I went for the fish burger which uses a nice hunk of salmon that Alex says is cooked better than most of the "fine dining" restaurants around town. Plus it is fantastic value for money: I paid around 48 dkk for the burger and another 15 dkk for a fizzy drink whose name I cannot remember.

9. Ali Bakery
Address: Nørrebrogade 211
Another Nørrebro classic, especially if you love authentic Lebanese/Palestinian food & are visiting the urban park Superkilen, is Ali Bakery. There's lot of outdoor tables, so if the weather is nice, this is the perfect place for a tasty brunch or breakfast.
They do a delicious manakish here: A flatbread topped with either a mix of cheese and nigella seeds or a Za'atar and olive oil blend.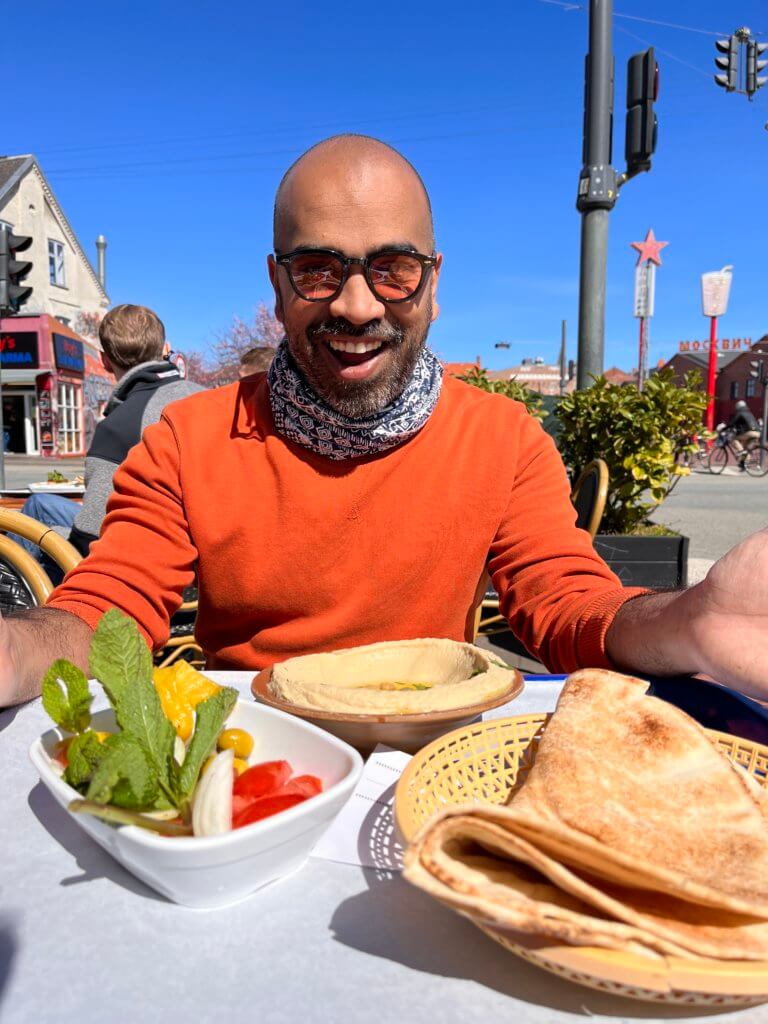 Manakish starts from just 25 dkk. They also make really decent hummus here ( 45 dkk ) and foul, cooked fava beans with lemon juice, crushed garlic and cumin ( 45 dkk) Pair the dishes with their freshly squeezed apple juice ( 35 dkk )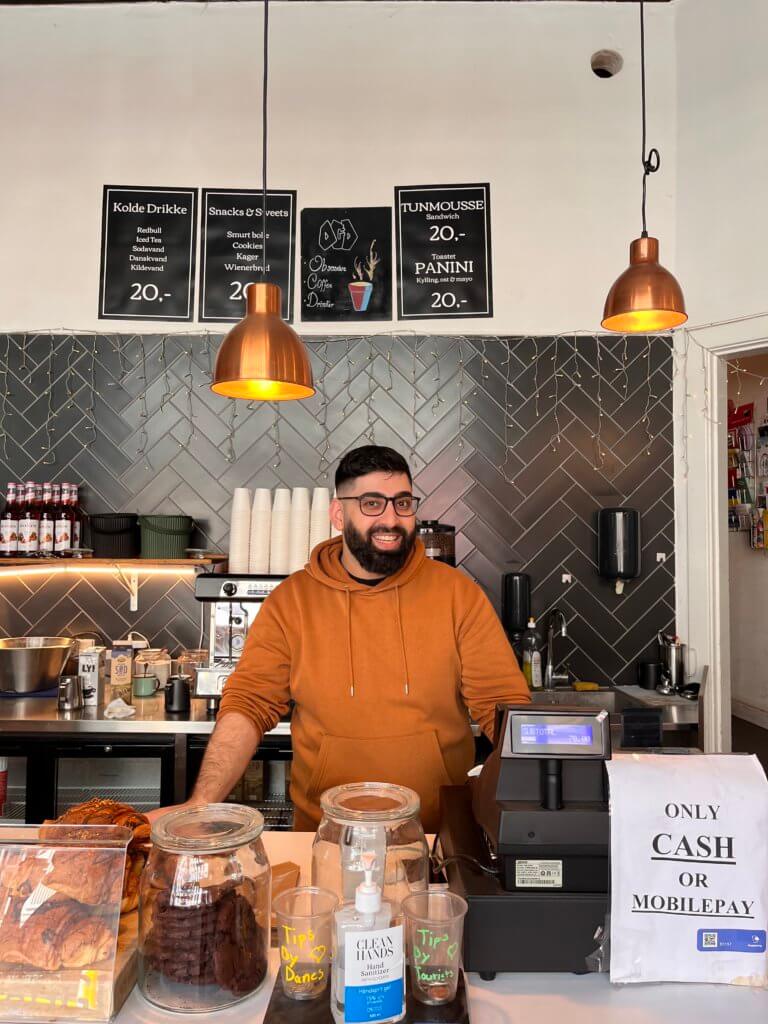 10. Zaggis Cafe
Address: Frederiksborggade 43, 1371 København, Denmark
Located right next to the Dronning Louises Bro bridge, Zaggis Cafe remains probably value for money and in terms of quality, one of the best value deals in Copenhagen- everything on the menu is 20 dkk!
The coffee is fabulous, plus their toasted sandwiches and panini's are delicious. Highly recommend.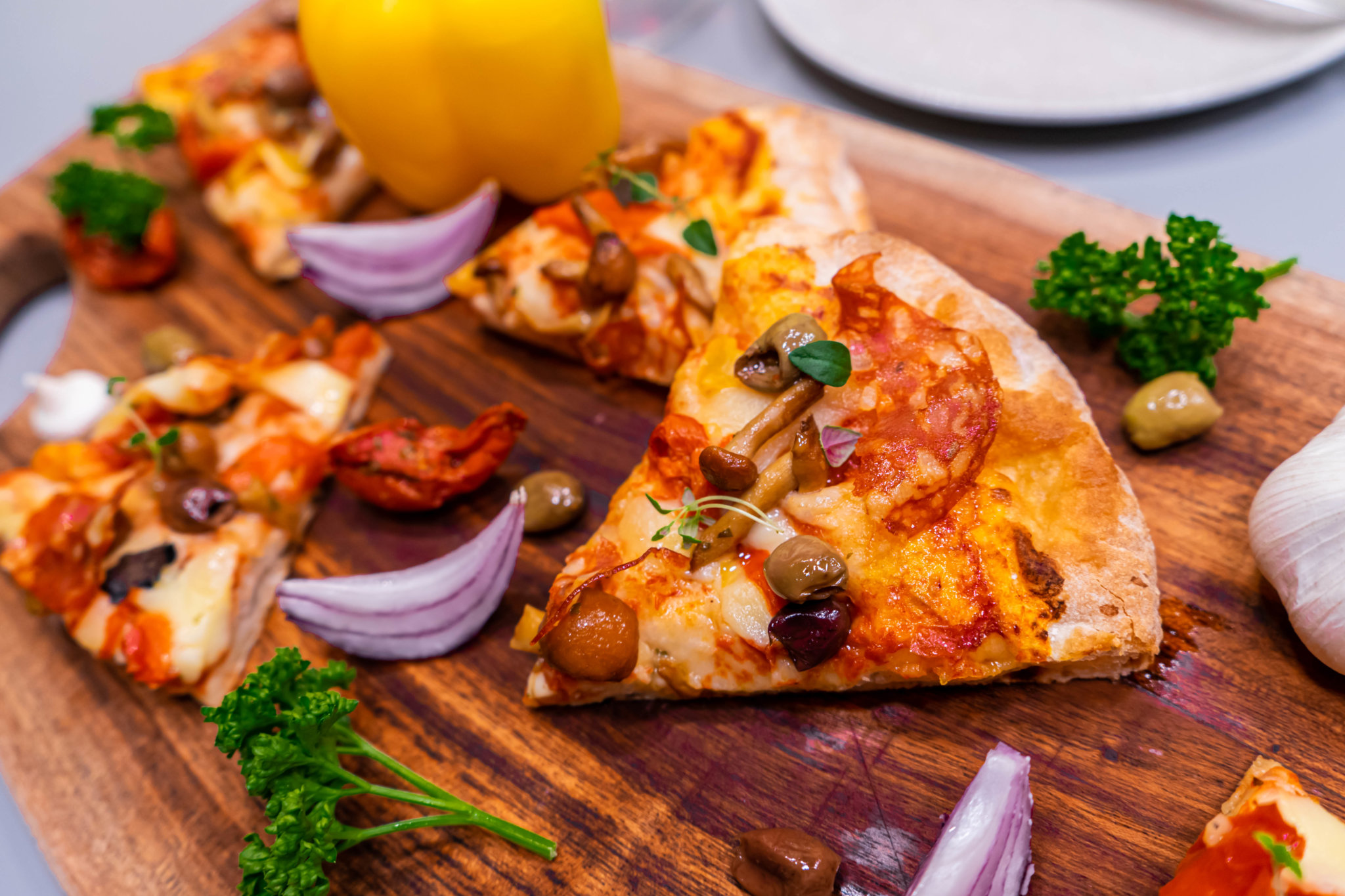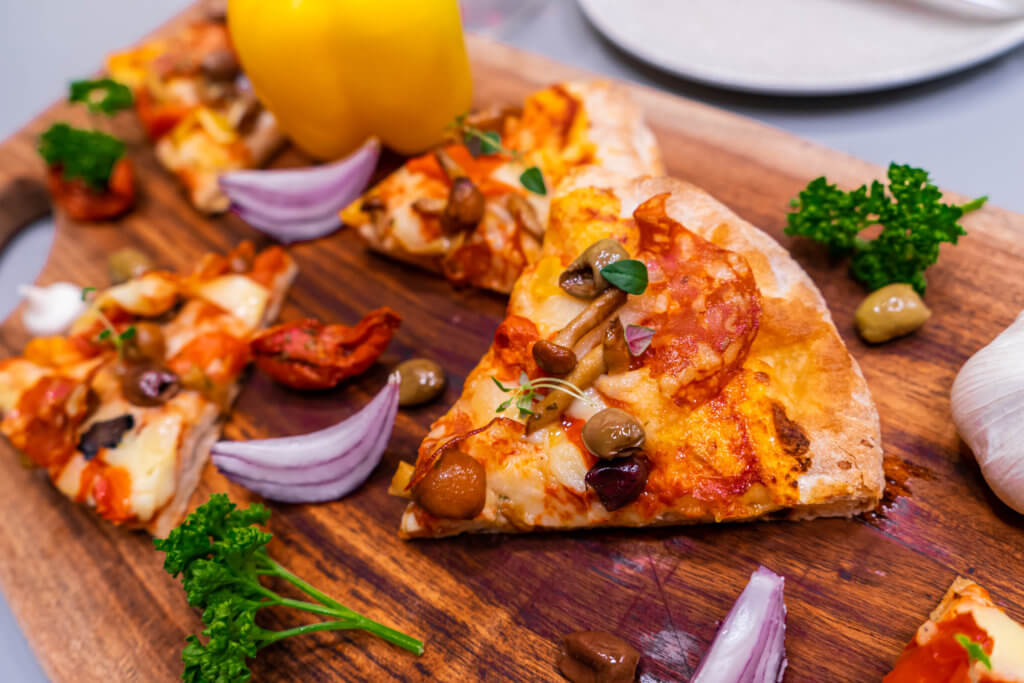 11 Next House Copenhagen Pizza buffet
Address: Bernstorffsgade 27, 1577 København, Denmark
If you love good, stone baked pizza , then the all you can eat pizza buffet at Next House Copenhagen hostel is fab. The dough is made from a 120-year-old sourdough or "lievito madre", as it is called in Italian and it tastes fab. The buffet is served from Sunday to Wednesday from 4-10pm and Thursday to Saturday, 4- 11pm, all for the affordable price of 129 dkk.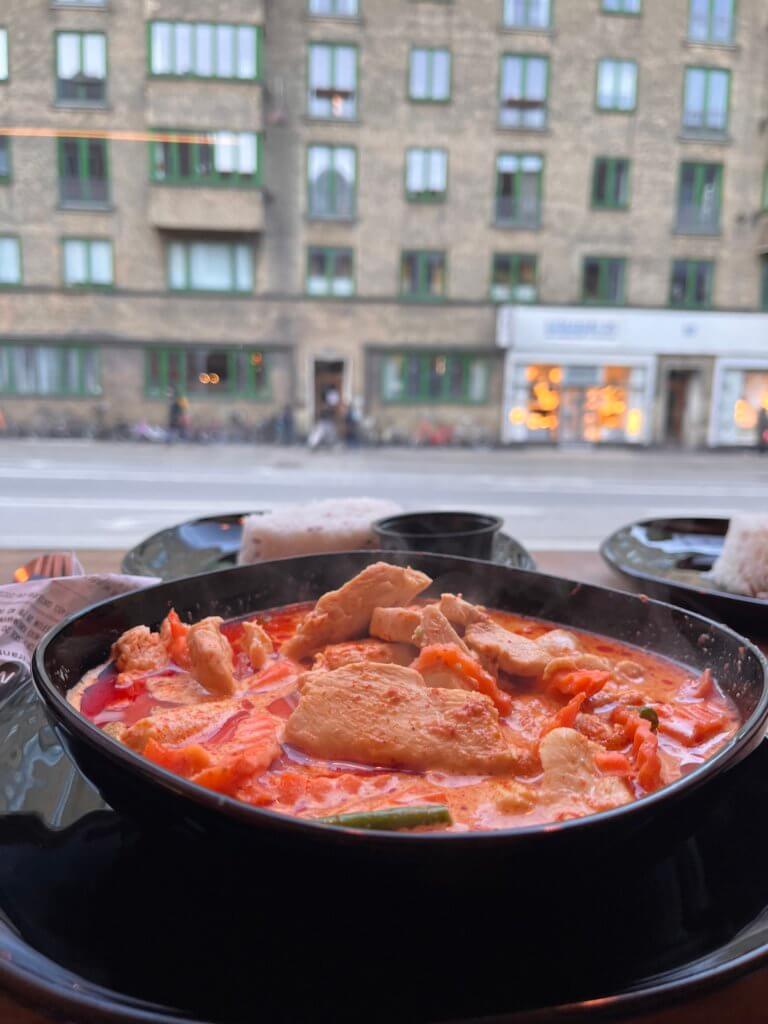 12 Green Mango
Address: Torvegade 16, 1400 København, Denmark
I did not have the chance to eat at Scurry Hub ( you can have a Thai Green curry for just 65 dkk- fabulous deal! ) but I did have eat a pretty decent Thai Red Curry at Green Mango.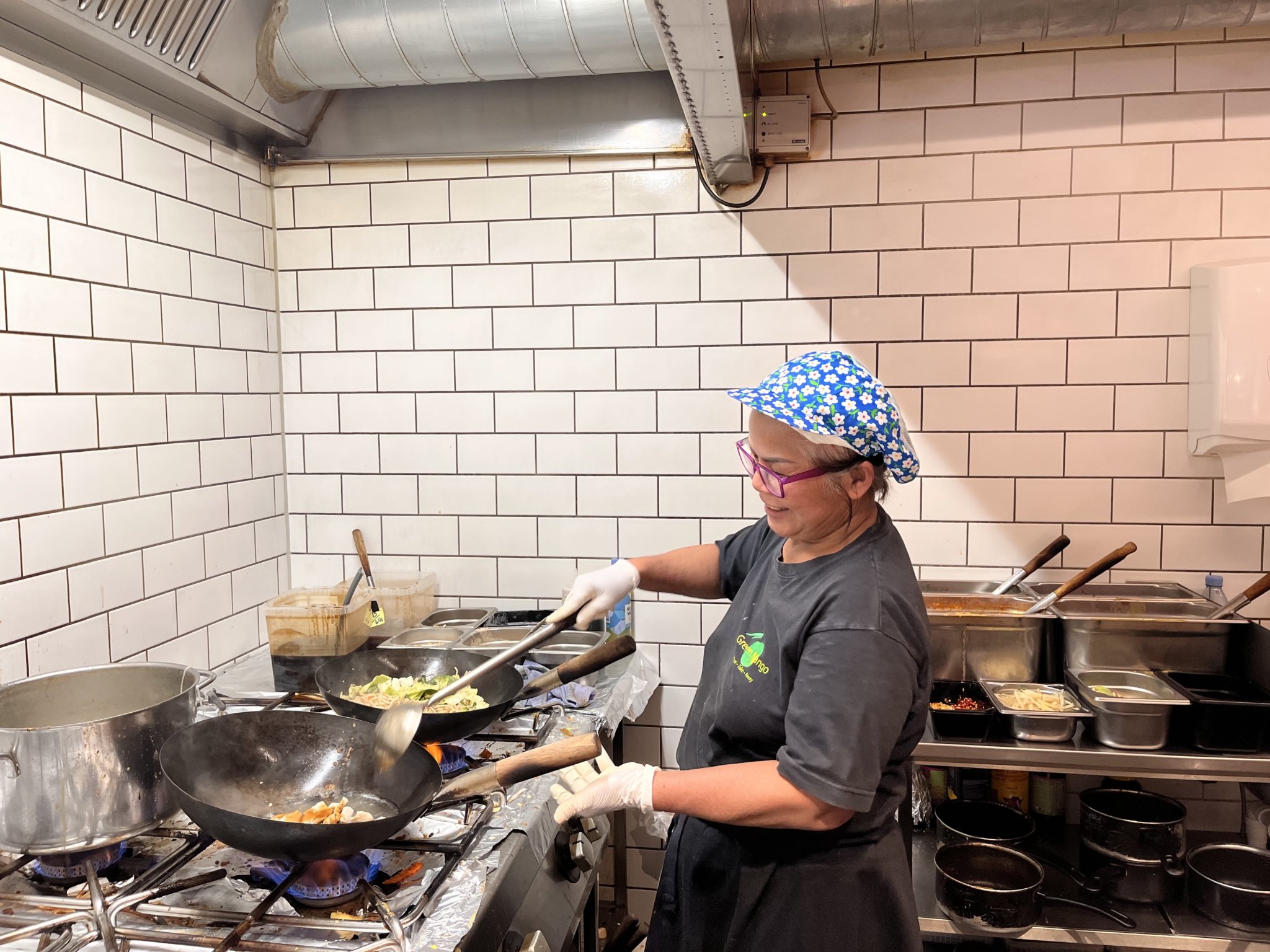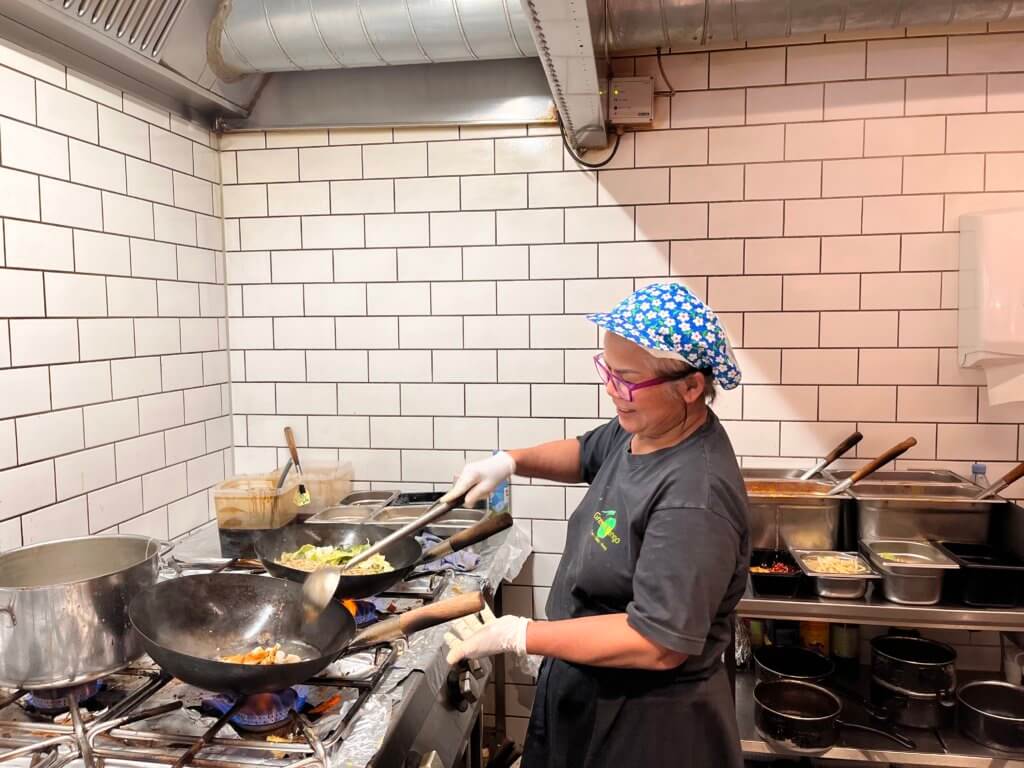 The portion size is generous and the staff are friendly. The curries start from 89 dkk for a veggie curry and 99 dkk if you want Chicken.
13. 7-Eleven
Multiple locations in Copenhagen.
A cheap eats guide to any city in Denmark or Scandinavia would not be complete without a reference to 7-Eleven. In terms of convenience and price, it is fantastic with several locations throughout Copenhagen including the main train station, airport and kiosks in all the metro stations. To give you an idea, a croissant or sweet pastry costs 22 dkk, the classic danish hotdog is 32 dkk, a pasta salad or normal salad costs 35 kr or you can have the meal deal of a sandwich and drink for 72.50 dkk. Their pastries are really nice and coffee is decent.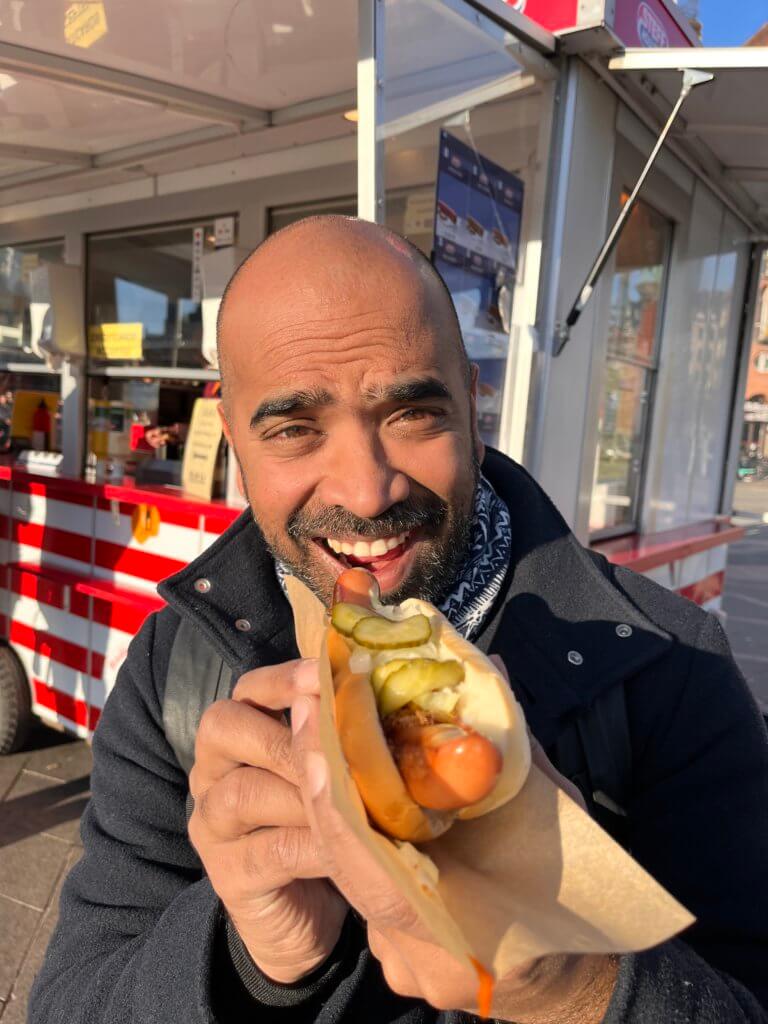 14. Hotdog stands in Copenhagen
No trip to Copenhagen is complete without savouring one of their famous hotdogs. You will find several hot-dog stands dotted throughout the city and you will always be greeted with a polite smile and some banter, whichever one you pick. There is a few variations to choose from: my favourite is the classic sausage stuffed into a piece of bread topped with mayonnaise, mustard, remoulade and toppings like fried onions, pickled cucumber. The ones to definitely checkout and come recommended are John's Hotdog Deli and the Den Økologiske Pølsemand' (The organic sausage man)
I sadly did not have the time to visit them but did pop into the Restaurant Fodkold on Radhuspladsen ( on the way to see Liverpool play at the Old Irish Pub ) Many locals would say they are better hotdog stands but I really enjoyed my hotdog here and with prices of just 35 dkk, I could not argue. ( You can also grab a small can of Carlsberg for 20 dkk )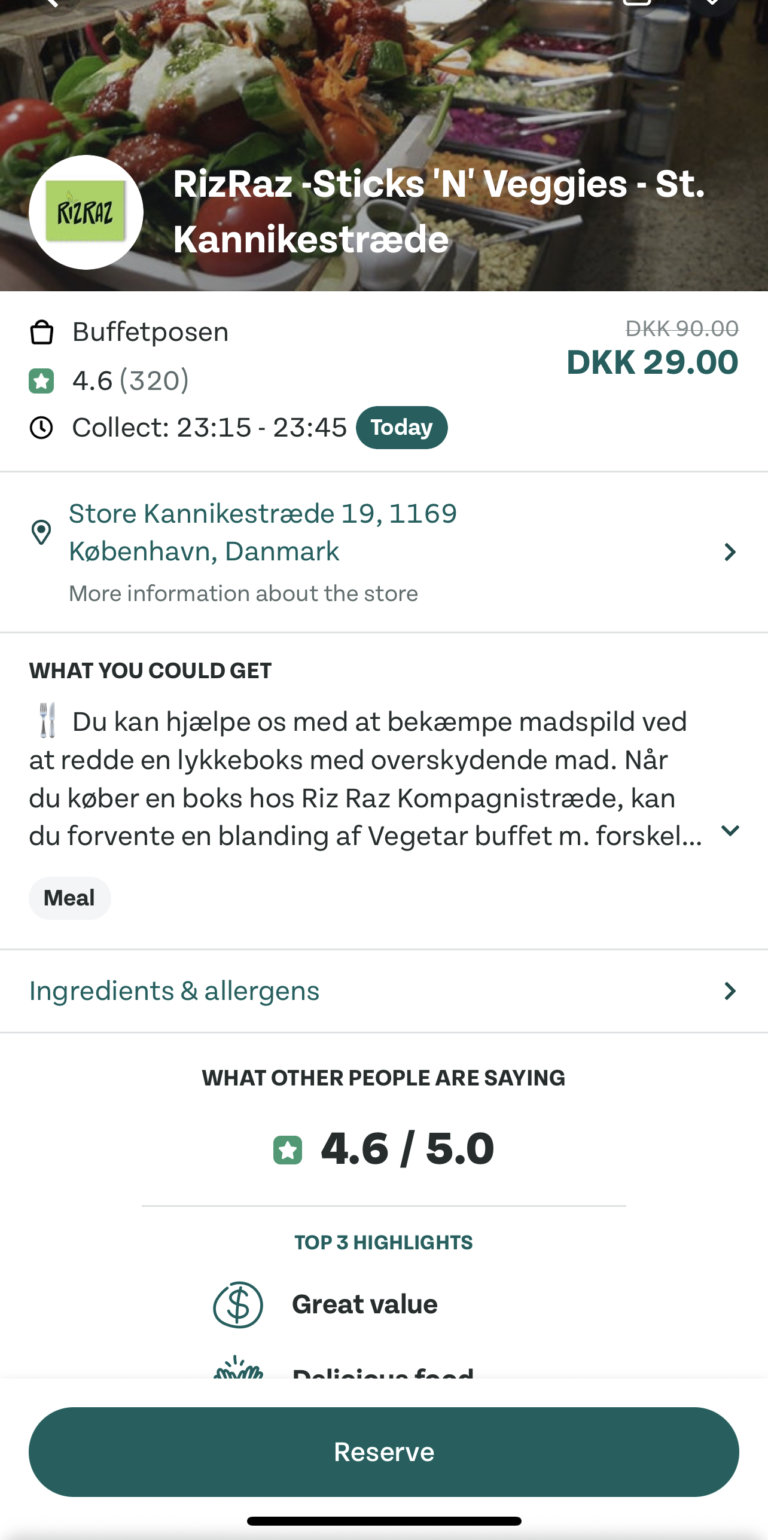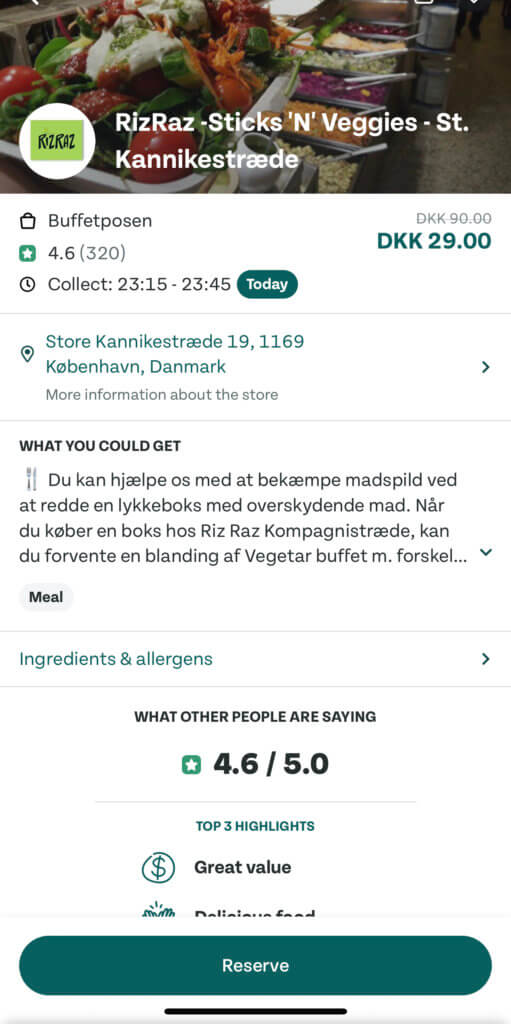 15. Too Good to Go
To Good to Go is a lifesaver when I am travelling in expensive cities like Copenhagen. I didn't try in CPH but used it extensively in Vienna and Berlin and scored some incredible deals on hot, cooked food from local restaurants. If you don't know how it works, basically it is a mobile application that will connect you to restaurants and stores within your radius that have surplus unsold food.
Example of a deal- for example, today, searching in CPH, you can pick up a bag of food from the RizRaz buffet for just 29 dkk! Brilliant deal.
Best affordable restaurants in Copenhagen
16. Diamond Dogs
Address: Blågårdsgade 27, 2200 København, Denmark
You can eat New York style pizza in hipster Nørrebro hood at Diamond Dogs They sell pizza by the slice and the cheapest is the Cheese ( Three cheeses and basil ) for 60DKK ( €8) and you can get appetizers like a plate of Mortadella for 65 DKK or the epic sounding Bourbon Caramel Sundae for 65 DKK.
17. BBQ Heaven: Warpigs
Address: 1711, Flæsketorvet 25, 1711 København V, Denmark
I am not a meat lover nor the biggest fan of craft beers plus it is not cheap cheap but nevertheless, I really liked Warpigs. It has a very relaxed, informal ambience with long tables and benches. You order your food at the counter, pay and wait for your food to be made. They have plenty of beers to choose from: collaborations with the best small breweries in America plus you have the local Mikkeller beer. If you don't like craft beer, there have craft cocktails on tap, created by the award winning bartender, Morten Bruun.
There's a lot of tasty BBQ meat to choose from: a quarter, a half, or a full pound plus a nice array of sides like mac 'n' cheese, coleslaw and burnt end baked beans. The inspiration behind the menu is masterchef Andrew Hrozamwho has done everything from catering Hell´s kitchen to feeding Slipknot and Van Halen.
I loved their homemade sauces : my top picks were the Carolina Gold with sweet mustard and the 'KC', a sweet bbq sauce with layers of spices like cloves and allspice.
Prices are ok: for a tray of three quarter-pound meats and two sides, I paid 230kr. (€30)
18. Hanzo
Address: Værnedamsvej 14, 1619 København, Denmark
If you're looking for a more premium dining experience without the price tag, then I definitely recommend a visit to the Hanzo restaurant which is part of the Madklubben chain of restaurants. The culinary focus is on Japan, Thailand, China and Vietnam, but sometimes the chefs borrow a little inspiration from Laos and Cambodia as well.
I definitely recommend the Hanzo experience where you are served 10 courses picked by the kitchen, all small dishes from the menu and some "surprises". It is expensive but in terms of experience, ambience, good value by Copenhagen standards at 395 kr.
It is a great way to taste everything on the menu.
If you are not too hungry , they have a snack menu where they serve 3 items for a more affordable 100 DKK- perfect with drinks.
My favourites from the menu was the delicious Harikiri soup- an intriguing combo of apples, ginger, peanuts , peppers and chili. Then you have chicken skewers dressed in a red curry ginger and sesame sauce. My favourite was the Hanza Taco: a combo of shredded duck confit, crispy strips of red cabbage, pickled carrots and Chinese radish, fresh coriander and the classic, salty and sweet Hoisin-dressing, served in crispy, fried gyoza skins,
Cocktails are fab here as is the wine list and staff were lovely and took great care in explaining the menu to me.
If asian good is not your thing, you can pop next door to the sister restaurant, Alabama Social that specialises in Cajun Cuisine. They do a delicious Gumbo there- chicken, merguez sausage, pork & smoked shrimp served with corn bread. Delicious soul food.
If this doesn't get your tastebuds racing you have a 3rd sister restaurant on the street called Gran Torino which specialises in Italian food.
All three restaurants are fantastic and offer a great culinary experience.