[tweetmeme]
[fbshare type="button" float="left"]
[fblike style="standard" float="left" showfaces="false" width="150″ verb="like" font="arial"]
[google_plusone size="standard" float="left"]
In the third of my series of interviewing the leading Budget Travel experts, I am very excited to publish my interview with Mr Budgettraveltastic:  Mr Alex Robertson Textor.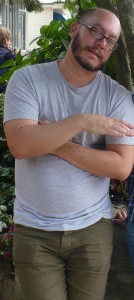 Alex  is a travel writer, currently very happily based in London. A regular contributor to Gadling, he has also written for the New York Times, Arthur Frommer's Budget Travel, the Guardian, and National Geographic Traveler, among many other other publications. He writes in large part though not exclusively about independent budget travel.
How would you define Budget Travel?
I am comfortable with a straightforward, literal definition. Budget travel is travel on a minimal or reasonable budget.
But that's not really adequate, is it? Very often budget travel is also careful and creative travel. Budgetary constraints are great for encouraging creativity. If you have a daily budget of £20 you're going to have to work hard to make sure you squeeze value out of your time on the road. You're probably going to do your research in advance and you're very often going to have a long list of things you want to see, do, and experience. I wrote a spirited manifesto about the brilliance of budget travel last year for Gadling.
What is your favourite destination in Europe and why?
I think Berlin is possibly the best city in Europe. It's got incredibly appealing cultural diversity, varied neighbourhoods, a budget-friendly price index, and a good transportation network. It's full of artists and exciting little corners and outrageous nightlife.
Truth be told my favourite European destinations are probably remote islands, places like the Dutch island of Schiermonnikoog and Mljet in Croatia. I love the solitude and social intensity of a small island.
What's the hottest Budget Travel tip that you've recently discovered and are dying to share with our readers?
It's not exactly new but I think that gîtes are the best budget travel secret ever. They're sort of the French equivalent of the bed & breakfast, with rates in many cases far more reasonable than those at your average b&b. And I think Servas, a pre-couchsurfing free accommodation option, is an absolute budget traveller goldmine. It's perplexing to me that Servas doesn't get much more attention.
Where can you get the best value in Europe this summer? Your top three countries.
Macedonia continues to really thrill me as a destination. It's got a range of landscapes and a nice cultural mix and is very affordable. Skopje, Ohrid, Prilep, and several monasteries are all worth visiting. I was in Skopje in June and splurged on accommodations, booking a suite for three at Villa Vodno, a fantastic family-runplace on the edge of the city Our splurge cost us 36 euros per person including breakfast.
Forgive me for suggesting the somewhat difficult, but Kosovo is a real budget travel value destination.
Buses are cheap, the mountains in the west are properly Alpine, and the monasteries, some protected by UN troops, are gorgeous. Restaurants are very reasonable and affordable accommodations can be found without much effort. The tourist infrastructure is not terribly well established, however, and I'm not sure that Kosovo is quite ready for waves of budget travellers.
Lithuania also represents very good value. I closed out the summer with a visit to the Curonian Spit, which stretches from Klaipeda in Lithuania to the Russian exclave of Kaliningrad. I stayed in the cute village of Nida, where €29 per night got me a beautiful guestroom along with a very good breakfast. The beaches here are among the best I've seen in Europe, and the enormous sand dunes and pine forests are magical.
What is worst piece of advice you've been given on your travels?
I've received lots and lots of terrible restaurant advice over the years. I tend to receive particularly bad advice from people who don't know what I'm about. The best way to avoid this sort of thing is by developing a network of friends and acquaintances whose interests dovetail nicely with your own. In my case, that means budget-minded travellers who no longer feel compelled to spend their nights at hostels and who are interested in contemporary culture, local transportation, and good fresh local food. I'm lucky to have some well-travelled friends who take pleasure in their journeys as I do, and Twitter has filled in all sorts of gaps.
What's the next stop on your travels?
Malta for a long weekend. And after that Georgia and Armenia