[tweetmeme]
[fbshare type="button" float="left"]
[fblike style="standard" float="left" showfaces="false" width="150″ verb="like" font="arial"]
[google_plusone size="standard" float="left"]
Welcome to the 2nd instalment of my Gdansk Diaries. If you missed the first instalment here it is.
I visited the city earlier this month to check out what the city has to offer Euro 2012 visitors.
The 2nd part of my three part series is a mixed bag of treats and ideas of how to enjoy Gdansk on a budget.
WAKE UP
CAFE FERBER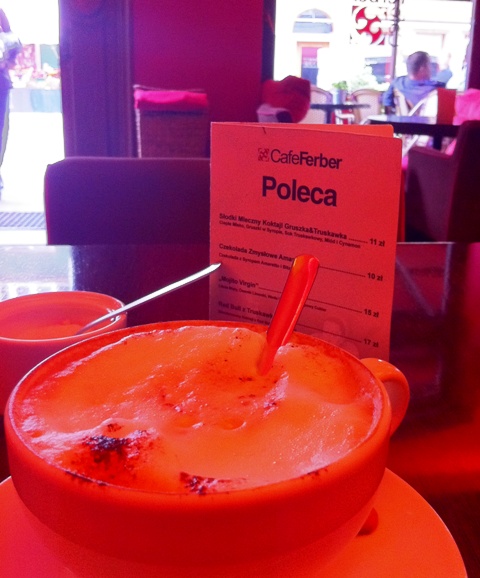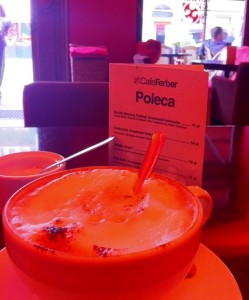 Ul Dluga –the main artery of Gdansk is a hive of cafes, restaurants and bars.
The usual suspects like Costa Coffee have set up shop here but if you're looking for something with a more local flavour, look no further than the stylish, hip Café Ferber.
The low key lighting, red panels and plush brown armchairs create an intimate ambience.
You can have everything from Ice Cream Sundaes and Viennese Coffee. I chose the humble cappuccino. It was nice and frothy and really kicked my day in gear.
Bonus points: They have excellent Free Wi-fi plus the toilets are very cool. Really cool.
Cost: 10 Zl
HISTORY
AMBER MUSEUM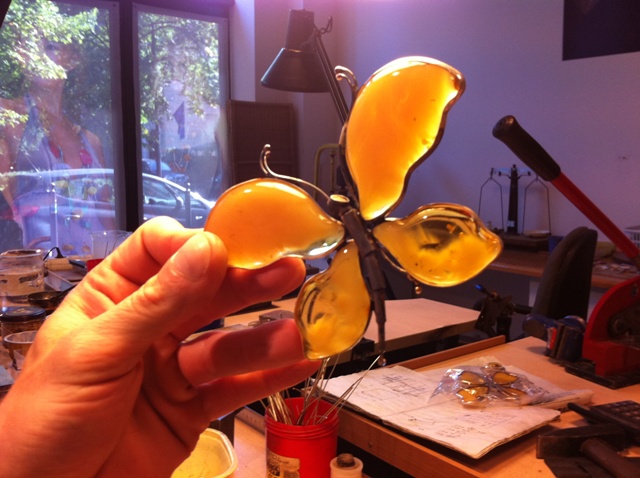 Everywhere you go in Gdansk, there is Amber. I saw tons of street stalls selling nuggets of the 'Baltic Gold.'
You can find them in all shades: yellow and orange, to dark, almost cherry-like red.
Besides being used for decorative purposes people here use Amber for healing and incense purposes.
Now there is a museum dedicated to this unique fossil resin.
Looking under the microscope I found it quite morbid yet fascinating looking at those poor creatures fossilized millions of years ago and preserved for eternity.
The steep staircase of the Amber Museum really works those calf muscles and challenges you. Maybe there is a reason: the museum is housed in a former prison and a torture house.
If you look carefully beyond the amazing works of Amber craft you will notice the inscriptions of former prisoners.
Cost: 10 zl
Tuesday – from 10:00 am till 3 pm – it is a day of free admission (entrance every half and hour)
No open on Mondays
INSPIRATION
DOTKNIJMNIE.PL
Ul Dluga 62/63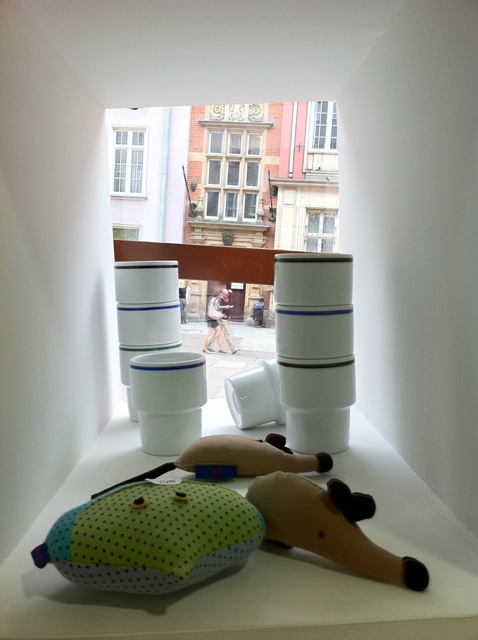 DOTKNIJMNIE.PL on Ul Dluga was an amazing find- a kind of onestop shop that represents the best of Polish designers. It's packed with quirky objects of art full of humour, beauty and thoughts.
I spent a good hour just browsing my way through the works on display.
What really caught my eye was the work of New York based Polish surrealism artist: Rafal Olbinksi.
His surrealist paintings are highly imaginative, drawing you into a different universe and also displaying a great sense of poetic humour .
There are a couple of his signed prints for sale if you have a few hundred zloty's to spare.
EAT 
BUDDHA LOUNGE
Dluga 18/21, Gdansk, Poland
Often on my travels, I seek refuge in the comfort of home food so whenever I see an Indian Restaurant I am always tempted. More than often, I find the standard of food poor.
So Buddha Lounge was a risk.
Buddha Lounge in Gdansk has a very a cool, trendy interior – low level lighting, plush seats and the unmistakable Buddha Bar soundtrack to set the easy going tone. Being situated slap bang in the middle of the touristy heart of Gdansk, you maybe forgiven of thinking of this place at a tourist trap.  However moment my plate of Chicken Biryani landed on the table, all my reservations and fears were quickly dispelled. Great aroma, taste and generous portion.
They also serve great Thai food so you have a good range of choice on offer. Biryani came to just 21 zl ( About £5)  great value too. Recommend.
—————————————————————————————————————————————–
In my third instalment, I'll be talking about my visit to the Gdansk Shipyard and Solidarity, Oliwa Cathedral plus my visit to Sopot.
Dziekuje Bardzo !!
This trip was kindly sponsored by the Polish National Tourism Board. For more about Gdansk and what Poland has to offer visit the Polish Tourism website