St Petersburg was something of a revelation.
This is not the image of Florida I had in my head.
St Pete's tranquil palm tree lined avenues with its stylish residents, chic boutiques and great outdoor cafes are the perfect antidote to the adrenaline filled madness of Orlando and Disney.
You almost could feel that you're somewhere on the French Riveira.
I had lunch at the Cassis American brasserie.
It's May but it's already hitting the 30's .
I'm keeping cool with an ice tea on the sidewalk , nestled under the shade of huge yellow umbrellas.
For starters we order a plate of oysters.
I know.
Not the most budget friendly thing but if you're here with friends or family, order a plate.
Some of the freshest and juiciest oysters I've ever tasted.
For mains I tuck into the Cassis Burger with caramalised onions and swiss gruyere cheese.
This comes with some awesome French fries. Cost: $11.50
Chihuly Collection
After lunch we meet Wayne Atherholt the charismatic curator of the local Chihuly Collection.
I was kinda surprised when I learnt that there is a museum dedicated to Dale Chihuly in St Pete's.
It is the only place in the world devoted to a museum-like permanent installation of Chihuly's works.
Inside you can find 5 galleries and 4 smaller "vitrines" contain installations and his amazing glass sculptures. All of Chihuly's signatures are here: the Chandeliers, Mille Fiore and Float Boat, each containing hundreds of individual pieces.
Dale who?
I hear a lot of you say.
Elton John called Chihuly, the 'Pablo Picasso' of glass art.
When you see the pictures, you get an idea of the guys amazing artistry and talent.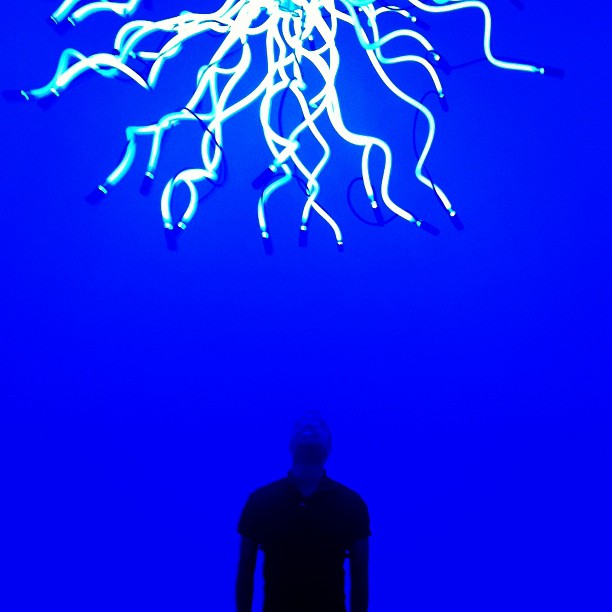 I have some sort of a historical connection with Dale Chihuly.
In 2001, when I was 20, I went to London for my summer internship.
It was not the dream internship.
I was selling advertising for a trade magazine about the International Glass Trade.
That too commission based.
I know. I don't what I was thinking when I accepted the job.
Poor salary. Sales. My degree was in Economics.
Plus I had no passion for the Glass trade,
I did a learn a lot about sales.
Plus about the glass trade and Dale Chihuly.
Before I quit my job I was actually trying to get an interview with Dale Chihuly organised.
So finally getting to see his stuff was a big deal for me and kinda emotional remembering how much my life has changed since that summer all those years ago.
Dali Museum
After visiting the Chihuly Collection, I got the chance to visit the stunning Dali Museum.
After visiting the Dali Museo in Figueres visiting his house in Port Lligat last year coming here was continuation of my Dali pilgrimage.
The museum's collection was donated by Cleveland industrialist Reynolds Morse and his wife, Eleanor and represents a 45-year friendship between the Morses and Dali and his wife, Gala.
I was guided by the eccentric and wonderful Janice who is wildly passionate about Dali.
I have never been a fan of guided tours but with Janice, Dali came alive in my eyes. Everytime I see a Dali painting I see something new –there are so many hidden layers and meanings in each of his works which makes it fascinating to see.
The collections are arranged in chronological order which makes it easy to see the pattern and development of his work. Works exhibited here are from every period of Dalí's career, highlights including "The Average Bureaucrat" (1930), "The Disintegration of the Persistence of Memory" (1952-54) and "Portrait of My Dead Brother" (1963)
The perfect place to end the tour and my day out in St Pete's is enjoying a glass of Spanish rose at the museum restaurant ¬¬- Café Gala.
Named in honor of Salvador Dali's wife Gala, the eatery offers visitors a café menu with a Spanish theme focusing on Spanish Tapas, wine, salads, coffee and pastries.
World class art and awesome gastronomy- this was a side of Florida that I did not expect was a total revelation. It comes as no surprise to find out that St Petersburg was voted by American Style magazine as the number one arts destination amongst medium sized cities in America.
So next time when you plan your trip to Orlando, remember there is much more to Florida than just Disney.
Essentials
To plan your trip to St Petersburg, check out their website and also have a peek at their Facebook page for updates on events.
Starting at £949, I spent seven nights in Florida and Orlando with Virgin Holidays, including scheduled flights with Virgin Atlantic from London Gatwick or Manchester direct to Orlando.
This included two nights accommodation at the 5V Hilton Orlando Bonnet Creek, two nights accommodation at the 3V+ Sunset Vista Beachfront Suites, two nights at the 5V Longboat Key Club & Resortand one night at the 5V Walt Disney World Swan & Dolphin Hotel, all on a room only basis with car hire included starts from £949.
Prices are per person based on two adults travelling and sharing a standard room, price includes all applicable taxes and fuel surcharges which are subject to change. Prices are based on departures 12 – 14 Nov 2012.
To book: www.virginholidays.co.uk , 0844 557 3859 or visit one of our 90 stores located in Debenhams and House of Fraser stores nationwide.